Where Chefs Eat | The Insider's Guide to Berlin
We've teamed up with Phaidon to bring you five hidden gems from Berlin, as recommended by some of the world's best chefs
For this series, we've collaborated with leading food & design publisher Phaidon to give you guides to the coolest spots to eat in major cities around the world – as advised by some of the best chefs on the planet.
This week's focus is on perhaps the most vibrant and diverse European gastro-destination: Berlin. A city which has forged its identity through a turbulent century, withstanding division and destruction, the German capital has flourished in recent years, opening its arms to a myriad of communities and creatives.
As such, the dining experience in Berlin is as eclectic as you can expect to find on the continent, setting it apart from the largely-homogenous cuisines of Paris and Madrid. You're just as likely to find spectacular tagliatelle or first-class bulgogi as you are to find currywursts and döner kebabs – not that you should ignore the latter two.
"Everything about this acclaimed modern German restaurant is stylish and slick – on the plate and off"
Tailoring your guide are Lukas Mraz, Marc Djozlija, Florent Ladeyn, Mirca Schäfer, and Marco Müller. Mraz is the bright young thing behind the success of Cordobar, Berlin's trailblazing 'gastro-wine-bar'; Djozlija, Wolfgang Puck's former right hand man, is doing much the same in Detroit at Wright & Co.
Ladeyn is a champion of Flemish cuisine, and head chef of the Michelin-starred L'Auberge du Vert-Mont in Northern France, whereas Schäfer heads up the indomitable Nobelhart & Schmutzig, which features on this list. Müller leads the line at Rutz in Berlin, one of the city's classiest establishments, and one of only seven restaurants in the city to have two Michelin stars.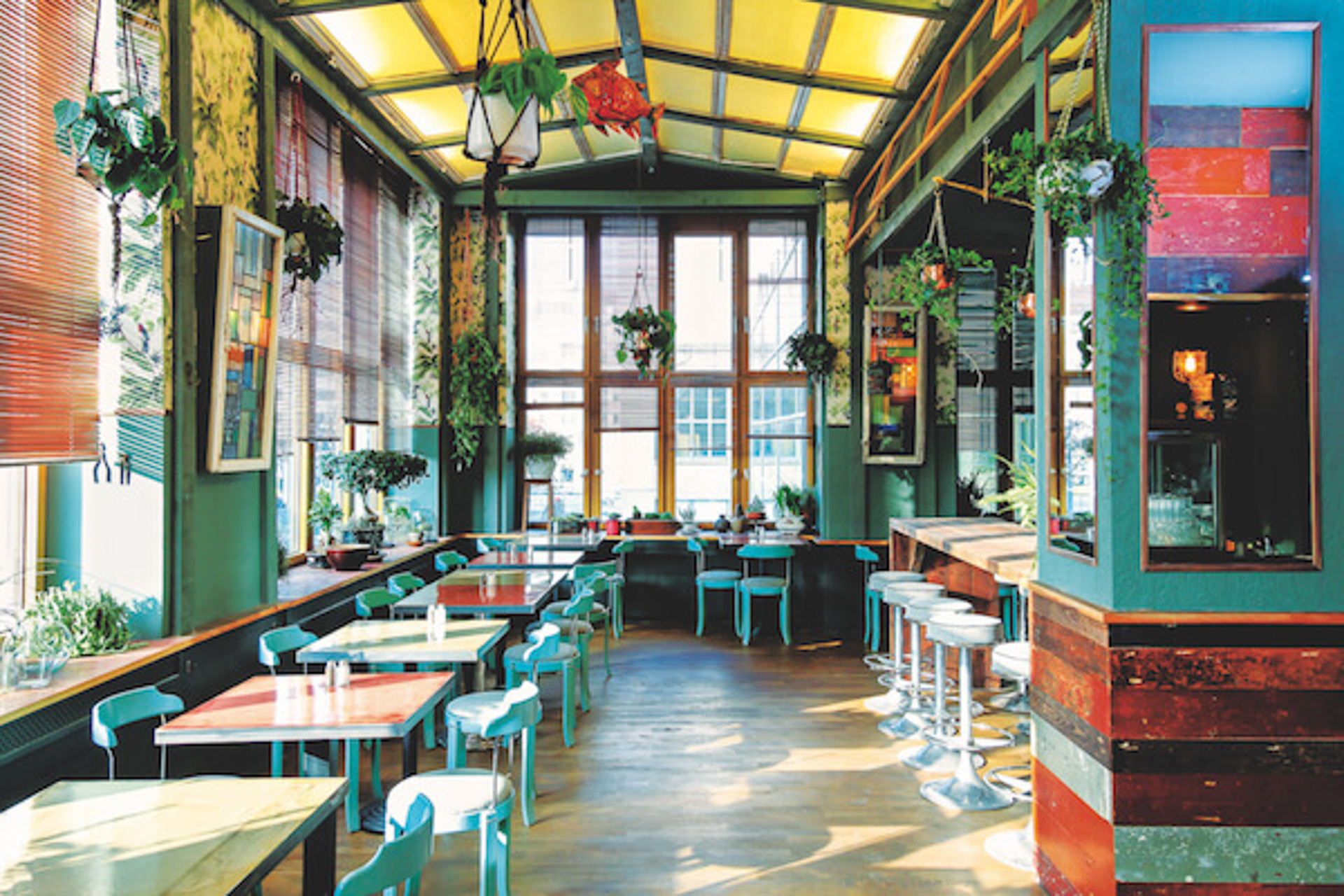 House of Small Wonder
Recommended by: Lukas Mraz
"You'll see." – Lukas Mraz
The first wonder is that the superbly surprising spiral staircase that invites you from the foyer to the first-floor eating area. Upstairs, the décor is New York-style palettes and plants; an obvious choice, as the original restaurant was founded in Williamsburg. The wonders keep on coming – cleverly crafted latte art, including the occasional bunny and bear. Come for the all-day brunch menu, which is decidedly European (homemade granola, croque madame, and croissant French toast), then slide into lunch and dinner, where you'll find Japanese-inspired tacos, onigiri rice balls with miso, and tonkatsu (breaded pork cutlet – as close to schnitzel as you're going to get). This is as cute and quirky a place as you could hope to find.
Tim Raue
Recommended by: Marc Djozlija
"Currently ranked thirty-fourth best restaurant in the world, the tasting menu at this Asian inspired restaurant in Berlin is arguably the best meal I have ever eaten." – Marc Djozlija
Tim Raue's story is nearly as remarkable as his restaurant. A high-school dropout who left the world of street gangs to 'go straight', Raue elected to work in kitchens as his preferred creative outlet, architecture, was too expensive. Architecture's loss was cooking's gain, and Raue threw himself into the kitchen, picking up accolades and top positions before opening Restaurant Tim Raue in September 2010. Two Michelin stars have promptly followed, making it perhaps the most sought-after reservation in all of Berlin. Trademark Raue dishes include his three-plate deconstruction of Peking Duck, and his Wasabi Langoustine – a dainty tempura laden with fiery horseradish.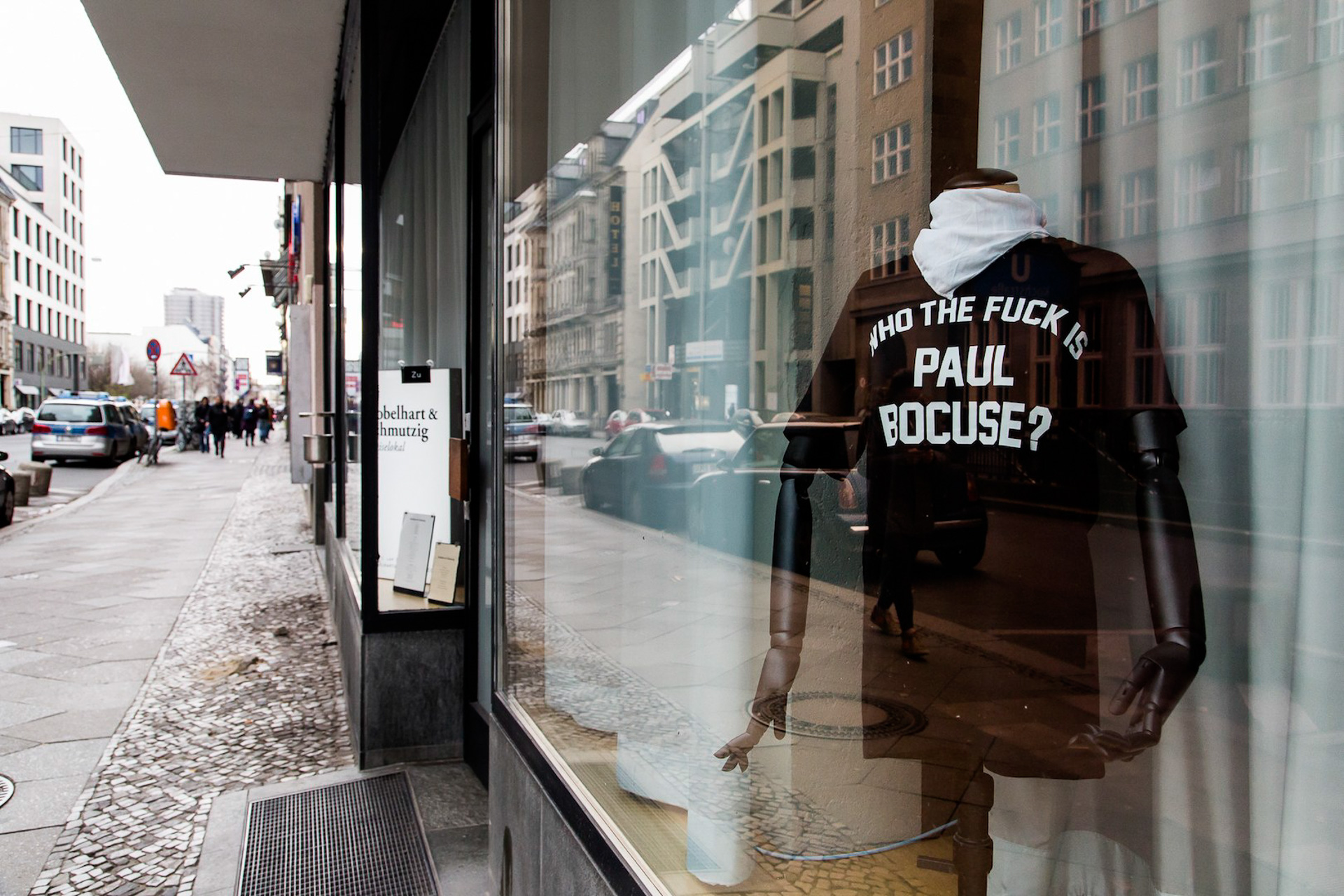 Nobelhart & Schmutzig
Recommended by: Florent Ladeyn
"A UFO behind a glass storefront on a busy shopping street. Customers eat at the bar round the kitchen having left their phone and preconceptions in the cloakroom. The restaurant is run by Billy, a brilliant sommelier with a fiery temperament – a character to match his talent. Direct, frank, masculine, yet delicate too. The most important thing? It's very good." – Florent Ladeyn
It looks like nothing from the outside. You'll think you're at the wrong door on this busy street. But inside, there's no mistake. Everything about this acclaimed modern German restaurant is stylish and slick – on the plate and off. Billy Wagner, a sommelier-turned-restaurateur, and executive chef Micha Schäfer, "the workhorse of the kitchen", created Nobelhart & Schmutzig. Their main message is one of pared-back simplicity: on offer is a short menu of "brutally local" seasonal ingredients (no pepper, no lemons, no chocolate, no tuna – if you can't source it in Berlin, it's not worth having), served in a seriously small space.
Markthalle Neun
Recommended by: Micha Schäfer
"Not so much a restaurant but more of a food market. It is more or less a culinary center for Berlin." – Micha Schäfer
It was almost all over for Berlin's historic market. Built in the nineteenth century as a masterpiece of wrought iron and wide open space, by 2009 it was run down and dismal. But it was saved by dedicated locals who saw its potential, and now Markthalle Neun is hailed as a pioneer of Berlin's street food movement. Street Food Thursdays (from 5.00 p.m. to 10.00 p.m.) draw in huge crowds, who arrive hungry to sample culinary delights from around the world – Mexico, Nigeria, Thailand – all washed down with craft beer from Heidenpeters, the on-site brewer. Don't miss the Breakfast Market on the third Sunday of each month, which has everything you need to make the most of the first meal of the day.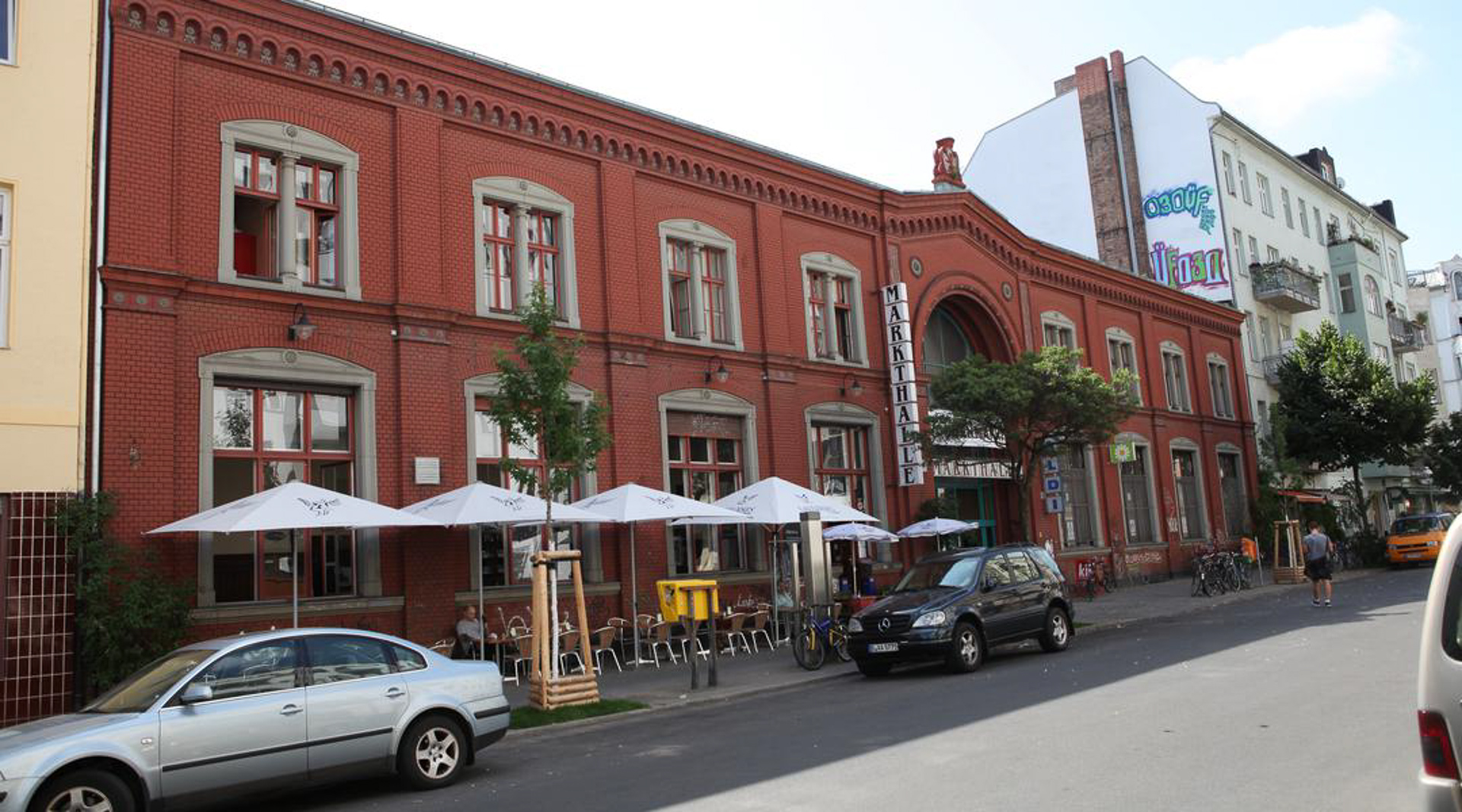 Sets
Recommended by: Marco Müller
"Fresh breakfast and great bread." – Marco Müller
The name's an abbreviation: it stands for sitzen, essen, trinken, schlafen (sit, eat, drink, sleep), all things you can do at this brasserie, bed and breakfast. You could add "w" for "wait" – as you might well have to do if you pitch up on a Sunday, the busiest day of the week for this chic Charlottenburg breakfast destination of the Kurfürstendamm. Breakfast options vary from the robust Bauernfrühstück (farmer's breakfast) to bircher muesli. The beautiful people that frequent Sets also rate it for cocktails, salads, cakes, and creatively topped Flammkuchen (Alsatian pizza-like flatbread).
Do It Yourself
'Where Chefs Eat: A Guide to Chefs' Favourite Restaurant' is available in bookstores and through Phaidon.