Photography by Sam Zucker
The ME Guide to Sitges
As part of the collaboration between VICE and hotel brand ME by Meliá, Sam Zucker explored the tranquil escape that is Sitges, taking in the best parts of the city and collecting recommendations from local tastemakers.
Photography by Sam Zucker
By all accounts, Sitges is a place to disconnect. Just a half hour South of Barcelona by train, this seaside town has long been a destination enjoyed by city dwellers for its slower pace of life and its wide expanses of sandy beaches. There's also a long-standing tradition of gastronomy and a freewheeling party atmosphere. Notably, Sitges is home to one of the largest Carnival celebrations in the world, as well as a massive Pride gathering. Bacardí rum and the original location of the now infamous Pacha nightclub also claim Sitges as their birthplaces.
"Sitges built Ibiza," says Xavi Gazquez, graphic designer, DJ, music producer, sound technician, and life-long Sitges local. He's talking about Pacha, which helped kick off the now legendary Ibiza party scene. The club was first founded in Sitges in 1967 and has since gone on to establish locations in 12 countries worldwide. I met Xavi and his girlfriend Hanne at El Cable, one of the best tapas bars in Sitges and one of the most popular with locals -- it's packed every night of the week. People spill out onto the street as they swig ice-cold lager and snack on some of the bar's award-winning tapas. Xavi loves El Cable, as well at the Guria Taberna for their excellent pintxos and traditional Basque dishes.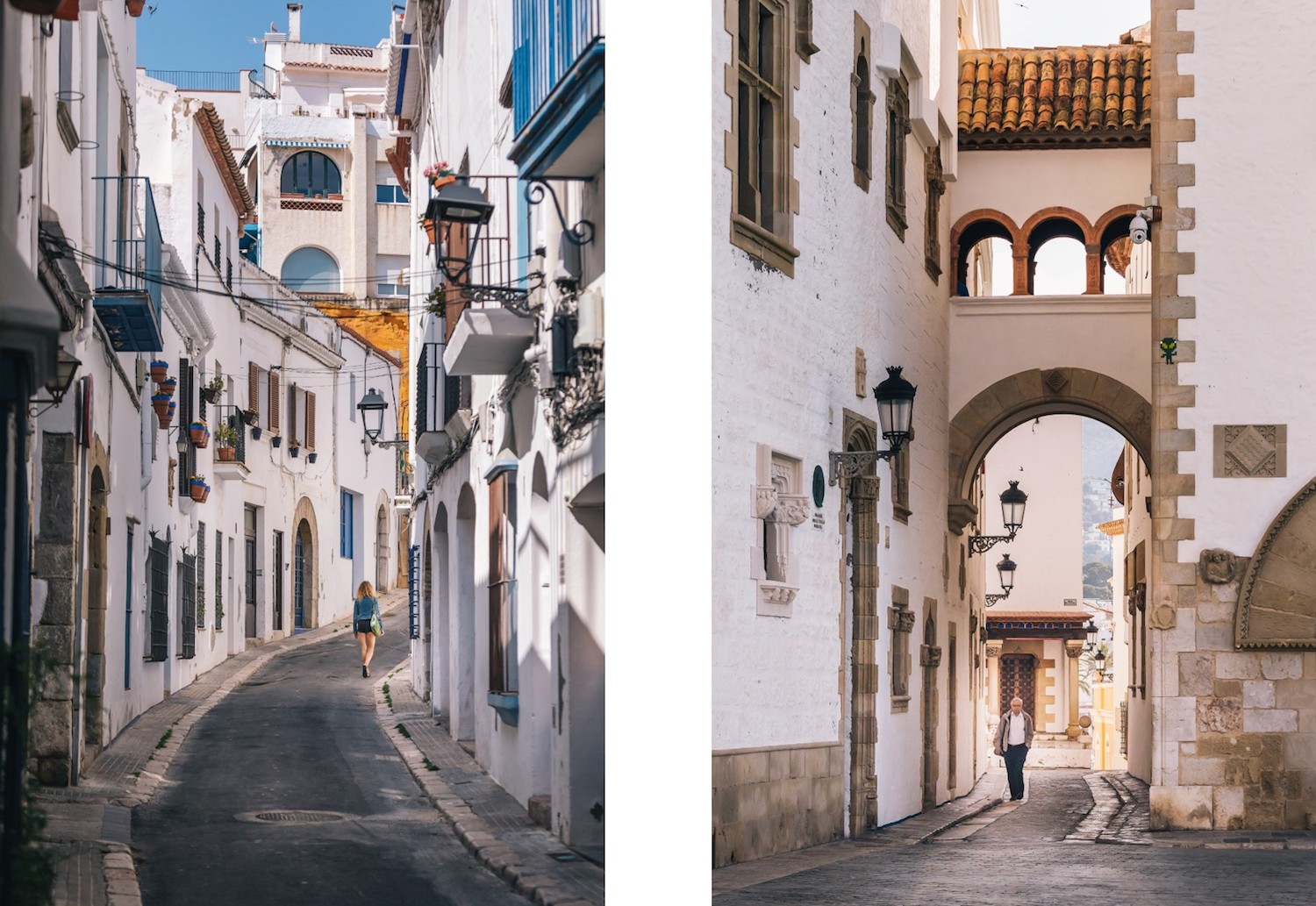 Xavi is a veritable source of historical knowledge and anecdotes about his hometown. He tells us about how, during the Franco dictatorship and despite the stringent government, Sitges lived like a rebel village, seemingly outside of the fascists' reach. Sitges maintains its progressive streak -- it was one of the first gay hotspots in Spain, and is to this day one of the top LGBTQ destinations in Europe. The decadent Pacha Sitges has since closed except for special celebrations, but the free spirit and environment of acceptance are alive and well.
Though the 1960s was certainly a period of paradigm shifts, Sitges was cool long before there was 'flower power'. Sitges has been a haven for artists and creatives for over 100 years, and no local artist is held in higher esteem than the modernist-era painter and author, Santiago Rusiñol. There are statues of Rusiñol in the gardens and promenades of Sitges, and his emphatic love of the town led other early 20th century artists to settle here as well. Work by Rusiñol, Ramón Casas, and many other artists of the period can be found in the Maricel Museum and Cau Ferrat museums, both gorgeous buildings of tile, stone, and iron, located on the gorgeous street known as the Racó de la Calma, or the "Corner of Calm." Also in the Cau Ferrat you can find examples of Rusiñol's extensive antiques collection.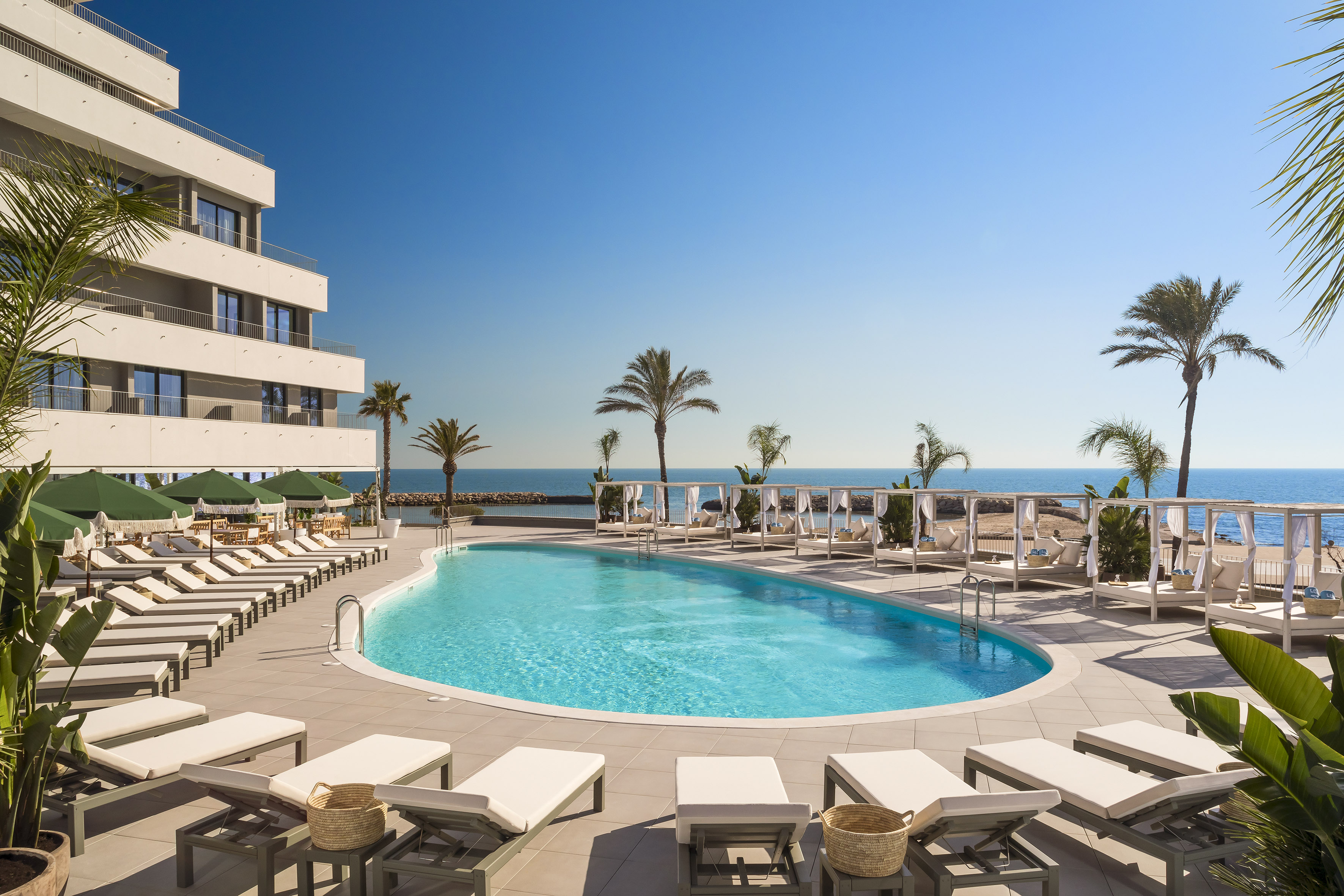 The centre of Sitges is small, charming, and compact, a network of narrow, stone-paved streets that slope down towards the sea, but the town stretches over 3 kilometres from the Aiguadolç city port to the tranquil residential area of Terramar, where the ME Sitges Terramar hotel is located.
The ME Sitges Terramar hotel sits at the end of the Passeig Maritim promenade, in the most relaxed and pristine part of town. The hotel is decorated with a mixture of artwork, from vibrant collages and sculptures to larger-than-life, provocative black and white portraits, and offers an array of gastronomic experiences at their Beso Beach restaurant, the Oyster Bar, and the Radio ME Sitges rooftop bar.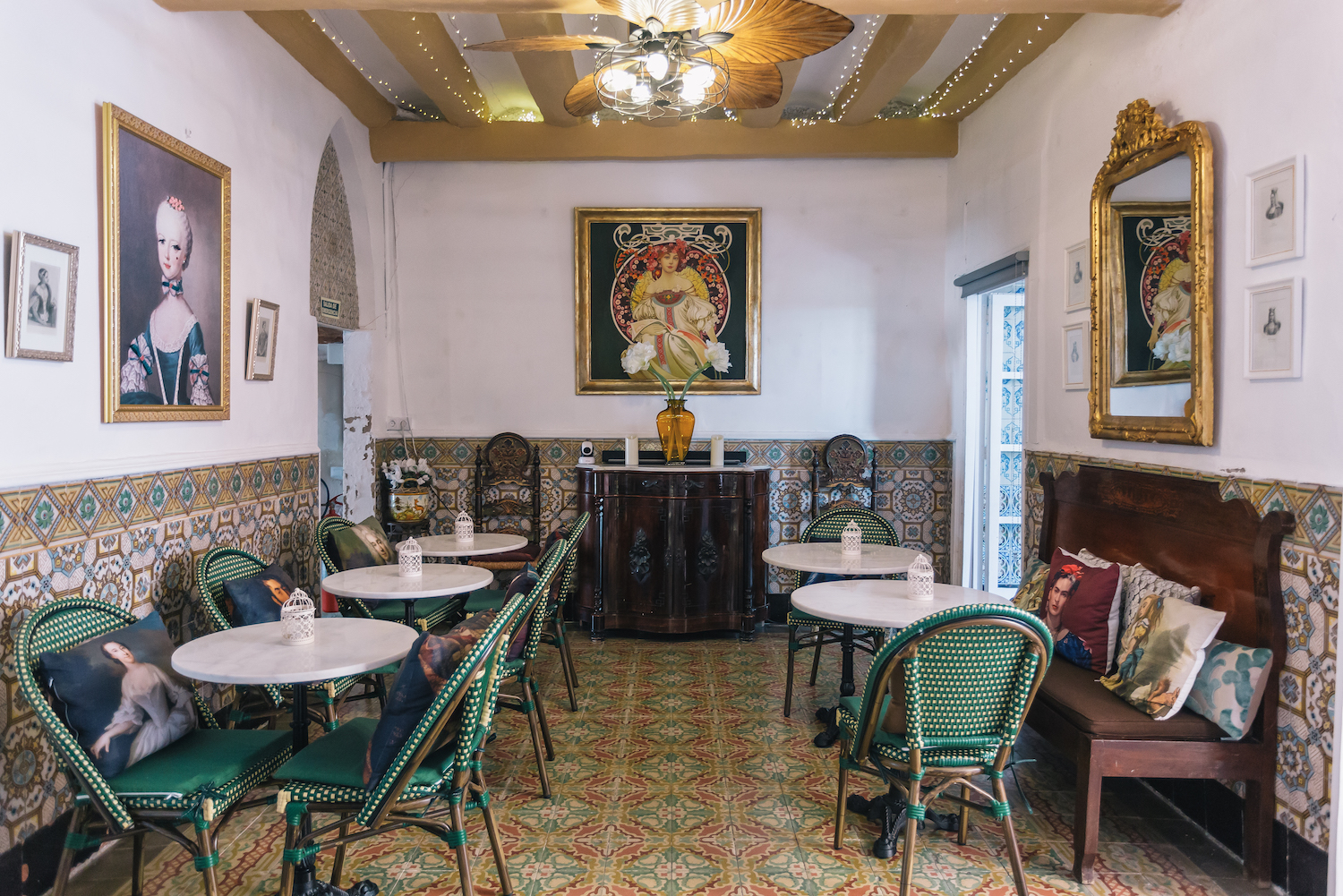 A stay at ME Sitges Terramar is a luxury experience with a wellness centre, daily yoga classes, views of the Mediterranean, and a large pool area lined with lounges and private sunbeds. It's tempting to stay by the pool or on the Terramar beach all day long, but part of the magic of Sitges is the myriad of historic buildings, sandy beaches, bustling nightlife, and countless restaurants and bars, perfect for a night-time tapas crawl. Consider throwing in a live concert at El Gin Tub or a cabaret drag show at Queenz for good measure!

When it's time to head into the town centre, one of the best ways of arriving is by bicycle, which can be rented at the hotel reception. You can also choose to walk or catch a ride on the tren turístic (tourist train), which runs a route along the beach, from the Terramar to the town centre. You can hop off at stops all along the promenade, picking whichever beach suits you best. If you fancy a stroll in nature, you can either head South down the coast in the direction of the town of Vilanova i la Geltru where there is a seaside path, or head North West from Sitges centre into the expansive Garraf Massif nature park. There are many trails of varying lengths, so stop by the tourism office at the train station for a map and suggestions on ideal routes.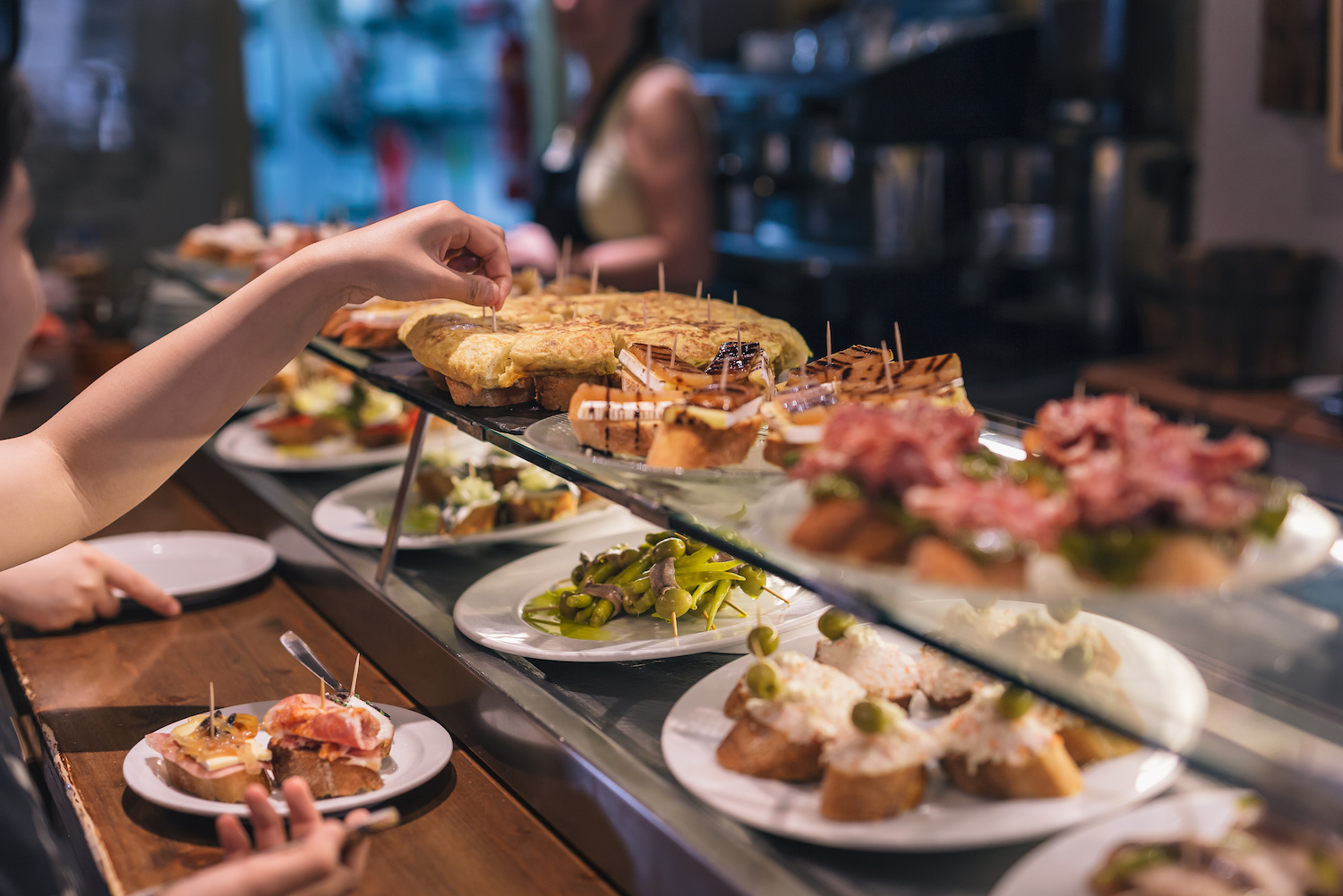 "I like the beaches closer to Terramar," says Ambika Kumar, founder of the company Barcelona Wine Tastings, and also an independent marketing consultant in the fragrance and beauty industries. "They are away from the centre and much less crowded. These beaches also have these cool rock formations a bit away from the beach that you can swim up to and sunbathe on."
Ambika has lived in Sitges since 2014, where she manages her wine company focused on showcasing small batch production Spanish wines through unique private events. She's originally from Springfield, Illinois in the USA, and lived in New York City for 18 years before making the move to Spain. Ambika also has a portfolio of wines that she manages and sells to restaurants, wine retailers and private clients, and she travels regularly to London and NYC, too. When we met up at Ambika's flat in the heart of the town centre, her food and wine recommendations were many.

She loves La Zorra de Sitges for their modern take on classic paella, Corazón de Agave for their stylish decor and flavourful Mexican cuisine (apparently, the duck is spectacular), and Nem for their innovative, seasonal menu of creative tapas.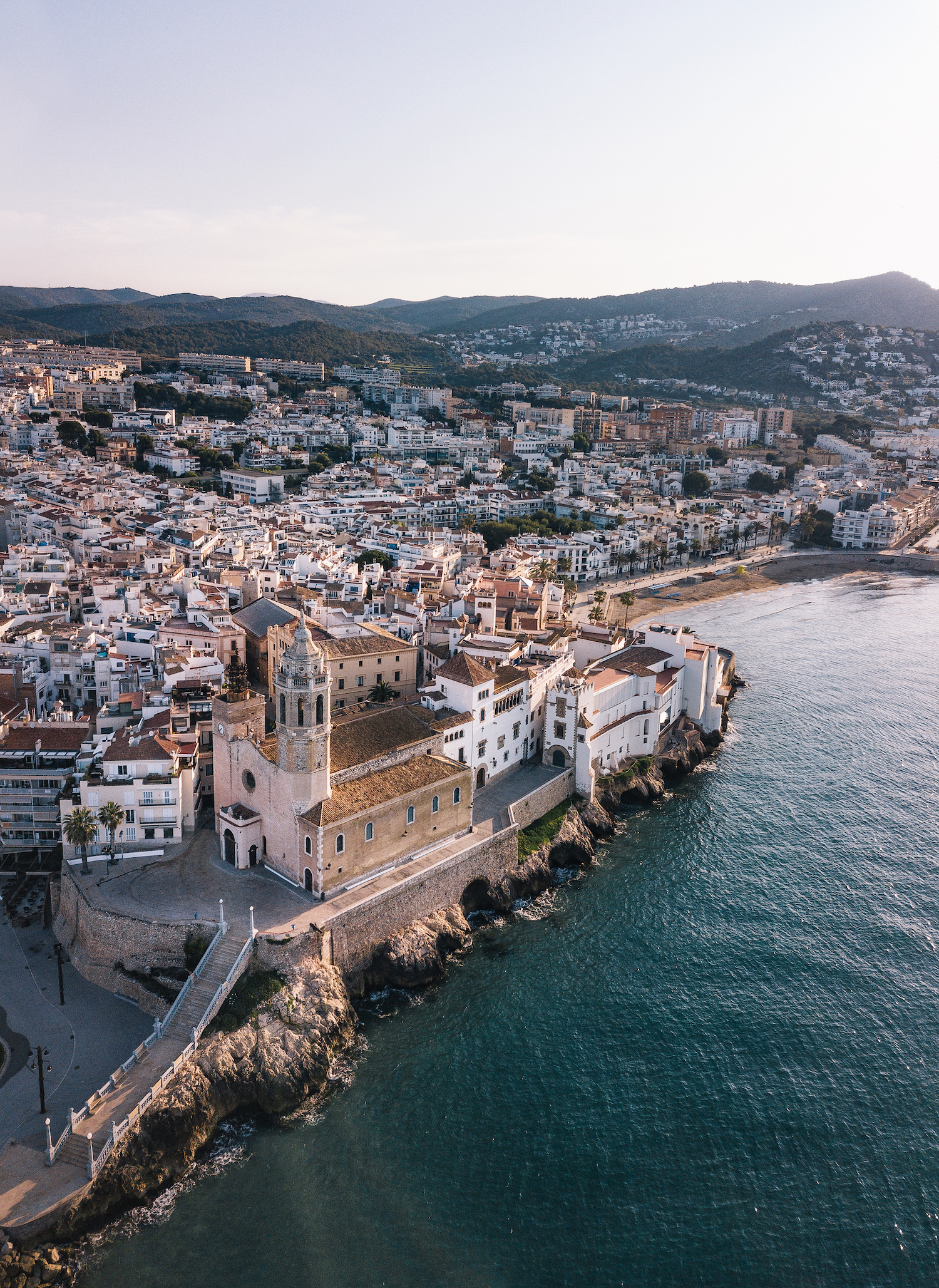 Aisling Callinan, a freelance graphic designer who creates visual branding for small businesses and startups, is originally from the western coast of Ireland but has lived in Sant Pere de Ribes - a small town five minutes inland from Sitges - since 2009. She loves Nem, too. "It's my favorite restaurant in Sitges, by far," she tells me. "The menu changes monthly, so they cook seasonal produce. Some of the best dishes are the steak tartare, marinated salmon, sashimi and patatas bravas."

Gonzalo Aguirre is the chef and owner of Nem, and he will tell you that his number one goal is to create tasty cuisine. "Our maxim is to always make food that we as customers would love to eat! We cannot be considered a "traditional restaurant", but the truth is that most of what we serve wasn't invented by us. Much of our inspiration comes from classic dishes in other countries." Gonzalo loves incorporating local produce in his seasonal menu. "Sitges has a privileged location," he explains, "with the nearby seafood market of Vilanova to the South, the vegetables of the Prat and Maresme regions to the North, and all the vineyards of Garraf and Penedes just minutes inland, you couldn't ask for more!" The food at Nem is famous for creative international tapas, but they always try to keep a touch of the Mediterranean in each dish.
Another location that is full of pure Sitges character is Her Ladyship's Secret Garden, a cocktail bar and tea house full of quirky artwork, with lots of lush greenery throughout their interior garden patio. Here you'll find a staggering selection of 90 different varieties of tea, making this popular with Sitges locals and expats who enjoy a classic "Afternoon Tea," experience, complete with three-tiered plates of savoury tea sandwiches, scones with clotted cream and jam, and an assortment of sweet treats. Add a glass of cava or a kir royale and a slice of cake to make it the "Celebration Tea" for special occasions (or just a cheeky moment of self-indulgence).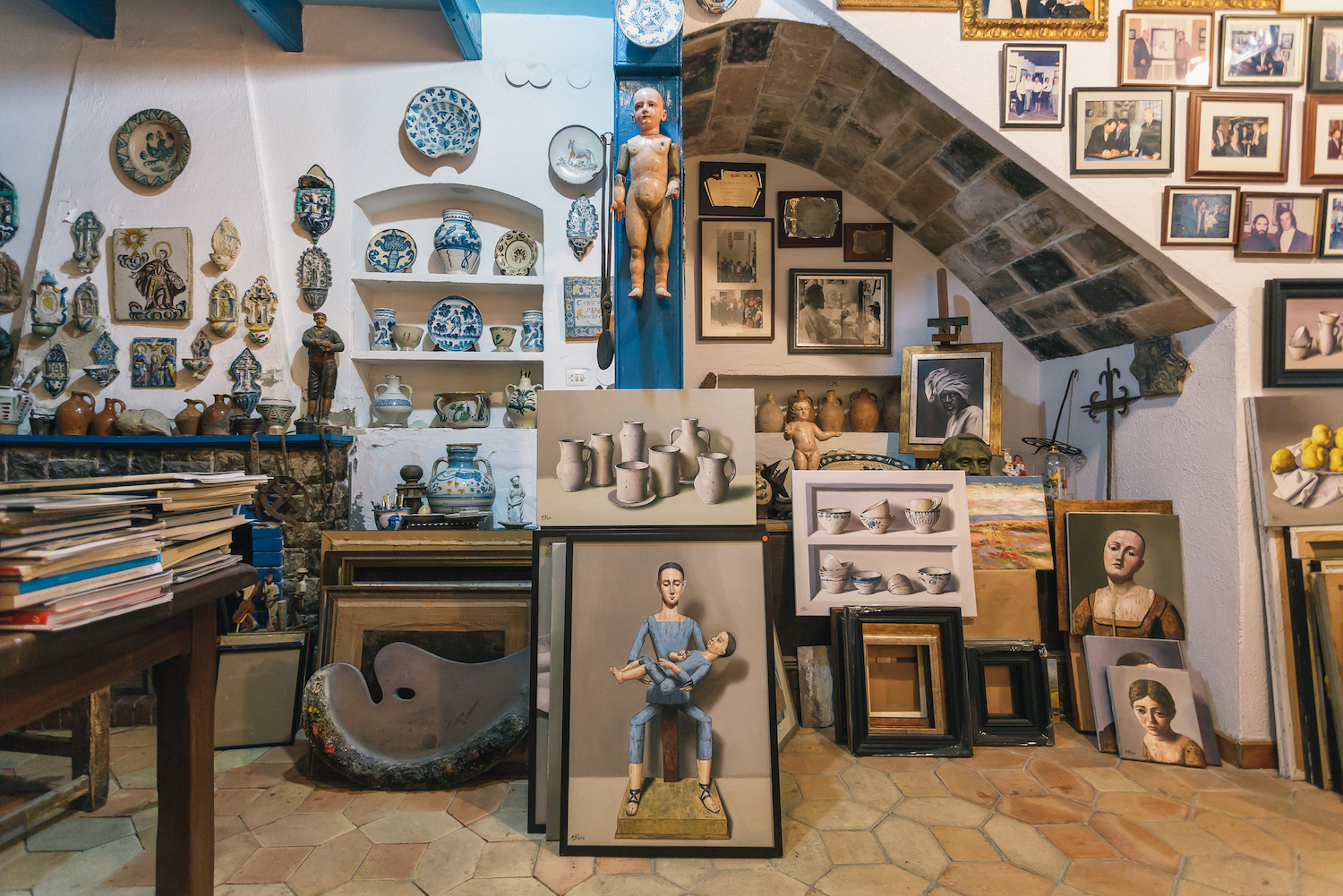 Owner Annette Maxberry-Carrara loves a good dose of camp. The murals painted on the interior walls are extravagant and playful, as is her menu of "cock-teas" (pun intended). These tea-based cocktails have been a boon to her summer business when the hour of tea fades into pre-dinner drinks. Her Ladyship also has a menu of savoury food, from soups and sandwiches to quiche and a Spanish charcuterie board. Annette has lived and travelled around the globe since leaving her native USA many years ago, and now calls Sitges home. "People love Sitges for its beauty," she tells me, "and for the open-minded community that celebrates a full life and everyone's personal lifestyle." Annette is also a fan of the Queenz drag show and dinner cabaret. She assures me that it's "worth every cent!"

While artists of the past helped mold Sitges into the town it is today, painter Manuel Blesa is a present-day, living legend in the art community here and beyond. I met Manuel in his studio in the centre of Sitges, on a quiet street just minutes from the sea. Manuel is original from Teruel, in the Spanish region of Aragon. He moved to Sitges over 50 years ago and purchased his studio in 1973. Once a fisherman's home, the white walls with blue trim are lined with his paintings, as well as hundreds of antiques and pieces of ceramic that Manuel has been collecting for years. His ceramics collection is mostly from Aragon and spans the 10th to the 18th century.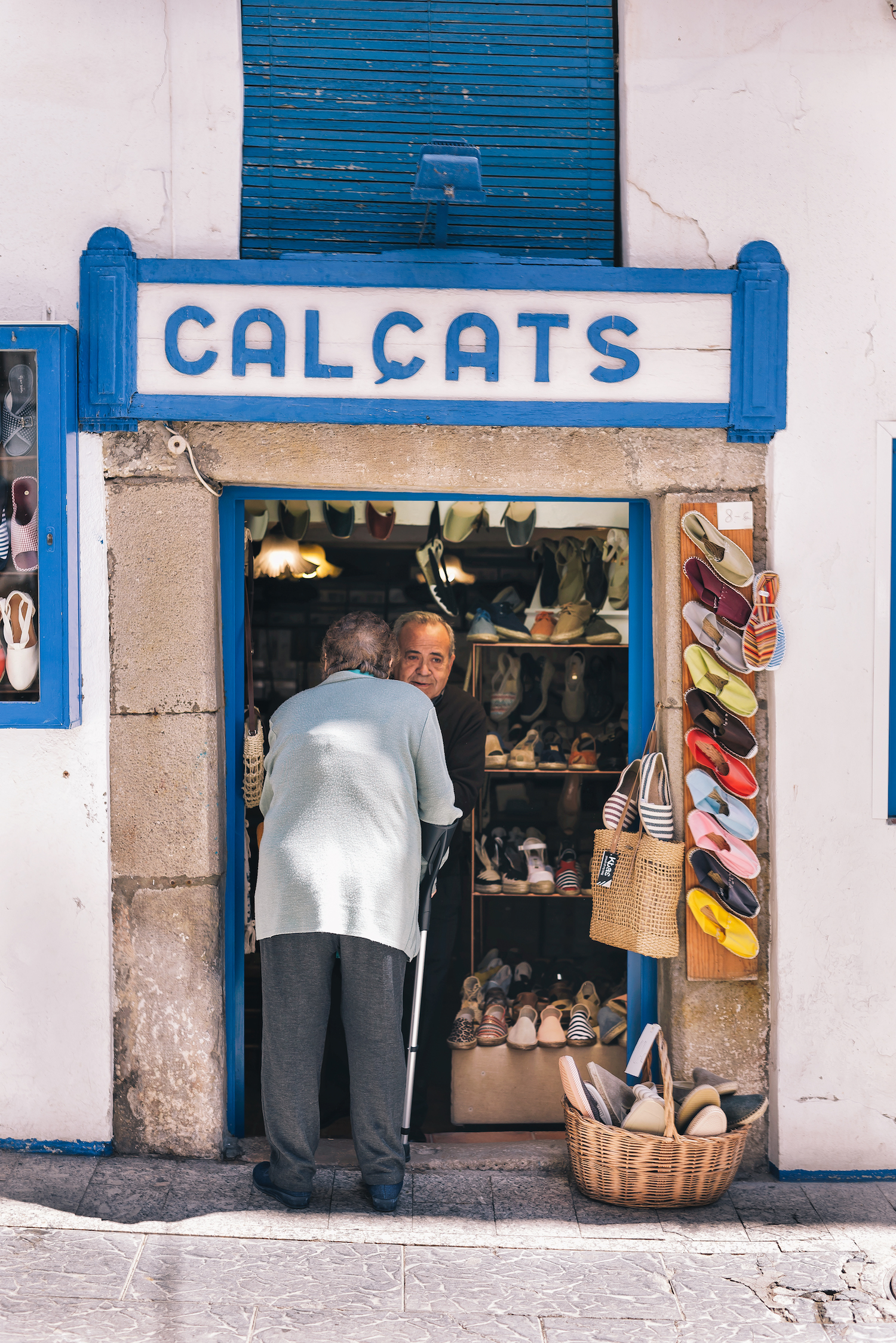 The artists of Sitges, especially Rusiñol, were always coleccionistas, fascinated with collecting others' artwork and antiquities, and someday Manuel Blesa could easily have his own collector's exhibition. Manuel gleefully showed me his wall of framed photographs, depicting him alongside the likes of Salvador Dalí, Sagrada Família architect Josep Subirats, and Spanish guitar legend Paco de Lucía. Manuel's work is a vast catalogue of portraits and still lifes, and his studio is usually open to the public on Saturday and Sunday from 10AM to 2PM and 5PM to 9PM. Manuel is also quite a foodie. His clear excitement about the arròs a la sitgetana at La Nansa was the only endorsement I needed to make a reservation. Sitgetana (Sitges-style) rice is made with pork ribs, sausage, prawns, langoustines, cuttlefish, and clams, and is a local favourite. In my chat with Xavi Gazquez, La Nansa, with its traditional mariner decor, was also at the top of his list for rice.
Some other bars, restaurants, and cafes also worth exploring are Wylie Sitges Craft Beer and Food and La Sitgetana for craft beer; Mama #5 and Beach House for creative, international fare; Lady Green and Dosa Nova for vegan food, and Perbacco wine bar for a vast selection of local wines. If you feel that excellent coffee is travel essential, Vita Brevis does great specialty coffee, and for a weekend beach party, Hola Beach Club is the spot. Finally, for more classic tapas bars packed with locals, check out Donostiarra and El Pou.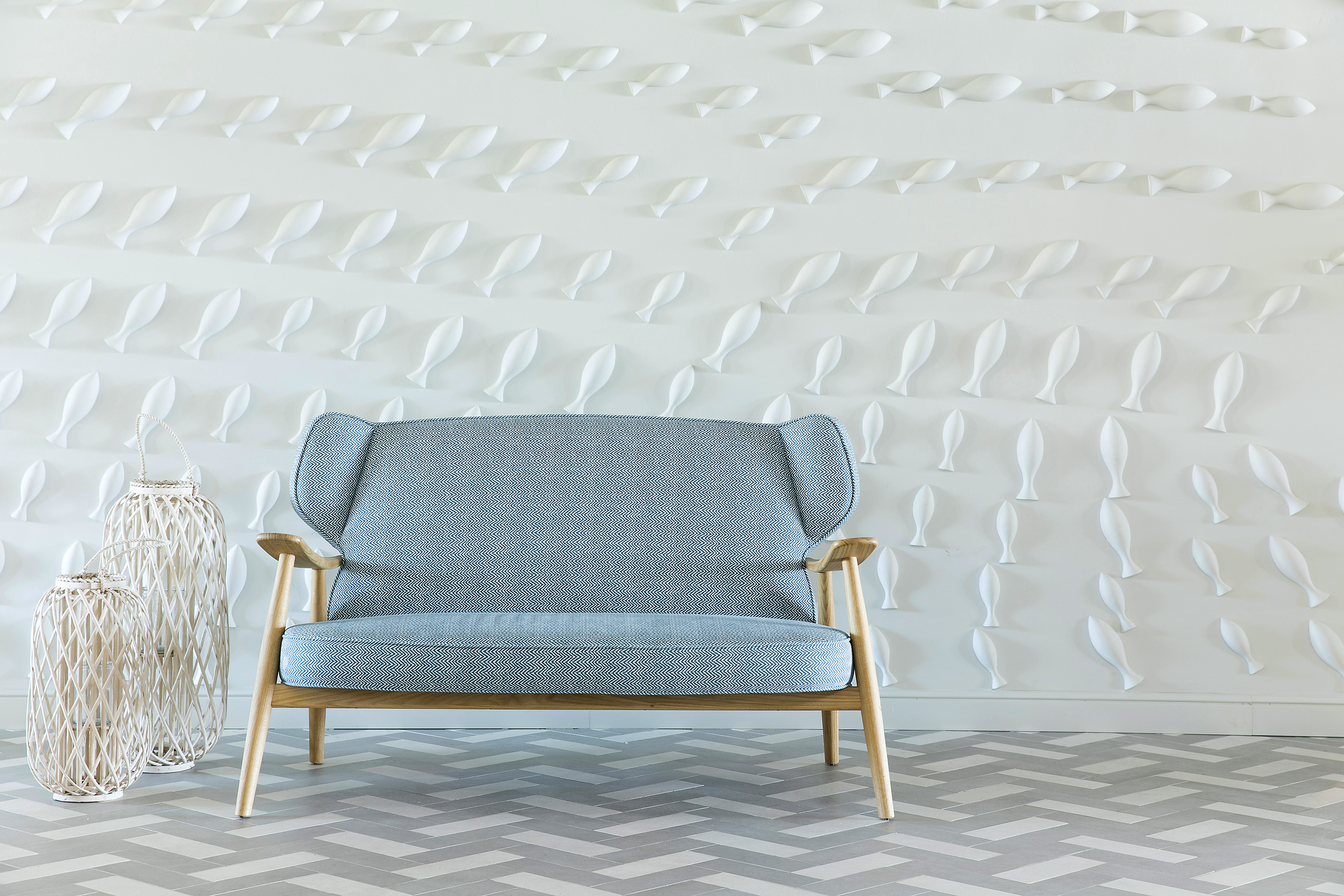 In addition to the many permanent attractions in Sitges, there are seasonal events all year long! Highlights include a huge Gay Pride celebration in June and the famous Carnival parade in February; The Terramar music festival in July to August; The Sitges International Film Festival in October; the International Vintage Car Rally in March, and the Sitges Market Local Design and Food Popup festival also in July and August.
Sitges has long been a place to escape the business of city life. For over a century, the people of Barcelona have used this picturesque seaside village as a calming retreat, full of art, food, music, and free expression. Take your time exploring the enchanting old streets, soak up plenty of sun, eat your way through all the tapas you can find -- and remember, wine with lunch is the norm here, not an exception.
Find out more about #MESitges