Hotel Jerome, Aspen | If These Walls Could Talk…
"There were lots of shenanigans - like the time Hunter S Thompson duct-taped Bill Murray to a lounger chair then threw him into the pool…"
This series takes a look at the legendary stories behind some of the world's most famous luxury hotels. Here we delve into the history behind Hunter S Thompson's favourite haunt in Aspen, Colorado.
Hotel Jerome: The Legend
Jerome B Wheeler opened the hotel that bore his name in 1889, back when Aspen was a shiny new town awash with silver prospectors, who would celebrate their good fortune at the hotel's J-Bar.
Then the mines closed and Prohibition struck: The J-Bar had some quiet years, and like many bars it was converted into a soda fountain. But things picked up in 1937 when a ski run was cut into Aspen Mountain and the town hosted its first downhill race. The J-Bar quickly gained a reputation as a fun and rowdy party spot among the soldiers who trained on Aspen's slopes.
By the late 1950s and 1960s, that rep was in full effect with writers, film stars and artists drawn to the hotel and its by then infamous J-Bar. One such luminary was Hunter S Thompson.
"When Hunter S Thompson ran for sheriff, this was his campaign HQ. He planned to legalise drugs (though he vowed he wouldn't take mescaline on duty)"
Bob Braudis, a lifelong friend who was also (somehow, in spite of his associate with Hunter) the sheriff of Aspen for 24 years, explained: "Aspen was where intellectuals came to drop out. Hunter liked that there were a high number of highly educated people here – people who could have been bankers and lawyers, but dropped out and came here to be ski bums, as I did."
"He read Plato, Socrates, Aristotle… he liked smart, interesting people with strong opinions and the J-Bar had lots of those who he could chat with. And the news and sport was always on the TV."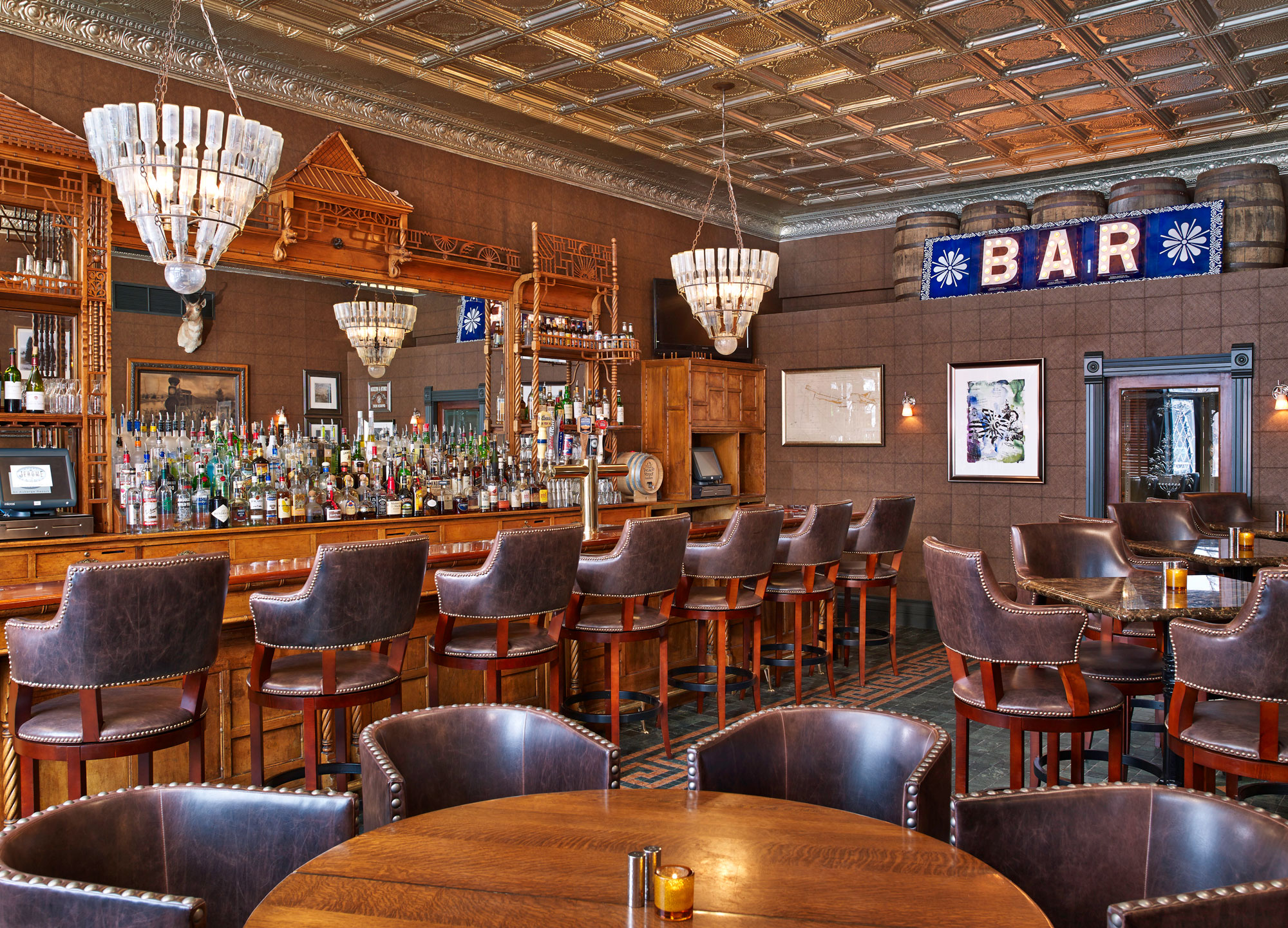 Tim Mooney was a bartender at the J-Bar back then and another long-term friend of Thompson's. When Amuse interviewed him, he'd just spent the day skiing untracked powder snow with Elle Macpherson, as you do.
Mooney told us: "Hunter thought the Hotel Jerome and the Wheeler Opera House gave a certain dignity to this Colorado town. You could see the heritage in Leadville or Breckenridge but once you got to Aspen you could smell the funkiness. The skiing and the resort atmosphere was just starting to percolate here. Hunter saw that Aspen was a garden spot with a rock and roll mentality."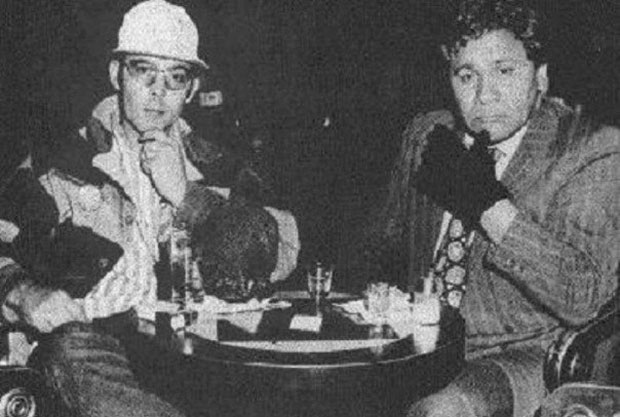 In 1970, when HST ran to become sheriff of Aspen he used the J-Bar as his campaign headquarters. He planned to legalise drugs (though he vowed he wouldn't take mescaline on duty), change the town's name to 'Fat City' (to ward off the 'greedheads') and ban all transport that wasn't by foot or bike.
Mooney said, "Everyday he would go to the post office and be at the J-Bar at noon. He divided his mail into three piles – bills, fan mail and periodicals. Then he'd order his food and drinks for the whole day and line it up next to the piles. So, for the first pile he'd have eggs, bacon, coffee, toast and a Bloody Mary, then a cheeseburger, fries and a bottle of beer, and then pasta and a bottle of red wine."
"He'd sit in the corner and I was his gatekeeper. Singers like Jimmy Buffet would come in and say, 'I want to meet Hunter,' and I'd say, 'There's a guy here… you want to meet him?' People got to know me as Hunter's guy. Jack Nicholson came in and we all started hanging out and then I started skiing with Jack…"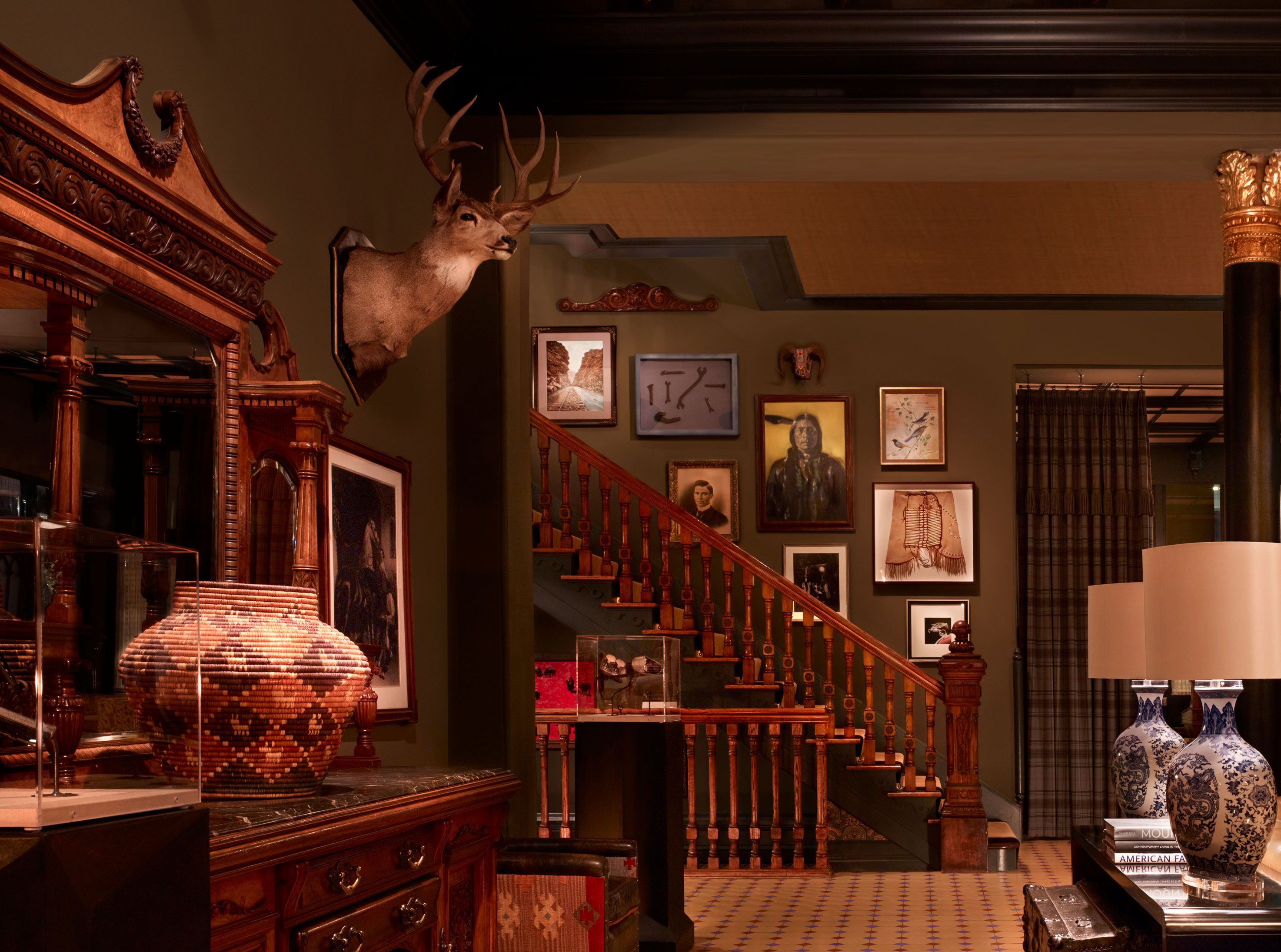 Another friend of HST tells us: "It was a wild crew, there were lots of shenanigans… like the time Hunter duct-taped Bill Murray to a lounger chair and then threw him into the pool. Everyone was fucked up and it became quite a crisis, getting him out of the pool."
When Thompson died in 2005, the first of his two funerals took place here, in the Hotel Jerome's Grand Ballroom. Bill Murray, John Cusack, Benicio Del Toro, Johnny Depp, and his long-time collaborator Ralph Steadman were all present. The second funeral saw his ashes blasted from a cannon behind his home at Owl Farm in Woody Creek a few miles from Aspen. The stunt – requested by Hunter himself in his will – reportedly cost $3 million dollars. Johnny Depp picked up the tab.
The party scene at the Hotel Jerome may be tamer now (isn't it everywhere?) but according to the locals, when the action sports contest the X Games comes to Aspen every winter, things can still get pretty wild.
Hotel Jerome: The Location
Hunter S Thompson famously didn't ski, except the one time his friends took him to the top of Aspen Mountain. As his friend Tim Mooney told us, "He skied away thinking he knew how to ski, made three 40 mph crashes and then basically never went back."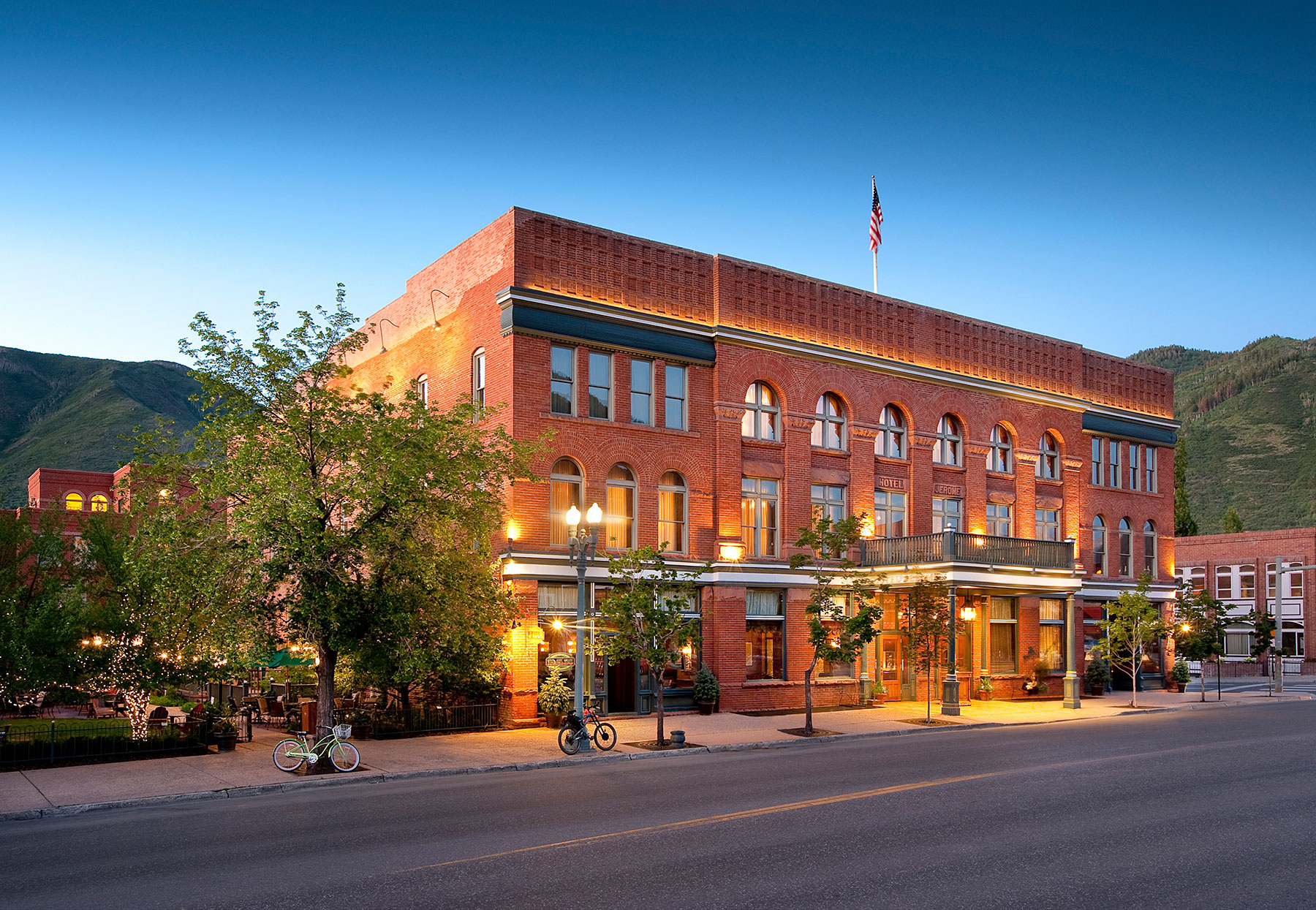 Most people, however, do come to Aspen for the skiing and snowboarding, which is itself legendary thanks to a mix of awesome terrain, regular dumps of dry fluffy powder and frequently blue skies.

The Hotel Jerome is perfectly located at the foot of Aspen Mountain and connected by shuttle bus to Aspen's other world-class resorts at Snowmass, Aspen Highlands and Buttermilk, where the X Games is held. The lift access here is impressive, but if you really want the proper Aspen experience, take a powder tour on a luxury snowcat (or piste basher). It's the best way to guarantee fresh snow and no people.
The mountains have a number of secret "shrines" buried in the backcountry, including one dedicated to Thompson himself. It features US and Tibetan flags, some of his writing including Rolling Stone articles and a bottle of his favourite whisky, Chivas Regal.
"Hunter saw that Aspen was a garden spot with a rock and roll mentality"
While its best-known as a ski resort, Aspen is equally stunning outside the winter season. You can hike, bike, do mountain yoga, stand up paddling or a whole range of other adventurous activities, all with a beautiful Rocky Mountain backdrop. There are lots of festivals in summer including the Aspen Music Festival, the Food & Wine Classic and the Aspen Ideas Festival.
Hotel Jerome: The Lowdown
Getting there is fairly straightforward. British Airways, Norwegian Air and United Airlines fly from London to Denver. United Airlines fly from Denver to Aspen or alternatively you can drive, which takes about three and a half hours. Either self-hire or rent a private van shuttle from Denver to Aspen with Colorado Mountain Express.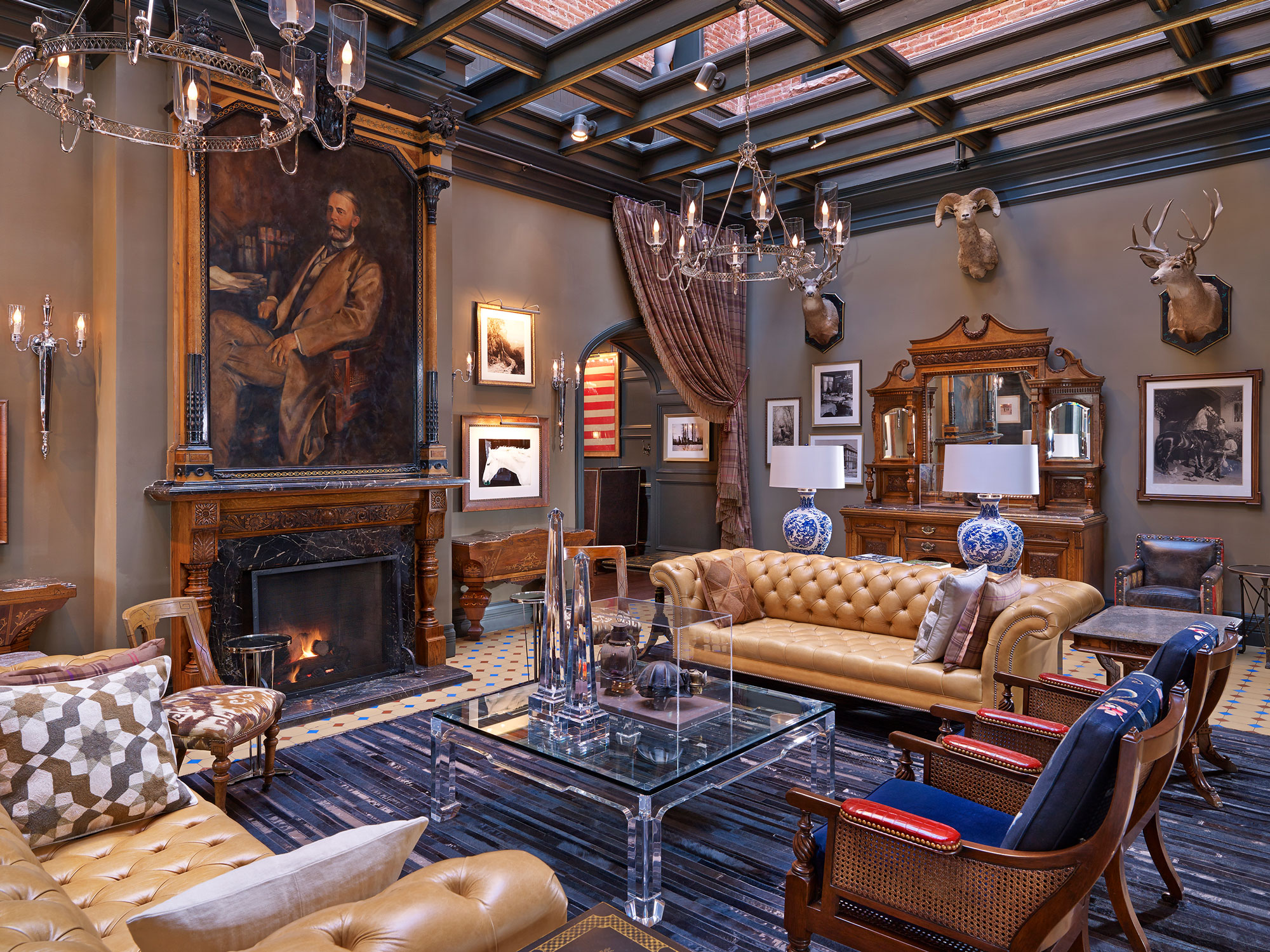 In 2012, when Hotel Jerome was bought by Auberge Resorts, it underwent a huge refurbishment – bringing the historic property right up to date. However, with its replica pressed tin ceiling and original hand-carved maple bar the J-Bar still oozes those same saloon vibes it always did – albeit with kimchi beef tacos, wok-charred edamame and wasabi caviar now sharing space on the menu with classics like the Colorado Flat Iron Steak or the J-Bar Burger.
Other dining options at the Jerome now include a bistro and lounge restaurant, plus a spa. Rooms start at $341(£251) per night for a Deluxe King with views of Red Mountain, while the Presidential Suite starts at $1,248.17 (£918) and includes a separate living room overlooking Aspen Mountain with a dining area and wet bar.
Visit Hotel Jerome for booking enquiries and details.