See Nancy Rubins' Ginormous Sculptures in London
All the way from Topanga Canyon
Texas-born Los Angeles artist Nancy Rubins is best known for her ginormous sculptures crafted from miscellaneous industrial items or "found objects." Seeing one person's trash as modern day treasure, Rubins's has previously worked with metal boats, discarded airplane parts and colourful children's playground toys, collectively transforming them into abstract large-scale sculptures that take their structural cues from each item's imperfections.
Rubins most recent body of sculptures, drawings and small bronze works titled Diversifolia – owing to their bouquet-like appearance – have been transported from her studio in California's Topanga Canyon to London, via nine 20-foot high "tall boys" on a seven-week-long boat journey in aid of her British solo debut. We caught up with her.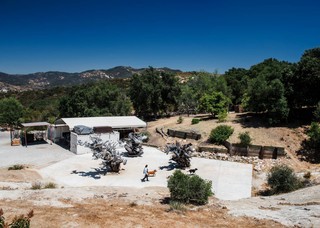 How did you first come to work with metal as a medium?
I've been working with metal for a long time. Many years ago I worked with a lovely gentleman who sold me airplane parts at the price of scrap metal – about 10c a pound. He had mountains of it, so I'd take great big trucks to his place and fill them up, but that was a tiny drop in the ocean. One day I went to see Mr Huffman and his mountains had shrunk considerably. I said, "What 's happened?" and he said "Well, the price of aluminium went up!" Of course, the Japanese wanted X-amount of tonnage, they got a big smelter and they started making ingots out of aluminium. He showed me a picture of himself in The National Geographic as he had designed a mobile smelter that he took around the South West melting down the fleet from WWII.
Why did metal feel right for Diversifolia?
In the past few years I began working with these small aluminium playground toys for children. They started making those in the late 40s, very early 50s and when I started looking at them, examining them, working with them, I realised that these were most likely the WWII planes melted down. All the soldiers came back from the war and people wanted to have babies. The baby boom generation in the US evolved and as the price of aluminium went up, the animals became thinner and thinner. It really made me start thinking about this metal, and how I caught it right at the cusp of the moment it was ready to be melted down again.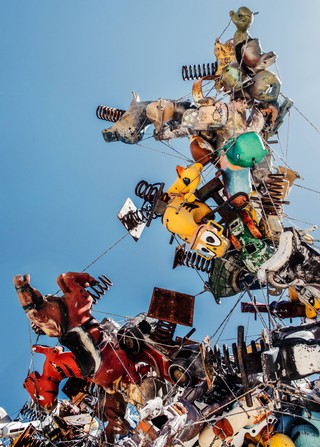 So first I started working with these heavy cast iron elements. The guy who sells them to me said, "You want some pigs?" I said "Pigs? Sure!" He brought me these aluminium pigs that were the size of a real sow. Next he brought me this catalogue filled with animals that I could order by the dozen. I realised some were former Coke cans that someone had collected at some point. I realised that I'm catching these elements at these funny times.

What about the name Diversifolia?
Well, when I look at these things I think, "Where do you stop?" It made me realise that in my imagination these things go out of the skylight, over the building and down the road. So I started thinking of organic forms of growth which lead me to Diversifolia. I built it outdoors but it's marvellous to see this work indoor, as it changes one's perception when there are no distractions from the natural world.
How does living in Topanga Canyon inspire your work?
Its a marvellous place to live. I think wherever a person lives affects how they see the world. I first moved out there in 1984. It's a beautiful, beautiful area that's relatively rural for Los Angeles. I have a lot of property where I can store materials and work. You don't feel like you're next to a major city, but the truth is the airport is only an hour away. There was no road when I first moved there, no electricity. So over time roads, electricity were put in, houses were built, studios were built, it's been a gradual evolution. But there's only been a little bit of development in the 35 years I've lived there. It's so steep, so it's very difficult to develop. California is a beautiful state. I love living there.
Diversifolia opens at London's Gagosian Gallery until 14th April