City Without a Suitcase | Sarajevo Welcomes You
The Bosnian capital is rousing to its feet, with a new generation of young creatives and artisans bringing life back to its storied streets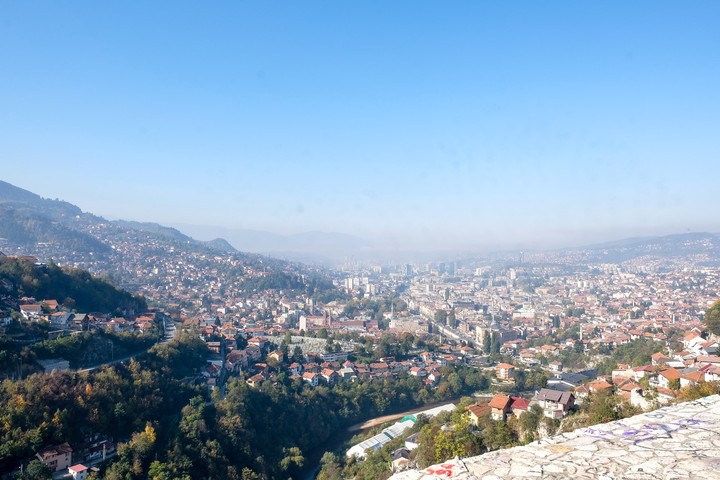 Photo: James Tennent
In this series, we look at where to go if you land in a city without your suitcase. Where would the locals shop for their shirts or shoes? Where would you find the sharpest tailoring, the best haircut or the most soothing shave? These artisans and craftspeople are often overlooked by travellers, but they're often what gives a city its soul.
Sarajevo is a city etched into the history of the modern world. Within its small boundaries, three international orders have crumbled: in 1914, when the shooting of an Austrian aristocrat on a street corner reshaped Europe; in 1984, when a Winter Olympics brought a détente to US-USSR sports diplomacy; and in 1992, when toxic nationalism and grabs for territory brought untold devastation to the Balkans.
The city still bears the scars of besiegement, with its gashes in the pavement left by mortar fire - now painted red to look like flowers - and its rows and rows of buildings pockmarked by bullet holes. One guide told me that one of the city's most expensive apartment blocks is 'Sniper Alley', where Bosnian citizens risked being picked off by the marauding Serbs.
The TV tower looms above Sarajevo's hills; an abandoned structure that could symbolise decay and dejection, but has instead been repurposed into a site for some pretty intense raves
Modern Sarajevo has a distinctly youthful groove, with local kids hellbent on shaking off the trappings of the past and transforming the city in their image. But Bosnia's bloated, corrupt government stifles this drive for change, and as such, many young Sarajevans keep one longing eye on the West.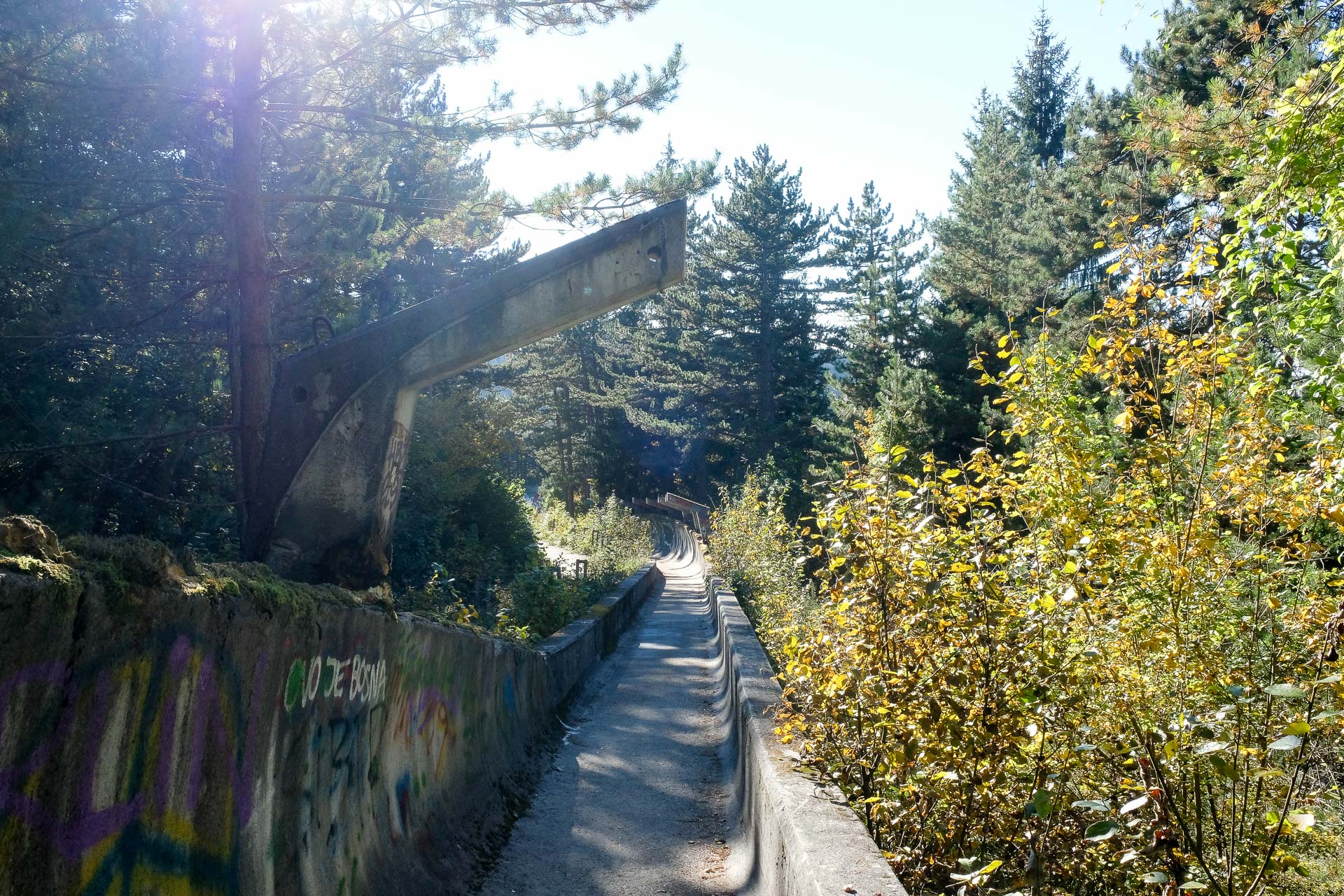 As a city once vaunted as a model of multicultural living, eliding the customs and cultures of oppressors and occupiers, Sarajevo has a lot to offer you. Should you find that your bags are still in Belgrade as you step off your plane, you'll need to look local to restock - and in doing so, you will be richly rewarded.
Where to Go for a Soak in Sarajevo: Isa Begov Hamam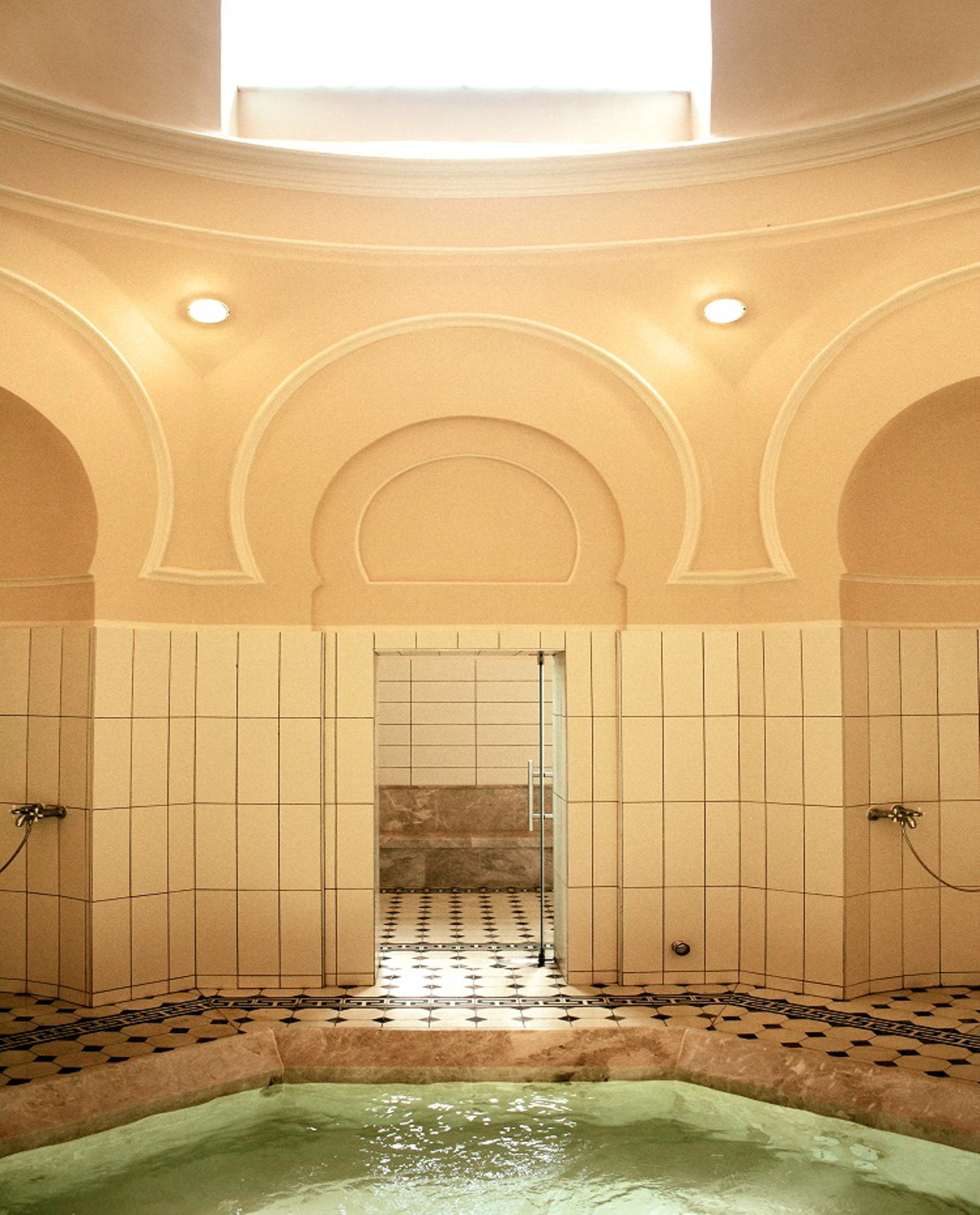 Surely, in a city so bound to its past, there is no better way to start your Sarajevan sojourn than soaking in its most historic waters. Isa Begov Hamam not only brings the warmth back to your winter bones, but also stands as a totem to the city's conquest. The original baths here were built around 1460, as the Kingdom of Bosnia fell to the Ottomans, becoming a Sanjak, or vassal state, of the Sultan's Empire.
Isa-Beg Ishaković, one of the Sanjak's first governors, lends his name to the Hamam, and the building itself is unmistakably Turk-inflected. But in the decades following, the Hamam took on further significance as a place of refuge for Jewish refugees expelled during the Spanish Inquisition, amenable as it was to permitting ritual ablutions.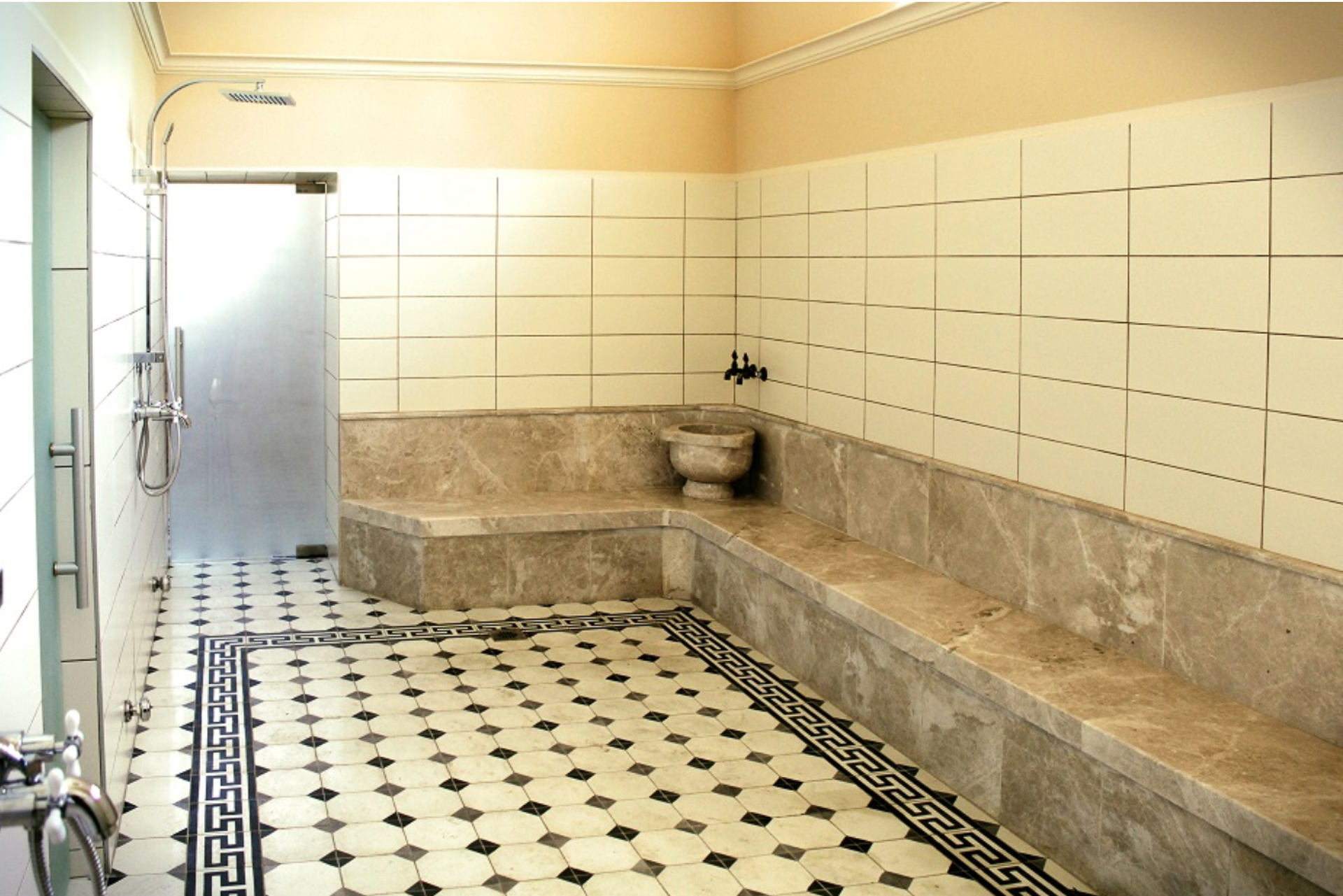 Like so much of the city, the Hamam was damaged beyond use during the war and siege, and only reopened a few years ago, but it has already returned to being a hub of communality, relaxation, and conversation in the city. Entrance is restricted at differing times to men and women respectively, so be sure to check their schedules before strolling down. Do yourself a favour and book a massage in advance: it's worth it.
Where to Go for a T-Shirt in Sarajevo: Molimao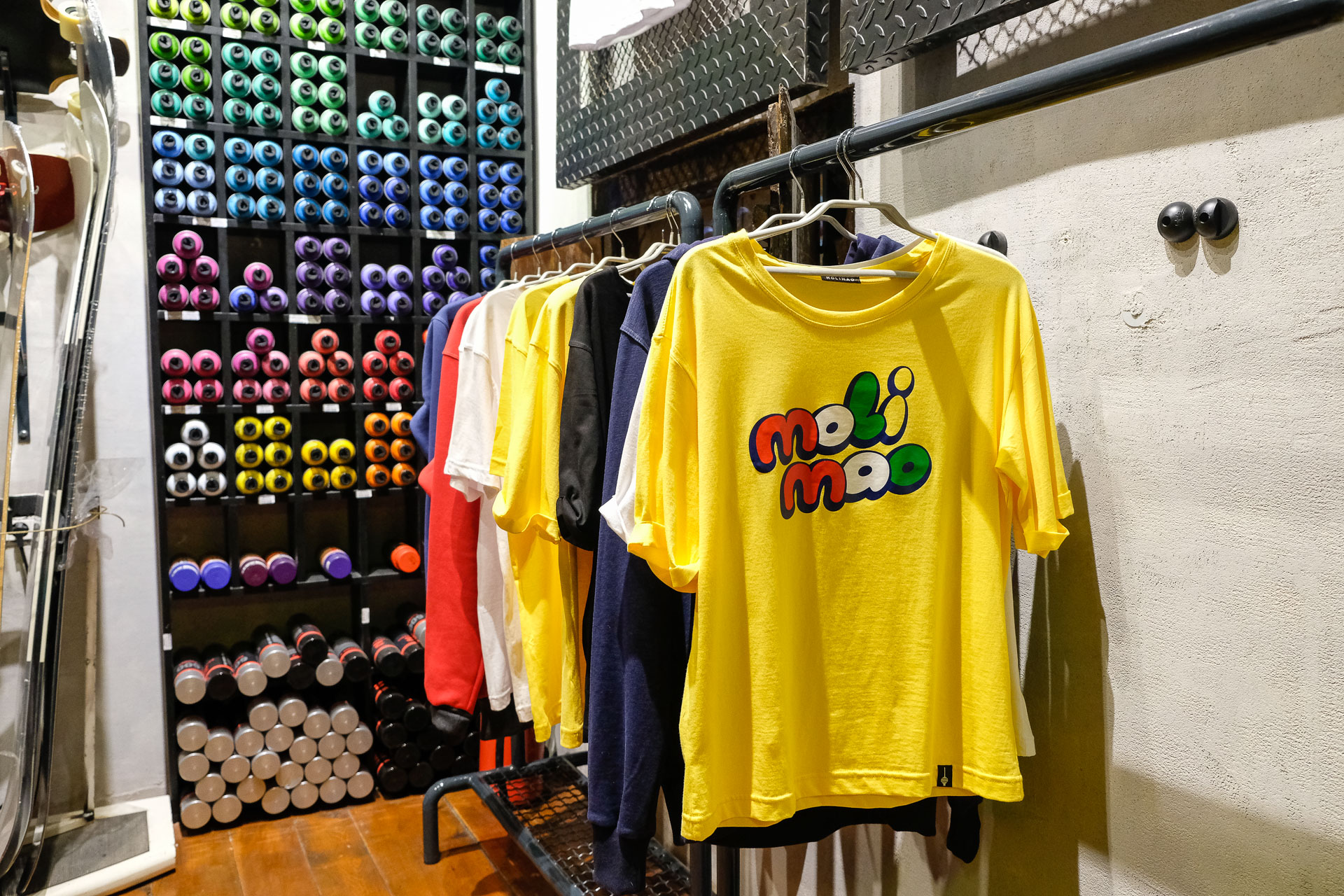 If you want to know what young and trendy Bosnians are decking themselves out in, look to Sarajevo's premier graffiti artist, Sandin Medjedovic, and his label, Molimao. Sandin's reputation on the graffiti scene long precedes Molimao - his first design, of Vučko, the wolf mascot of Sarajevo's 1984 Winter Olympics, wielding a can of spray paint, reflects the culture that surrounded him in his youth. But now, Sandin's designs are the visual language of the city's new generation.
Molimao designs are marked by nostalgia: Sandin says he's always got the old aesthetics of Yugoslavia on his mind as he designs. When we met, he was keen to tell me how he'd been looking through old tourism posters for inspiration recently. The name Molimao, Sandin told me, was itself a playful linguistic joke; an over-formalisation of the Bosnian word for 'please', that gently scoffs at the formality and attachment to the past in Bosnian culture.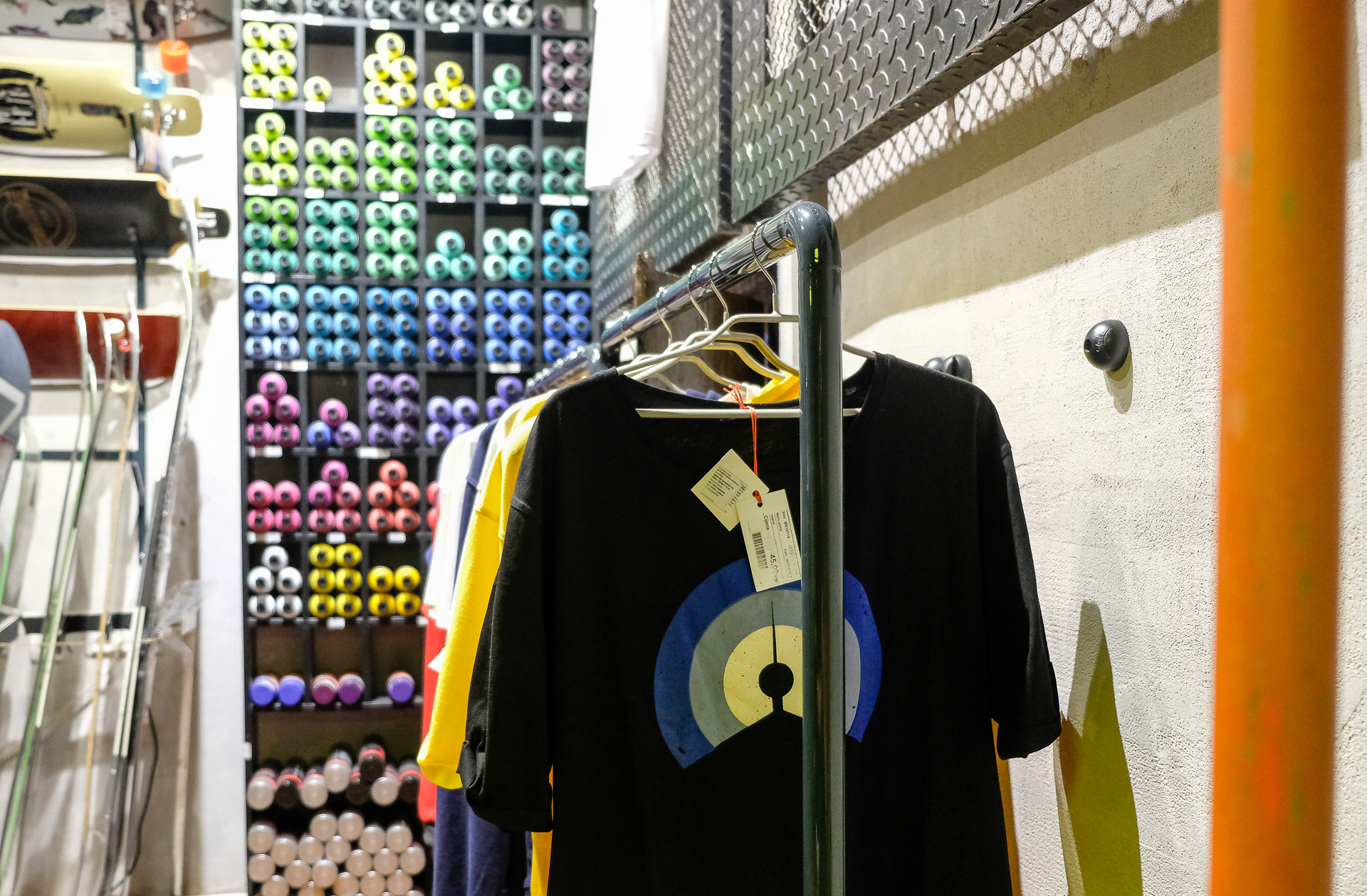 Another mainstay of Molimao is the TV Tower: a ball and spike that looms above one of Sarajevo's hills; an abandoned structure that could symbolise decay and dejection, but has instead been repurposed into a site for some pretty intense raves. For some of the younger generation, according to one local, the tower is even now known as Molimao.
Currently available at a couple of skate-shops in the city, and from time to time, the airport, Molimao are planning to open their first physical store in the city centre. They've found the perfect space, Sandin told me, but like many of Sarajevo's youthful entrepreneurs, have been hampered by draconian local bureaucracy. Not letting red tape slow them down, they've recently unveiled their new collection - a series of crewneck sweaters, ready and waiting for the bitter Bosnian winter.
Where to Go for Shoes in Sarajevo: Edo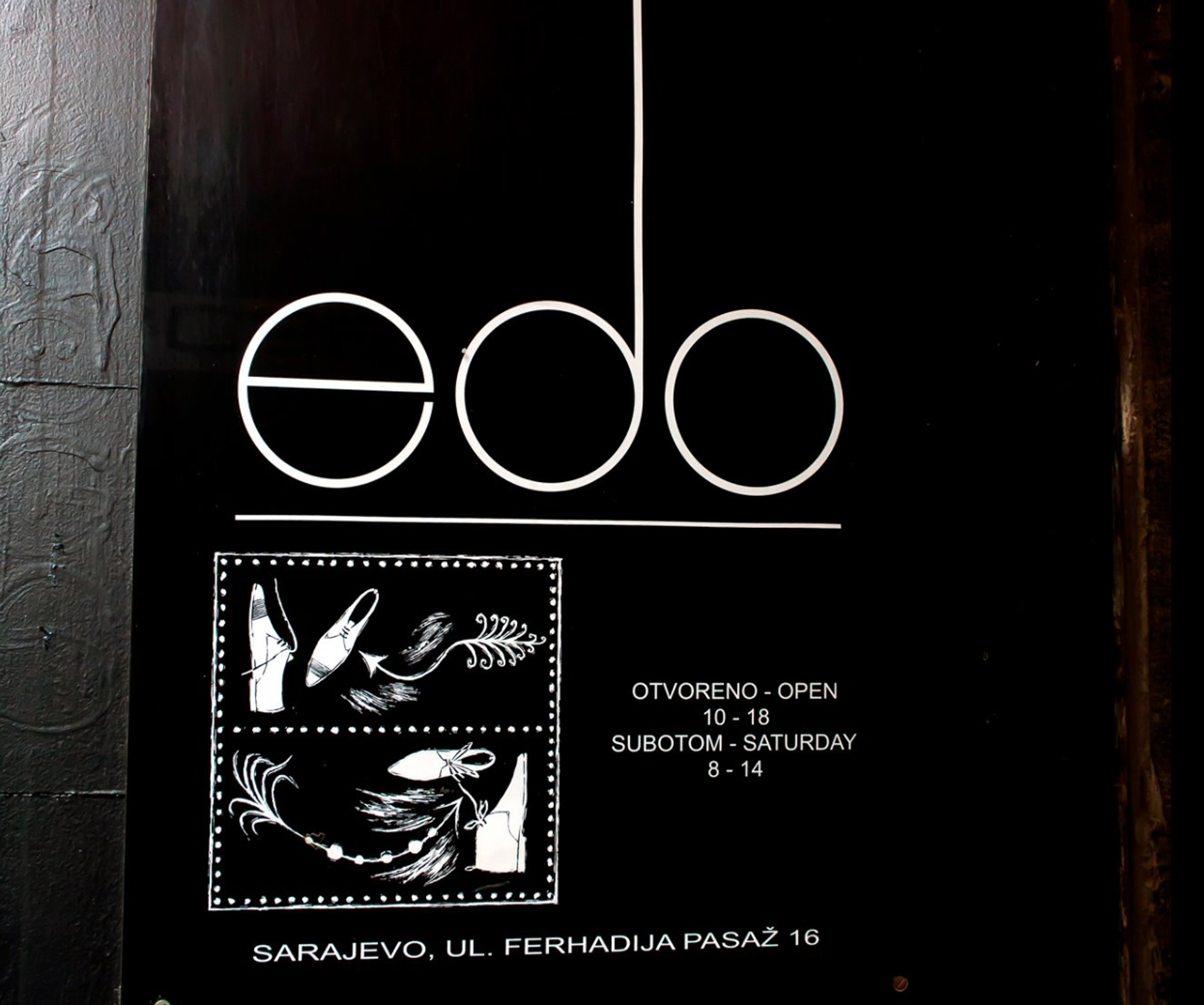 Traversing the city, whatever the weather, will inevitably call for a new pair of shoes. Once again, Sarajevo has you covered, with Edo: situated in centre of the city, Edo - and its head cobbler, Edo Smaljik - has been taking footprints and crafting perfectly-snug shoes since the year of the Winter Olympics, 1984.
It wasn't easy to get people interested in premium footwear at first, so the store's history goes, but a dedication to the craftsman's mentality has kept Edo standing and producing for close to 35 years, through thick and thin; through hard times and now, thankfully, good. Edo has no frills, no bells and whistles, no sophisticated PR machine regurgitating 'authentic' and 'artisan' ad nauseum: it has craft, and a reputation that is firmly implanted in the city. They will, quite simply, make you a bloody good shoe.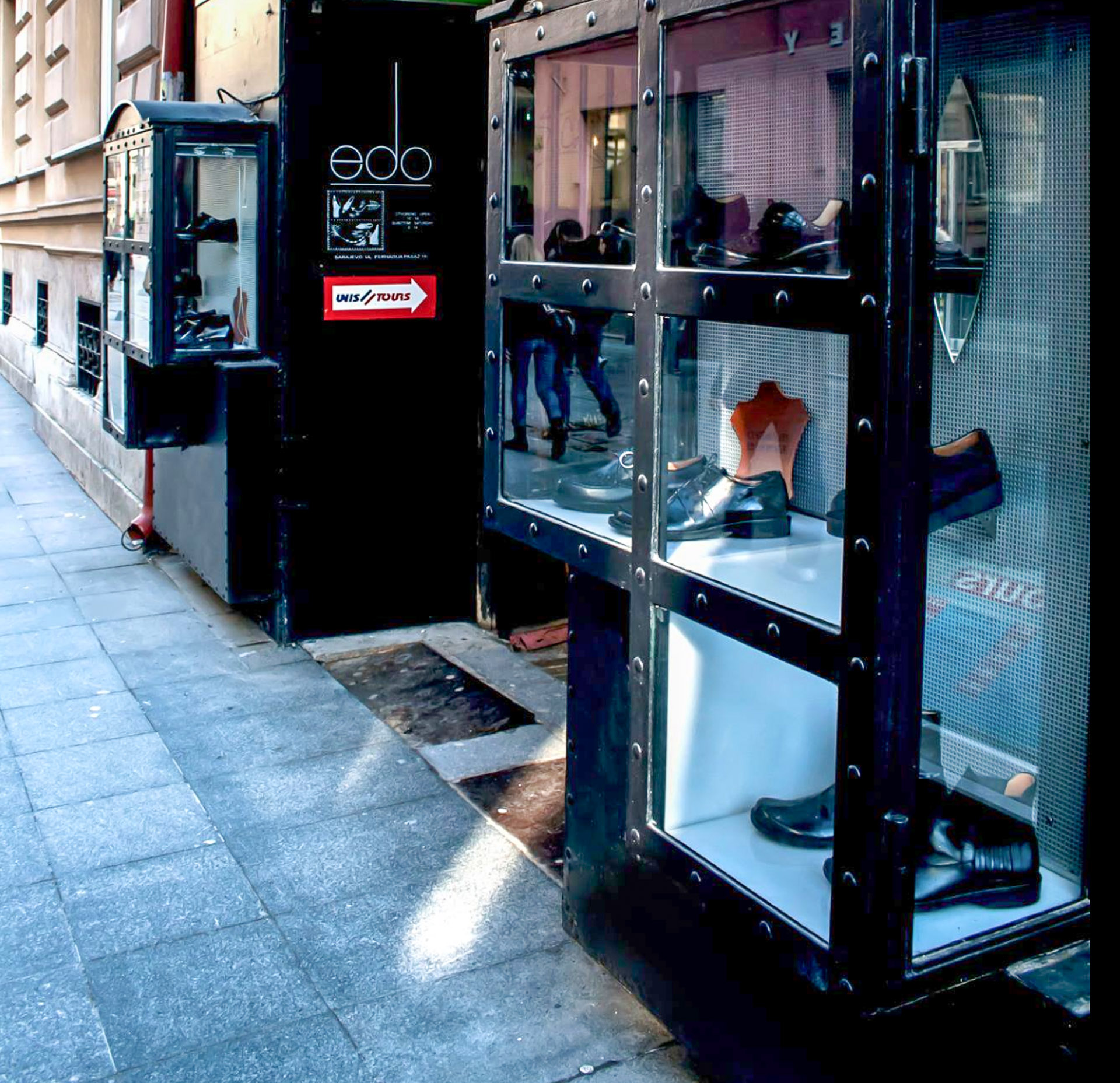 Although they claim to mainly cater to the female foot, I found no issue in heading in for a fitting, and the store is more than equipped with a myriad of styles to suit whichever well-heeled mood you catch yourself in. My pair have already been beaten half-to-death on my travels, but have kept themselves spectacularly sturdy, and as cosy as I could possibly hope for: built to last, like Sarajevo itself.
Where to Go to Smell Nice in Sarajevo: Kalem i Misk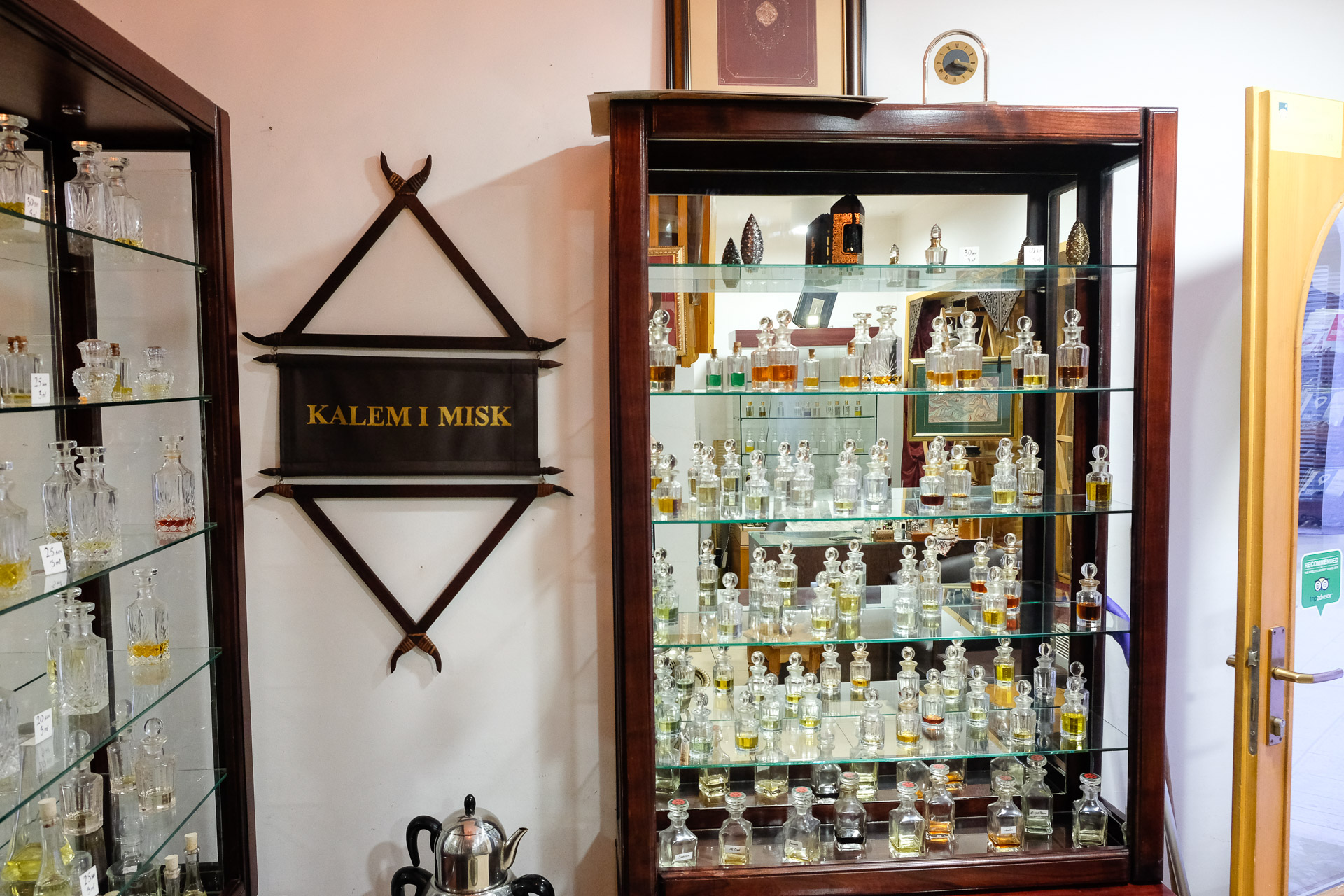 "Our prophet liked to use perfume," Adnan Lusija, co-owner of Kalem i Misk, told me. This perfumery, family-owned by a father and his sons, places a lot of importance on smelling nice. Perfume, Adnan explained, is a gift to other people. He even suggests that God can be explained through perfume: "you can't see it but you can feel it." Whatever feeling religion gives you, it's always good to know your perfumer treats his scents with the fervour of the disciple.
The shop isn't always open - the brothers all have day jobs. The perfumery, the only one of its kind in Sarajevo, is a labour of love for the family. When a new customer comes in, they speak to them, find out as much useful information as they can, and then start breaking out the essential oils. This is no random impromptu sniff test, however - from that initial conversation (which can cover tastes, usual perfumes, even your favourite foods), they've already concocted your own unique blend.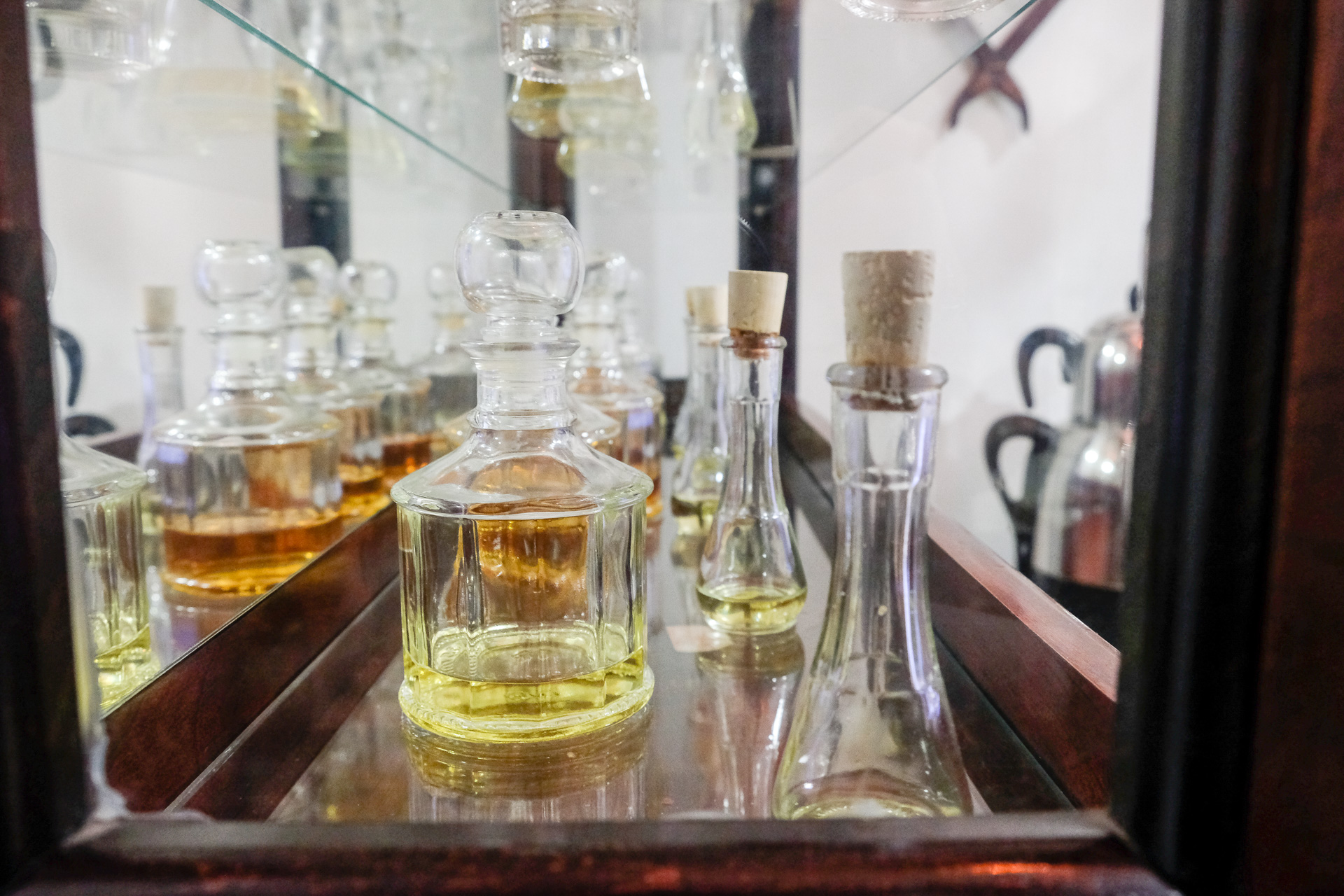 Customers often have some idea what they're after, Adnan tells me, but often also find out that their instincts are completely misguided, and what they're asking for isn't what they really want. Kalem i Misk's bespoke blends inspire devotion, so accurate are they in fulfilling a client's needs - customers come from across the Balkans and beyond for refills, and it's easy to see why.
I left Kalem i Misk with my own unique brew, based on the scents of Sarajevo's forests, entwined with oils from the verdant foliage of Morocco, the country I now call home. You won't be surprised to learn that it smells fantastic, although its strength is so potent that I nearly cleared a carriage of the London Underground on a recent visit to see friends, so use it with caution.
Sarajevo longs to be understood by you, and understood on its own terms; far from being a museum exhibit, or a memoriam, it lives, crackling with creativity and limitless potential. For centuries, it was a city that opened its arms to all; for decades now, it has been a site of contestation, division, and tragedy. It wants to welcome you back - I would urge you to go and find out what it has to offer.
James Tennent is a freelance journalist, based in Marrakech. Keep up with him on Twitter.