The Spirits of Patagonia | Inside the Distilleries at the Bottom of the World
South America is more known for its pisco and rum than its gin, but Patagonia wants to buck the trend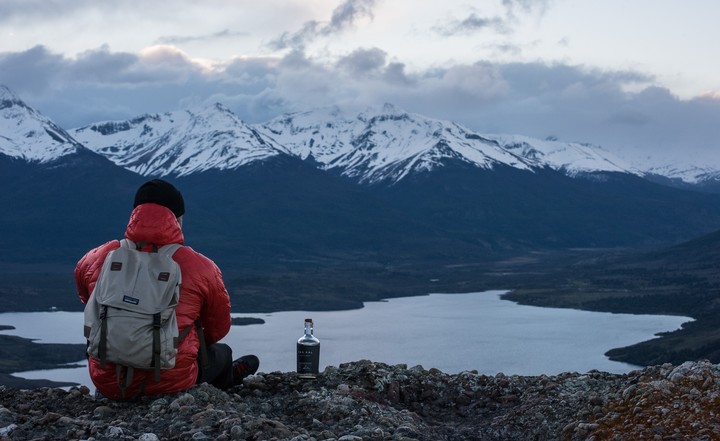 Photo: Courtesy of Träkál
When thinking of Patagonia, the vast region at the bottom of South America, what comes to mind? Mountains, glaciers, windswept plains. A hub for hiking, climbing, kayaking. Top producer of beef, Merino wool, excellent craft beer.
What doesn't come to mind? Whiskey. Gin. Vodka. Patagonia is not known as a prime spot for distilleries or high-quality spirits.
But there is a small (and growing) group of people who see the potential in this far-flung wilderness, who are capturing the taste - the spirit - of Patagonia, and bottling it.
---
It's late 2018 and my second time visiting Puerto Natales, a town on the shores of Last Hope Sound in Chilean Patagonia. The town is mainly known as a stopover before heading to Torres del Paine National Park for the multi-day W Trek. But it's also home to the world's southernmost distillery.
The cozy and hip interior of Last Hope Distillery and Bar offers instant respite from the notorious "westerlies" and a cheery Aussie voice calls out "Welcome!" as I walk in. The voice belongs to co-founder Kiera Shiels, who with her boyfriend Matt Oberg had the idea for Last Hope back in 2015 when looking for a celebratory drink after completing the W Trek.
"We were searching for a stiff local drink of some kind, but we couldn't find anything more than beer, wine, and pisco sours. 'Wouldn't it be cool if there was a distillery here?' one of us asked. 'We could do that…' replied the other," Kiera says.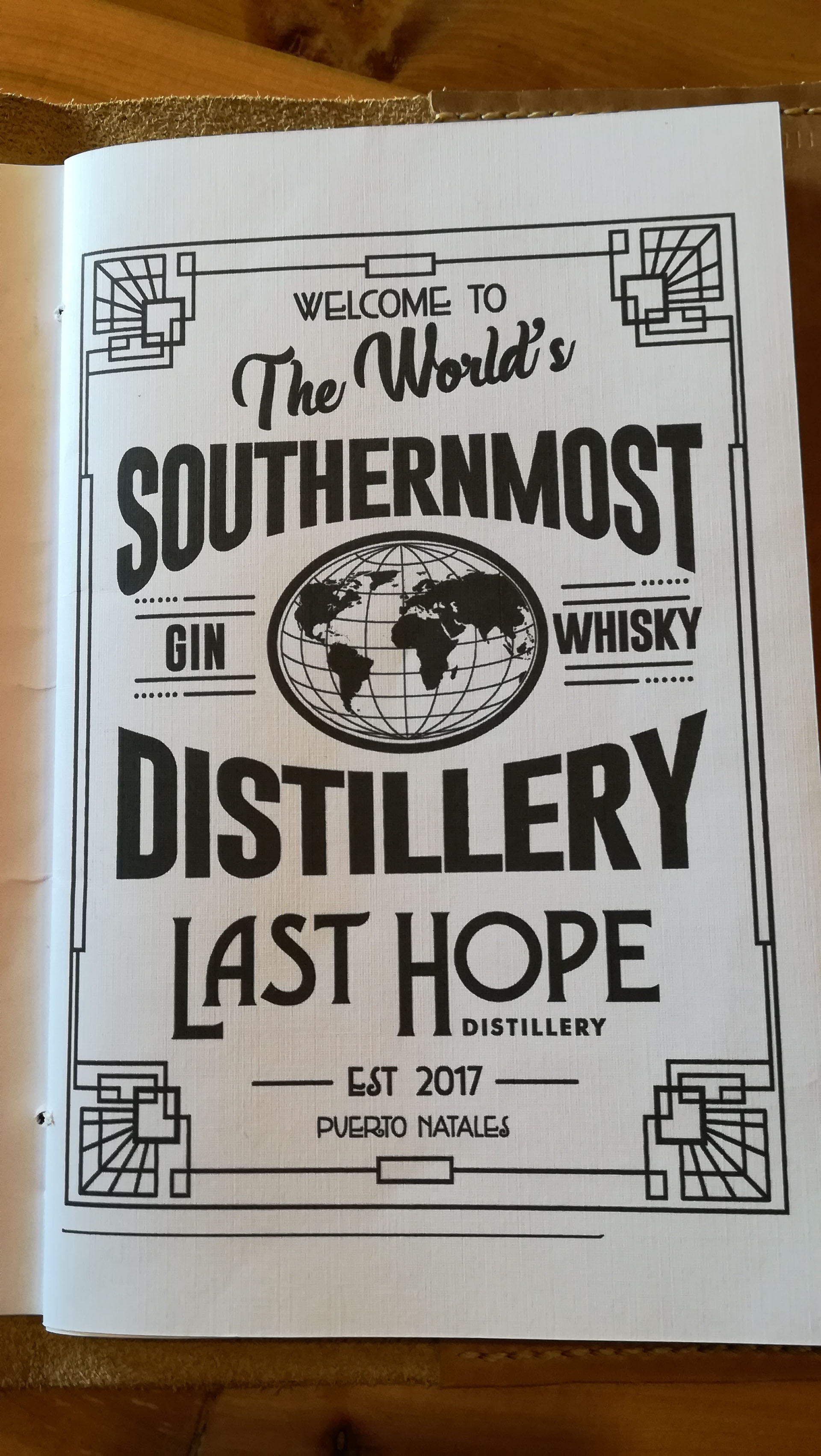 After traveling to other distilleries to learn the trade and then building their operation from the ground up, they opened in October 2017. While their whiskey - made from 100% malted barley smoked with local peat - won't be ready for a first taste until 2021, their two gins are: samples of which are now poured for me as I take a seat at the bar.
"Both gin and whisky are products that can showcase the area in which they are made," Kiera says. "The Last Hope Province is a spectacular location, and we wanted to make spirits that could help share this amazing place with the rest of the world."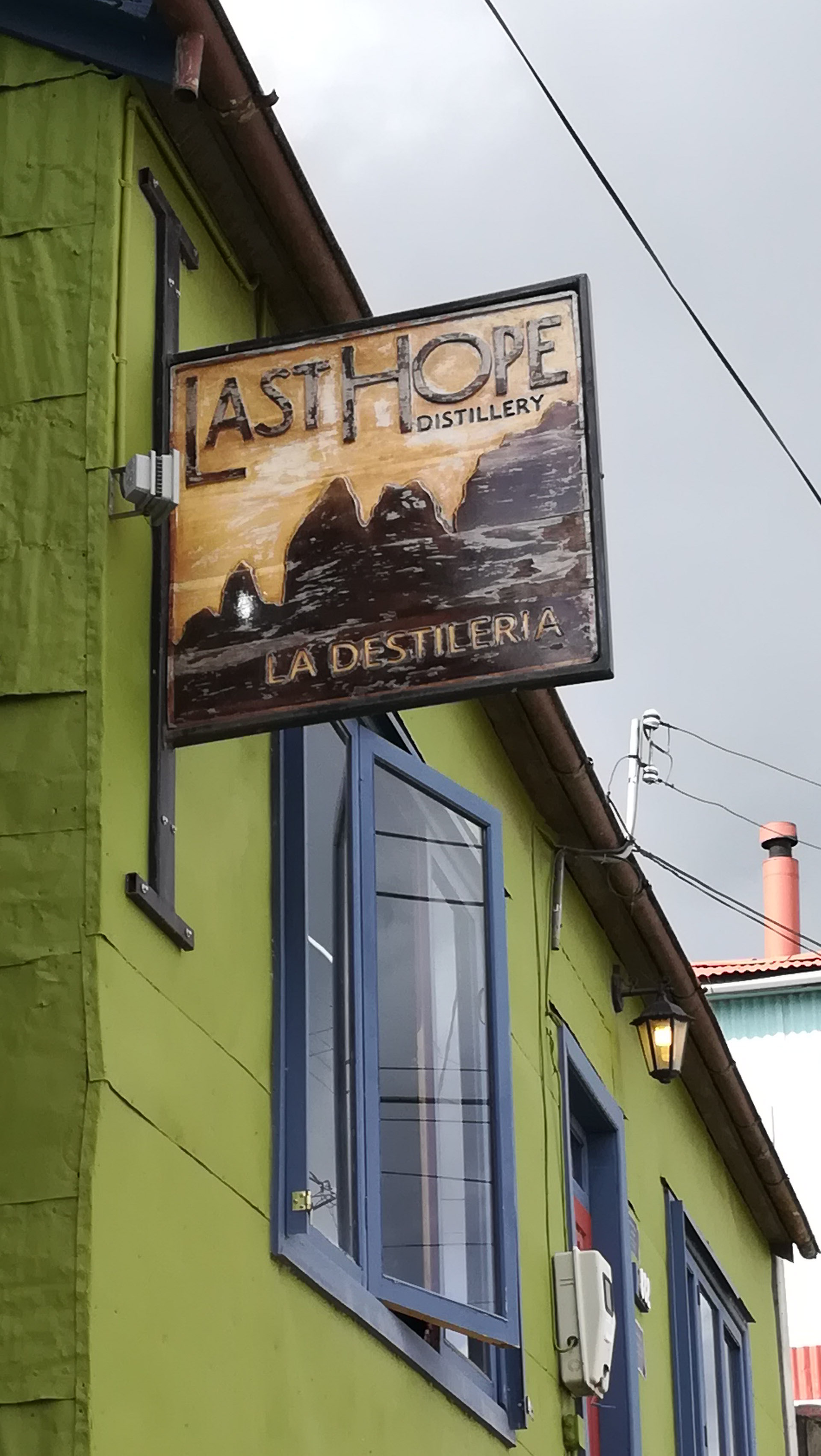 Using an imported copper still (named Florence after the first tourist to the area, Lady Florence Dixie), they make one-shot small-batch Dry Gin, using eight traditional gin botanicals, like juniper and citrus, and four that are native to Patagonia: maqui berries, winter's bark pepper, lemon verbena, and yerba mate. After macerating for 12 hours, the botanicals are added to the alcohol, and the resulting distillate is mixed with fresh Patagonian water. Their other gin, Calafate Gin, is flavoured and coloured by soaking local Calafate berries in their Dry Gin for several weeks. It's said that whoever eats a Calafate berry is destined to return to Patagonia.
All this is explained to me, first by Kiera as I sip the two smooth and floral gins, and then by Matt, as he excitedly gives me a little tour of their small operation, housed in a shed out back. Their passion is infectious, and boy does it go down easy: I pass several tipply hours enjoying their gin cocktails and buy a bottle of the Calafate Gin to take home.
---
But this isn't my first encounter with a Patagonian spirit. My journey into the small world of Patagonian distilling started in early 2017 when, at a party, a man named Sebastian Camorino spritzed my wrist with something that smelled like a forest: wet earth, humid air, growth, decay.
That smell is Träkál, a new kind of spirit created by Camorino, made with Patagonian apples and pears, and flavoured by seven local herbs and four types of berries. The scent he sprayed on my wrist is its flavour profile, meant as an introduction to this wild new concept, which is so avant-garde in the distilling world that authorities have struggled to classify it, as it is neither a whiskey nor a gin. "It's completely new. You need to explain it and educate people," he says.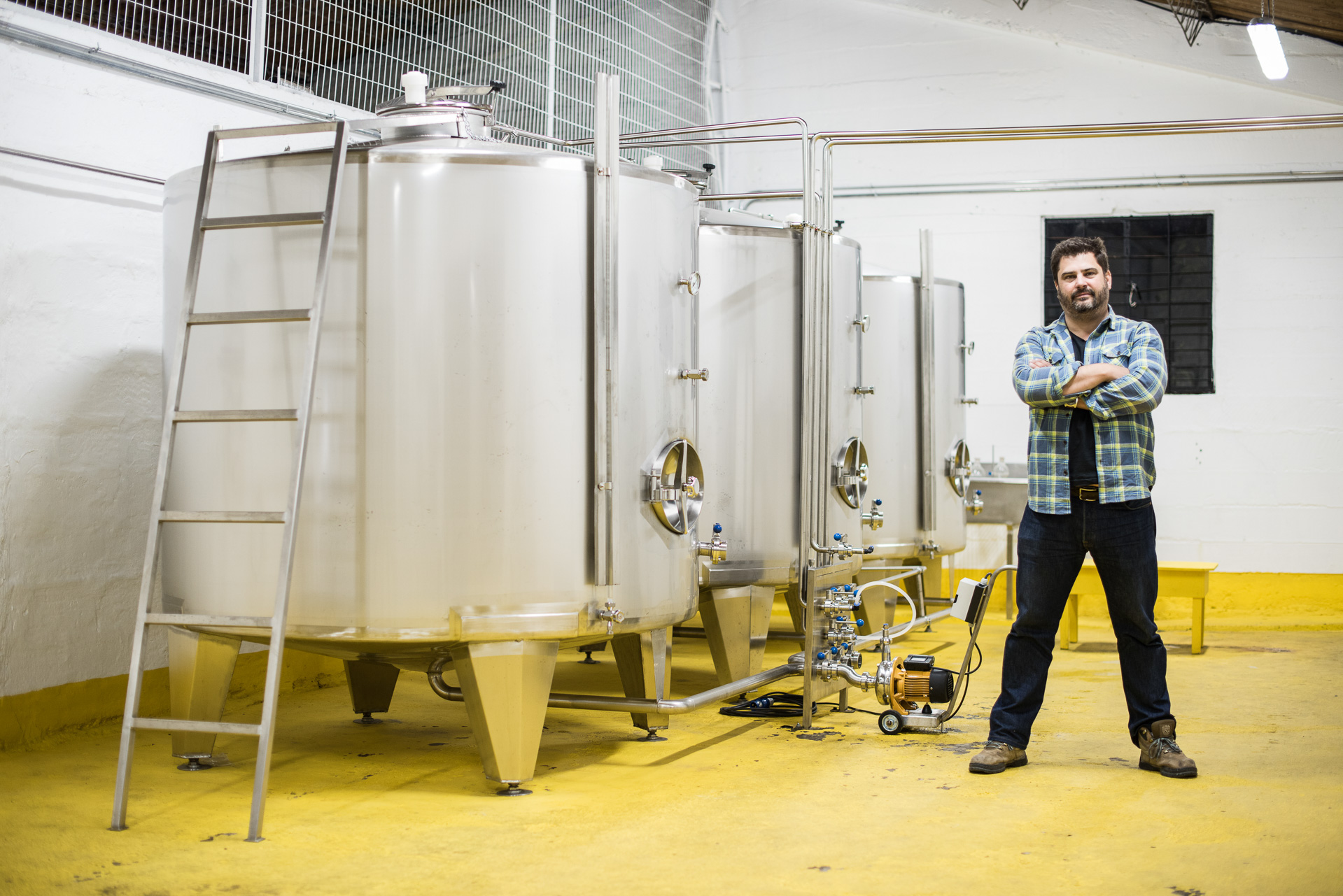 Träkál's distillery is located in Osorno in forested, volcanic northern Patagonia. Here is where the Mapuches, an indigenous warrior tribe, have their ancestral lands. For a year and a half, Camorino worked with these locals to learn about the herbal varietals he wanted to use, such as laurels, paramelos, and canelo. To ensure that the flavours are used at their peak when infused during the final stage of the triple distillation process, the varietals are diluted into essential oils.
"I wanted it to be like the experience of walking through a woodland forest in that part of the world," Sebastian explains. The taste itself is heady and crisp, like drinking from a mountain stream, and its complex floral profile makes it ideal for sipping solo or mixing.
---
At first glance, Patagonia doesn't seem like an ideal place to start a distillery: the high cost for shipping materials, geographic isolation, hard-to-obtain permits and licenses, and, for foreigners, having to do all that and more in a foreign language and culture.
But there are several great reasons to take on such a challenge. With its immense icefields, glaciers, and Andean snowmelt, the water in Patagonia is incredibly fresh and pure, perfect for use in distilling. Diverse plant varieties offer unique flavours, some of which can't be found elsewhere in the world. There's moist and smoky peat to use for whiskey.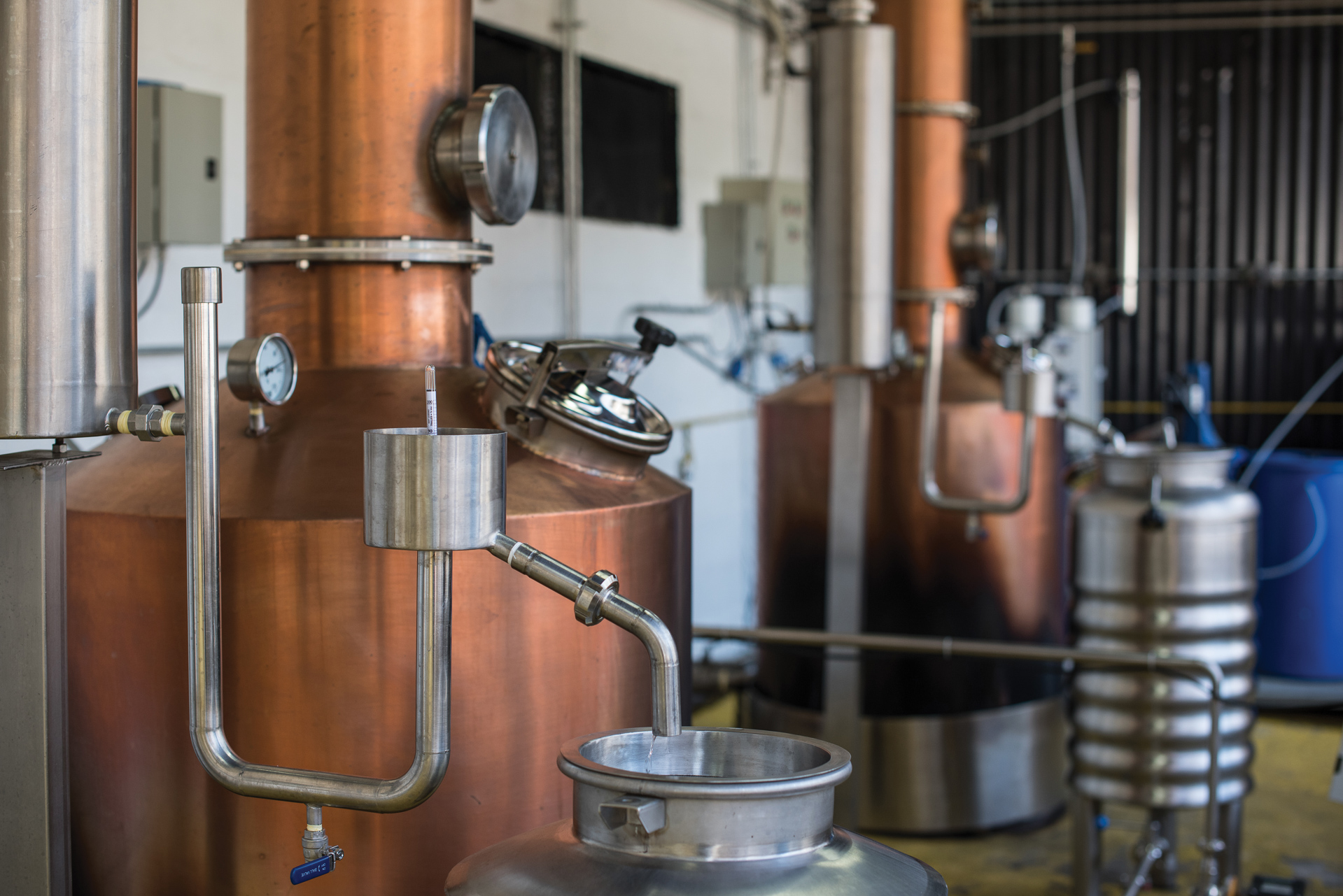 But ultimately, it's the love of place and wanting to share that with visitors. Many of the distillers, like the Australian Kiera and Matt and the Argentinean Sebastian, came to Patagonia to visit and ending up staying. And that love translates into respect and care, both for the environment and cultures of the region: Last Hope donates portions of its profits to environmental conservation organisation Torres del Paine Legacy Fund, and Träkál, in addition to its recycling work, is working on becoming fully solar-powered.
---
The journey to discover more Patagonian spirits continues. Matt and Kiera tell me of a new gin and whiskey distillery called Tepaluma in the Aysen region. I also need to pay a visit to the Chiloe archipelago, where silky smooth Sirena de Chiloe vodka is made using several of the island's more than 286 potato varieties and Chilote rainwater.
At the end of the day, for these distillers it's about wanting to create something that transports its drinkers back to Patagonia. I'd say they're succeeding. A few months ago, I was hiking through a nature reserve in northern Patagonia. The smell from the leaves and forest around me was unmistakable: it was Träkál. Now, sitting in my family's home in Oregon, I take a sip of the Calafate Gin and I'm right back there on Patagonia's wind-battered, intoxicating shores.
Zoe Baillargeon is a freelance journalist, based in Valparaíso, Chile. Keep up with her on Twitter.