Consumerism, Narcissism and Unlearning Painting | Interviewing New York Based Chloe Wise
Meet the 25-year-old artist whose work asks whether the female or the food is the feast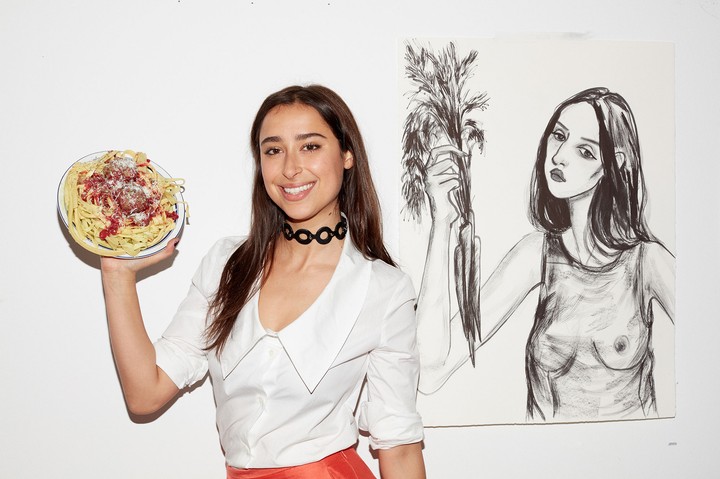 Photo: Rafael Rios
Canadian-born, New York-based artist Chloe Wise works across traditional and new media, using offbeat humorous imagery in the most provocative and twisted ways, to address topics such as religion, consumerist culture, sexuality and anything in between.
Her now legendary bread bags exploded the social media sphere in 2014, when actress and friend India Salvor Menuez turned up to a film premiere sporting a Chanel bagel bag. As a group exhibition featuring Wise opens at NADA New York, with Swiss gallery Sébastien Bertrand, Amuse caught up with the self-described "nice Jewish girl" at her Bushwick studio while taking selfies and blasting Drake.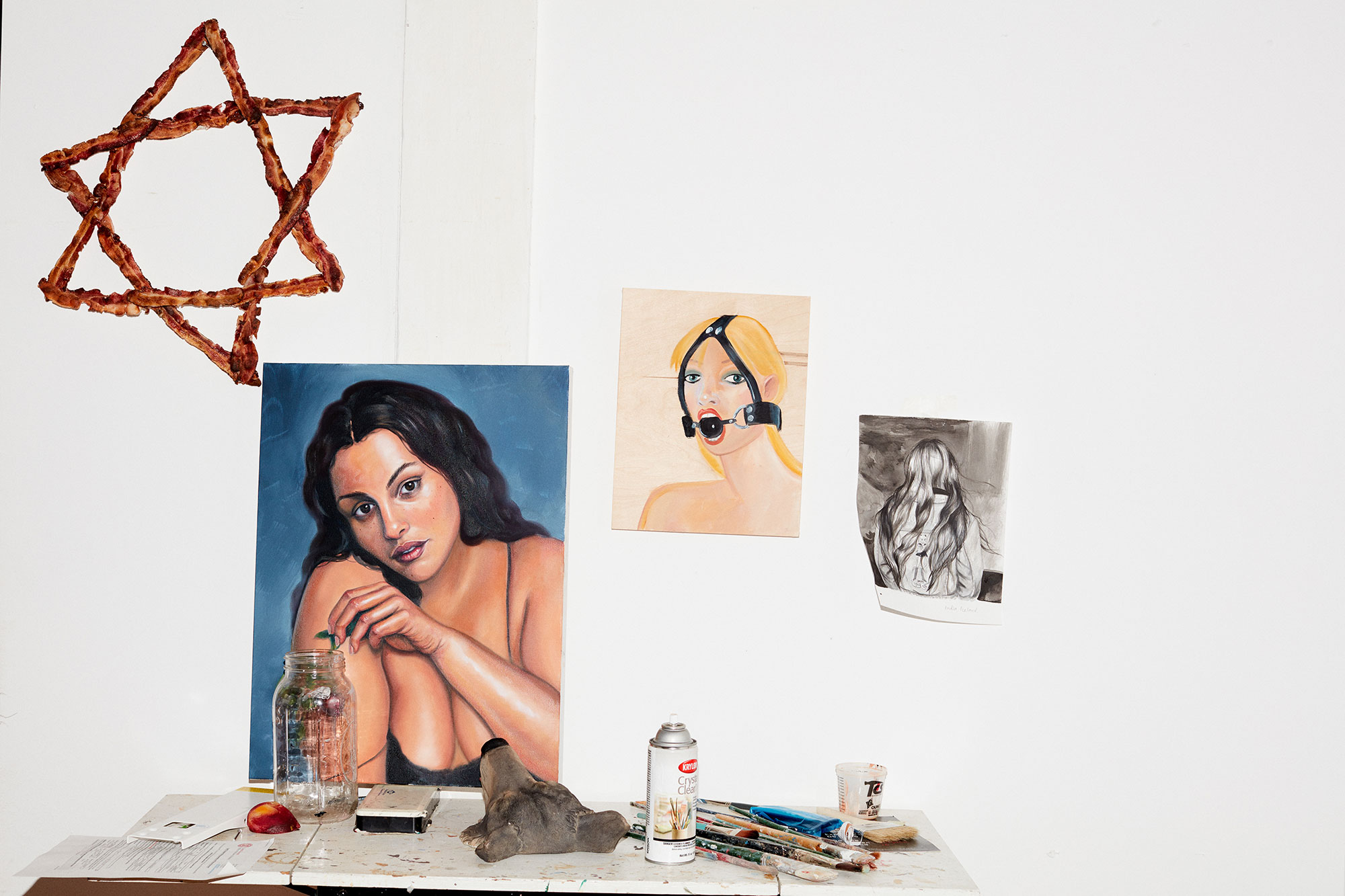 Your work is a lot of fun, but you also explore difficult topics like religion or consumerism. Is humour a way of coping for you?
Comedy and satire have always been some of the most effective ways to make societal critique that actually affects someone on a personal level. Consumerism is a difficult topic because it's everywhere. We're completely drowned in a sea of consumerist imagery.
I'm not condemning it, but I think it's something that has to be explored. To me, the whole thing is really dark and cyclical, but along the way there's so many funny and beautiful things, and I choose to point them out and see how we can think differently about it.
For the series Literally Me, you painted one large painting of yourself every day for a few weeks and documented the process on social media. Is that your way of transposing digital speed into a physical form?
For me, it's a way of negotiating the immediacy of social media, the constant flow of images and how quickly we document ourselves. I studied oil painting, which has such a beautiful language with its set of rules.
But if you get caught up with academia you kind of forget to fuck around, so it was a good exercise to unlearn painting. It's also my way of acknowledging the fact that people look at my generation – women primarily – as self-obsessed and narcissistic, and to challenge the viewer with their own assumptions.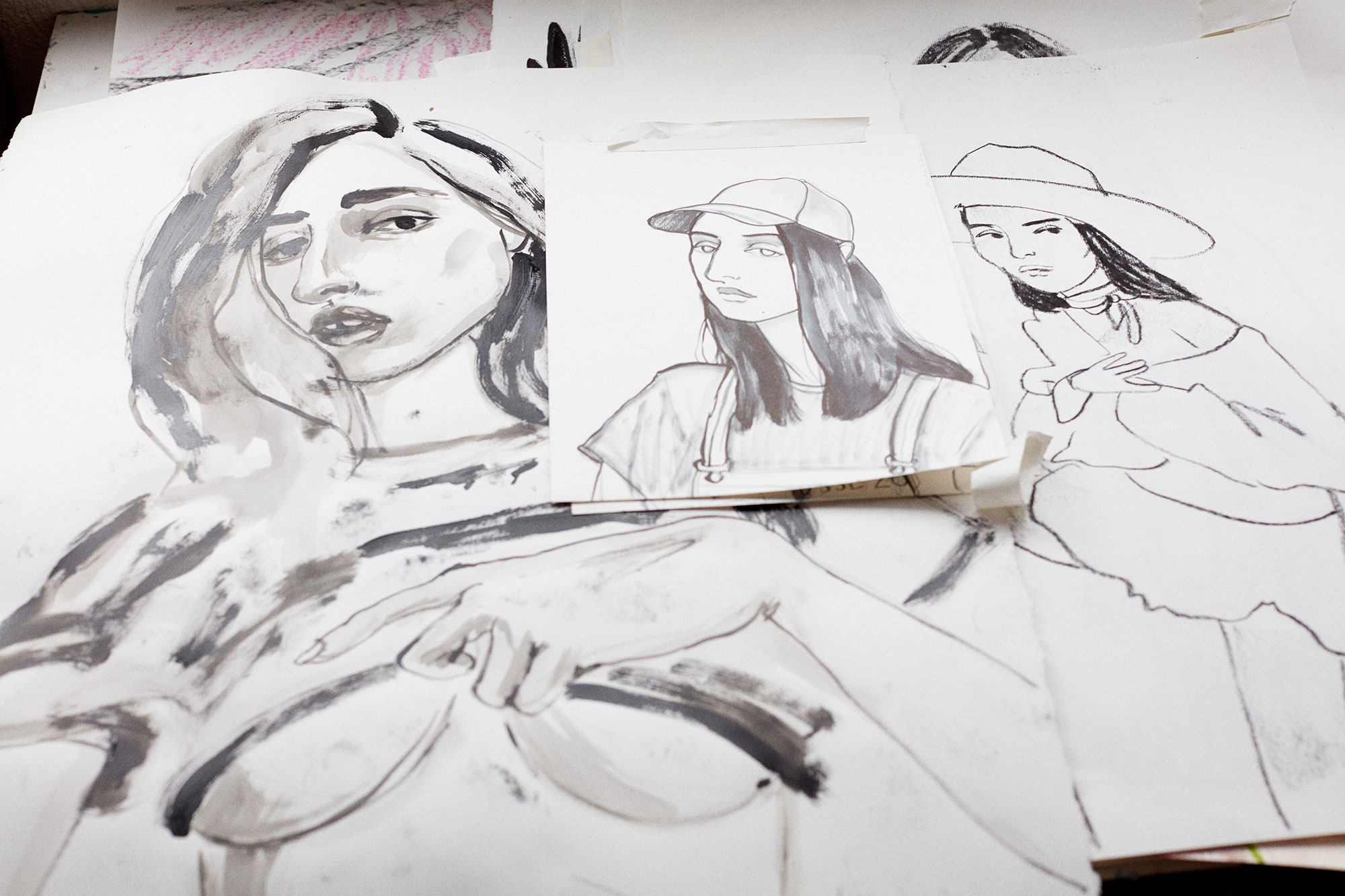 You've included many of your friends in your work, including Hari Nef and India Salvor Menuez. Is your practice a way of engaging with the people you love and admire?
Yeah, sure. I use my friends and myself because we are A) relatively available and B) a-DOR-able!
I think it's important also to represent a community; a lot of my friends are doing amazing stuff in art and activism and I like to show them. It was important for me to have my painting of Hari in the Deitch & Gagosian Unrealism show, to represent women of non-normative body types.
What are you going to show at NADA?
I'm showing two sculptures of pasta, one is pesto with a papaya that's pierced and the other one is fettuccine with peaches, also pierced. Then there are two paintings: one of a girl, with her boobs out, with fruits and vegetables including a butternut squash. The other one is of my friend Jess, wearing a renaissance blouse and no pants, holding some bok choy.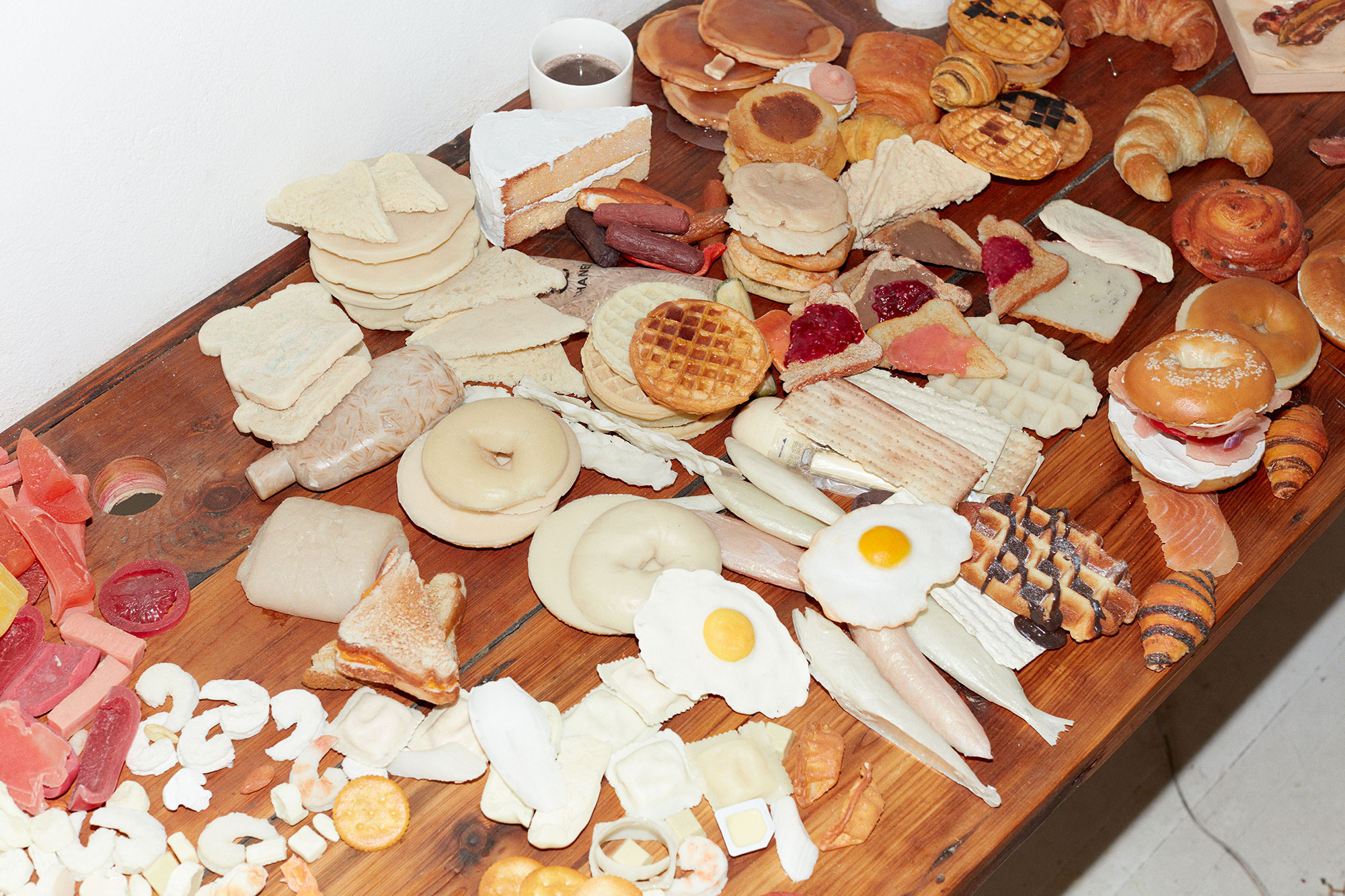 What do you look out for at art fairs?
I enjoy work that is loud, brave, fun and has technical achievement. Some bigger art fairs are just sterile and show things that are foolproof going to sell. I think when you see stuff that's experimental and not necessarily geared at the art market, that makes a good fair.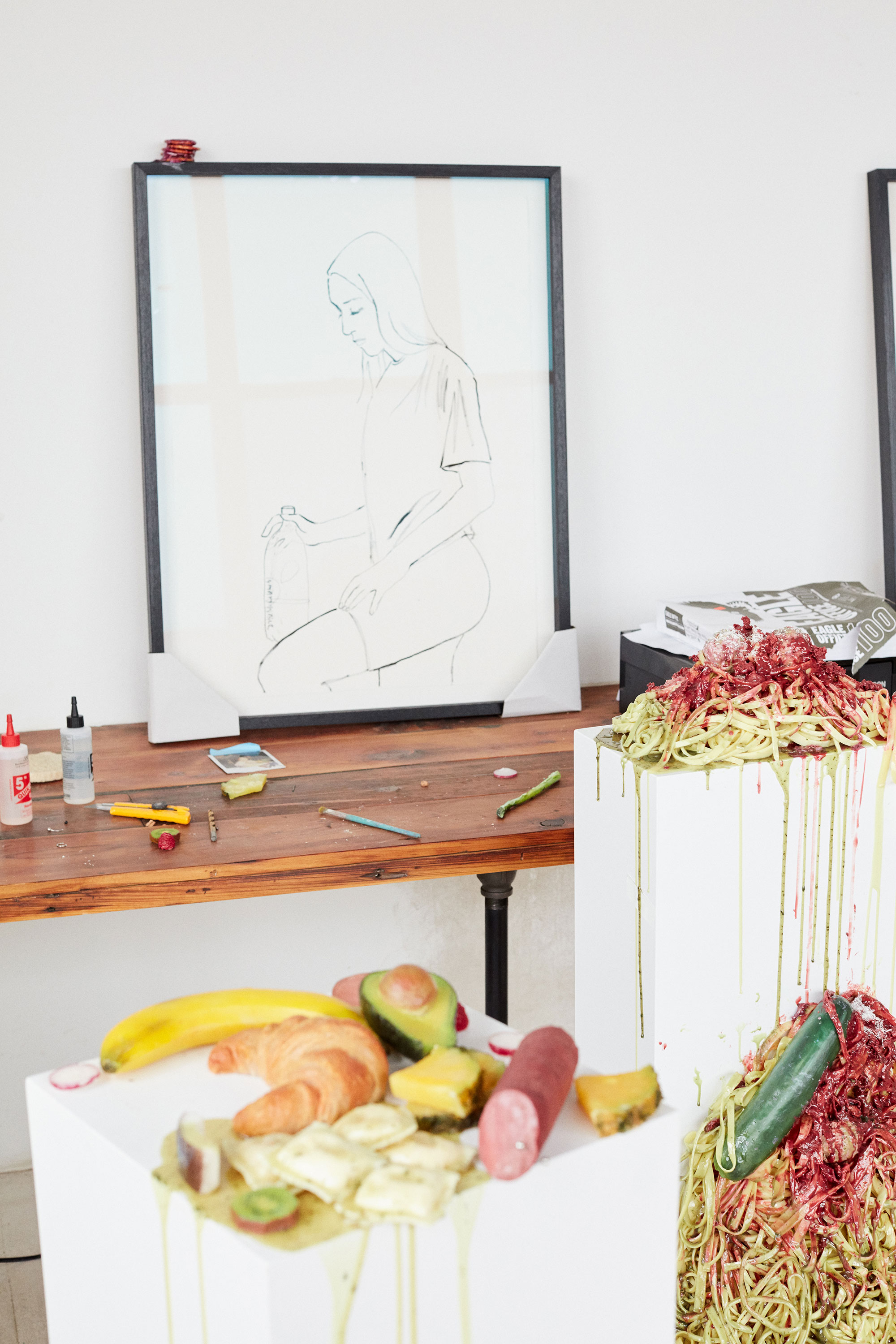 Is the Bread Bags series ongoing?
I don't need to be making more bread bags. That joke happened, and I'm super happy that I got the criticism I wanted too. Now there are other things I'm excited about. I like trying new things that I haven't yet mastered, like the pasta.
I was like, "How on earth am I going to make noodles?" They're all made by hand, it's really labour intensive. I like the challenge of being a beginner at something and working my way through it. It has a naivety that I find exciting.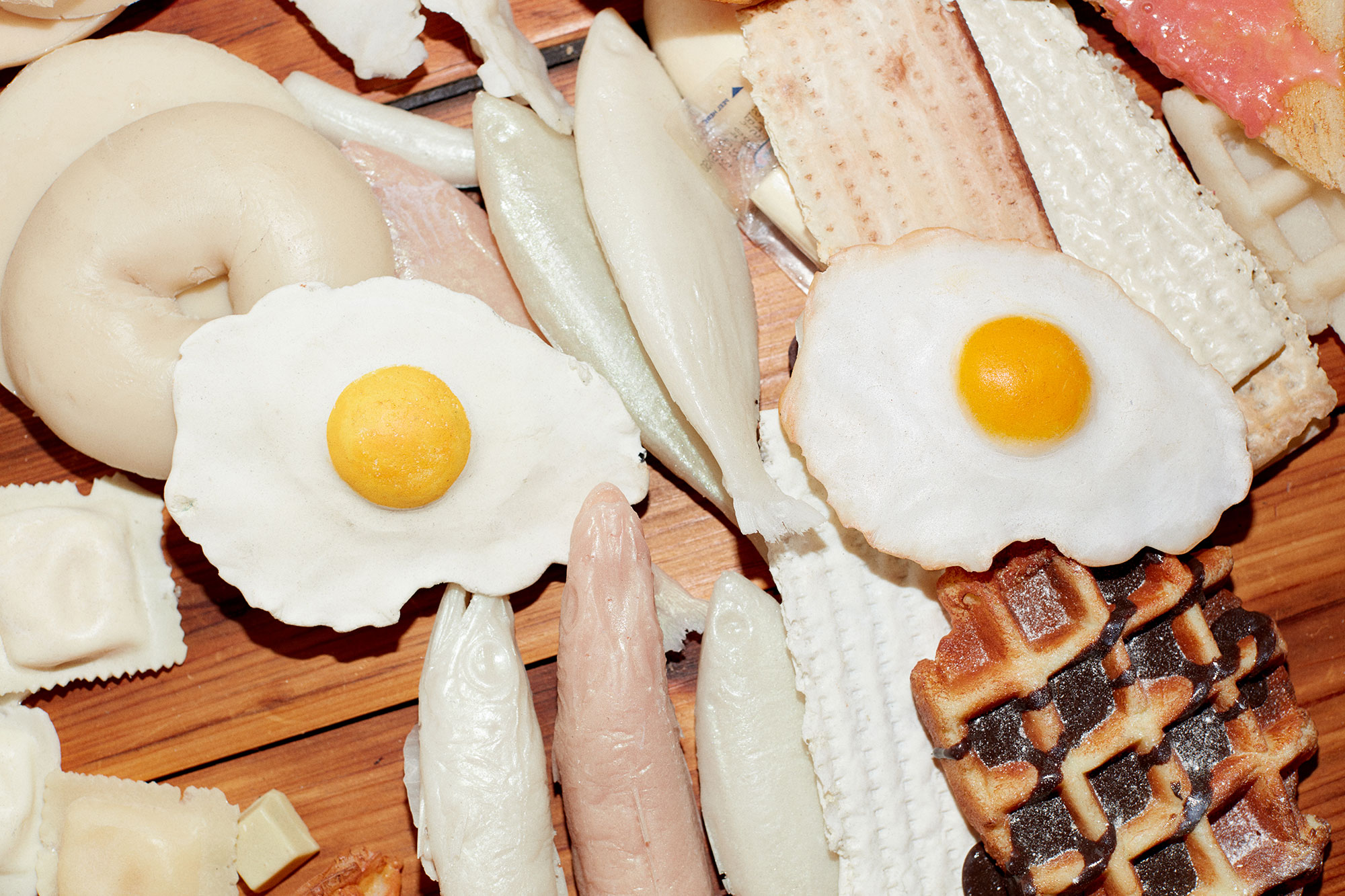 You work across various mediums including sculpture and new media, but you attach a particular importance to oil painting, which is arguably old fashioned. What role does technique and history of art play in your work?
I think it's hilarious to be an oil painter at 25 years old, as a digital native! It's funny to be in a context that is so immediate and still do something that's so tedious. I also really enjoy oil painting, it's so like – purrrrr – visceral… That was a purr sound by the way!
Art history is so important to look at the way the female body, food and sexuality are portrayed throughout time. For me, the use of food in my work is like this abundant feast, but is it the woman or the food that's the feast? It's about the delectable nature of bodies and snacks… Bro!
Chloe Wise has a group show coming in Los Angeles in July, and a solo exhibition in Montreal in September, with Galerie Division.