Photo: Sébastien Michelini
Brasserie Barbés | Paris' Grittiest Neighbourhood Now Has a Fancy Restaurant
A new eatery in one of Paris's roughest neighbourhood isn't an unwelcome visitor from a gentrified future—it's a return to the city's past
Photo: Sébastien Michelini
Entering Paris's Barbès-Rochechouart métro requires passing through a crowd of guys hawking counterfeit cigarettes (as well as less-legal alternatives), and on market days, the automatic gates are occasionally blocked open as an informal street bazaar floods out into the main station. It's a wild ride.
Brasserie Barbès opened across the street from the métro in spring this year. A chic multi-storey number, it sits amongst Algerian-run phone shops, halal meat merchants and the sex boutiques that run westwards on the Boulevard Rochechouart towards Pigalle. "This quartier was a big bet for us," explains Jean Vedreine, one half of the duo that has raised the brasserie from the cinders of Vano, a discount clothing store which burned down in the summer of 2011. "I'm thirty-two, my partner Pierre Moussié is thirty-six, so we're young. We had to improvise as site managers, architects and decorators."
What was the draw? "Without taking this risk there would have been no other way for us to create something like this on a crossroads in central Paris," he says. "We would have had to buy the building from a bank or a Macdonald's, which would have been impossibly expensive!"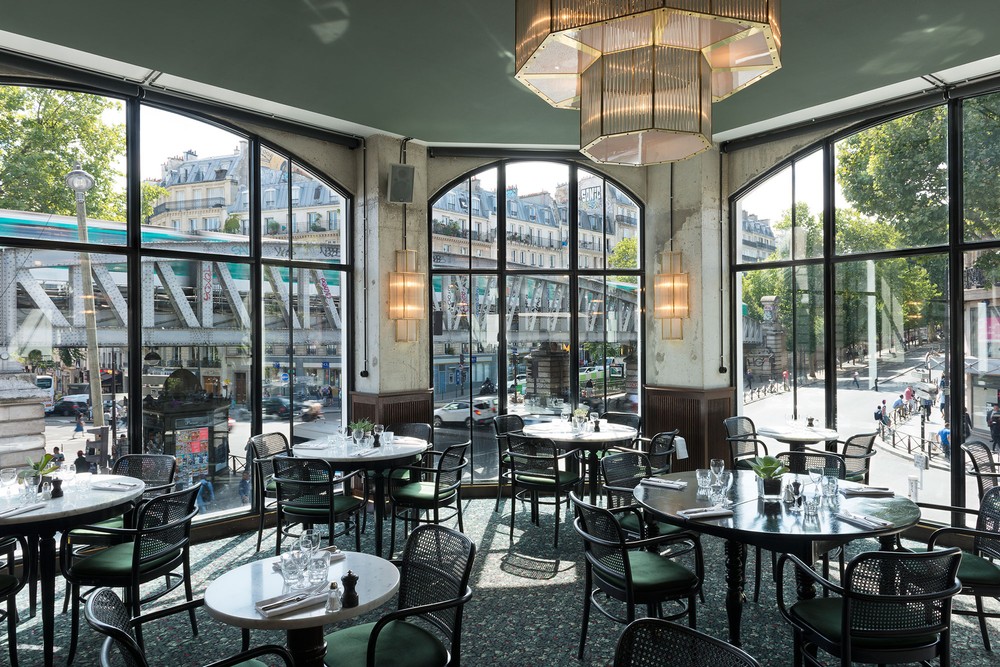 We go for a tour of the site, Jean negotiating the brasserie staircases at an eager canter. For all the interior nods to New York's Meatpacking District, the view from the dining area on the roof is a reminder that this is still Paris: you can see Sacré-Coeur and the Haussmannian buildings along the boulevard below.
In the kind of twist you get used to in this city, they can't open the roof of the building to the public without disabled access via a lift—the installation of which was opposed by a group of civil servants due to the building's proximity to said architectural gems. Jean says it'll be sorted soon. Eventually the plan is for people to "reserve a deckchair, smoke a cigarette and drink some rosé" up here. And the deck chairs and ashtrays are already there, ready to go.

Despite its new resident, the area—unfairly labelled a "No-Go Zone" by Fox News in the wake of the Charlie Hebdo attacks—hasn't changed much since I lived here 3 years ago at an address that made my then-boss offer a bona fide oo-la-la of concern.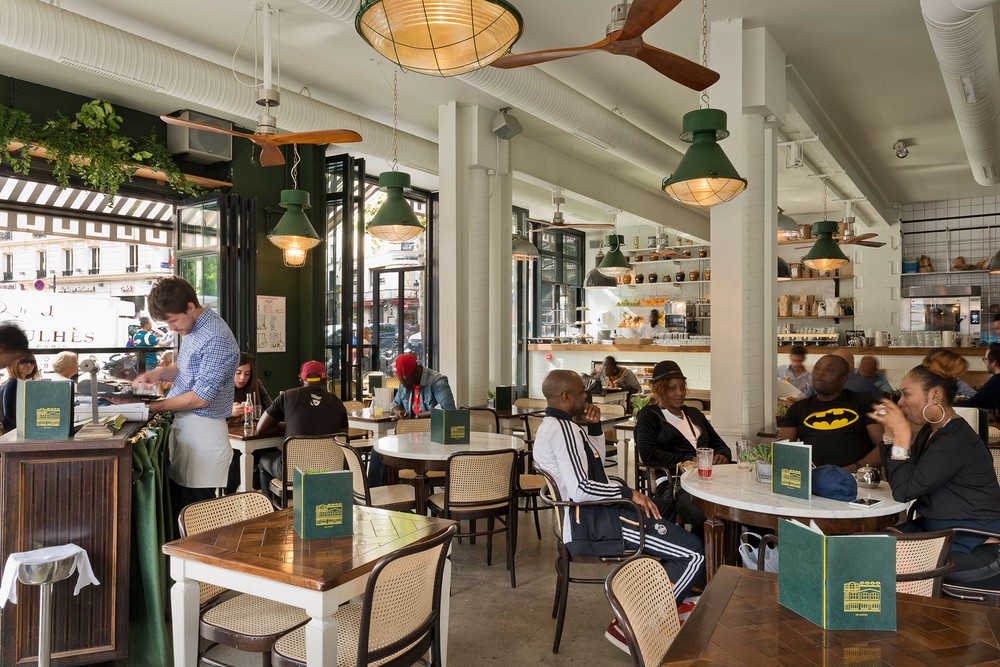 So can Jean and Pierre pull in the punters? As another Parisian restaurateur puts it (off the record): "It's a huge challenge. There are still police riot vans across the street. But I genuinely think that if anyone can manage it, it will be them." And the pair do have the right pedigree. He and Pierre spent years launching untraditionally hip eateries and bars in Paris's more traditionally down-market neighbourhoods.
From Pigalle's Le San Souci and Le Mansart, to Chez Ginette on Rue du Faubourg Saint-Denis and Le Floréal by Goncourt, the duo have led where others follow. Jean is keen to avoid being labelled a "pioneer", though. "We do like to set things up where people don't normally go, but Barbès was cool before we got here, so I'm not going to pretend we've changed anything."
Perhaps as proof of this point, Brasserie Barbès already boasts many a distinguished fan, including Chanel muse Caroline de Maigret and Kitsuné co-founder Gildas Loaëc. In fact the creative classes moved in to the area decades ago, attracted to its energetic mix of international culture and affordable yet beautiful housing. "When you see the flats lit up along the boulevard at night they're full of expensive pieces from the Conran shop," Jean explains. "Barbès is beautiful," he keeps repeating.
"We do like to go and set things up where people don't normally go, but Barbès was cool before we got here, so I'm not going to pretend I changed anything"
Before I get an opportunity to ask, he brings up the critics in the French press who've accused him of kick-starting the next wave of property price rises in a quartier populaire (a working class neighbourhood), cleaning it up and in turn forcing out the poorer inhabitants who made it lively in the first place. He dismisses this straight away as "intellectual masturbation".
The criticism came pretty thick after the brasserie's launch, with the press, including famous pop culture mag Les Inrocks, calling the brasserie out for its "prohibitively expensive menu and an atmosphere that is a refuge for the upper classes".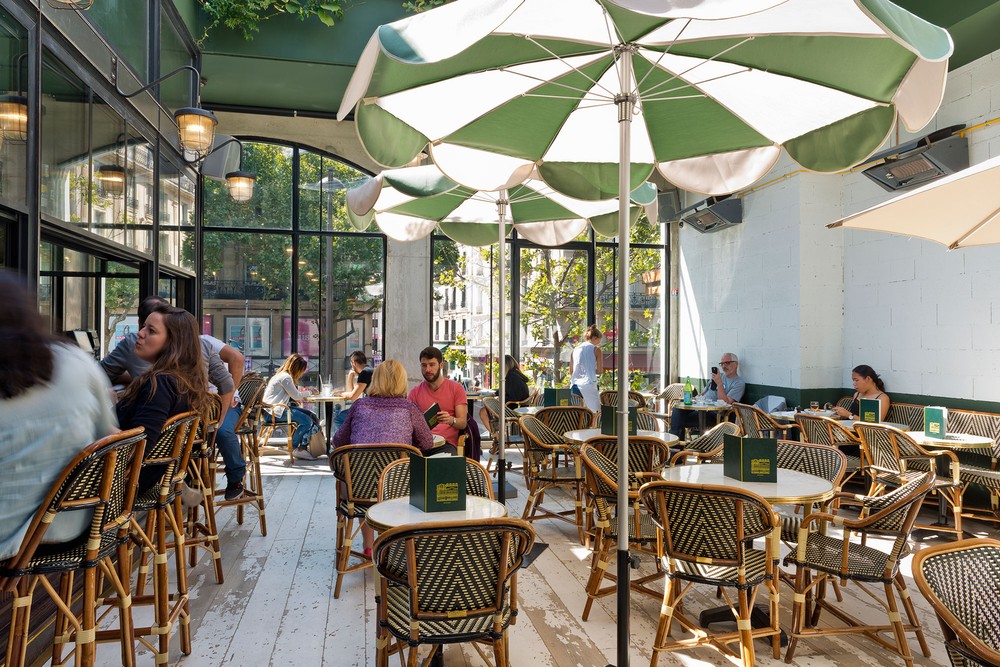 "I was kind of surprised that the brasserie created such a controversy," New York Times journalist and local resident Thomas Chatterton Williams tells me. He's the man who wrote the artful takedown of Pigalle's increasingly bland hipster monoculture, someone I might have expected to dislike the Brasserie for what it supposedly represents. "The thing about Brasserie Barbès is that it's not really that expensive as far as Parisian bistros go.

It's not much more than a lot of 'unpretentious' nondescript corner bistros that heat up bland frozen food and overcharge for it, which can be found all over Paris". But, still he remains concerned: "This neighborhood, with its decent supply of Haussmannian buildings, is going to be gentrified for real, and this rightfully makes people uncomfortable. Personally, I think that this particular area could benefit from a degree of revitalisation, though it would be a shame if a balance can't be found".

"This neighborhood, with its decent supply of Haussmannian buildings, is going to be gentrified for real, and this rightfully makes people uncomfortable"
In some ways the brasserie isn't an unwelcome visitor from a gentrified future, but instead a return to the past. This is the real Paris, with its cool, its contradictions and the usual fervent debate around it all. And there's a truth to something Jean says to me before he leaves: "Whenever you get out of the métro in Paris there is a café, and there wasn't one here. A café is a lighthouse in the night." Maybe Brasserie Barbès was just the type of illumination this corner needed.