The Happiest Place on Earth? | This is Disneyland Paris, But Not as You Know It
Photographer Raymond Rojas shows us a whole new side to Disneyland Paris through the lens of his camera
On the plane to Disneyland Paris, Raymond Rojas sketches out a rough idea of how he plans to shoot Europe's most visited theme park. He's never been before. But having grown up on Disney cartoons, he knows that when he enters the gates, under Mickey Mouse's open arms, he'll be excited as both fan and photographer, both thrill-seeking punter and detached observer.

"It was a mixture of feelings," he says, describing the moment he entered the theme park. "Excitement, nostalgia, and a fascination with those details in the scenery that transport you, as if you were in a movie."
The familiar candy-coloured aesthetic that glues Disney's fantasy world together is what caught Rojas's eye. His pictures feature creamy pink doors, turquoise street lamps, plastic sets attached to concrete walls.
"His study of Disneyland Paris pours a jug of cold water into a warm bath of fantasy."
He sharpens his focus on the veneer itself, zeroing in on the background details that embellish the fantasy. He strolls around the park, photographer's antenna finely tuned, peering into the nooks and crannies overlooked by tourists, intrigued by the subtler visual clues that this is not your regular town.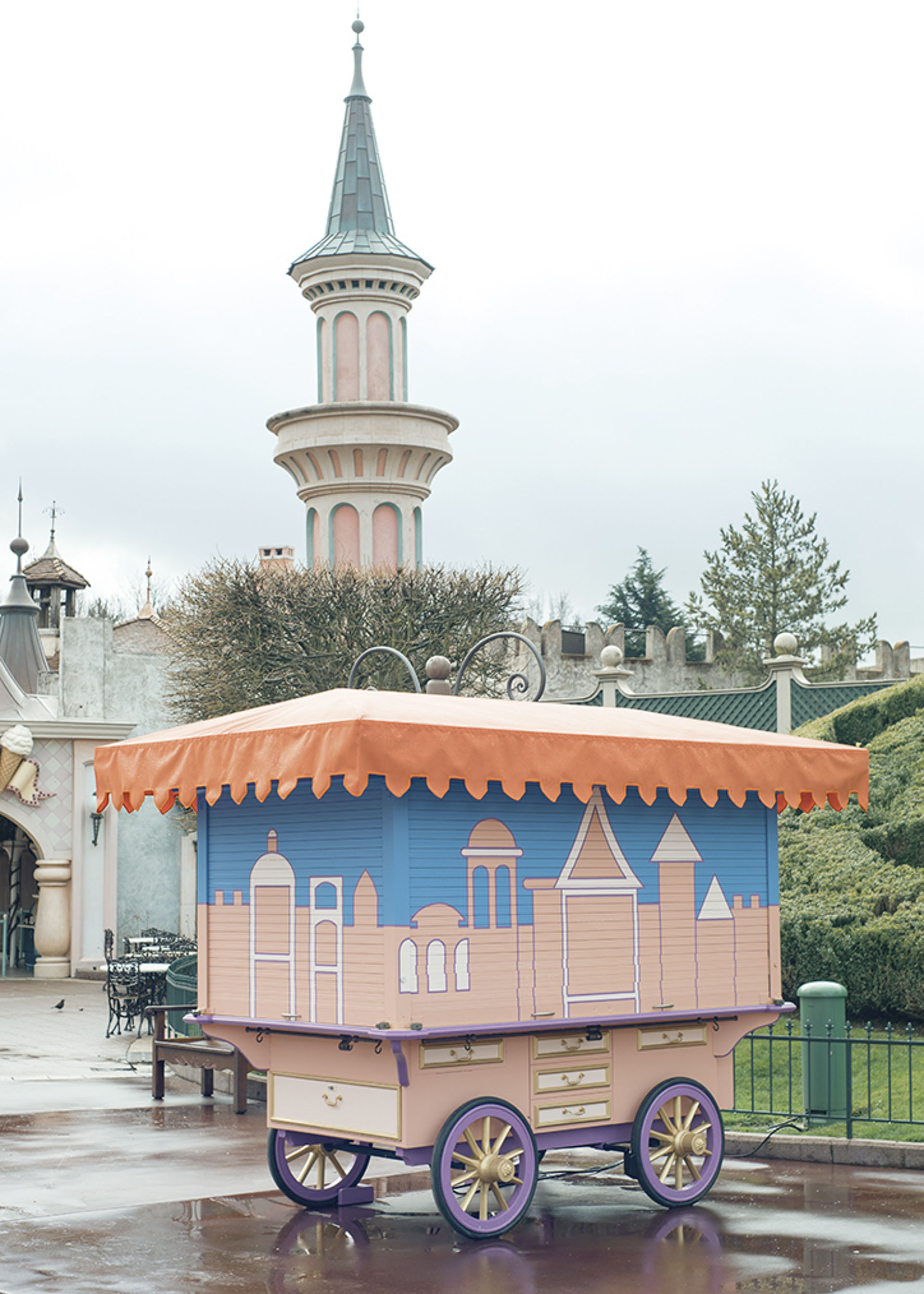 "It was clear to me early on that I wanted to take pictures that a tourist wouldn't think of," he tells me. "I'm attracted to places with tacky decorations, places that grab your attention because of that aesthetic, and so I focused on capturing the particular aesthetic of each park."

The Barcelona-based lensman shot the project, titled Magic, Everywhere, during a four-day trip. He spent two days at Disneyland Park (originally Euro Disney Resort) and two days at Walt Disney Studios Park, both located in the planned city of Marne-la-Vallée, roughly 20 miles east of Paris.
He stayed in Disney hotels, which he says had one great benefit: he could enter the parks an hour earlier, avoid the horde of tourists, and capture the place the way he wanted. "I took advantage of that and took photos of the places that are usually more crowded."
Through Rojas's lens, the resort's strange fusion of fantasy and reality comes to the fore. Plastic meets concrete; fake meets real. Like the world of The Truman Show – in which you marvel at the hollowness of the artificial town – this peculiar park has you questioning every surrounding surface. Is that redbrick wall real or just a cardboard façade? Does that plastic lever do anything or is it just for show?
For Rojas, the blurred line between make-believe and reality was fascinating. He remembers one of the first photos he took: "There was a 'wet floor' safety cone – something that goes unnoticed by many people – but the fact that it was inside the park made it seem part of the decoration."
That blurring of fiction and reality is reinforced by the continuity of the parks' decoration. The ubiquitous Neapolitan ice cream aesthetic ensures that nothing in the visitor's field of vision breaks the spell, as if the magic wand of Disney has touched everything in sight. Even out-of-bounds doors and staff exits are part of the conspiracy of colour, each carefully woven into the fabric of the fantasy.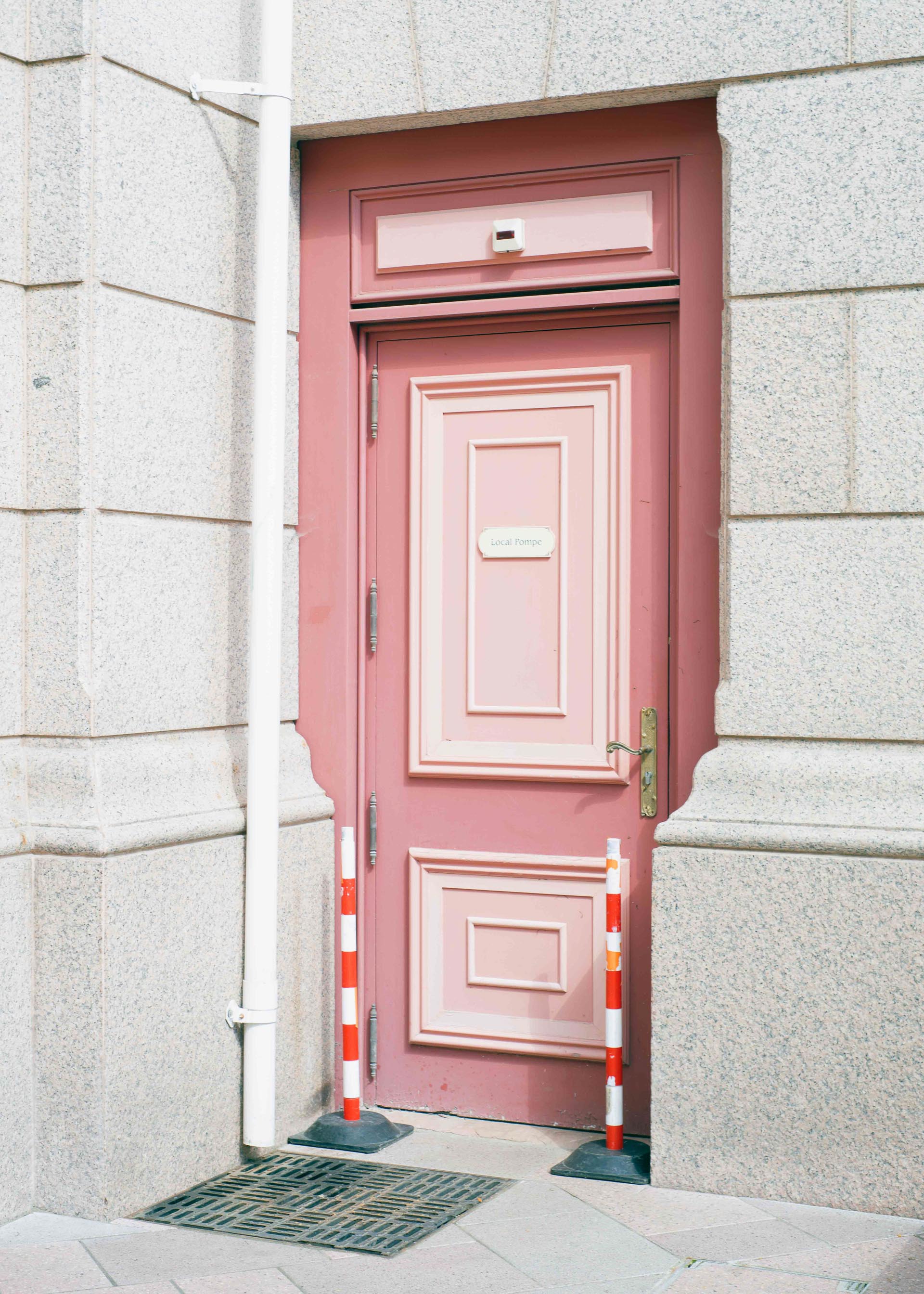 Take Rojas's photo of a pink door surrounded by concrete. Curious visitors would wonder where it leads. Is it a staff entrance? A gateway back to reality? Mickey Mouse's private toilet? "That door was in the middle of the path that leads from Disneyland Park to the Walt Disney Studios Park," Rojas explains.
"I remember standing in front of that door and wondering if it was just a simple decoration or a real door to the park's hotel. Many of the doors around the park make your imagination go a little beyond what you're used to seeing. They make you think there's something magical behind them."

For Christy Karpinski, Founder and Editor of F-Stop Magazine, the most intriguing photos are "the ones where there are no signs or evidence of where you are. The unusual shapes and isolation of color combined with the strong geometric compositions are striking and visually pleasing. These images play off of others in this series that have people and more familiar subjects in them, causing all of the images to appear a bit surreal."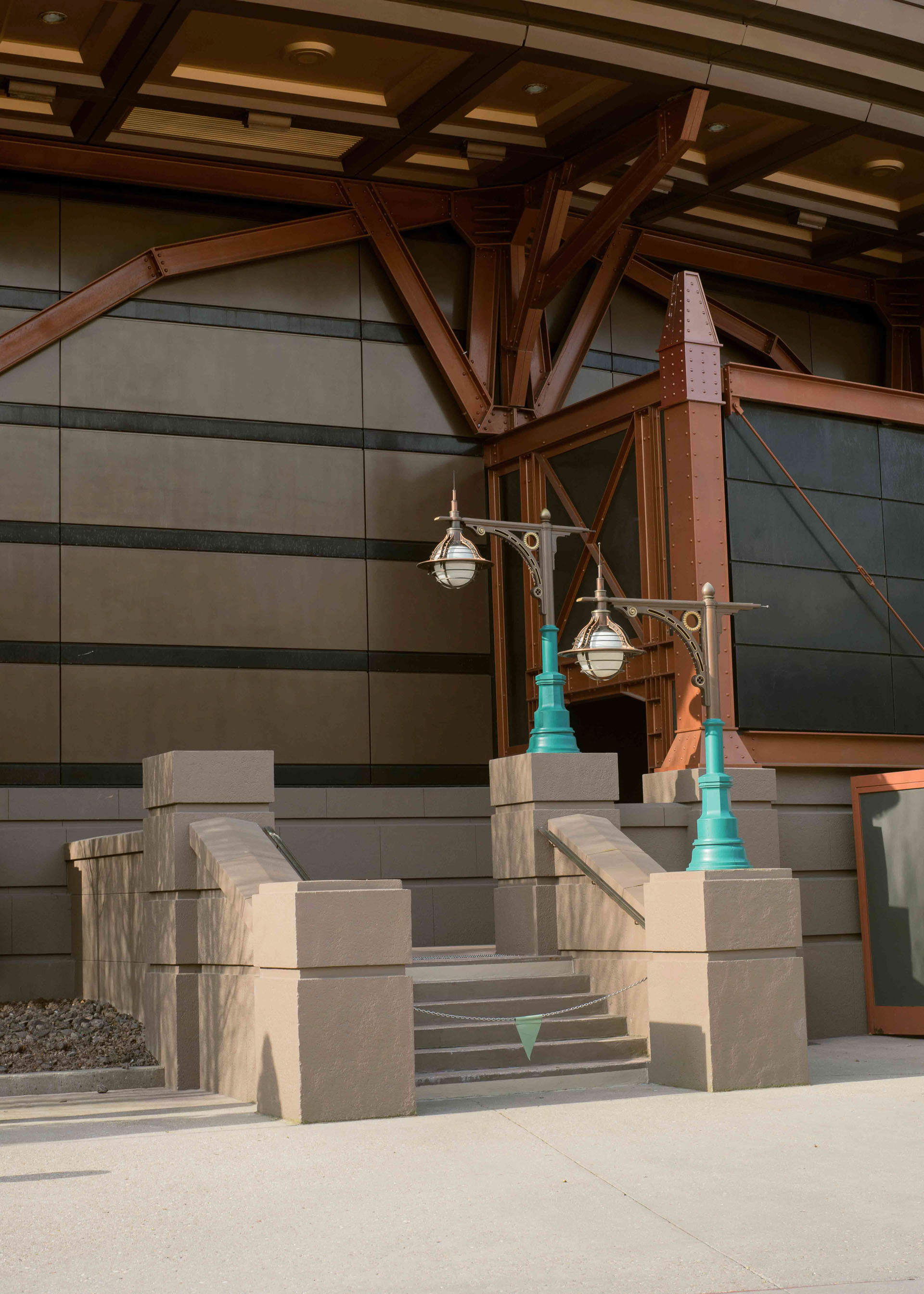 Nick Haeffner, a writer and former lecturer in photography, is also compelled by the empty spaces in Rojas's work. "The absence of people where we would expect to find them assembled in great numbers is the trigger for an eerie sensation that is currently much in vogue among contemporary photographers such as Raymond Rojas whose study of Disneyland Paris pours a jug of cold water into a warm bath of fantasy."
That Rojas chose to shoot empty corners of the parks – the weird walls, plastic embellishments, etc. – was tethered to his interest in the artistic beauty of the overlooked. "From the minute you enter the park, you can appreciate how things that go unnoticed have their charm," he says.
Was it tricky to find these quiet spaces and moments in a park that's notoriously crowded, with queue lines as far as the eye can see? "With regard to the empty spaces, it was only a matter of having a little patience, with one eye in the viewfinder and the other on my surroundings."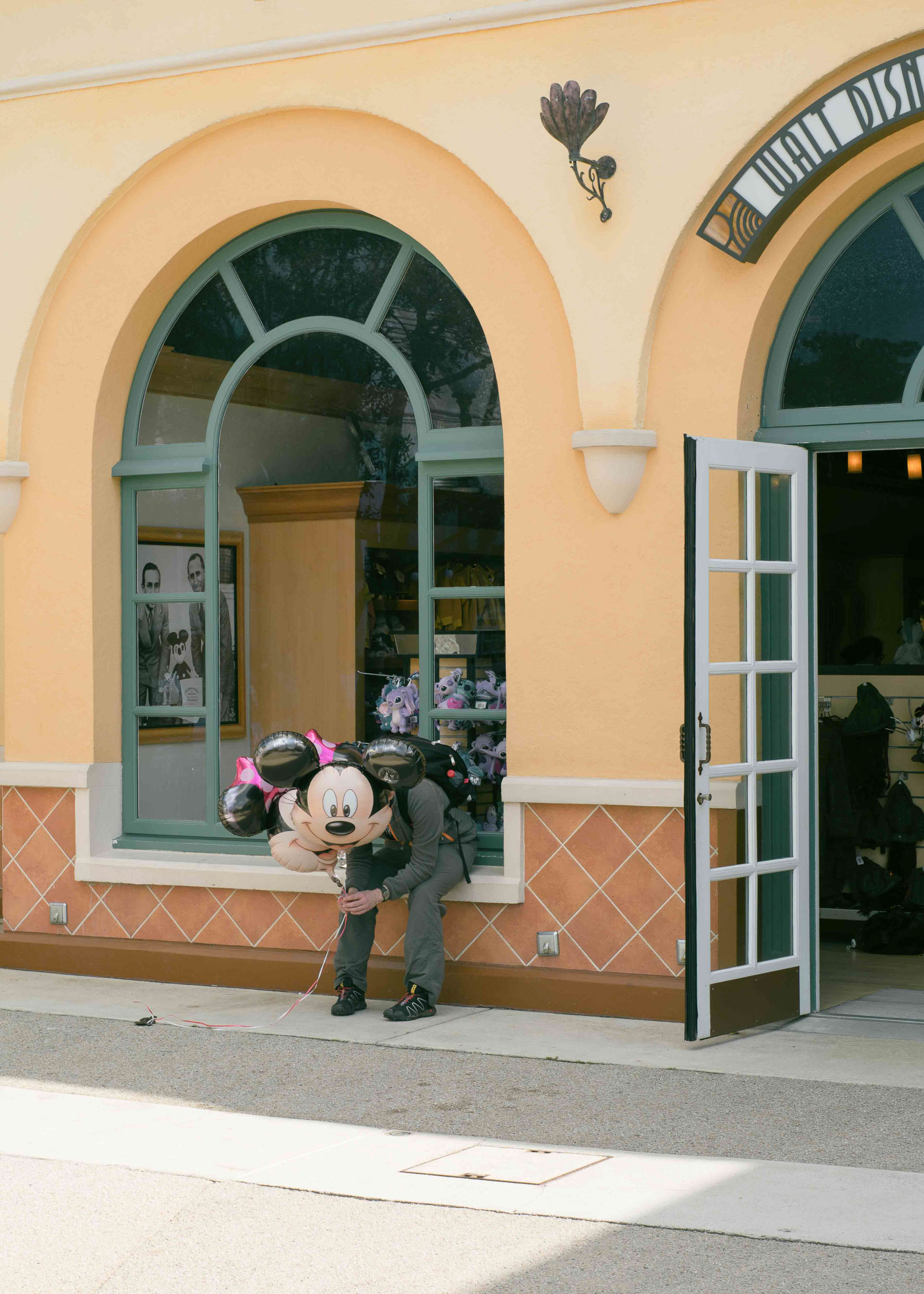 I mention the shot of a man alone, his face masked by Mickey Mouse balloons, his glum posture juxtaposed with Mickey's trademark smile. The picture is more humorous than the others, in that it captures a guy who's clearly had enough of the park. "It was the last day and I was very tired," says Rojas.
"I sat in front of a statue of one of the brooms from Fantasia, and in the distance I saw someone as exhausted as me, waiting for his two kids outside the Disney Store with two Mickey Mouse balloons in his face. I moved closer to him, got on my knees, and snapped the picture. Everyone around laughed at what I'd photographed."
Though he was usually discreet, Rojas had a couple of moments like this, when his curiosity about what tourists overlook didn't go unnoticed. "When I was taking pictures of a dumpster, for example, a woman started whispering in my ear. She asked me why I was doing that. 'You're crazy,' she said. But then when you come out and put together 12 pictures of things stripped from their original context, it all makes sense."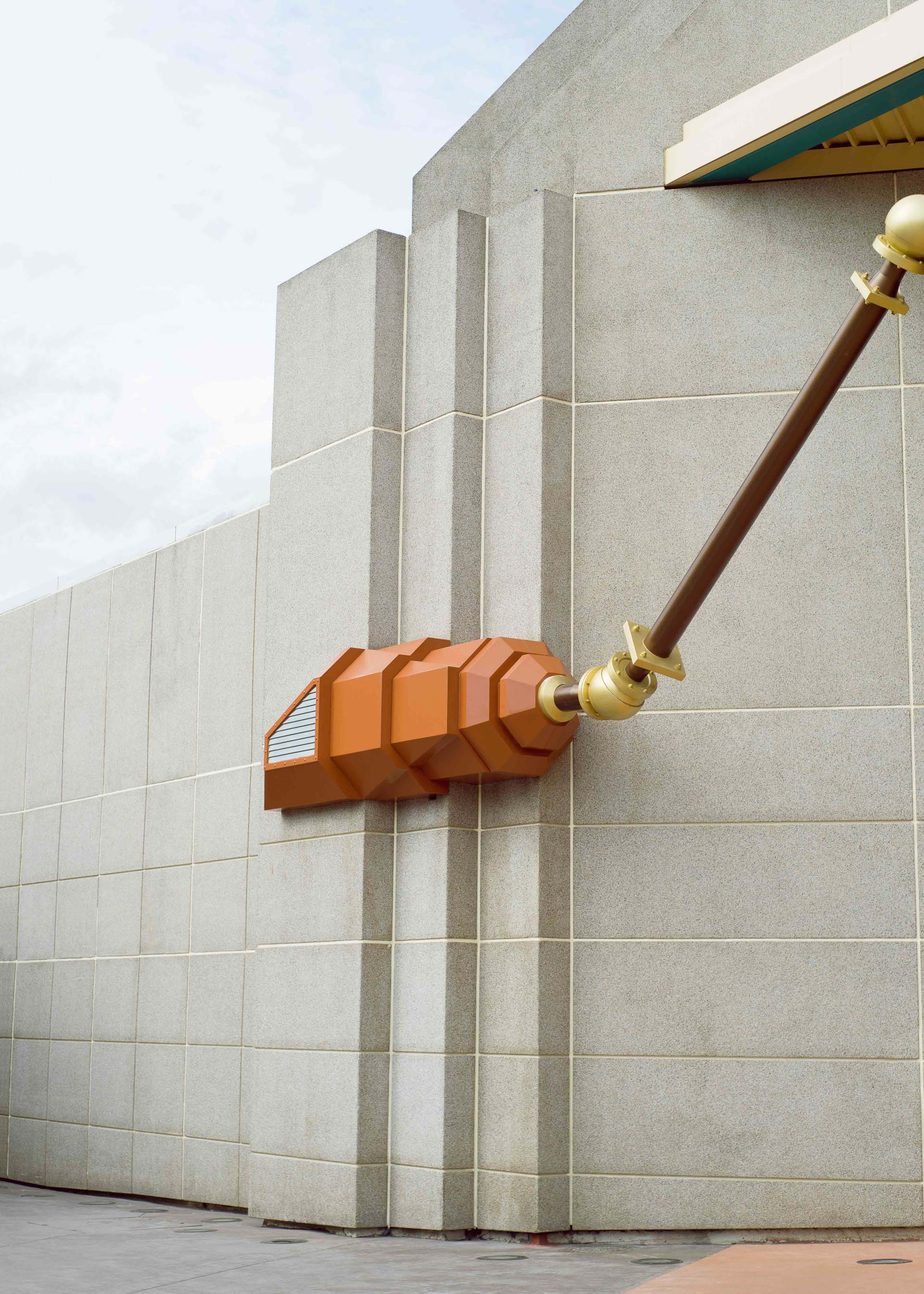 To view Disneyland through Rojas's frame is to see things you didn't notice when you were queuing for Hyperspace Mountain. His curiosity about what most visitors are oblivious to is as contagious as his childlike awe of the fantasy itself. He's both swept up in the Disney dream and captivated by the nuts and bolts of its fairytale narrative, wandering around the park like a movie fan on a Hollywood studio lot. His work, in the end, is a happy marriage between childhood nostalgia and eye-grabbing kitsch.
Still curious about what lies at the core of his fascination with Disneyland, I ask what it is he loves about the place. "Everything!" he says, just as spellbound by its magic as before he entered its gates. "Ever since I was a kid I've grown up watching Disney cartoons, and I think going as a grown-up doubled the thrill for me. I was living an experience that I'd always dreamed of."
Oliver Lunn is a London-based freelancer. Keep up with him on Twitter.
Raymond Rojas is a photographer based in Barcelona. Follow his shots and travels on Instagram.