Nature's Remedy | The Cornish Coastal Retreat Using 'Thera-Sea' to Cure Stress
Why shivering in salt water might be the antidote to stressing at your desk
Photo: Tom Young
Katy Griffin can pinpoint the one drink that pushed her father into chronic alcoholism.
"It was different to all the others," she tells me. "He says he felt everything just go away. All the stress. He had that drink, and it was gone. Up until that point, I'd had an amazing childhood – Dad was loving and caring and ran his own haulage business, Mum was so great, we built our own house. And then, it wasn't. Work stress, and the pressure to provide for his family, got the better of dad. We began living through six years of hell, and he never worked again. I learned that life can be so good, only for it to be ripped out from under your feet in an instant. I just want to stop that from happening to other people, by giving a wider education in stress."
"It's getting back to basics with medicine. Because we've come way too far"
Katy's recount of her dad's rapid decline into stress-induced alcoholism – a disease that, she says, has forced her to say her final goodbyes to him three times – goes some way to explaining why, on one misty Tuesday morning in December, I've just walked into a frigid Cornish estuary with nothing but short-shorts and a very strong desire to run back to the nearby campfire for hot coffee.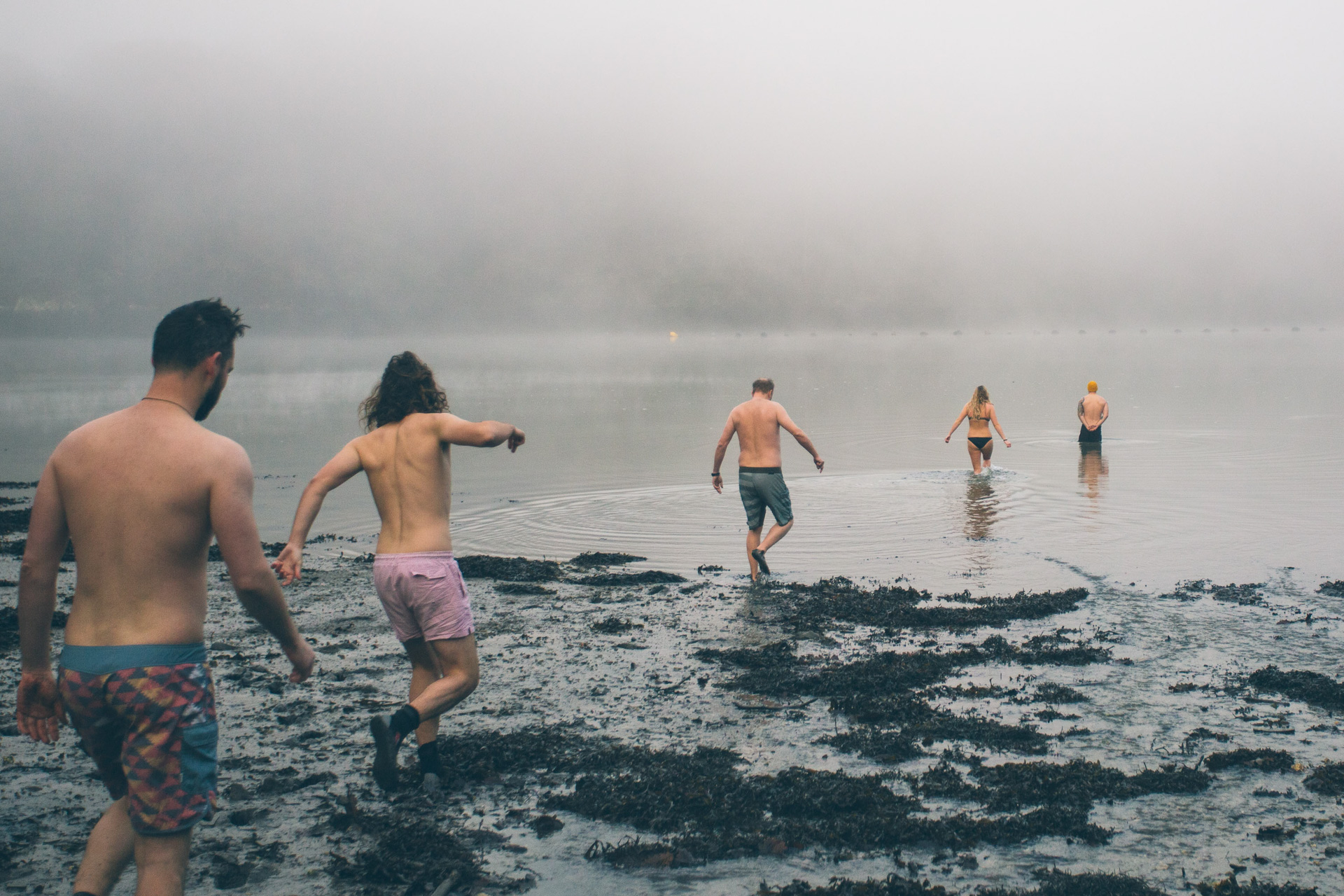 ---
At the same time that I was summoning the bravery to go full-dunk during my icy 8am dip, around Great Britain 595,000 workers were headed to their desks with some form of work-related anxiety, depression, or stress tearing around their heads. That's if they managed to make it out of their homes at all: according to a new report from HSE, these issues "represent a significant ill-health condition in the workforce of Great Britain […] and account for 44% of work-related ill-health, and 57% of working days lost in 2017/2018".
A cross-section of that ill-health was well represented in the Cornish water. Joining me were self-employed Londoners with mild anxiety brought on by overloaded work schedules, businessmen recovering from crippling depression triggered by full-blown bankruptcy, and a spectrum of the in-between. All of us shivering in salt water instead of stressing at our desks, and intrigued by the idea of reaching some sort of mental wellbeing through micro-adventure.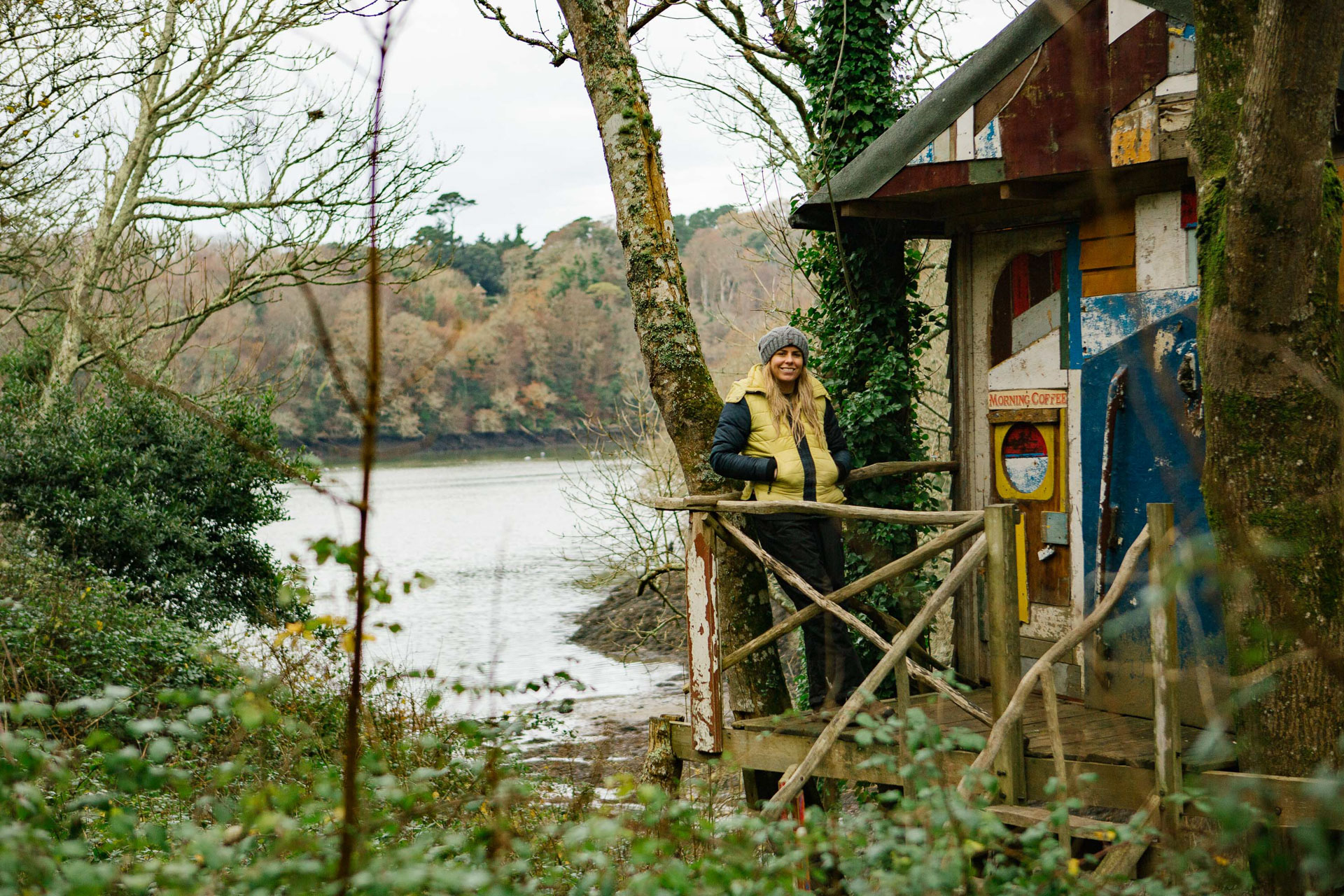 "Lifestyle medicine deals with the four main functions of sleep, relaxation, how we move, and what we eat, and how they improve our mental, physical and emotional health," Katy, now a widely-experienced mental health nurse, tells me when I ask her to define the key principle at the core of Thera-Sea, her two-day stress-management and wellbeing course that we've all travelled to the south coast of Cornwall for.
"It's getting back to basics with medicine. Because we've come way too far. We've over-medicated mental health. There's not one clinical study that proves depression is caused by a lack of serotonin in the brain. And yet that's all that antidepressants do - they increase serotonin levels in the brain."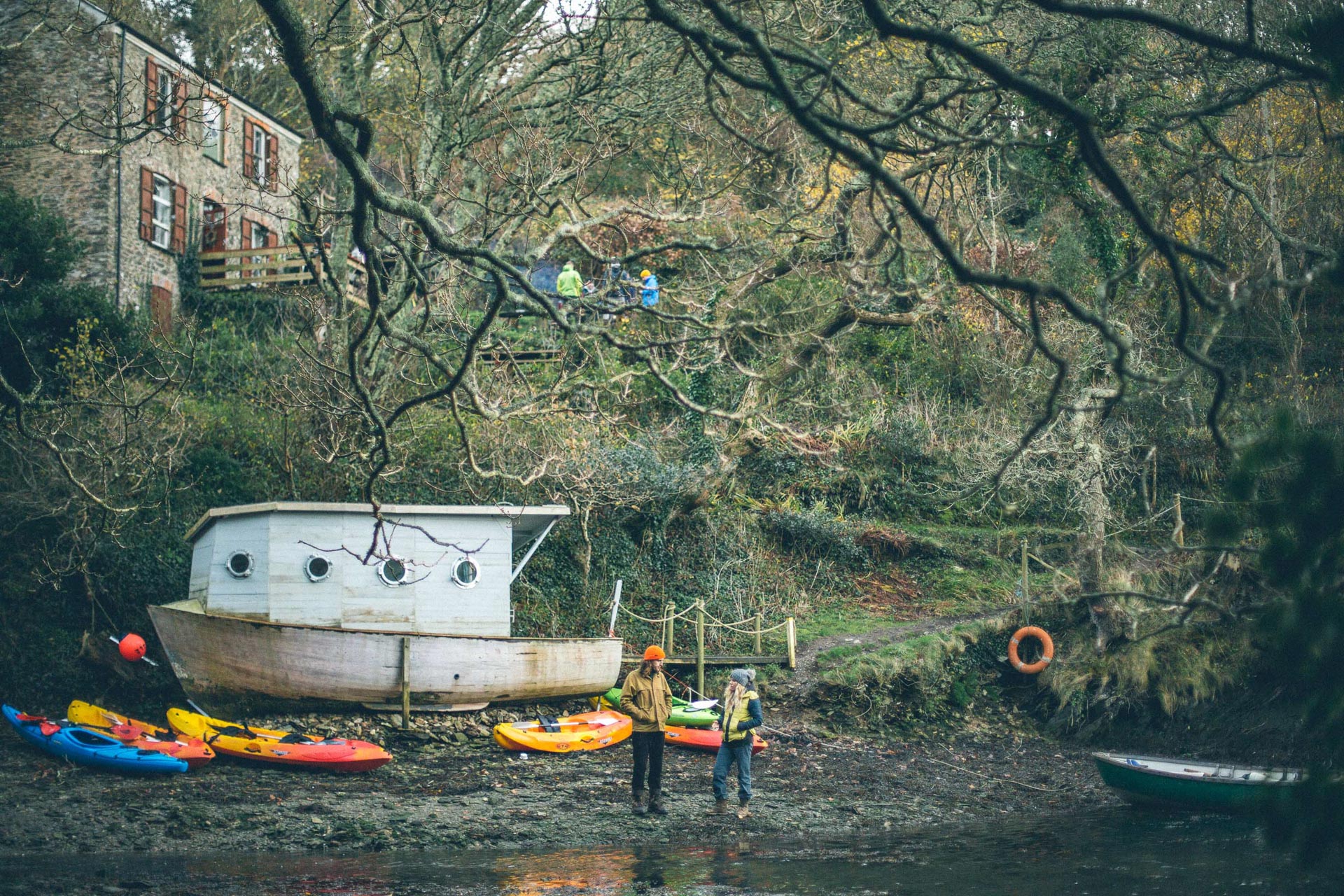 It's a heavy realisation, even more so when you couple it with the fact that prescriptions for antidepressants are at record levels in England, with the figure surpassing 50 million in 2012, and one in six 18 to 64-year-olds prescribed the drugs at some point in 2017.
"Don't get me wrong, I love the NHS, and it's fabulous for a lot of illnesses," Katy adds. "But think about this: back in the days when we used to have mental health hospitals, they would be built on grand estates where people could roam the gardens. Now, we're quick to prescribe and lock people up on dreary wards that are genuinely scary, that almost tell you that something is wrong. Why can't we have, and why aren't we having, this conversation in the outdoors again? What I do is about showing people that there is another way. That it doesn't have to be so clinical."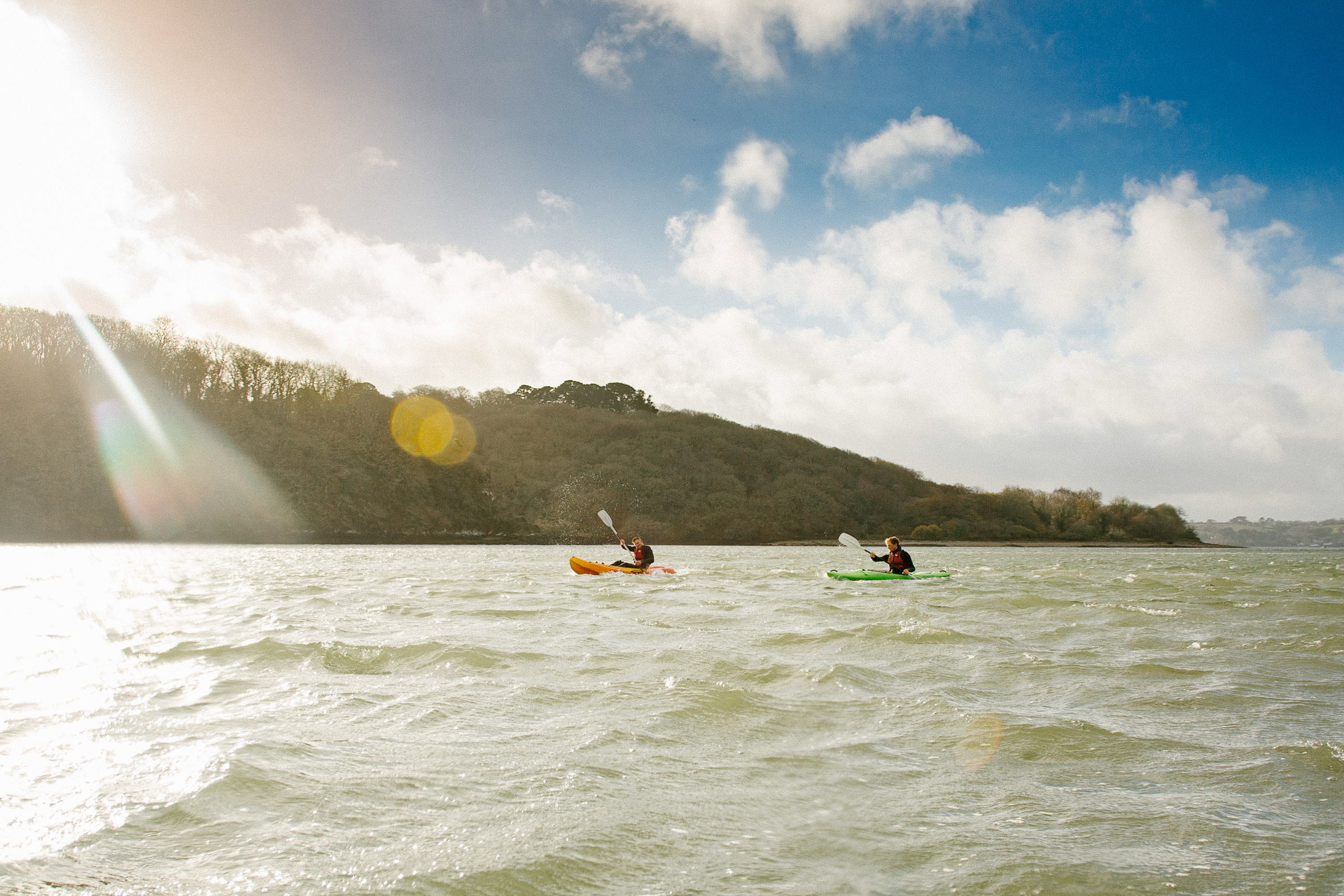 ---
A look at the two-day Thera-Sea schedule, and things couldn't be any less clinical if they tried. Instead of an aggressively-lit doctor's office, we're camped out in the water-fronted woodland grounds of a 300-year-old 'woodsman' cottage that we had to kayak 4km downriver to access. Instead of food served on plastic trays, we're gorging on locally-landed scallops and shakshuka eggs cooked over embers, made by Antipodean export and Cornish BBQ pro, The Aussie Smoker. And instead of a pill, we're relying on survival skills, night paddles, and icy AM swims to bring back an admittedly temporary sense of mental balance.
Whilst all this does sound like one big lads' jolly in the woods with fire and shelter building and really big axes, what sets Thera-Sea apart from any other simple screen distraction is the evidence, experience, and professional practical advice that Katy offers in the form of her therapy workshop. It not only brings reason to why we're here in the woodlands, but arms us with the means to take these learnings forward into our daily lives too.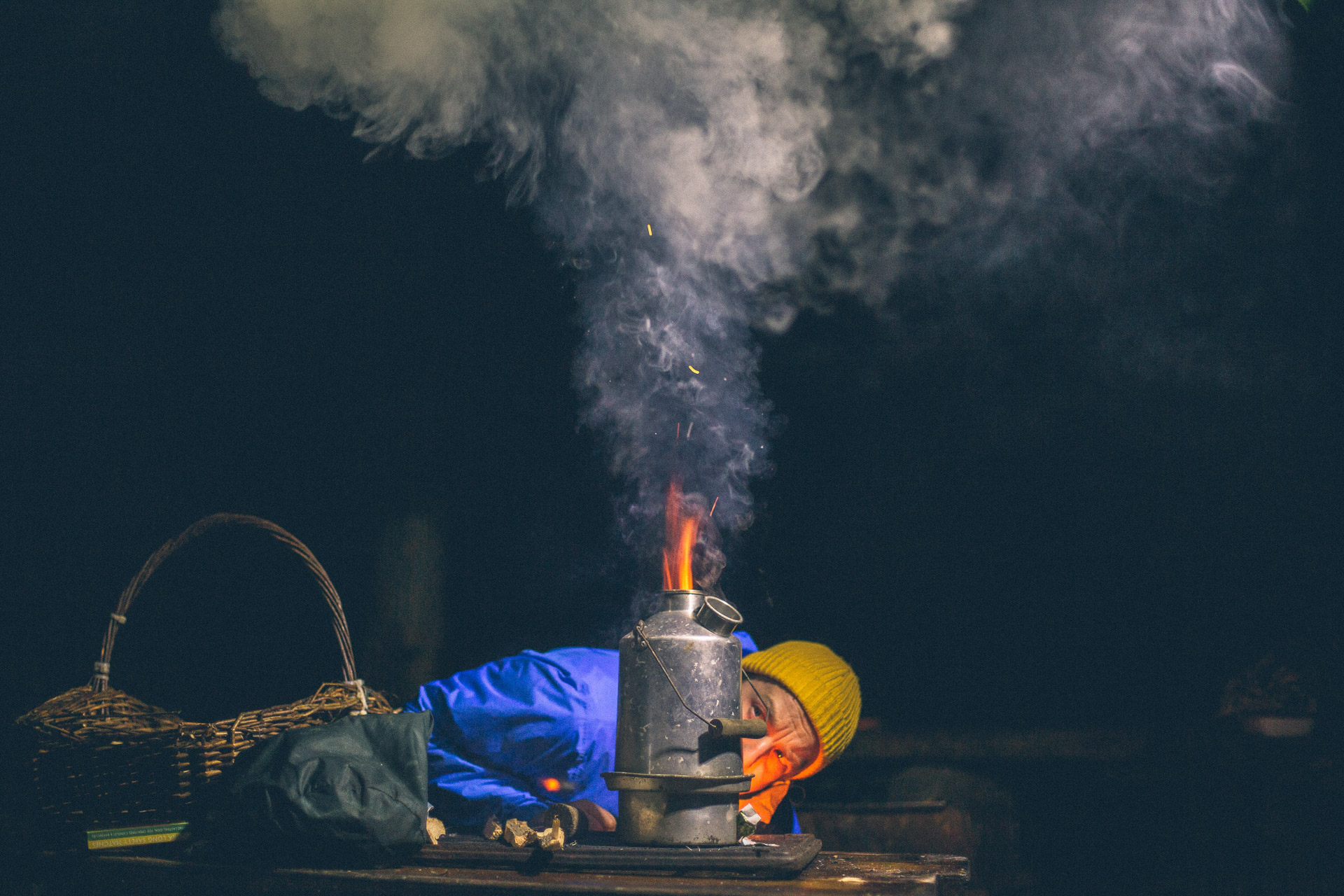 "You do come out of a GP's office feeling a little bit… sad," 31-year-old Gareth Parker tells me, who's on his second Thera-Sea course, after leaving the military and the breakdown of a relationship led him to the darkness of stress-induced depression. "And instead of acting on any advice, you're straight back home and turning on the Xbox. It's one sad environment to another. Katy's courses being so far from that clinical environment allow you to start taking things away that maybe you didn't think about before, because you're processing it in a far more natural way, in a far more natural environment. I think that's key to it. That, and her emphasis on purpose."
The "purpose" that Gareth's alluding to is the one element of Thera-Sea that blindsided me hardest. Harder than the revelation that, of the fifty signs of stress that Katy outlined in her stress management workshop, I meet a surprisingly, and somewhat worryingly, high number of them. Exploring, reconnecting with or finding a purpose, I release now, is at the centre of this, and all other lifestyle medicine practices. And I've been wrong about mine for a very long time.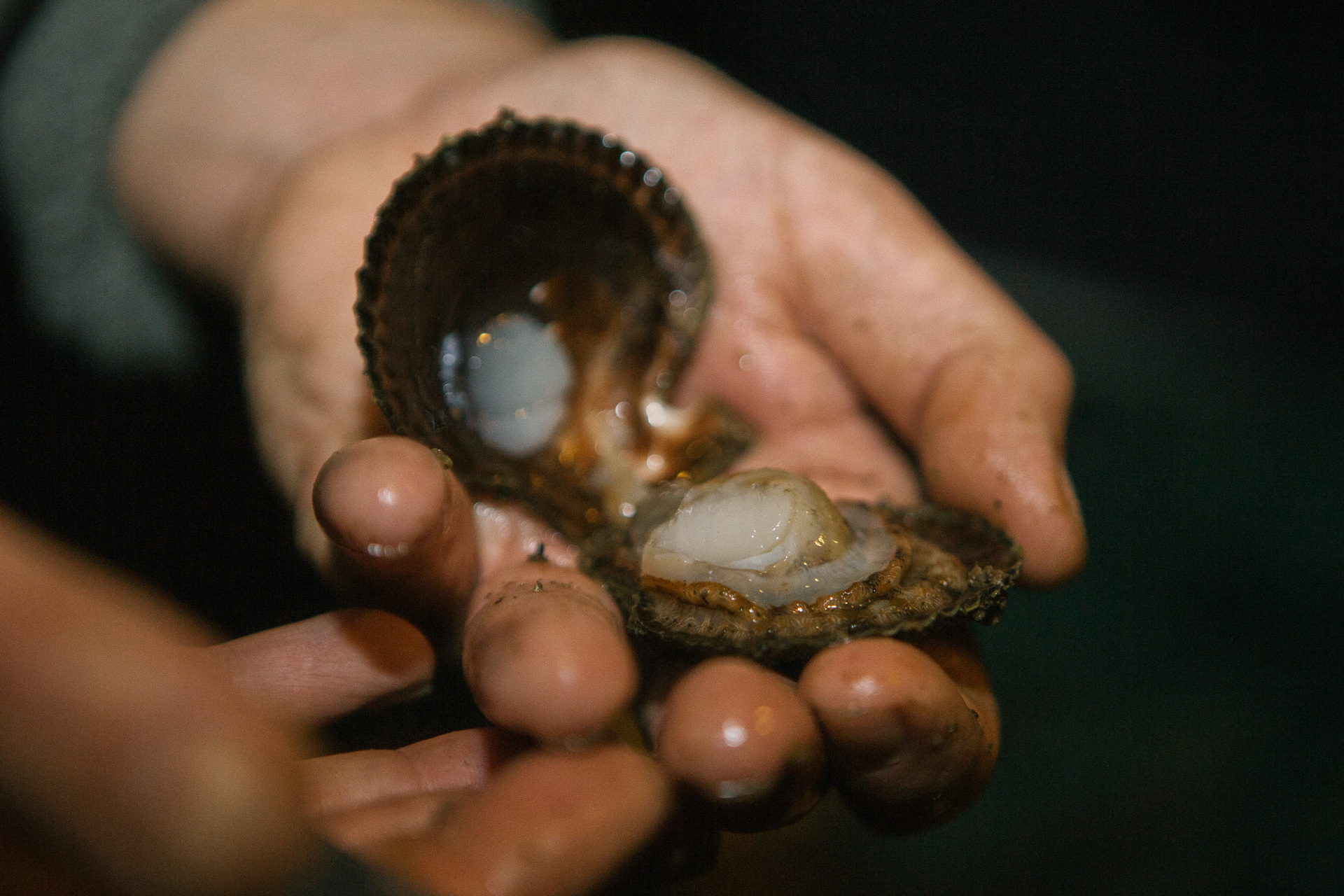 "You purpose isn't your work, or providing for the people in your life," Katy says. "Modern society has programmed us to think our purpose is to earn to provide for our families. We've forgotten what purpose really means to us. It's something that nobody has the power to take from you. It has to be something that you enjoy, and that you can throw yourself into when you need it."
It could be surfing. It could be doing up a van. It could be baking or camping or, if you're braver than me, swimming in the icy-cold Cornish sea every morning. It could be boxing, which Katy has seen, first-hand, change the behaviour and attitudes of young offenders.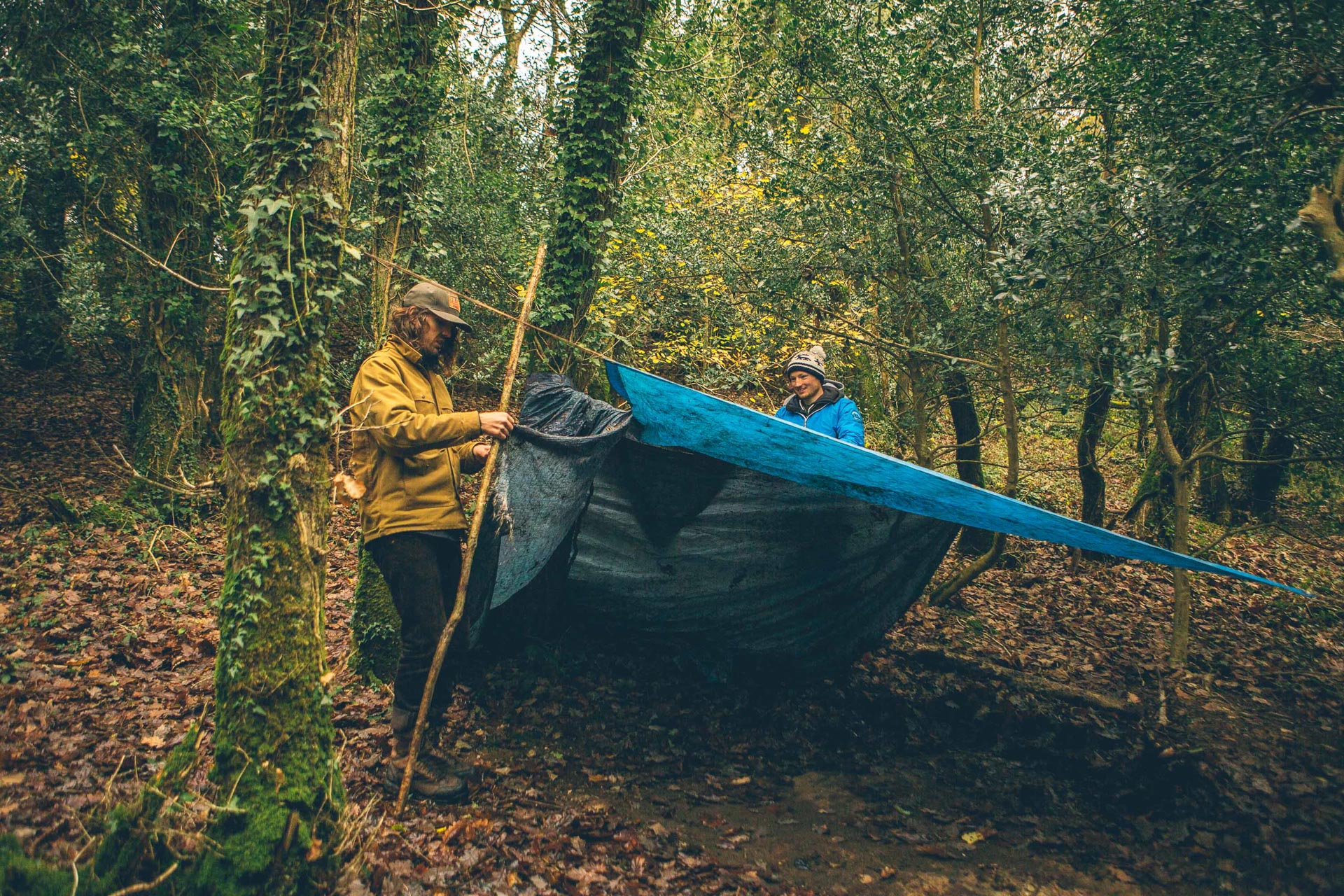 "It got a lot of lads from rough backgrounds off the streets, and gave them their purpose – to go there three times a week and train, rather than looking to drugs and violence. It was like-minded lads, doing it all together, going somewhere when their lives went to shit and they had nowhere else to turn."
---
Lifestyle medicine isn't a brand-new concept. Outside of the UK, at least. Terms like 'park prescriptions' have been used in San Francisco since 2008, and there are numerous organisations along the US west coast that harness the power of surfing to help the likes of military veterans (Operation Surf) and at-risk city kids (MeWater Foundation). And proving it's not just confined to the sun-kissed conditions of California, the Japanese have practised the art of Shinrin-yoku ("forest bathing") since the 1980s, and the Germans have used the wellness pastime of Waldeinsamkeit (roughly translated to "the feeling of being alone in the woods") for centuries.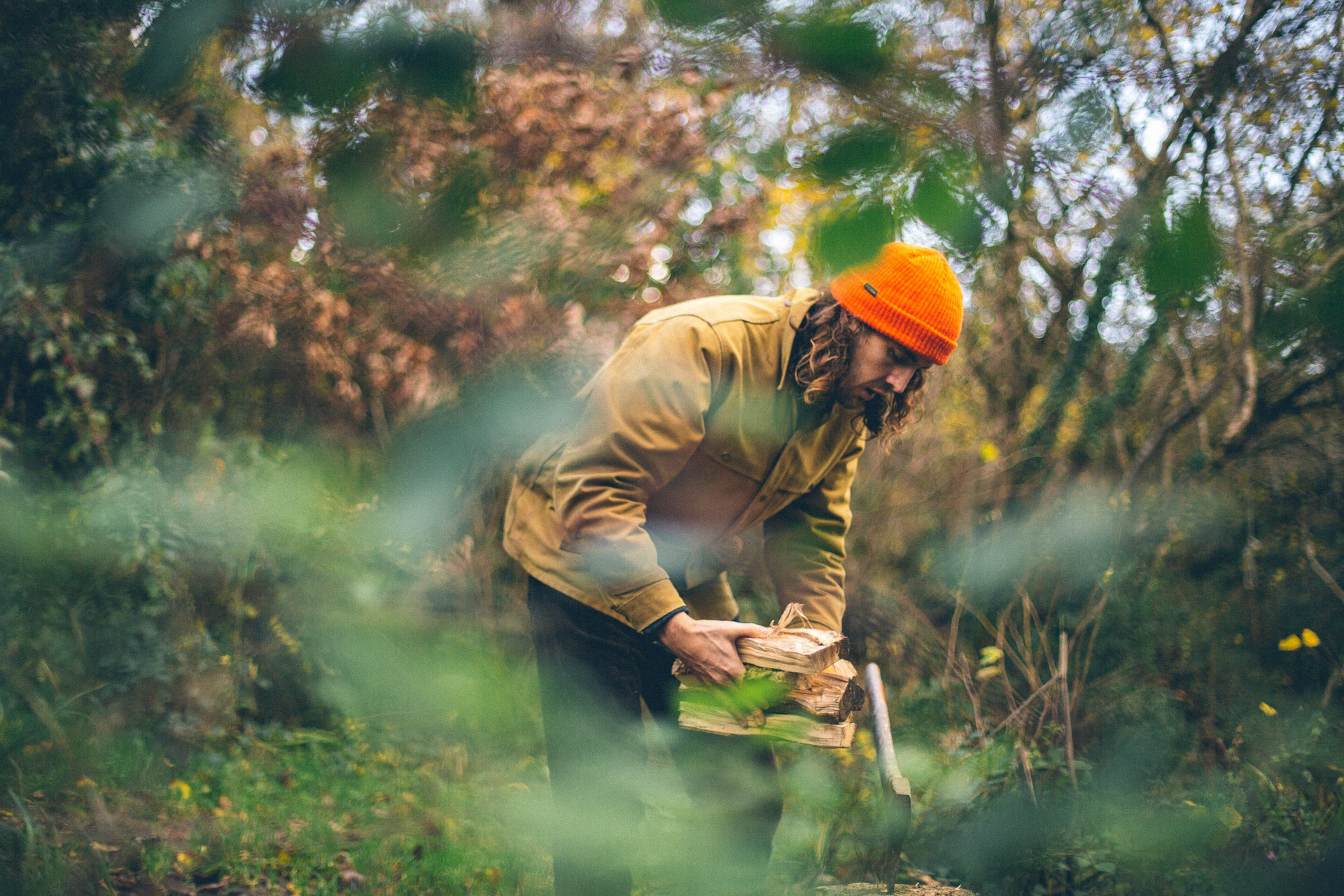 It's why the news in October 2018 that Scottish GPs on the Shetland Islands are to begin prescribing rambling and birdwatching to patients with debilitating illnesses, such as stress, for the first time, feels like a huge corner in UK healthcare has been turned. That perhaps, we're finally taking steps to catch up, despite a distinct lack of hard science to prove the benefits of nature prescriptions and lifestyle medicine like Thera-Sea.
"Sure, not everything has sound science behind it yet," says Katy. "But then again, 'sound science' can take up to 30 years to emerge from research. Everything I do, though, is either rooted in evidence, or it's from my experience as a mental health nurse, having worked in psychiatric intensive care, in-patient units and in community mental health. And I can honestly tell you, of everyone I've seen, this is what 80% of people needed. As clinicians, we are only taught to follow evidence. But why can't we follow common sense as well?"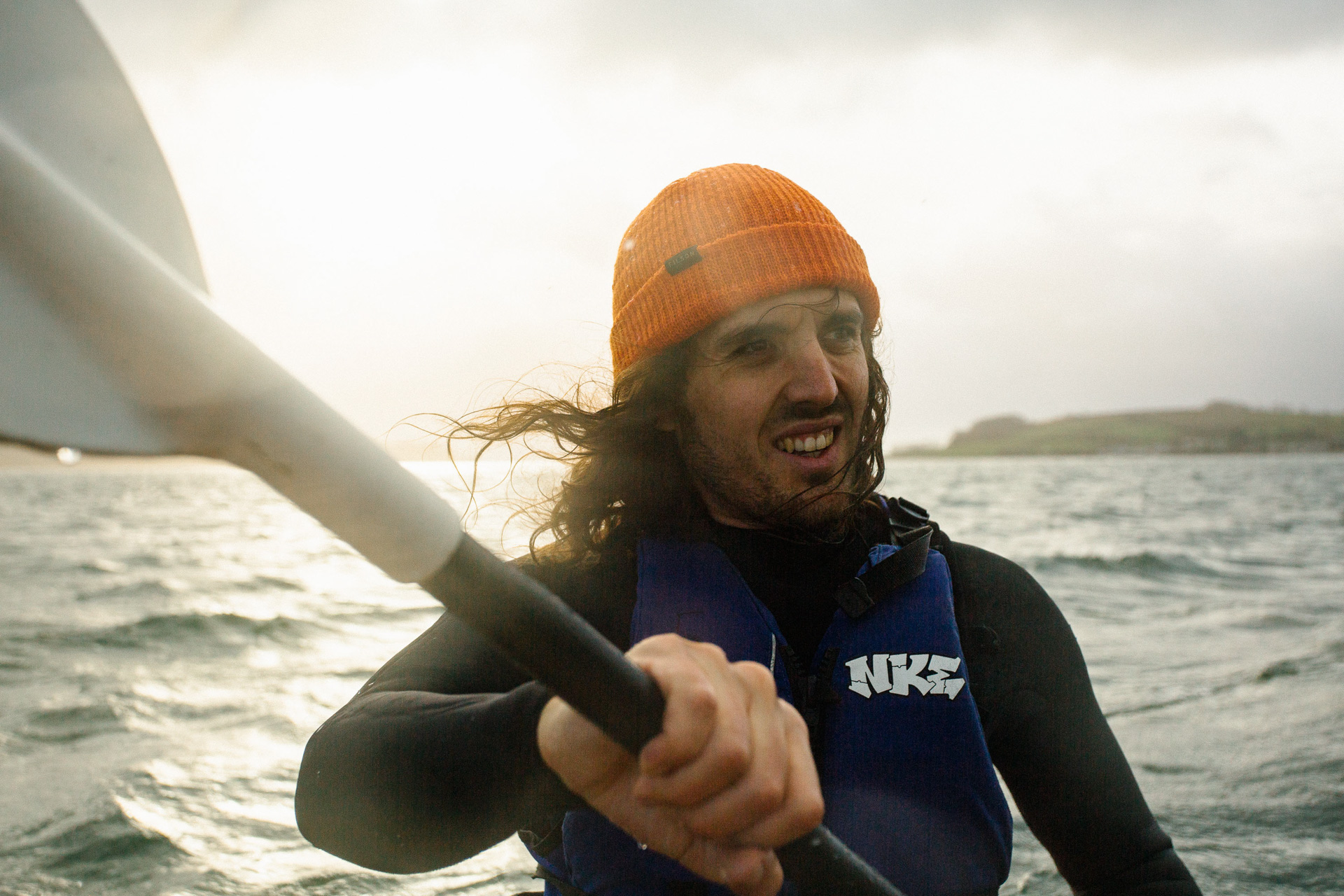 "Maybe I'm proof that it works," Gareth adds. "I ended up in a really dark place in my head, to the point where I did consider ending my life. That's deep. I think more men go down that route than like to admit it, because there's a fear of asking for help. That was a key thing for me. I didn't know where to go. But this has given me that encouragement, to continue with my purpose. I'm still recovering. I'm still working at it. But meeting Katy has given me a clearer path to being Gareth Parker again. To being myself again."
Chris Sayer is a freelance journalist, based in London. Keep up with him on Twitter.
Tom Young is a freelance photographer, based in Cornwall. Keep up with him on Instagram.
Click here for more information on Thera-Sea, and to enrol in Katy's next course in March 2019.