Explore Cape Town's Exploding Craft Beer Scene | The Wanderlist 2019
A new and exciting way to experience the Cape Winelands makes it one of this year's best holiday destinations
What? Try the other kind of alcohol from the Western Cape Winelands.
Where? Cape Town, Franschhoek, Cederberg, and the surrounds, Western Cape, South Africa.
Why? The Western Cape, with its ludicrously beautiful landscape of jagged mountains, punctuated by lush, green vineyards, has long been a place of pilgrimage for wine-lovers. Wine has been made here for centuries, predating California's Napa Valley by more than 200 years. But recently, something of a revolution has taken place, with another, younger form of alcohol starting to make a splash.
Inspired by the American Craft Beer movement, a whole raft of microbreweries have sprung up in recent years, creating an emerging tourist circuit for a different kind of clientele. Increasingly, the beers produced here are being recognised internationally, with several winning major awards in recent competitions.
It's perhaps not entirely surprising that craft beer has found a foothold in South Africa. For the best part of 120 years, the country had only one brewer. South African Breweries (a corporate behemoth that's now part of the InBev empire) made standard - if boring - lager incredibly efficiently, effectively shutting out all competition. That kind of dominance was always going to create a market ripe for disruption by small, D.I.Y. upstarts.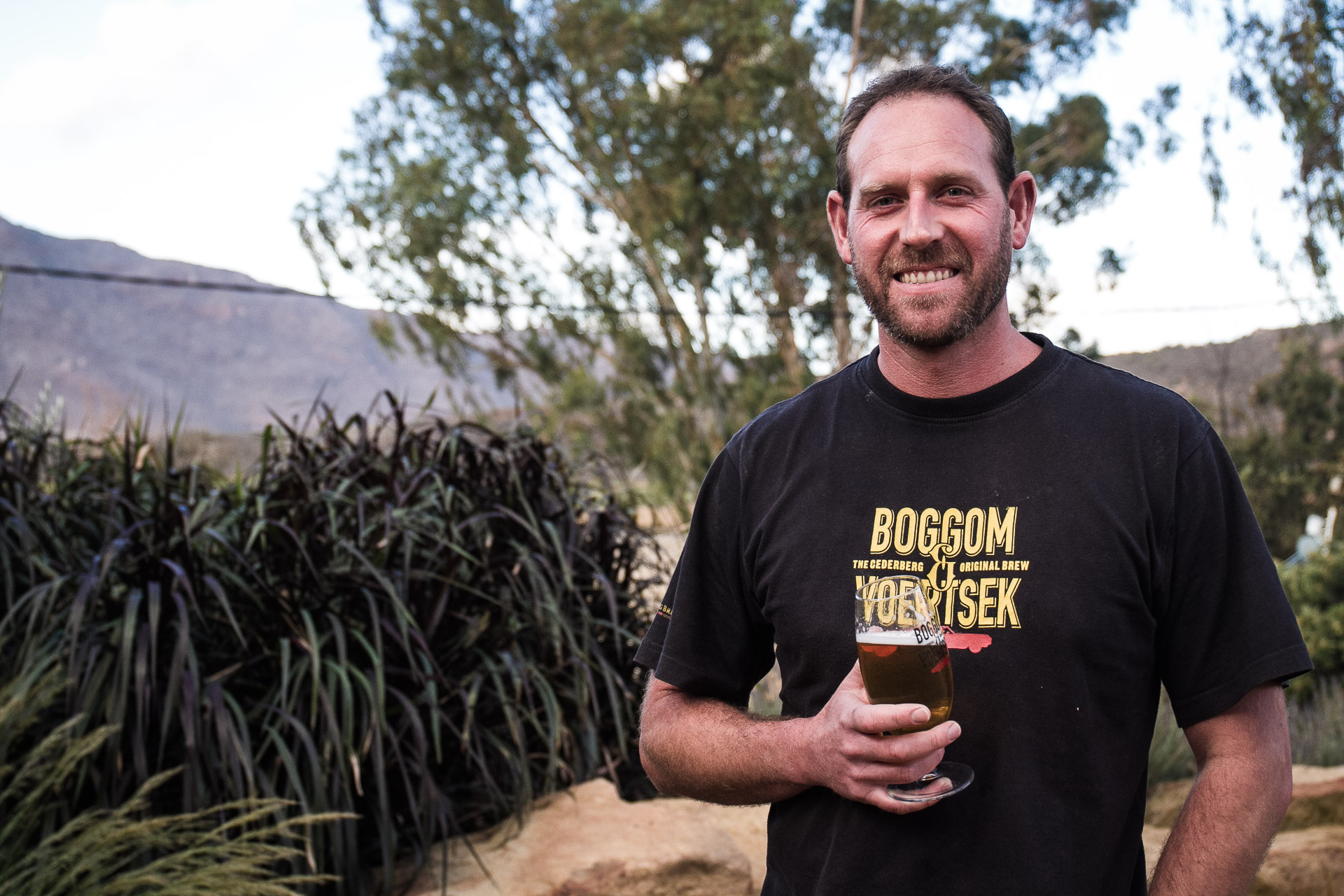 It's also no surprise that this scene took off in Cape Town. The country's second city, with its surfable beaches and cosmopolitan, multiracial population, has always had more of a laid-back, California vibe when compared to the bustling industrial hub that is Johannesburg, or the political centre, Pretoria.
What is remarkable, however, is that as well as the incredible breweries in Cape Town itself (check out Jack Black's and Ukhamba Beerworx, the country's first black-owned microbrewery, if you're visiting), the rural areas around it are more than keeping up. Many of the best and most interesting beers produced in the Western Cape come from outside the city, and in fact many are made in the traditional heartlands of viticulture, often by the winemakers themselves.
The Cederberg Brewery, based on a remote wine estate outside the stunning national park of the same name, is a case in point. Alex Nel (pictured above) one of the head vintners, started brewing beer as a hobby after falling in love during a fact-finding trip to America's wine country. But his business has now grown to the point where they're shipping all over the country, and despite the hard-to-reach location, when Amuse visited he was planning a new taproom for tourists.
Enthusiasts exploring the region will find more brilliant breweries around traditional winemaking bastions like Franschhoek, and Paarl, where Nick Smith, an American expatriate, makes a variety of excellent experimental ales in his Soul Barrel Brewery – based out of an old wine cellar. The scene made up a whole series of similarly independent operators, but increasingly they're working together, especially when it comes to encouraging visitors. The idea of craft beer tourism in the area was given a big boost by the launch of the brilliantly-named CraftBru by Jaco, a local beer enthusiast, which grew out a blog he started in 2012.
They can organise minibuses, drivers, and guided tours, and are more than happy to combine brewery visits with sampling the region's more traditional, grape-based produce. Alternatively, their website is an incredible resource if you'd rather rent a car and drive it yourself (although that will, of course, limit your ability to sample the excellence on offer).
Craft Beer in the Cape is very much still an emerging tourist attraction, but if you're interested in drinking excellent produce stunning surroundings – accompanied, of course, by excellent food – then it's one that's well worth checking out before the crowds catch on.
When? As with most of South Africa, the best time to visit the Western Cape is their summer, which runs from approximately December to February, or autumn, which is March to May. During the northern hemisphere summer (June to August) it'll be dry, but colder, and it's definitely worth avoiding the rainy season, from September to November.
How? Head to craftbru.com for extensive information on South Africa's craft beer scene and to book a Western Cape beer tour.
This has been selected for The Wanderlist - a list of the year's 50 best travel destinations and experiences, curated by Amuse. If you want an unforgettable trip, this is where to go in 2019.