The Way I See It | Magnus Nilsson Catalogues Scandinavia One Shot at a Time
The acclaimed chef, and sometime photographer, talks us through the stories and methods behind his five favourite shots
Photo: Magnus Nilsson
Every month, Amuse profiles a travel photographer whose work we admire, asking them to talk through their all-time favourite shots from their career, and the challenges they faced in creating them. This is The Way I See It.
This month, in a break from tradition, we spoke to Magnus Nilsson - head chef of Fäviken, and one of the most acclaimed figures in food right now. Not content with merely running the gastro-destination du jour - a restaurant that has been subject to two documentaries and a long-form essay - Nilsson is also an incredibly keen and adept photographer, whose naturalistic shots of Scandinavian landscapes have been exhibited completely away from the world of food.
Nilsson published his exhaustive tome, The Nordic Cookbook, in 2015, and has just released The Nordic Baking Book - both books represent a titanic amount of research, conducted across practically every corner of Scandinavia, as he detailed as many local, regional, and national recipes as he could possibly accumulate. Through these journeys, Nilsson brought his camera, always poised to capture moments of communality, vastness, and patience. As such, both books are now exclusively supplemented with his stunning photographs. Speaking to us as a photographer - and decidedly not as a chef - Nilsson shared with us his influences, process, and the stories behind some of his favourite shots.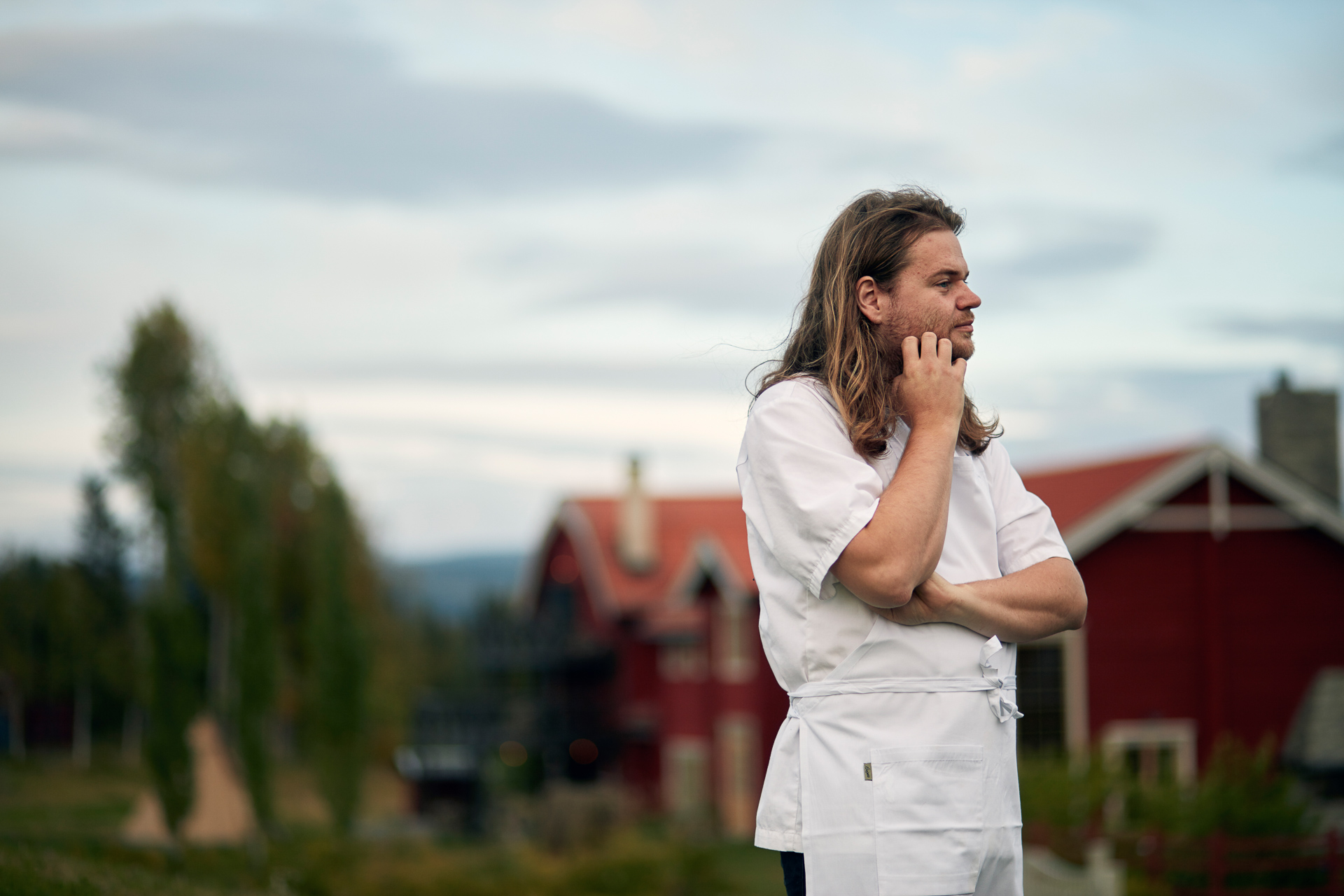 I was given a camera by my grandmother when I was about seven years old. It was a Kodak Instamatic, with the flash cube on top. I didn't get to use it as much as I'd have liked - my pocket money didn't buy me very many rolls of film - but it was a very special moment for me, when I realised that I could document anything I wanted, and keep a moment forever.
My style is fairly immediate. I only do snapshots - I don't arrange anything, I photograph what's there, and I manipulate my images only very slightly (mainly because I'm not particularly good at editing). I've always predominantly documented landscapes and nature, and never really people.
All of my photos are from my research process - they're an integral part of the process, as much as my notes or recordings. It just so happens that some of them are beautiful enough to make it into the book. For me, with these two book projects, the photography works in the same way as the food: what I'm trying to do is reflect Nordic culture through the landscape, through the food, and through the people.
I had my first full exhibition produced with the American-Swedish Institute in Minneapolis, and we toured the US. We went to Seattle, Chicago, New York, and then Los Angeles, right inside Union Station, which was fascinating as an exhibition space. Here my shots were, in this beautiful old building, with people constantly passing through. Of course, some people wouldn't be interested - they'd be commuting, or on their phones, or whatever. But I'd see others look up every once in a while, and find themselves in the middle of all this snow and stark landscapes, and they'd stay behind and look at every picture. That was pretty amazing to see.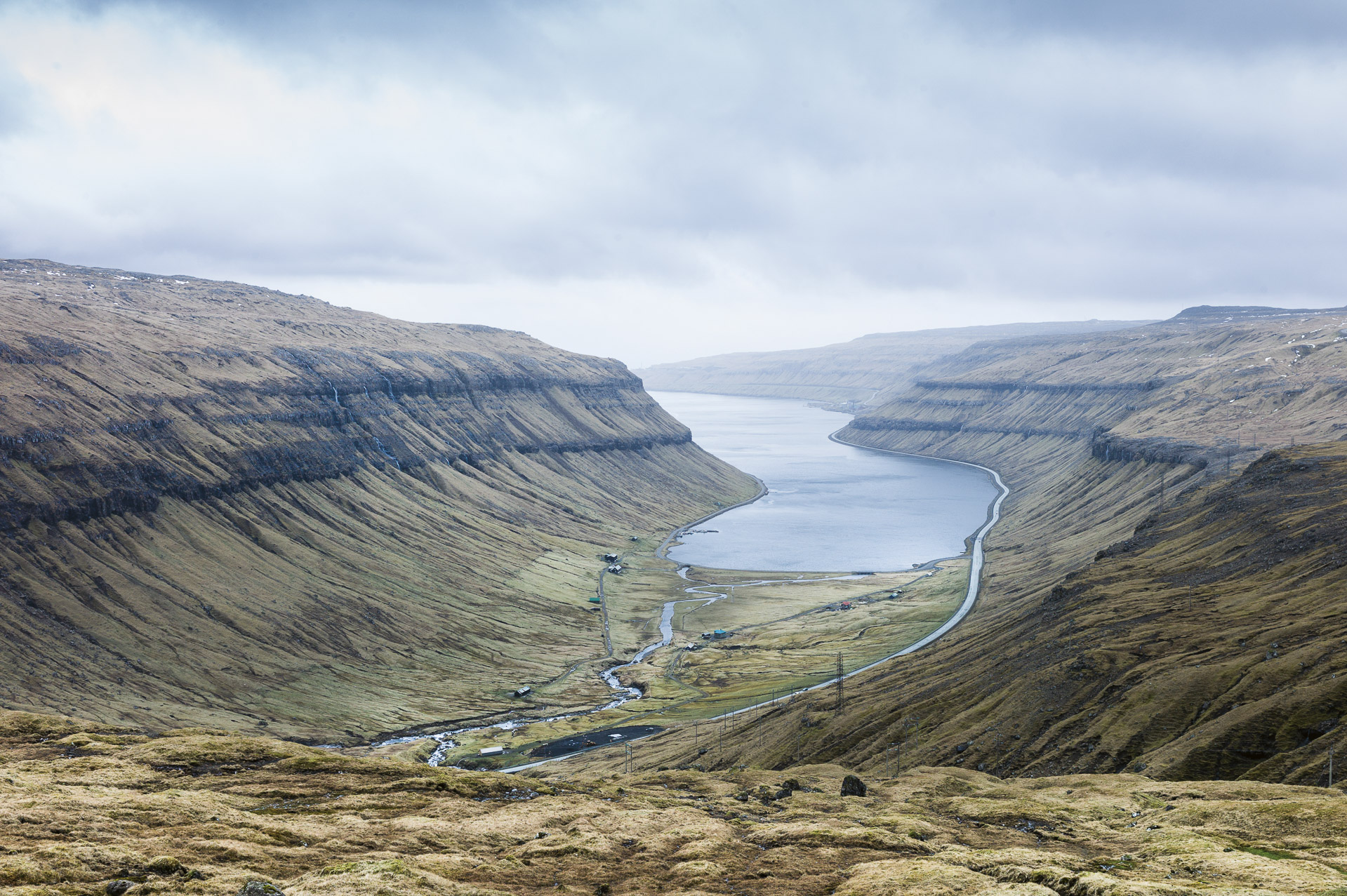 I always end up photographing fairly large landscapes. I don't know why, I've always just been drawn to them, and the way they look. I also paint watercolours quite a fair bit, and I've always liked how landscapes come together - with a bit less definition on the horizons, and more contrast and sharpness in the foreground, creating depth of field.
I find it interesting that photographs and watercolours share this similarity, although perhaps that's not so strange, since they're both two-dimensional objects showing something three-dimensional. I just like how this image feels - it feels like being on the Faroe Islands.
This shot comes with a bit of a roundabout story. I've always been interested in photography, but only really on an amateur scale - until a few years ago, anyway. I'd just finished the Fäviken cookbook, and had the chance to meet the iconic street photographer Joel Meyerowitz. I asked him if I could take a walk with him at some point while he took shots, and he welcomed me along.
We spent a day in New York, walking up and down Fifth Avenue and talking, as he adjusted his aperture constantly - without even thinking, just naturally - and stopped people for photographs. He was able to get them at ease, take his shot, and move on, and everyone came out of it happy: that's craft. I'm not that kind of photographer, and I realised that further in my day out with Joel.
I can sense my own awkwardness in this shot [above]. I'm naturally very uncomfortable photographing people, and the woman in question doesn't know I'm shooting her, so it's a unique position where she's at ease and I'm not. But that being said, I had to capture this shot: it was such a beautiful moment, and the image has so much energy to it. I don't include many people photos, but I'm happy to include this one.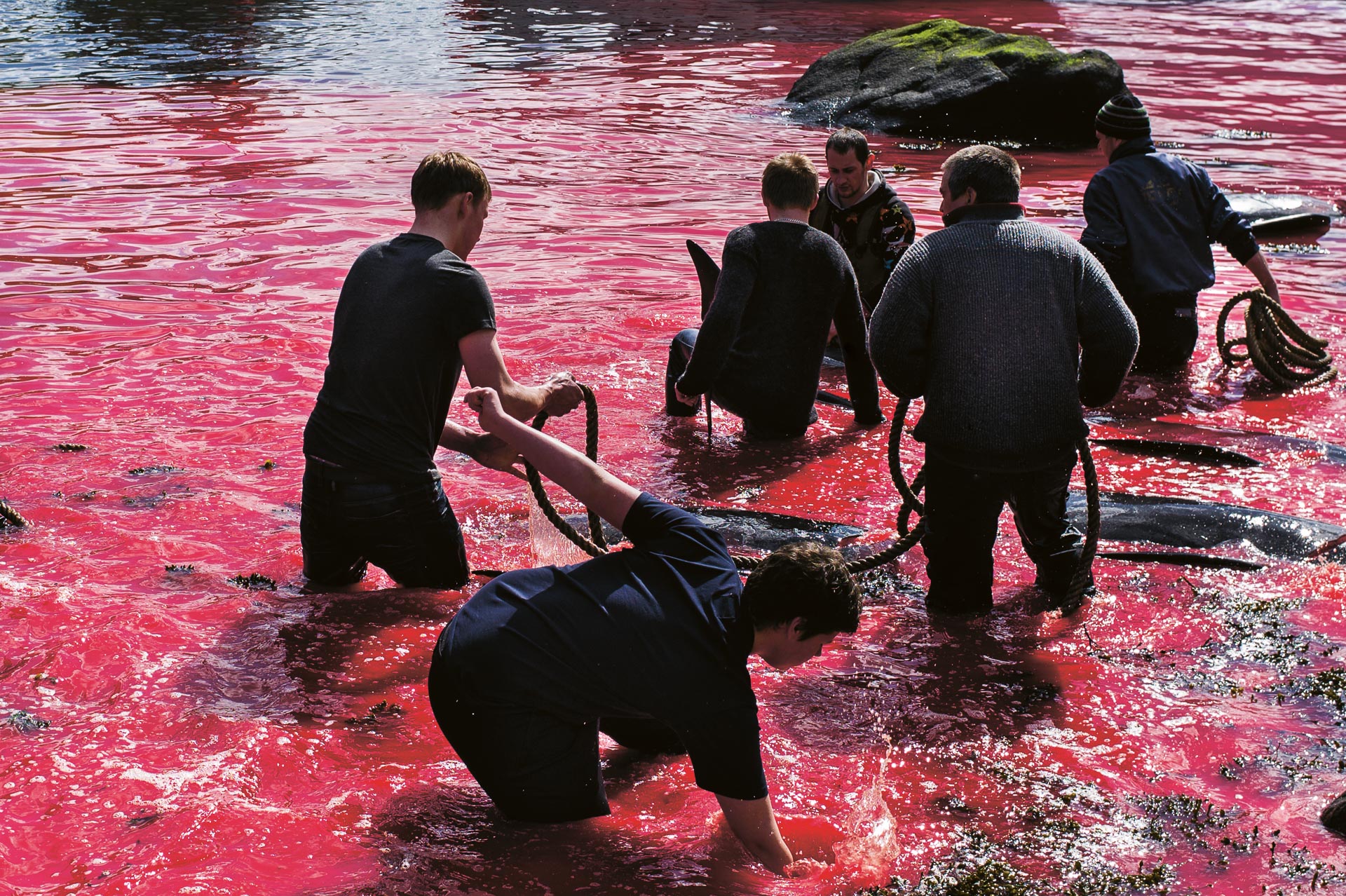 This shot caused a lot of controversy when I put it in the Nordic Cookbook. It's an image of pilot whale hunting in the Faroe Islands, and I'm not someone who is pro-whaling, but I also believe that the culture of all populations should be respected. After all, it wasn't these guys who pushed large whales close to extinction - we were the ones who used them for fuel.
Pilot whale hunting in the Faroe Islands is a communal activity. Someone will spot a pool of them out on the coast, and sound the alarm: with that, the whole community stops what they're doing - offices, schools, everyone - and heads out to bring one to shore. Once they're beached, they're killed, and their meat is distributed out to the community. Those who participated get a certain cut, and then those who couldn't come to the beach to join in, be they at home or in hospital or something, get another cut. It's a very old system of order, and one that the community associates with very closely.
You can't plan for this to happen. These hunts only ever happen around once a year, maybe twice in a lucky year, and I just so happened to be there at that time, so I'm especially proud of this picture. It was such a challenge to get, because the sun was so bright and low, and I didn't get a chance to adjust my ISO, so it's a little bit overexposed, and was taken at a very high shutter speed. But it's such a beautiful image, so full of movement and with water flying everywhere.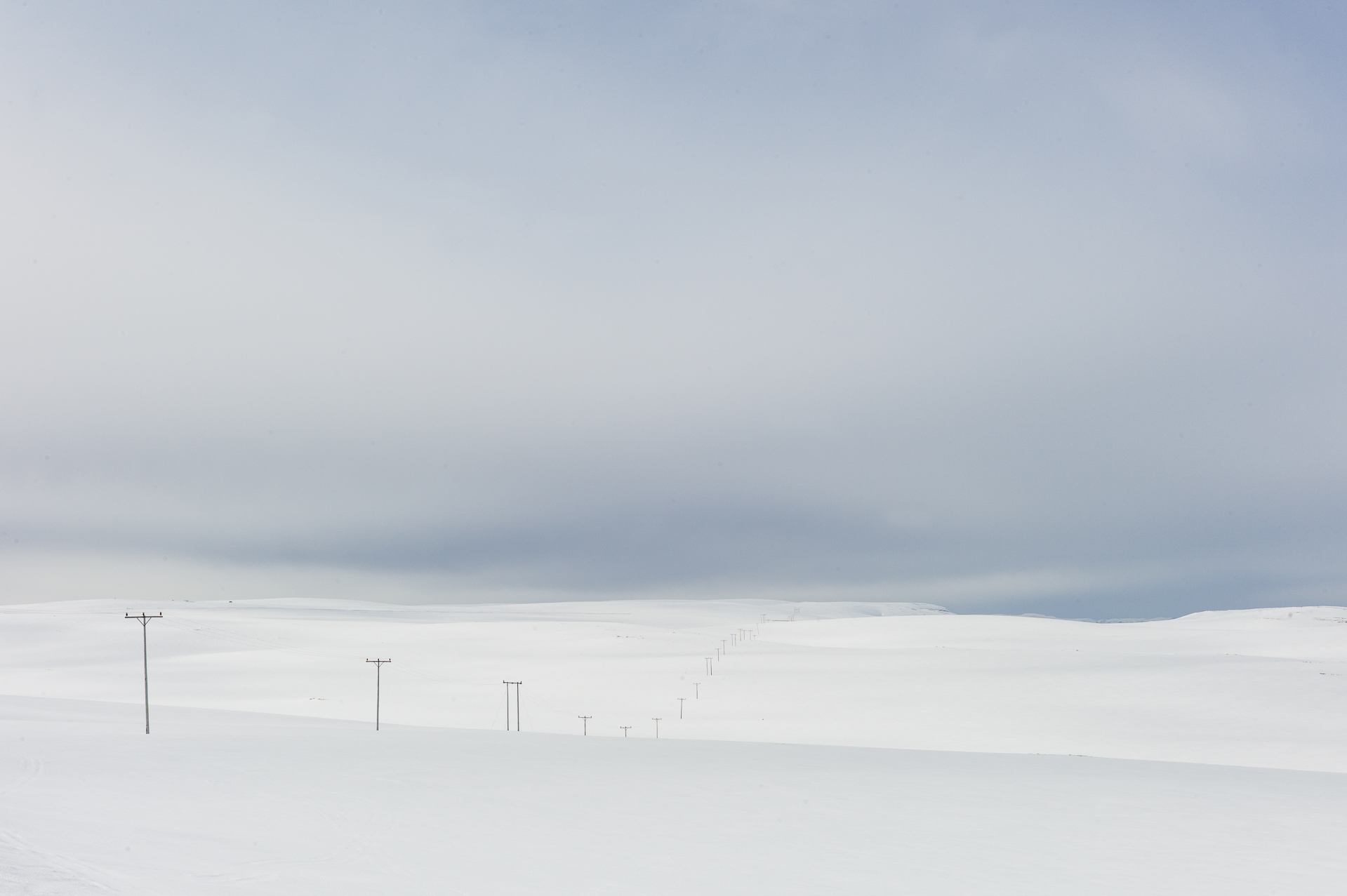 This was taken on the way to the North Cape in Norway, and these telephone lines were stretched all the way into the distance. This was in the spring, too; this was May. I was driving the entire length of Norway on a road trip, and so covered nearly 5,000km in two weeks. In the south of the country, it was beautiful early summer, all green and warm, and heading north was like travelling back in time through the seasons. This is near Norway's northernmost point, and it was full winter: they'd have this snow for another month, and then sun for a couple of weeks, before going back to winter again.
This shot happened certainly not by accident, but certainly not by design. It was one of those moments where someone stops the car for a pee at the side of the road, and this landscape is before you. I took one shot, and then moved on, forgetting about it. Quite a lot later, when I was reviewing the shots from the trip, I saw this one and realised that I'd inadvertently caught the money shot. This was one of the most popular images from my exhibition, and the one that people email about most - it just keeps resurfacing.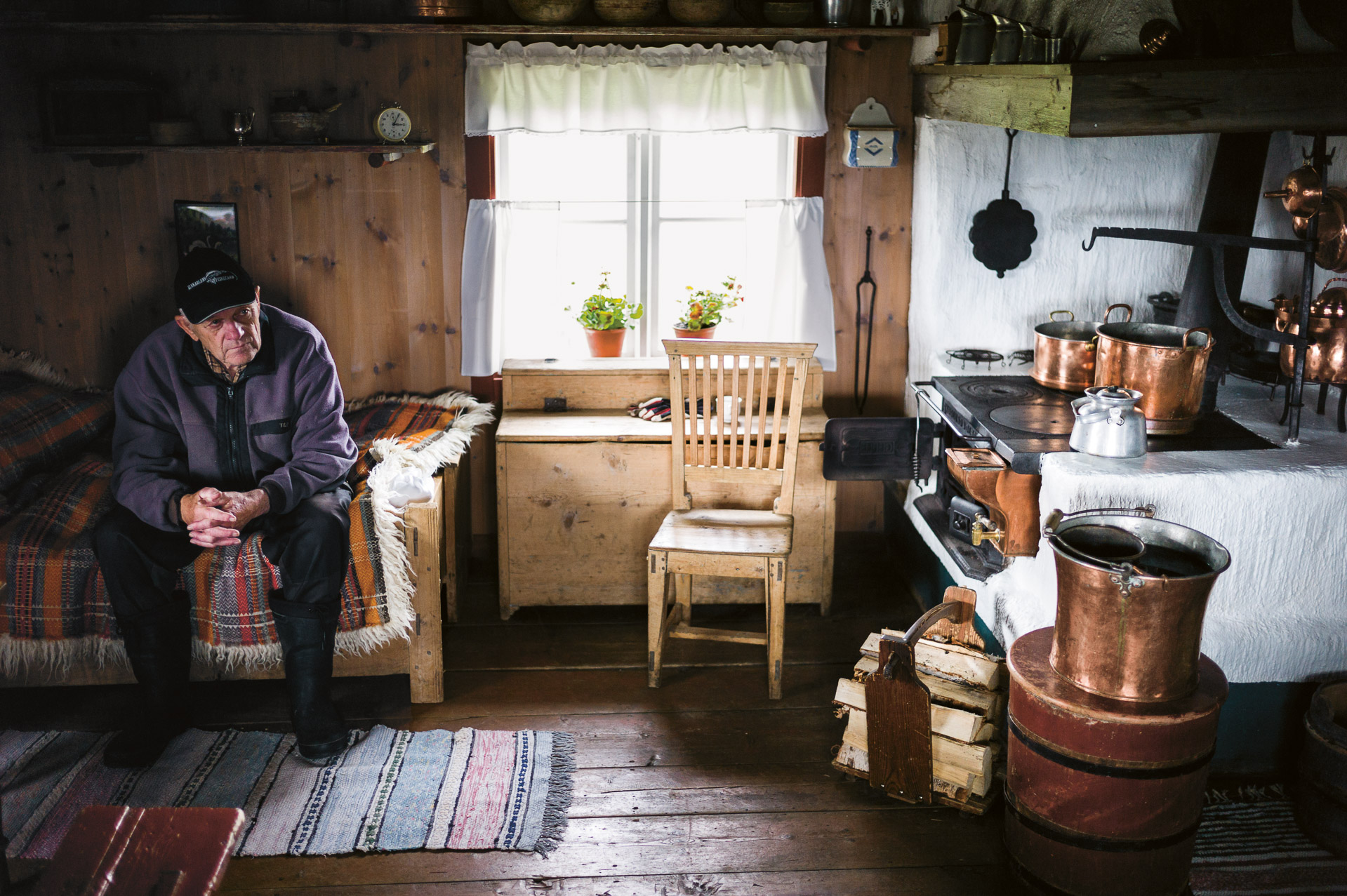 I took this in a farm, very close to where I live. I'd been working on the farm that morning, helping them, and I stopped for a sandwich inside the farmer's house when I captured this. Once again, I'm really not very good at getting people to pose - I end up having them look weird, I can't manipulate a situation to show what I want to. I never move a curtain, I never tell anyone to behave in a certain way; I only snap away at what's there. I captured this moment exactly as I experienced it.
He's clearly thinking about something in the shot, but at the same time, he's realising that he's being photographed. The camera clicked, and he started to become aware that he was the subject, and not just sat undisturbed. There was no chance to get another shot here - it had to be then, and thankfully it was the right shot. Photography, to me, is about this kind of documentation.
Magnus Nilsson is head chef of Fäviken in Järpen, Sweden, and the author of The Nordic Cookbook, The Nordic Baking Book, and Nordic: A Photographic Essay of Landscapes, Food and People, which are all available through Phaidon. Keep up with him on Instagram.

Kieran Morris is Junior Editor at Amuse. Keep up with him on Twitter.