Land of Hope & Dreams | Deep in Desert Country
Photographer Chris Bethell continues his trek towards the East Coast, stopping through the barren deserts of Colorado, Utah, & Nevada
In this latest instalment of Chris Bethell's 'Land of Hope & Dreams' series, Chris and Bekky drive through three of the strangest states in America – the bloomed deserts of Utah, Colorado, & Nevada. Nevada, in particular, holds particular significance for Chris; not for Las Vegas, but for Reno, where his grandfather Joey lived and worked after leaving his grandmother. After heading thousands of miles towards the East Coast, Chris begins to cover the ground he had been searching for.
With his journey winding towards its inevitable close – after all, there is only so much continent to cover – Chris and Bekky become more contemplative of the America they have now experienced, set against the America they had always envisaged. As they head towards the cartoonish dreamscape of Sin City itself, Las Vegas, this is perhaps their final slice of full-fat, rustic Americana.
Amuse has been serialising 'Land of Hope & Dreams' over the past couple of months, showcasing Bethell's street photography in New York and Boston, the barren South Dakota desert, and the small, sparse towns of Minnesota, Ohio, and Wyoming.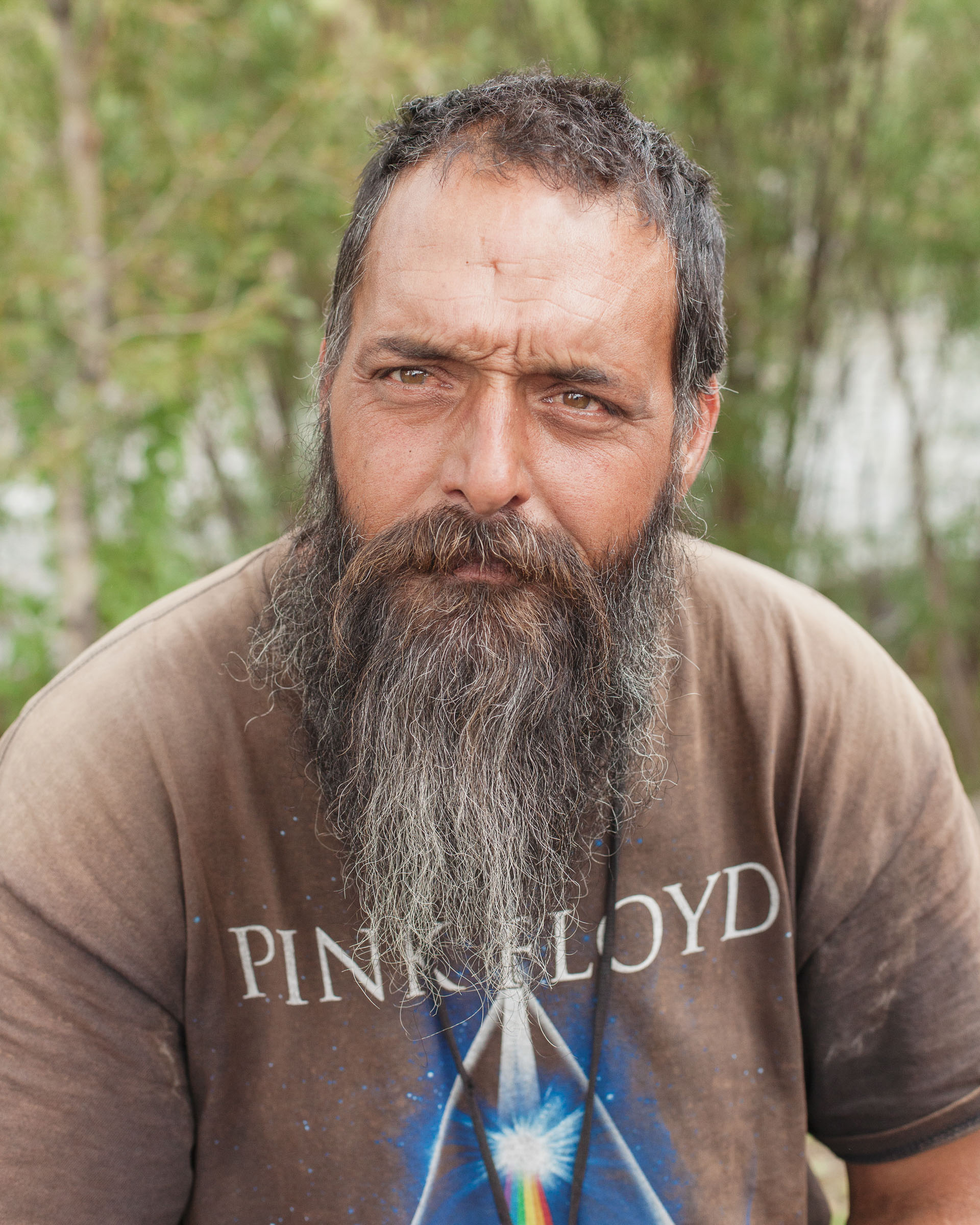 Coming into Colorado, the landscape shifted; the flat deserts and prairies of Wyoming cracked open into rocky mountains and green valleys. We pulled off the I-70 into Idaho Springs in search of food, and came across a small fair – gazebos housing people selling their wares, and a country singer soundtracking the day. We met Turtle sat on a bench to the side, looking over everything. He told us that he was a classic American hobo; travelling America relentlessly year after year. He once woke up to a grizzly bear stood over him as he slept under the stars – luckily, he lived to tell the tale.
This man ran past us several times before he came to a stop. He told us a few jokes that I couldn't quite understand and I think I remember him laughing at our accents before he continued jogging around the town.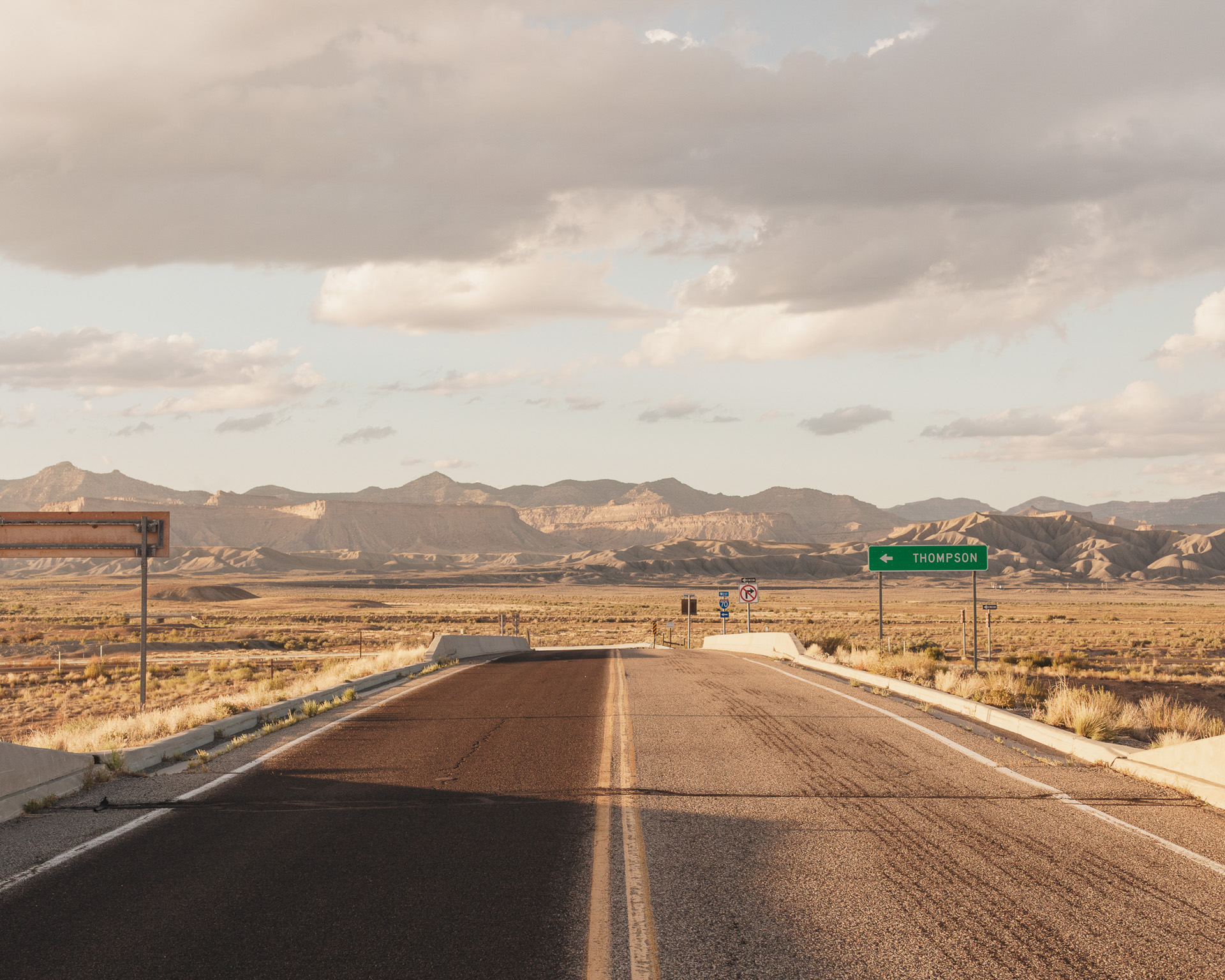 I love the contrast in the road surface in this image. The right-hand side has been weathered by years of exposure to the sun, but the left is much fresher. The yellow lines guide your eyes straight through the middle to the mountains behind.
Maybe it's just me, but this image feels futuristic – potentially dystopian to me. The structure looks extremely modern against the barren field behind, and the emptiness of the photograph creates a feeling of unease.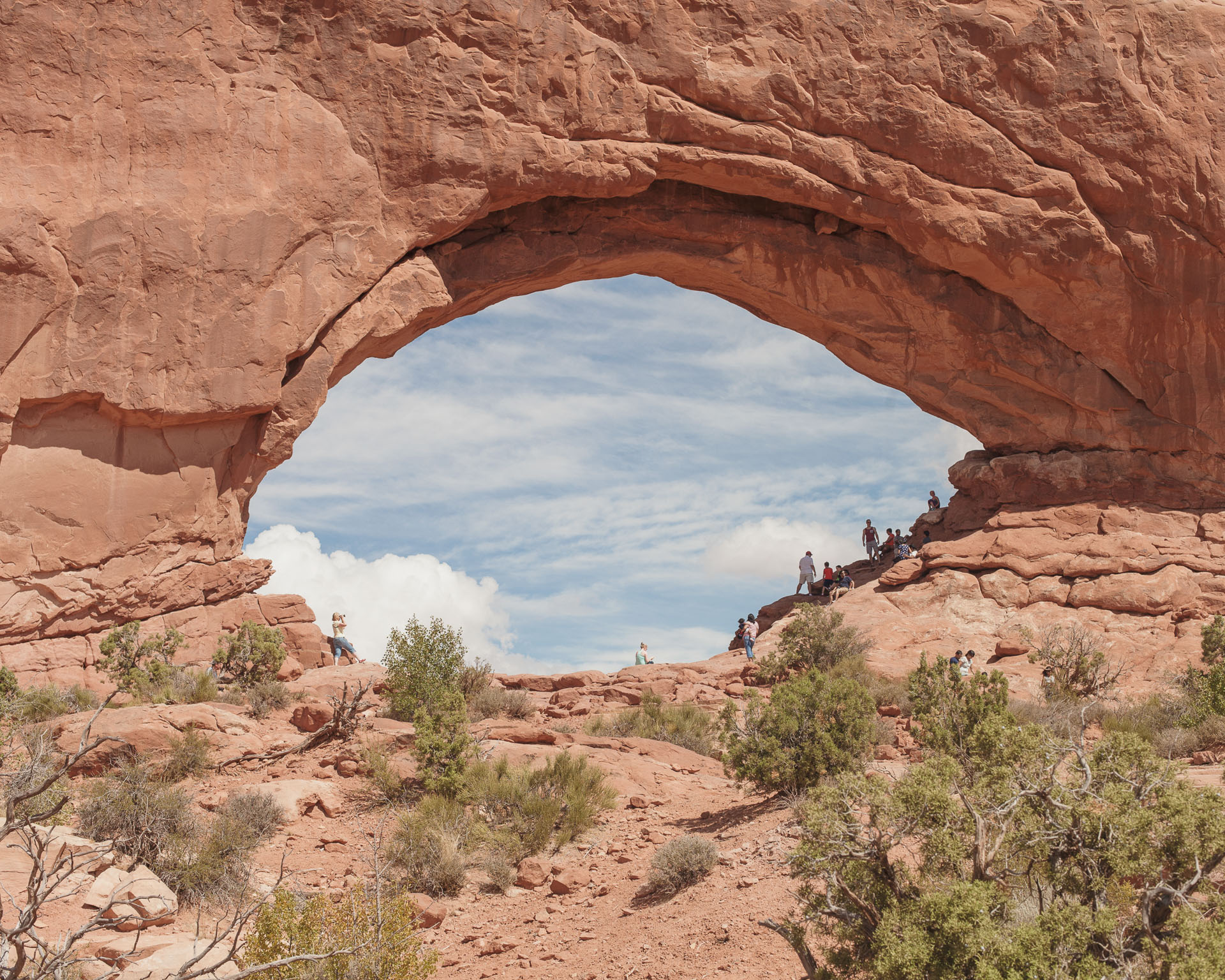 Arches National Park houses the world's largest collection of natural sandstone arches in the world – and is also one of the significant places for Bekky's project. Her family had visited the park when she was a baby. The holes cut through the rock revealing a canvas of blue sky.
Tourists really do pull some funny shapes in the pursuit of the perfect picture. The most elegant looking person in this frame is the child to the right.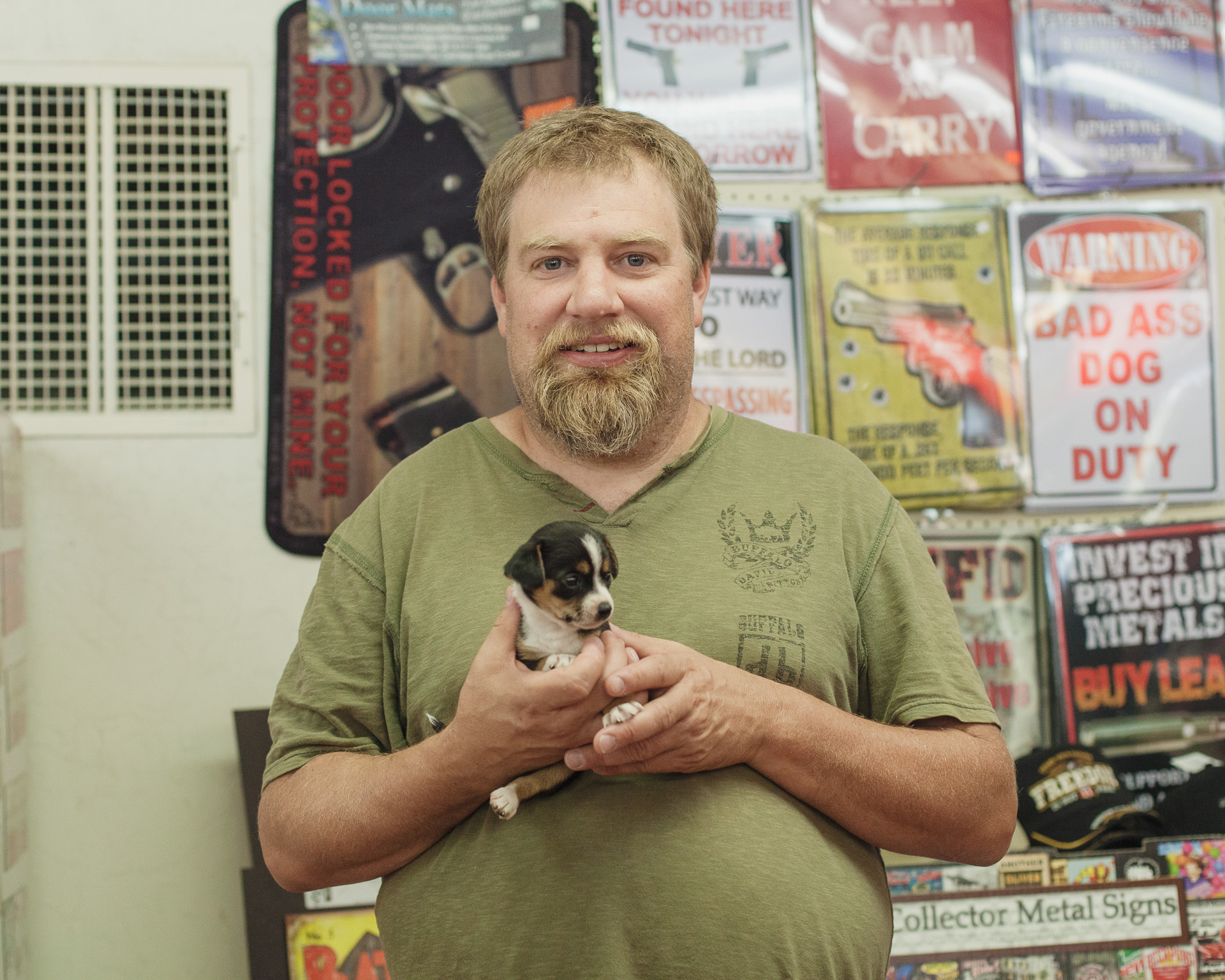 We stopped at a place called Hole N' The Rock – a home carved out of a huge rock in the Canyonlands County. The attraction also had a small zoo and an eccentric gift shop, where I met this man and his tiny puppy.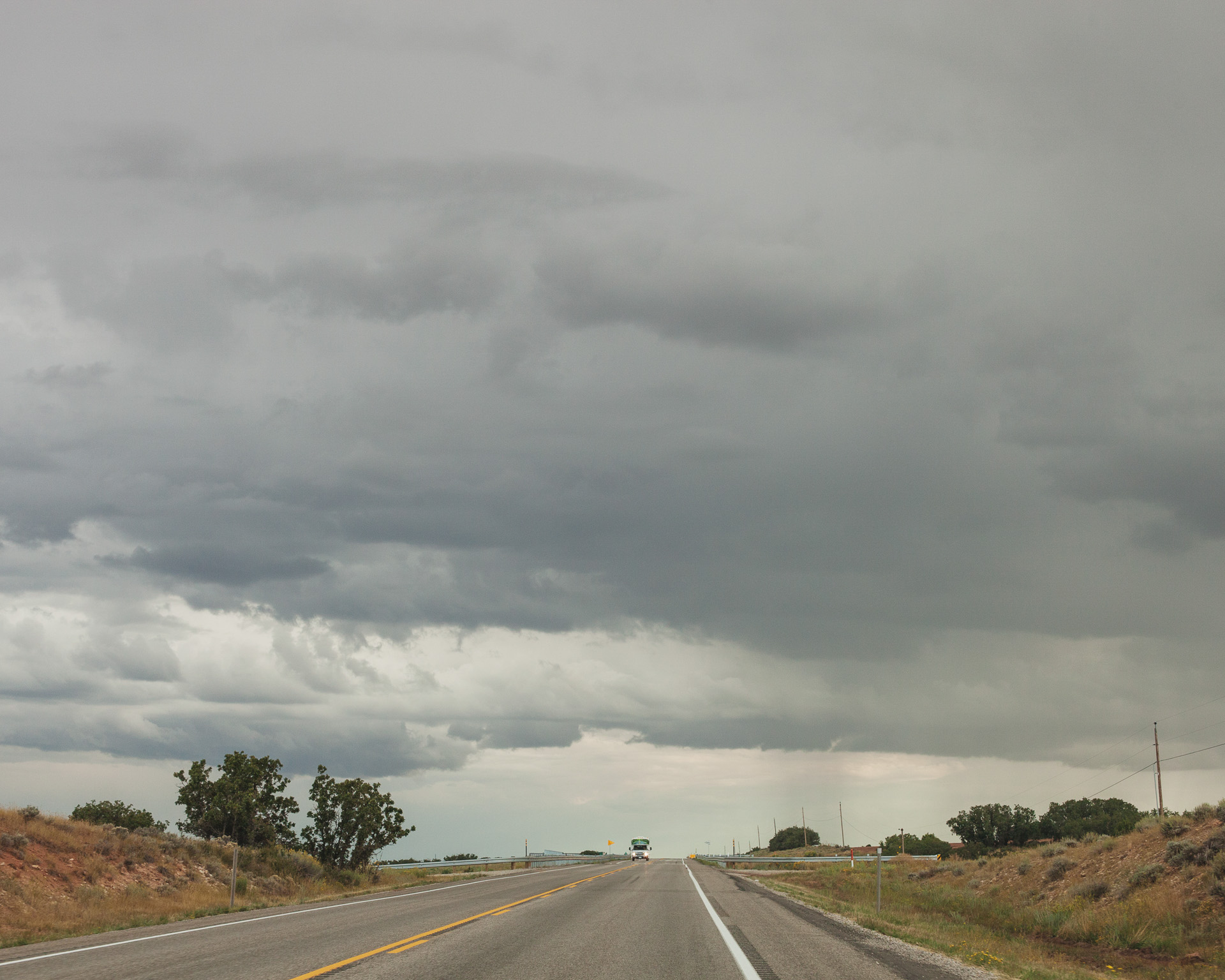 The land flattened out once more as we drove further into Utah, towards Nevada. This photo only goes so far to describe it, but a storm collected together over our heads; the combination of this and the almost infinite horizon made the dark clouds truly feel sublime.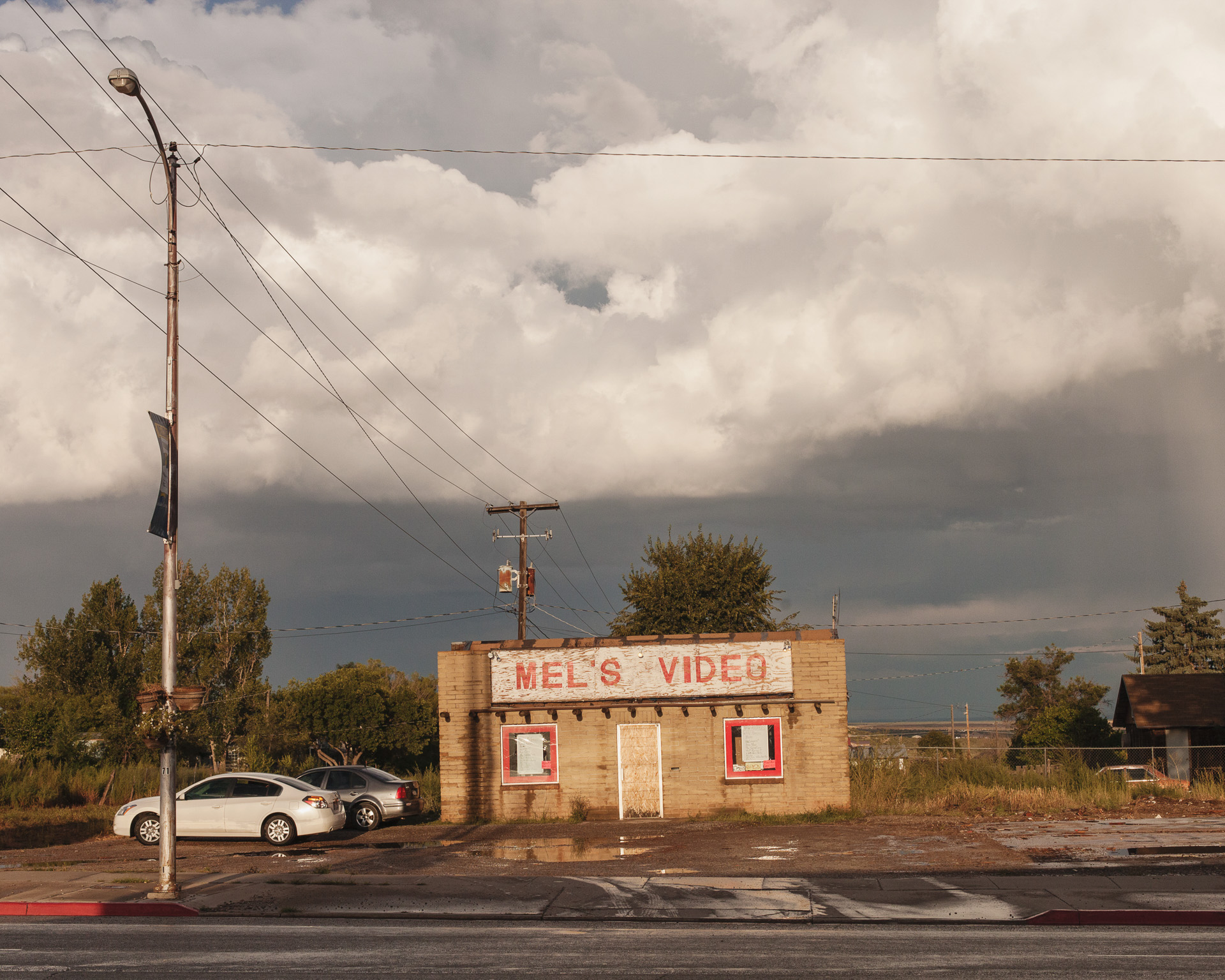 This broken-down building is, surprisingly, still a functioning business. I started to photograph it, thinking that it was long-abandoned, but was surprised to see a family walk out of the door with DVDs in hand.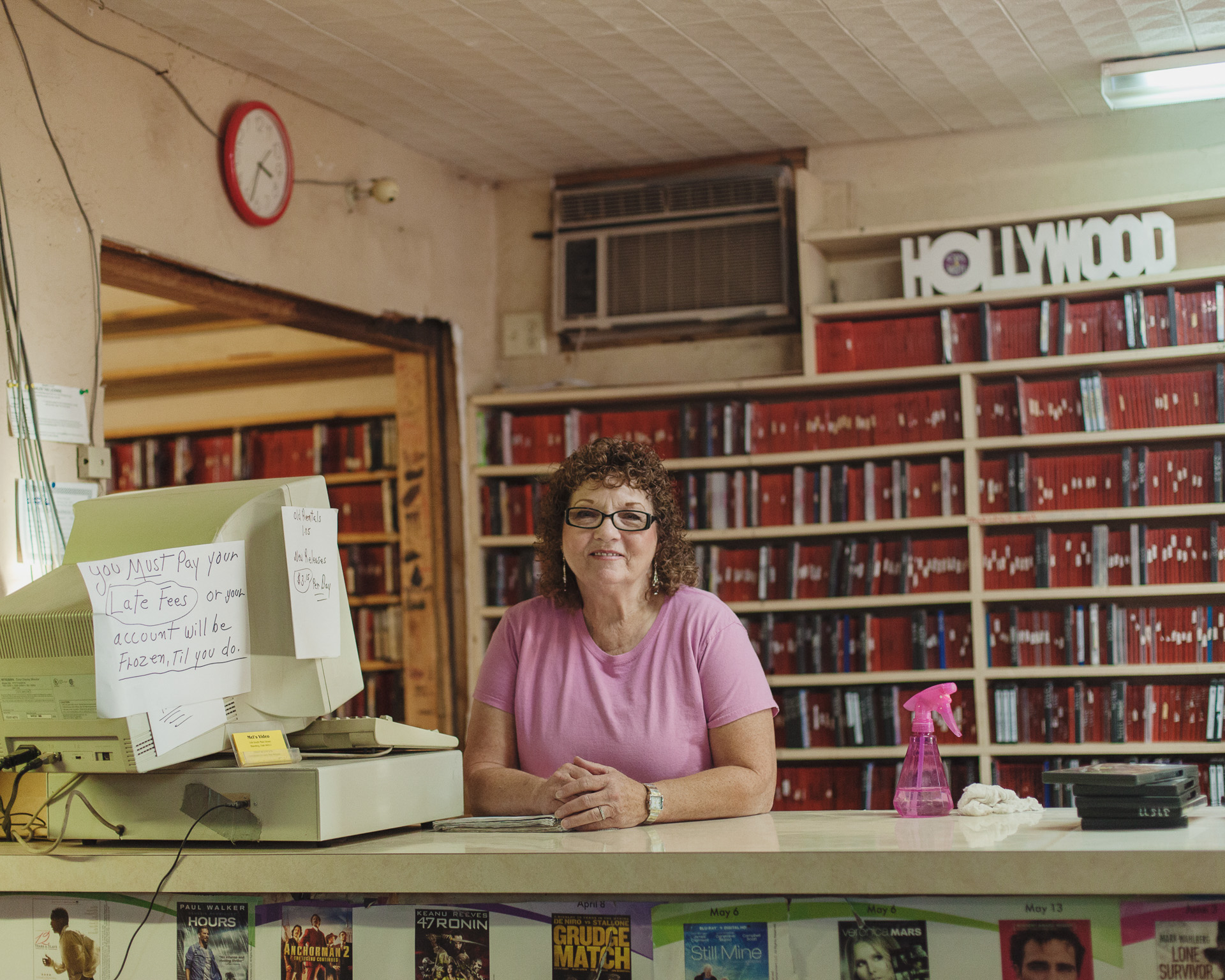 Bekky pulled open the chipboard door and I followed her inside. We were greeted by this lady who asked us about our accents – I think she thought we were Australian. She told us that she still does really well renting DVDs.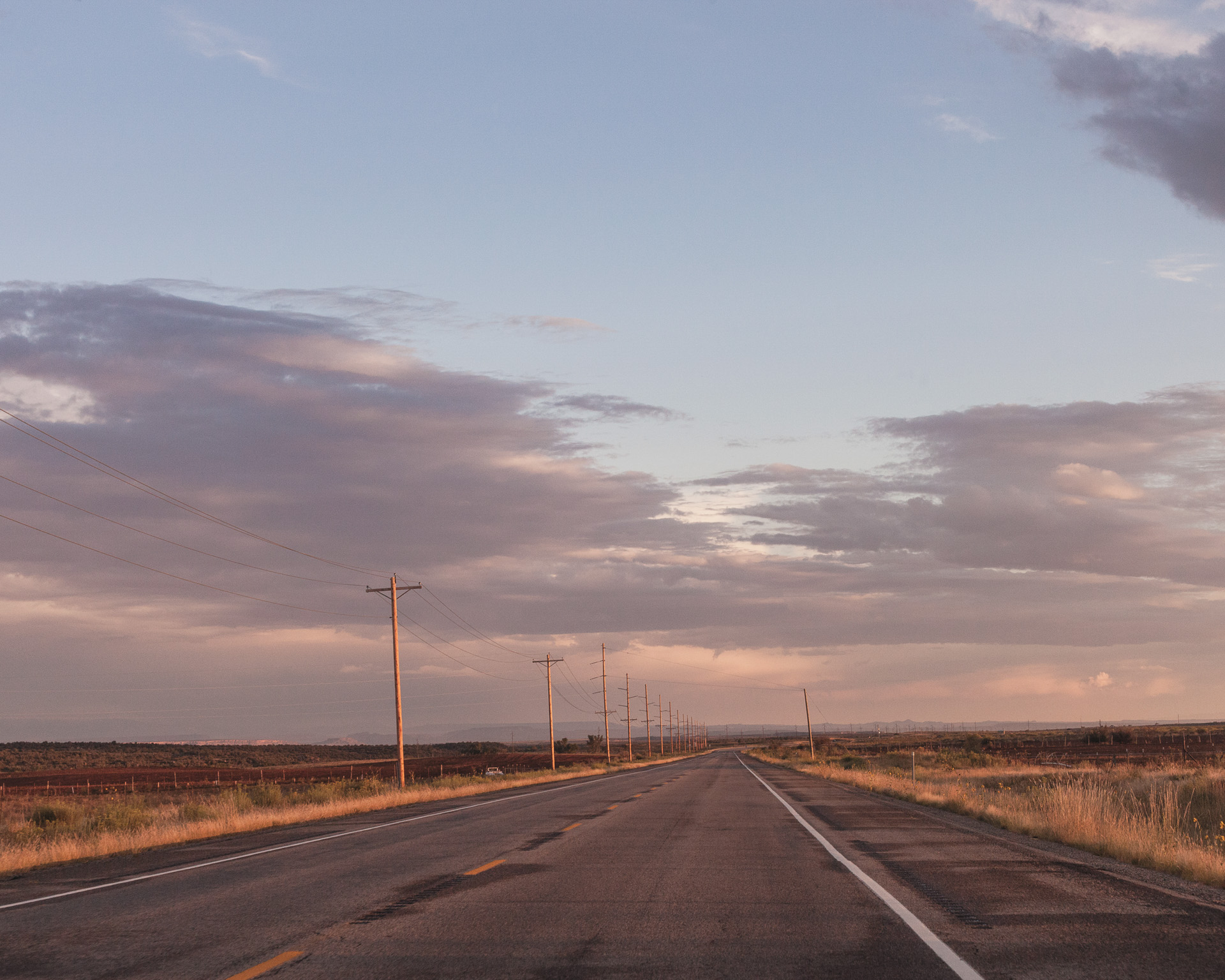 This is a bit of a cliched image, I know, but I love it because it represents the America that I knew before I ever visited. Most of my time here broke apart my fantasies and stereotypes, but I treasured the few times I felt the Americana I'd grown up obsessed with.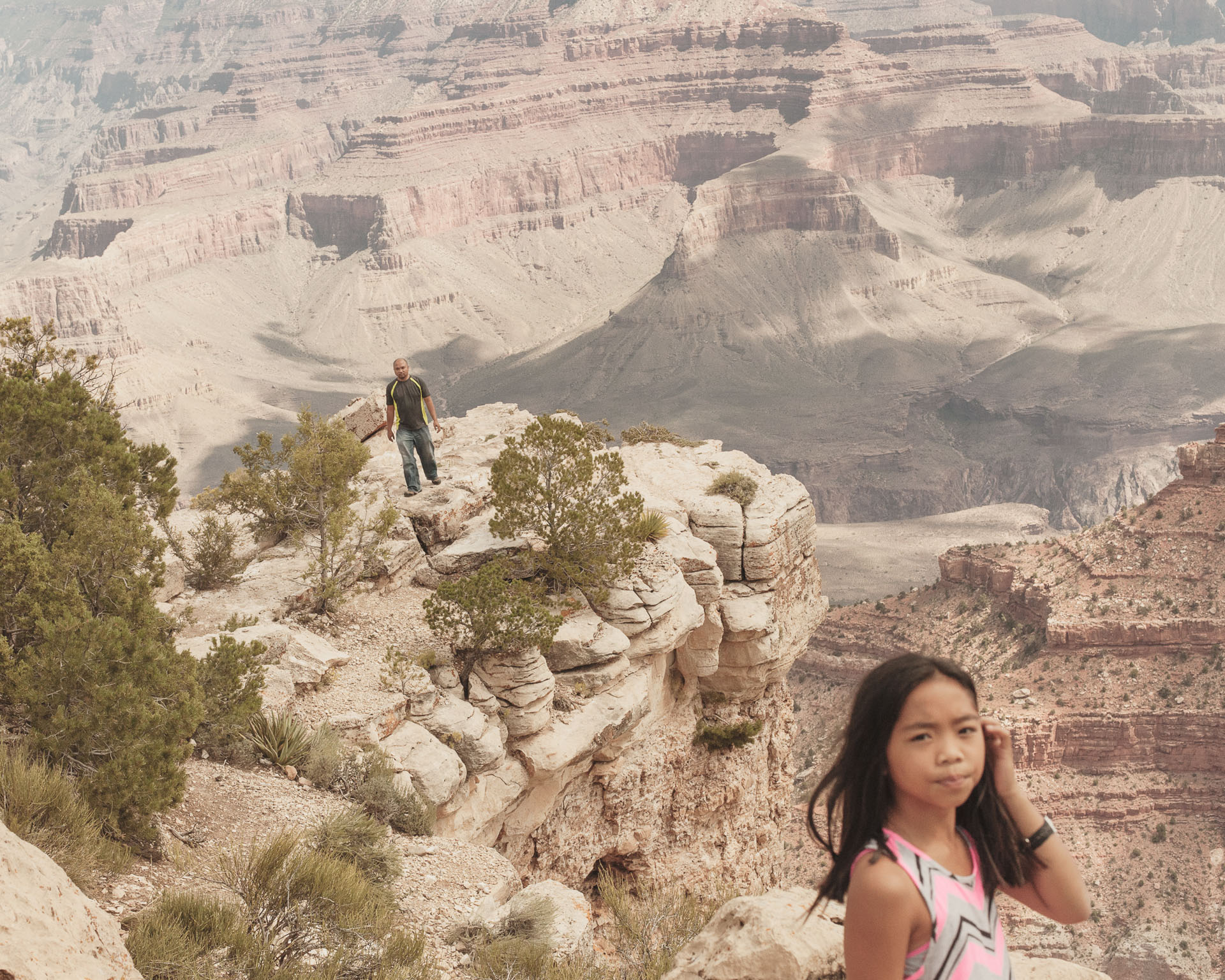 A few minutes earlier, this father and daughter were both stood out on the ledge, staring out across the Grand Canyon – making one of the most important images in my project, The Duke of Earl. I was really torn about whether to use this image instead when I was constructing the project – I love the drama in this picture.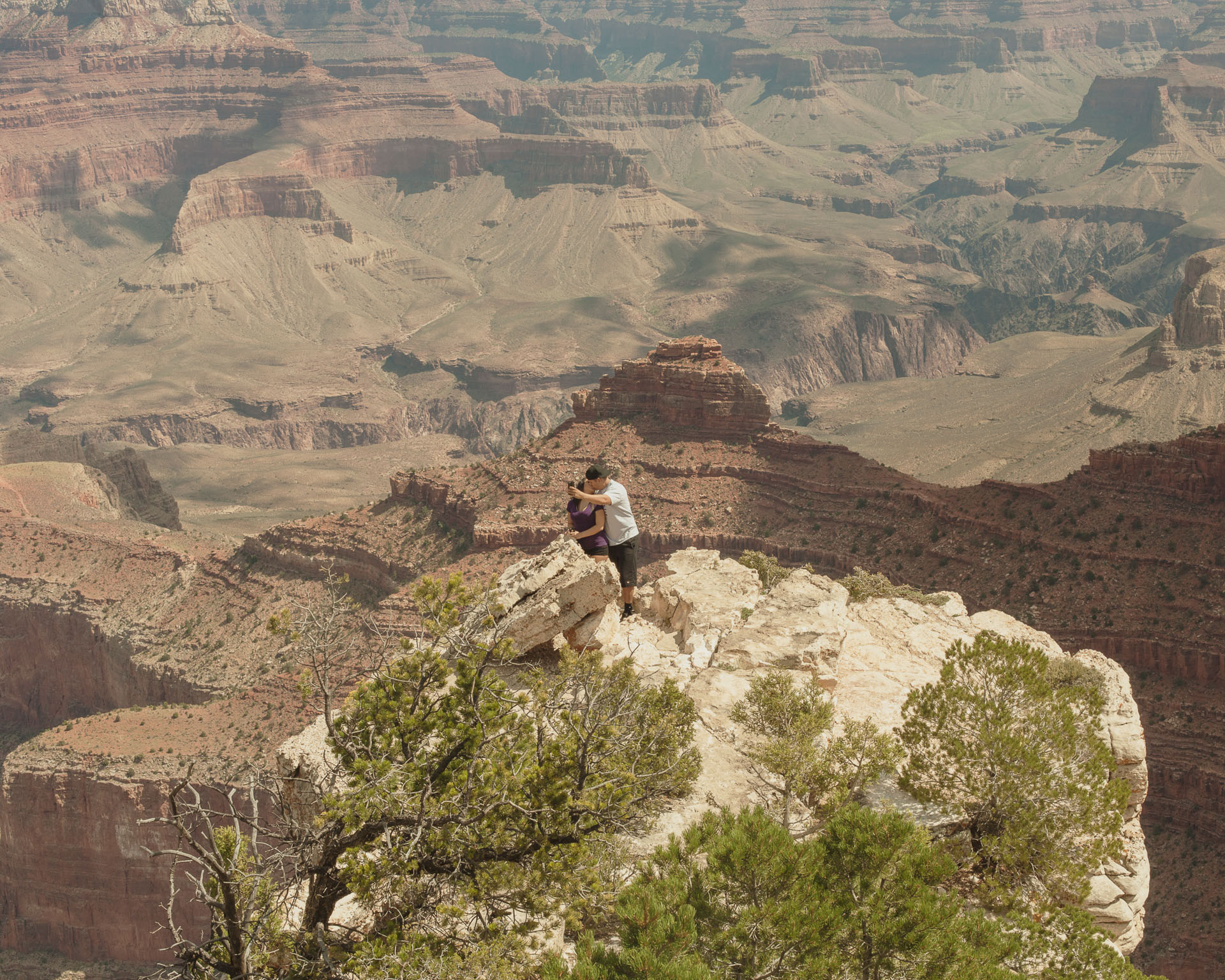 This couple embrace and kiss whilst taking a selfie. I'm pretty sure this is how people fall off cliffs and die, but it makes a pretty romantic photo.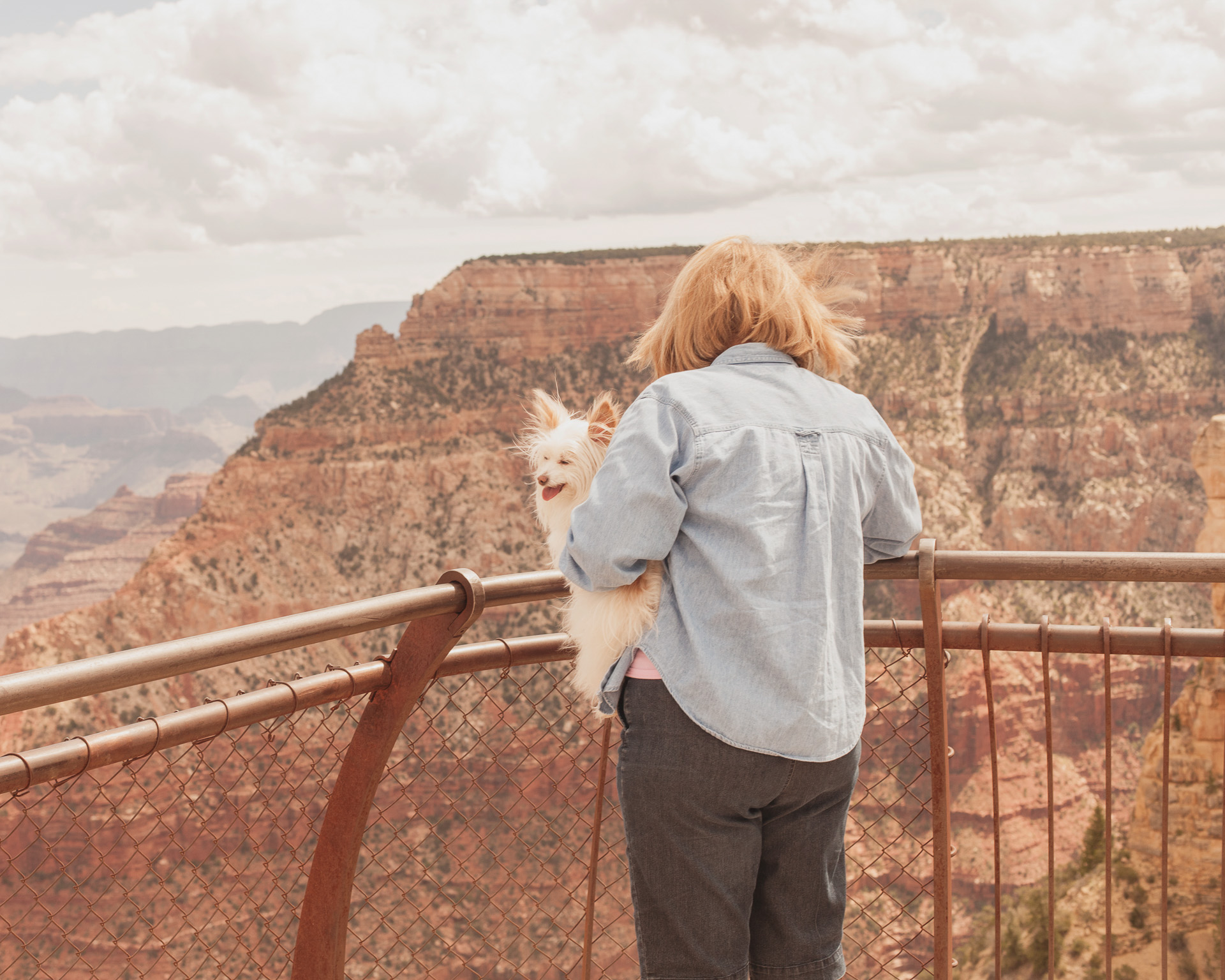 Another example of people looking like their pets. The dog looks content with being in the immense canyon.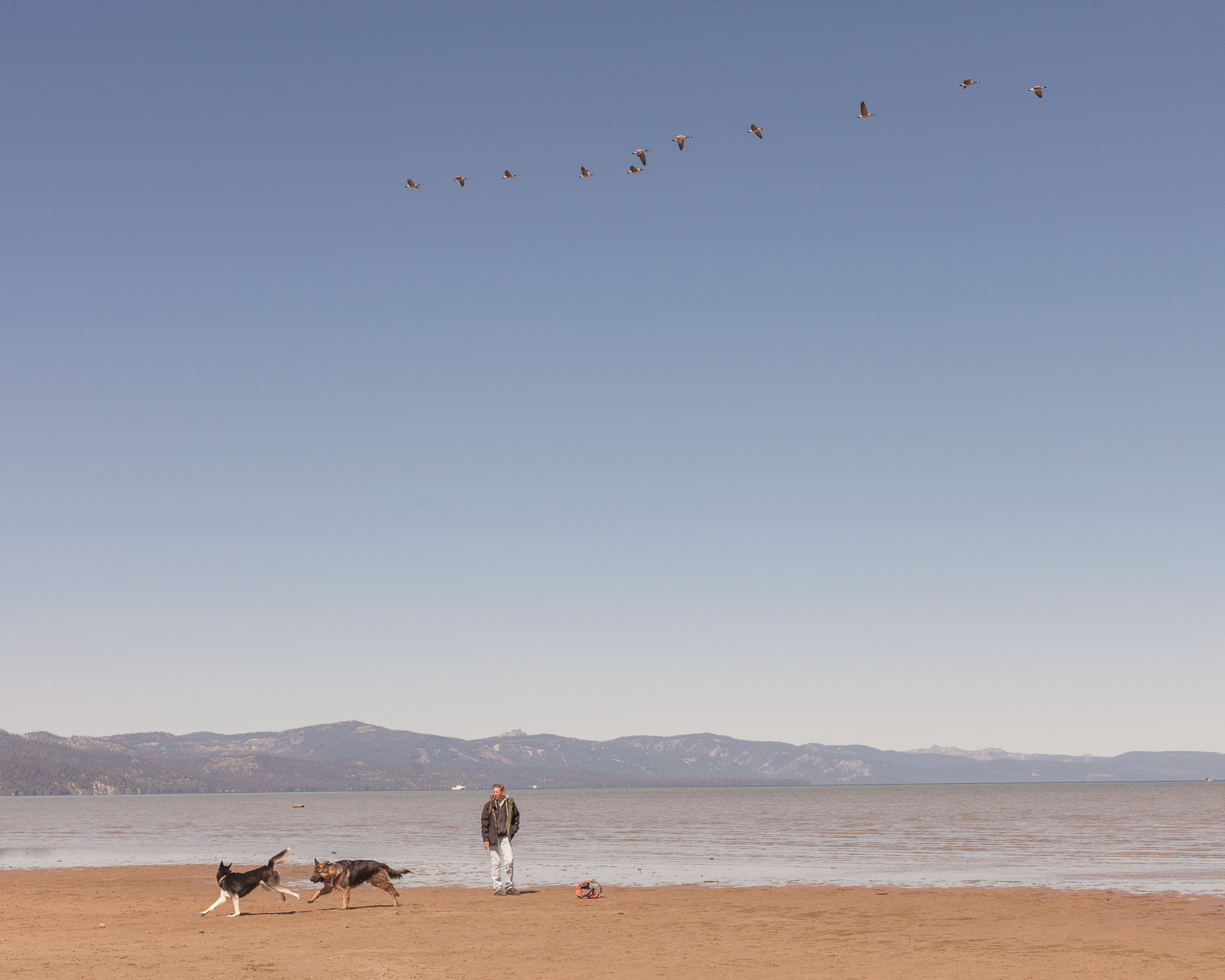 My grandfather would take weekend trips to Lake Tahoe when he was living in Reno – I think he would come here to fish and hunt and be at one with nature.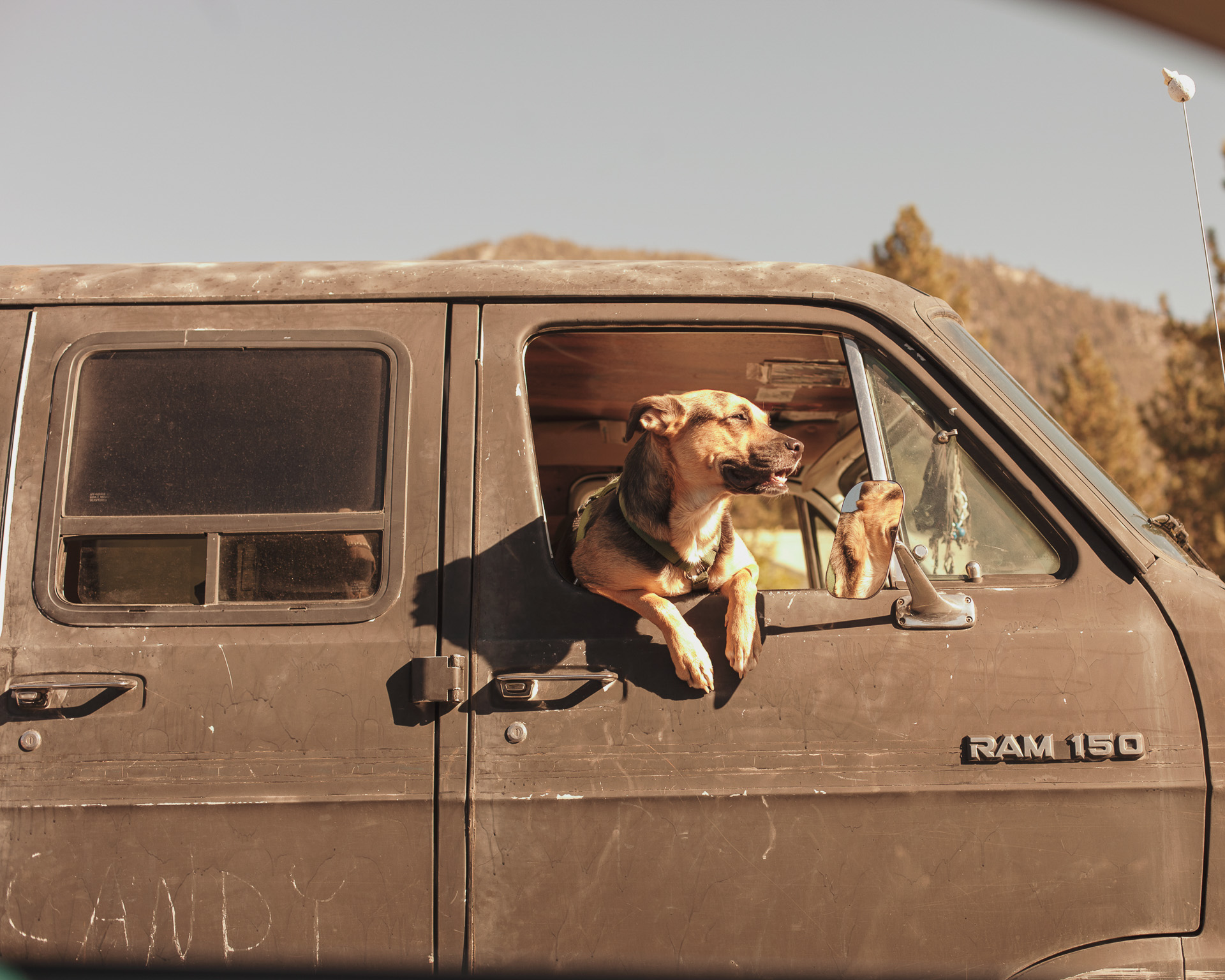 Is there anything more innocent than a dog hanging out of a car window? The wind hitting their faces, dragging floppy skin back from their features and tongues flailing around from side to side. I hope that this dog is called Candy.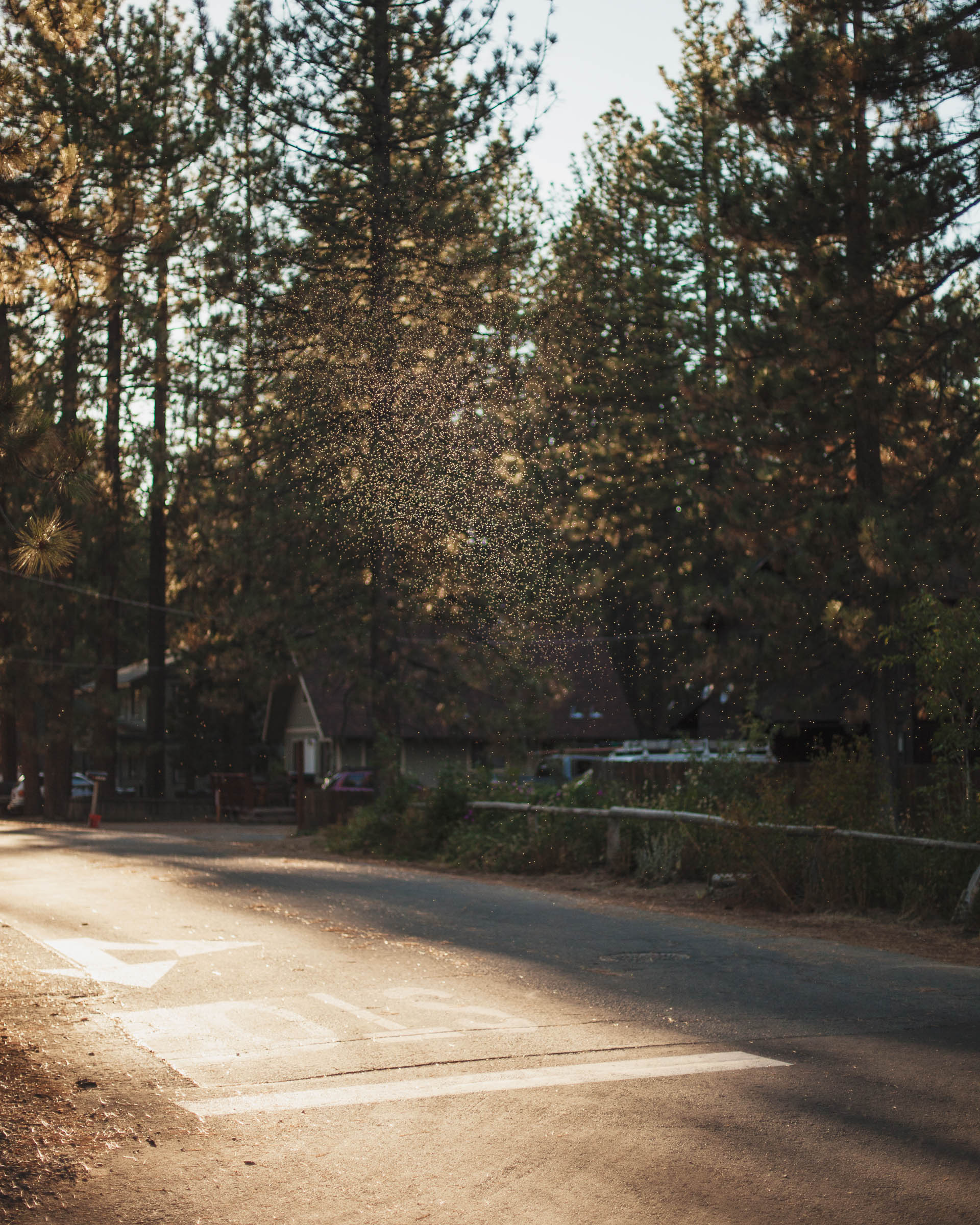 It's funny how beautiful a bunch of midges can appear in the evening light.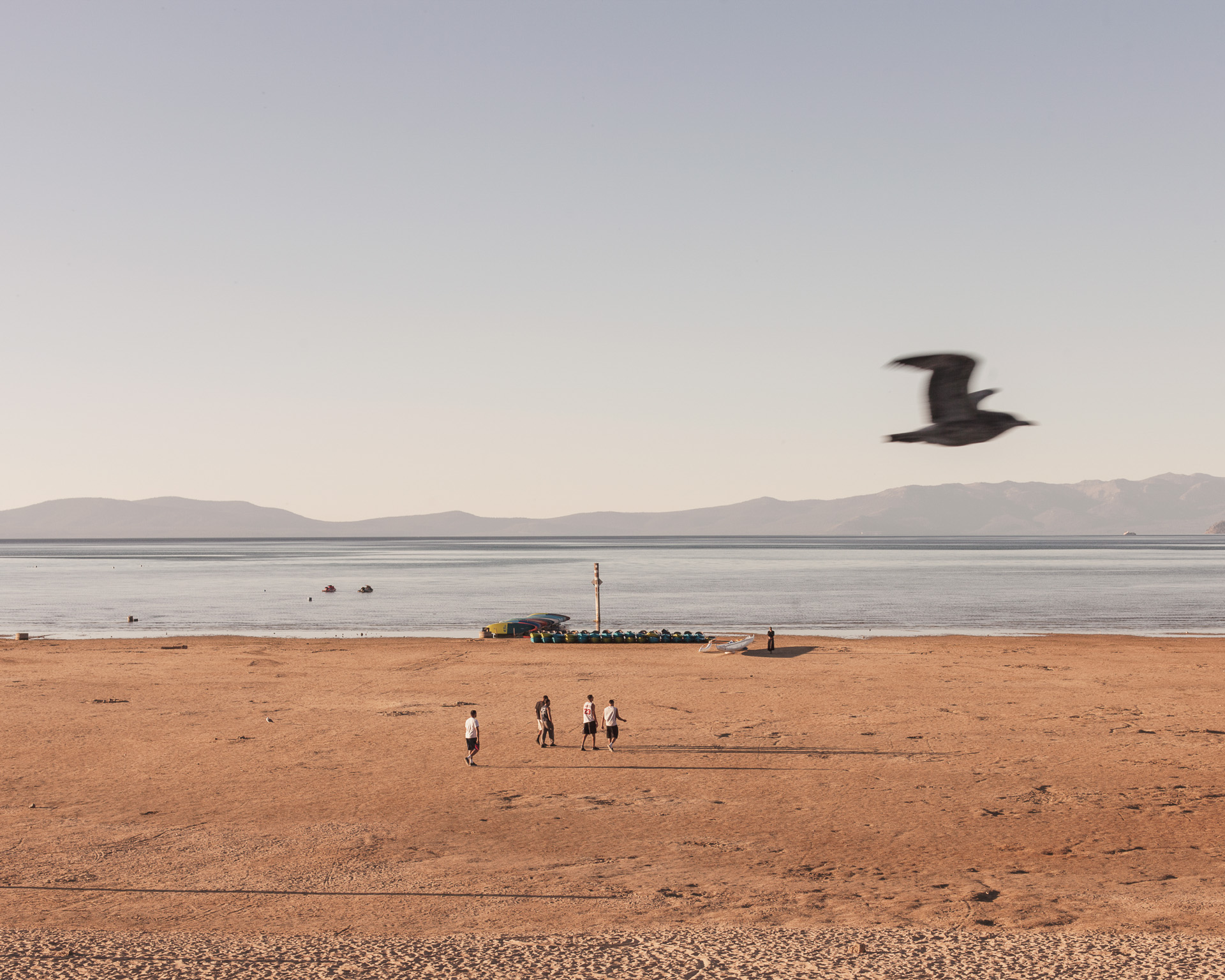 There's something really creepy about this picture. I don't remember the lady in the long, black dress being there – especially stood in the shade. The silhouette of the bird adds further to this surreal feeling.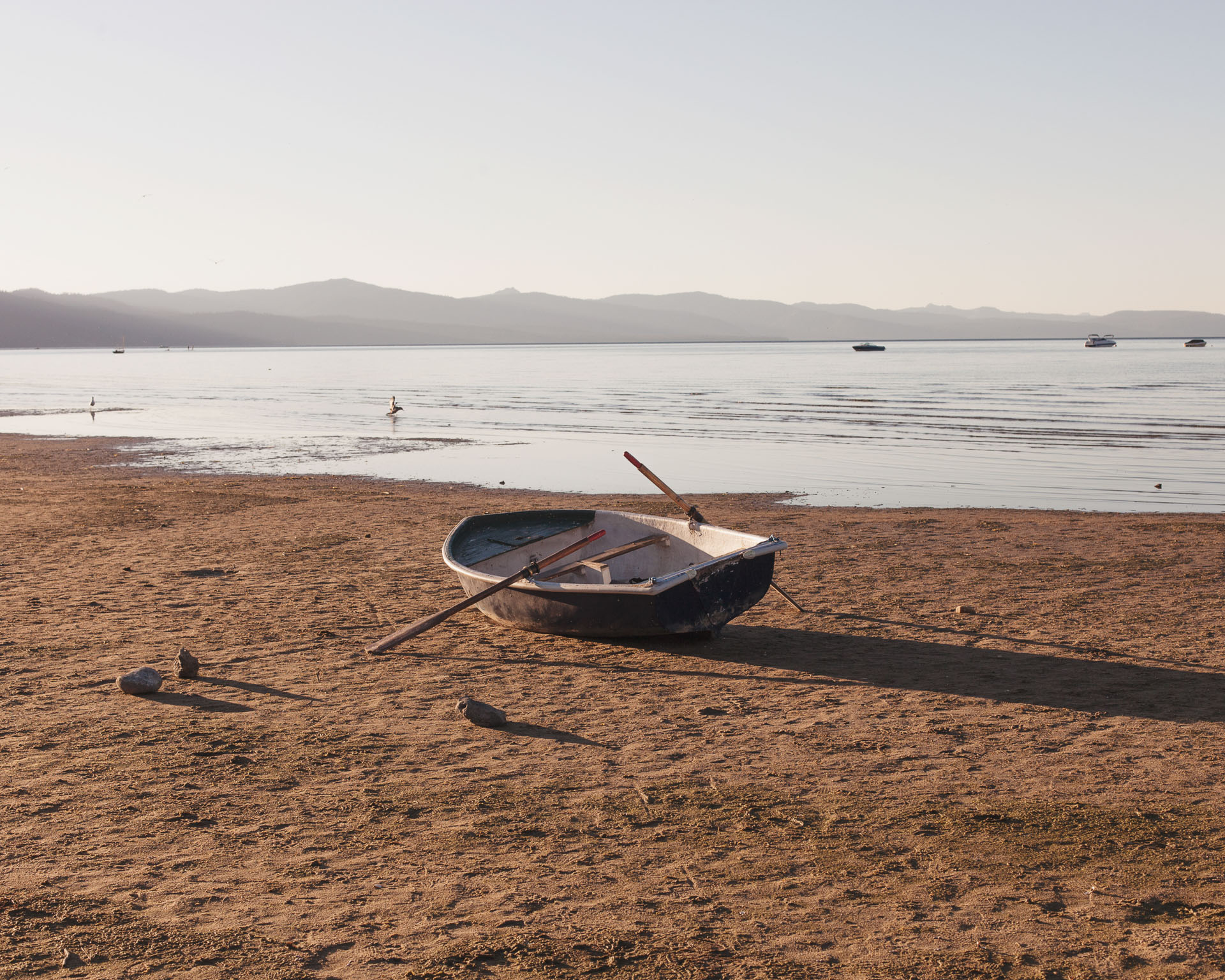 I look at this picture and a feeling of calm radiates through my body. It reminds me of the art you'd find in hotels – quiet landscapes designed to be inoffensive and soothing.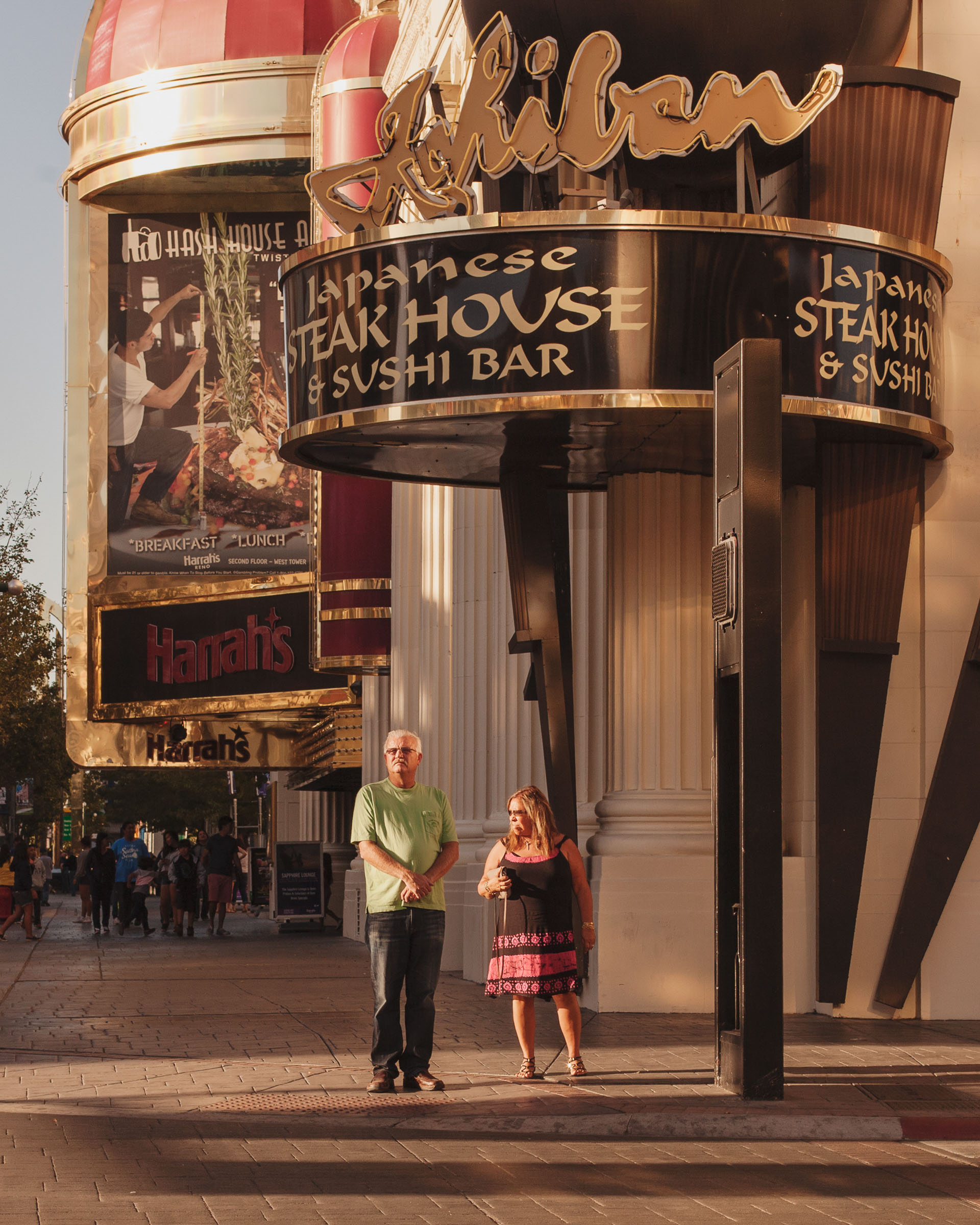 My grandfather moved to Reno shortly after he split from my grandmother. She moved my mother and herself back to Ireland, whilst he chased the crooner lifestyle in the USA's then-gambling capital.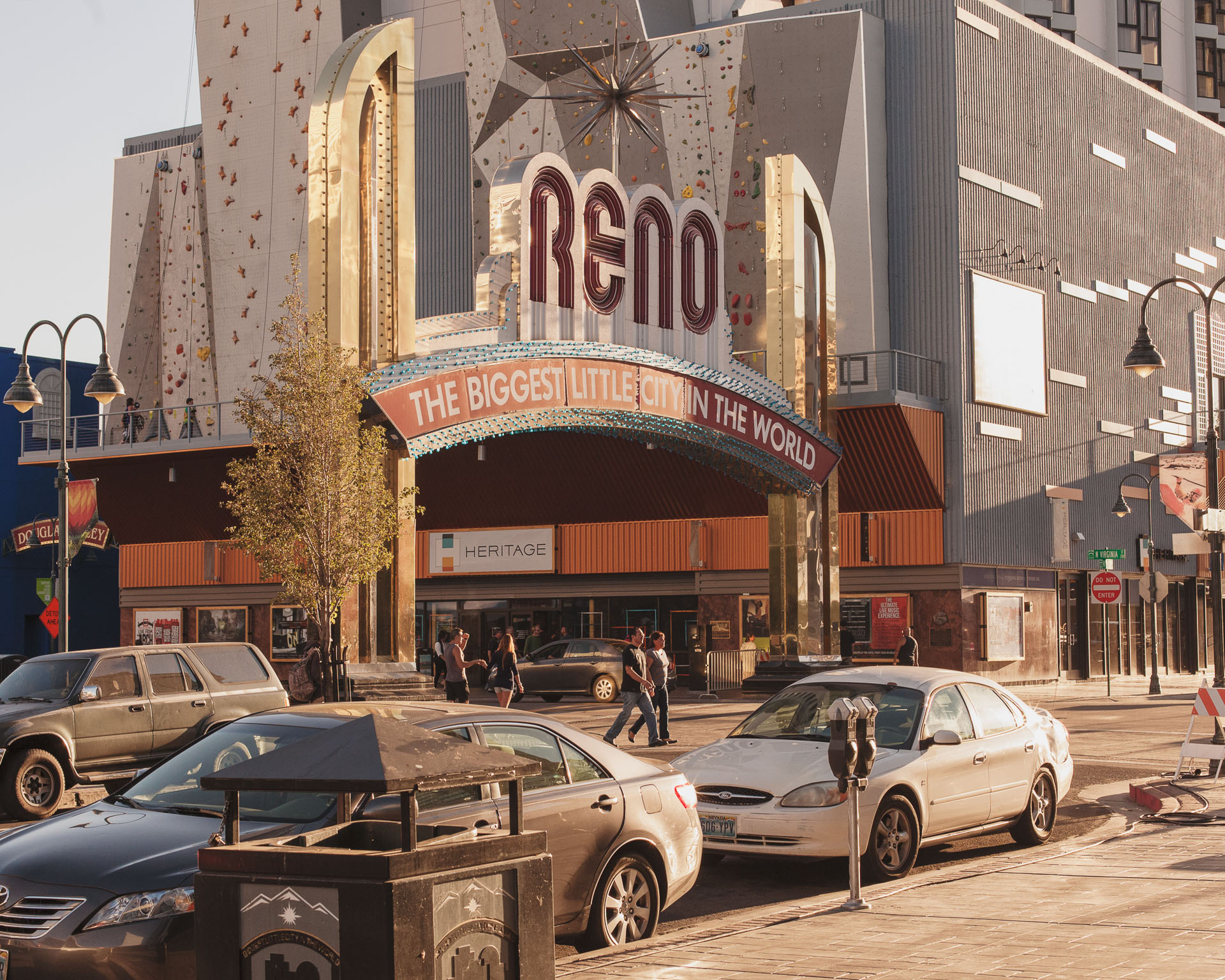 Reno is beautiful in the evening. The sun sets in line with its streets, casting beautiful shadows and bouncing off the white-walled casinos.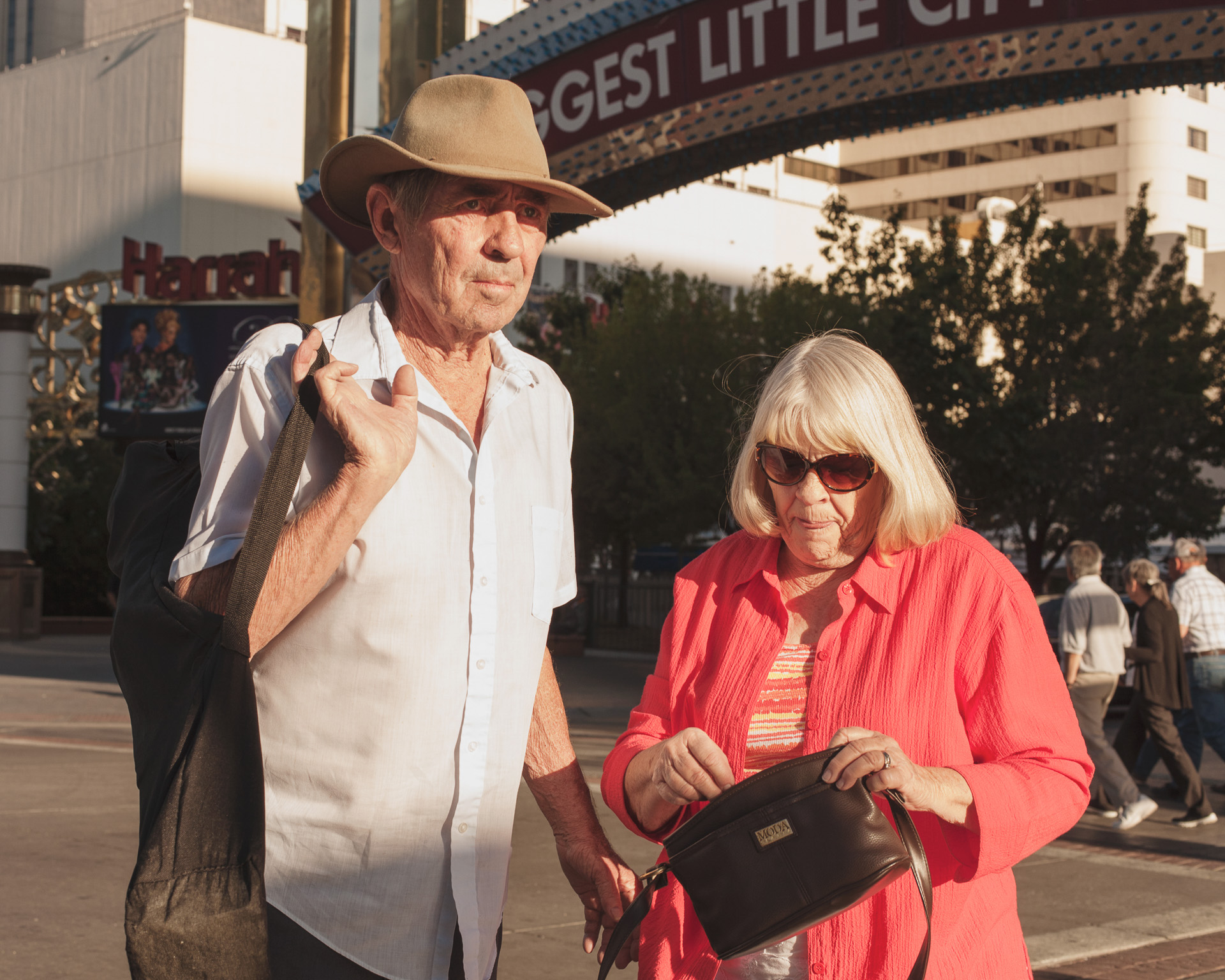 When I think of good old American dice-rollers, this couple fulfils my stereotype pretty well. I hope that me and Bekky can be as stylish as them one day.
I've refrained from Googling 'tuesday morning', because there's probably a boring, simple answer. But I like to look at this and think: "Why are these guys advertising the worst time of the week?"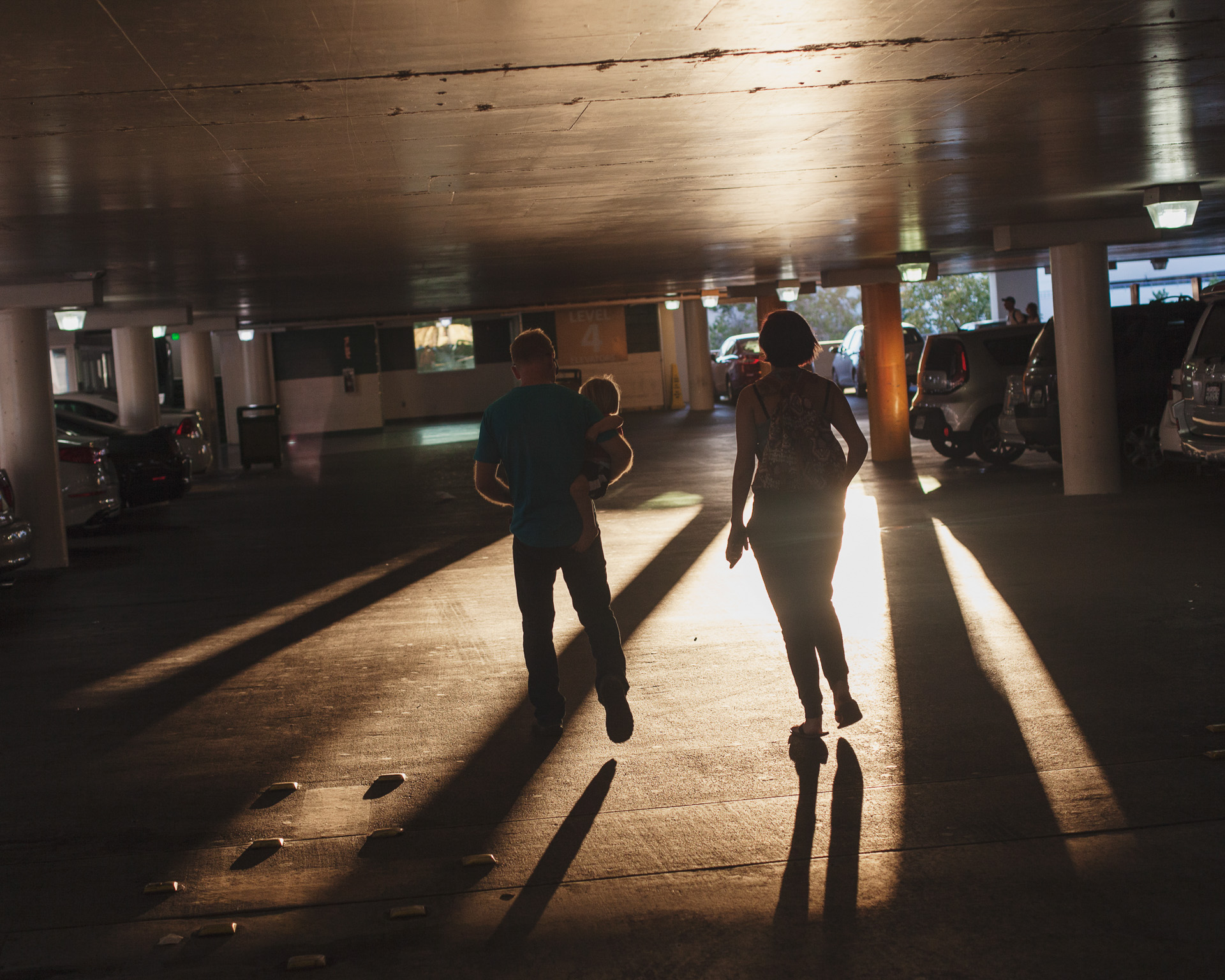 This was taken in the carpark of Harrah's casino. The light pierced in through its side, highlighting this family as they walk to their vehicle.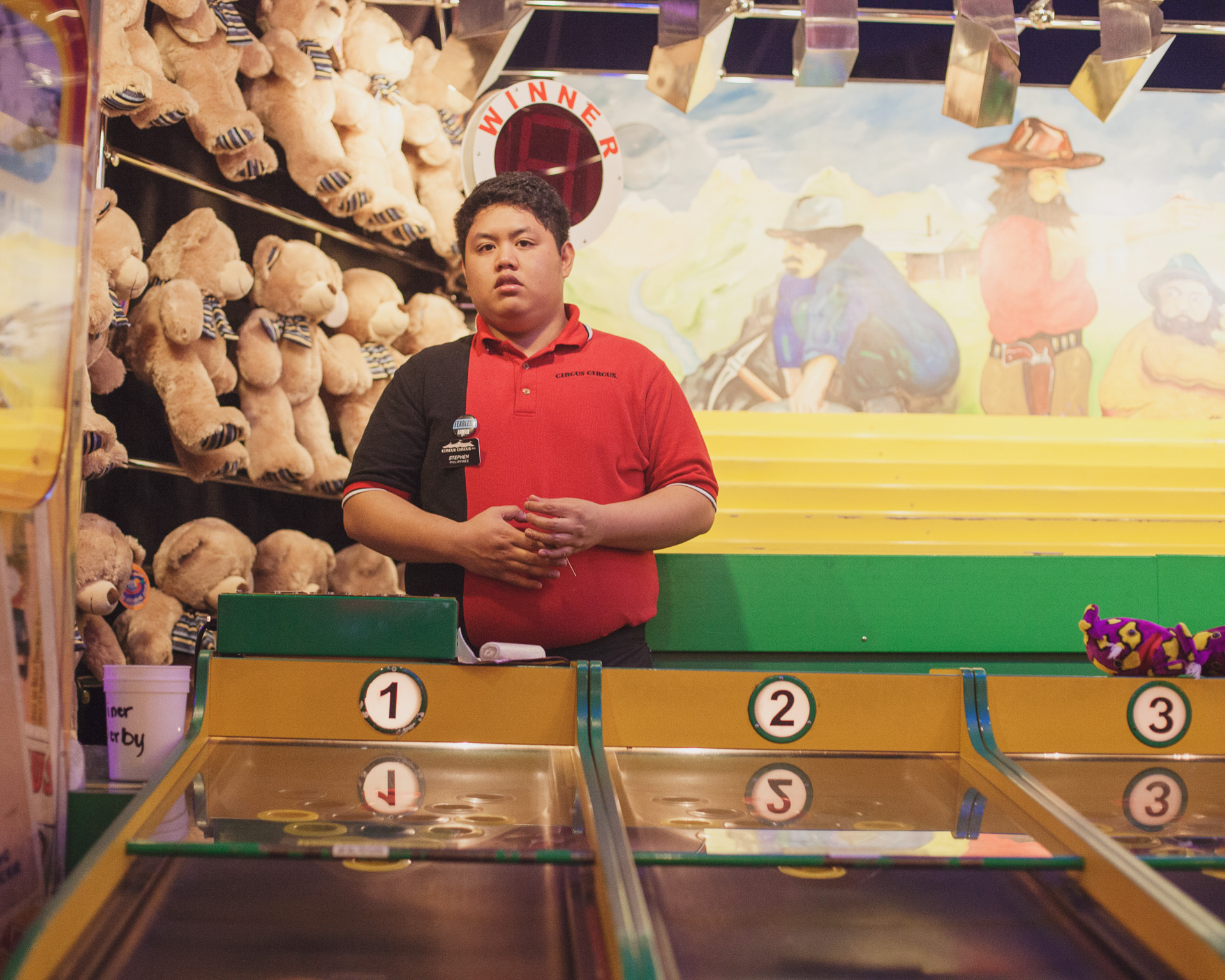 Stephen is from the Philippines – I didn't find this out by talking to him, though. I find it pretty strange that it says where he's from on his name badge. I do, however, like the claim that he is 'fearless'.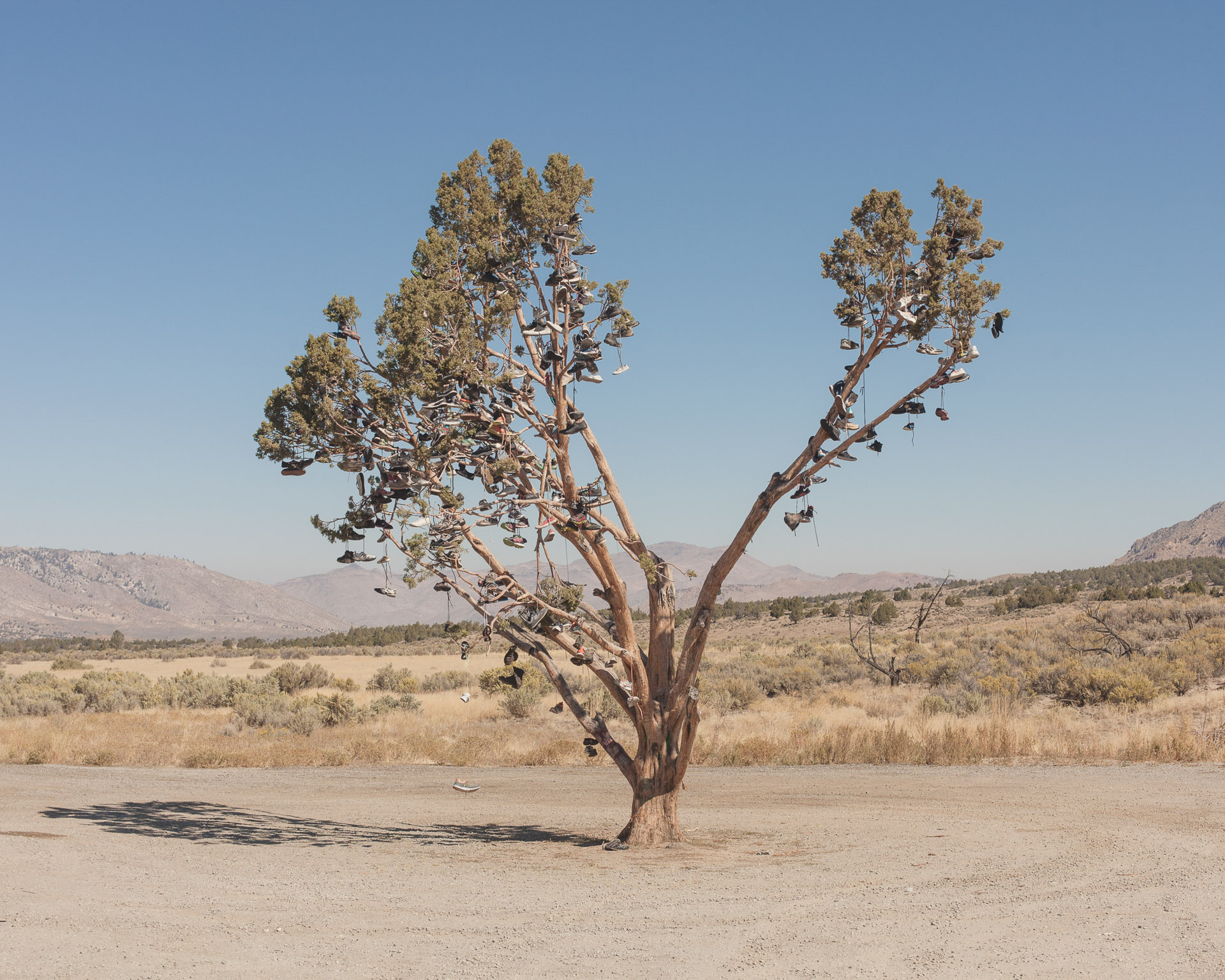 We came across this tree as we drove out of Reno. It was covered in battered trainers – their laces tied and flung over its branches. There wasn't a plaque or anything to explain why this happens.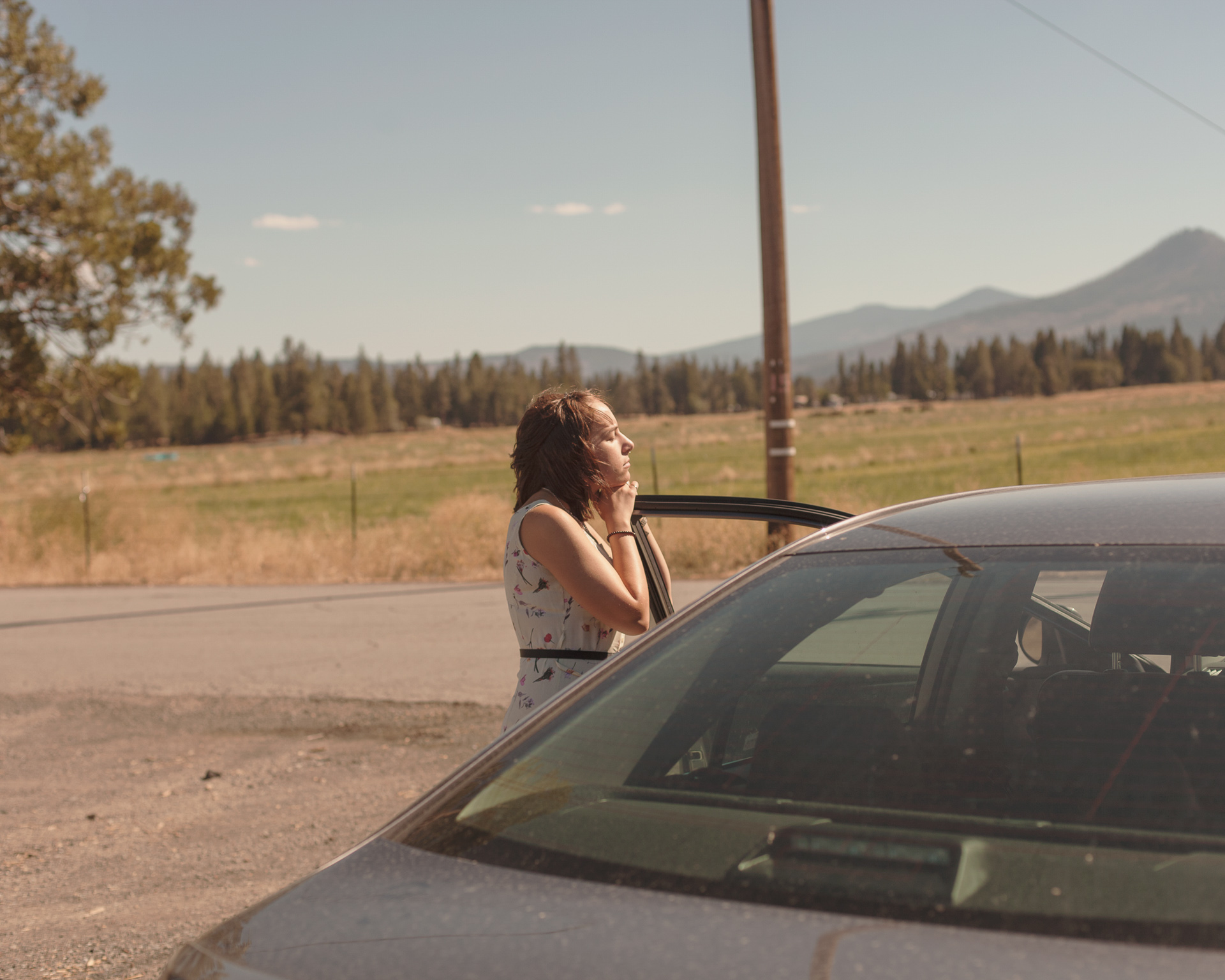 It meant a lot to me to visit the city that my grandfather, Joey, spent most of his years in. We drove around the three addresses that we'd known him to live, and I felt a step closer to him. In this image, Bekky takes a moment to reflect upon the past few days and also, probably, to feel her hangover a little.
Chris Bethell is a photographer based in London. Keep up with him on Instagram or his website, and keep your eyes peeled for the next instalment of Land of Hope & Dreams on Amuse.