Little Britain | What It's Like Watching England Win on Penalties in Gibraltar
A travelling England fan watches Kane & co. beat Colombia in a strange overseas outpost of Britishness
When Britishness is limply thrust upon you by the dull fact of your place of birth, it's strange to remember that there are places where Britishness is a vehement choice.
The idea of actively choosing Britishness is especially alien if you've, say, just spent the last few weeks bumming around in the Moroccan sun. Though that is presumably one of those moments to, as they say, check your privilege.
In the last vote the Falkland Islands took on their status as a UK overseas territory, only three people voted against it (the islands are small enough that I'm sure everyone knows who those three people are).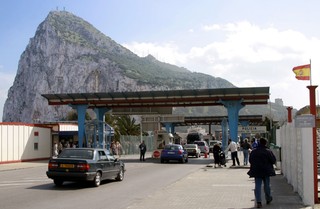 In Gibraltar, a tiny mountain enclave on Spain's southern coast, the most recent referendum on sovereignty rejected the idea of joint Spanish and British sovereignty with nearly 99% of the vote.
They also have a terrible football team, currently ranked at 195th by FIFA. Putting their weight behind the English team, with their 12th place FIFA ranking, makes sense for those wanting to avoid perpetual sporting disappointment (however ridiculous that might sound to England fans, remember the privilege checking we're all doing now).
Football, as we all now know, is coming home. In Gibraltar, an overseas territory of home, they're feeling it too.
But it's not too easy to find until we ask for directions. "If you want to watch the match, go to Ocean Village," someone on the street tells us. After finding a vaguely empty main square, we follow her advice and head to the built-up dock.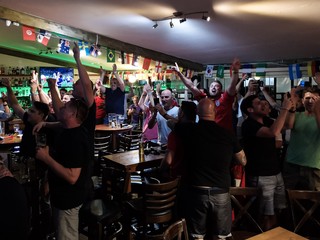 The Ivy (likely named ironically) is a sports bar in the most basic sense. It has burgers on the menu, beer on tap and large men in football tops at every table. As we walk in they are playing "Three Lions" and there is a slight singalong – something that, obviously, intensifies as pints are sank and bonds are made.
It's slightly hard to tell who is who in Gibraltar. There is Spanish being spoken, tanned bodies all around, and then English again in another moment. It's almost like borders are arbitrary lines in the sand. Ho hum.
England shirts are all around. There are pints continuously pouring. When I try to pay in Euros the bartender scowls until I offer my card. A heavy set man next to me has a tribal tattoo on one arm and freshly clingfilmed ink on the other.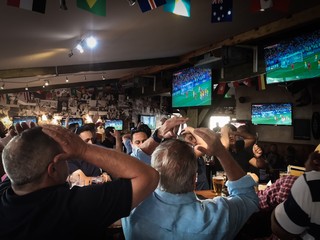 The crowd boos the Colombian national anthem, then sings along with the English one more than I've ever heard before. The gestures coming from these ostensible Spaniards is as English as a pub in Stoke, Doncaster, or Dagenham.
Someone has an air horn. Every few minutes the air horn goes off and people, in general, manage to ignore it. There is a large, swaying, old man with his shirt mostly unbuttoned ordering more and more drinks. The drunker he gets the more he touches the barmaids.
At one point they take the air horn away from someone and he calls them over and takes it back, blasting the raucous sound into the crowd.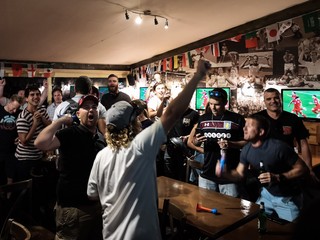 We clap at every England moment. A good pass, classic tackle: clap, clap, clap. There's an England free kick and a man in a group nearby makes a weird joke about the Colombian team snorting up the line just sprayed down by the referee. "Snorting cunts," his friend adds.
It's going into extra time and, admittedly, I forget myself. England are playing. The patriotism takes over. Everyone in this Gibraltar pub is cheering and singing. The unbelievable happens. England wins on penalties. Screaming and jumping. We're grabbed and hugged by strangers. My voice is gone.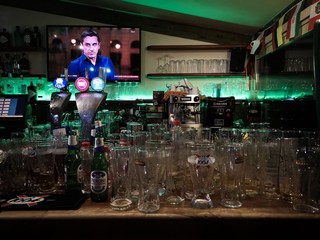 Pint after pint blots the memory. The next thing: we cross the border over into mainland Andalucia around midnight and end up, after some other place, in an Irish pub called Molly Bloom's, a central point of La Línea de la Concepción.
Outside the bathroom, a tall, round man suddenly shakes my hand, points at his England shirt, and says he'd been getting stick for it in the past but not anymore. "I was brought up on the streets of Newcastle," he yells in my ear. If we were stood on those Newcastle streets right now, it probably wouldn't look much different to this Spanish square.
Except perhaps for the massive rock looming in the distance.
James Tennent is a London-based freelance writer. Keep up with him on Twitter.