Battle of the Broths | It's a Pho Love Affair
Michael Booth uncovers the secrets behind Asia's favourite noodle soups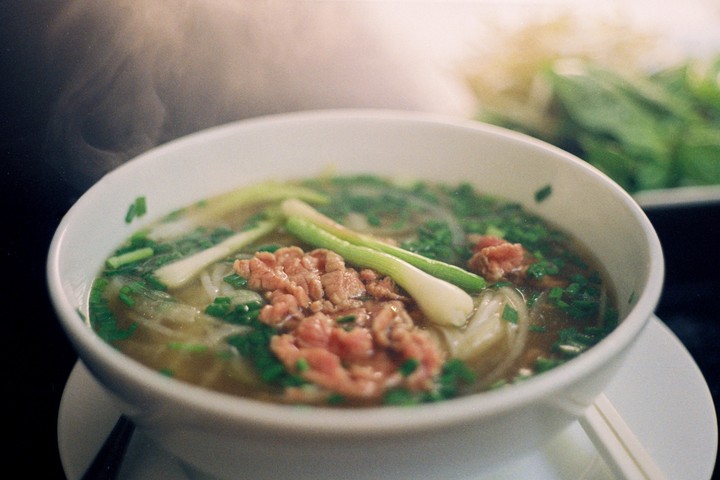 Photo: Via Flickr
The noodles are clumped together like a knot of rubber bands, the broth cloudy and insipid. I lift limp strands of coriander with my chopsticks, the leaves are decomposing at the edges. Ruefully chewing leathery strips of brisket, I look out at the rain and dream of ramen.
Lesson learned: never eat pho in Frankfurt Airport. The second and third lessons, which come a couple of days and one very long flight later, are altogether more enjoyable. I had always assumed pho, the Vietnamese noodle soup, was a breakfast dish and should really be made with beef, but Hanoi food expert, Van Cong Tu, disabuses me of both assumptions as we explore the streets of his home town.
"We eat it every day for breakfast, lunch or dinner – there are no rules, we just eat it when we like it", Tu says as we sit awaiting our second bowl of the morning, a chicken pho, from a dark cave of a kitchen, Pho Ga ('ga' is chicken in Vietnamese), located a little north of the Old Quarter. "You can have chicken pho or beef pho, or even pork as well in some places."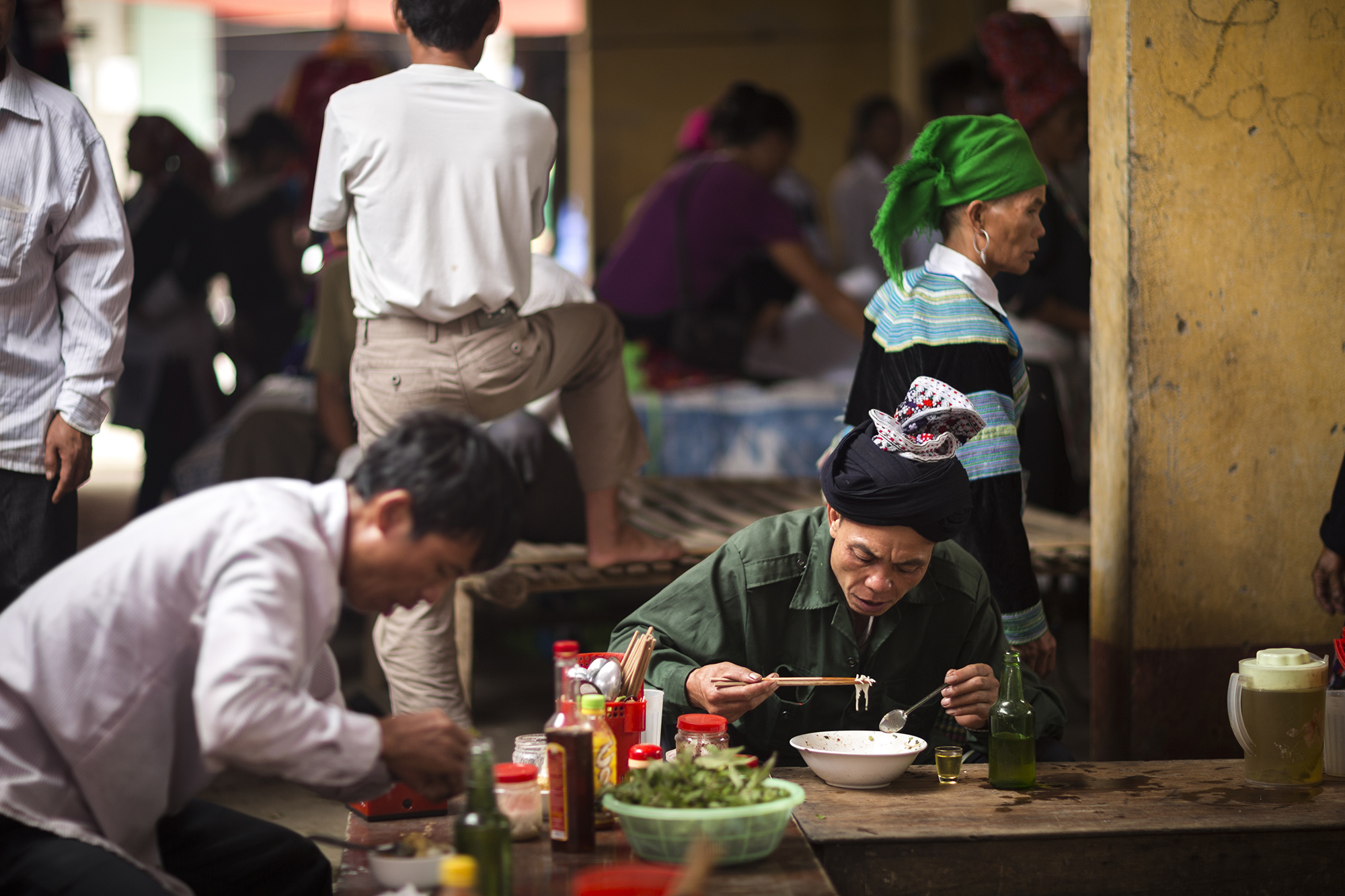 Tu tells me that Hanoians prefer to eat outside on the pavement, perched awkwardly on tiny plastic stools, surrounded by the exhaust pipes of parked mopeds. This way you get dinner and a show: across the way from us a builder is burning a small pile of fake currency – "ghost money" to mark the new moon.
Nearby someone is having their hair cut and ears cleaned, a woman is selling live silkworms from a bamboo basket and another is pounding live crabs into paste. Wherever you dine, there will be wildlife: a scrawny cat scrounging scraps, live chickens, a net of writhing frogs awaiting their fate, bold rats scurrying in the shadows.
I wonder aloud at the extraordinary length of flavour of the soup I'd been eating in Hanoi so far. "MSG," Tu says, blithely, tucking his sunglasses in his man-bag. "They do use quite a bit of it here. Many people add an extra spoon themselves, too."
Now, as we all know by now, the myth that MSG is somehow toxic or causes headaches is just that—a myth—but I still only use it occasionally at home if I know the flavours of the other ingredients won't have time to develop, and I use it sparingly. Why? The aftertaste can be…aggressive.
"I know what you mean," agrees Tu. "The best soup doesn't need too much added MSG or sugar. What you want is lots and lots of bones in the pot. The more bones, the better." And worms, it turns out: pho's other secret ingredient.
I learned of the magic worm while discussing the Hanoians' MSG addiction that afternoon with Australian expat chef and owner of the Hanoi Cooking Centre, Tracey Lister. "Have you heard about the worm?'' she asks me.
The worm?
"Yes, some places still use dried worms, added into the stock. It brings lots of umami flavour." The worms, it turns out, are 'sa song', sea worms, said to add a powerful savoury flavour to stocks and broths, but without the fishy smell you get with dried shrimp or squid which are sometimes also used.
According to Bui Thi Suong, author of the definitive pho cookbook, 'Pho and Other Vietnamese Noodle Soups', you "cut them in half, shake off the sand and wash well in cold water" before using them. So now you know.
Perhaps they were the secret ingredient at one of Tu's favourite beef pho joints, Pho Bo ('bo' is Vietnamese for beef) in the heart of the Old Quarter. Here we had slurped down another exceptional bowl – tangy with MSG, yes, but also resonating deeply with a tallowy bass note. As with all the pho I tried in Vietnam, it cost around a pound.
But then, just as we were tossing our paper tissues onto the floor and getting up to leave, there came another bombshell on which to end the day: "I do enjoy the pho in Hanoi," Tu said. "But I love the pho in Saigon."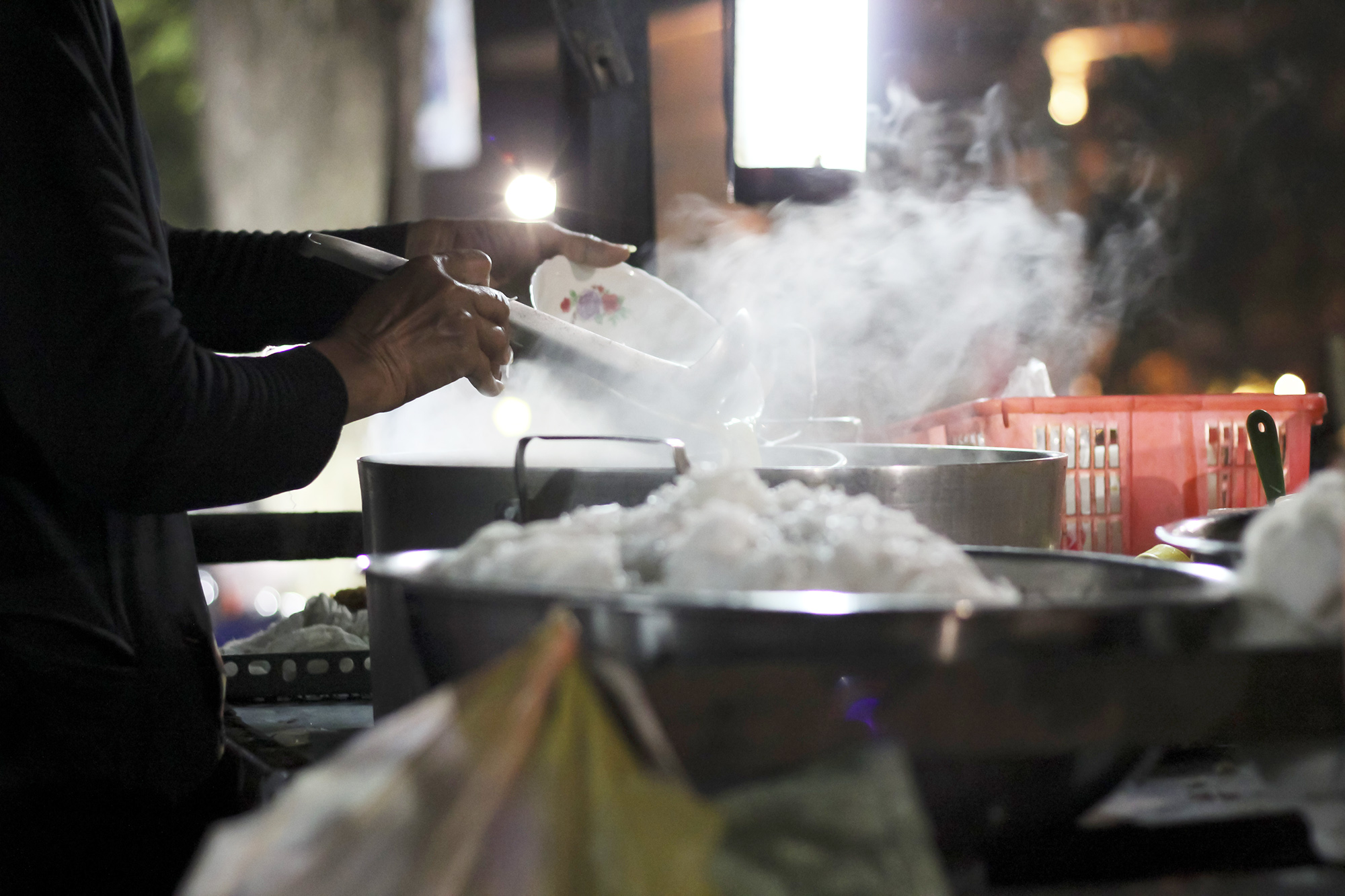 I packed my bag and took the overnight train south that evening.
My first authentic Saigon pho was at Pho Hoa. I'd already been impressed by the mountain of fresh herbs which had arrived at my table, but the rich, sweet broth, replete with morsels of tender tripe alongside rare-cooked minced beef, cemented the love affair. And that was before I started exploring the condiments – fresh limes and chillis, fermented soy bean sauce, chilli sauce…
I speak to the owner, Thu. In his seventies, bedecked in gold and diamonds, he has the coiffed hair of a '50s crooner. What made his soup so special? He is more than happy to list the ingredients: "Sugar and MSG, cinnamon, onion, ginger, salt, star anise and cardamom," he tells me, adding one last tip over his shoulder as he returned to the kitchen: "Always eat the noodles first, before the soup over-cooks them."
No local would ever claim that Pho Hoa was the city's best. I had better bowls at Pho Le, for instance, or my favourite, Pho Hung, with its square noodles, fuller-bodied soup and less MSG after-tang – and I know that Saigon pho is hardly the Platonic ideal, but this bold, fragrant, generous bowl of southern soup is the real reason pho is conquering the world right now.
Ramen, you have been warned.
Michael Booth is a freelance food journalist and author of Sushi and Beyond: What the Japanese Know About Cooking.