Best Adventure Holidays | Where to Go in 2019
This guide to the best adventure holidays this year is all the list a thrillseeker could ever need
Got your motor running? Heading out on the highway? Looking for adventure, and whatever comes your way? Then you've come to the right place. Here at Amuse, we're sick and tired of half the things that pass for adventure nowadays. Modern adventure holidays are sanitised: a tedious morass of easy climbs, steady slopes, and whatever the fuck a zipline is meant to be.
Yes, it might be beneficial if you're chasing a little bit of a thrill, or if you're only looking to dip your toe into the water of adventure sports. But for those who cycle without their stabilisers, and want the giddy, silly heights that come from doing something genuinely outlandish - we have the guide for you. Taken from The Wanderlist - our curated guide of 50 unmissable travel experiences - we can point you where to go in 2019 for the best adventure imaginable - no ziplines in sight.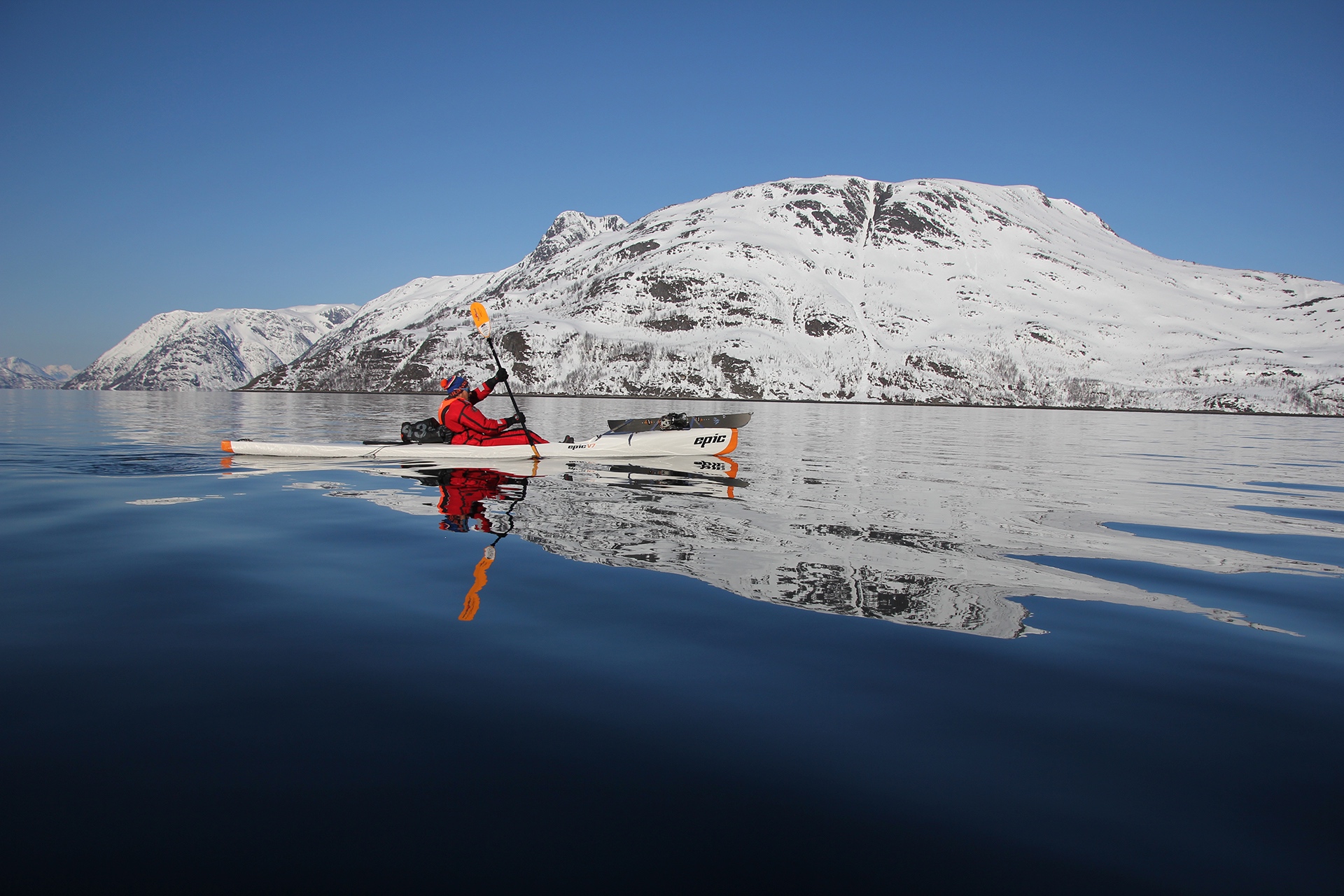 Go Skiing from a Surf-Ski in Northern Norway
Skiing, as a pastime, should be simpler than it currently is in most resorts. It feels like every resort is swarming with lifts, helicopters, snowcats, snowmobiles, trainers, first-timers, seasoned veterans, school trips, and Australians - and while they have their place, they can be a distraction from the serious business of shredding powder. In Finnmark, way up in Northern Norway, you will not encounter a thing, save for miles and miles of untouched snow. Upguides are now offering ski-tours of this pristine, silent landscape, which is as back to basics as skiing could possibly get: snow, sticks, boards, slopes. If you're a skiing purist, then this is the best adventure for you. Find out more about ski-tours of Finnmark here.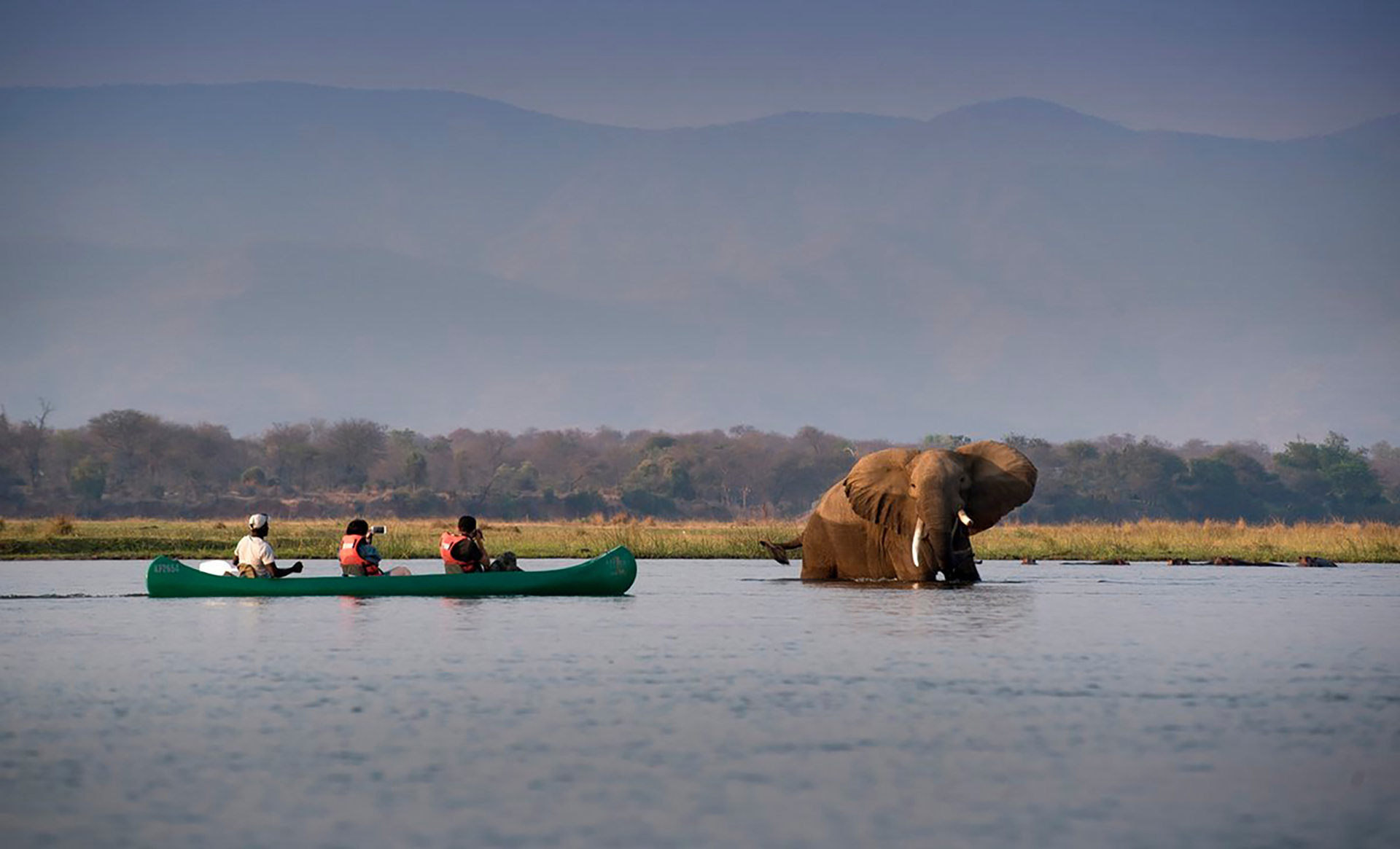 Canoe the Mana Pools National Park in Zimbabwe
After years under the thumb of the chaotic and corrupt Mugabe regime, Zimbabwe is slowly-but-surely opening its arms back out towards the world, offering with it their staggeringly beautiful nature spots. Chief amongst them is Mana Pools National Park, an undisturbed conservation area and UNESCO World Heritage site, bisected by the Zambezi River. Whereas other equivalent national parks have long been established as some of the best adventure destinations, Mana Pools has been overlooked - until now, that is. Africa Exclusive are launching the first seven-day expeditions to Mana Pools this year, with an itinerary that will have you canoeing down the river and moving on foot to explore the wonders of the park and its variety of inhabitants. Learn more about canoeing through Mana Pools here.
Ride the Stunning Mountain Bike Trails of Madeira
Madeira is one of the more enigmatic parts of the European Union; resolutely Portuguese, but closer to Morocco than Lisbon, its relentlessly sunny climes make the island a tourist hotspot all year round, particularly for pensioners. But Madeira is not just home to sickly wine and the blue-rinse brigade - it's also an adventure sport paradise, especially for cyclists. Home to all manner of stunning hills, winding paths, and faintly terrifying cliff-faces, it's a paradise for all things two-wheeled, and with Freeride Madeira, you can take full advantage of the island's natural bounties. Discover more about cycling in Madeira here.
See the World's Oldest Desert in Namibia
Opening this summer, the Sonop Lodges - the latest venture of famed adventure hotelier, Arnaud Zannier - are offering a proposition like no other: access to the world's oldest desert, situated in Namib-Naukluft National Park. While you will likely find all manner of wildlife prowling through the reserve, they are - for once - not the star attraction; instead, the sandy-red, otherworldly landscapes, punctuated by trees that have stood for half a millenium, and underneath clear and bare skies, steal the show. And in one of Zannier's lodges, styled in late-colonial beiges with roll-top walls and period furniture, you can enjoy one of Africa's best adventure destinations in serenity and style. Find out more about the Sonop Lodges here.
Splitboard in the Japanese Alps
If you surveyed every serious skier or snowboarder for their bucket list of best adventure destinations, you would likely see Japan repeated a dozen times - with the snowy Northern island of Hokkaido in particular being high up in their imaginations. But if there's one casualty of being in so many skier's dreams, it's that people have an awful habit of following their dreams, and clogging up the slopes for everybody else. Fortunately, Japan's preternaturally-perfect powder isn't just limited to Hokkaido: Hakuba, further south in the Japanese Alps on the main island of Honshu, enjoys the same #Japow factor, with a hell of a lot less competition for slope space. Discover more about winter sports in Hakuba here.
Hike to Ciudad Perdida, Colombia's Lost City
Since the shaky-yet-holding peace between the Colombian government and FARC rebels in 2016, Colombia has featured more and more in the minds of adventurous tourists; from those on the trail of Pablo Escobar, to those looking for rum cocktails and a vibrant party scene. If you head to Santa Marta, however, you will find something altogether more rewarding - the path that leads you to Ciudad Perdida, Colombia's lost city in Tayrona National Park. Hiking tours, led by - and ran in support of - locals, are available for this monumental trek through the dense Colombian jungle, which will have you stop in native villages, bathe in clear lagoons, and finally make the 1200 step ascent to the lost city itself, making for one of South America's best adventure treks. Find out more about Ciudad Perdida here.
Surf the Pristine Shores of the Marshall Islands
Having passed through the ownership of six empires, and having barely survived America's intensive nuclear weapon testing during the Cold War, the Marshall Islands - finally independent - are a sovereign nation still in the process of finding themselves. One such identity they may be able to co-opt is that of a surfers' paradise, with the legendary surf explorer Martin Daly opening a luxury surf lodge on Beran Island, one of the Islands' more hospitable outposts. With crystal-clear waters, satisfying swells, and - most importantly - nobody around to compete for waves, Beran might be the last place on earth with such flawless conditions. Catch it now before everyone else. Learn more about surfing in the Marshall Islands here.
Try Cat-Skiing in Kazakhstan
You would be forgiven for not immediately thinking of Kazakhstan as you rifle through your mental rolodex of 'best adventure holidays', but we're telling you now: if you want empty slopes, pristine snow, and a total sense of isolation, then you cannot ignore it any longer. East Pole lodge, dotted in the Altai Mountains in Central Asia, is a charming, family-run affair, with warm fires, cold vodka, and steamy banjas waiting for you for apres-ski. But East Pole's standout attraction is its access to some of the world's most immaculate slopes, free of the crowds you'd find at Hokkaido or Val d'Isere - head there now, because they won't be clear for long. Find out more about skiing in Kazakhstan here.
Escape to Cambodia's New Luxury Eco-Lodge
Few places can boast the combination of luxury, sustainability, and ardent environmentalism on offer at Cambodia's Shinta Mani Wild, the latest hotel venture from starchitect Bill Bensley, and one of the world's best sustainable hotels. Not only can you recline, cocktail-in-hand, in your infinity pool, or swim in the lagoon of a private waterfall; you can also get stuck into fending off poachers yourself, assisting the resort's roaming team of rangers with laying traps and monitoring the hotel's perimeters for any suspicious activity. If that doesn't add a touch of thrill to your tropical getaway, what will? Discover more about Shinta Mani Wild here.
Go Land-Sailing on Nevada's Dry Lakes
It isn't news to anyone that Nevada is one of the best destinations in the USA for thrillseekers, being home to both Las Vegas and Reno for those in pursuit of fast living. But if you want to live faster - much faster - then you'll be better off on the dry lake bed of Lake Ivanpah, hurtling through the wilderness on a land-craft, trying your hand at the extreme sport of land-sailing. With just a strip of aluminium between you and the lake bed, and with speeds reaching over three times the speed of the wind, land-sailing is one of the best adventure destinations for total adrenaline junkies, chasing a high that far exceeds what you'd get at the roulette table. Learn more about land-sailing in Nevada here.
Dive Into Myanmar's Myiek Archipelago
If you look to explore the life aquatic on your adventure holidays, it can seem harder and harder to find areas with the thriving marine life, pure waters, and undisturbed beaches you're looking for. Thailand once boasted those credentials; now we have the modern-day Koh Samui. Myanmar, on the other hand, remains relatively untouched, and its Myiek Archipelago - which is only accessible with a special permit - could be the very last bastion of such a paradise in South-East Asia, new as it is on the typical tourist trail. The archipelago's coral reefs are fantastically diverse and vibrant; while the jungles around its beaches teem with gibbons and lizards - there's a reason UNESCO have deemed it World Heritage quality, and unlike elsewhere in the area, it's likely to preserve that status by maintaining exclusivity. Learn more about Myanmar's Myiek Archipelago here.
Star in Your Own Ski Movie in France
You know the old saying: if a skier shreds down-slope without his GoPro on, did he ever ski at all? Well, fortunately, if you're a powder-hound who longs to look like all the pros doing numbers on the Red Bull Facebook page, but often has little more than shaky footage scored by incessant heavy breathing, your dreams may be about to come true. SkiBro, a ski-touring company who operate across France & Switzerland, are now offering the Cinematic Pack, which will see you skiing with your very own cinematographer, ready and waiting to shoot your day in the mountains with all manner of high-definition equipment. Your adventure holidays will never look as good. Discover more about SkiBro's Cinematic Pack here.
Surf Empty Waves on Jeju Island, South Korea
South Korea has been 'having a moment' for quite a few years now, with the irrepressible rise of K-Beauty, K-Pop, and Kimchi bringing all things Korean into mass culture. One thing it has not been fêted as, however, is a surf destination - until now, of course. South Korea's small-but-enthusiastic surf scene is centred around Jeju Island, a little slice of paradise in the Korea Strait, where the weather is always warm, the beaches are always spotless, and the waves are - nine times out of ten - all yours. Find out more about surfing in Jeju Island here.
Try a Vegan Safari in Botswana, Africa's Anti-Hunting Heartland
It's 2019, and safaris don't have to mean the chest-thumping, neo-colonial impulse to kill an endangered species in the arid plains of Africa anymore. A safari can be ethical, cruelty-free, and totally unintrusive to the natural world; a safari, as incredible as it sounds, can be vegan. Adventure holidays have never been more inclusive, and these new Vegan Safaris Africa tours through northern Botswana - chosen for its stringent anti-hunting laws - prove as much. For three, five, or seven days, you can venture out into some of Botswana's stunning natural parks, being served impeccable vegan food, and observing how wildlife exists and thrives in peace when left undisturbed. Learn more about Botswana's vegan safaris here.
Travel the Ancient Silk Road on a New High-Speed Train
For nearly two millennia, the vast and mysterious nation of Uzbekistan has been quite literally the centre of the world, with its fortuitous position on the Silk Road transforming the country into a meeting-point of Eastern and Western cultures. Now, for the first time, you can cross the Silk Road and explore Uzbekistan's mercantile legacy by high-speed train, whizzing between its four most historic cities: Tashkent, Samarkand, Bukhara, and Khiva. Along the way, you'll discover breathtaking medieval architecture, an artisanal culture that has persisted for hundreds of years, and an adventure like no other through one of the world's most beguiling, historic, and undiscovered countries. Learn more about crossing Uzbekistan by high-speed train here.
Go Bike-Packing Around Mont Blanc
Mont Blanc is one of Europe's most renowned adventure destinations; anyone with even the faintest hint of an outdoorsy streak knows to head to Chamonix in the summer to put themselves to the test. As a result, its winding climbs can be swamped with have-a-go-heroes trundling uphill in their ill-fitting lycra, dousing themselves with water as they gasp under the beating sun. Catch Mont Blanc off-season, however, and its legendary paths are all yours, allowing you to see just what the fuss is really about. Find out more about tackling Mont Blanc away from the crowds here.
Ride the Toughest Road in the Middle East
"Girona? Did that last year. Alpe d'Huez? Boring. The Stelvio Pass? All hype - easy peasy." If you read that back to yourself as your own internal monologue, smirking to yourself, then you need a bloody difficult cycling challenge to bring you back down to earth. The Haute Route Oman, one of the world's most gruelling rides, will absolutely do that. With an average - yes, average - gradient of 10%, in the eternally balmy Middle Eastern sun, with a 9km uphill time trial on stage three, you will find all the challenge you could ever dream of, and more. Just don't leave your muscle rub at home. Discover more about the Haute Route Oman here.
These selections have been taken from The Wanderlist - a list of the year's 50 best travel destinations and experiences, curated by Amuse. If you want an unforgettable trip, this is where to go in 2019.