We Want the Finest Wines Available to Humanity | Six of the Best Natural Wines
Two seriously in-the-know brothers have picked out half a dozen low-intervention masterpieces.
You've just read our feature on Natural Wine and why it's worth a closer look. Now, tastebuds tingling, you want to drink some delicious, farmy, strange low-intervention wine. We understand. We want to do the same, frankly, only it is a little uncouth to pop corks in an office. Sadly.
Daunted, though, by the prospect of strolling into Noble Rot or Passione Vino and spending the best part of thirty quid on a bottle of sediment-heavy something or other? That's understandable.
So what we've done is ask the Roberts' boys to pick out three of their current favourite naturals for your delectation.
First up are Francis' top three vinos:
Pamina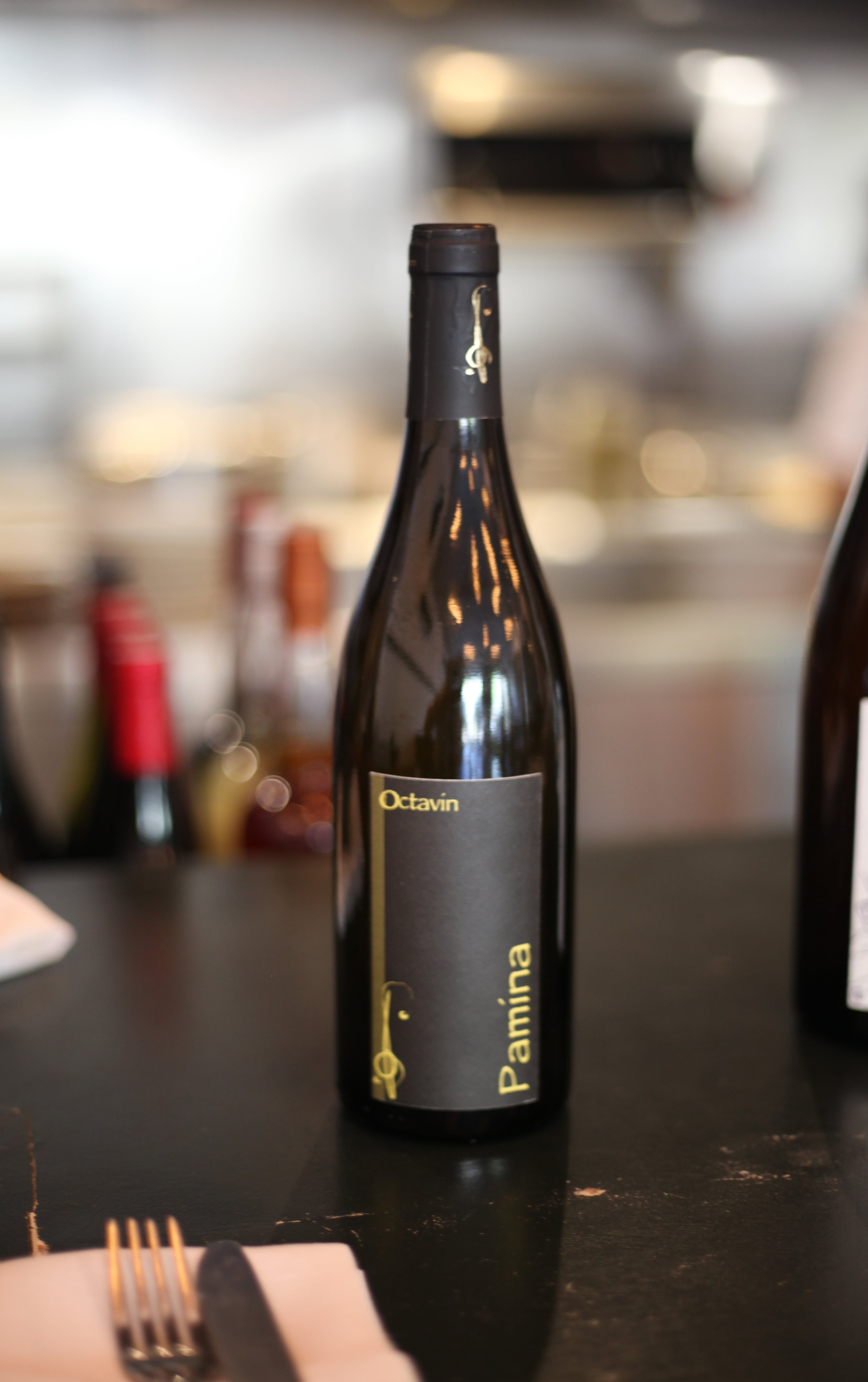 "For a beginner's wine I'd go for a Domaine l'Octavin, made by a lady called Alice Bouvout who is based in Le Jura. I came back from visiting her a month ago, actually. Some of her wines are completely crazy, just off-the-scale for natural wines. She owns a few plots and then she buys some grapes. She has Domaine wines and negociants wines—this is one of her Domaine wines, Pamina. It's 100% Chardonnay, old vine Chardonnay from near Arbois.

"She ages this in old Burgundy barrels underneath her house. It's got pretty high acidity, but there's a roundness to it. If someone was used to drinking Chardonnay from Burgundy, not over-ripe, really milky Chardonnay, but that leaner style, they'd like this. Delicious on its own but great with seafood. I've given this bottle to a lot of people in the restaurant who might have said they didn't really like natural wine, and they were always surprised by how much they enjoyed it."
La Grande Journée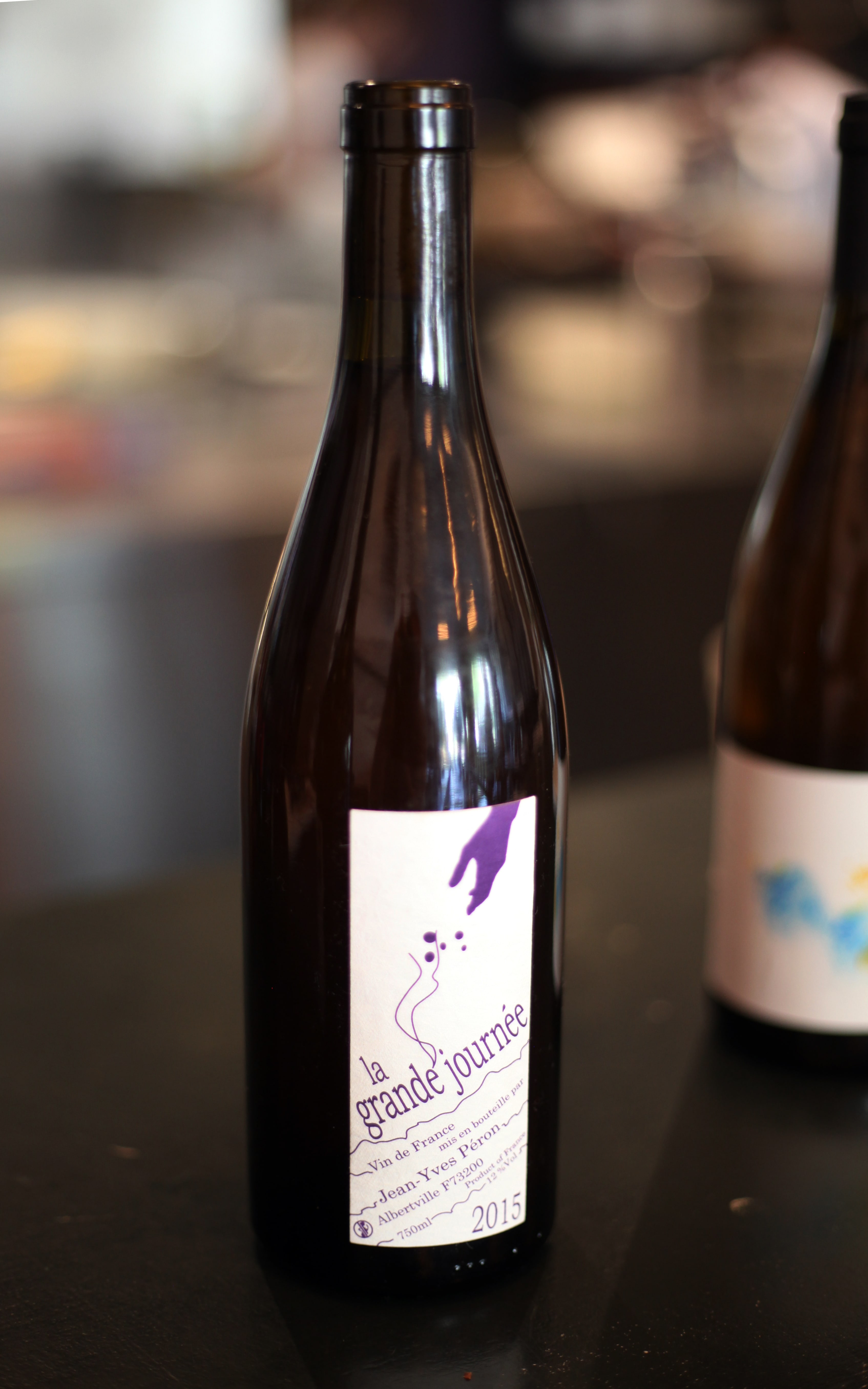 "The next one is from Jean-Yves Peron. He is based in Savoie which isn't a million miles away from Jura. He makes wine with the traditional grapes of the region. He does a lot of his whites in the maceration style, which some people would call an orange wine.
"Le Grande Journee is probably one of his more well-known labels. Orange wines can feel really heavy and tannic because essentially you're making a white wine in the way you'd do a red, but this is really aromatic, light and versatile. There's a trend in natural wines to have wines you can carry on drinking so your palette doesn't get too tired. This is great for that. He makes brilliant wines—big fan of his stuff."
Pause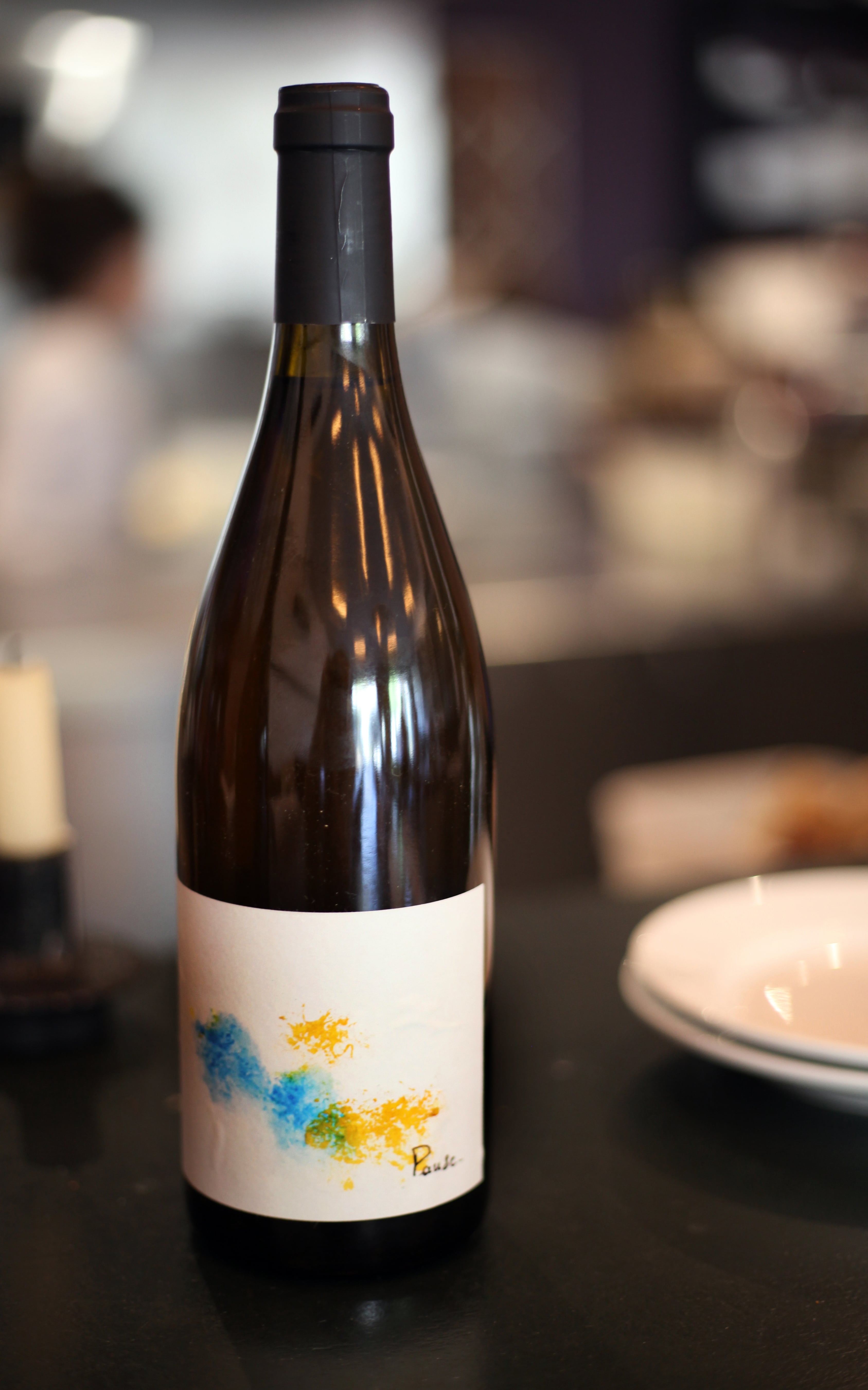 "Here's one by Sebastian Chatillon who was the former sommelier at Le Chateaubriand in Paris. This is his second vintage. He's doing some interesting and unique things with natural wine. Sometimes you'll do a maceration wine, sometimes a straight white wine, sometimes you'll blend two types of grape together, or macerate the juice of one grape with the skin of another. This is a blend of Sauvignon Vermentino and roussane; a really short skin maceration.

"It's then aged in vin Jaune barrels, which is a nutty, sherry-like, iconic Jura wine. He's made a skin-contact wine and then aged it in a barrel for oxidation. This one genuinely tastes like curry leaves. I remember trying it at a tasting and thinking it was bonkers. I bought a magnum and then six or twelve bottles; I've not been able to sell much of it. We drank the magnum at our Christmas party. I was excited to open it, thinking the guys would love it. It split the room completely."
Digested all that? Nice, let's move on to Mat's trio of tasty tipples.
Slatnik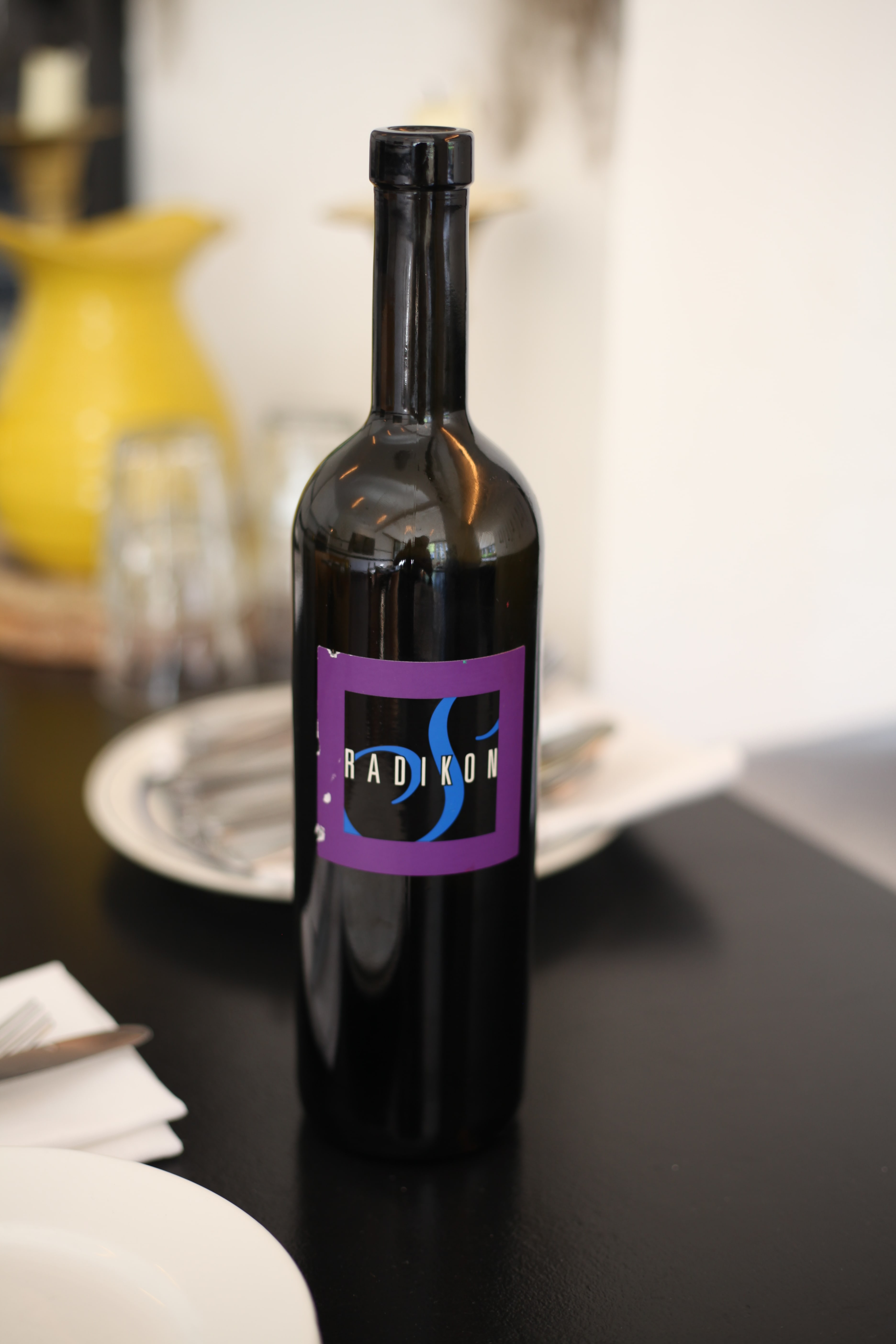 "Most people expect pinot grigio to be quite bland white wine, but this one by Radikon is made with coppery-coloured grapes. If they make it into an orange wine it comes out like a rose, like this. This is what we call "Juice" — wine that's light, easy going. Not overly-complex."
Madcap Magnus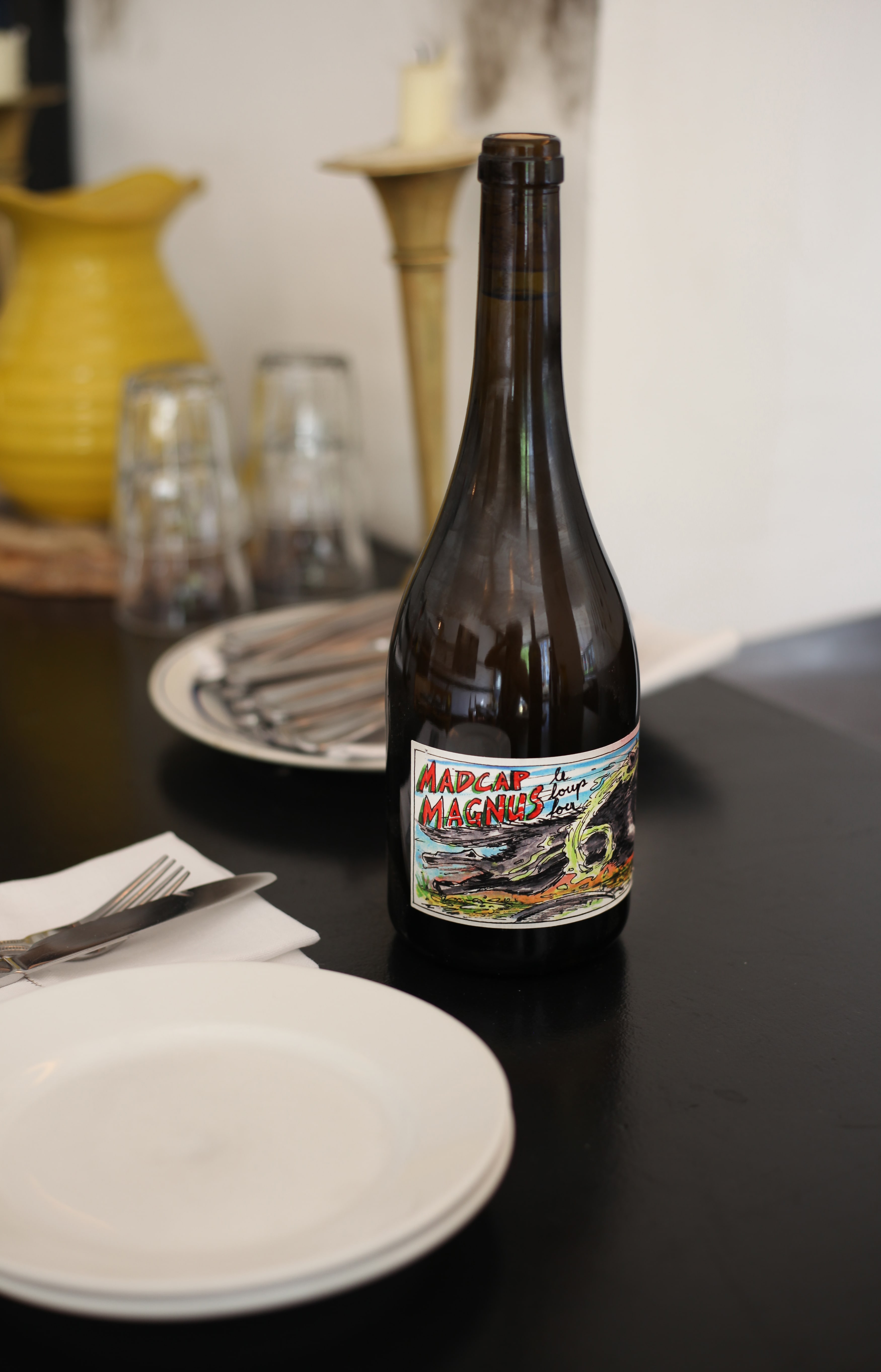 "Another orange wine. With white wine the grapes are usually pressed, the juice is taken off without any contact with the skins. Skin contact is what gives red wine its colour—because 99.9% of the time, the juice alone would come out white. Pinot noir is made to use champagne, for example. So in this case they take white grapes, press them, and leave the juice on the skins which gives it some of the characteristics of white wine but with the aromatic flavour profile of white.
"You get those tannins—they break down fats in the mouth which makes it a bit more food friendly. This is cheese friendly. The guy who makes this is a young bloke who took over his dad's vineyard. It's a German thing, and there's a trend there to do two lines: your more normal, high-intervention wine, and then your weirder stuff."
Pi No des Martyres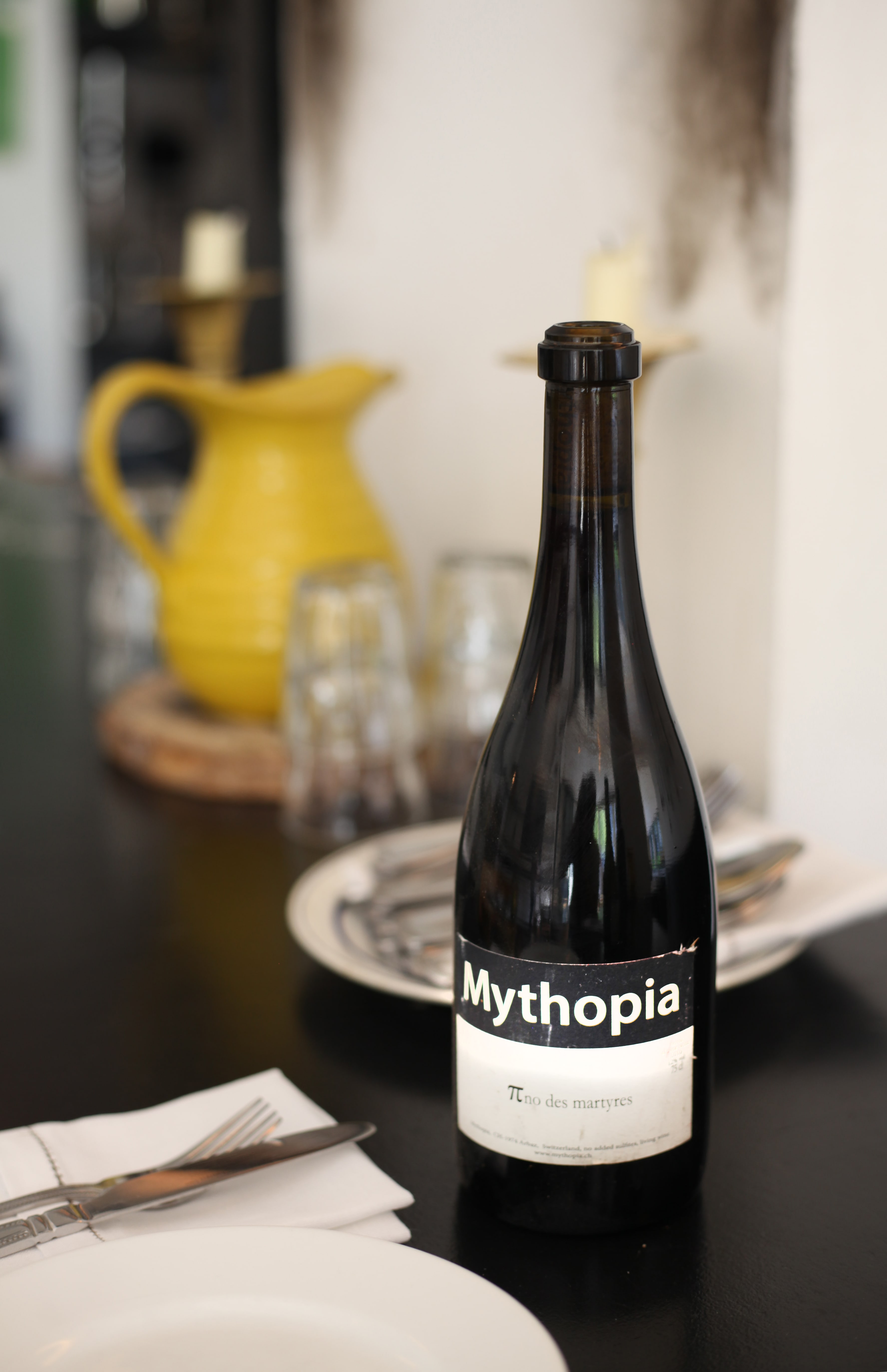 "My last choice is pretty serious looking, isn't it? It looks like it could be a really minimal techno record. This is a Swiss wine, and the way the team behind it —Mythopia— run things sounds great. Their vineyard has loads of herbs, and birds flying around, bees buzzing about. This tastes like it has loads of herbs in. I like herbaceous wine."