Emptiest Waves on Earth | Surfing in the Most Nuked Place on the Planet
These islands were the site of America's biggest nuclear test. Now a luxury surf lodge has opened up here
"Peace Corps? Fucken CIA spies more like," growls Doris from the wheel house of the Indies Trader. "Doris" is Tony Eltherington, a legendary Australian surfer and explorer from the 1970's. Once a lithe limbed, bowl cutted star of seminal 1975 surf movie Tubular Swells, he's now a boat charter skipper/surf guide. Several decades' of equatorial sun punishment has taken its toll on a grizzled, storied face.
"A total of 23 atom bombs were detonated in the area. In 1954, a single test yielded 15 megatons - equivalent to a thousand Hiroshimas or Nagasakis"
We're anchored inside the lagoon of a Pacific atoll at one of the most beautiful spots you can imagine, alongside a coconut palm and hardwood covered white sand island idyll fringed by a barrier reef, in water so ridiculously clear and blue it makes Tahiti look like the Thames Estuary. The breathtaking natural setting makes a perfect foil for Doris' pterygium-and-sunspot-framed disdain.
The current target of his invective an American expat who came here with the Corps in the 60's and never left. He's got a few local island kids in his dug out, and they've come out to our boat to ask for candy bars and a few litres of diesel - and to chat about sea level rise.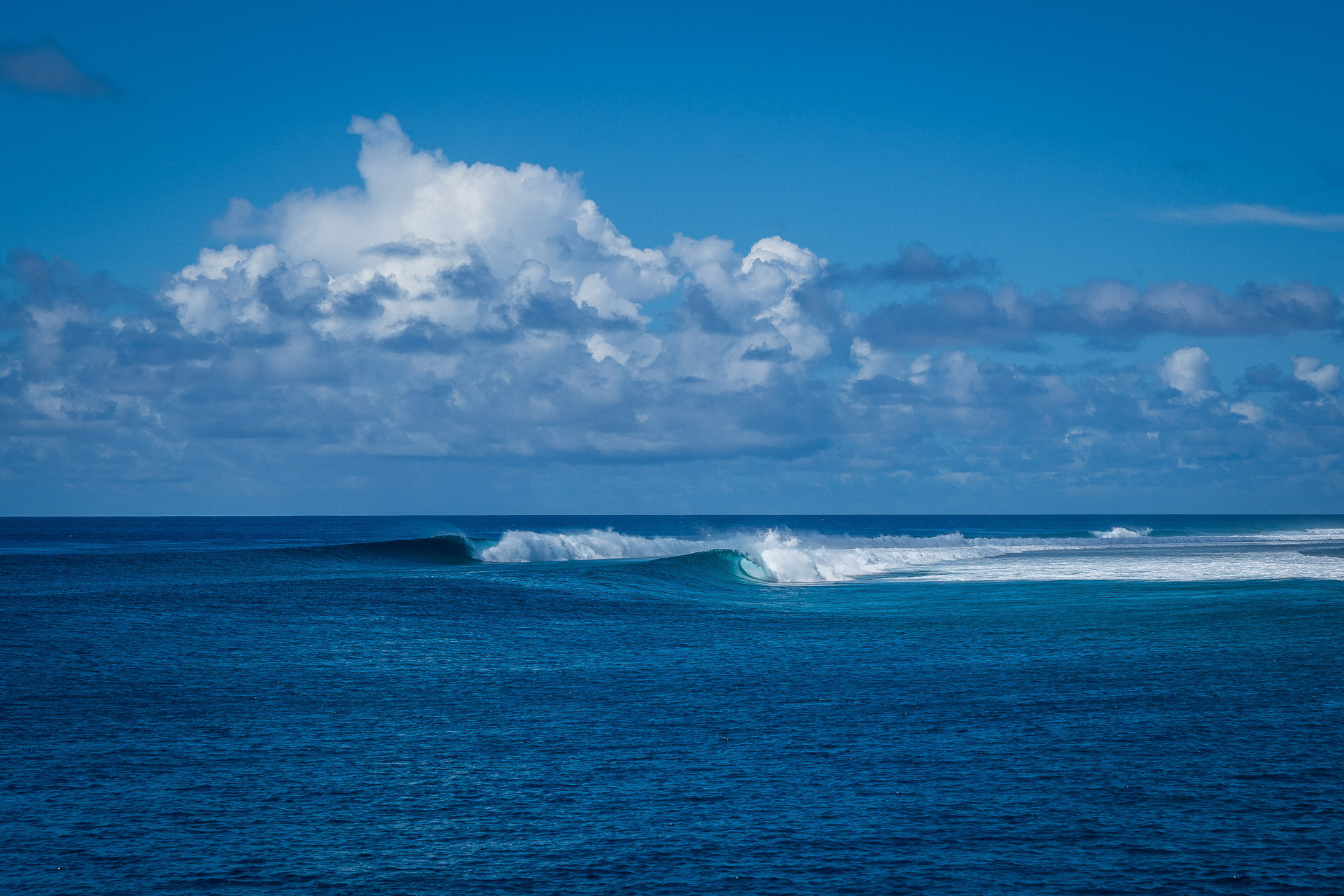 And with all this talk of espionage, climate collapse and Snickers, it seems to have escaped anyone's notice that perfect reef surf is spinning in the near distance, with two surfers lazily trading tuberides inches above a live coral garden.
Not only that, the surfers in question happen to be Tom Curren and Stephanie Gilmore, two of the supreme stylists in the sport's history, and there isn't another surfer within a thousand miles in any direction.
Welcome to the Marshall Islands.
---
Even in our global village, shrunken horizon epoch, you'll be forgiven for thinking, 'Where...? Exactly...?'
Find Hawaii on a map. Draw a line south west towards Papua New Guinea and the Marshalls are about two thirds of the way. A collection of tiny specs in the vast ocean of blue between the Federated States of Micronesia (also a collection of tiny specs) and Kiribati.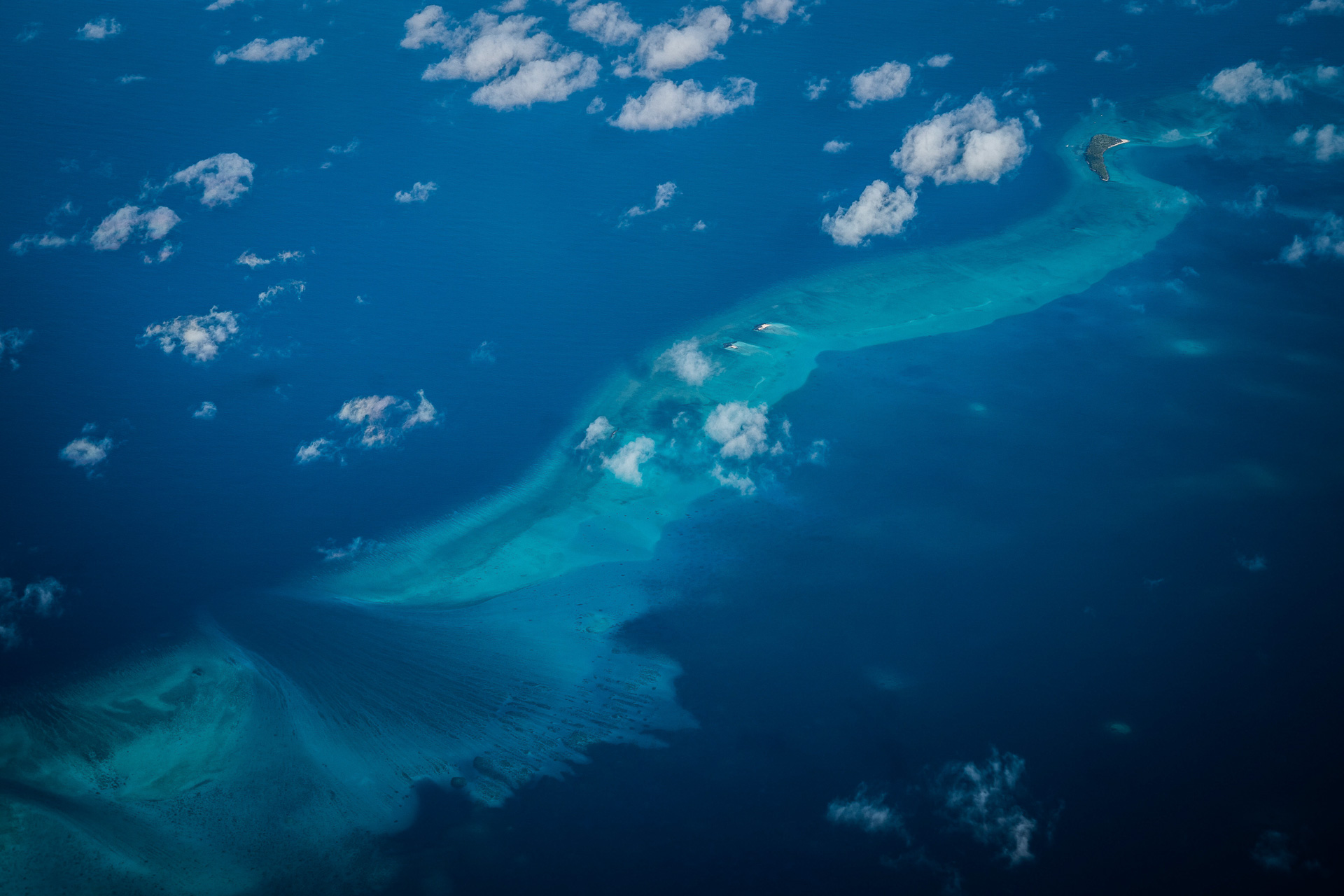 If Instagram hashtags are anything to go by (and alas, in this day and age they are) a paltry 19k Millennials have self-agrandissised via #MarshallIslands versus 43 million for #Bali or 3m for #Fiji. Suffice to say, very few people you know have ever heard of the place and fewer still have ever been there.
But perhaps you'll be more familiar with the Marshall's most infamous of its twenty nine atolls, Bikini Atoll. Bikini is unofficially the most nuked place in the cosmos after being chosen as the unfortunate location for an extensive program of American weapons testing in the 50's and 60's. A total of 23 bombs were detonated on and around this tiny sliver of land. And to put things in perspective, a single 1954 test 'yielded' 15 megatons, equivalent to a thousand Hiroshimas or Nagasakis.
"Very few people you know have ever heard of the place and fewer still have ever been there"
While lawsuits about the forced relocation of Bikini's residents are still ongoing, so too is weapons testing - although of the non-nuclear kind. The Marshalls' night sky regularly witnesses very low, very rocket-like objects. A member of our crew claimed they're shot from San Diego, that particular 5,000 mile journey taking around 18 minutes. That may seem either very far fetched or right on, depending on your conspiracy theory sensibilities. But the Kwajalein Missile Test facility, some 100 miles north of the area's premium surf breaks is very much real, and very much off limits.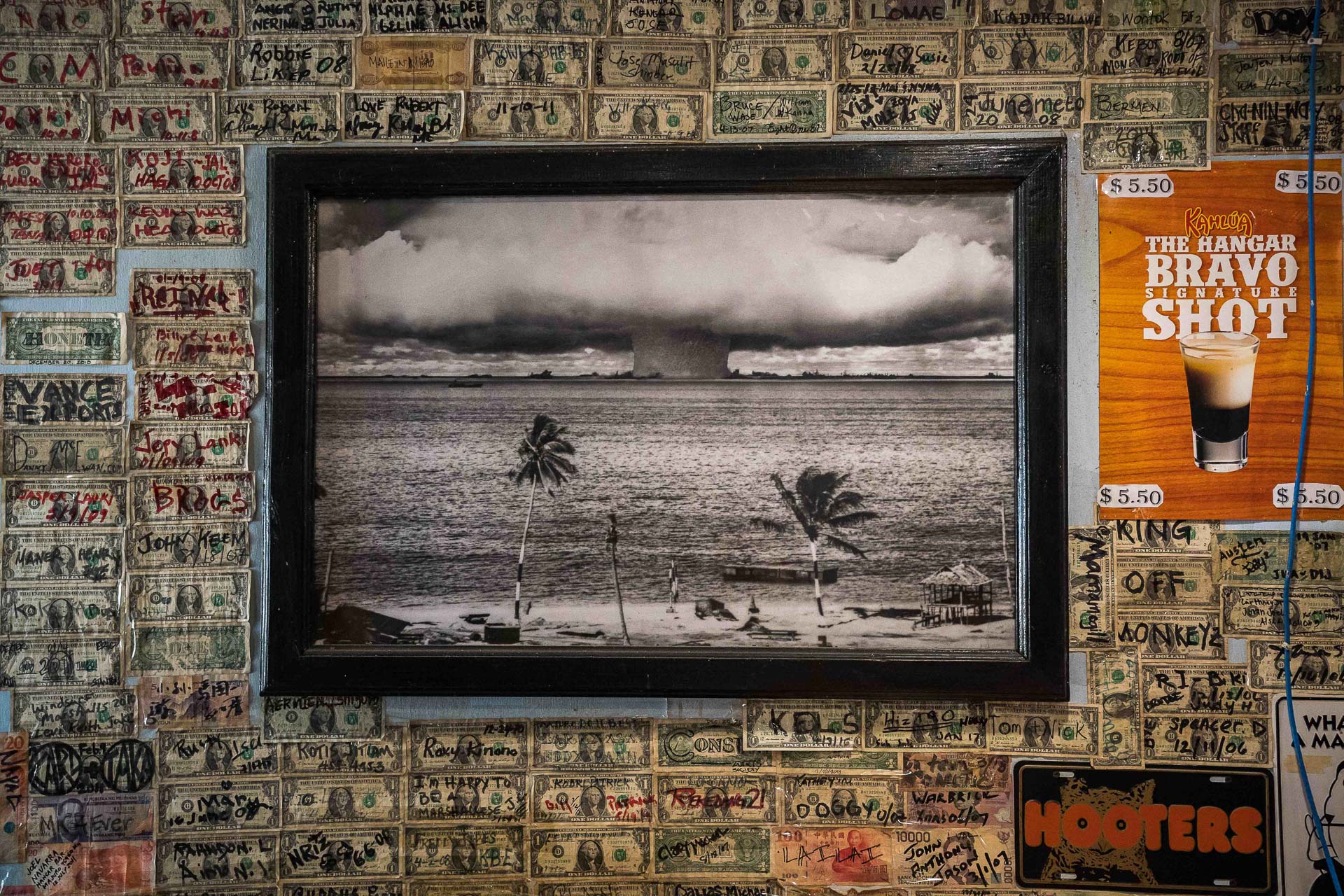 Our trip aboard the Indies Trader came a few years after her owner and operator Martin Daly first came to the Marshall Islands himself. He'd been circumnavigating the globe as part of the Quiksilver Crossing, a 6-year-long environmental research/marketing voyage staged by the surfwear giant in the early 2000s.
It says a lot that of all the waters Daly crossed on that circumnavigation, of all the surf zones he encountered - from established to semi-hush to completely virginal - the place he decided to set up an exclusive resort was the Marshall Islands.
Opened up just this year, Daly's Beran Island Surf Lodge hosts a maximum of 16 guests. Visitors are granted access to the incredible breaks I'd seen on my Indies Trader trip, as well as a fleet of boats to explore further flung atolls. It's basically, a completely off-grid, luxury resort boasting world class surf.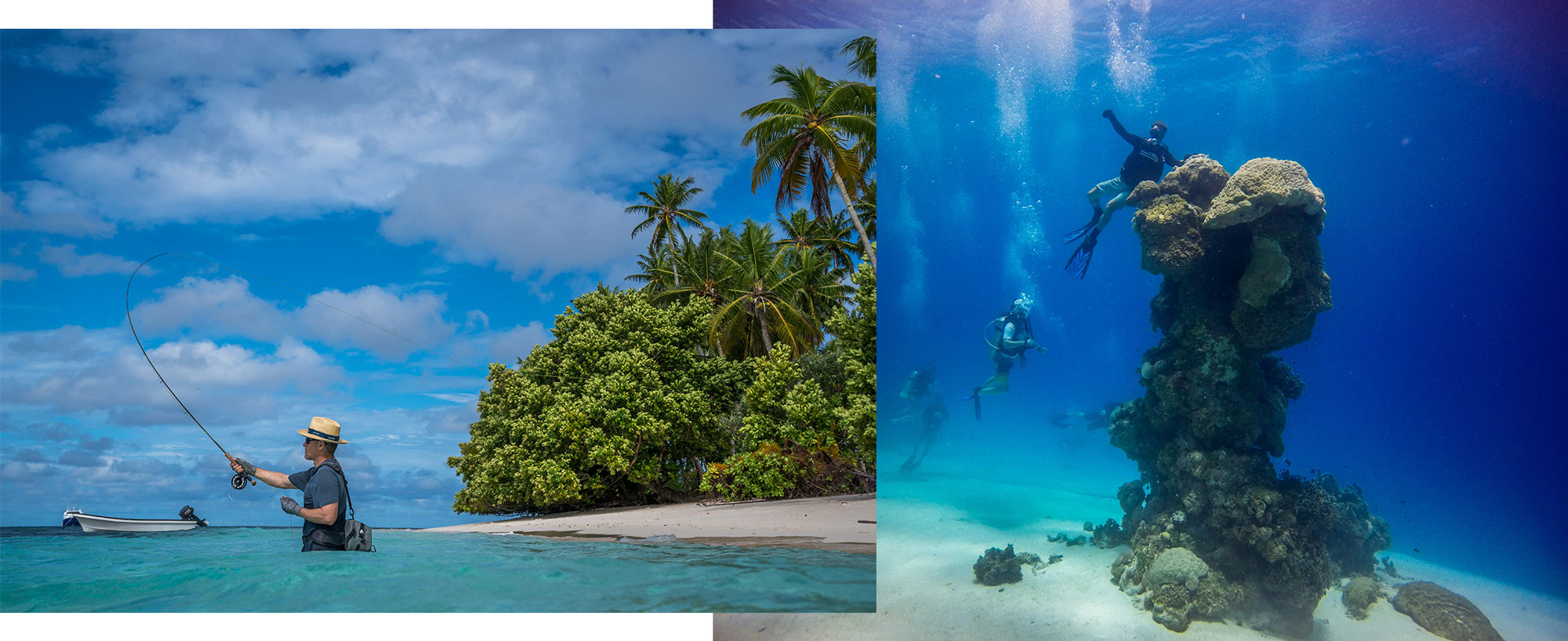 It's not just about surfing, of course. "We have great kiteboarding conditions, some say the best wave sailing ever," reckons Daly. "The diving is epic, with some or the planet's clearest water. The marine ecosystem is intact, a rare thing anywhere these days, and the fishing is crazy."
Daly mentions a number of logistical reasons for setting up in the Marshalls, namely its US dollar economy and reliable judiciary. But clearly, there's one criterion that outweighs all others. "I've been most places on the planet looking for waves" he claims, "and overall, this is the best I've seen".

Today, it probably represents the last bastion of uncrowded, exclusive perfection still existing in the surf world. Sure, conditions can vary, and sure, you could get lucky and score alone time at any number of places. But being at a genuine, world-class tropical reef break - and there are several in the immediate vicinity - and being safe in the knowledge that nobody else is showing up to steal your waves, or harsh your stokemellow? That's the ultimate surf luxury worth paying a hefty premium for.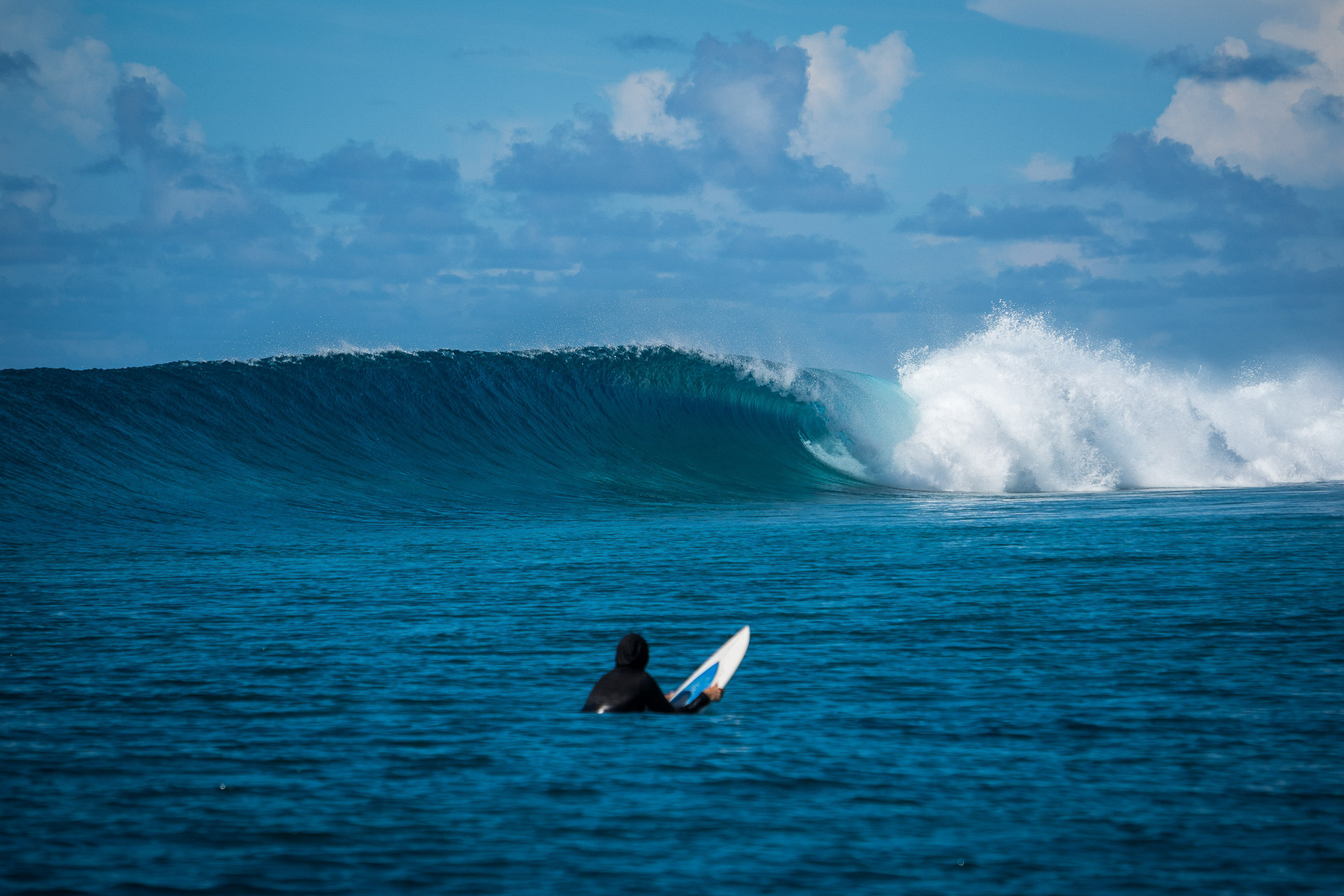 So it's small wonder that a jaunt to Beran Island doesn't come cheap. If you and 15 of your buddies want to enjoy this exclusivity, you'll need to stump around US$50 grand per week between you for the privilege.

Somewhat ironically, Daly and the Indies Trader were instrumental in the proliferation of surf travel to arguably the last place that untouched perfection of this kind existed - Indonesia's Mentawai Islands. A locale that in the mid 90's was still the semi-obscure setting for Quiksilver and Rip Curl's pro surf team shoots, has today become the go-to destination for any competent wave rider with a few grand burning a hole in the pocket of their boardshorts.
"It's empty compared to the Mentawi Islands, where your chances of being alone range from slim to 'shoulda been here in 92'"
The surf industry's boom years (and those sort of expensive catalogue shoots) might be over, but the surf travel market has gone from strength to near saturation. These days the Mentawais are almost overrun with boat charters and land camps as pros, Kiwi dentists, Brazilian lawyers and stockbrokers from New York all flock here from April to September.
Mix in the 'ferals'; sub-budget travellers, slumming it on local fishing boats for a fraction of the price, risking malaria and shipwreck (and often getting the best waves of the day), and "the Ments" as they're known, are practically more crowded than the urban beaches everyone is trying to escape back home.

Daily still operates the most luxurious charter vessel in the Mentawais, Indies Trader III and they're still, percentage-wise, the best bet for scoring epic waves on any ten day trip. But your chances of being alone at any of the premium spots range from slim to 'shoulda been here in 92'.
On top of this, the legendary luxury surf resort at Tavarua in Fiji, (whose discovery is chronicled in William Finnegan's Barbarian Days) has in recent years lost its exclusive rights to the reef that creates the infamous Cloudbreak wave.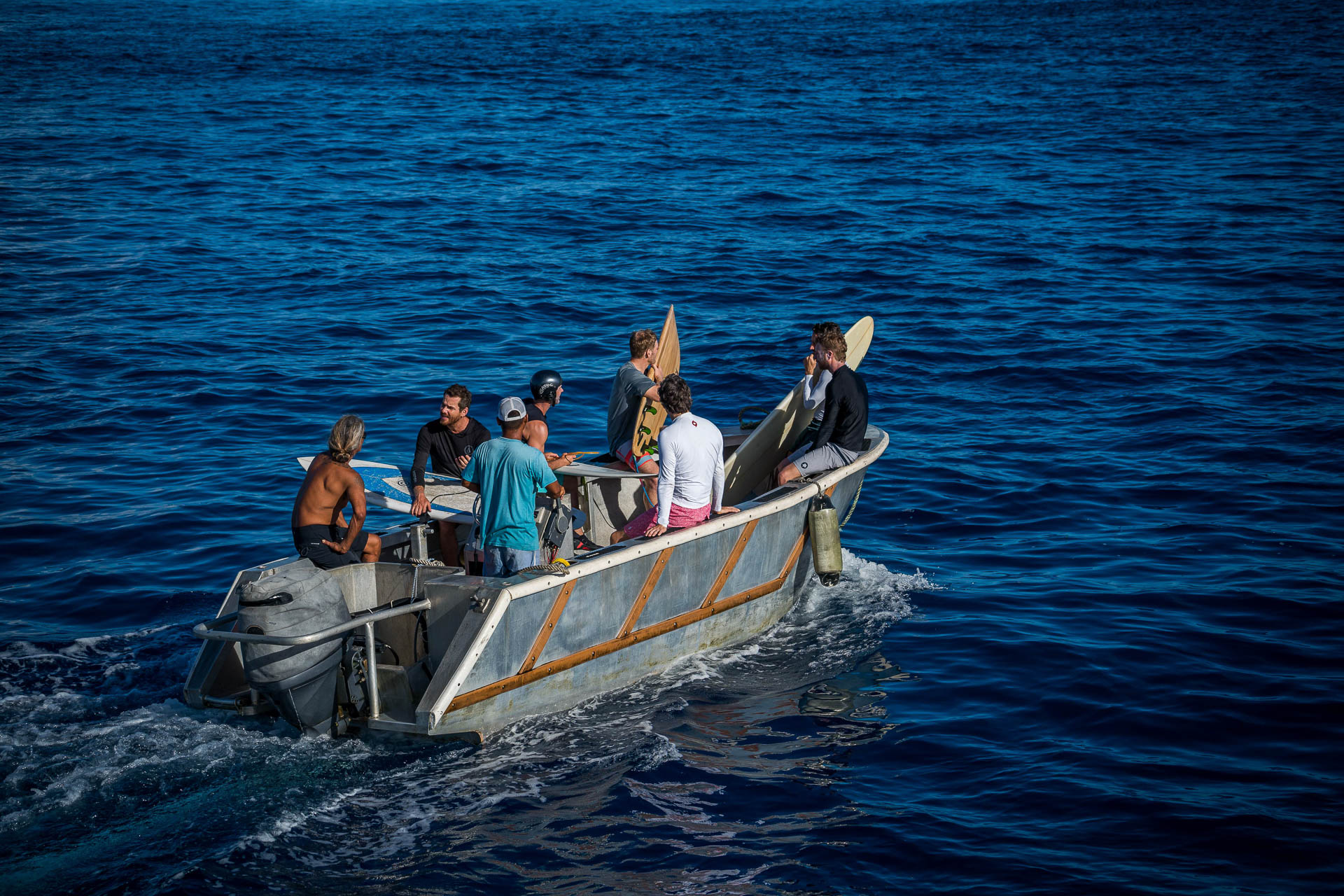 Which means that Daly's Beran Island venture is the arguably the only place on the planet these days for those in search of "pay to play" perfection. "Privacy is becoming a harder and harder thing to achieve," Daly says. "And a private island in the middle of nowhere ticks a lot of boxes." So much so that the island's surf spot image gallery is password protected - you have to get in touch with Daly for permission to view the goods.
But if the market for this kind of exclusive surf experience is understandable, there are still tricky questions to be asked about what its impact is. For all their benign beauty, the Marshall Islands have had a disproportionate amount of existential threat wrought upon them in the last century.
"When Chomsky said: 'Nuclear war and environmental disaster pose the biggest threats to the future of humanity', he could have added, 'and both are having a pretty good crack at the Marshall Islands"
When Noam Chomsky observed: "Nuclear war and environmental disaster pose the biggest threats to the future of humanity", he could have added, "and both are having a pretty good crack at the Marshall Islands." If the atolls have seen off the fallout of the former, the latter seems much further advanced.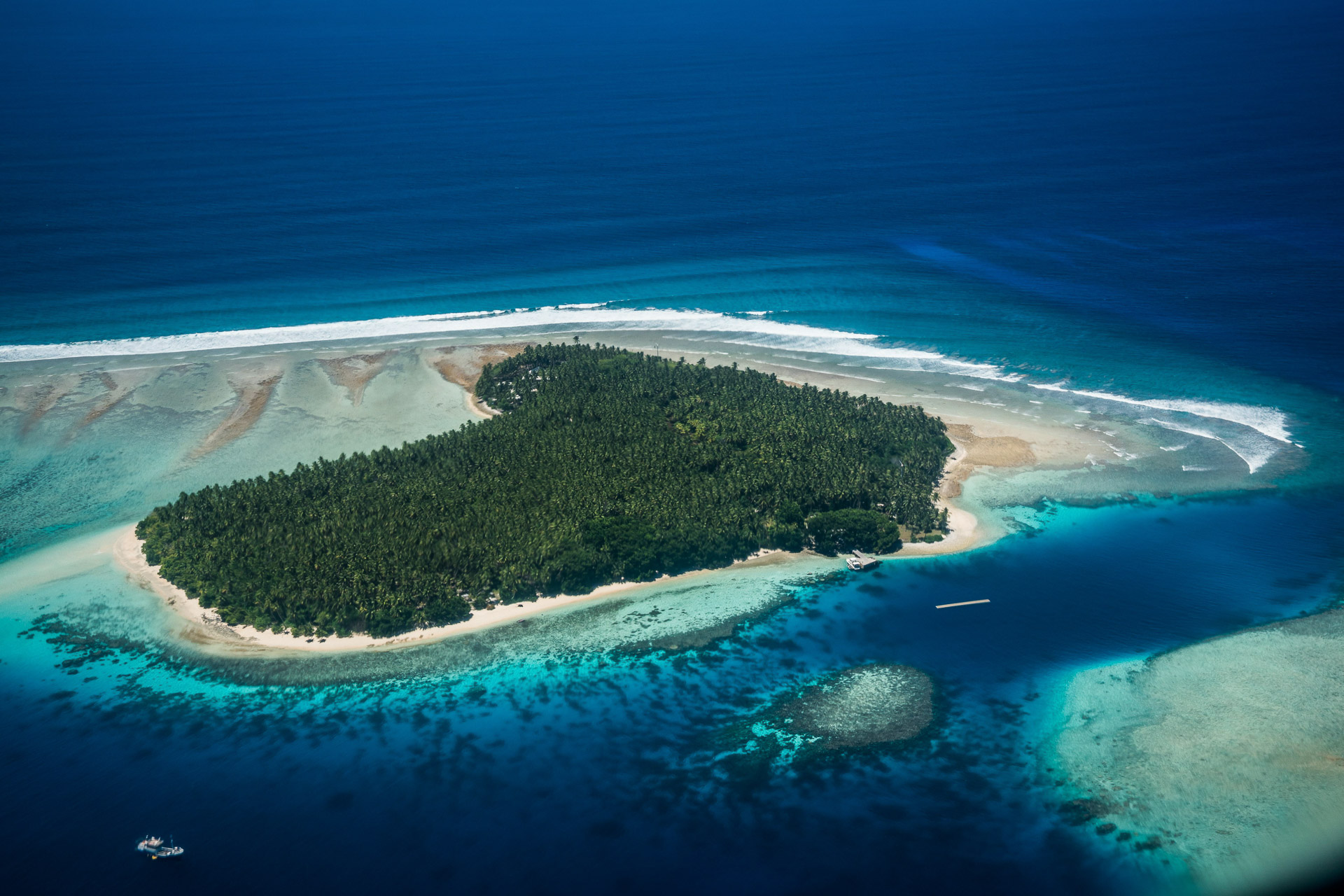 Luxury surf lodges can only exist because there are remote pacific islands on which to build them, but at the same time, the lengthy flights their guests take to get there are a contributor to the main threat to the entire Micronesia region: the sea level rise associated with global warming. With a maximum altitude of a few metres, these islands are merely sandy deposits on top of coral reefs, and already disappearing under bigger tides, storms and unseasonal, irregular wind and current shifts.
It's an irony Daly is all too aware of. "Old fellas like me won't be around to deal with the consequences of our actions," he admits. "How would everyone behave if we all lived for 500 years and had to live with the decisions being made today? I asked Shane Smith, Executive Chairman of Vice Media [Amuse's parent company] that question at dinner recently, anchored at Beran," he adds. "Which sparked an interesting discussion about whether or not it's already too late."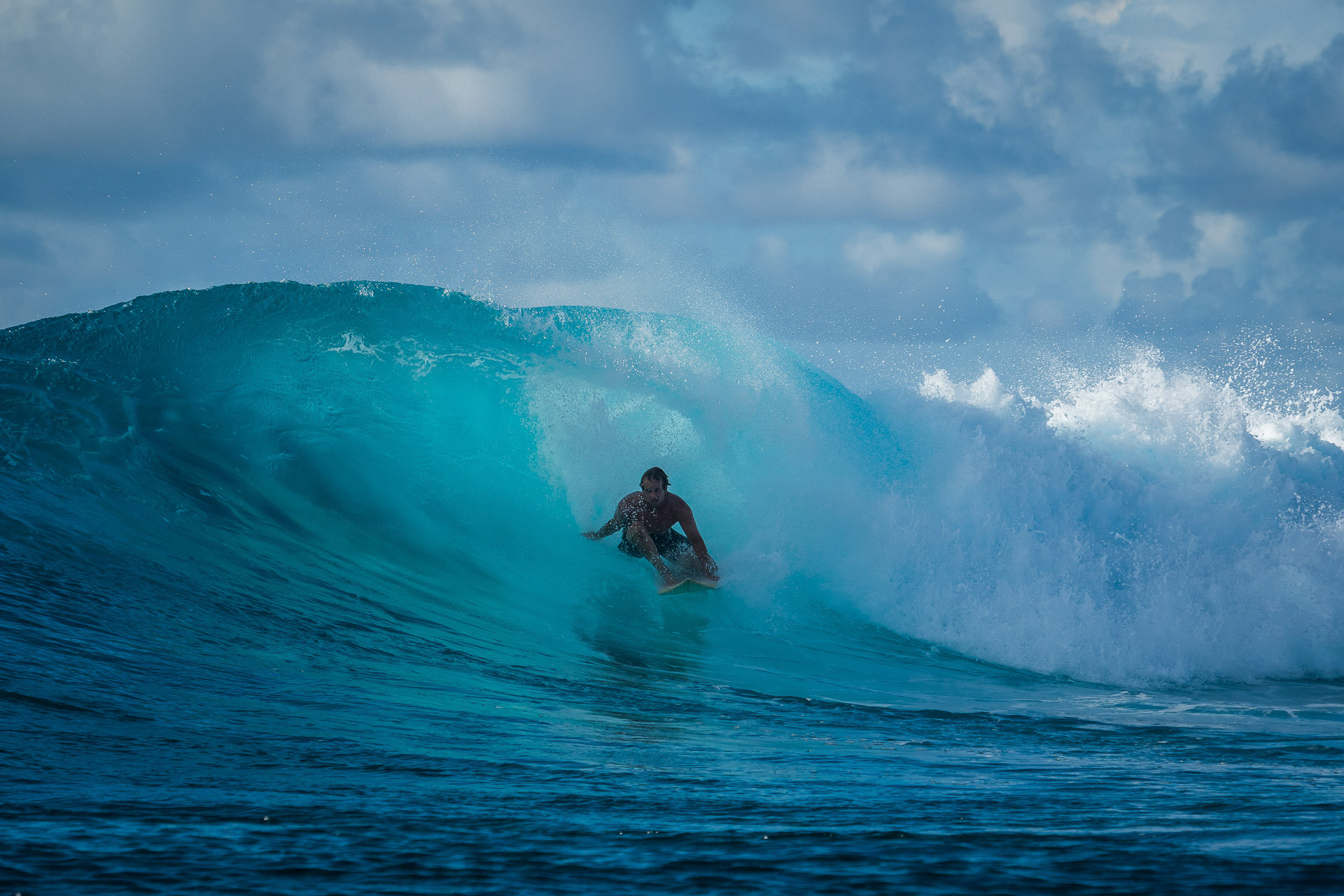 Carbon footprint-guilt notwithstanding, the lure of the sheer perfection of the surf around Beran is pretty tempting. Tempting enough to confuse the moral compass long enough for you to book flights before it recalibrates? Well, that's up to you.

---
What I will say is that on that trip with Curren, Gilmore and Doris a few years back, we encountered so many perfect waves it essentially rendered all my future surf travel plans redundant. What could possibly match this?

One particular spot, dubbed 'Nirvana' by Daly the the first time he saw it, turned out to be the most ridiculously perfect set-up any of us had ever imagined - let alone seen. Flawless right-handers peeled down a reef point off a little sandy island, the gin-clear water revealing a stunning coral ecosystem below.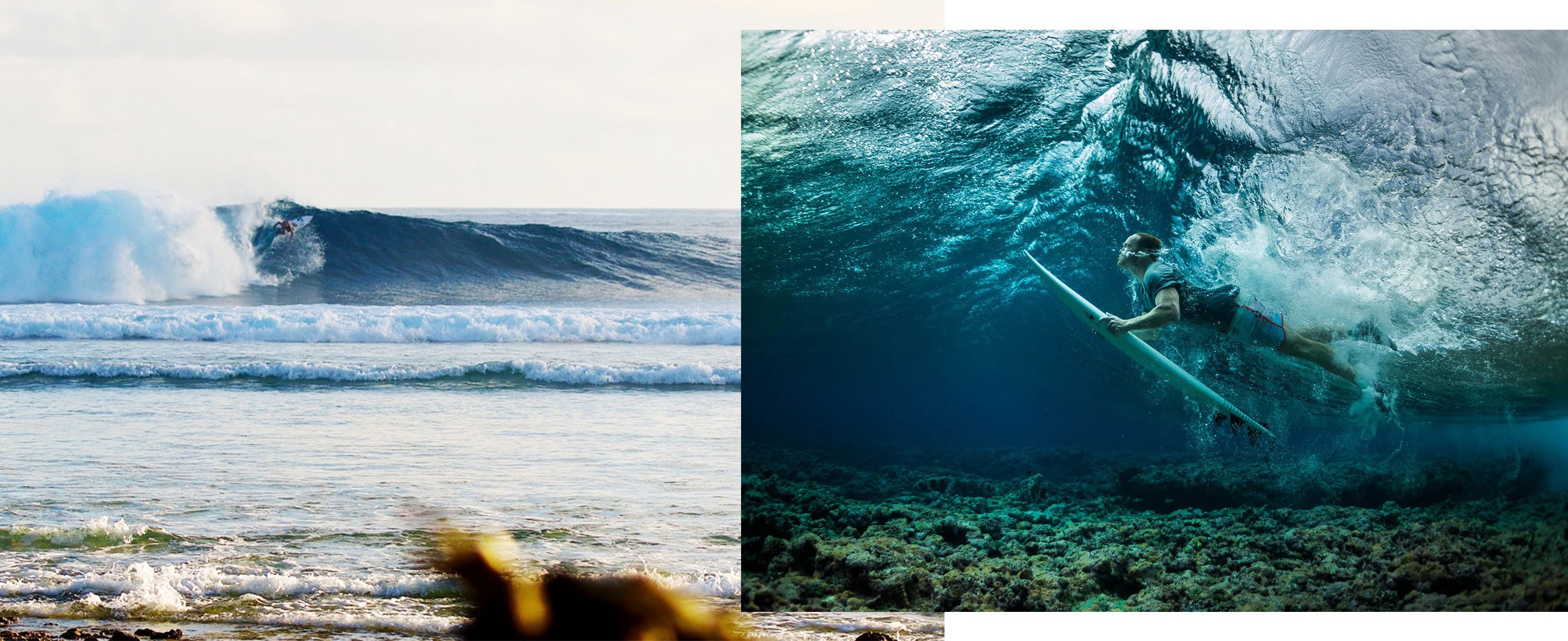 I surfed for a few hours, then paddled to the island and strolled about, chattering to myself overwhelmed, semi-delirious. Aside from my own, the only other footprints on the island were avian. As the trade winds tugged at the coconut palm fronds and groomed the surf into playful, tapering, turquoise, blank canvases, I watched two of the greatest wave riders of all time swoop, race and glide across them, and started to cry.
Tropical surf excursions from Europe might unsustainable, financially, environmentally, relationship-wise, and for a variety of other reasons. But if ever there was a destination for the proverbial "just one more hit", a high so potent it kills the addiction, the Marshall Islands are surely it.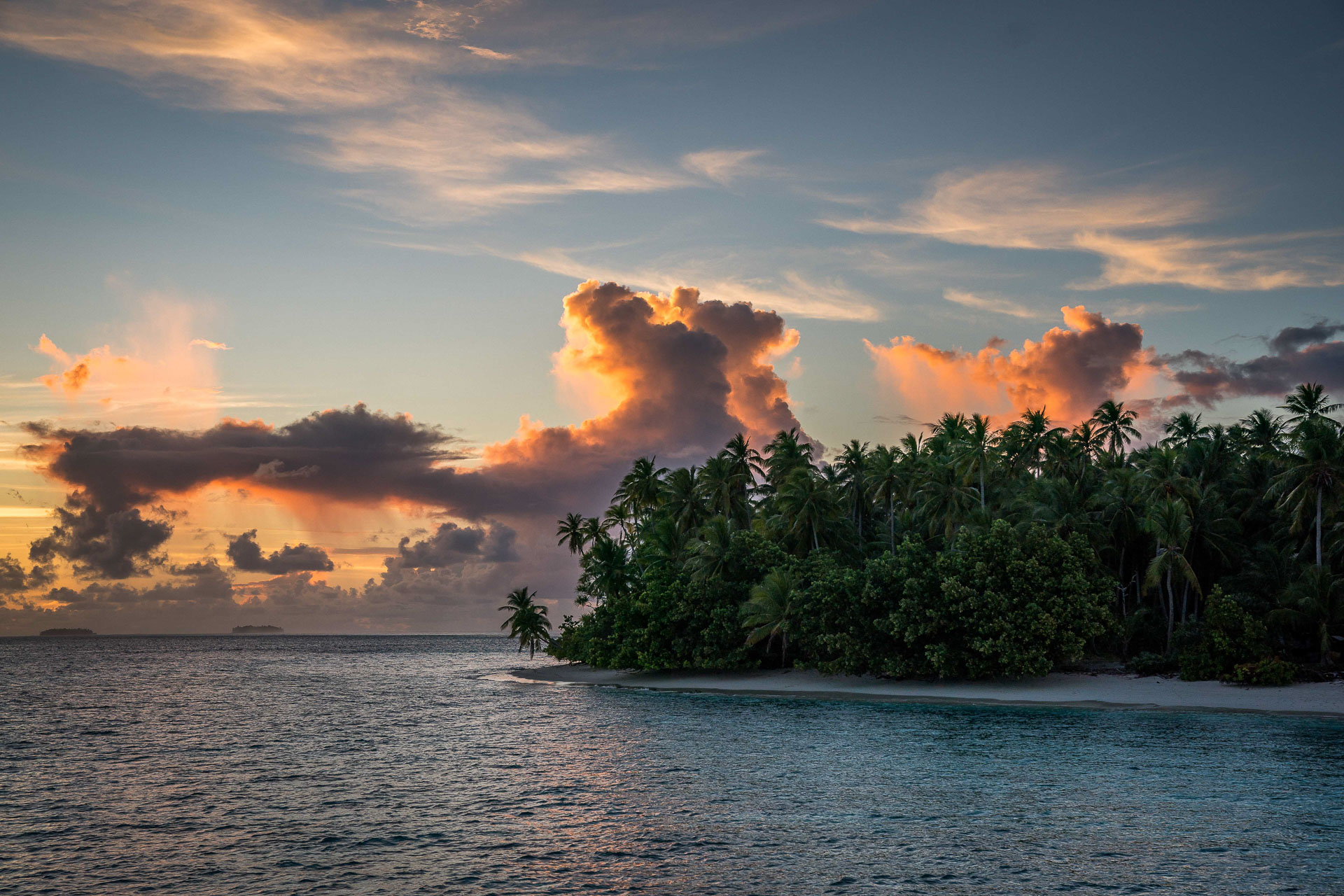 Beran Island surf lodge is open for business now. For bookings and enquiries, visit beranisland.com
Paul Evans is a surf writer based in Southwest France, and the the former editor of Surf Europe Magazine. You can follow him on Instagram.