Lewis Alexander | The International Headhunter
Wanna get ahead in the luxury industries? Meet the headhunter behind the biggest names in the business
Photo: Wadley
Lewis Alexander is a headhunter for the luxury industry's biggest brands. Not only is his name linked to the highest profile moves in fashion, his firm, Lewis Alexander Executive Search is in demand across the art, interiors, luxury and tech industries. With offices in London, Tokyo and New York, and being on speed dial to consult with the industry's decision makers on talent – he is also probably one the busiest people in the business.
Lewis is back in London for a nano second—having touched down from a project for a client (which he won't reveal), which took him from Silicon Valley to Tokyo—and he's not hanging around. Flights back to LA are booked, where he'll be moving for the foreseeable future to set up a West Coast office.
"I have to say, the move is 75 percent work related, but 25 percent lifestyle: getting up in the morning, going surfing, doing a bit of yoga, then working," Lewis tells Amuse. It makes sense he should be gravitating in that direction; although Lewis emphasises his NDAs from studio creatives to management teams worldwide. Plus, he named his monthly newsletter 'LA Briefings' (subscriber base: 30,000) after the city. Perhaps he really is the busiest man in fashion…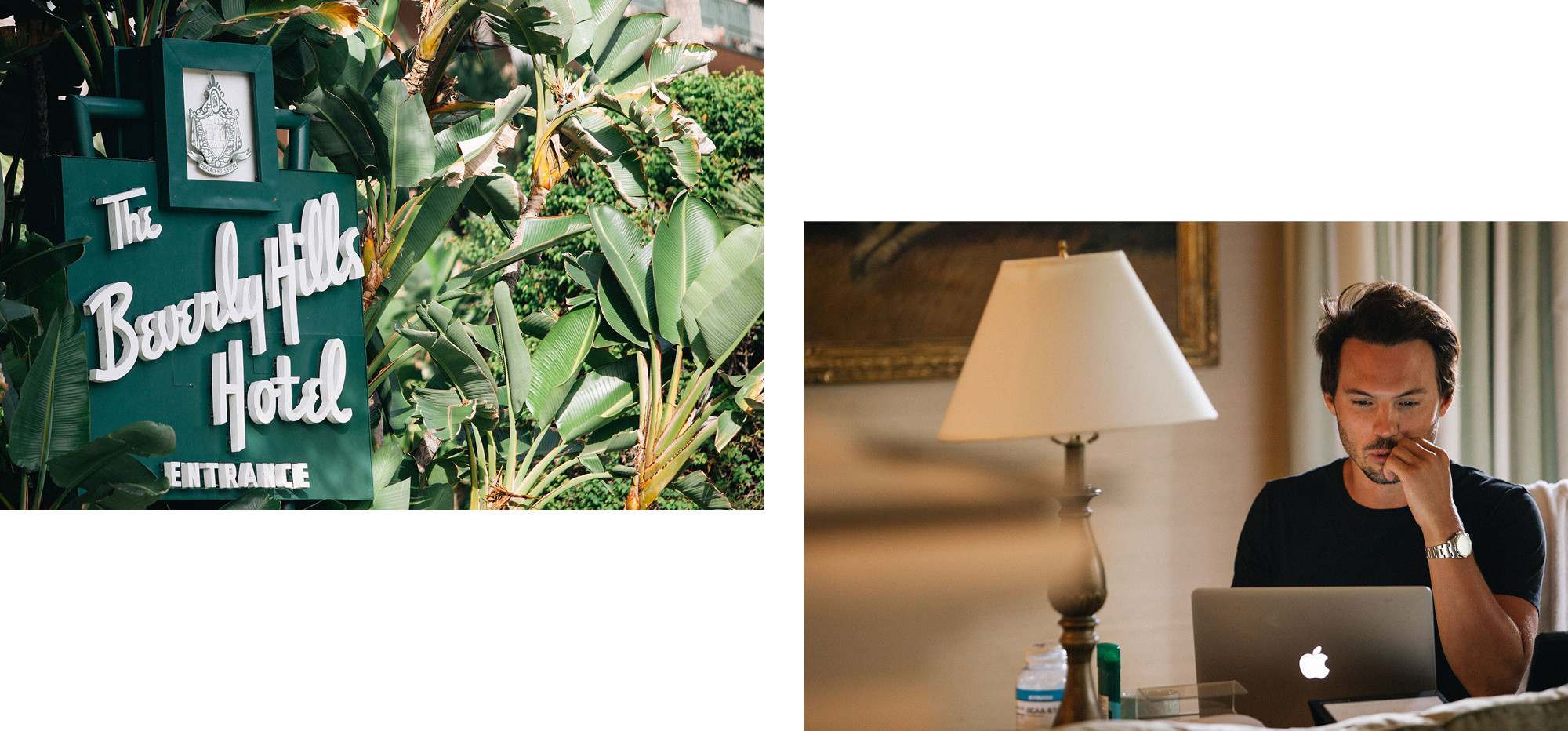 Executive search: can you unpack that for me – what does it entail? Do you keep tabs on everyone working in these industries? How do you manage that worldwide? Do you know our next move before we do?
This is our challenge when pairing creatively led companies with the right talent and structure. It used to be led by a few firms in Paris. Not wanting to generalise, but Paris can be a little behind the UK and USA. So where a few people once dominated it [executive search], the digital disruption has made a way for a new generation.
We can stay connected worldwide at the touch of a button; however, no video link or conference call can replace the emotional and chemical feelings gained by in-person connections.
Where do you keep your contacts? How big is your address book? Do you use a Rolodex? An iPhone?
So, Lewis' two can't-live-without pieces are an iPhone 6S Plus and a refillable Hermes notebook, which has all of my notes from every meeting in Tokyo to San Francisco. And then he also has a digital pen so he doesn't have to scan his notes as he has the handwriting of a little boy's.
Since 2009 your company has grown to 21 employees – what are the qualities you look for when hiring your own team?
That's a very good question… Gosh, if I were to pin point the top three qualities… it's hard to articulate. I think it would be somebody who has the ability to appreciate the DNA of companies, brands and people. I don't look for obvious people from HR backgrounds, but people that are from the industry itself, a bit like me, who have have this indescribable ability to 'feel' people and companies.
"Don't undervalue the necessity of experience and continued learning: If you have an opportunity, seize it. If you don't have an opportunity, create one."
How much of what you do is brand consultancy, rather than solely placing people?
Our consulting services are a result of having both a left and right brain: an ability to fuse business and creative. It's a very useful skill that has enabled us to use our appreciation of how to be creatively relevant today, for doing business tomorrow. It's most valuable when translating business goals and vision into shaping a structure, designing a position and then placing the right talent into the organisation—also known as consulting—which accounts for 50 percent of my time.
What was your big break?
Believing in myself and vision. That was the break. I suppose you could say I'm self-taught. When I finished school I thought initially that I wanted to be a designer but soon realised that, whilst I had an appreciation and an ability to have a strong point of view of fashion and design, I wasn't a designer by any stretch.
I really loved the business side, so started my career in Jigsaw menswear before the contemporary market was what is it today, and over the course of nine years went from working on the shop floor on a Saturday to running a multimillion pound business for Marks & Spencer, which culminated in a merchant director role.
By that point I had spent so long in the industry, and really wanted a change. I wanted to step out and have a more holistic appreciation and focus on people and talent, because that's where I had a lot of passion and interest. You can't build a business or do anything without people. They make the world go round.
Why start the firm?
A resolute belief that my way of building a service provider brand was the most relevant for this moment. And vision. One of these visions was back in 2007: I thought that the creative and cultural industries would play a greater role together in the future of being relevant and doing business. For example, art's relationship with fashion, luxury's link with tech and design.
This vision came true over the years as I grew the firm and the barriers that used to exist between each industry came down. Our belief that talent from each industry could add value to one another held strong since the beginning: we risked hiring an architect as a shoe designer for one house – an extreme example but one that paid off.
What are the most lucrative jobs in the creative fields? Are they, in fact, the least creative jobs: management positions and so forth?
That can vary slightly from industry to industry. Generally speaking, however, the 'creator' is rewarded substantially higher than the manager. This can apply to a luxury fashion house, a contemporary artist or gallery, the lead creative in a tech firm, or product designer.
How is the industry changing?
The biggest shift over the last five years has been the role of the creative director and that of the CEO. For the creative director, the output expectations have increased by roughly 35 percent with increased collections accounting for the majority of this. A notable adjustment to this has been the creation of the 'image director': a role which allows the designer to focus on product creation by handing over the responsibility for all brand creative direction.
Very few creatives are able to entirely oversee the holistic creativity of a brand, which is why the top-line structures have been adapted. A few examples of individuals that do posses this rare ability are Karl Lagerfeld, Hedi Slimane and Miuccia Prada.
Today's CEOs have a hard time because they have no experience of the speed their industries are changing. The consumer's appetites are also moving just as fast – one season a brand could bank on their logoed bag being a best seller, the next month the taste has moved to discrete and understated.
"My current challenges include hiring a creative director to revive an Italian luxury fashion house that's lost its way, seeking a CEO for a European design and interiors brand, and the appointment of a CEO for a New York auction house"
Do you work on placing creative directors as well as execs? Can you tell us whom you have you worked with?
We have two practices, Creative and Management, both of equal importance (as they should be to any company). We hire creative directors and their first line teams – generally specialists, such as design directors whose role it is to realise the collections for shows and commercial collections.
In the management practice we hire CEOs, and their leadership teams who have the accountability for the strategic direction of a company. My current challenges include hiring a creative director to revive an Italian luxury fashion house that's lost its way, seeking a CEO for a European design and interiors brand, and the appointment of a CEO for a New York auction house.
There's been a lot of talk around recruiting women for the top jobs. Do you think about that when you are hiring for management positions, do you feel a sense of responsibility even?
In my world, it does not come up from my perspective because it doesn't matter.
The right person for the job is the right person regardless of race, gender and so forth. I know companies are feeling pressured, however, I would say it's less of a concern in the creative industries where there is more of a balance.
Stylists and photographers often do credible editorial jobs for no fee and then take money jobs they don't talk about to pay the bills. Do you ever do pro bono work for companies you admire but may not be able to afford to pay?
We strategically decide to partner with companies based on two key factors: one is a respect and appreciation for their business. The other is a belief in the creative vision. Without this we could never legitimately represent a brand.
We only partner with a very small circle of clients and work to add value to their companies by achieving their strategies through ensuring they have the right talent and structures. As an example, we hired management and creative teams, and designed a global structure to grow a brand's turnover from $350 million to $1 billion over seven years. The only exception for non-paying clients is where we mentor and support young designers for no commercial gain when company turnover is over below $500k.
What's the question you most get asked by people looking to move roles or get promoted, and what's the answer?
The question can vary hugely on the generation and nationality or upbringing. My advice, however, does not: think long-term where you want to go, and break down what you need to achieve to get there.
What advice would you give to an undergrad with creative aspirations?
Don't undervalue the necessity of experience and continued learning; neither is beneath anyone but far too often overlooked. If you have an opportunity, seize it. If you don't have an opportunity, create one.