Tu Casa Mi Casa | Mexico's Greatest Chef Wants You to Party 'til 5AM
Enrique Olvera knows a thing or two about Mexican hospitality
In this series, we speak to some of the most talented, bold, and creative chefs on the planet about the cities they hold closest, and the sounds, smells, and flavours that characterise them.
---
Mexican food is a long-maligned cuisine. For years, its perception has been shaped by cheap meal kits, crude stereotypes, and an unfortunate association with being little more than bar food. Even those in the know, who understood the complexity and heritage of the cuisine, argued that Mexican food is at its best when served in the street, for twenty pesos a go, served by some hardy abuelita who has been grinding masa for half a century. Mexican food couldn't be elevated to the world of wine flights and table-crumbers, it was thought; Enrique Olvera put an end to that perception.
Olvera's cooking shines in the crowded-but-dazzling food scene of Mexico City. Rooted in regional tradition, but refined and delicate, Olvera's cooking playfully subverts - yet respects - the trademark dishes of Mexico's multivarious cuisines. Much as Mexico City is the convergence point of a hundred separate cultures throughout the nation, so too is the menu at Pujol. The sharp, fish-forward flavours of Baja California can be found in his scallop tostadas; his signature mole madre (a 6-year old mole sauce, refreshed with new ingredients every two days) harks to the richness and robustness of Oaxacan cuisine. Even his take on elotes (grilled corn), strewn with flying ants, is a slick upgrade on what you could buy fifty yards away from his restaurant.
Speaking with Amuse over a bottle of mezcal (no, really) at the launch event for his new book, Tu Casa Mi Casa, Olvera shared his reflections on the city he calls home, and how its unique culinary traditions have shaped his style and approach.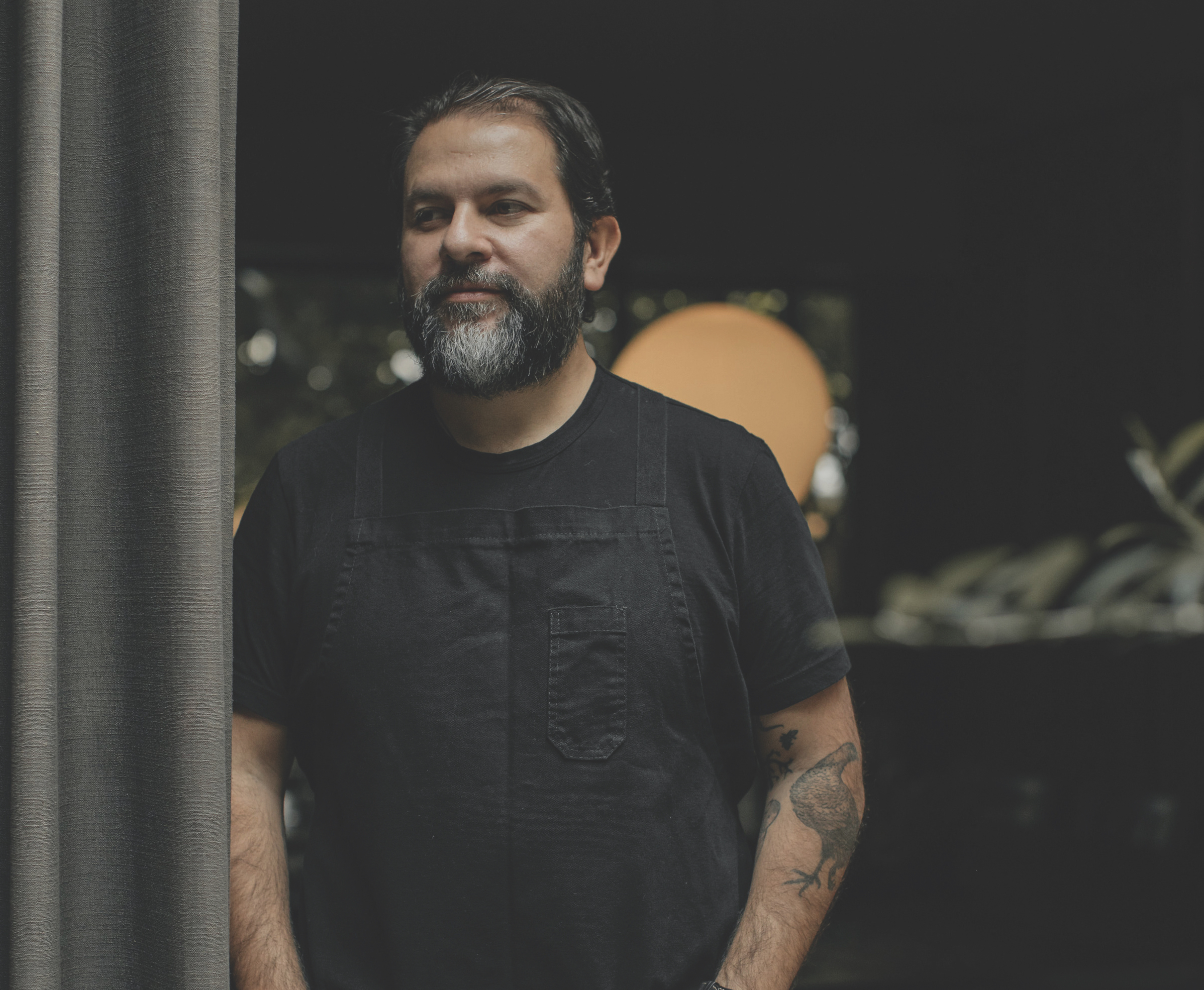 ---
I'm a person who believes that you are in this world to have a positive impact - not merely to avoid making a negative impact, but to actually have a positive impact. I like to give pleasure to people; that's something that's central to my personality. I like to have fun, I like to gather around interesting people, and have interesting conversations. I am deeply in love with the place where I was born, and I want to share that with the world.
My restaurants are all about sparking connections: between ourselves and the diners, and between the community of diners that our restaurants create. You can make these connections with food, but you can do it with so many other things - that's what I love about restaurants; food is just one aspect of it. This industry is fabulous in that way, because everything from the music selection, the architecture, the design - everything speaks to you in a certain way, and through those decisions, you can have a huge impact.
If you go to somebody's house in Mexico, they'll never say "Oh thank you! Goodnight!" at the end of the night. That's not part of our DNA. It's more: if you want to stay there until 5am, you can stay until 5am and people will host you. You know that if you're having friends over, you're gonna work your ass off hosting them.
Three meals in my life have been transformative. The very first I can remember was eating in Oaxaca, in the Central Market, at a very humble market stand. For the first time, I was having mole that was freshly made, and eating it with tortillas popping from the comal. That experience, even though I didn't know I was going to be a chef yet, showed me the beauty and the pleasure that our cuisine could give me.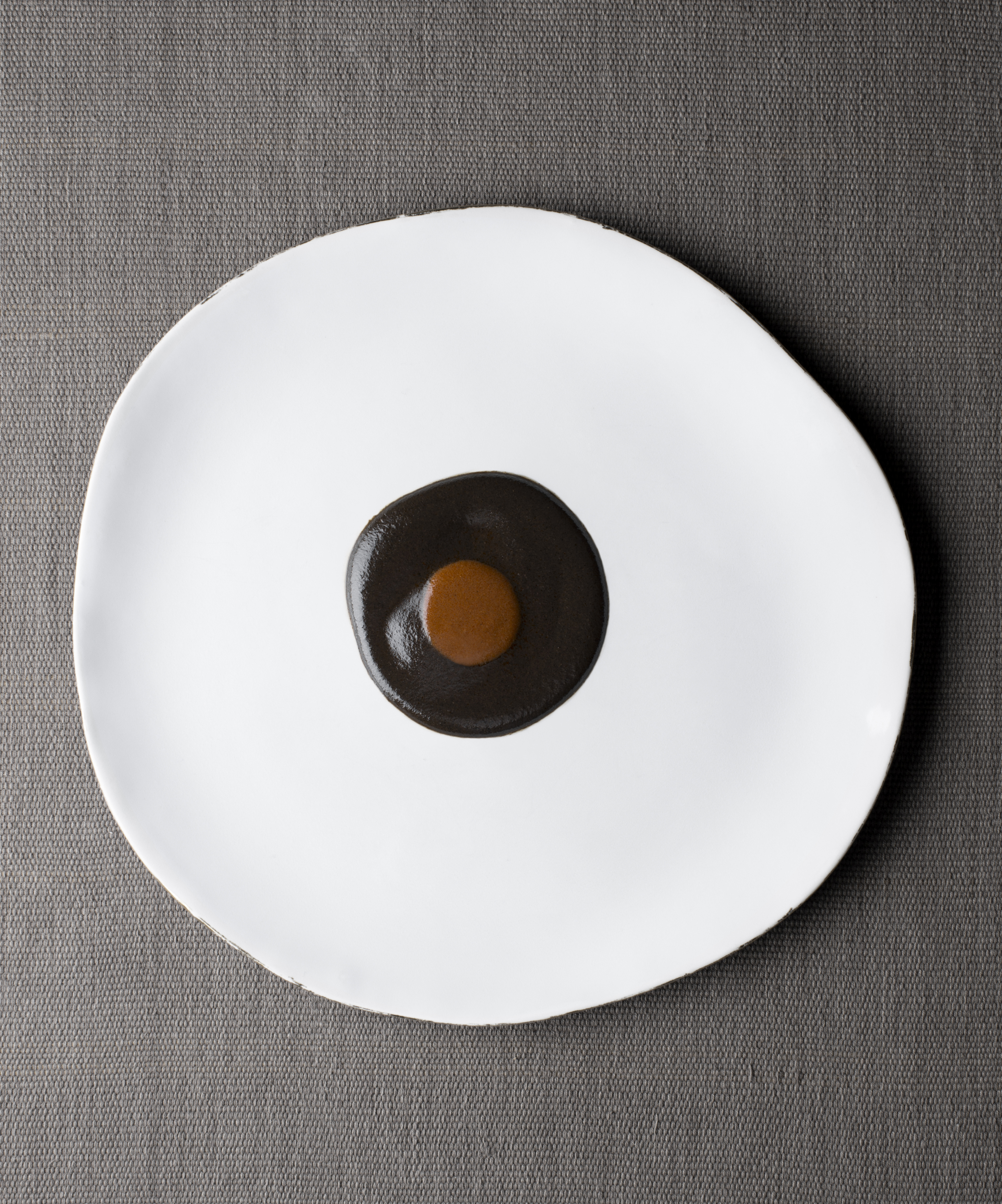 As I got older, when I went to culinary school, I remember one specific dinner that opened my mind: my first three-star Michelin dinner in Mexico. Seeing the precision on display, and the elegance of the meal - that taught me to chase perfection. I didn't try to replicate it when I opened Pujol, because I never aspired to have a fine-dining French restaurant, but it taught me what the very best looked like.
And recently, in Japan, I was transformed all over again in a sushi restaurant. I admired how they don't give a shit what's going on in the world - it doesn't matter who the predominant figure in global gastronomy is to them, they will stick to nigiris. Their method is all about repetition, and embracing something that started as street food - like sushi - and being able to elevate that.
Mexico City is our capital, so almost every regional cuisine finds its way into the scene, but if I have to choose one food that embodies the city, I'd say tamales. You hear them every evening: there's a cart that blows a horn, and the street-sellers start shouting "¡Venga y coma!" You have them for breakfast, lunch, dinner; in plantain, in corn; savoury tamales, sweet tamales, spicy tamales. So I think tamales are one of those things that Mexico City truly has as part of its culture.
I miss the basics more than anything else when I'm away from Mexico City. If I have good corn, good beans, and good chillies, I can do with that, and with everything else, I can adapt. Obviously, the flavour will be completely different - for example, consider cilantro: even if it looks like cilantro here, and is called 'cilantro', the cilantro tastes very different here than it does back home. So you have to be open to adapting, and accepting that something can still be delicious, even if it's altogether different from what you're used to.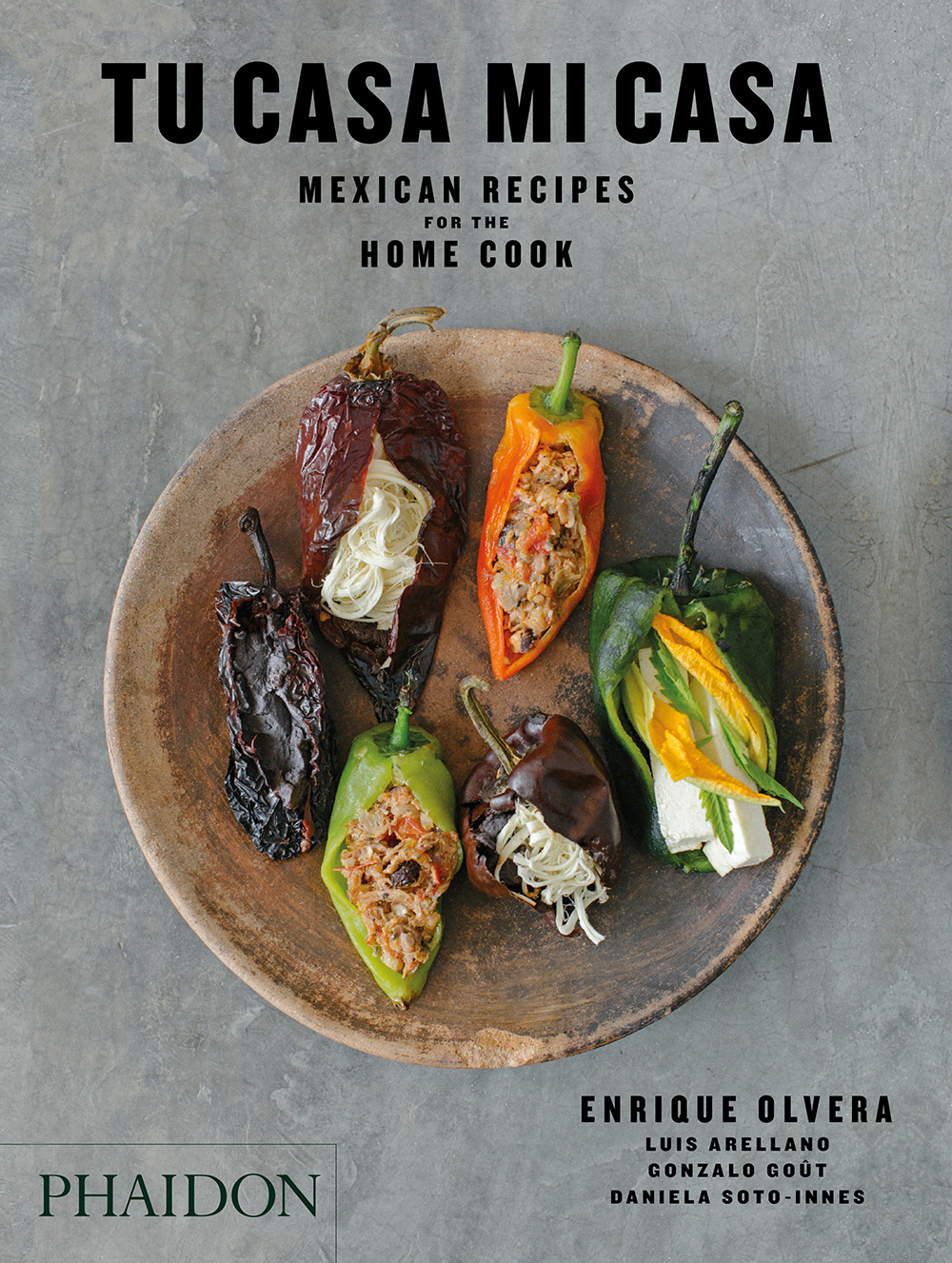 I love Mexico City - I was born there, after all. There's obviously assholes who think Mexico City is the best place on earth, and they're a little bit arrogant to the rest of the country; with me, that's not the case. I also love Oaxaca; I also feel a strong connection to there, and Los Cabos, and Morelia, and even Los Angeles. So in that sense I'm not radical, I'm not too territorial, but if I stayed in Mexico City for the rest of my life, I would be very happy.
If you want to understand Mexico, you have to walk through a market. It's not only about the produce, but the dynamics, the liveliness of the culture, the colours, the smells, and obviously, the society around you. It's central to the community - it's everything. Obviously there's a big gastronomic component, but it's not only that. You see the dynamic between the community, as well as how different socio-economic classes interact - it's almost anthropological.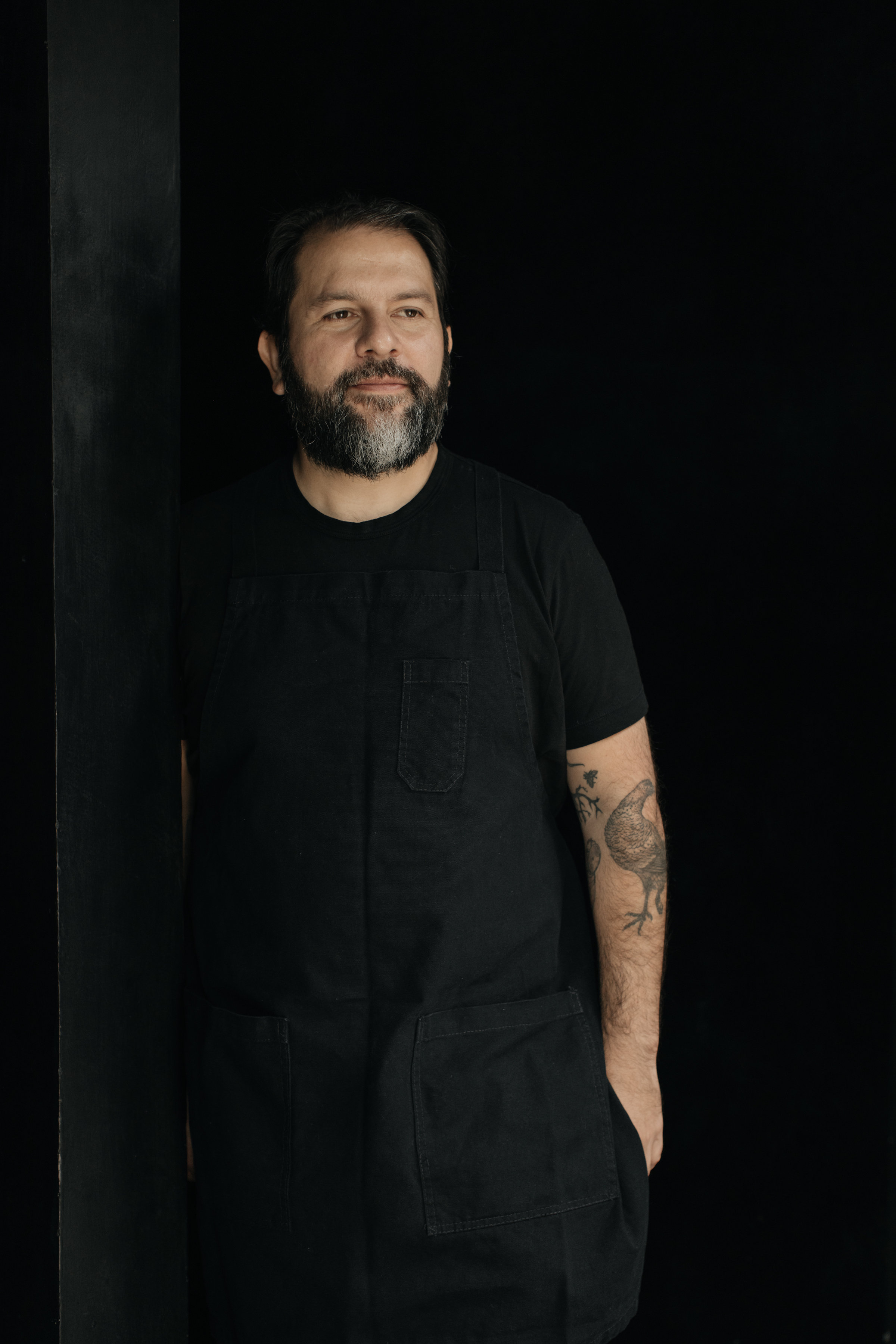 What angers me is to see all the potential we have as a culture - all the strong heritage that we have - and seeing our people fail to value it. They don't understand how lucky we are. Obviously, new generations are starting to begin that dialogue with the past, but still there is a little bit of resentment around our culture, and a tendency to look outside for inspiration or validation. We view something outside of Mexico as beautiful or desirable, and see what's at home as normal and common. That's what angers me.
The taco al pastor is the quintessential Mexico City taco - even though it came from Puebla, and the tacos árabes ! We've always made a version of pastor, whether with meat or with fish, depending on what's around us. I think that dish will stay on the menu forever, because in a way it's what we like to do in cooking: take inspiration from a common source, and then through the quality of our ingredients and with our execution, make it more delicious. Not by doing something crazy, but by outsourcing and outperforming the street cart, and striving to make it perfect - even if perfection is impossible.
If I was to pick a last meal, I'd keep it simple. A little mezcal, some quesadillas, some guacamole. The basics. Go out with consistency.
Enrique Olvera is the owner & head chef of Pujol, in Mexico City, and the owner of Cosme, in New York City. His latest book, 'Tu Casa Mi Casa: Mexican Recipes for the Home Cook', is published by Phaidon, and available through their website .
For more chef's perspectives on the cities that inspire them, check out the rest of our My City on a Plate series.