Food for Thought | How Cooking Triumphs Over Division in Israel & Palestine
With their society as fractured as ever, the love of a good meal brings common ground to this troubled corner of the Middle East
As the sun glides into the Mediterranean, my first meal in Tel Aviv is a no brainer: hummus. In the relentless humidity, I opt for the closest spot, Abu Zakir, a Gazan-led corner joint. Decent (for the region) hummus soon arrives—infinitely better than any ever purchased in a pot. I mention to the Arab cashier that I'm curious if food brings people together here. "Food and music connects us all," he replies. A hopeful start. Then again, I'm in the liberal bubble, the domain of ' sababa', roughly: "Chill, it's all good" (from the Arabic tzababa, meaning "great" or "cool").
The next morning, I read the latest on the BDS (Boycott, Divestment, and Sanctions) movement that's pressuring Israel to end its occupation of Gaza and the West Bank. The year's been turbulent. It's the 70th anniversary of Israel's foundation. It's the 70th anniversary of the Nakba, the mass displacement of Palestinians.
"Everything you've heard is true: the Holy Land is blessed when it comes to food"
The Right of Return marches are ongoing in Gaza, and the international response to Israel's killing of protestors has been declamatory. The right-wing government recently voted in the Nation State Law, rendering everyone not Jewish, including significant Muslim, Christian, and Druze minorities, second-class citizens. The situation feels more intractable than ever. So, why ask anyone about their dinner?
Thing is, prior visits have battered preconceptions, reminding me that humans here—Jewish, Muslim, Christian; Israeli or Palestinian—are individuals, too. Most of whom want outsiders to understand their unique relationship to this land. As for the manifold, incestuous cuisines—everything you've heard is true: the Holy Land is blessed when it comes to food.
---
My invitation to Israel came via the Jerusalem Season of Culture: a progressive, not-for-profit arts organisation, which annually hosts the multi-disciplinary, multi-faith 'Mekudeshet' festival. The team also works year round on securing meetings between residents—a Haredim woman and a Muslim man, for example—who would never usually acknowledge each others' existence. Occasionally, they arrange discreet dinners, which, as Riman Barakat, the activist heading up Palestinian and East Jerusalem relations, tells me: "… allow people to open up; then, relationships develop. It's amazing how quick it is."
I ask her about the impact of the anniversaries, protests, and Trump's decision to move the US Embassy to Jerusalem. "There were some very difficult moments, but we've developed a kind of resilience," she says. "It's the product of persistent work building trust that is stronger than the situation."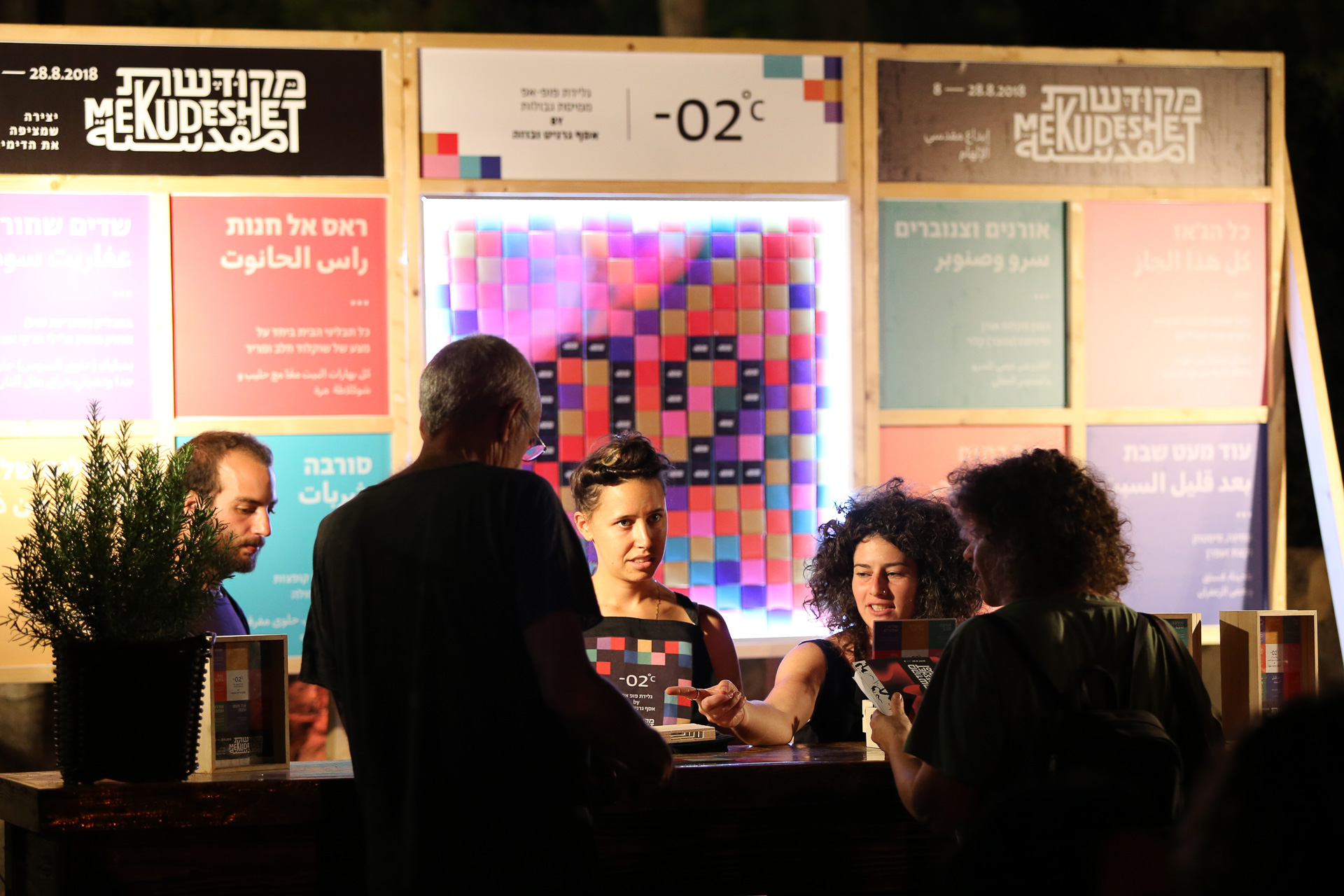 After 'Demonstrate Restraint', an excoriating dance premiere by feted choreographer, Yasmeen Godder, I sample 'Almost Shabbat'—a tahini, pistachio and saffron flavoured, 'Dissolving Boundaries' ice created for Mekudeshet by renowned Jerusalemite chef, Assaf Granit.
During my travels, in Jerusalem, Bethlehem, Acre, Caesarea, Tel Aviv-Jaffa, and in between places; in homes and hotels, at restaurants and street stands; whether feast or snack—tahini flows freely. Sometimes, it's the appetiser, rousing hunger from heat comas atop tabun-baked pitta. It's down with playing bit-parts: teased into dressings to adorn charred vegetables; binding falafel sandwiches; a sublime foil for boiled eggs and fried fish alike. And, undeniably, a scene-stealer when enshrined in halva, or as the silken heart of hummus. By the end of the trip, I have a full-blown dependency.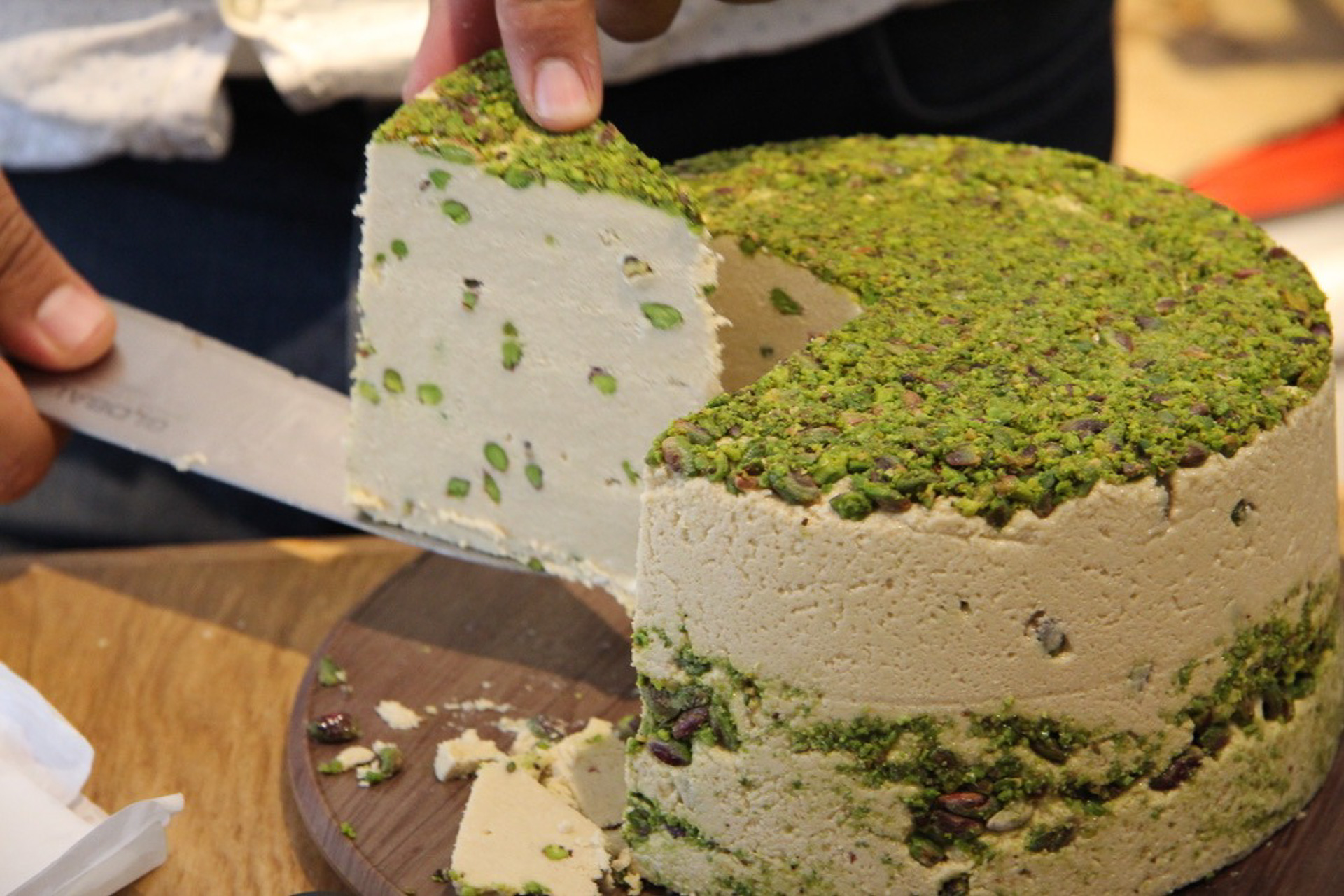 ---
Twice, I happen upon its making. Once, on a spontaneous (secret) tour of Jerusalem's labyrinthine Old City. The second instance is wholly intentional—a pilgrimage, even, to Al-Yasmin, Kamel Hashlamon's tahini factory in the Arab village of Abu Ghosh. The Lebanese chef grew up in East Jerusalem, and having honed his craft in fine dining kitchens, opened his own restaurant, Turqouise. His Lebanese and Arabic dishes accrued plaudits; the place was swamped. Alas, a dispute forced his exit, then the 2014 war nixed an incipient collaboration with Granit that would have brought Palestinian and Israeli flavours to the table, together: "Not in the name of peace; just 'Good Food'," he says.
Nevertheless, Hashlamon's besotted with his artisanal operation. His handsome, sesame-grinding millstones were hand-made by a Syrian mason who fled to Istanbul during the war, and the perfectionist chef apprenticed in Nablus, Palestine's tahini capital. The milling is mesmerising, and it's a luxury to taste his creations, including: raw, white tahini; red tahini, made of roasted seeds, and a 'hardcore' black recipe of 30% sesame, 70% Nigella seeds. "It's an ancient Arabic medicine called Habbat Al-Barakah, the Holy Seed," explains Hashlamon. He also makes halva ( halawa), the addictive tahini confection that's popular across the Middle East, and adored by Jews, worldwide, too. I have a serious weakness for it, but have never sampled any that melts in the mouth like his.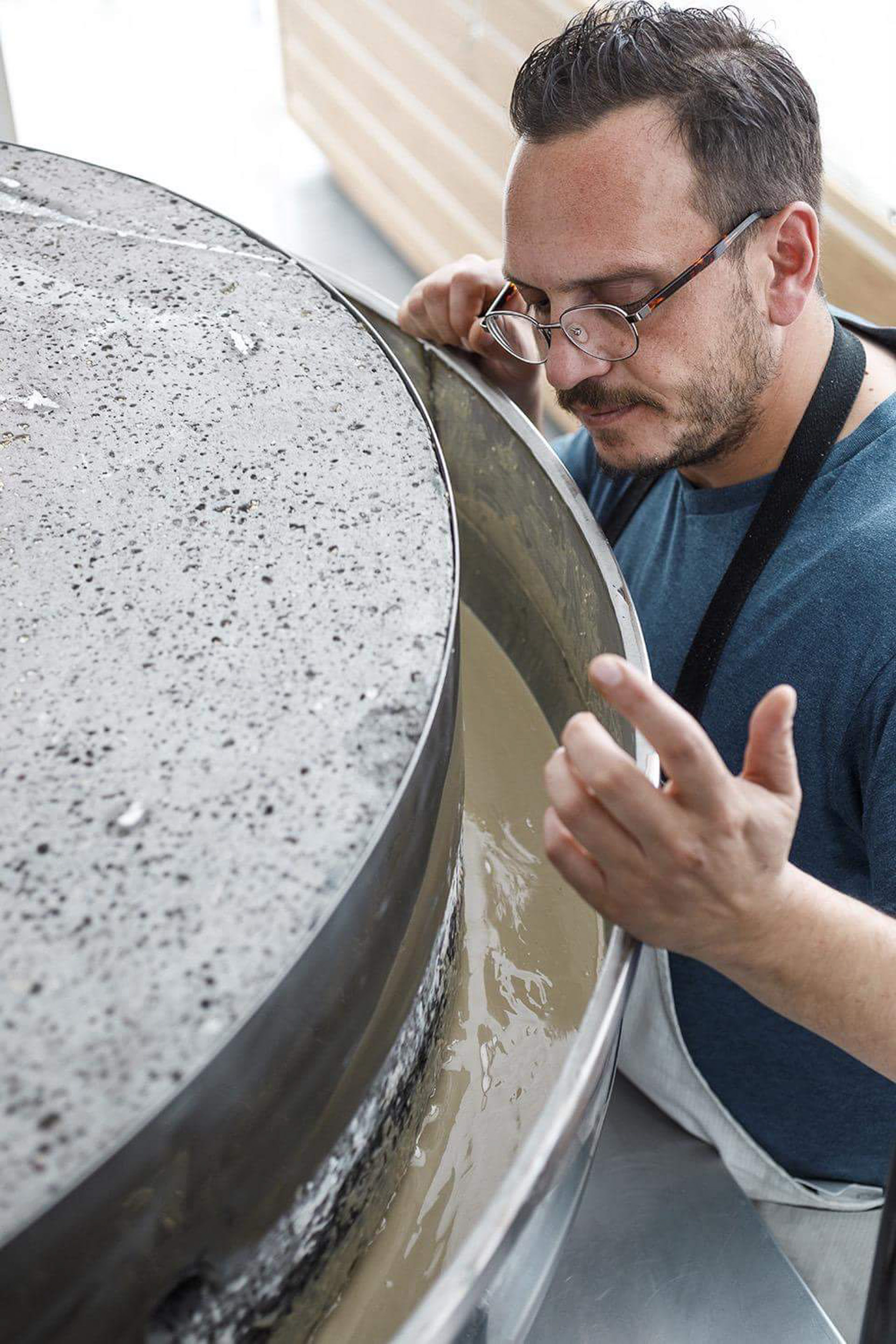 Back in Jerusalem, I enter a haven of a book cafe, Bassam Gallery, to meet up-and-coming chef, Izzeldin Bukhari, whose family originally emigrated from Uzbekistan to teach Sufism. "Our centre functioned continuously for 400 years," he says. "It was a community, with spaces for pilgrims to stay. Every Thursday, we'd cook 'pilav' rice, and after meditation, everyone would eat. Feeding people is part of my heritage." It's also a tenet of Sufi spirituality, as Bukhari says, "In Sufism, they say it's the highest form of worship, because although it's not prayer, it's necessary for survival, and so is appreciated by the God and Universe."
Missing authentic Middle Eastern fare while studying in America, Bukhari taught himself to make beloved foods, beginning with falafel and hummus, and swiftly realised cooking was his calling. He progressed from Palestinian staples such as mujaddara (a lentil, rice, and fried onion dish) to hosting supper clubs with globe-trotting menus. After his esteemed peacemaker father died, he returned home and merged heritage and passion into 'Sacred Cuisine', a roving, ethical, vegetarian/vegan business.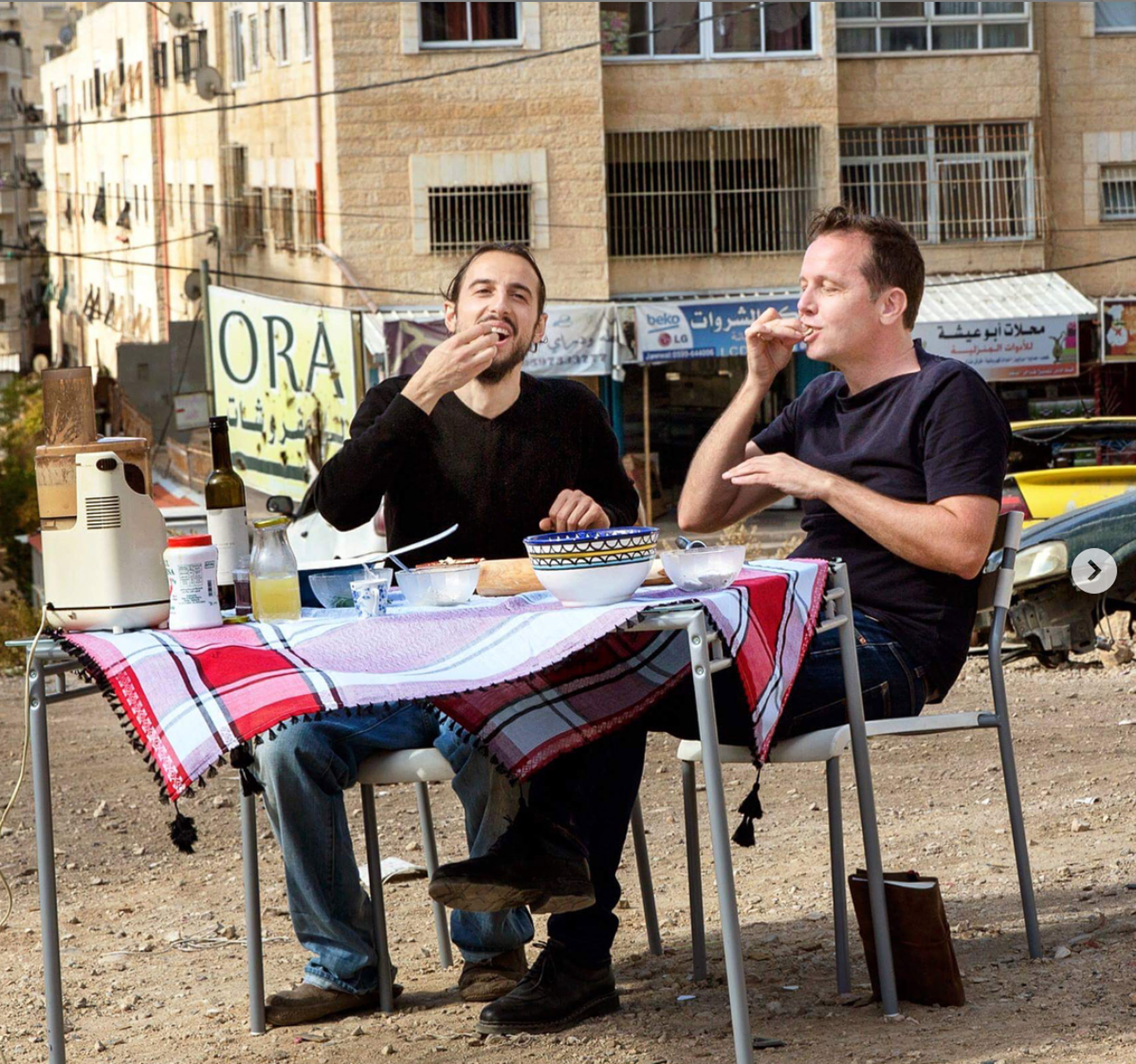 Does he feel that certain notoriously contentious Levantine foods, like hummus and falafel, really 'belong' to any one culture? "We—Jews, Muslims, Christians—grew up here [over thousands of years]. Of course, everyone made hummus and falafel. The Israeli kitchen is forged of recipes from everywhere, but that doesn't erase them from elsewhere. We take from each other and add our own touches, which is how tradition and culture come into being."
---
It's in Bethlehem, in Palestine, that I happen upon mujaddara again, during a visit with Noor Women's Empowerment Group (NoorWEG) in Aida Camp. I've been to the West Bank before, but the brutish concrete border wall grows no less harrowing to behold. I cross at Checkpoint 300. It's marginally insane that all it takes is to pass through a turnstile—it's fully insane that I have the freedom to move in and out and through these lands, while their inhabitants are restricted to varying degrees.
Over mint tea and fig cookies, NoorWEG founder, Islam, shares their extraordinary progress. She has a disabled son. Not long ago, there were zero provisions for disabled children, and scant means of raising funds, especially for women. In 2010, Islam gathered with fellow mothers of disabled children to offer Palestinian cooking classes to visitors. They've since financed a well-staffed rehabilitation and therapy centre that regularly treats 45 children, and assists around 150 more. The empowering effect on the women has also been profound, and trickled out to benefit the wider community.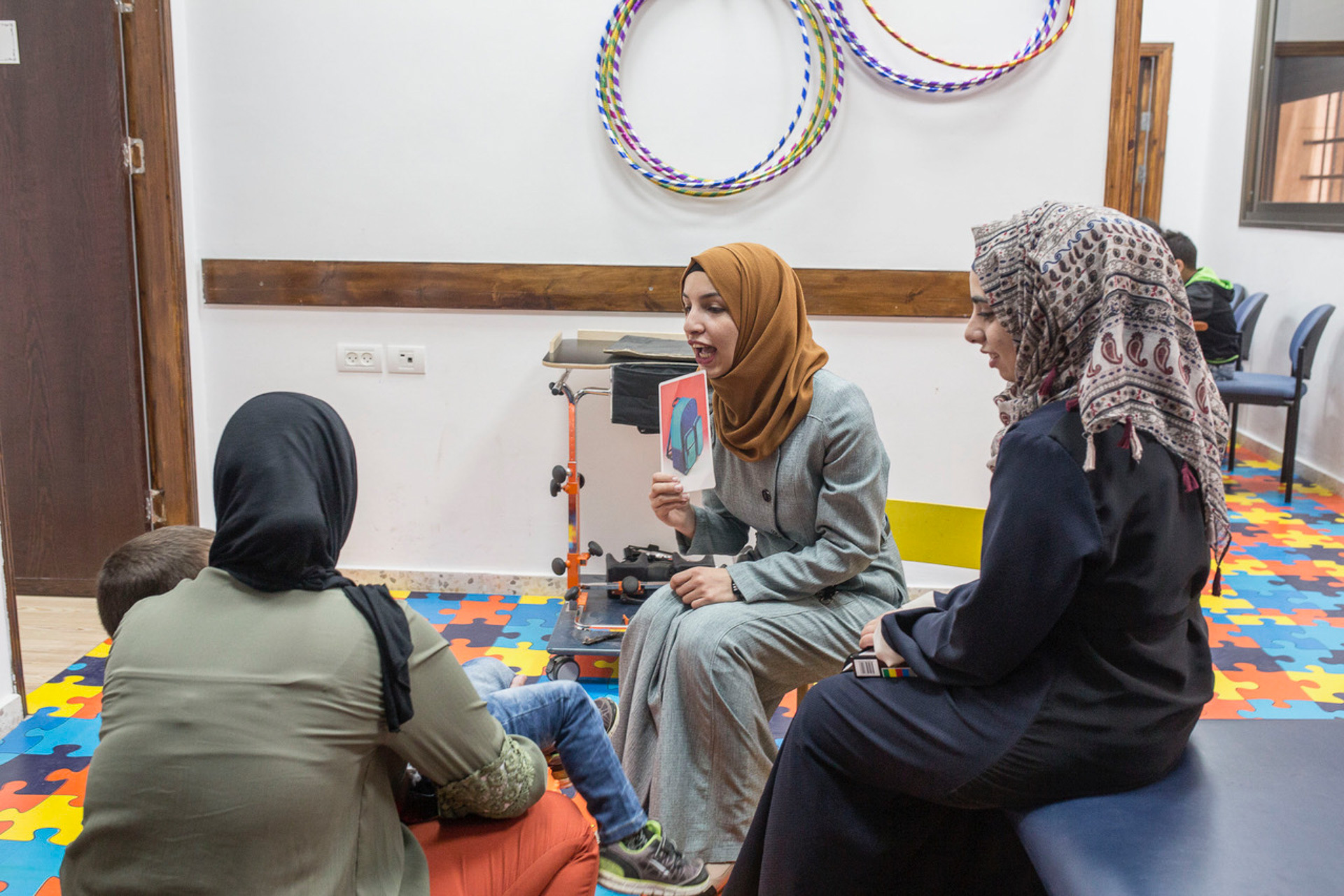 In their teaching kitchen, Islam instructs me in a menu of mutabal (aubergine dip), mujaddara, and salads. "Everyone cooks mujaddara here," she says. "This is because lamb is very expensive, so instead they love cooking with vegetables, beans, and lentils." As we dice onions and char aubergines, she divulges how mujaddara recipes vary between cities, and tells me of the people they host, including kosher Jews. "I love it. I'm happy for them to come, because most people don't think about the refugees—about what that really means, they think that the camp is like a city."
Islam also relays details of her loved ones' lives—both her and her husband's families were expelled from a village near Hebron. "Those who arrived in 1948 cry when they speak of Bayt Natiff. We didn't experience that change, but when we say, 'We love Bethlehem', they say, 'No, Bethlehem is bad.' Life is difficult, because, as you see, households are very poor, and the children have nowhere to play." She fills me in on additional troubling realities, including her fears for their schools should Trump pull America's contributions to the UNRWA, which provides basic services to all refugees in the Occupied Palestinian Territories. (He would make that ghastly decision days later.)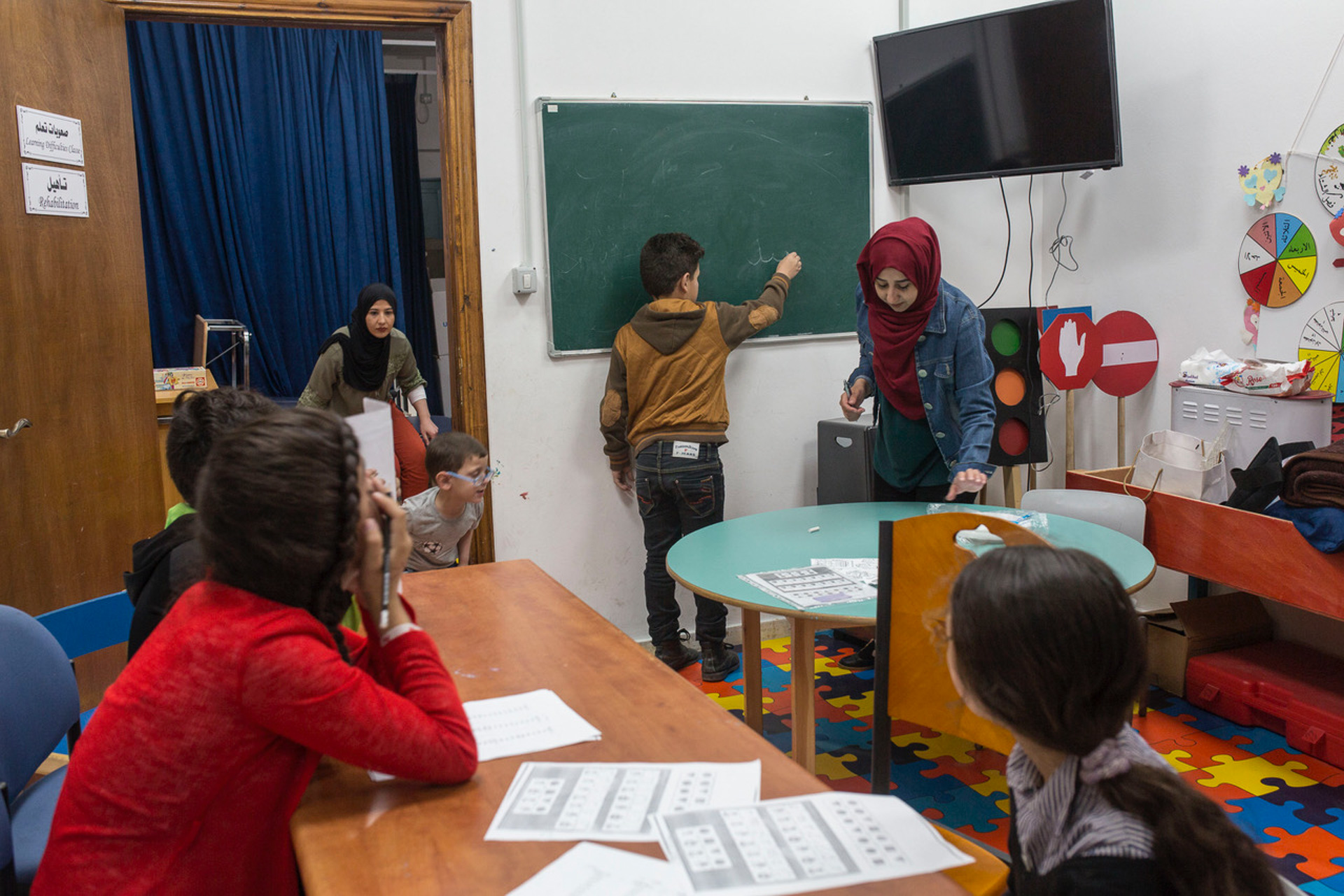 It's an impactful and revelatory, but also warm, few hours of cookery while Rua, Islam's scholarly daughter, and friendly English volunteer, Aatikah, work on NoorWEG's website. As we begin to eat, silence—the best sign. The spread of hearty, fragrant mujaddara; smoky, light mutabal, and tangy, tahini-dressed salads has us reaching for multiple helpings. Sated, we linger over plump figs and coffee, before Rua gives me a devastating Camp tour.
Having smoothly reentered Israel, a privilege of being a white person with a European passport, I realise Mekudeshet's closing concert, 'Kulna' (All of Us), featuring Israeli, Palestinian, and North African musicians, is beginning. The music's bewitching; the atmosphere, jovial. Yet I'm not entirely present. Perusing a stall menu, I spy 'mujaddara' and balk, recalling someone saying that the Israelis take everything from the Palestinians: food, included. But upon realising it's made by Ofaimme, a sustainable farming enterprise, I swallow the vitriol. With its diminutive black lentils, it's a world away from Islam's family-style recipe.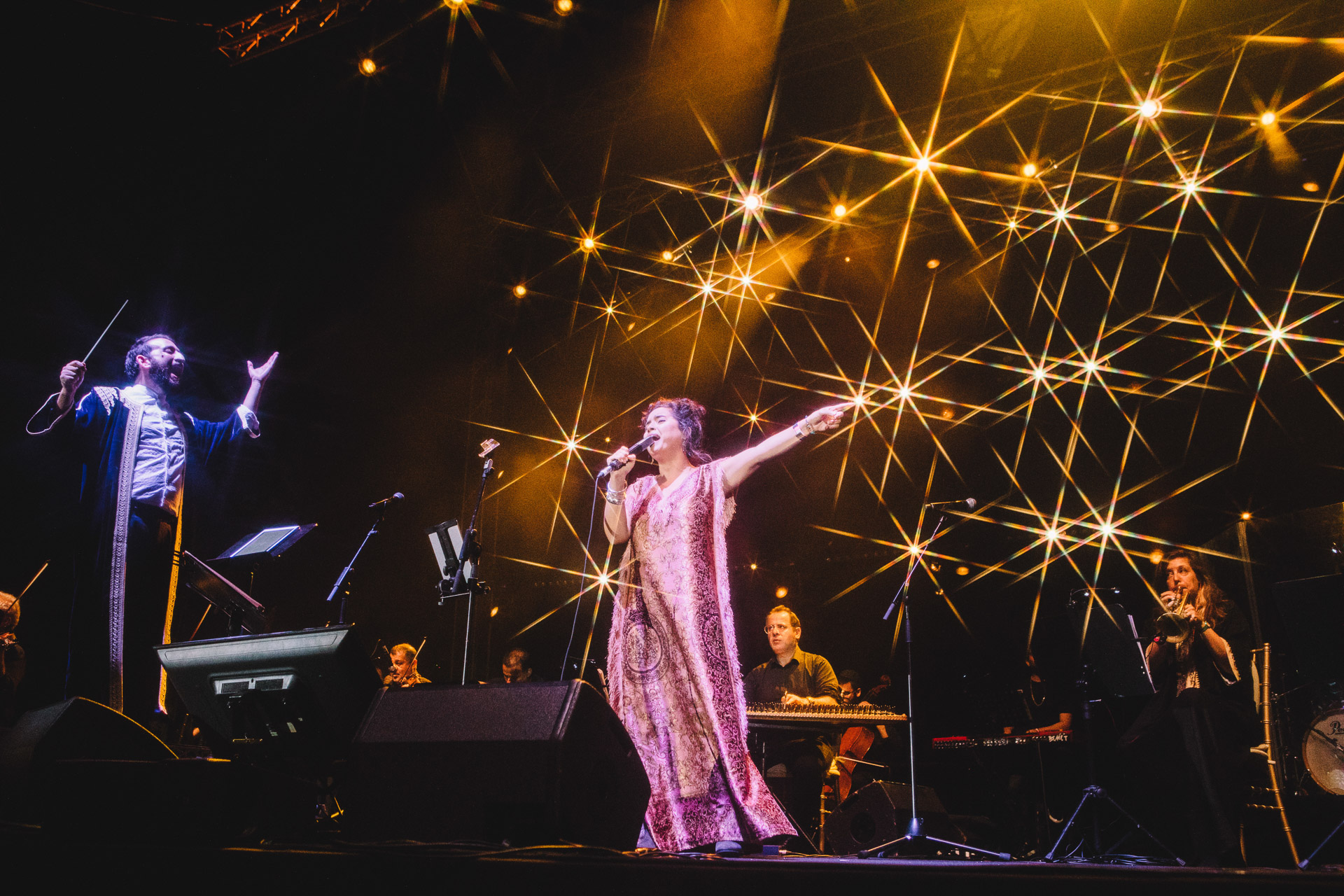 ---
In the thriving, modern marvel that is the ancient port of Acre, I learn from Uri Jeremias Buri, fish cook extraordinaire, Byzantine expert, and owner of the Ottoman-era Efendi Hotel, that mujaddara has been enjoyed here since the 13th century. As we stroll the captivating stone warren of homes, cafes, and mosques, delicate floral scents intermingle with heady wafts of dishes being prepared for Eid Al-Adha. Unusually, for Israel, there's nary policeman nor soldier in sight.
Between holiday greetings with vendors, Uri explains how he puts his belief in coexistence - forged upon mutual respect - into practice, by, for example, hosting religious leaders and lecturing school teachers. "If I've contributed a fraction of a percent to what happens today in Akko and the Galilee, then I've done something with my life," he says.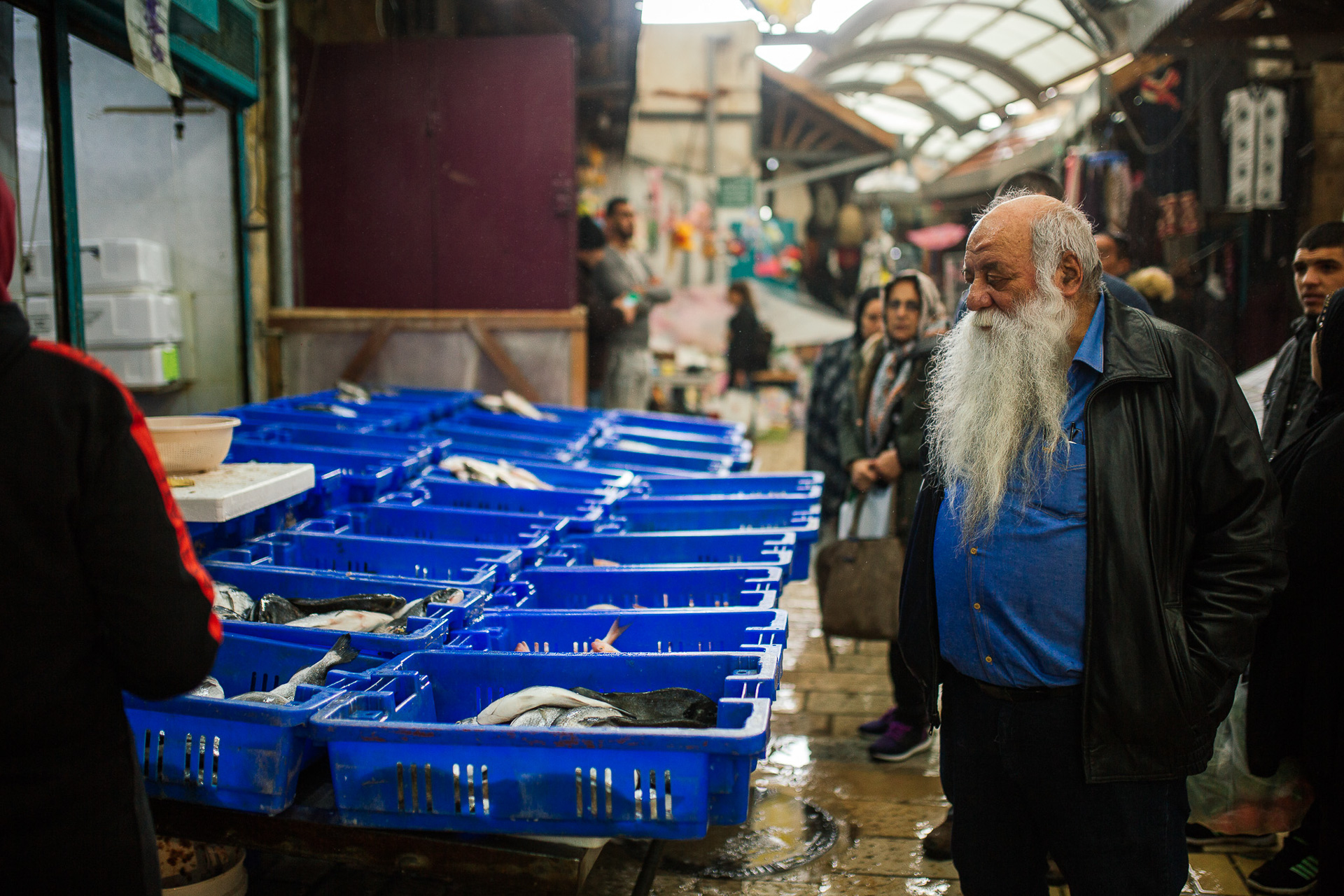 Back at Uri Buri Restaurant, an accomplished, original fish lunch follows. Heading up the kitchen is close collaborator, local Arab chef, Ali Marin. As with the conversation, the food is full of surprises: scallops are drizzled with spirulina; the palate cleanser is arak and marzipan ice: the Middle East meets Mittel-Europe. Is this new Israeli cuisine? Uri refutes the categorisation.
"It's too early to identify Israeli cuisine," says Amos Sion, chef-proprietor of the elegant Helena restaurant in Caesarea, my next port-of-call after Acre. We'd intended on visiting his Arabic fish suppliers, but: Eid. And so, instead, we clamber onto the pier from where he points out the fishing village, Jisr al-Zarqa, and the shoals of anchovies in the turquoise sea. "In some places, people think hummus is Israeli, it's not. [We're influenced by] Ashkenazi Jews; those from Morocco, Ethiopia, and Russia, and our neighbours: Syria, Jordan, and Lebanon. It's an evolving melting pot." As for his pots, he's devoted to celebrating hyperlocal ingredients under the guise of contemporary Israeli cooking—in a restaurant whose architect was Herod.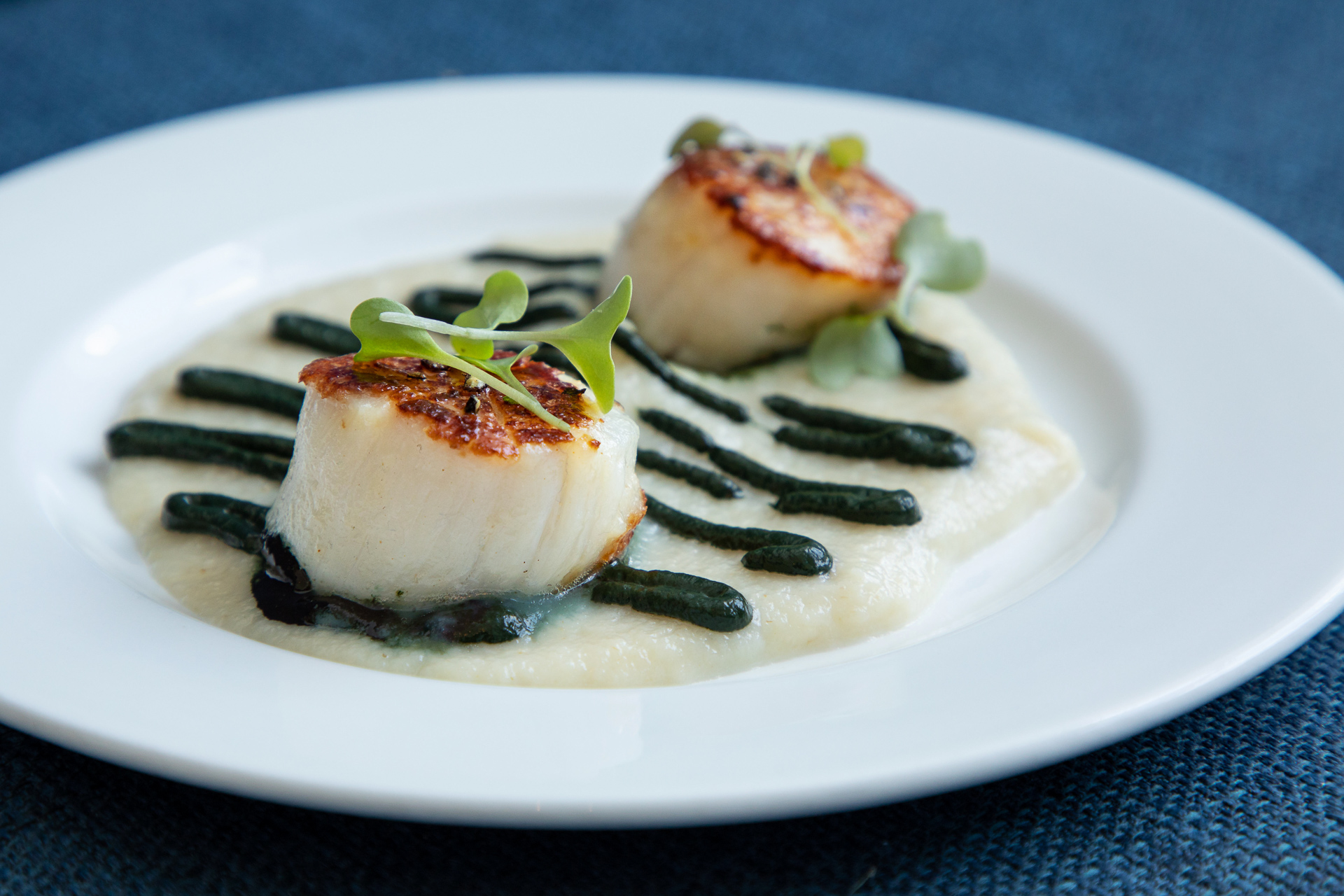 Over watermelon salad with sheep's cheese; calamari with za'atar, okra, and zhug, and tahini ice cream with date syrup and halva—"happy food"—Sion enlightens me on how food facilitates communal ties. Each year, he participates in the A-Sham Festival, which sees Arabic restaurants in Haifa host Jewish counterparts. He held Ramadan Iftar suppers here with Nof Atamna, the Arab Israeli Masterchef winner, and recently invited Palestinian chef, Omar Alwan, to guest chef. "I vehemently believe we can live well together," he says. "I have best friends, best cooks, and best suppliers from here, Ramallah, and Jenin."
---
On the bus back to Tel Aviv, a tanned girl whose handbag is adorned with a cute raccoon trinket naps next to me—she also has a machine gun. Teen soldiers are everywhere, and I've not adjusted to seeing them getting coffee with their weaponry. At least, I've made my peace with the heat. I schlep to Carmel Market. The endless maze of fruit and vegetable sellers, spice stores, street food stands, tat vendors, and small-batch beer bars is heaving. I duck out to fetch an etrog (citron) juice from the 'Medicine Man': sababa.
Hovering at the market's periphery, I'm summoned to join the table of a cheerily-attired, elder lady. It turns out she's Julie Ozon, owner of Julie's Egyptian restaurant. Over a tantalising herbaceous salad, Yemenite bread, and yup, tahini; between conversations with beaming diners, she discloses personal tidbits. Having fled Egypt with her family in 1949, she married a fellow Egyptian Jew in Israel; tragically, her husband died.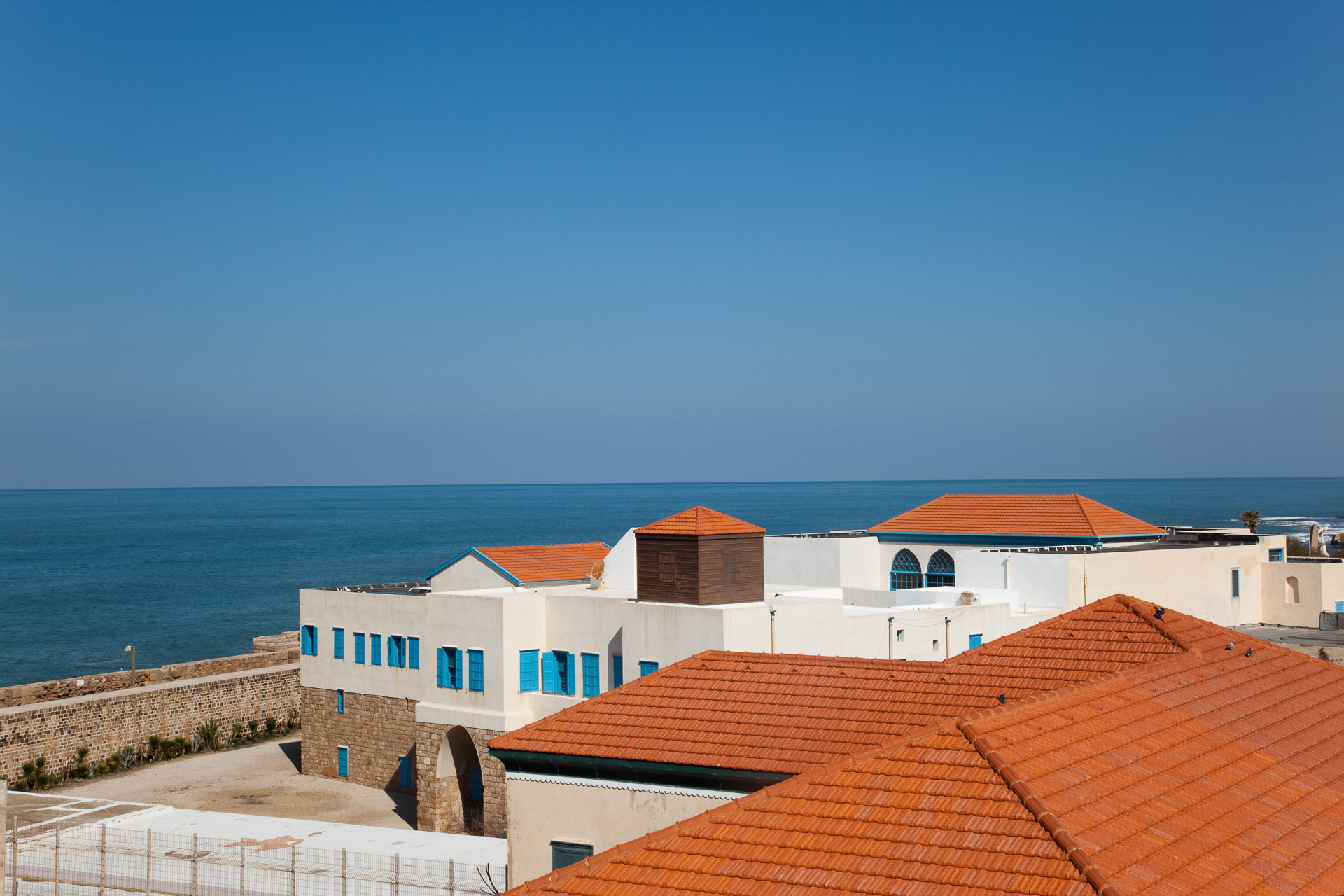 Sometime later, she drew upon her cooking skills to support herself. Her daughter works here too, but Julie still rises pre-dawn to purchase ingredients, before cooking till 11am, then: "I stay and speak with the people. My heart is open to everybody," she says. Heart-warming. Then I overhear dark words about how Arabs should stick to their own nations—and my heart sinks.
Weeks later, back home, reading of fresh conflagrations in Gaza, I'm re-conflicted about the trip. It was a privilege to meet so many remarkable, regular, generous people. It was amazing to hear their stories, to learn of their people, and try their dishes. I was nourished by every scrap of evidence that disparate population groups are coming together; by every hand that's gently being extended; by understanding burgeoning over meals shared.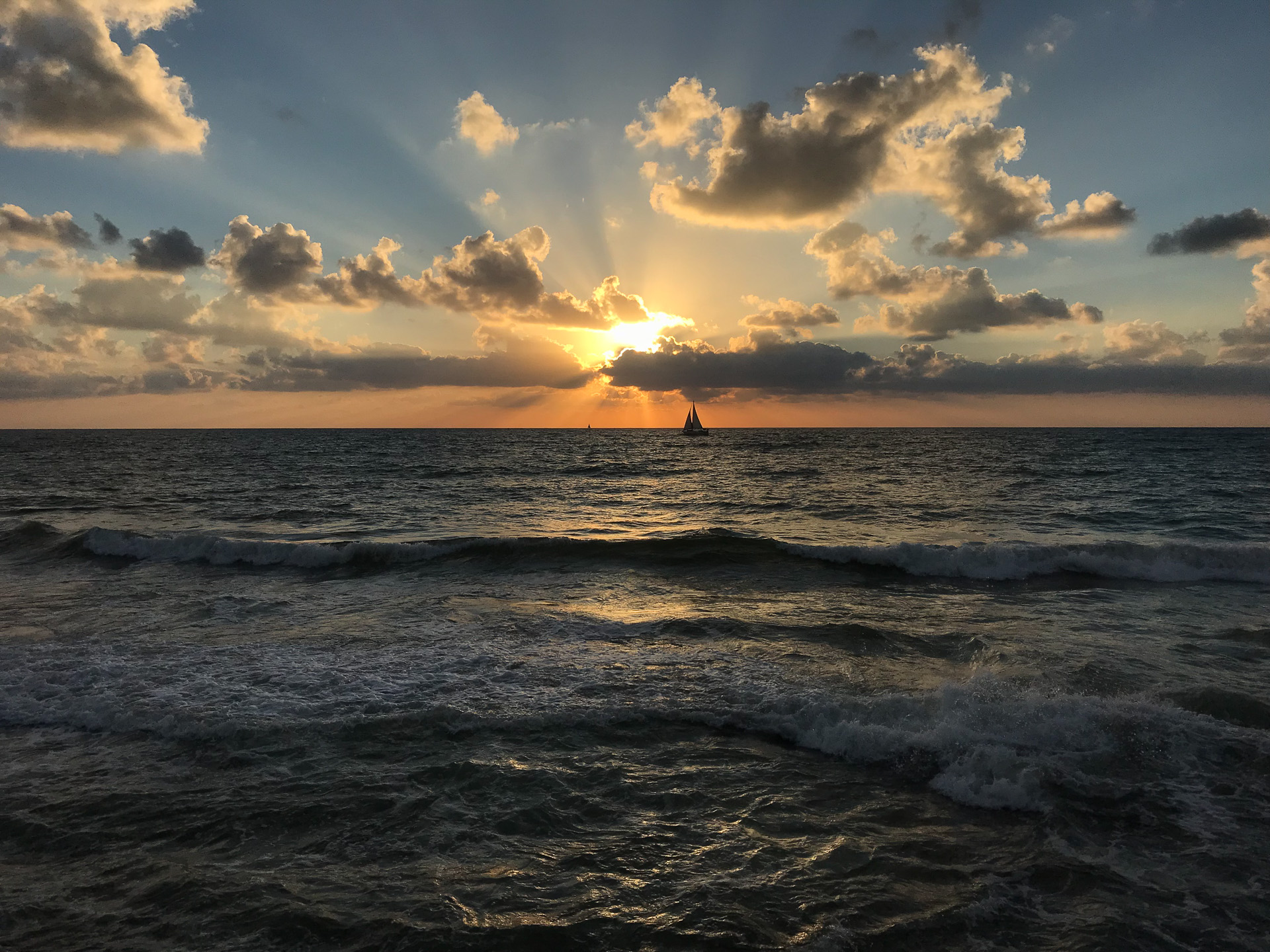 But—from afar, zooming out again and again via the news—the situation appears graver still. And what are my responsibilities when passing on these vignettes? (Especially as a British traveller/interloper.) I suppose, I'm amplifying their goodness, their openness, and so reminding others, as I have to keep on reminding myself, that much like the map is not the territory—the headlines are not the humans.
---
Suze Olbrich is a freelance journalist. Keep up with her on Twitter.
Mekudeshet Festival takes place annually in Jerusalem, find out about future events here.
As well as offering cooking classes, NoorWEG also hosts guests for home stays, find out more here.
Suze stayed in Acre as a guest of the Efendi Hotel; in Zichron Ya'akov as a guest of the ELMA Arts Complex and Luxury Hotel; in Jerusalem as a guest of the serene Villa Ba'Moshava; in Tel Aviv as a guest of the Hotel Saul and Fabric Hotel.
In Tel Aviv, Suze dined as a guest of restaurant-contemporary gallery, Beit Kandinof; Oasis restaurant, Bellboy Bar, and Meshek Barzilay. In Acre, she dined as a guest of Uri Buri Restaurant, and in Caesarea, as a guest of Helena. In Jerusalem, she dined as a guest of Satya, and of Assaf Granit's Yudale. She highly recommends dining at all of these places.
Noor Women's Empowerment Group (NoorWEG) is a grassroots, economically independent project that was created by and for refugee women from Aida and Al-Azzeh refugee camps (Bethlehem) who have (or care for) disabled children. They have opened a school for disabled children with the funds earned via their cooking classes. Follow them on Facebook and their blog. You can also check out this short video about Aida Camp and further videos about the cooking classes on their Youtube playlist. To find our more about their school, visit this project site, or take a look at this video.
If you're thinking of visiting Tel Aviv, get in touch with hyper-local concierge, Eager Tourist.