Surfing With Killer Whales in the Arctic
The water temperatures may never rise above 12 degrees, but the eagles, the Northern Lights and the waves make up for it.
Sixty-two miles inside the Arctic Circle in the archipelago of Lofoten, Norway, is Unstad Arctic Surf, the world's northernmost surf school. Founded by Thor Frantzen, who first brought surfing back to Norway in 1962 after a trip to California with his best friend, the water temperatures at Unstad may never rise much above 12 degrees, but the eagles, the Northern Lights and the emptiness make up for that.
A nearby Dan Graham public sculpture—built for the 2013 edition of the Lofoten International Arts Festival—and an 'opera hotel' designed by Snøhetta architects add to the sense that the Arctic is no longer an idea to think about, so much as be in.
With that in mind, Amuse sent photographer Benjamin McMahon to test the waters, while writer Jessica Brinton talked whales, waves and limestone wetsuits with Thor's daughter, Marion Frantzen, who took over Unstad Arctic Surf from her father not long ago.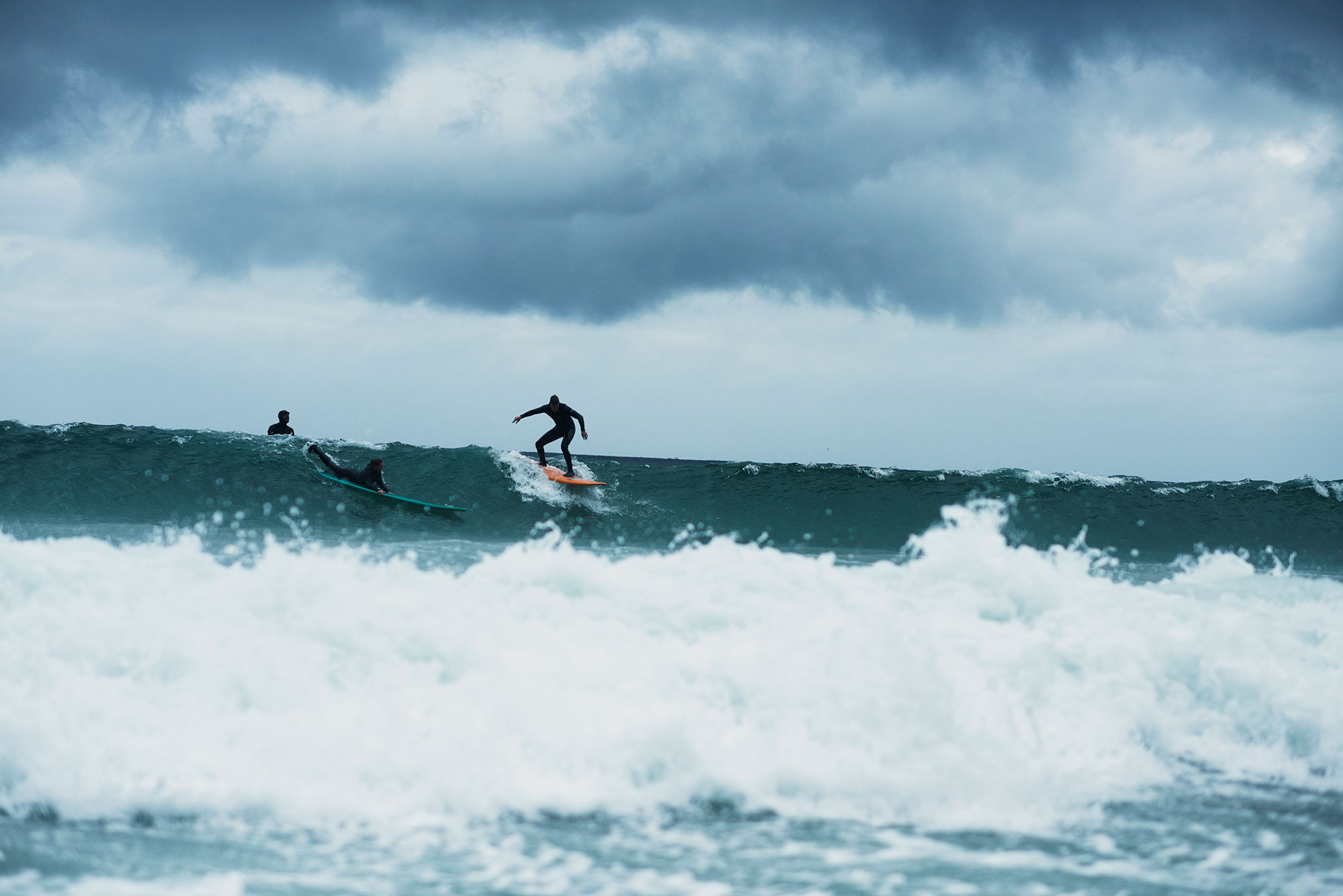 Amuse: What are the waves in the Arctic like?
Marion Frantzen: We have had up to 15 metres long ones. In the Spring, Summer and Autumn, it's nice mellow waves. After September and until June, it's big wave season. We have some of the best left waves in the world.
Is it very cold?
Yes, although we have the Gulf Stream here so, even in winter, the water never goes under seven and a half degrees, which is warmer than the British Isles in winter. Plus we have very good wet suits.
Is it true that in the summer, you can surf under a midnight sun?
Yes, from April until August, you can surf 24 hours a day. It's quiet, and warm, and sometimes there are killer whales looking in, and some eagles passing by. Killer whales only eat fish, so they come into the bay to eat. The water is so clear you can see the fish swimming beneath you. They come here to make babies.
What about when it's dark all of the time in winter?
In the middle of winter, we get a couple of hours of light every day, from 12PM until 2PM. It's a kind of daylight without sun – a grey twilight. There isn't any light pollution so you can see the Northern Lights very clearly. Then on January 7th, the sun comes back. It's a small strip of sun, but the ocean turns blue, and the mountains with snow on go pink. It's crazy beautiful.
Do you need any special kit?
We use the best wetsuits in the world. They're made from limestone by an American brand called Matuse, and they're also more environmentally friendly. We are lucky – 10 years ago, cold was a serious issue, but not any more.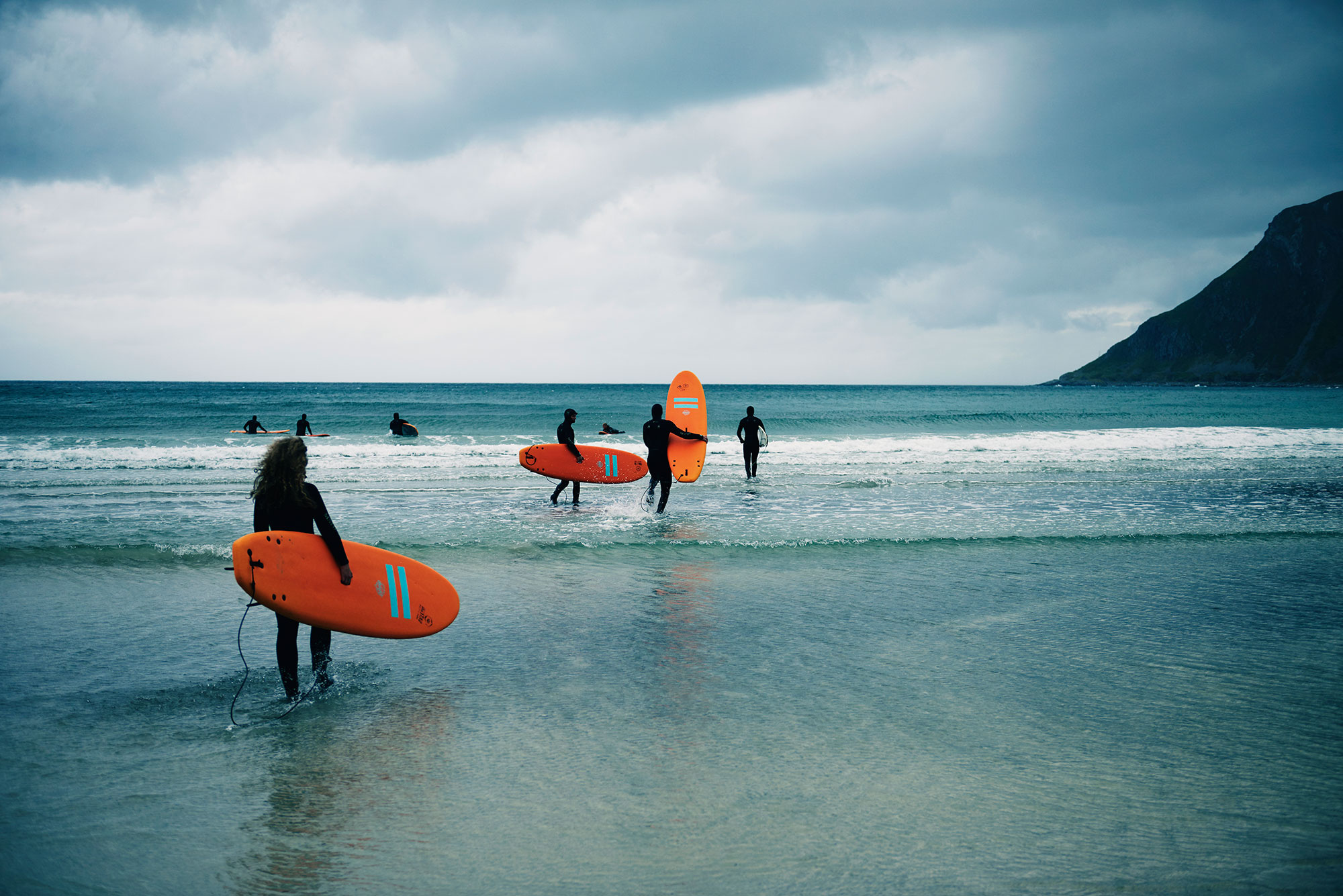 Do pro-surfers ever surf here?
Yes we've had a lot of international people over the years. Pro-surfers tend to travel as teams. They come between February and April. In Cali and Hawaii, you have snack bars, hot girls and a warm climate but you don't get this connection to nature. Here, you have these big mountains and the surrounding valley. It's like the whole sky is opening, and you are almost on your own.
The Arctic is one of the most delicate ecosystems on Earth. Have you noticed any impact from climate change?
The ocean temperatures in summer never would rise above 11 degrees, but these last two years they have reached 13 degrees. We used to get very heavy snow in winter, but now we hardly get any. Something is happening for sure.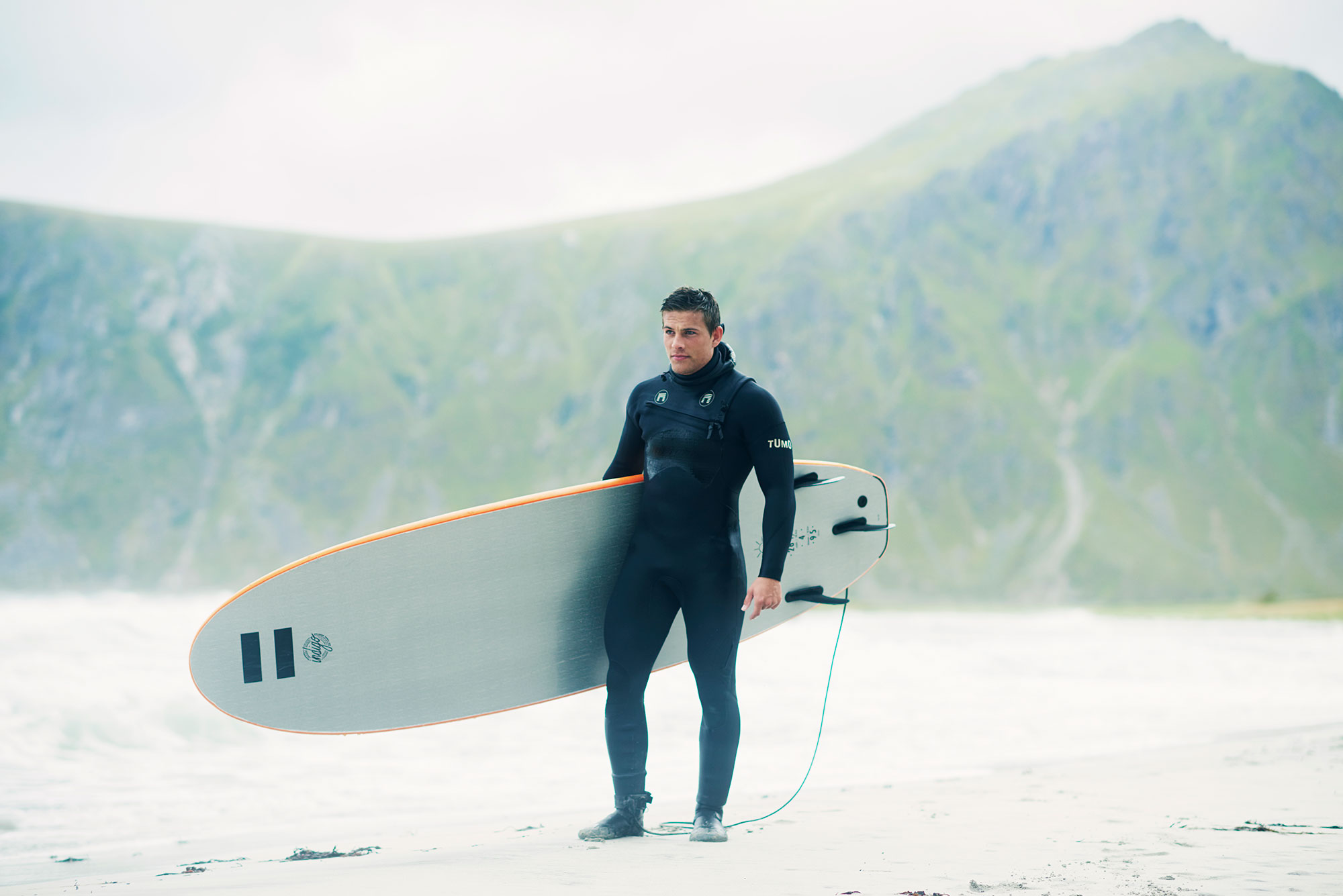 Some surf communities don't welcome outsiders. What's Unstad like?
We limit visitors here to 50 beds, so there's no localism. We have our own club which is called Lofotem Ecstrem Klubb, or LEK, which means "play" in Norwegian and it has its own webcam! But we all meet on the beach and people will always speak to you in the parking lot. We rarely have to queue for waves anyway, and if people follow the usual surf rules, like how to paddle in and how to take a wave, everybody is welcome to be together and share the nature and love.
What do people do after a day of surfing?
For the visitors, we have hot tubs and saunas, and fireplaces everywhere. We give them good brandy and some bacalao [salted, dried cod], or whale meat that has been barbecued or made into a stew. The locals just get in their cars and go home.