Stihia Festival | We Went to a Techno Rave in an Abandoned Ship Graveyard in Uzbekistan
Could this be Central Asia's answer to Burning Man?
"It'll be epic," I said to my colleague Gala, "like the Burning Man of Central Asia – and when it all blows up and becomes the next Coachella we'll have been pioneers. It'll be a story we can tell our grandkids."
The premise was indeed intriguing: a free techno festival in a "ship graveyard" at a dried-up port in the deserts of Uzbekistan, on what was once the site of the Aral Sea. Until the 1960s this 68,000 square kilometre lake, which straddled the borders of the Soviet republics of Uzbekistan and Kazakhstan, was the fourth-largest in the world. Then Khrushchev's government launched a series of large-scale agricultural projects, diverting the rivers that fed it with scant regard for the consequences. The Aral Sea has been shrinking ever since.
The landscape left behind by the disappearing sea is strangely alien – sandy deserts, complete with camels, are dotted with the rusting hulks of stranded ships. In recent years it has developed into a bizarre kind of tourist attraction. But for the communities who used to live on the shores of the Aral, its loss has been catastrophic. Moynaq, where the festival is scheduled to take place, was once the pride of Soviet Central Asia's fishing industry. These days it's a dusty, semi-derelict farming town struggling for survival 150km from the nearest water.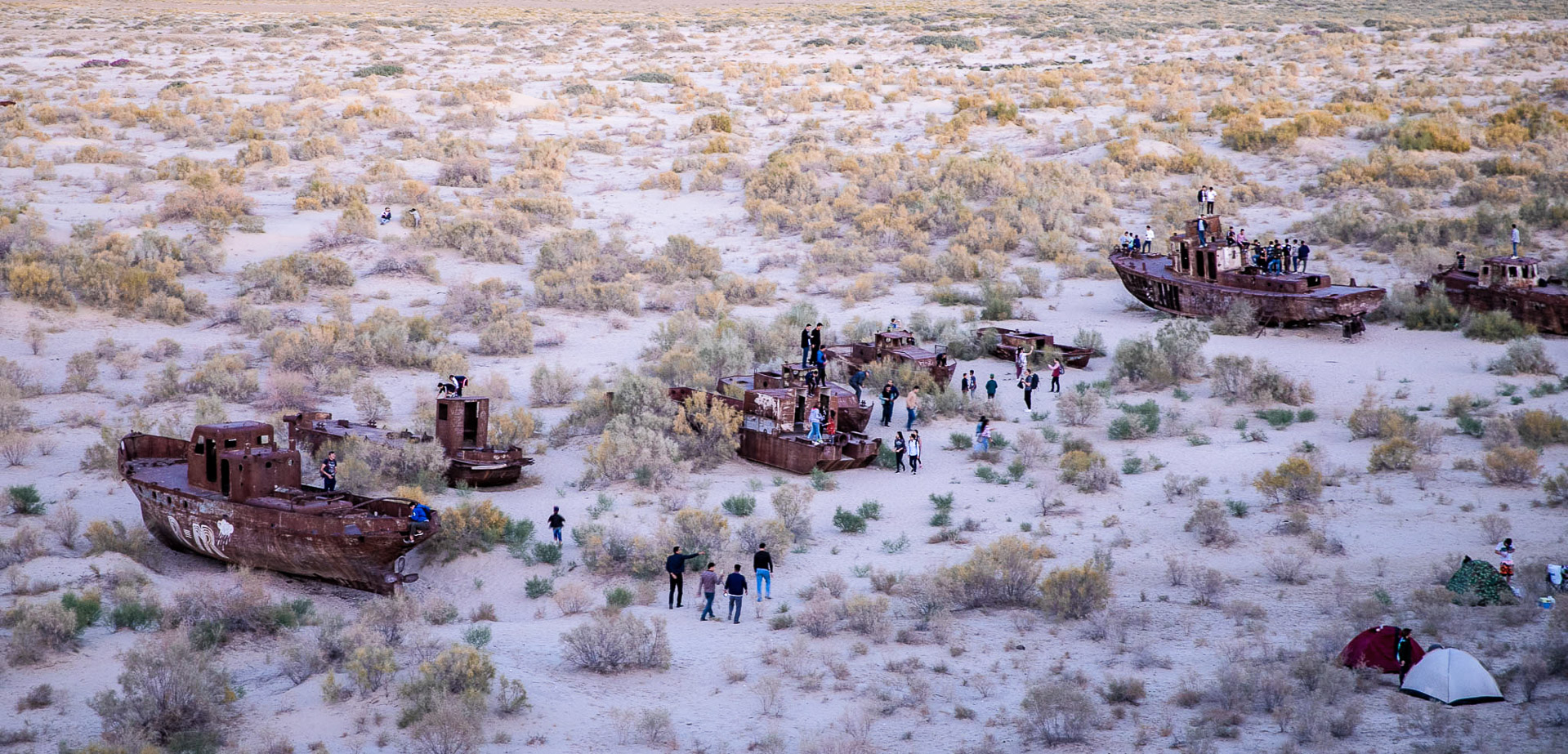 It's a strange place to stage a festival by anyone's standards. But perhaps the influx of people would help reverse the area's decline? The website certainly looked legit. As well the exotic location and Eastern Europe's best techno DJs on a world-class soundsystem, it promised partygoers accommodation in yurts and a free plate of plov (a classic Uzbek dish) for dinner. Surely, I thought, it would be worth a try?
"What if it's all a scam? An elaborate practical joke, or even worse, an Uzbek Fyre Fest?"
Six weeks later, as Gala, my wife Olya and I look down from a terrifyingly ancient Uzbek Airways Boeing at desert below us, I am less sure. What if it's all a scam? An elaborate practical joke, a hipster trap on a monumental scale? Or even worse, an Uzbek Fyre Fest? What if we arrive to find no techno, no plov, no yurts? Just a couple of hundred bemused app developers and freelance graphic designers wondering lost around the desert?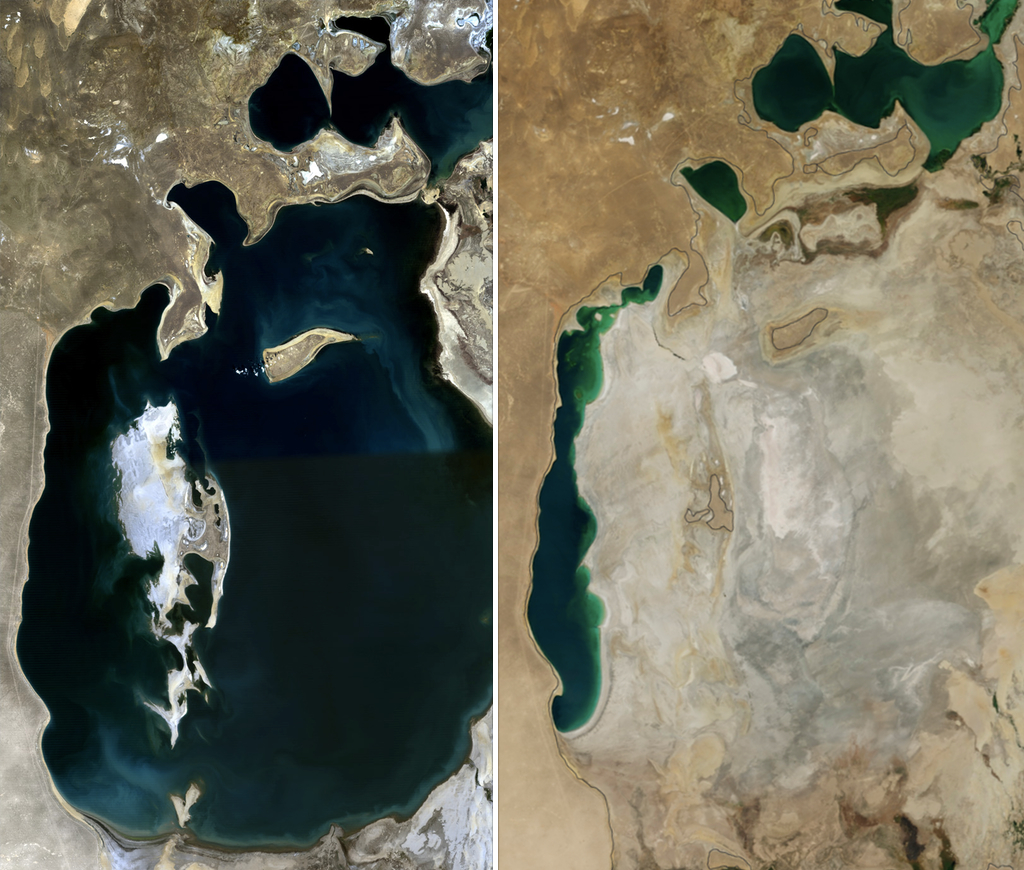 If it is a trap, then we aren't the only ones to be taken in. At the airport in Tashkent, the Uzbek capital, the usual complement of businessmen and flying babushkas are outnumbered by 200 or so tattooed, bearded and dreadlocked revellers.
Nukus, the capital of the semi-autonomous Republic of Karakalpakstan, where we land, seems ill-equipped to deal with this influx of big-city dwellers: in one of the town's few 'cafés' we hear the owner lamenting that they can't serve coffee because "we only have one barista and he's away in Tashkent".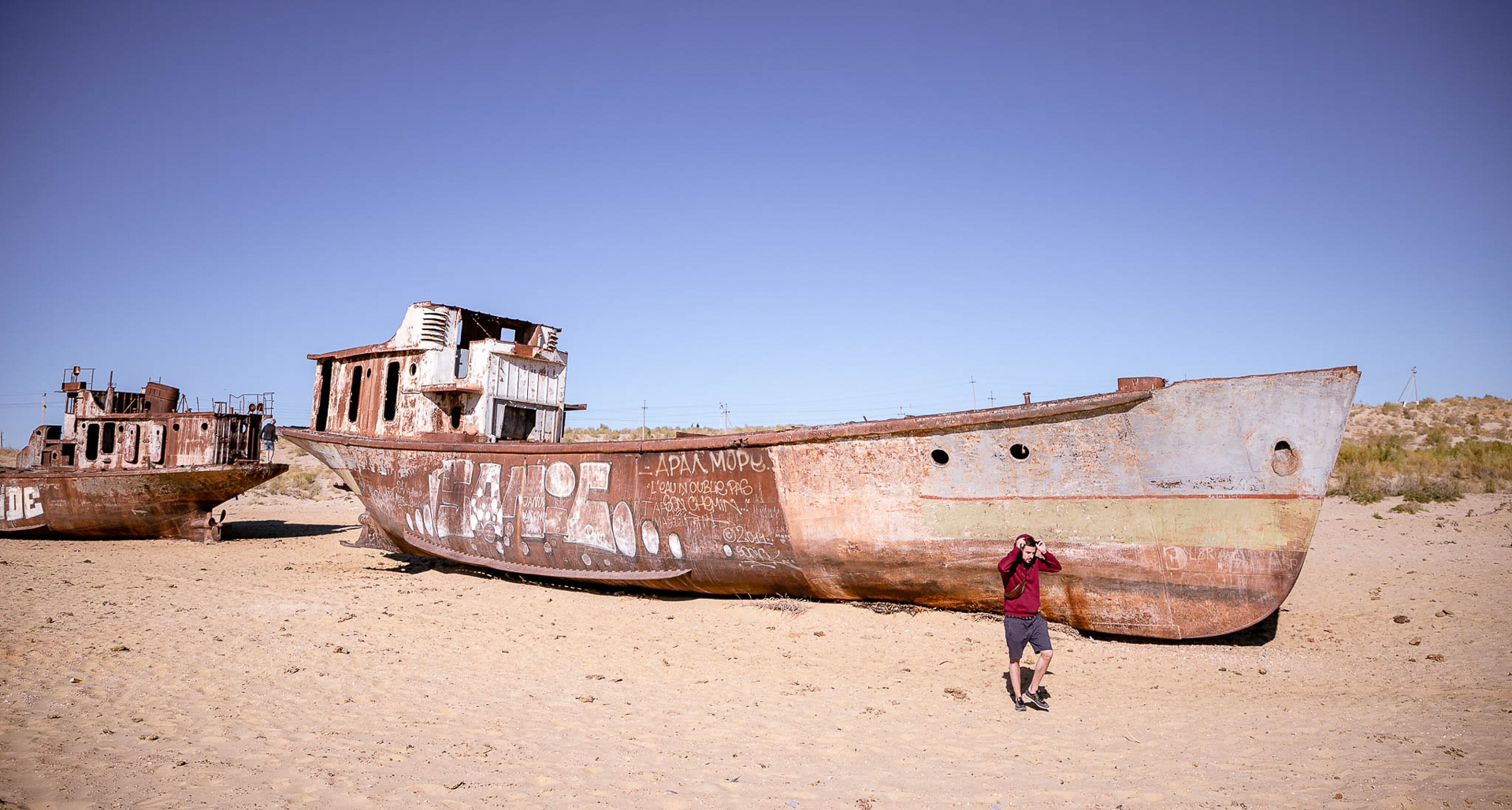 However, the disappointment of missing out on my morning flat white is surpassed by relief as we are registered, issued with wristbands and directed towards a line of waiting minibuses. We haven't been scammed, and pioneer festival-goer kudos are once again within our reach. I'm already starting to plan how I'll brag to my mates back at home.
As our convoy of buses moves out of Nukus towards Moynaq, technically a two- or three-hour drive to the North West, a couple of things become clear. Firstly, that the draining of the Amu-Darya river through excessive irrigation off-take, while fatal for the Aral Sea, has in fact achieved its original aim: the landscape is green and fertile, with fields of rice, cotton and fruit trees everywhere your eye lands. This is a part of the story you don't usually hear.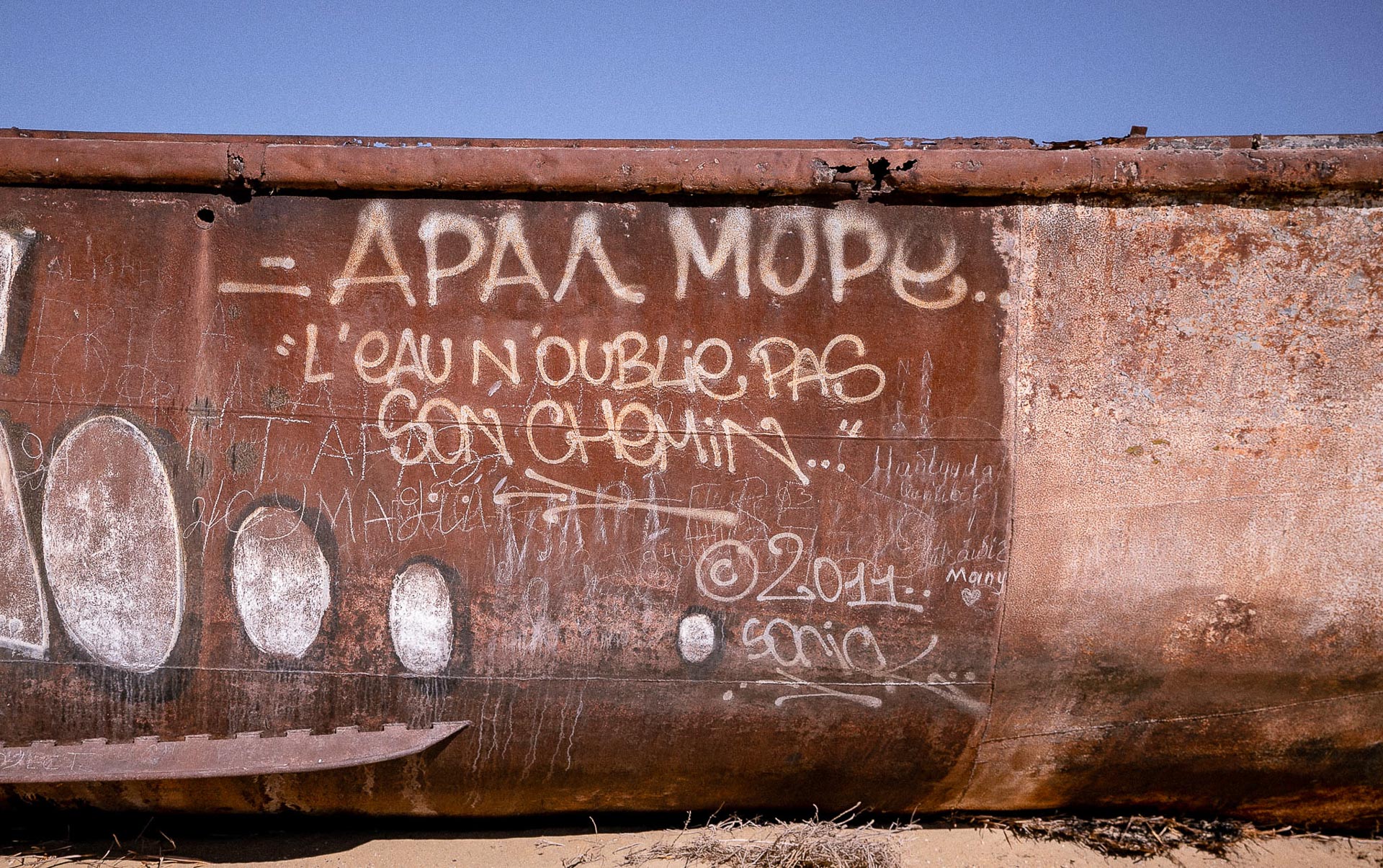 Secondly, it seems the organisers have seriously good connections with the authorities – our convoy is escorted by not one but two local police cars, which stop the traffic at junctions and barrel down the opposite lane forcing oncoming drivers to pull over and let us pass. This, I think, is what being Theresa May must feel like – although I somehow doubt her government chauffeur shares our driver's penchant for Uzbek pop delivered at mind-jarring volumes.
However, police escort or no police escort, a bouncing minibus (or indeed anywhere within earshot of Uzbek pop) is far from a comfortable place to spend a Friday afternoon. In common with most of the other passengers we turn to the local beer to help us through. The resulting toilet breaks slow the convoy down considerably, and as the landscape outside the bus gets progressively dryer, the festival-goers inside get progressively more soaked. By the time we arrive on what was once the sea shore most are well on the way to being drunk, and we have missed the sunset.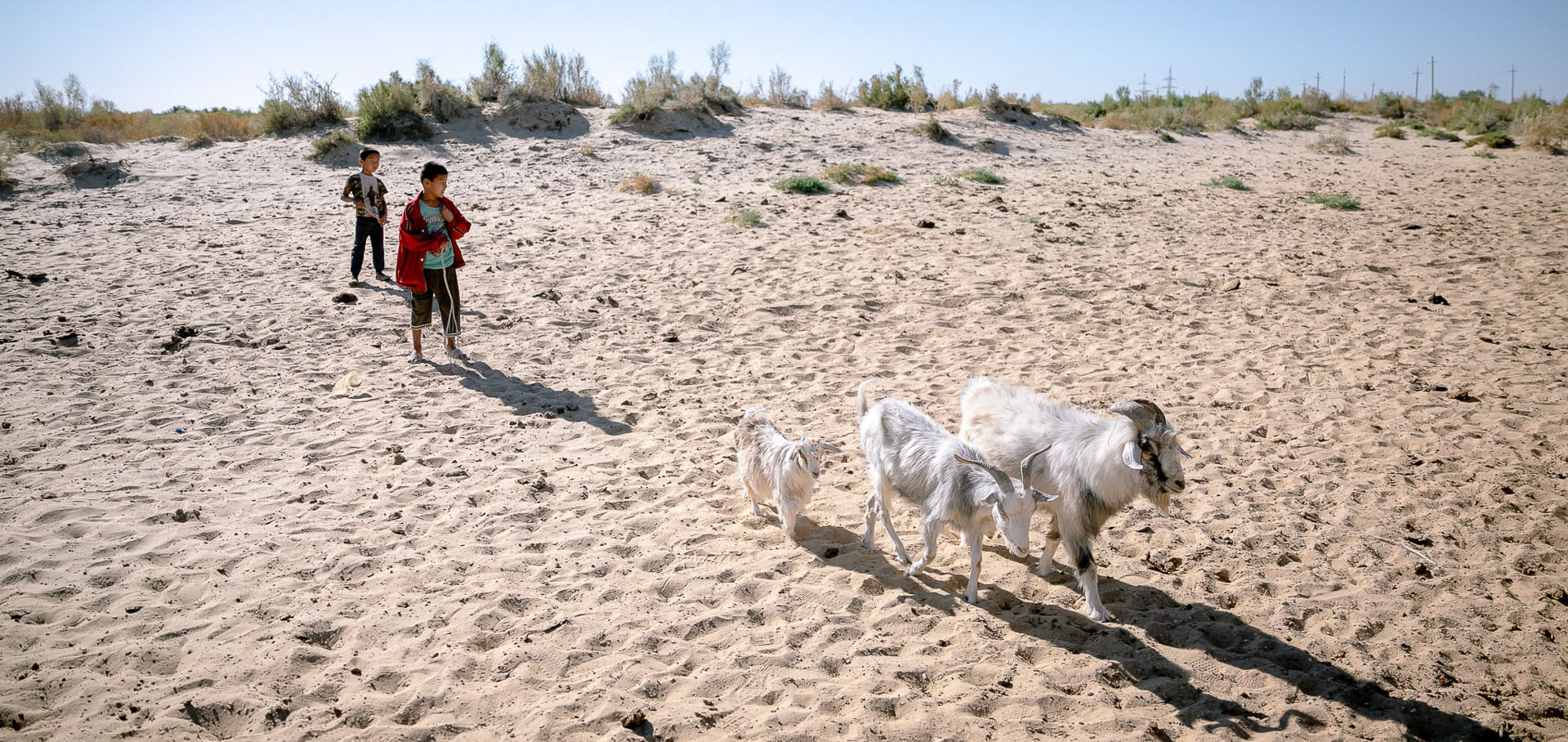 It is also very clear that the festival is not going to be much like most of us had imagined it to be. Yes, there are yurts. Yes, there is a stage and a soundsystem. Yes, there is a fire, from which the appetising smells of plov waft over the 'shore'. But there is also what looks like the entire population of the village of Moynaq. Kids, babushkas, dogs, they've all turned up and want in on the party. This is unexpected.
It is also, apparently, unexpected by the organisers: no one really seems to know what to do. Far from having the atmosphere of an exclusive private rave, the whole thing feels like a Soviet village fete, into which a DJ has been dropped through a time warp. Both groups are looking at each other suspiciously: it's unclear who are the 'freaks' here – is it the local villagers who have so unceremoniously gatecrashed our private rave, or is it the ravers themselves, who in the eyes of the locals probably appear to be from a different planet?
We are here, however, and it's taken us a long time to get here. The only sensible course of action is therefore to crack open the bottles of vodka we bought in Nukus and get stuck in. This we do, and suitably fortified we head across to the stage where, despite the diverse crowd, a party is quickly developing.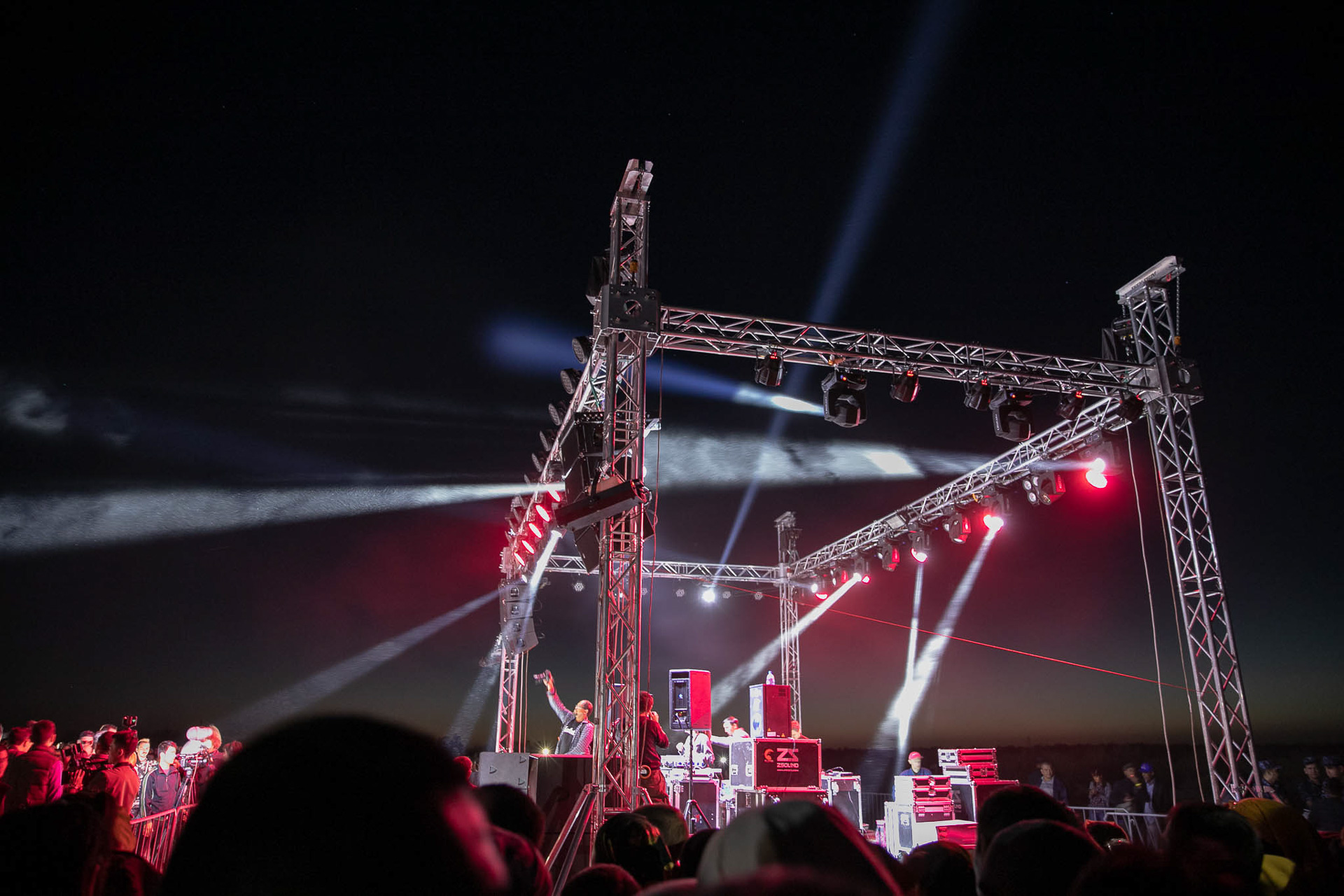 The music is really excellent – HVL, a resident of Tblisi's legendary Bassiani club, is a particular highlight – and assisted by this and the warm beer being sold from the back of a lorry by enterprising locals, much of the distrust evaporates. Everybody gets into the mood – Olya wins a dance-off with some local boys (I lose, badly) and at one point I see a group of babushkas and ravers teaching a toddler to crowd surf. Somebody optimistically tries to send up a hot air balloon – and when the attempt fails they simply park the basket in front of the stage and use it to send jets of flame shooting into the desert air.
I run into Ruslan, a techno fan from Tashkent, who feeds me fish (of questionable providence this distance from the sea, but I eat it anyway) and tells me: "My mates and I drove two days to get here. It's amazing, we're not used to this kind of thing in Uzbekistan – it's the first of its kind. I hope there are many more!" I run into many more people, whose names begin to blur as the booze takes effect, but all are overwhelmingly friendly and enthusiastic about what's going on.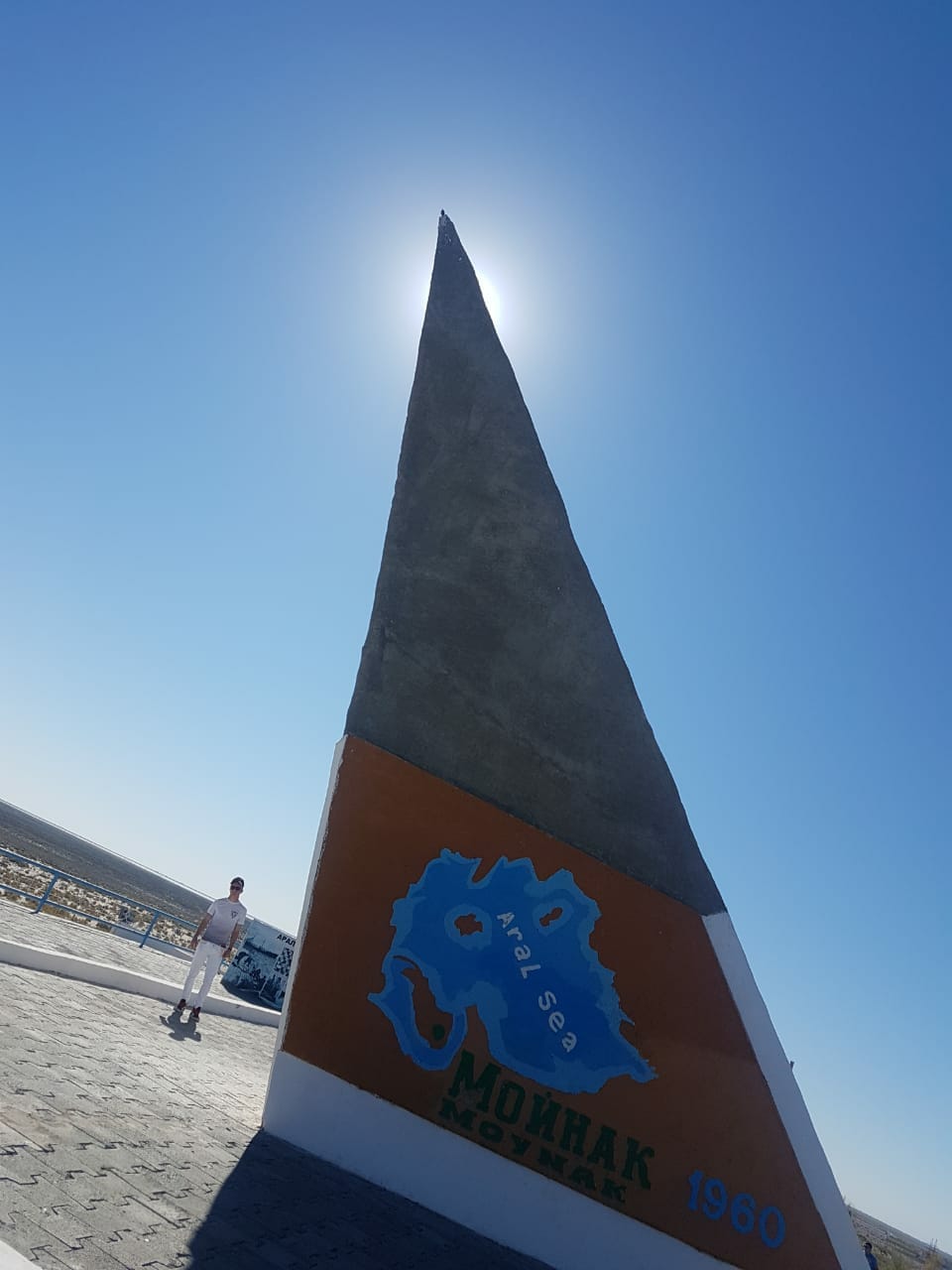 One older local guy starts talking to me about the renaissance of Moynaq and how this sort of thing helps. Then he chats about how he used to fish in the sea as a little boy, and tears spring to his eyes, although I suspect they are fuelled as much by vodka as nostalgia.
As the night goes on, people split off into groups around fires scrounged together from desert grass and shrubs. Most of the Moynaq residents drift off home or pass out drunk in the dunes, leaving the ravers to continue as planned. Eventually at around 1.30am a fight breaks out near the stage and the local mayor – who's apparently been in attendance all night long – demands the whole thing is shut down. We decide to cut our losses and head back to our yurt.
The next morning, waiting for the busses back to Nukus I chat to the festival's organiser, Otarbek Suleimanov. A techno lover and vinyl collector from Tashkent, he organised the whole thing himself and on his own budget. (Despite references to a partnership with UNDP on the festival website it's not clear that they contributed anything at all.)
He seems almost serenely calm, even though it must have cost him in excess of $10k and because of the early finish he didn't even get to play his set. Was he happy with how it went? "Yes although it was a real pain to organise. That soundsystem is the best in Uzbekistan, but it took us three days to get it here on a truck from Tashkent."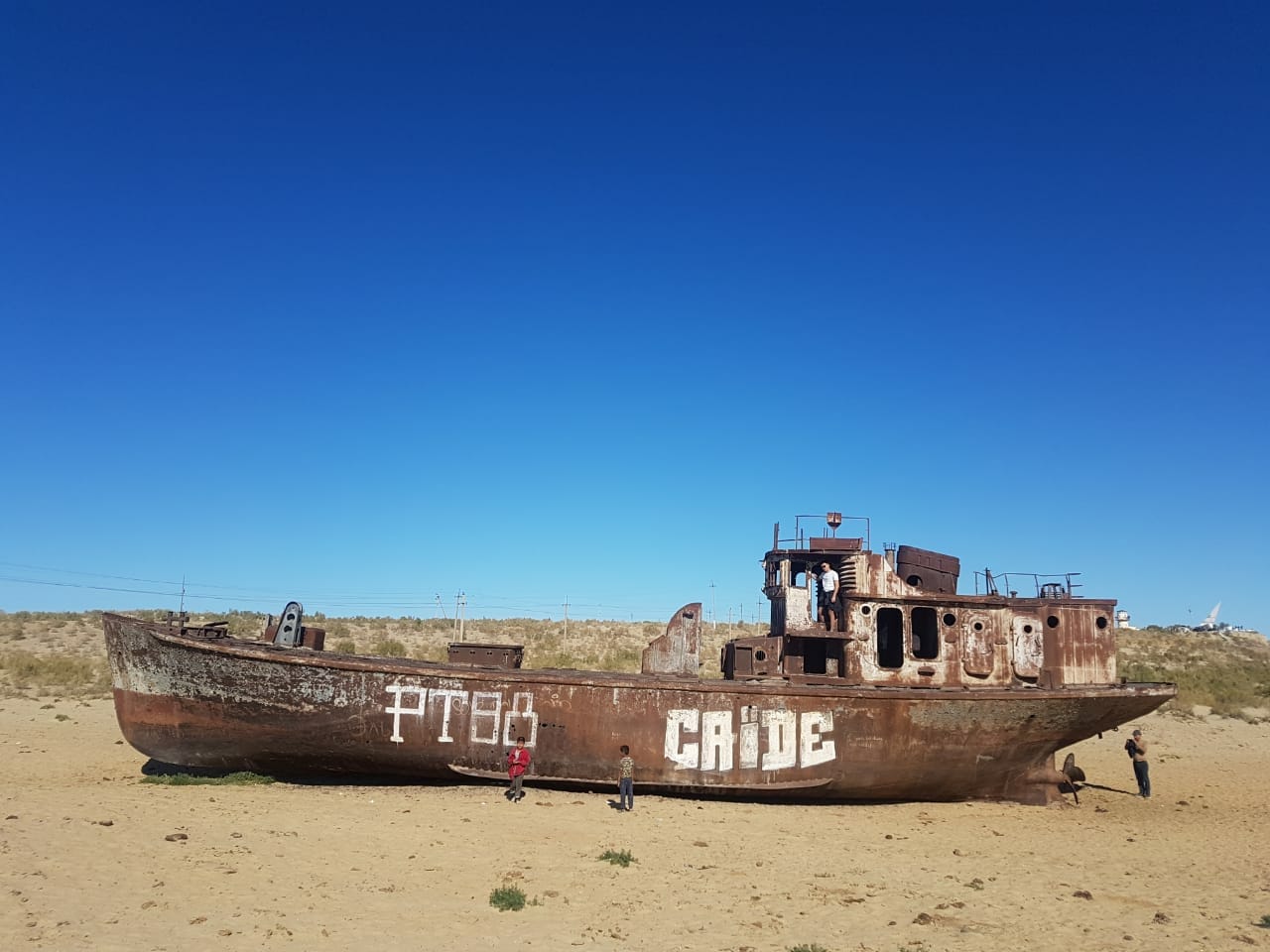 Did he expect the locals to turn out as they did? "Not really, no – that was unexpected, although I guess it's understandable." Would he do it again? "My friends told me I was crazy for organising this all the way out here – they said should have done it in Tashkent. I wanted to do it here as a kind of a sacrifice on the Altar of the Aral! But next time I'll hold it somewhere more accessible, for sure…"
In the minibus on the way back I reflect on the last 24 hours. The concept was otherworldly. The end result was bizarre, and far removed from what most of the organisers and participants expected. Was it worth dragging ourselves out here to experience it? For sure. Will it help reverse the town's decline? Possibly not, but bringing this number of city-dwellers and their cash out here certainly won't have hurt the local economy. (That warm beer truck was doing a roaring trade most of the night).

As to whether we've been pioneers at the "next big thing?" Somehow, I doubt it. But Otarbek is clearly something of a visionary and I wouldn't put it past him to prove me wrong. Certainly whatever he does decide to do next will be worth paying attention to. And who knows, maybe, just maybe, this dancing with babushkas in the desert thing will catch on. And then we will have something to talk to the grandchildren about.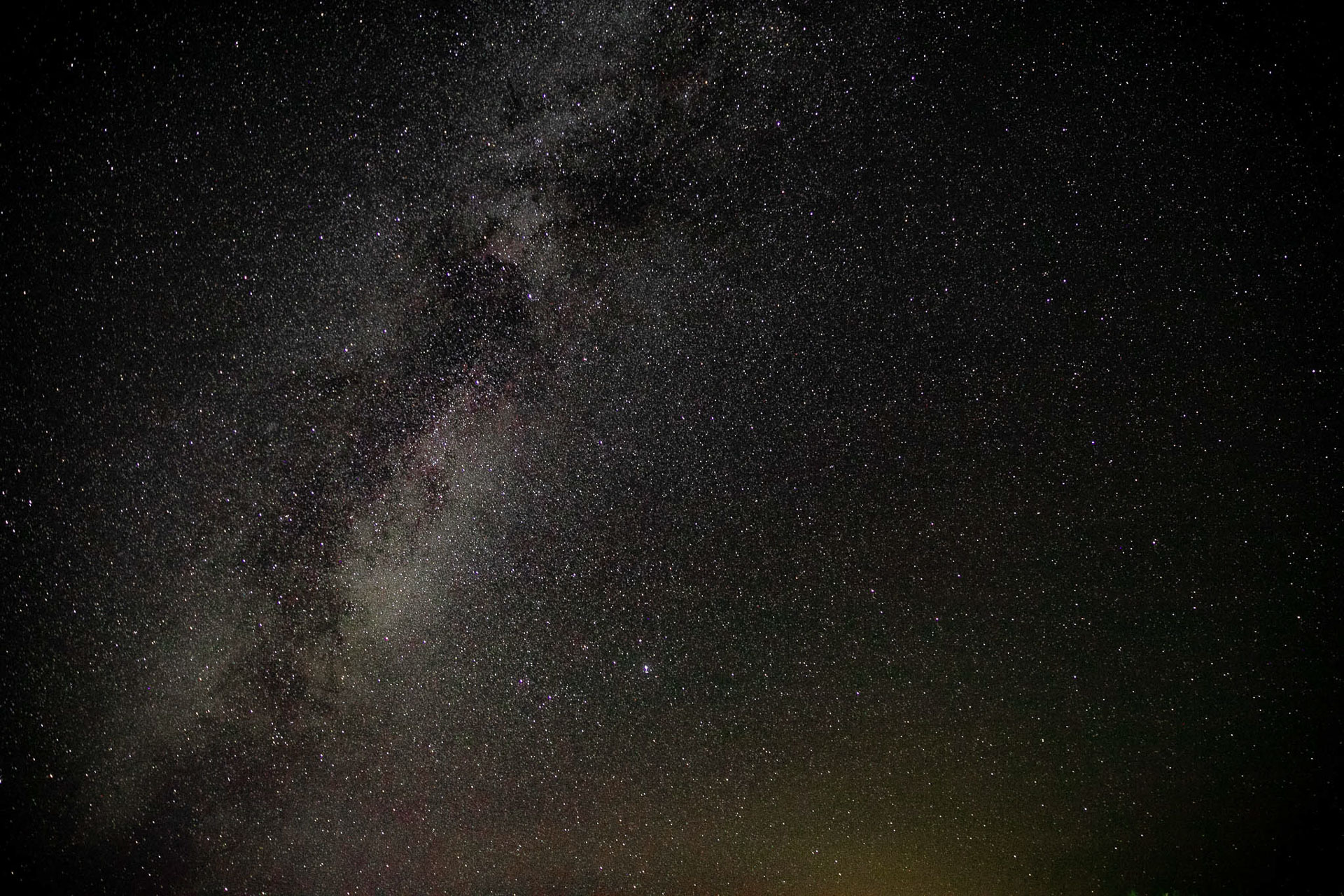 Rowan Kennedy is a writer based in Central Asia. Follow him on Instagram. Almas Koldassov is a photographer from Almaty, Kazakhstan. You can see more of his work on Instagram.