Eastbound & Down | How Travel Shapes Maribou State's Music
The duo explain why travel was - quite literally - the making of their latest album
Six years after it first exploded onto the Internet, the Twitter feed @DJsComplaining still makes for pretty unedifying reading. Like Ronseal's fine array of decking varnishes, the account pretty much does what it says on the tin - simply retweeting the most odious outbursts from a selection of internationally-renowned selectors.
"We went to this party in the Himalayas which got shut down at 3AM because someone got bottled..."
Examples include Flux Pavilion (the exemplar of all that is unholy about dubstep) threatening to sue American Airlines, aging house king Steve Lawler calling Vueling "a piece of shit", and one-man EDM-abomination Zedd expressing angry bafflement at the fact that hotels put shower gel next to the basin.
"Do they expect me to shower in the sink? I hope not!?" he writes. Becoming increasingly agitated as he works his way through the 280 character limit and switching to all-caps, he ends with a flurry of furious punctuation: "So WHY DON'T YOU JUST PUT YOUR SHOWER GEL IN THE SHOWER!?!?!"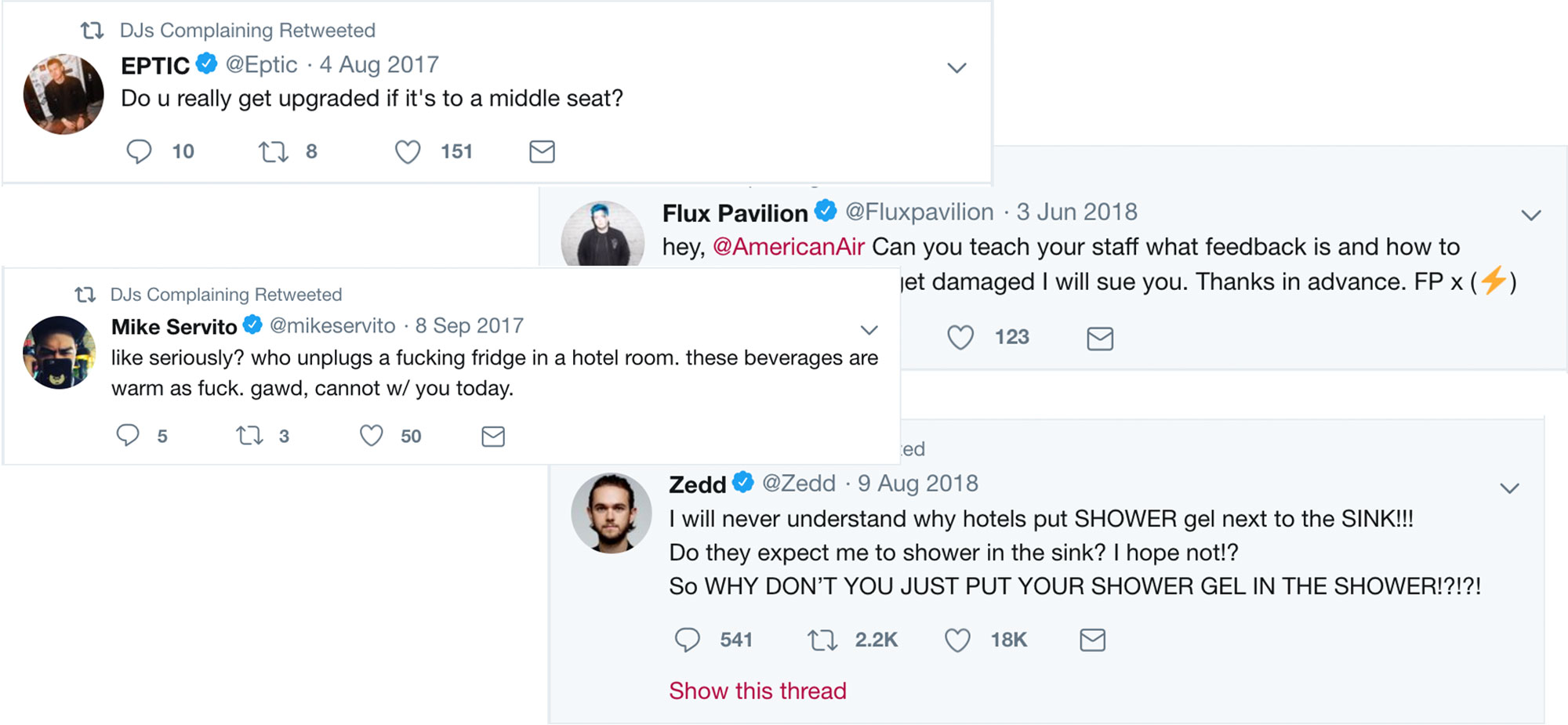 Watching diva-ish DJs self-destruct when given enough letters to hang themselves is all very entertaining, but what's really noticeable (from the point of view of a travel site anyway) is just how many of the first-world problems these people are whinging about are related to travel. Scroll through the @DJsComplaining feed and pretty much everything is about flights, hotels, airports, luggage or a combination all of the above. Many high flying producers and musicians, it seems, really hate the part of their job that actually involves high flying - or indeed travelling at all.

Which is why it's so refreshing to meet Maribou State, an electronic music duo who not only don't mind travel, but actively love it. Nowhere is this more evident than on their second album, Kingdoms in Colour, which they released in September. Liam Ivory and Chris Davids' music has always defied easy categorisation, borrowing elements from the both live and dance music traditions. But this latest record sees them blurring not just genre boundaries, but geographical ones too, incorporating sounds, samples and instruments from around the world.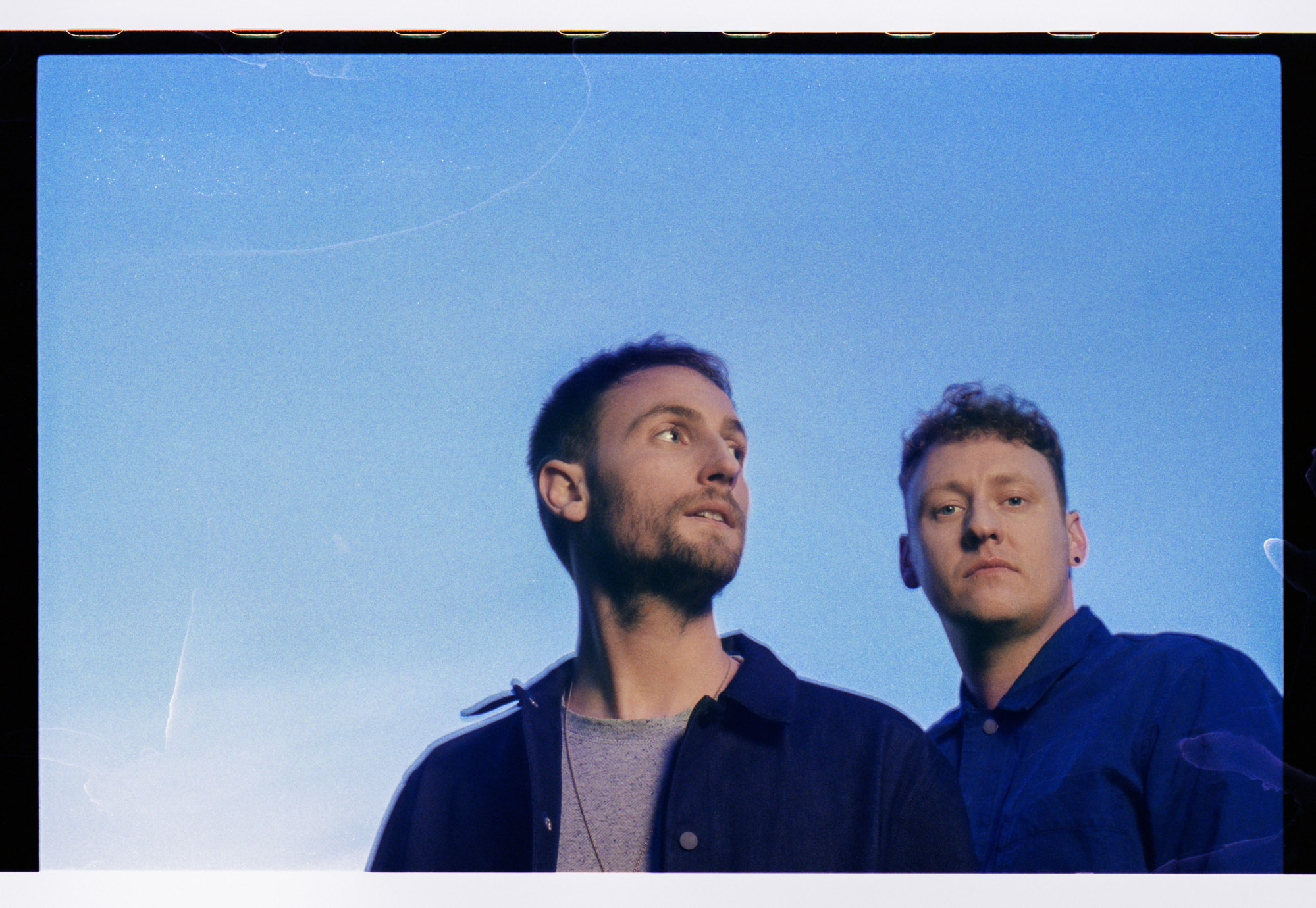 It's a notable change of direction from their previous work, and one that so far seems to be bearing fruit: Kingdoms in Colour has earned four and five star reviews, and extensive play on "alternative" stations. (The current single, Kingdom, is on heavy rotation on 6Music). But it also marked something of a mainstream breakthrough. Maribou State entered the official album charts for the first time with the release, and when we caught up with the duo, they were still bathing in the afterglow of (and nursing the hangovers from) their biggest ever headline show at London's Roundhouse.
The more international flavour of this recent record is, the pair explain, something that came naturally. "We've always both loved travelling," says Liam, "and even around the time of the first record, there was always this idea of capturing different sounds and recordings from different places and bringing them to the album."

However, when you're two school friends from Hertfordshire trying to break into the music business, as Chris and Liam were, jetting off round the world isn't always an option. "It was only with the moderate success of the first record [2015's Portraits], that we started travelling a lot more – and a lot more regularly", says Liam. "We also started travelling a lot more together."
"I was on the flight for about 16 hours but it was fine, I had a good time"
Right from the off, rather than viewing it as a chore, the two embraced the new opportunities that work was throwing their way, turning their tours into holidays. "Off the back of the first record we did a US tour and an Australian tour and then we went to India," says Chris, "which was part work, part holiday". Liam adds: "Yeah, if we visit somewhere then we'll always try and stick around for a bit and check it out."
Even the kind of long-haul schlepping that might irk most DJs doesn't seem to bother them. "I mean, I literally flew out to Indonesia two days before tour started to do a DJ show," says Liam. "I was on the flight for about 16 hours but it was fine, I had a good time". The pair also visited Japan, New Zealand and Morocco (among others) between making Portraits and Kingdoms in Colour, but it's India that really sticks out in their memories.
"One time we were there, we stayed in a place called Manali in the Himalayas and we went out to this party which ended up getting shut down at 3AM because someone got bottled," says Chris. Obviously they wanted to get away as soon as possible, "but when we tried to leave the party there was torrential rain, and we had to get back across this river which had flooded. We ended up staying by the river because it was too dangerous to cross at night, but when we woke up the next morning there'd been a landslide. In the end we had to walk about 20km to get to the nearest place that we could get a taxi back."

A fight, followed by flooding, followed by a landslide, followed by a 20km, hungover hike the morning after, might not sound like everyone's idea of a good time. But India has also been the scene of more positive experiences too. Indian audiences were among the first to catch on to Maribou State's music outside the UK, and in fact Chris now lists it as his favourite travel destination - for both business and pleasure.
It's not surprising then that of all the global influences on the new album, the Indian one is among the most pronounced. Listen carefully to current single Kingdom and you can hear what sounds like a bansuri (a kind of Indian wooden flute), and throughout the album there are string parts that have a distinctly subcontinental flavour.
"We've always leant towards Eastern or Indian melodies," Chris explains, "and we definitely explored that more on this album." But he reckons they're just getting started. "It's such a big country you could go there every year for the rest of your life and you probably wouldn't get to every bit of it. So there's so much scope for it to still infiltrate our music - especially as Liam's heading out there on holiday again and I no doubt will head back there again at some point soon."

There's a long tradition of musicians finding inspiration from travel, dating back to George Harrison's own forays into Indian music on Sergeant Pepper's, and beyond. But Maribou State's approach isn't just about writing on the road, or using different instruments. When they travel, Liam and Chris seek to record the whole vibe of the places they stay, using field recorders to capture snippets of speech, samples, and even street noise that they can then use in their tracks later.
"A field recorder is kind of like taking a camera away travelling with you - a way of taking memories from a place"
"It's kind of like taking a camera away travelling with you," explains Chris. "It's a way of taking memories from a place. I've never been the sort of person that has a camera around their neck, but the field recorder has always been something that we've tried to keep on us."
The idea of including field recordings in music isn't completely new. Avant garde classical musicians have been getting out and amongst it ever since recording technology first became more portable in the 70s, and recent developments have made the process even easier.

You can now record a decent-sounding audio sample on your iPhone (something Chris and Liam will do if they don't have their recorders with them), and it's perfectly possible to produce a radio-ready track with little more than a laptop. But it's not just the techniques they use that make Maribou State's music feel fresh and modern, it's the omnivorous attitude they have towards the sounds they encounter on their travels.
Like their Ninja Tune label-mate Bonobo (who's aptly-titled album Migration features samples of Moroccan Gnawa music, among others) Chris and Liam don't think too much about where musical borders might lie when it comes to creating their tracks. It's a open-minded approach that they share with a whole new generation of artists, including the nomadic Canadian Rhye (who, incidentally sings on Bonobo's album) and the Texan instrumental trio Khruangbin.
The latter, who despite their origins are mostly inspired by "Thai Funk from the 70s", feature as guests on the Kingdoms in Colour track Feel Good. "We invited them to support us on one of our London headline shows at Koko, and we just became friends," explains Liam. "As a band they're inspired by a lot of different stuff all over the world," adds Chris. "Like their first record was Thai-infused funk and their new album was very Middle-Eastern sounding in parts. I think they just naturally pulled from loads of different cultures and on this record that's what we've done too. So it felt like quite a perfect marriage."
The increasingly globalised musical outlook that Maribou State share with their friends and contemporaries is obviously down to a whole host of different factors. Chief among these is the ease with which you can hear things like Thai Funk, obscure Italo-disco or (to borrow a phrase) "Awesome Tapes from Africa" these days. But travelling - experiencing other musical cultures in the flesh, rather than just online - also plays a huge part in this growing trend.

"Growing up, we weren't like opposed to [music from around the world], but we definitely stuck more to western music," says Liam. "Yeah," adds Chris. "It's not like we listened to African music as children or anything. It was travelling, that's when we started to be introduced to more of it." And, for example, "with this record, we do listen to a fair bit of Indian music, but it was because we went out there and travelled there that it kind of naturally infiltrated the record."
For some artists, travelling is a chore, and there are plenty for whom "writing on the road" means penning whinges about the trappings of fame. But you won't find complaints about tour buses, the loneliness of hotel rooms, or (heaven forbid) the misplacement of shower gel in Maribou State's music.
It helps of course that there are two of them, "so you're always rooted, you've got someone there looking after you, and there's not really any loneliness", explains Chris. But the main reason is surely that the pair approach travel with an open mind, a sense of humility, and enough patience to actually enjoy the experience. Their love of exploring new countries, cultures and musical traditions shines through, both on the new record, and in the way they talk about it. "When I'm travelling, I'm generally just very content," is how Liam sums it up. Which in a world of @DJsComplaining, makes for a nice change.
Kingdoms in Colour is out now. Watch the recently released, travel-themed video for their current single Kingdoms above, and head to the Maribou State website for details of their US & Canada tour, plus upcoming UK shows this spring. You can also follow the band's travels on Instagram.