French Brutalism | Le Corbusier's Unité d'Habitation
Take a trip round Marseille's Brutalist gem
Photo: Max Farago
"It is a skate park for photographers; everywhere you look there is something to shoot," says LA-based photographer, Max Farago. "The proportions, shapes and surfaces are so well thought through that it is difficult to make a bad image." Farago is talking about the Unité d'Habitation, a concept apartment building in Marseille designed by the legendary modern architect Le Corbusier.
Farago was so impressed by the building when he visited during a shoot for French Vogue in 2009 that he returned two years later to photograph it again. Last year he published a photo book as an homage to the building. Like many before him, Farago was won over by this Brutalist gem.
He's not been the first to be won over by the building. It has achieved cult-like status both for its design – "It is loose and playful; not as linear and tight as you would expect when you think of modernist buildings," says Farago – and its highly ambitious social agenda.
The Unité d'Habitation was not just a building, but a whole manifesto for reinventing residential architecture that Le Corbusier had proposed as a universal solution for the mass housing crisis in war torn Europe. The Unité d'Habitation in Marseille, completed in 1952, was just the first of several designed by the architect across Europe, including one in Berlin.
The 18-storey Marseille building, also referred to by its architect as La Cité Radieuse, ("the radiant city"), helped to herald in a new era of Brutalist constructions in concrete that were big, bold and beautiful. With 337 apartments, two shopping streets, a hostel (now a hotel where design junkies can get their Corb fix) and a celebrated rooftop terrace, the Unité d'Habitation in Marseille takes elements of the city and reinterprets them in a vertical building, providing housing for about 1,600 people alongside employment and education facilities.
"The building's design grew out of a utopian project… which [Le Corbusier] had been working on since the 1920s," writes architect Thomas de Monchaux in Farago's photobook. "But he also liked to think of himself as an engineer, a cool technician—hence Unité d'Habitation, 'habitation unit'—a standardised name, as if the building was the first of a thousand machines off the assembly line.
Instead of what it was, like all of his work: bespoke, custom, an act of craftsmanship, carefully-hand-made and hand-drawn for to its particular setting." Indeed, there are 23 different types of apartment layouts, along with other artistic flourishes such as murals integrated into the building.
Farago's photographs capture the effortless beauty of the building: the bare concrete, the colourfully painted walls and the whimsical roof terrace – the building's pièce de résistance with its sculptural ventilation shafts, paddling pool and breath-taking views over Marseille and the Mediterranean. "There is a sort of fluid, spiritual aspect to the roof in particular, like an open air cathedral," says Farago. "It is obvious immediately that Le Corbusier is building a landscape that plays with the surrounding environment."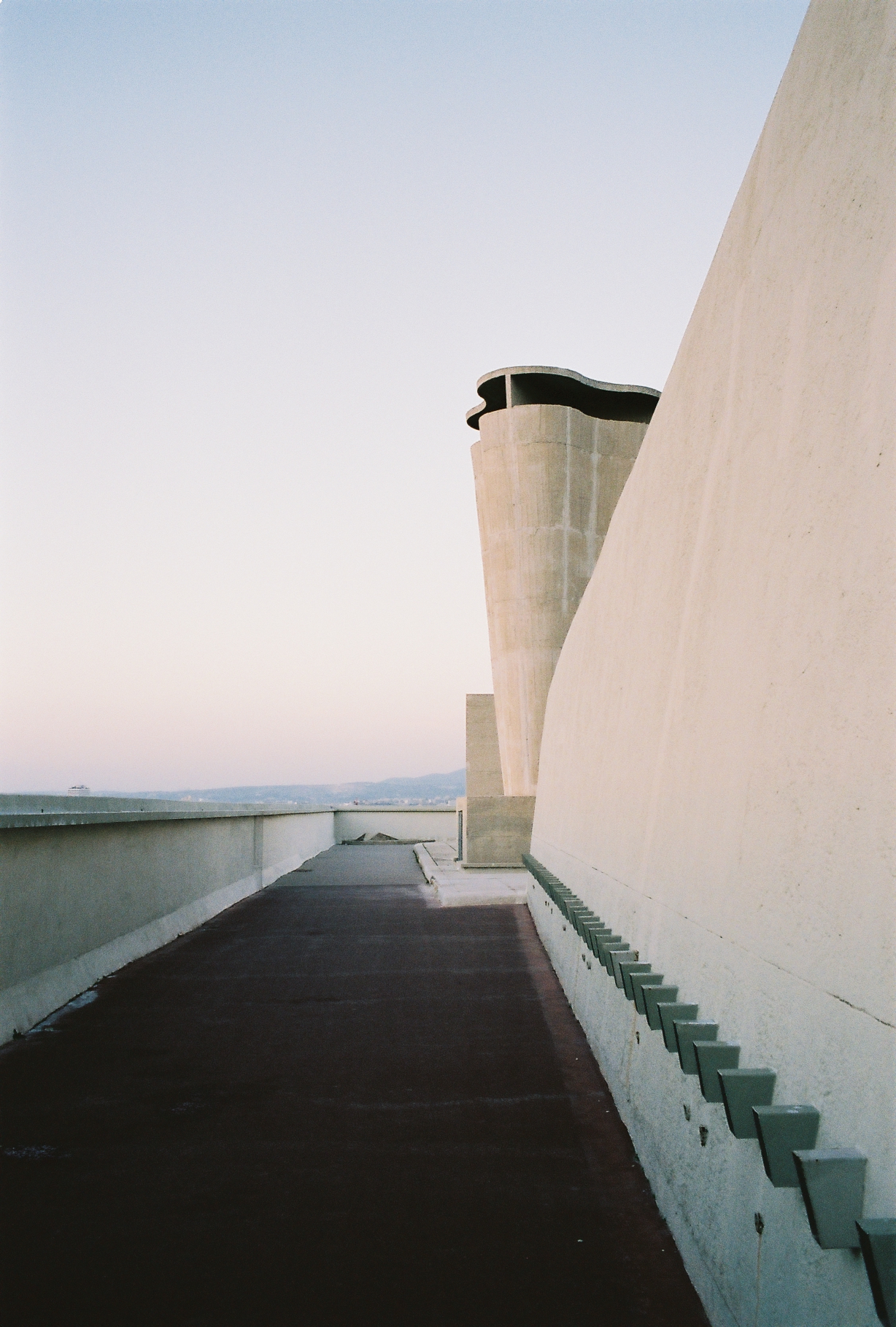 What is perhaps most striking is the relationship constructed between light and shadows throughout the building, and on the roof, a factor Farago brings out in his photographs: "It is clear that Le Corbusier was thinking a lot about the shadows being cast on the roof and how they look at different times of day, in different light."
One of the building's residents is the critic and broadcaster Jonathan Meades. "The roof of l'Unité is a transcendent work: it is as though Odysseus is beside you," Meades wrote in his 2012 book Museum without Walls. "In a few gestures, it summons the entirety of the Mediterranean's mythic history. It is exhilarating and humbling, it occasions aesthetic bliss. It demonstrates the beatific power of great art, great architecture."
Despite inspiring a multitude of inferior imitations in the decades since it was built, Le Corbusier's first Unité d'Habitation still stands resplendent in the south of France inspiring generations to come.