The Small Things | We Rank Luxury Hotels by the Thread Count of their Sheets
Because things like these matter more than you might think
When it comes to luxury, the devil is absolutely in the detail. In this new series, Amuse looks at some of the the world's most lavish, expensive hotels and asks; are they putting enough effort into the small things?
We spend half our lives in them. But how much do we really know about our beds? If you're one of those people who waxes lyrical about the thread count on your Egyptian Cotton sheets then bravo, you're clearly paying enough attention. If you're not, I'm here to tell you - these things matter. Really. And they matter even more when you're paying thousands of pounds to sleep in them. So I went undercover (pardon me), and set out to reveal what kind of thread count luxury hotels are using.
Of course, the secrets of a hotel's service and suppliers are not something they'll necessarily give out over the phone. To circumvent this, I found myself inventing an imaginary boss with a very particular sense of taste and some terrible allergies; and persuaded some of the world's most revered hotels to tell me what sheets they have on the beds in their most expensive suites.
"Maybe not all Berliners hate tourists. Or maybe the ones working in the luxury hotel industry are just better at hiding it"

Like any good sleuth, I picked up the phone and went straight in for it. After a slow and polite start, I soon got into the swing of things: being PA to a high-profile international businesswoman means you don't have time for niceties.
Hotel Astoria, St. Petersburg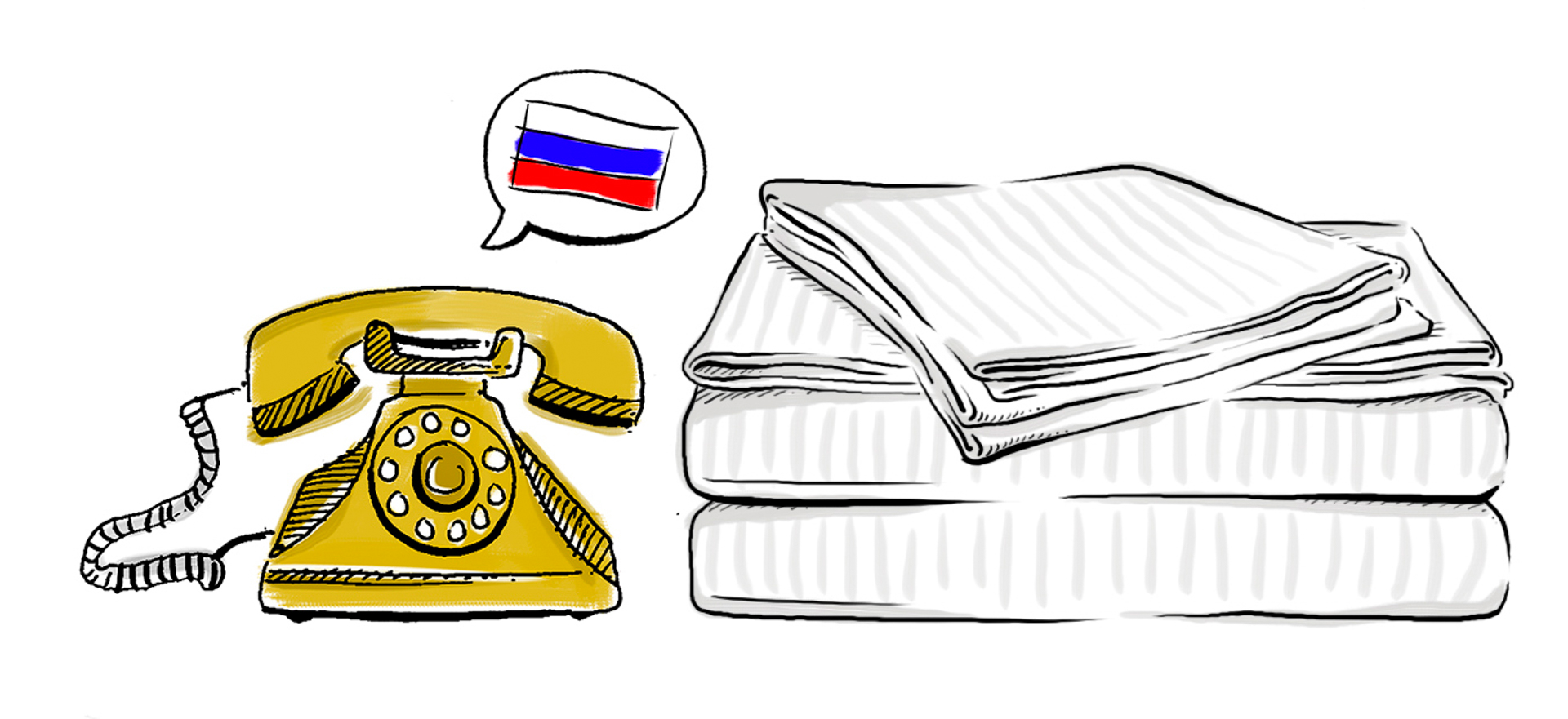 I've been on hold for over a minute to Hotel Astoria in St. Petersburg and I'm panicking. How much does it cost to call Russia? Mental note: I must remember to expense this.
Anyway, are you ready for some unusually friendly press about the Russians? It's worth the wait. The reservation staff are charming to a fault - and after I've asked them about the 24-hour butler service, and if it's possible for my boss to have breakfast at midnight (she has some strange habits, ok?), I'm reliably informed that the sheets on the beds of the £3,400/night presidential suite are made from satin.
Presidential Suite: £3,400/night
Sheets: Sateen
Review: What exactly is sateen, you ask. Well. Cotton becomes sateen when it's made out of short staple yarns. My boss would definitely like it.
Chinzombo, Zambia
Travelling the world for work and staying in back-to-back luxury hotels must get a bit stale after a while. I have a stroke of genius; maybe my boss should have an actual holiday. On this occasion I actually feel a bit guilty about pretending to book a holiday - the woman I speak to is painfully helpful.
And she does the job of selling Chinzombo to me too. Private villas, dining under the stars, first class guides, flexible check in times… I'm in. Sorry, I mean, my boss is in.
Safari and accommodation: £765/night
Sheets: "A very high thread count and quality, again, we can organise anything he needs in terms of allergies."
Review: He? For goodness sake people, my boss is a woman! But I'll forgive you because you have been ever-so-helpful.
The Adlon Kempinski Hotel, Berlin
I've only been to Berlin once, and my experience of it was pretty standard. I didn't find it very hospitable, I didn't get into the first eight clubs I went to and I didn't get the impression that Berliners liked tourists. Or anyone, really. So it was with trepidation that I called up Hotel Adlon Kempinski Berlin. Luckily, they were perfectly nice and surprisingly patient with my request. Maybe not all Berliners hate tourists. Or maybe the ones working in the luxury hotel industry are just better at hiding it.
Presidential Suite: £19,740/night
Bedding: Satin
Review: Situated on the fifth floor this corner suite has 180 square metres for you to roam around, two bedrooms, two bathrooms, an office, a kitchen area and an exceptional view of an important sounding historical monument who's name I couldn't quite catch on the phone.
As great as that all sounds though, they didn't call me back within the promised ten minute time period to tell me the brand of bedding they use. However they did call me back within an hour; Phoenix (it looks very, very nice). And so we'll forgive them.
Palazzo Radomiri, Bay of Kotor, Montenegro
I have a theory: the more high-end somewhere is, the less the hotel staff care about charming you. They know you want to stay there, and will probably do anything to get a room. So they are polite, but that's it.
The Palazzo Radomiri is such a place. A brisk woman on the phone asks me to email my questions over. I suspect the reason for this being their chosen form of communication is also due to language barriers. The official language of Montenegro is Montenegrin, and the chance of a potential visitor speaking that - or the other tongues used (Bosnian, Croatian, Serbian, and Albanian) - are pretty slim.
Suite: £1,110/night
Sheets: Custom Made
Review: The email I get back says it all really. "We do not have butler service. Check in is from 15:00 to 22:00, and check out is from 8:00 am to 12 am and it is not flexible. Our sheets are custom made." Custom made sheets? Obviously on this occasion, I would have to actually stay at the hotel in order to accurately review it.
Al Moudira, Luxor
Al Moudira is a palace six miles south of Luxor on the West Bank of the Nile. Now what bedding would a palace in Egypt use, I wonder.
I call up but it turns out that the staff at Al Moudira don't like to answer the phone. Reluctantly, I resort to email. No response. I email again.
Double Suite: £155/night
Sheets: Egyptian Cotton
Review: Despite the fact that they're clearly very 'on brand', Al Moudira find themselves on the bottom of my list. Largely because when they did finally respond to my email, they called me 'Sir'. Now it's one thing thinking my boss is a man, but quite another to mistake her charming young PA as one.