Land of Hope & Dreams | Boston's Unseen Underbelly
Chris Bethell's street photography shows another side to life on the road in America
Photo: Chris Bethell
British photographer Chris Bethell recently completed an epic, six-week road trip across the United States. Accompanied by his partner Bekky, Bethell's mission was a personal one: something of a pilgrimage almost. He wanted to find out more about his American mother's roots; to truly understand the country her father – his grandfather – had come from; a country that he'd never previously visited.
To this end, he crisscrossed the US from East to West and then from South to North, travelling through a dozen states and taking more than 13,000 photos in the process.
Shying away from major sights and popular sites, Bethell concentrated instead on shooting small details – the in-between scenes that reveal more about the people, the place, and its sense of self.
"Bethell concentrated on shooting small details – the in-between scenes that reveal more about the people, the place, and its sense of self."
Over the next few weeks, Amuse will be serialising his photos in Land of Hope & Dreams, starting with these shots of Boston.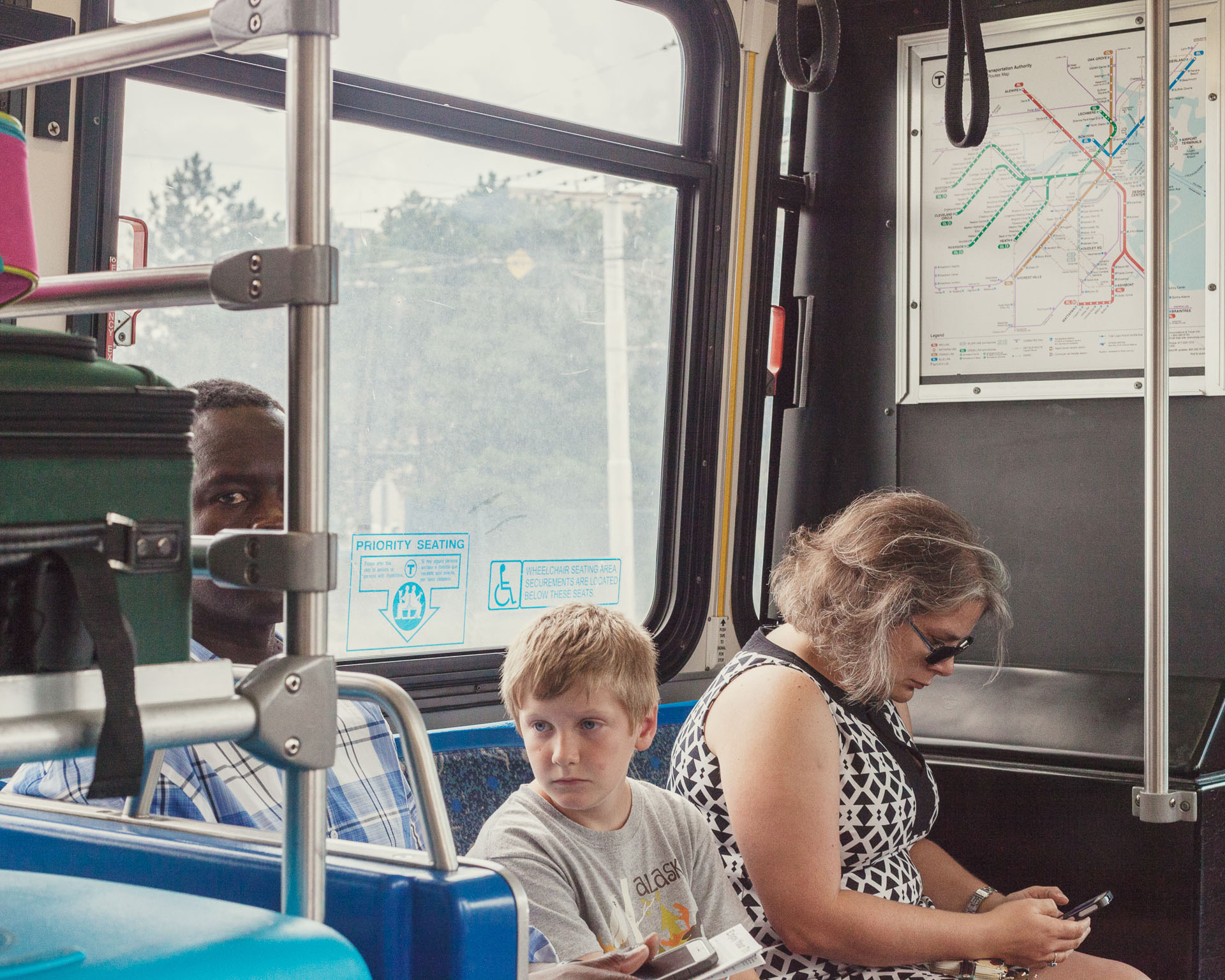 This is one of the first photos I took in the States – Bekky and I had just come out of the airport and got onto our connecting bus to Downtown. I was shooting a few images from the hip of the people who were on the same bus as us when I shot this. I didn't actually see the man's eye staring at me through the railings until I was reviewing the pictures later that day.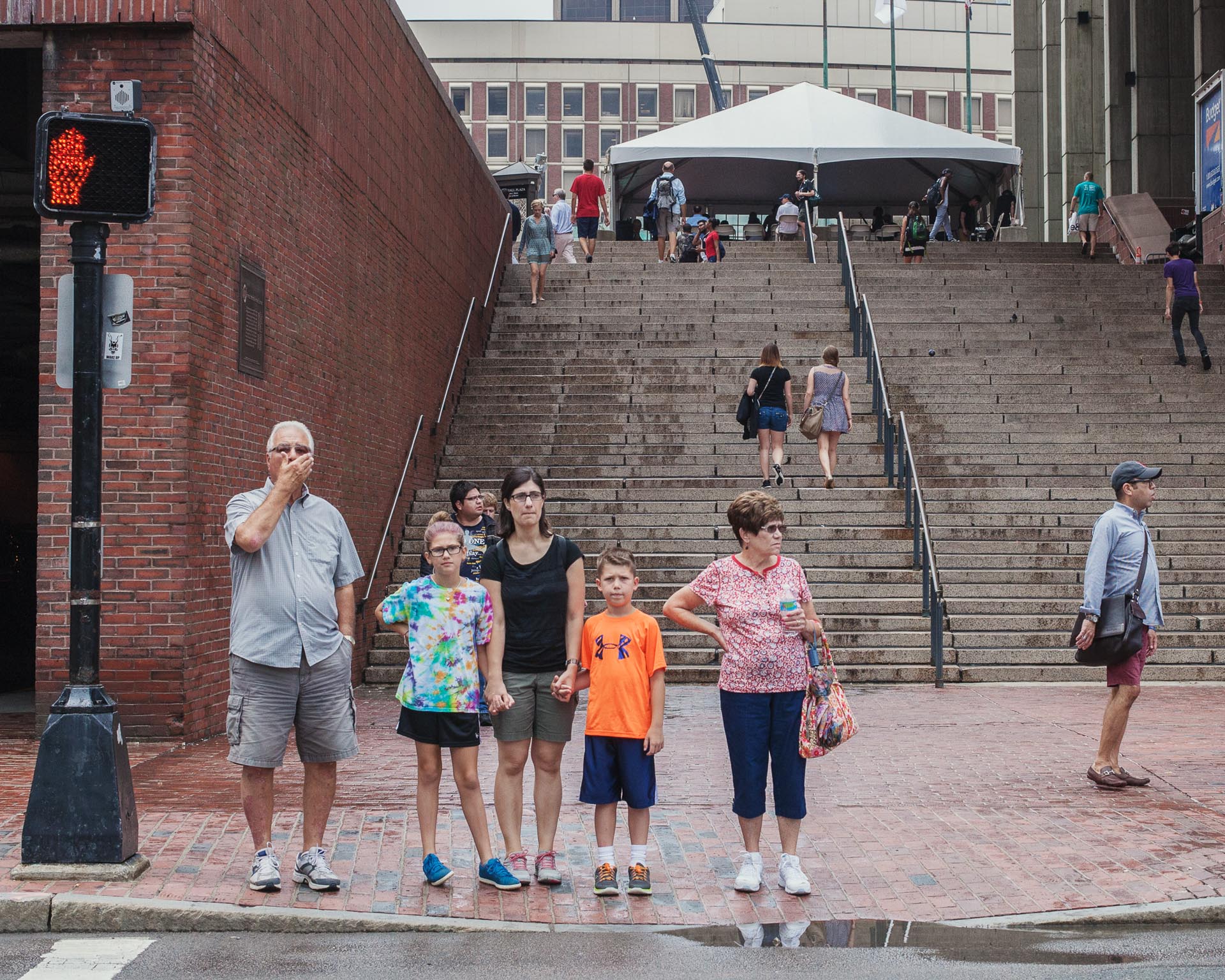 Most of our trip would consist of relentlessly pacing the streets of wherever we were, but while we were in Boston I was specifically looking for representations of family and togetherness. Pictures that could maybe speak about what family life is like in Boston. I like this picture as it shows three generations of the same family interacting with each other as they wait to cross the road.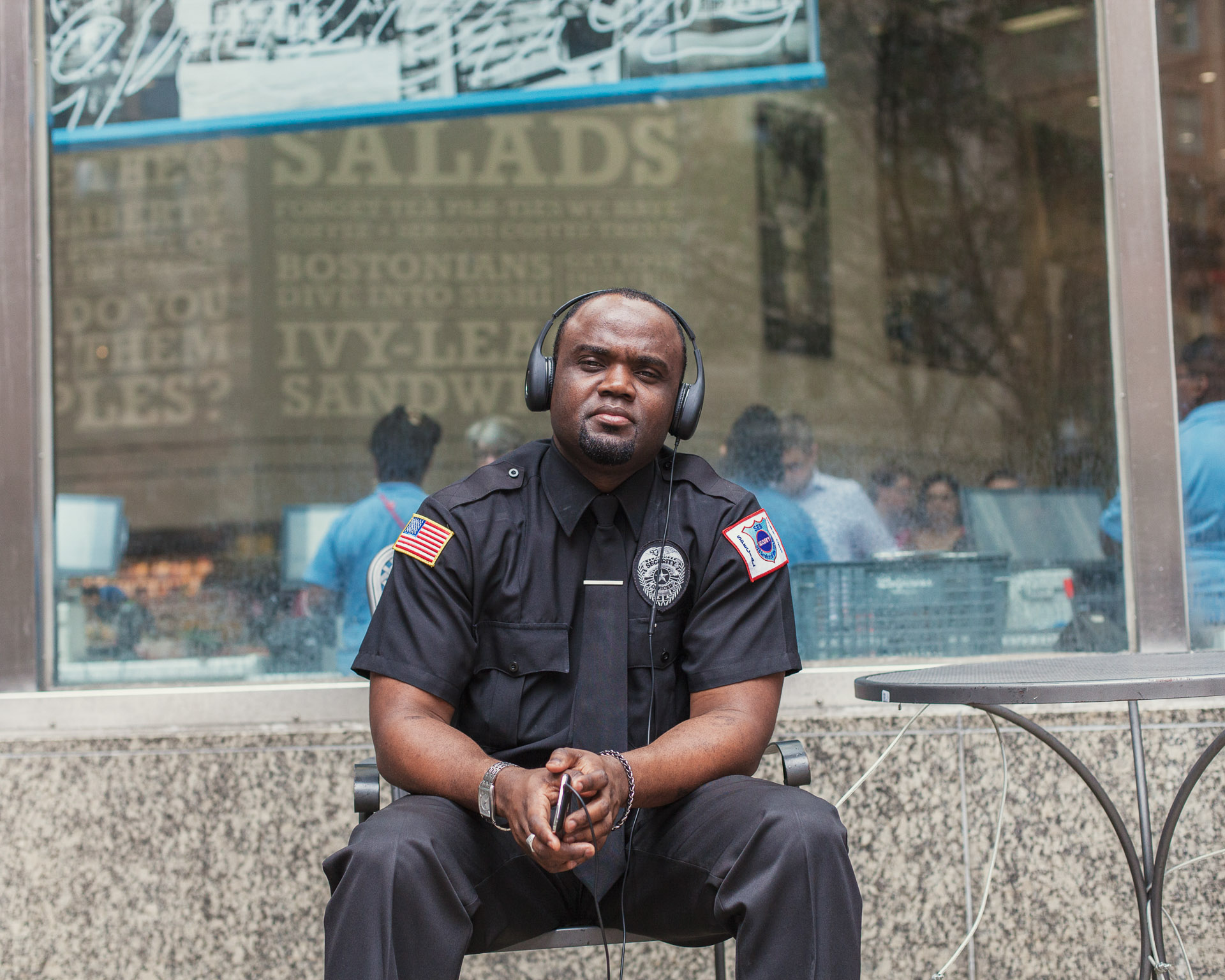 I walked past this security guard whilst he was on his break. He was listening to music outside a deli and I asked if I could take his portrait. I like it because I think there's something interesting about the size of his headphones. I guess because security guards have to – or are meant to – be alert at all times. It's quite interesting for me to see that he wants to cut himself off from some of his senses in his relaxation time.
The edgelands of Boston's Downtown are a strange place to be. The city disappears pretty quickly from block to block. Lonely people pace up and down between the warehouses and outhouses and most of the scenery is made up of browns and greys. This woman's clothes shouted louder than her dull surroundings, and that's what drew me to photograph her. She stands awkwardly on a pathway – staring out of frame towards whatever lay behind the gate to the left.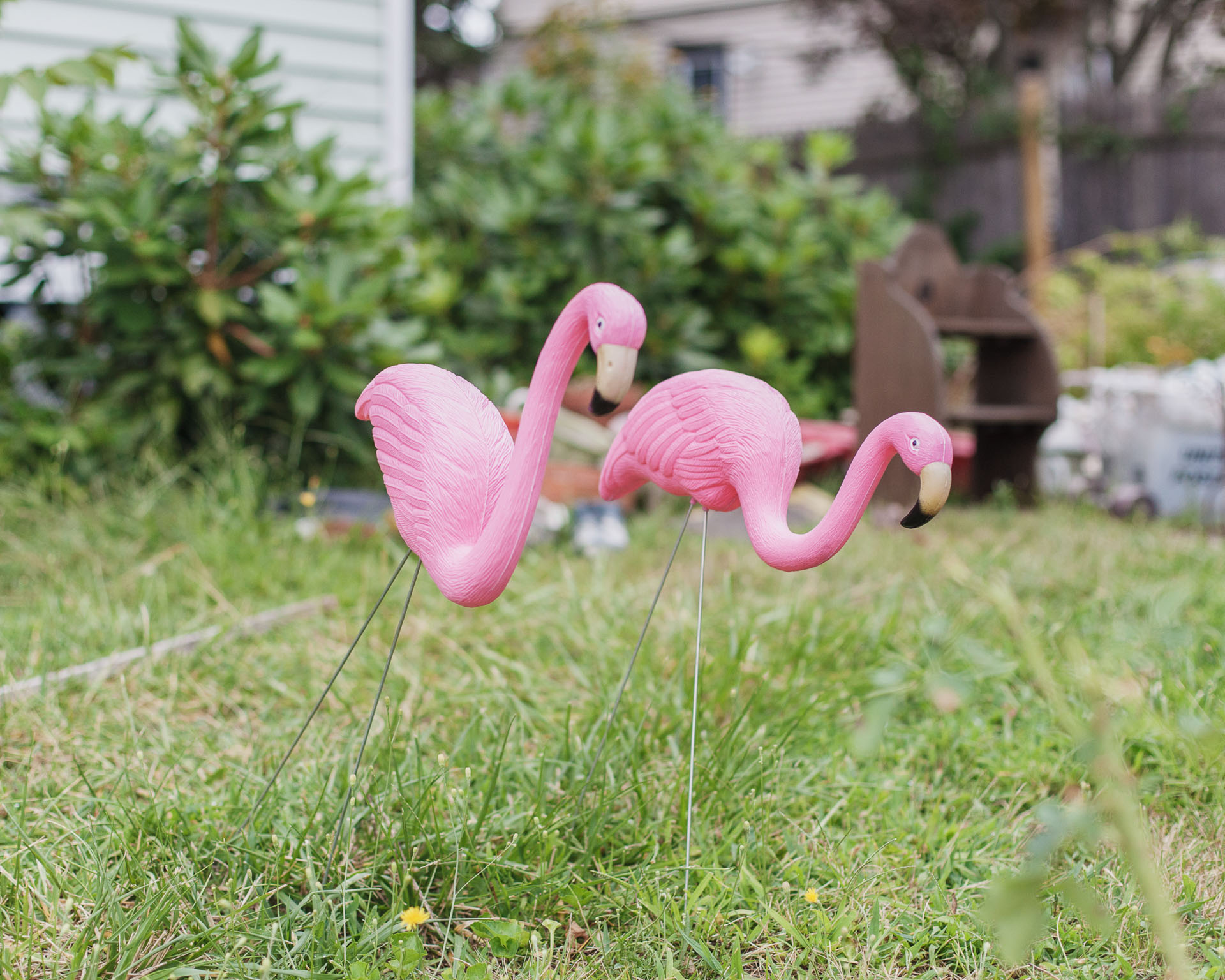 This image is a bit of a nod towards Jack Latham's work A Pink Flamingo. His work had been a big influence towards how I was approaching and thinking about my road trip and my project ended up having a few parallels to his. A Pink Flamingo follows the famous Lewis and Clark expedition that lead from Missouri to Oregon; eventually establishing a US population in western America. I followed my Grandfather from the west coast to Clarkston & Lewiston: The sister towns named after the explorers.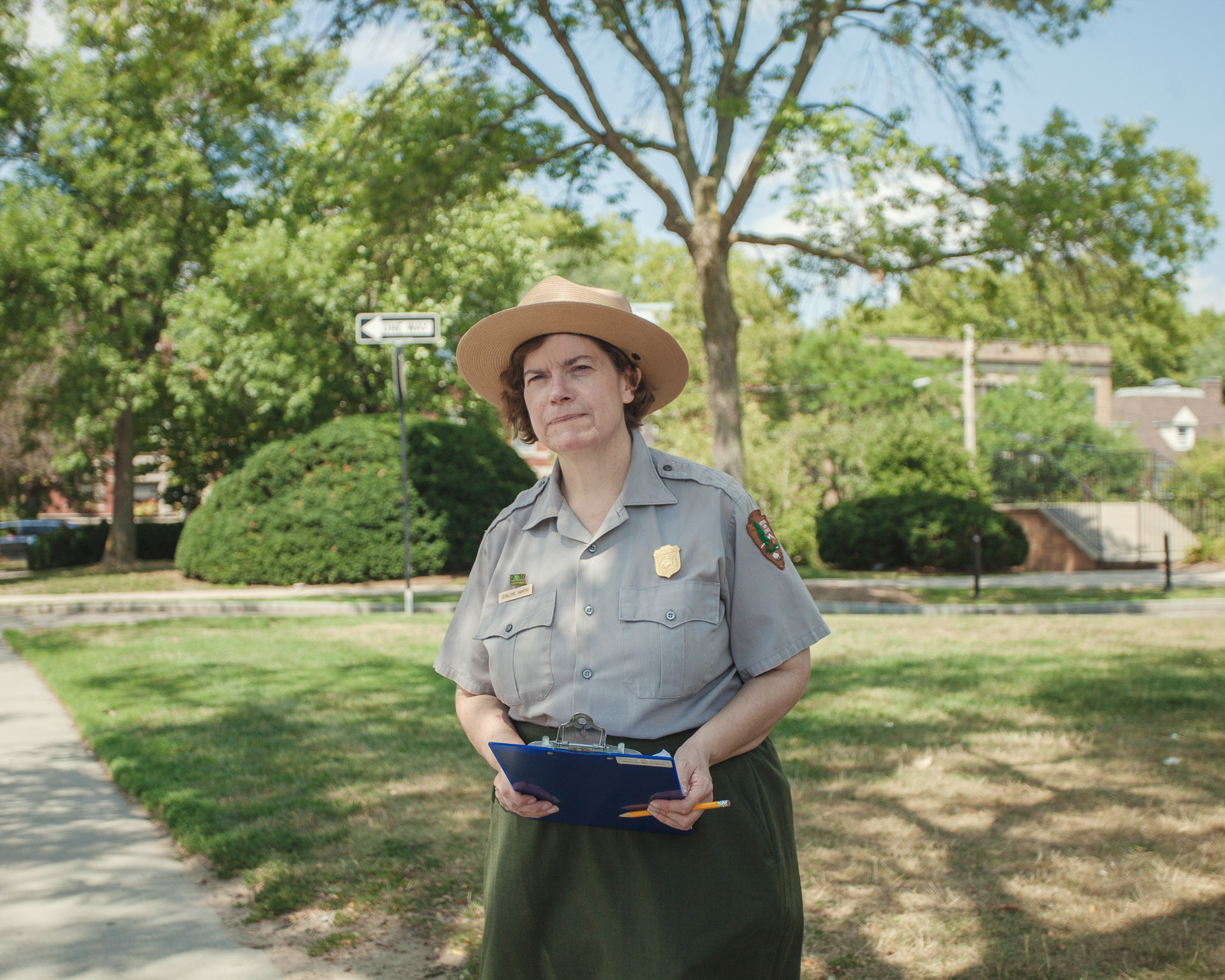 We met Geraldine Hawkins while hopelessly lost in the Boston neighbourhood of Brookline.She helped us find our way to the birthplace of John F. Kennedy.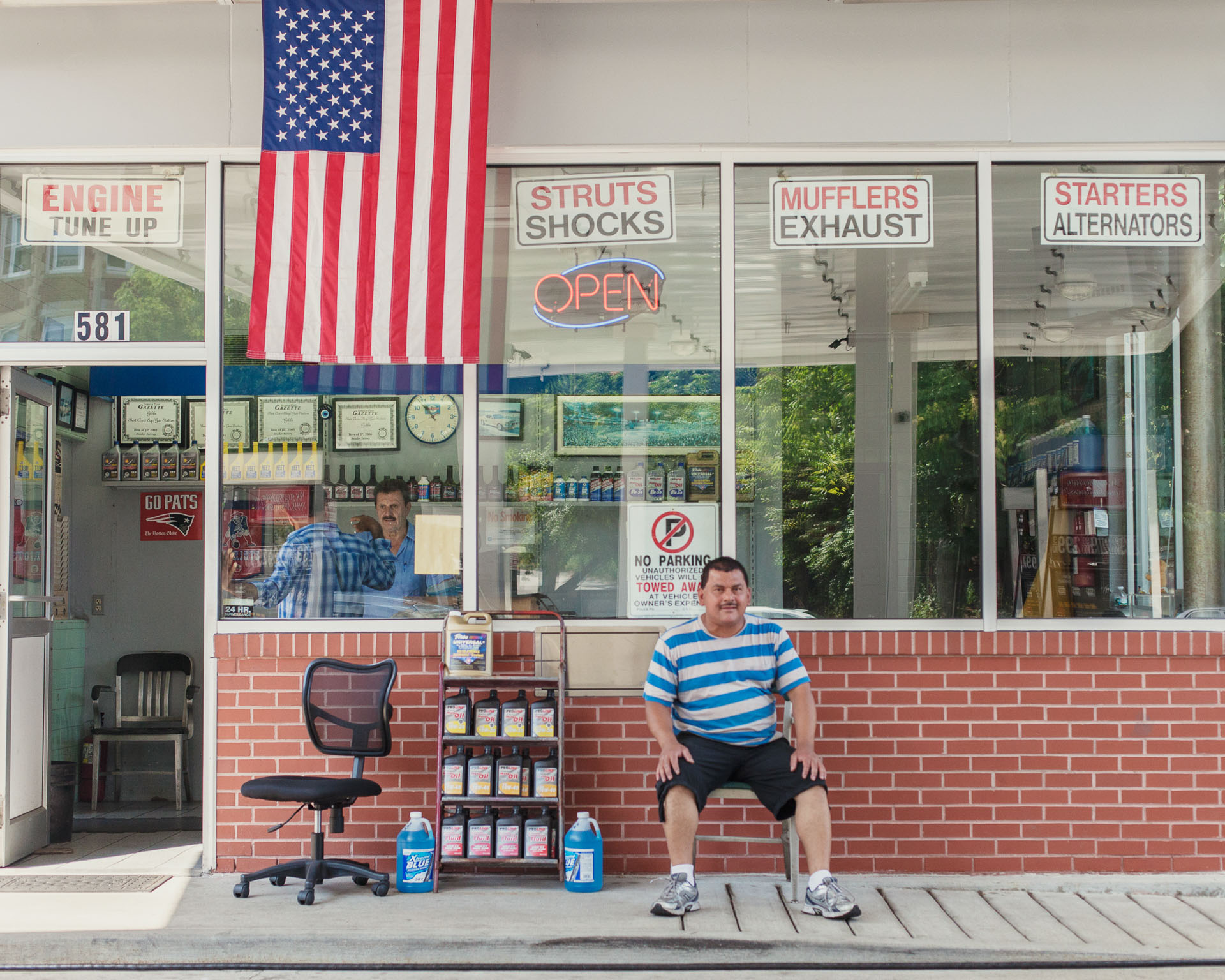 Initially I found myself drawn to photograph every flag and American cliché I encountered – which pretty much meant not lowering my camera from my eye for the first few days. I didn't get this man's name but he sat happily for me out the front of this gas station.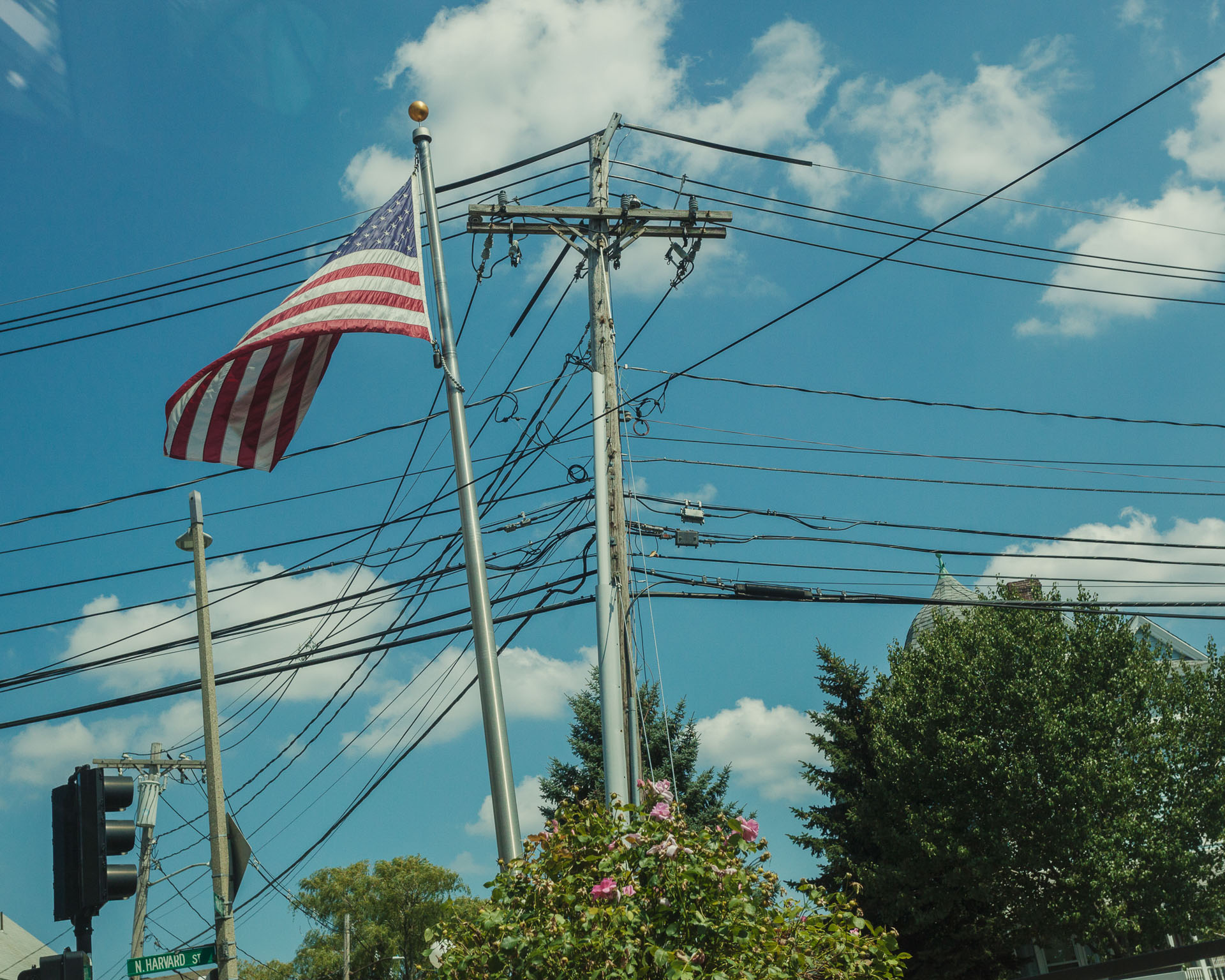 I took this image because it reminded me of a picture by Mike Perry from Astral America – something about the juxtaposition of the flag with the industrial structures surrounding it. I was fascinated with the mess of wires that hang low above the suburban streets; creating a canopy of cables.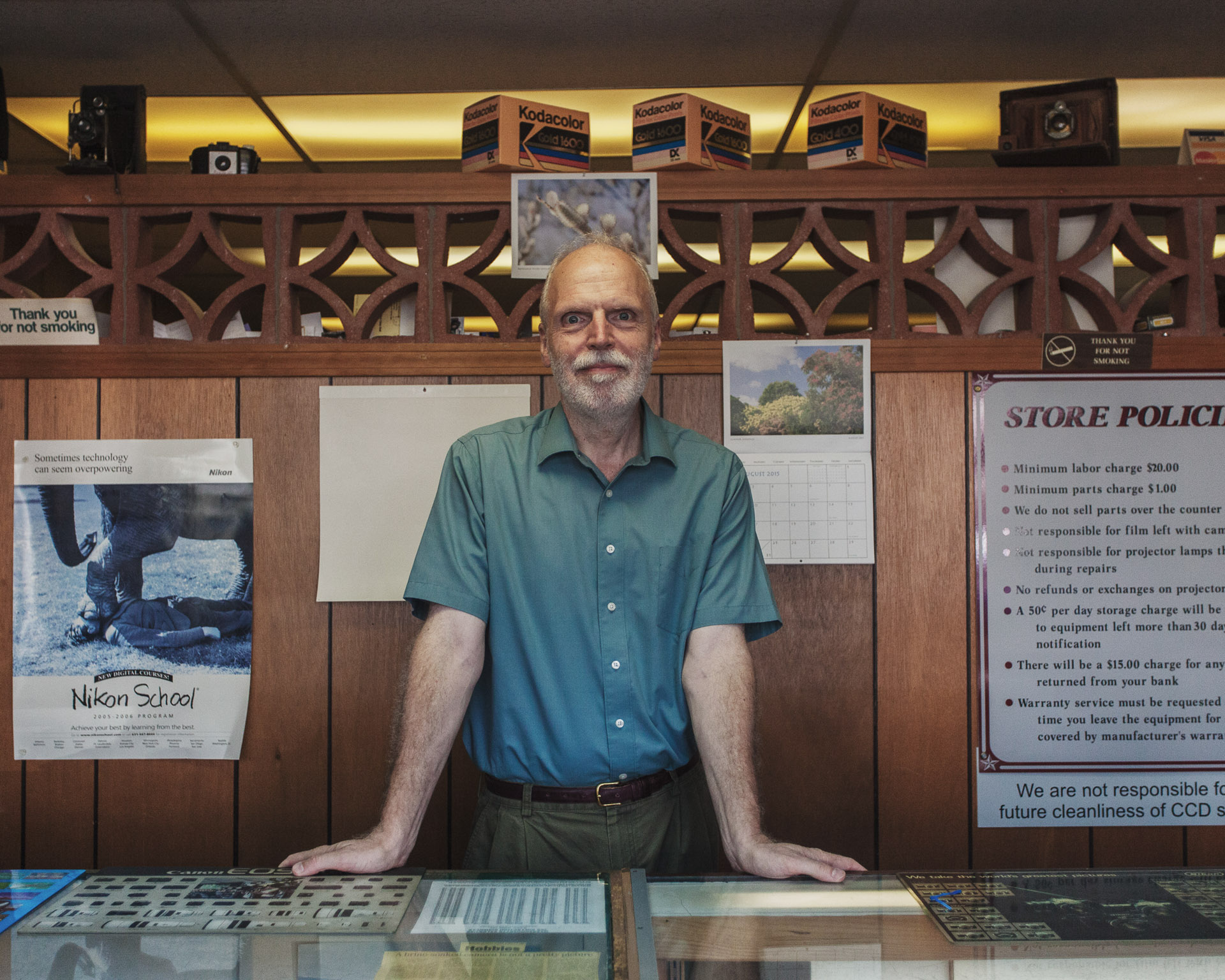 This man runs for Sanford Camera Repair in Arlington. At some point I noticed that the focus was slightly off in some of my photographs so I brought my camera to him to fix it.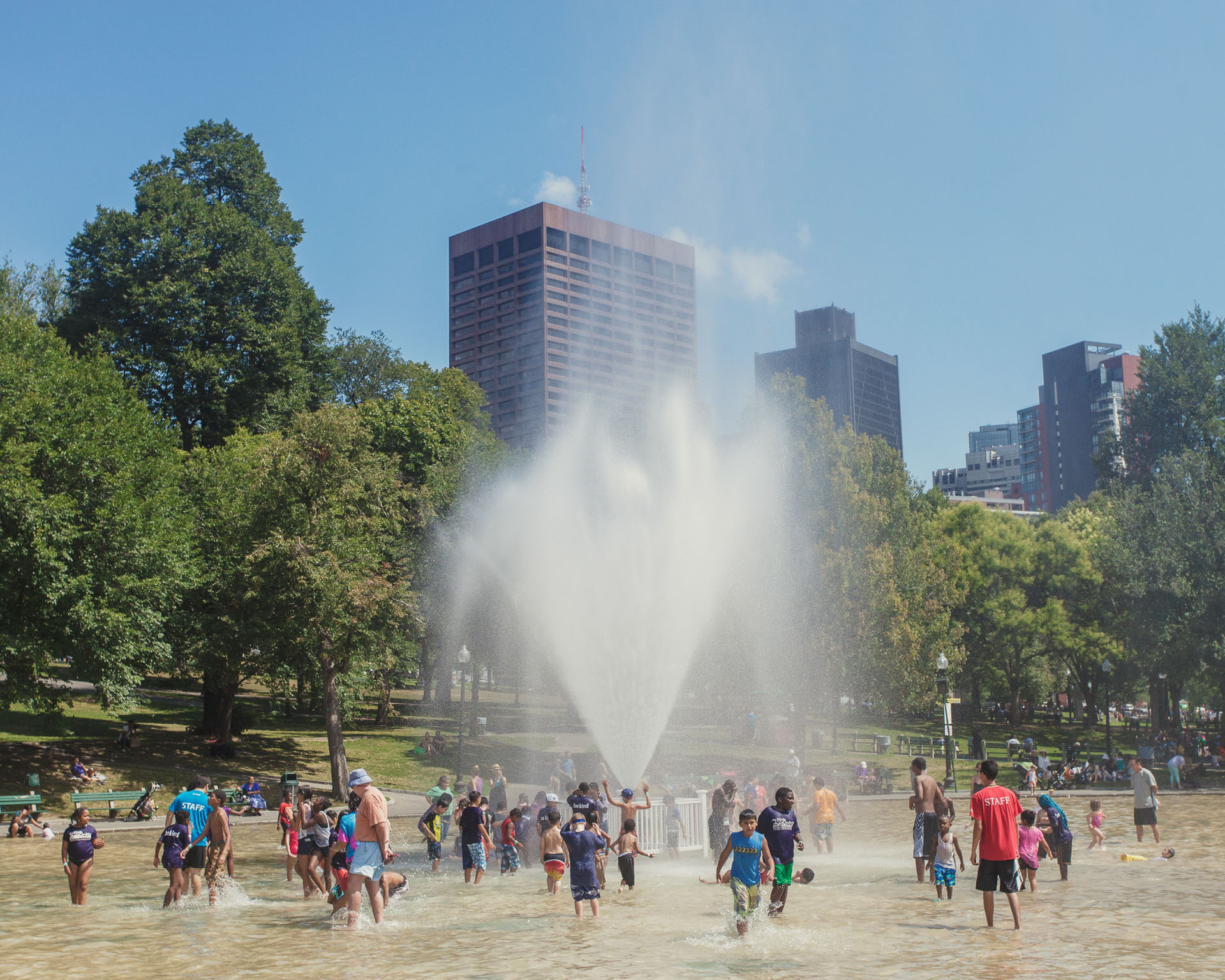 For some reason I had always thought of Boston as being cold. Something about the romance of dreary weather and cool jazz had made me think that it would be a similar climate to my home in England. Walking around Boston my t-shirts would become a much darker shade; soaking up the sweat that dripped off my back and my everywhere. Fountains like this were a welcome respite.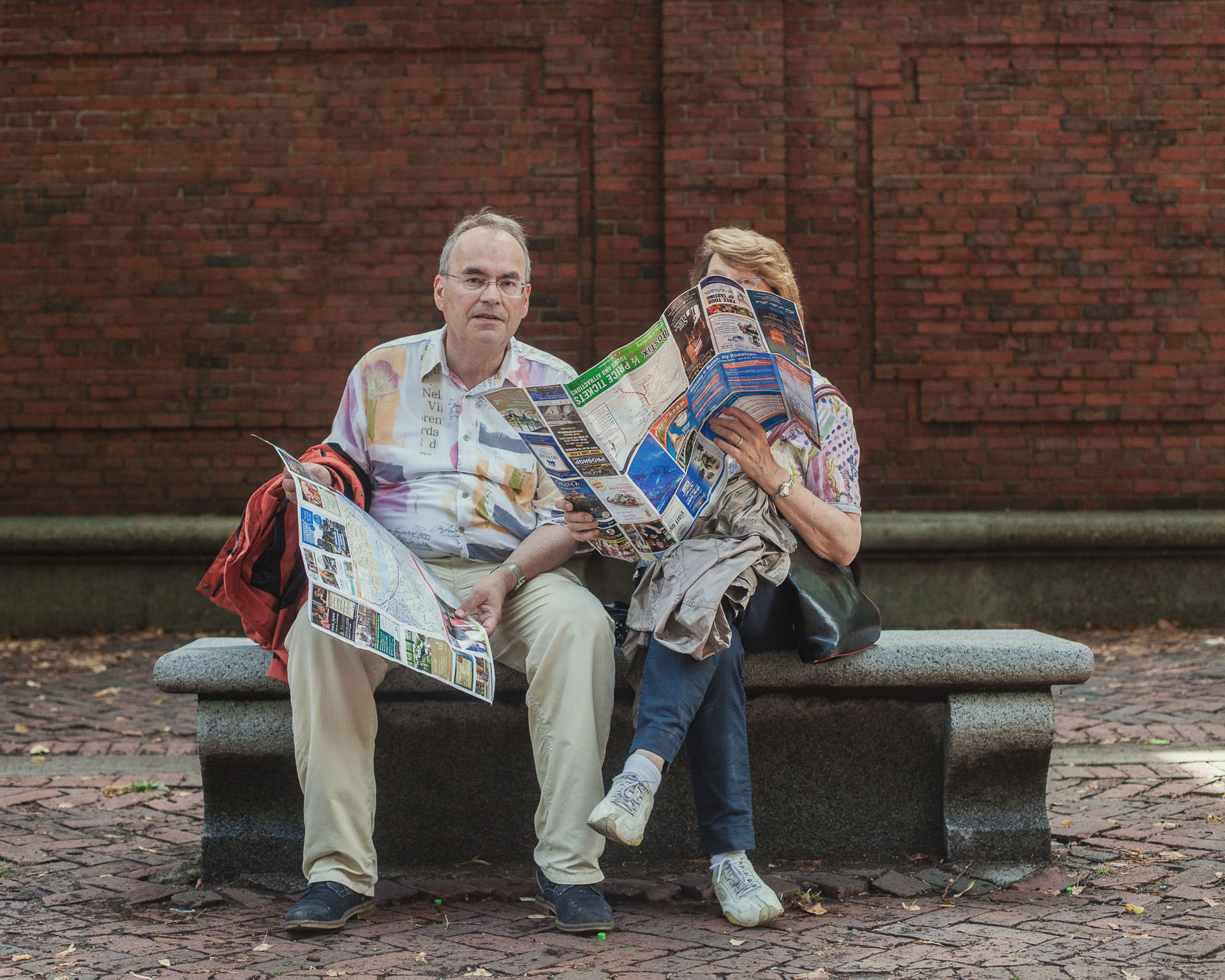 I asked this couple for permission to take their photograph – they accepted, but the woman I photographed decided to hide most of her face behind the map. I like the fact that the man's shirt also looks like a continuation of the maps they are staring at.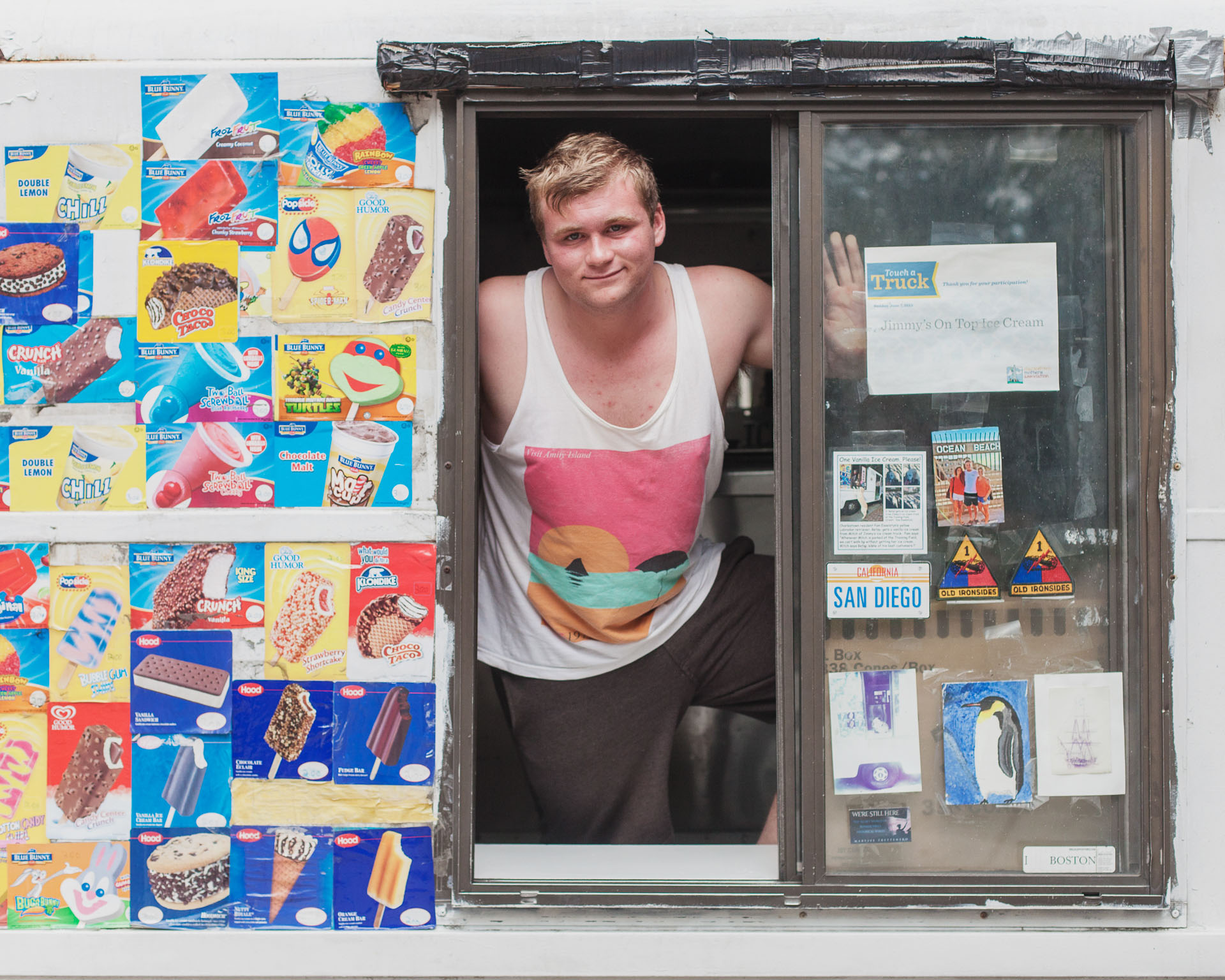 I bought my first snow-cone from this guy. I was pretty disappointed. It was just a paper cone of ice with some chemically-tasting sweeteners drizzled over the top. Nice guy though.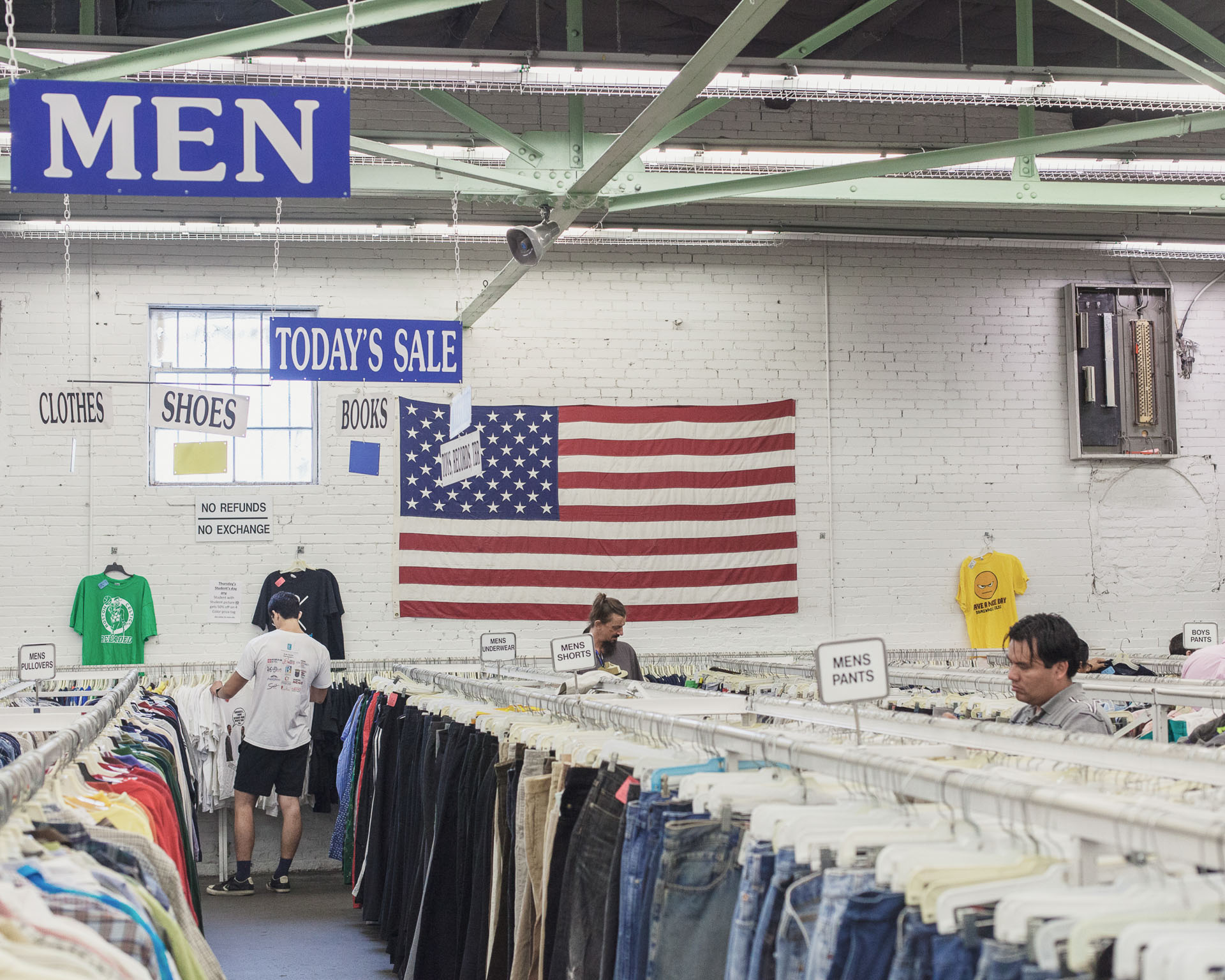 In a country that puts capitalism on the same level as most religions, it's quite surprising how ubiquitous thrift stores are. Back in the UK I mostly shop at charity shops for multiple reasons – a lack of money, the fact that my money goes to charity and also because you can find some wonderful stuff in them. But thrift stores in the States are often on a complete different level, often occupying warehouses. Some of my favourite clothes were bought in this store.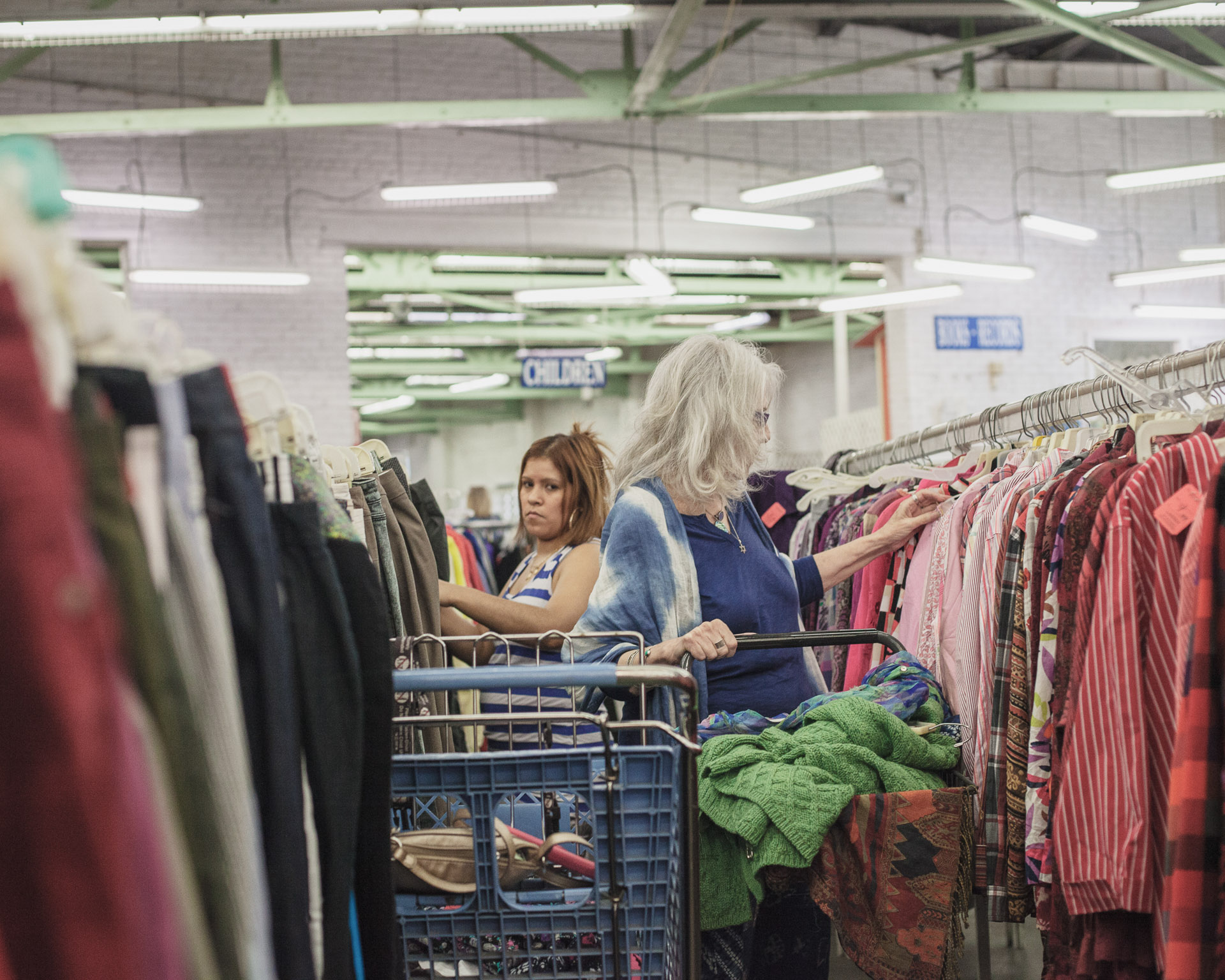 Thrift stores go some way to democratising fashion, so they draw in a real mix of people.They sell clothes at a price that almost anyone can afford and mostly don't discriminate on labels or fancier clothes.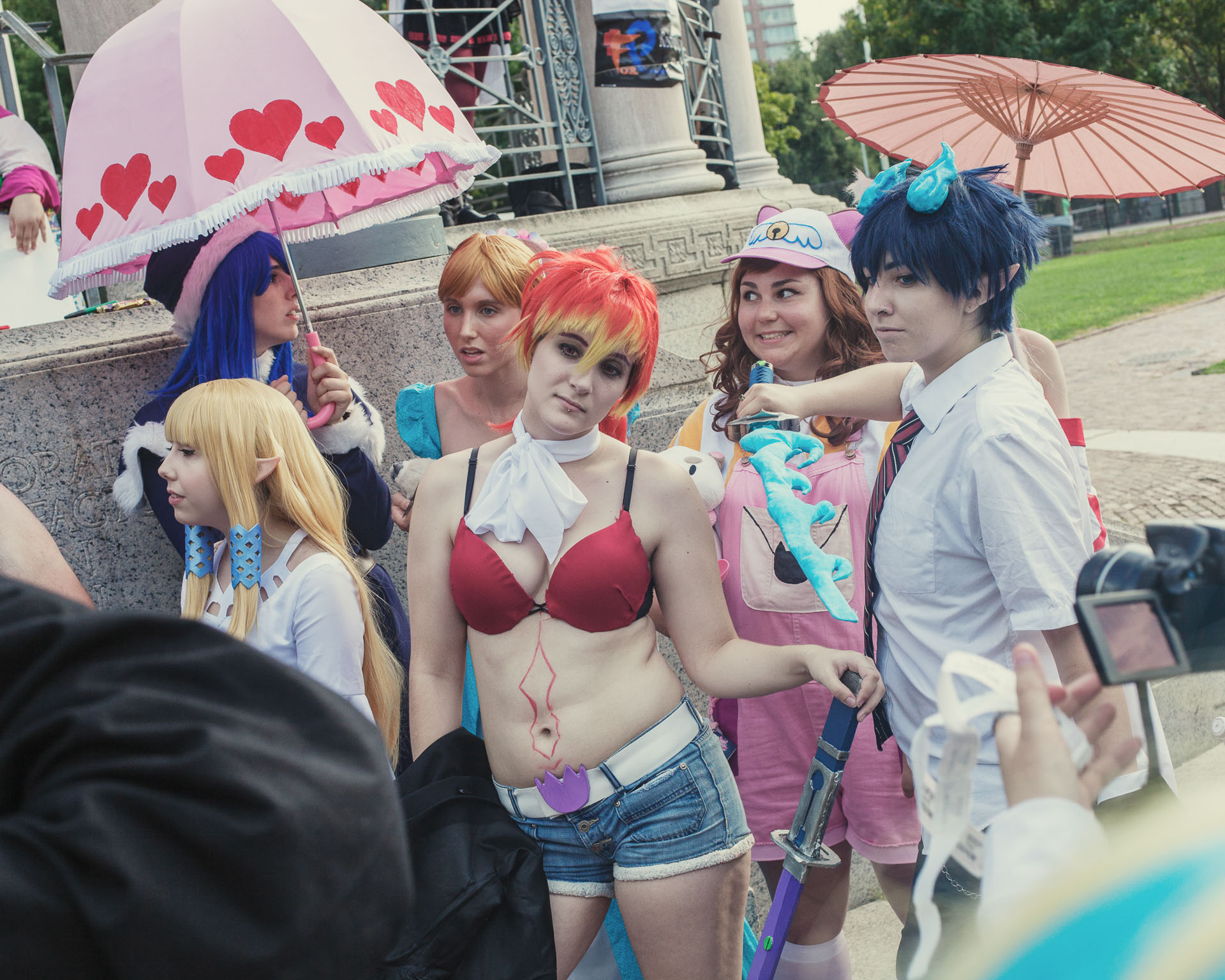 While walking through Boston Common we came across a gathering of Cosplayers. There must have been about fifty people in total dressed up as fantasy characters hanging around the bandstand.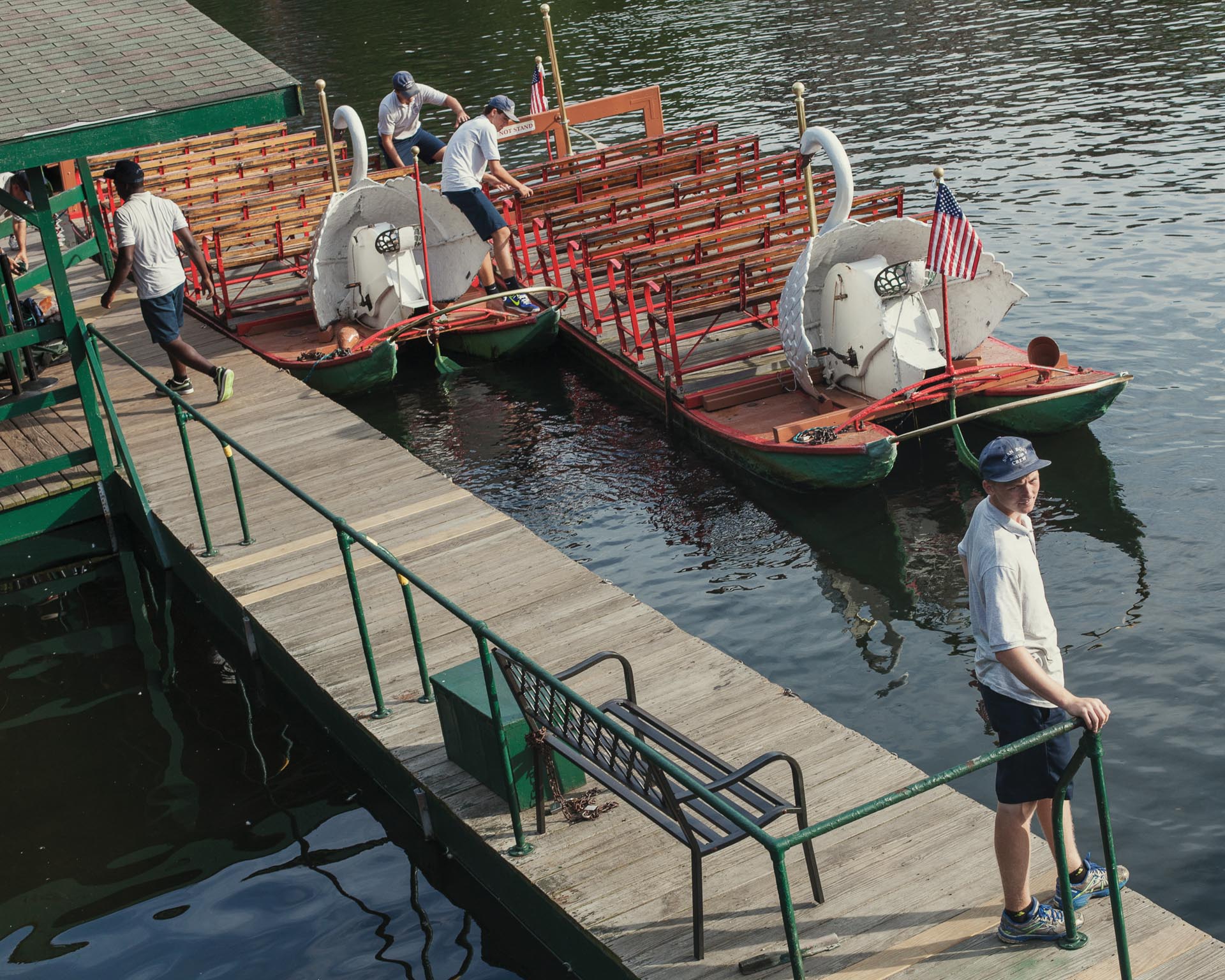 It was roughly 7-8pm when I took this photo. The last group of tourists were lead in from the lake in Boston's Public Garden; each boat pedalled by a tour guide sitting behind a swan. These guys were tying up the boats for the night at the end of their shift.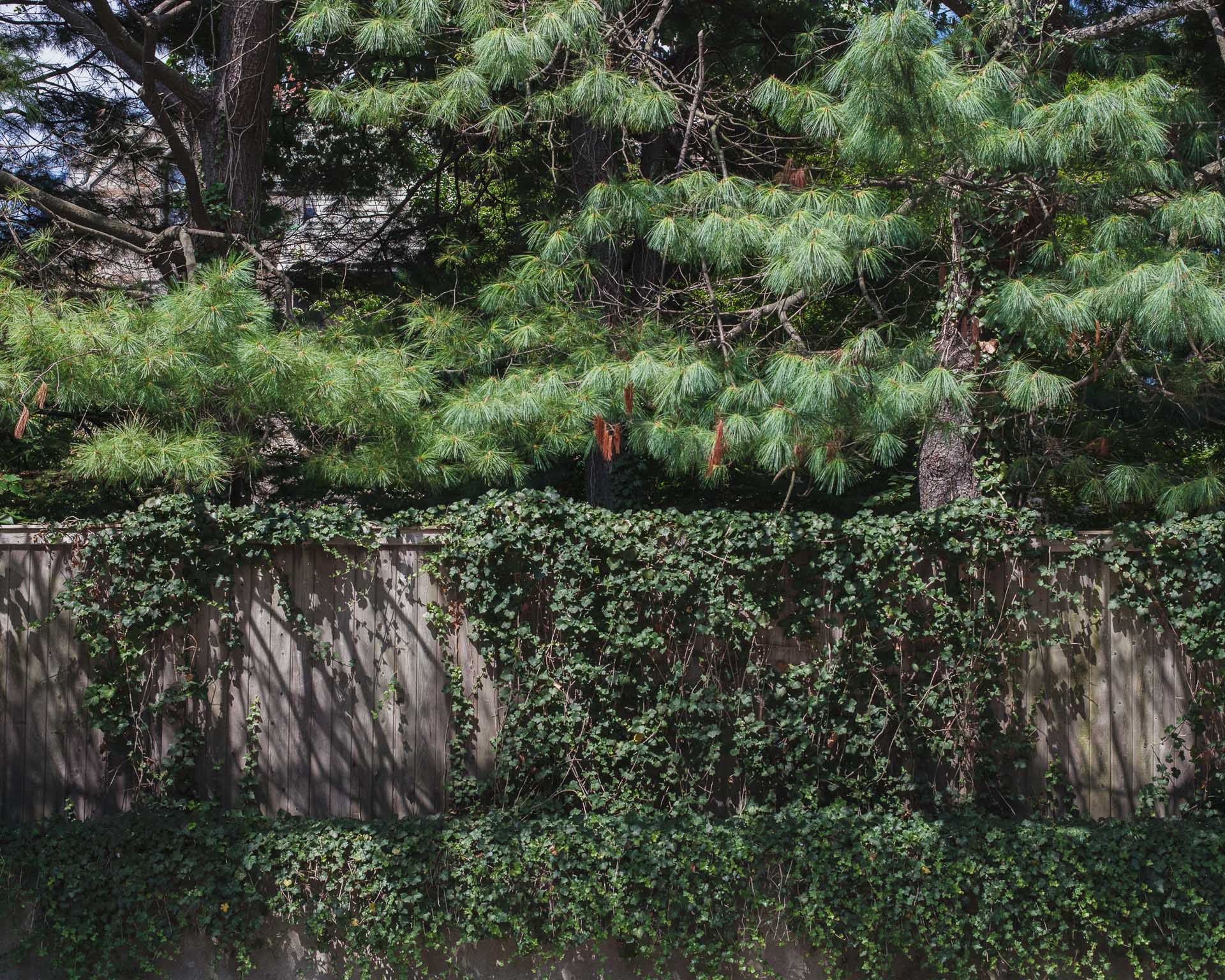 I took this at some point while we were wandering suburban streets in search of one of my Grandfather's childhood homes. Something about the shapes of the fauna and the graduated light spoke to me at the time.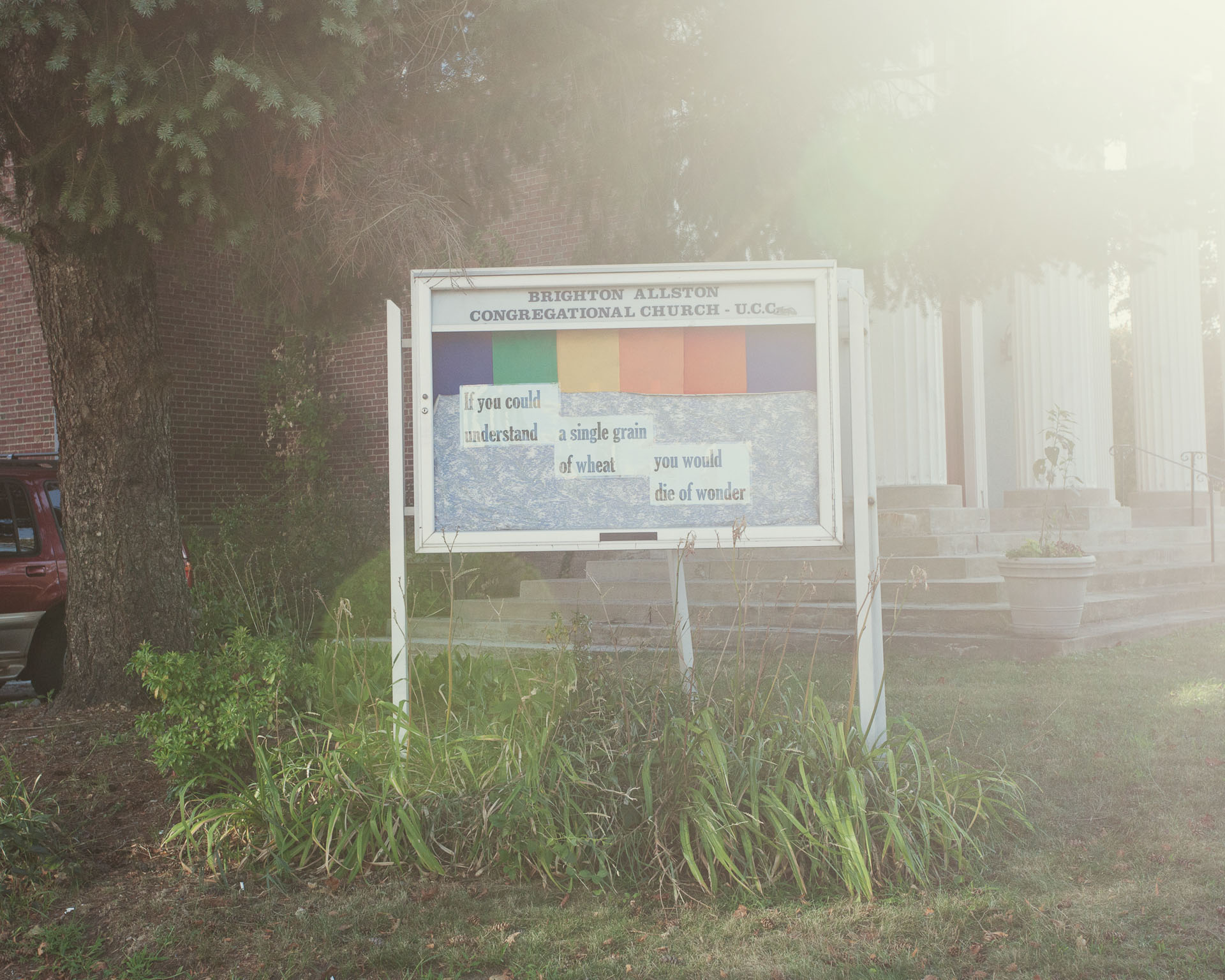 It's quite common in the USA to find these kind of slogans outside churches – often lit up on the kind of boards that are more common outside cinema screens. I liked this one for its simplicity, the three printouts laminated and pinned diagonally down from each other.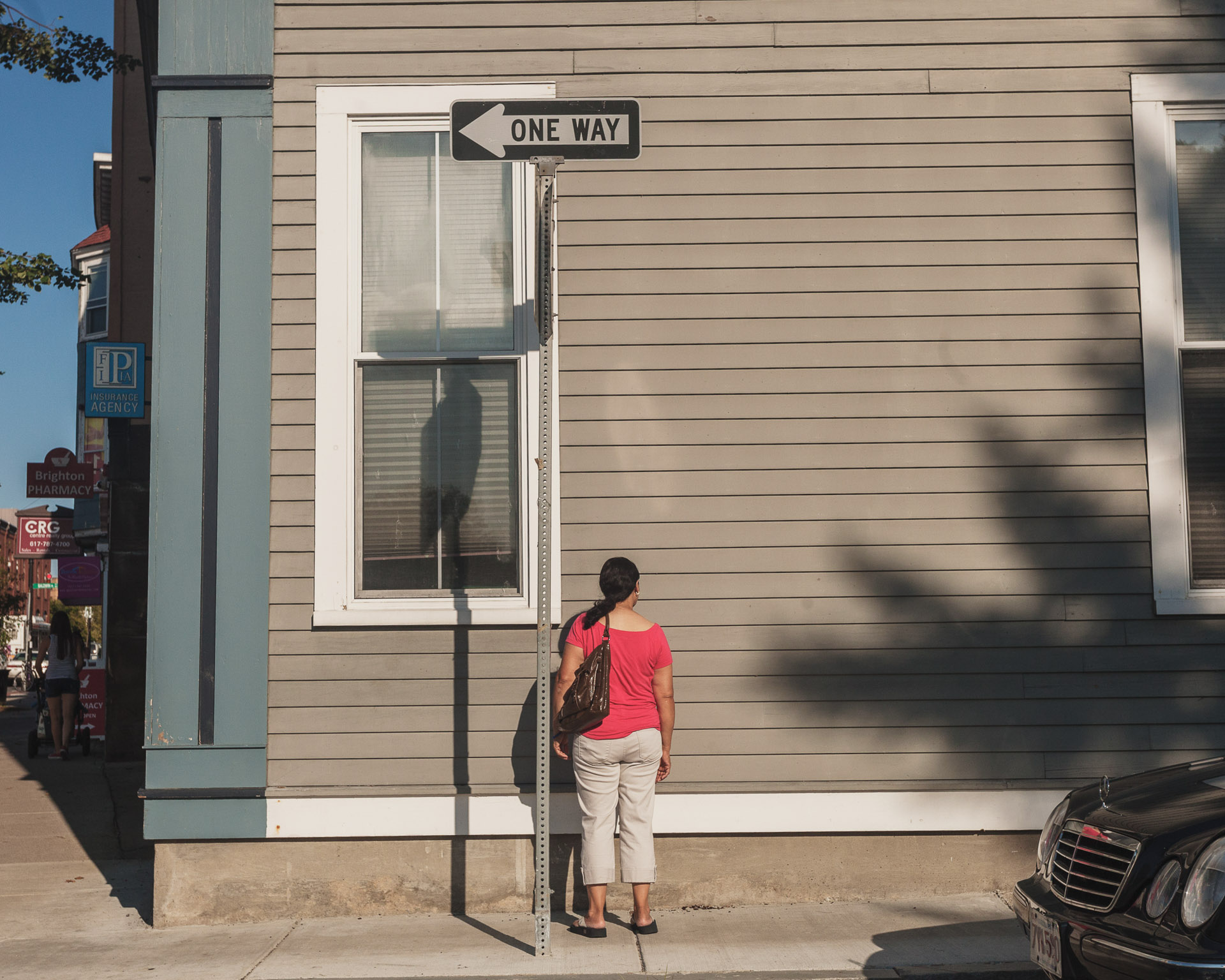 I'll be honest with you here – I have no idea what this woman was doing. I hope she's okay.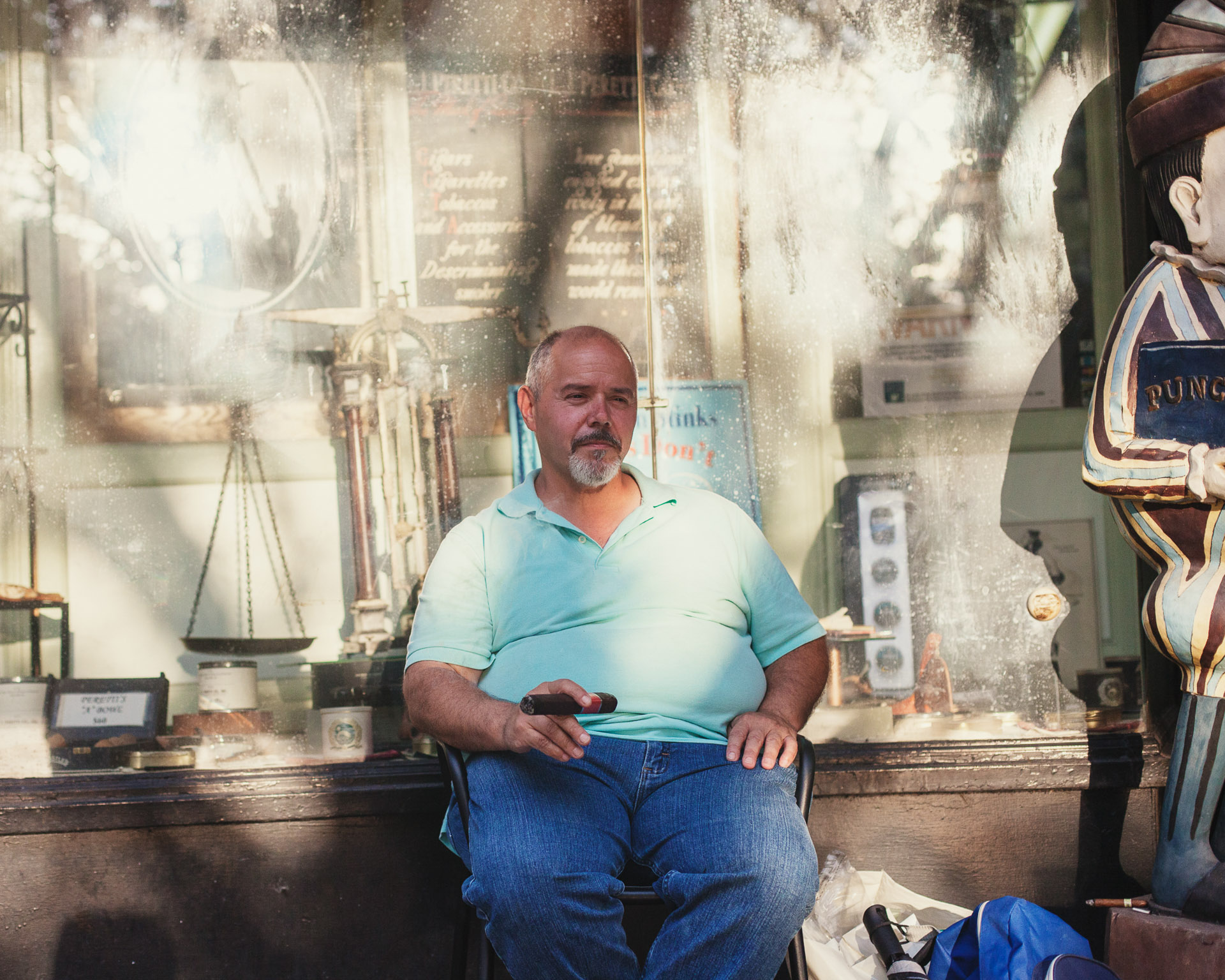 I wish that I had asked this man why he was here and what he was doing. But I like to imagine that he owned the shop he was sat out the front of and had just finished a long day. To unwind, I like to think he'd chosen to sit out of the front and enjoy a few puffs on his cigar – before stubbing it out and heading home.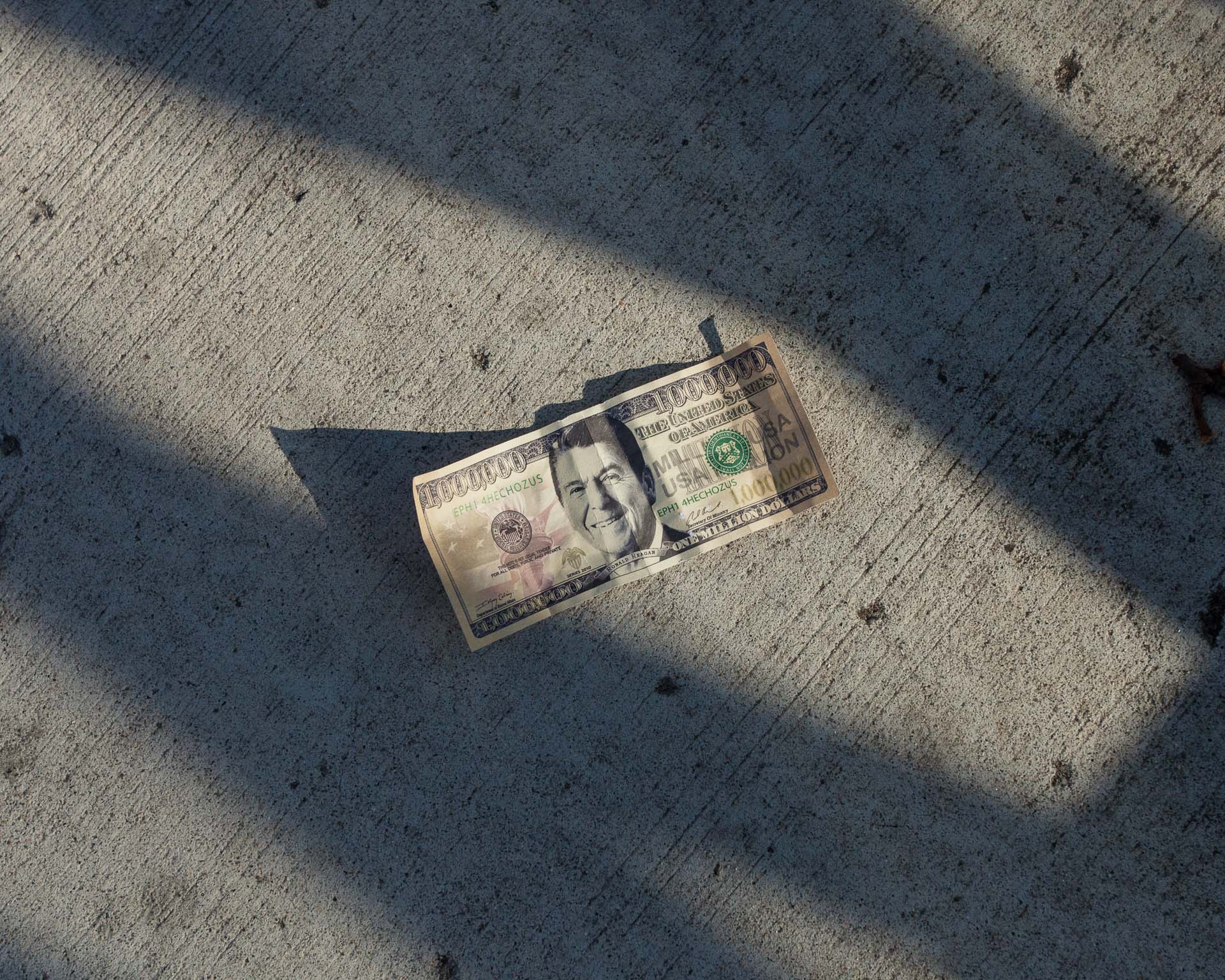 I thought it was my lucky day when I first picked this up. Realising it was a joke, I set it back down where it was in the evening light and took a picture of it so that someone else could be taken by the same prank.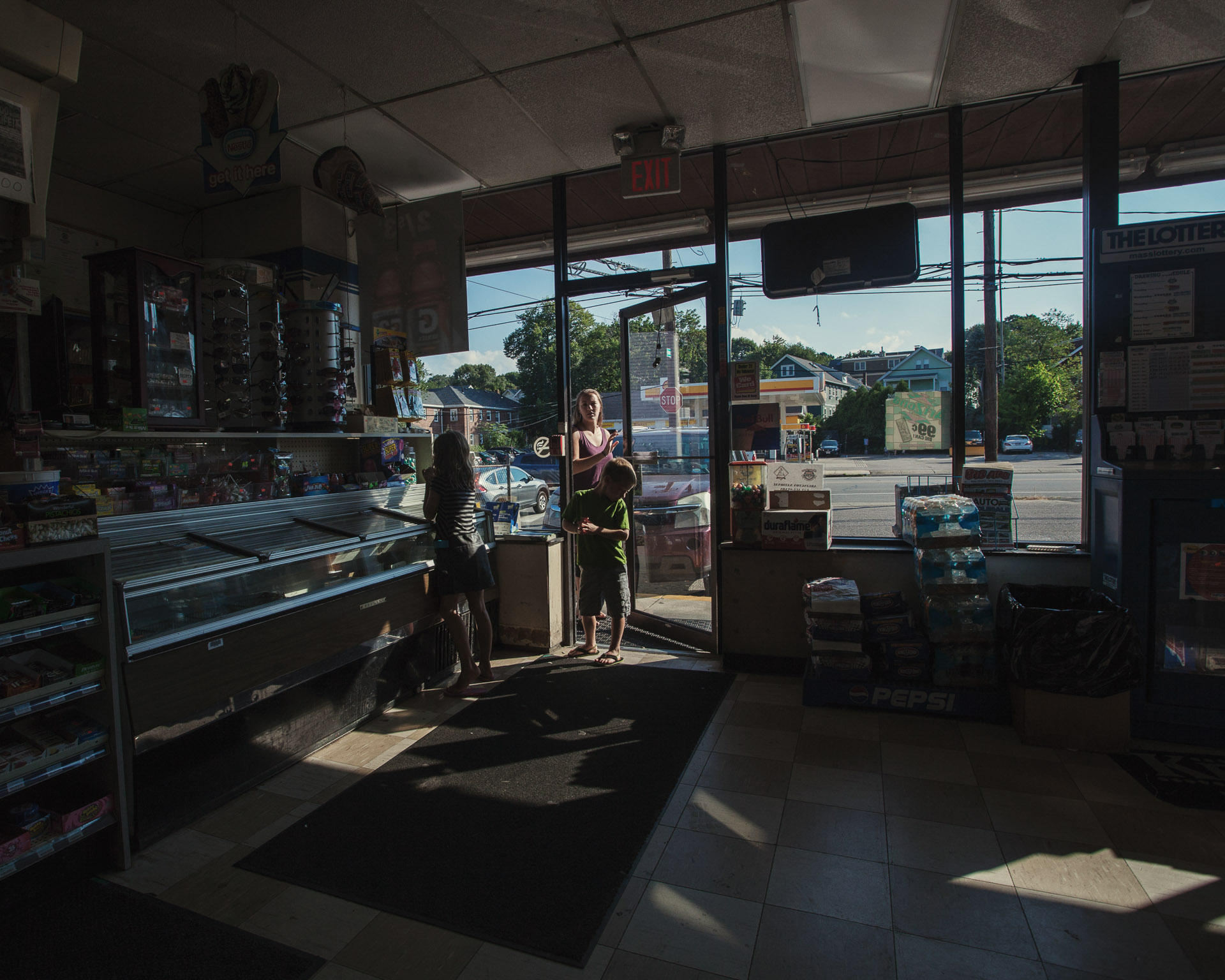 Slush puppies are the only way that I make it through a day where the heat is in excess of 30 degrees. I was hopping in and out of 7 Elevens pretty much every hour, on the hour. I remember seeing the light sweeping in through the door as I was filling a large cup up with blue slush when I saw this family come through the door.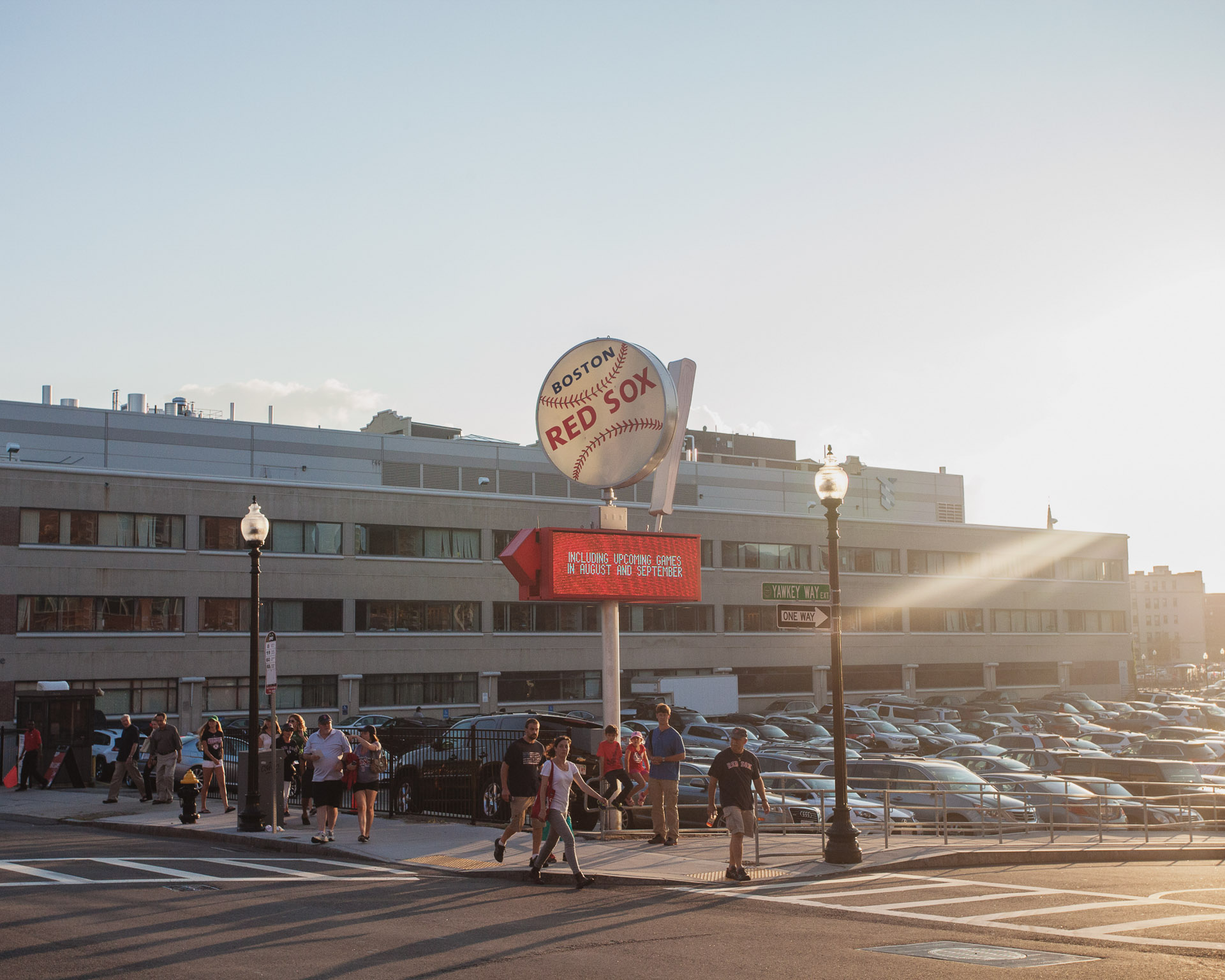 Baseball is important to Boston and their team the Red Sox are pretty good at it (despite their infamous 76-year-long title drought – now happily over). Me and Bekky wandered over to the stadium one night to check out the atmosphere and see if we could get into a game.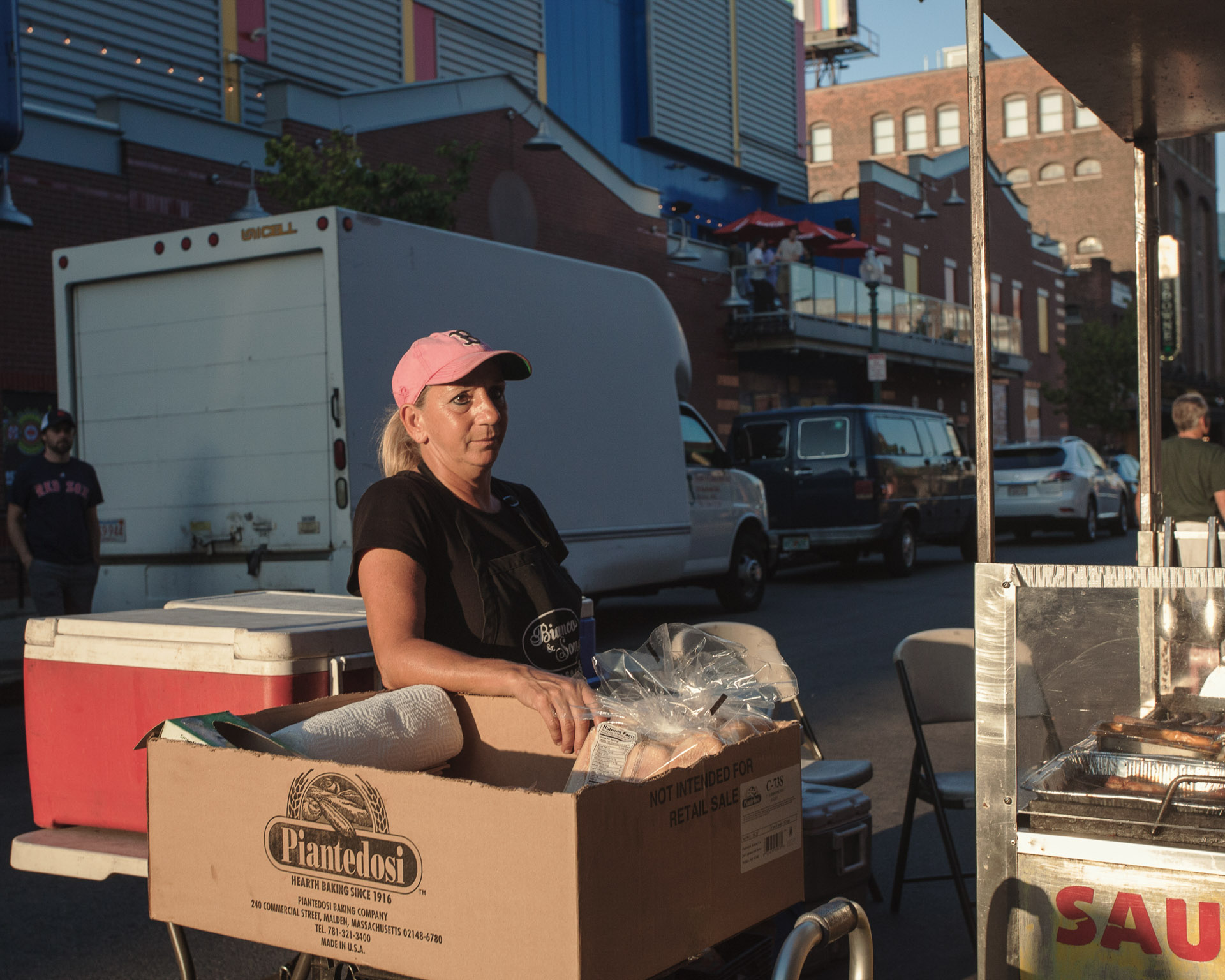 Every time I look at this photograph I wonder what this woman is thinking. She stepped back from the grill for a few moments, holding onto the cardboard box containing her hotdog buns. But her stare is glazed, her gaze perhaps not fixed on anything in particular, and she looks mournful.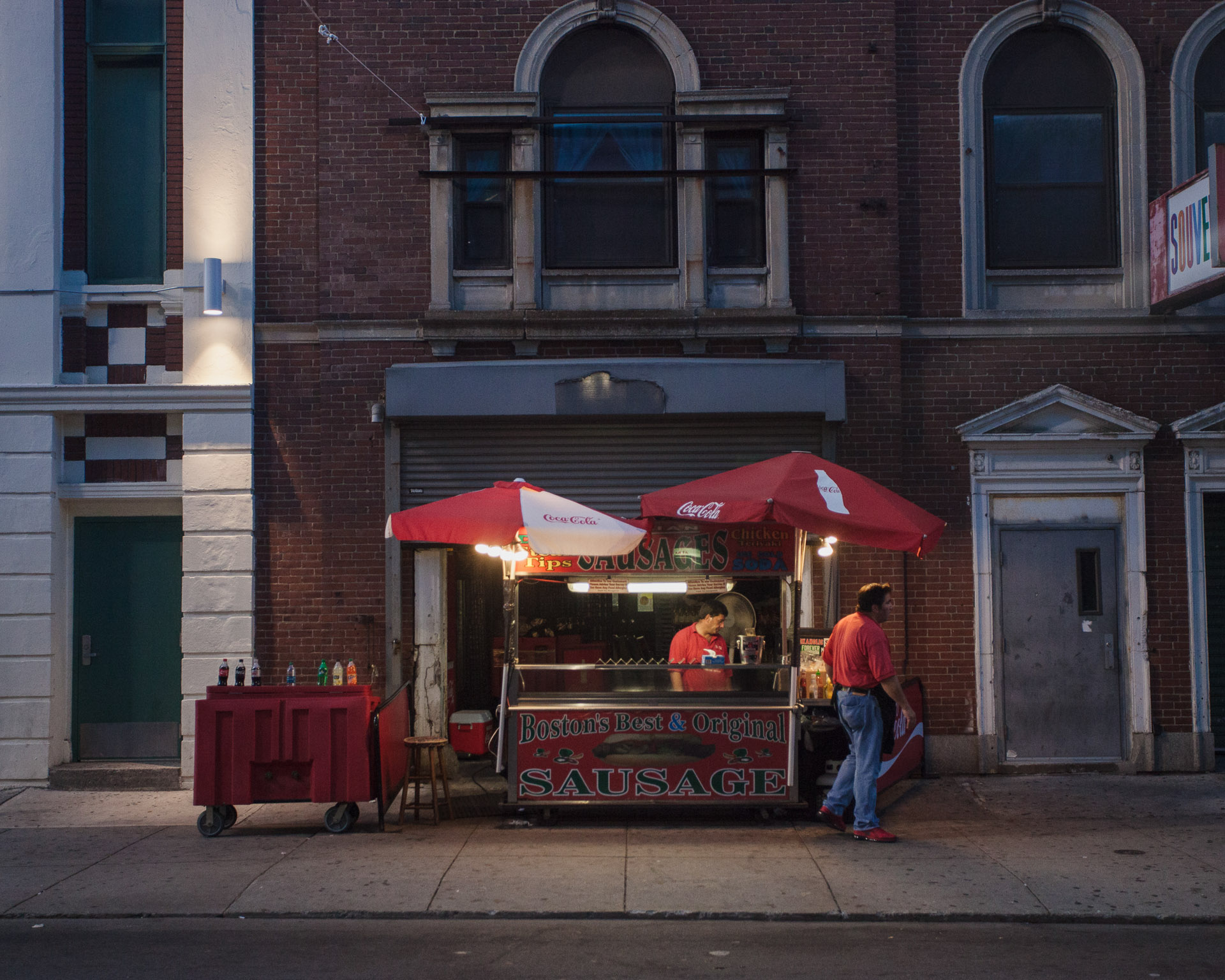 Boston's best and original sausage shuts up shop as the last few stragglers go through the metal detectors and into the game. We stumbled into a place called Bleacher Bar and discovered a huge metal shutter with perforations so that its punters can view the game from their barstool.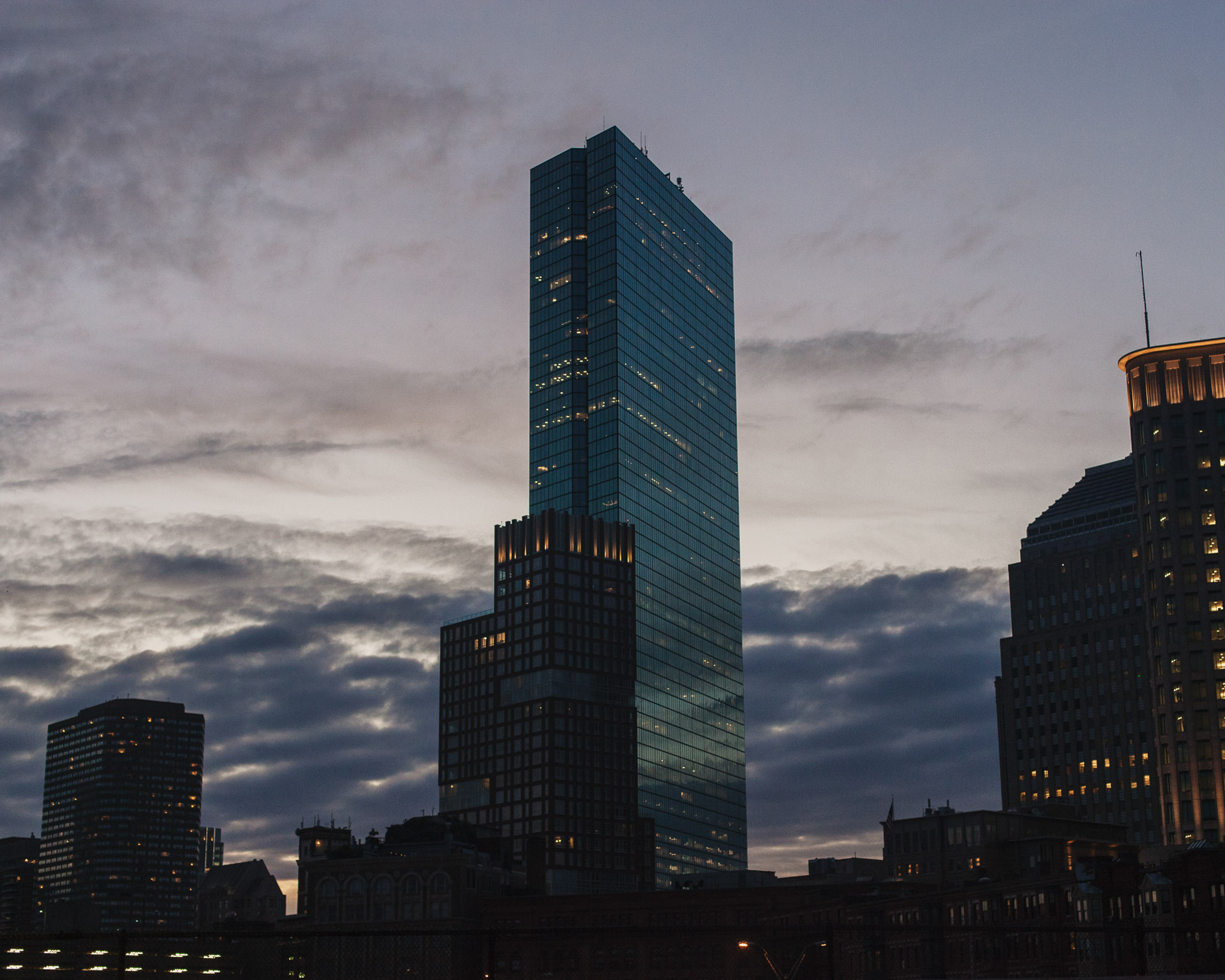 I couldn't compile a gallery of Boston without at least one picture staring upwards. The towers of metal and glass are pretty impressive.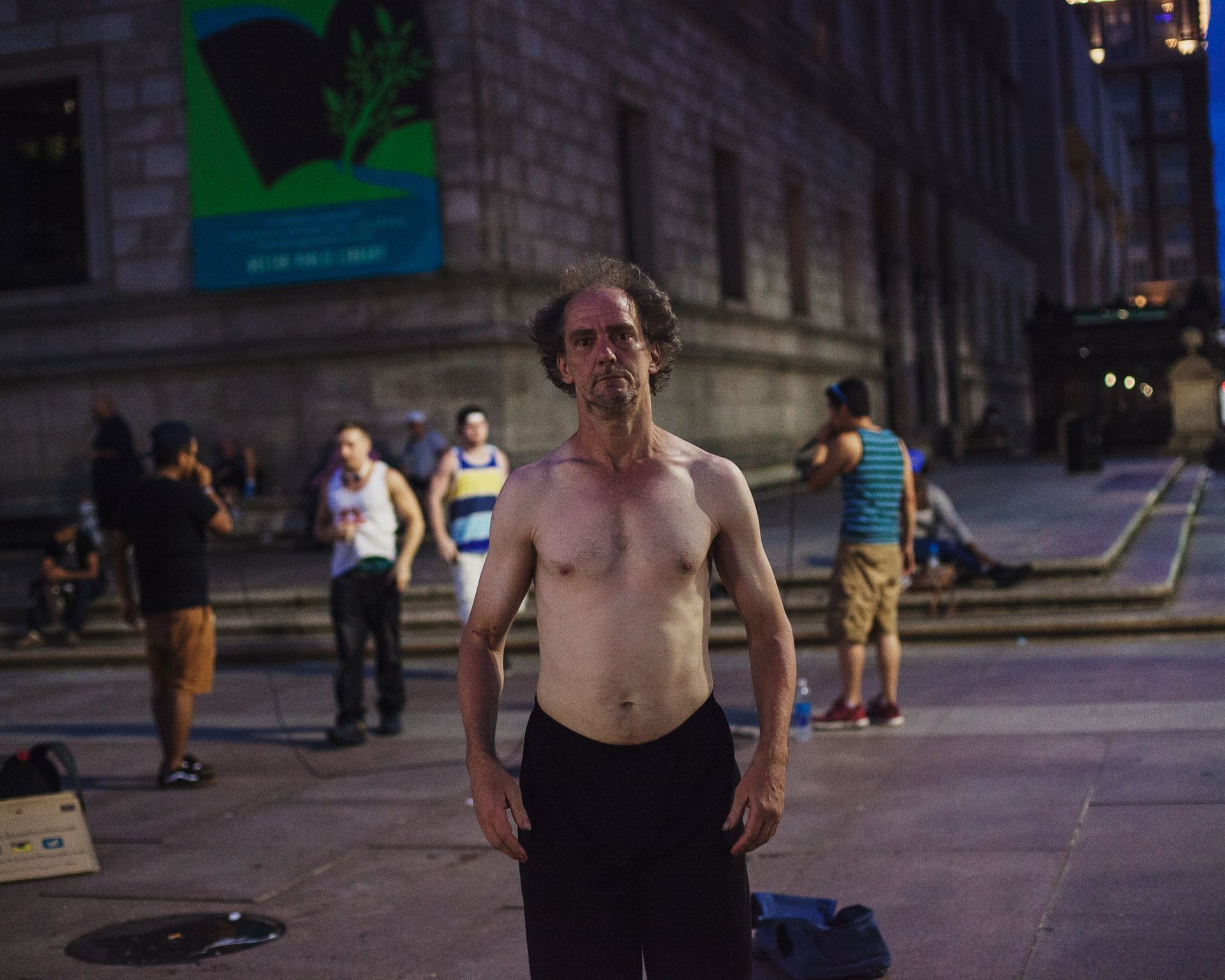 This man accompanied the beatboxers seen behind him by dancing in a jerky manner. I couldn't tell if it was arranged for him to be with them or if he had turned up of his own volition.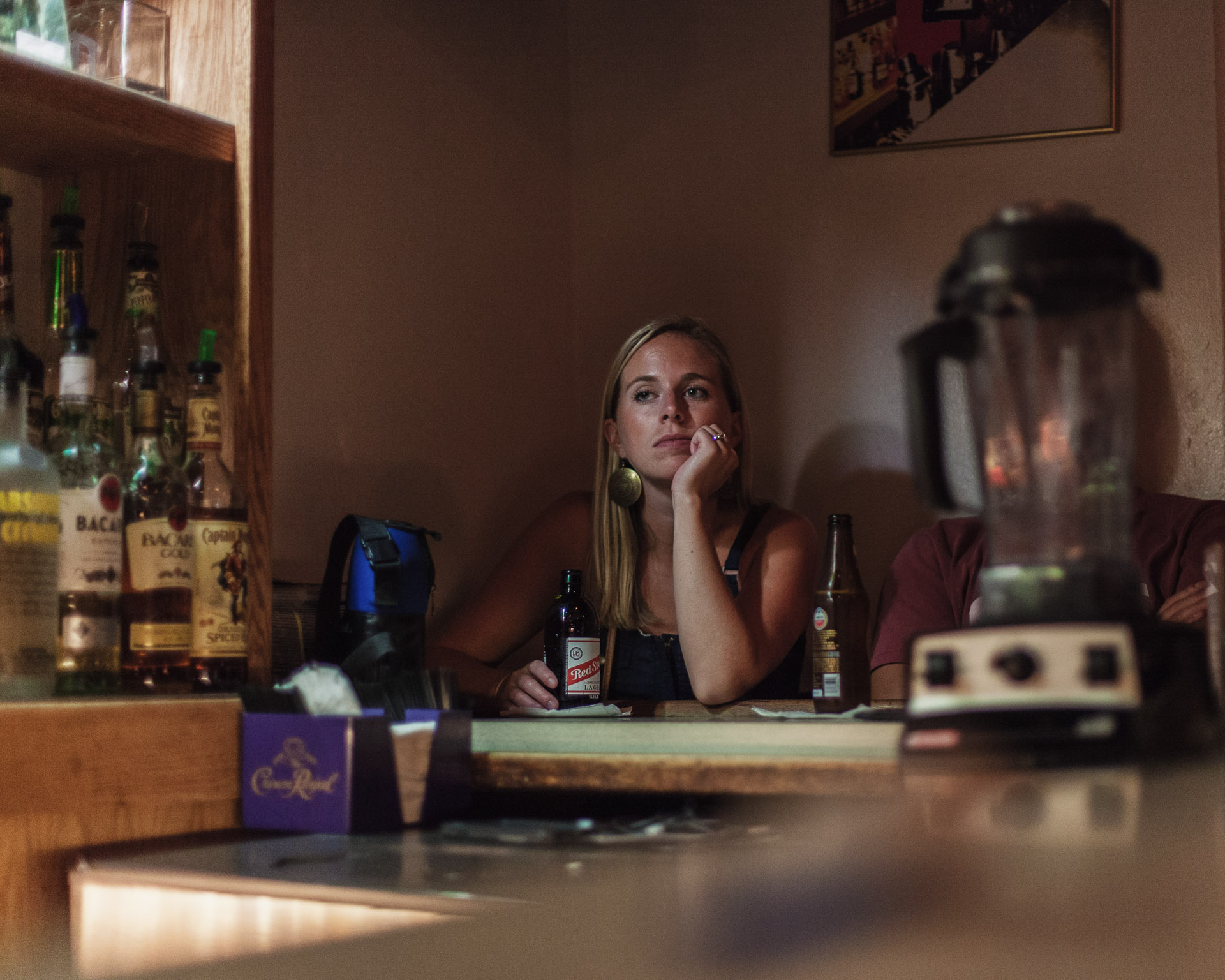 Every night we spent in Boston was spent in a different jazz bar. I had believed my Grandfather to be a successful travelling jazz musician up until I was twenty-five, so I wanted to dive into the culture and figure out why jazz had been so important to the fantasy of my grandfather. Unfortunately this was a pretty hard answer to find – I'm still not sure where I got that idea from.
Chris Bethell is a photographer based in London. Keep up with him on Instagram or his website, and keep your eyes peeled for the next instalment of Land of Hope & Dreams on Amuse.