The A-List | The Best Women's Sunglasses
Your guide to the best of this summer's sunglasses for women
The A-List brings you reviews and round-ups of the best gear on the market: This week, former fashion editor Tabi Jackson Gee picks the best women's sunglasses for holidays, city breaks and all other manner of escapades. For some, the choice of sunglasses is as personal as a choice of scent. Maybe it's Ray Bans. Maybe it's Thom Browne. Maybe it's D&G. You find a brand or shape you love, and stick with them for life. For others – who are more sensitive to the winds of change – early summer brings the perfect opportunity to invest in a new pair. But following trends or updating your sunglasses collection doesn't have to mean going full Hadid, or wearing Matrix-esque rectangles at the tip of your nose.
So instead, here are some classics that you won't regret wearing this time in two months. If you go off brief, don't forget that polarized lenses are what to look out for (particularly if you're going near large bodies of water which, let's face it, you should be in the next few months).
The other thing to watch out for is what your frames are made from. If they're not metal, they'll most likely be acetate – which doesn't break as easily as normal plastic and is lighter.
Ray Ban Hexagonal Lenses | £145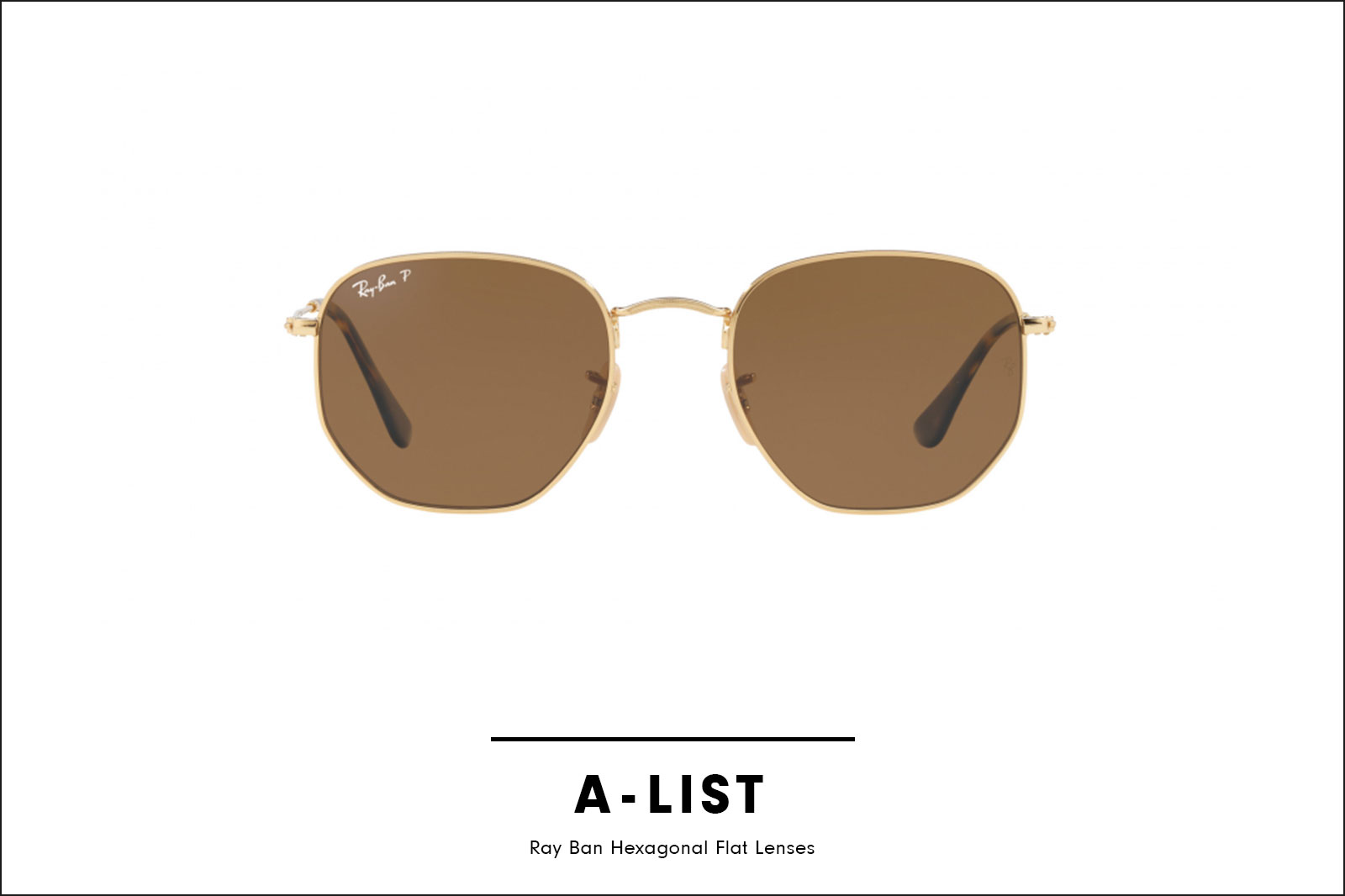 It would be neglectful to do a list of the world's best sunglasses without paying tribute to Ray Ban. And despite the fact that the brand, which was founded in 1937, is best known for its Wayfarers and Aviators, the lens du jour surely has to be these hexagonal flat lenses.

And if you're off on any kind of holiday that involves more than just lying on a sun bed all day, you'll want to put practicality first and clip on some retainers. Because you know what's cooler than looking cool? Not letting your sunglasses fly overboard.
More info: RayBan.com
Saint Laurent Kate Cat Eye Acetate | £255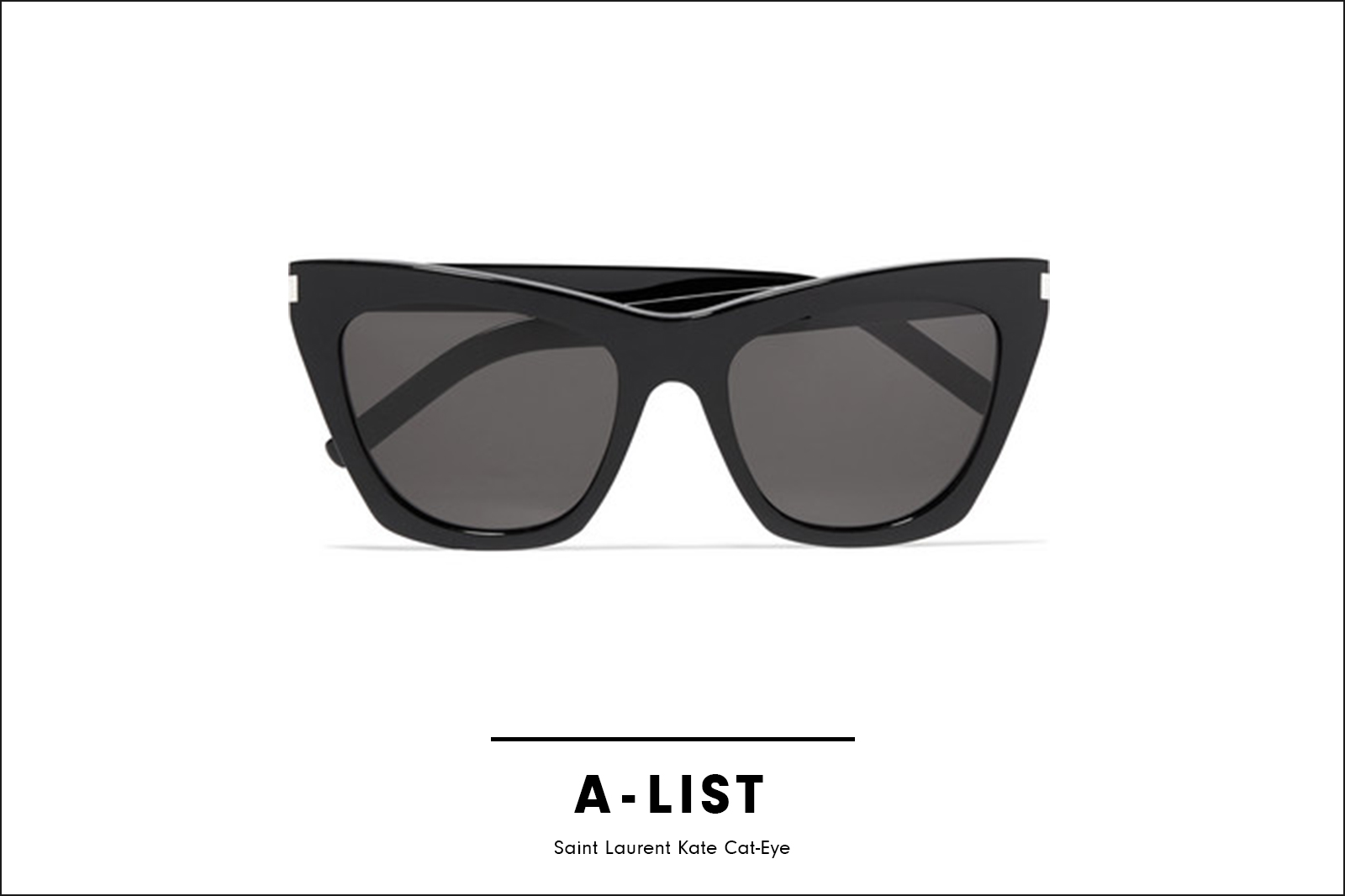 Moving up in the price range are another classic sunglass brand: YSL have been supplying the rich and famous with the perfect hangover-hiding eyewear solutions for years.

The Kate Cat Eyes hit the sweet spot between being iconic (they're suitably large and will hide all matter of sins) and being ever-so-slightly on trend, with that subtle cat eye upturn at the corners. Perch them on the end of your nose, take a white-clothed table outside a marvellous restaurant – and you're good to go.
More info: Net-a-Porter.com
Victoria Beckham Classic Navigator | £325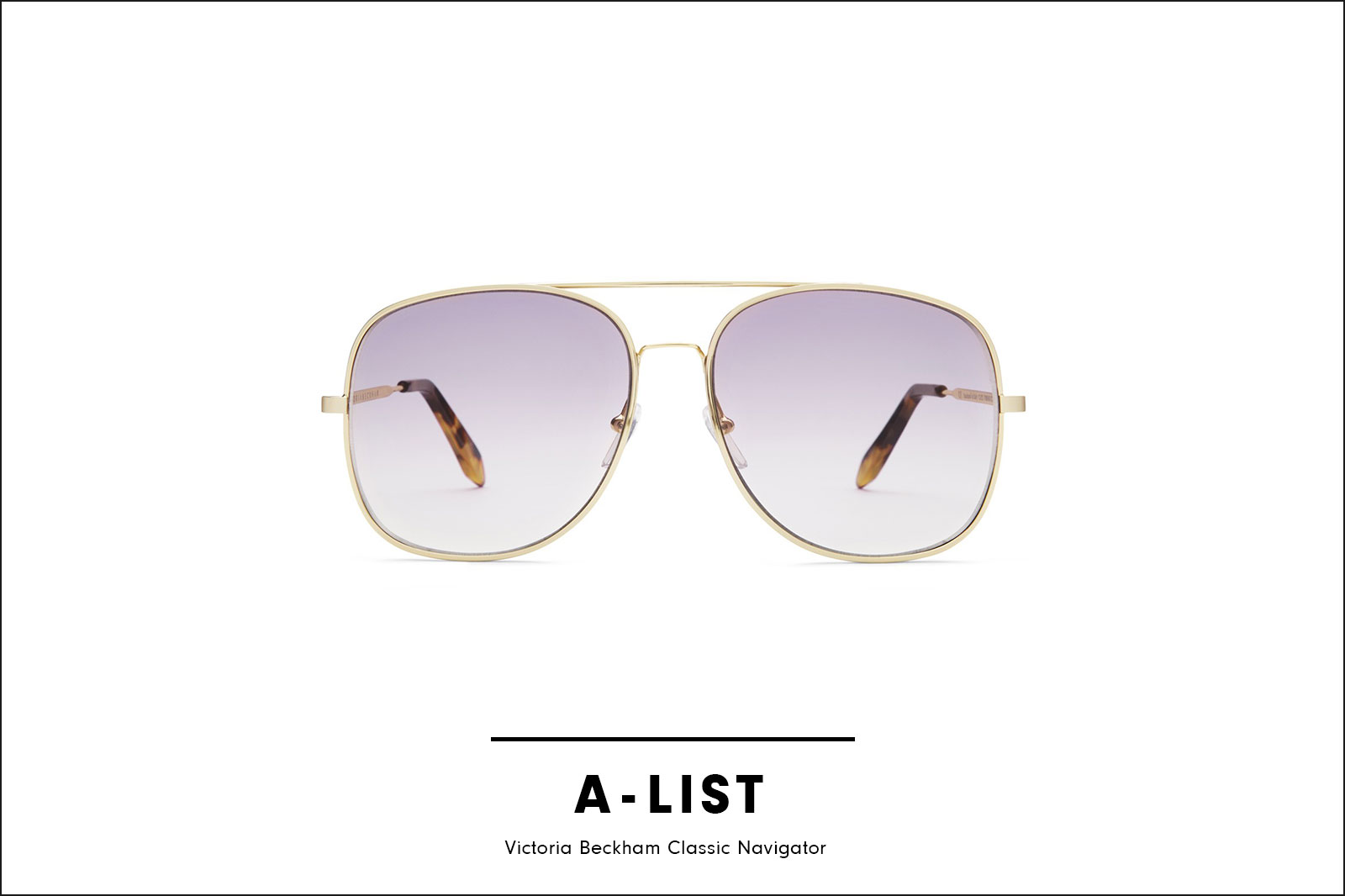 Ray Ban may have invented the first sunglasses for the people flying the planes, but Victoria Beckham invented modern airport style. Huge sunglasses? Check. Baseball cap? Check. Coffee in hand? Check. And thus, the Spice Girl-turned-internationally-acclaimed fashion designer is also the leading authority on all things sunglasses.

This particular pair are unisex and handmade with soft square gold frames. The pale purple lenses mean you could (possibly) even get away with wearing them indoors. If in doubt just ask yourself: what would VB do?
More info: VictoriaBeckham.com
Thom Browne Navy & Gold Round Sunglasses | £786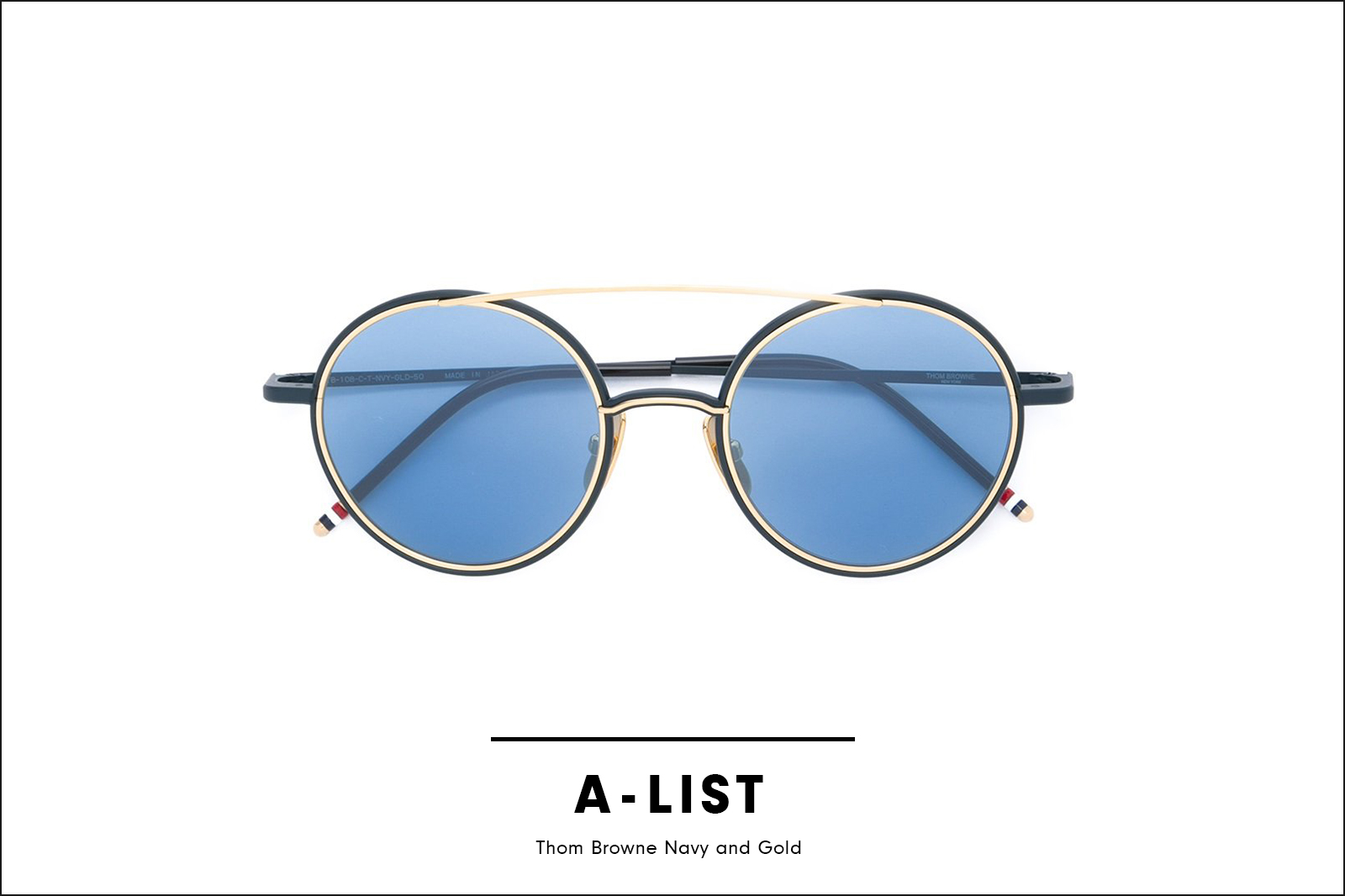 Thom Browne has an instantly recognisable flair for design, as is evident in the New Yorker's delightful navy and gold sunglasses. With Japanese Acetate Lens Rims, titanium nose pads and all the UVA/UVB protection you could dream of, they're this price for a very good reason.

Browne, who's a modern fashion icon in his own right, has won numerous highly-coveted design awards. Not bad for a guy who started his business with five suits and an appointment-only shop less than 20 years ago.
More info: ThomBrowne.com
Miu Miu Raisor Semi-Sunglasses | £290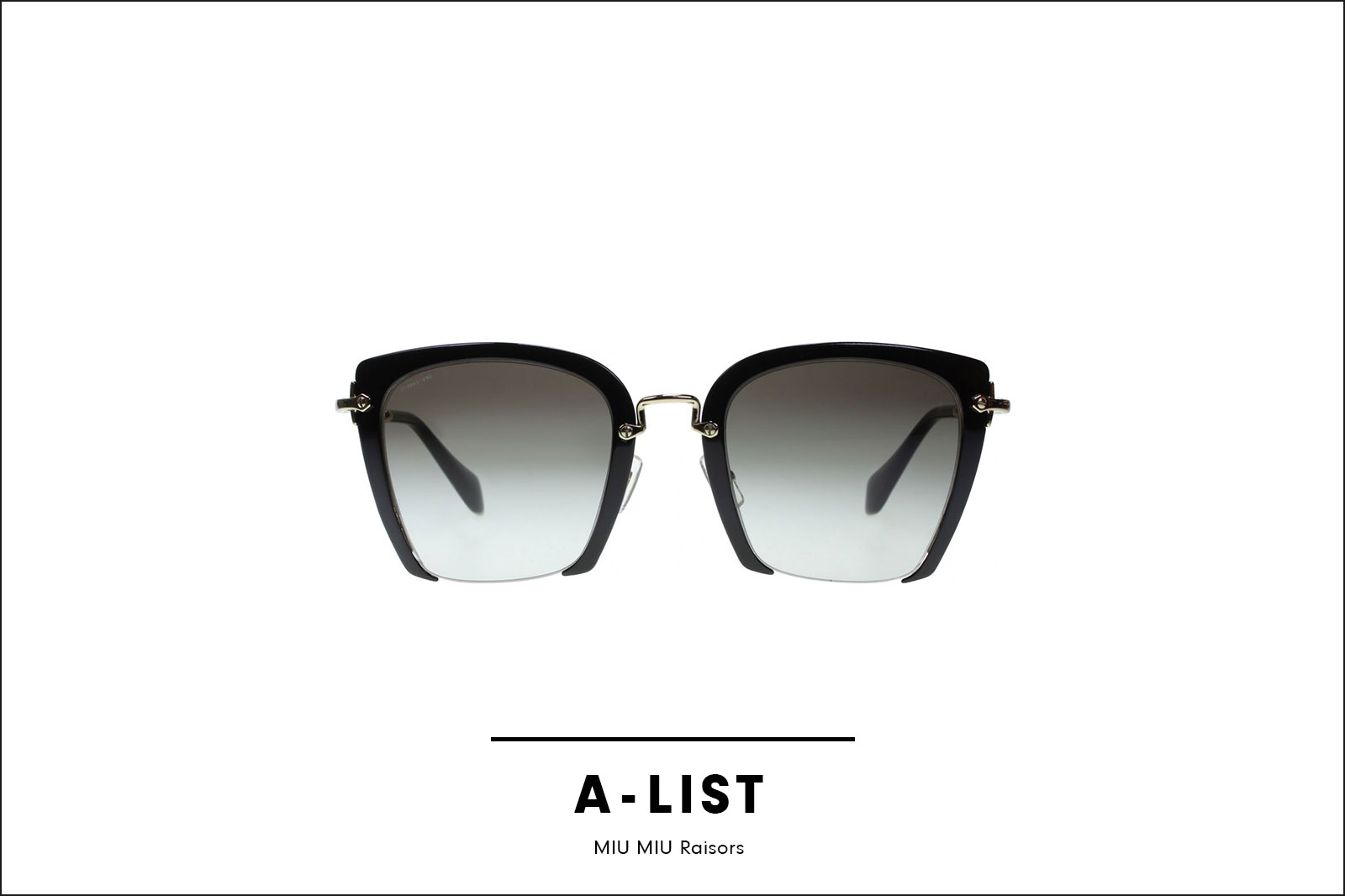 Miu Miu don't hold back when it comes to shades. From cat eye numbers to bottomless 'semi' offerings such as these, Miuccia Bianchi Prada's side-hustle always delivers something interesting and unexpected in the eyewear department.

And if you're the kind of person who struggles to find sunglasses to suit them, you've come to the right place. The shape and size of most Miu Miu spectacles mean they're deceivingly adaptable to different face shapes.
More info: MiuMiu.com
Oakley Reverie | £110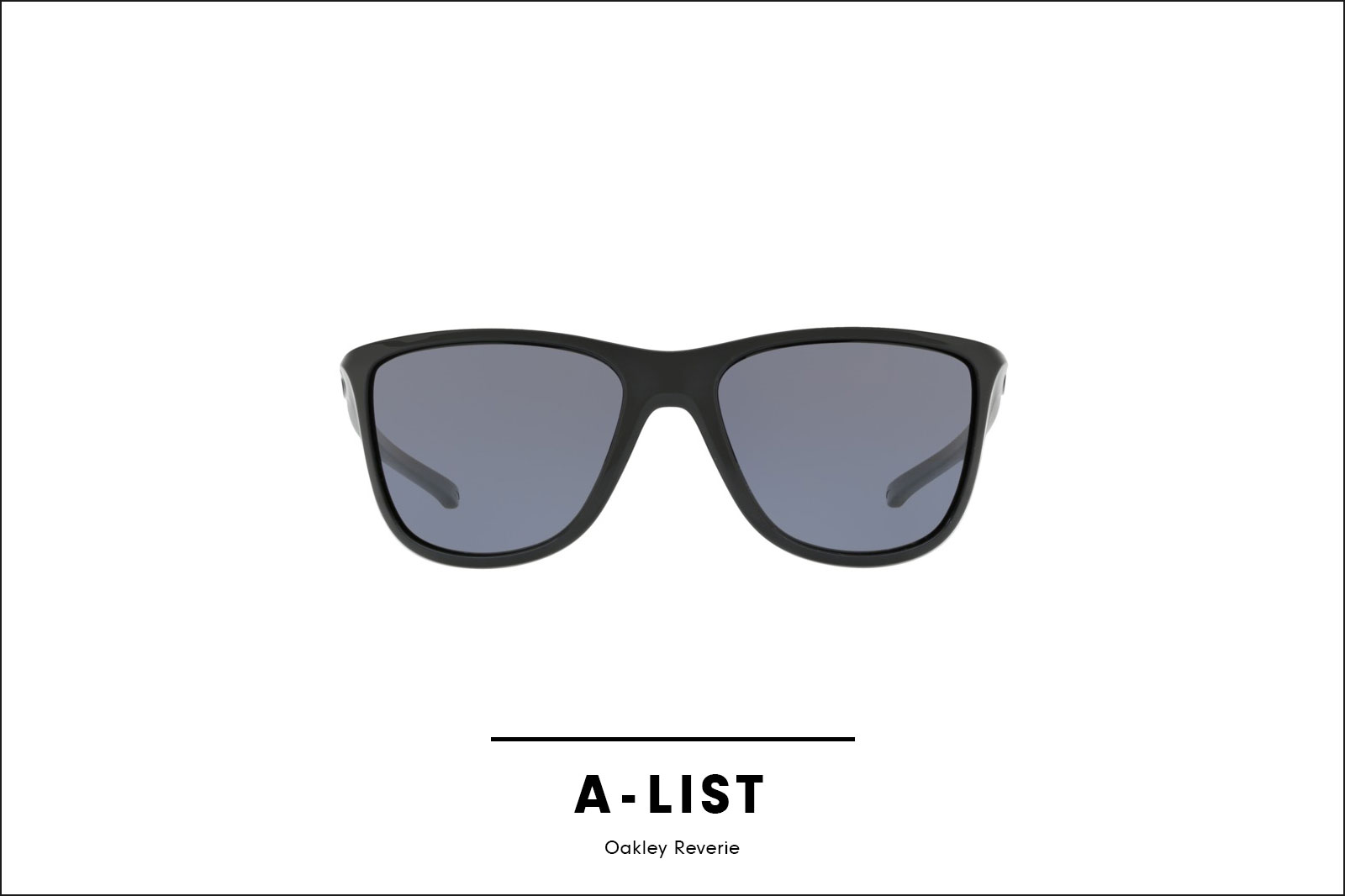 If your idea of putting functionality means slinging a retainer string around your neck won't cut it – but you're not prepared to commit to wrap-arounds – then here's your compromise: Oakley Reverie shades.

Unlike some of the brand's other sunglasses you won't have to sacrifice aesthetics for some proper protection, and you can sail, ride, run, walk – whatever your holiday adrenalin injection of choice is – safe in the knowledge that you are wearing something built by a company dedicated to sports-friendly eyewear.
More info: Oakley.com
Dolce & Gabbana Butterfly Sunglasses | £205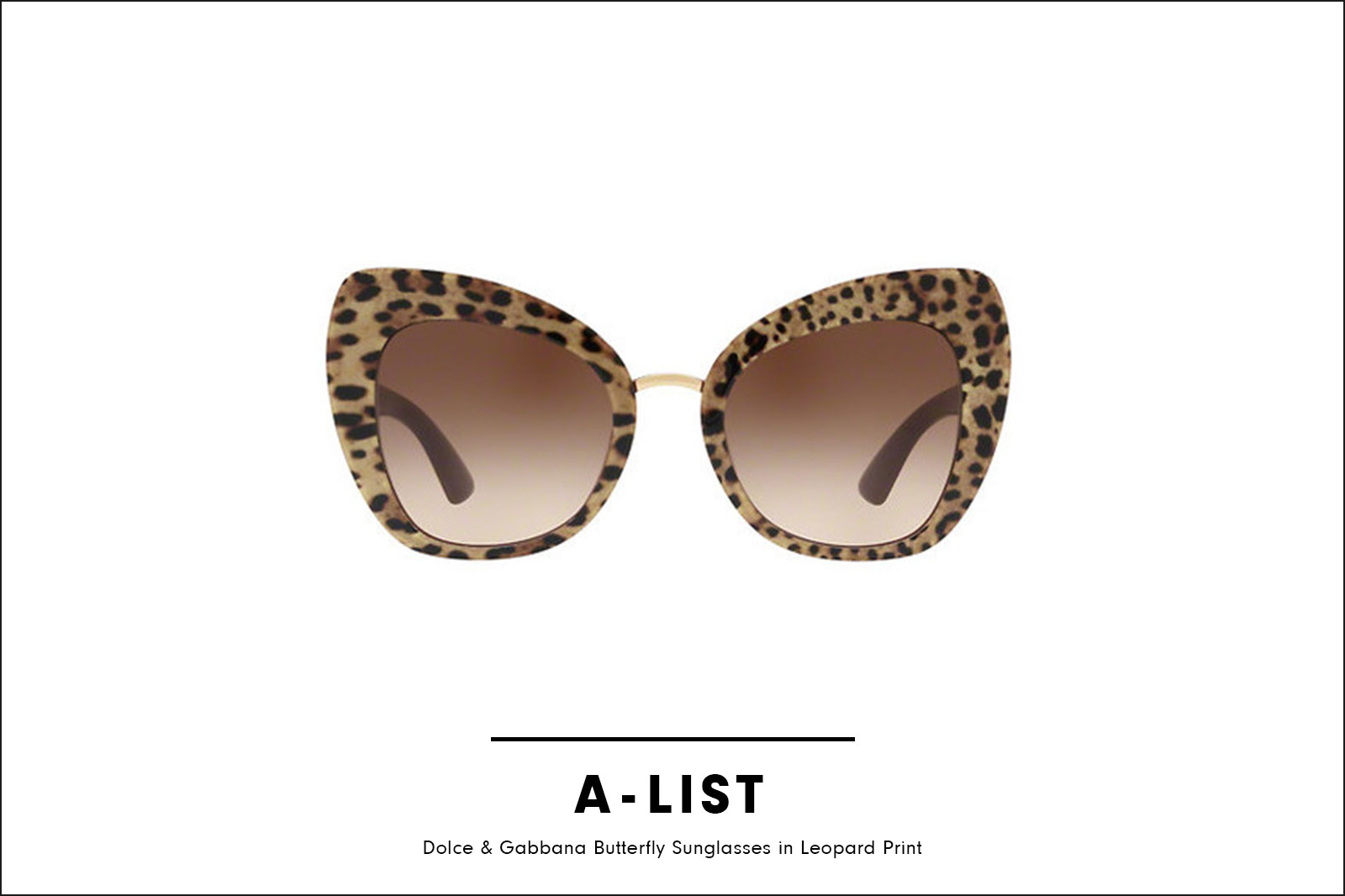 Again, you can't talk about sunglasses without dropping in some D&G. The Italian fashion house definitely doesn't make clothes or accessories for wallflowers: if you're looking for something a little bit extra, look no further.

With a bridge width of 22mm and a 2 inch lens these were made to be perched on your nose while you're kicking back on a super yacht in a wide brimmed hat. La Dolce Vita.
More info: DolceGabbana.com
Maui Jim Mavericks | £255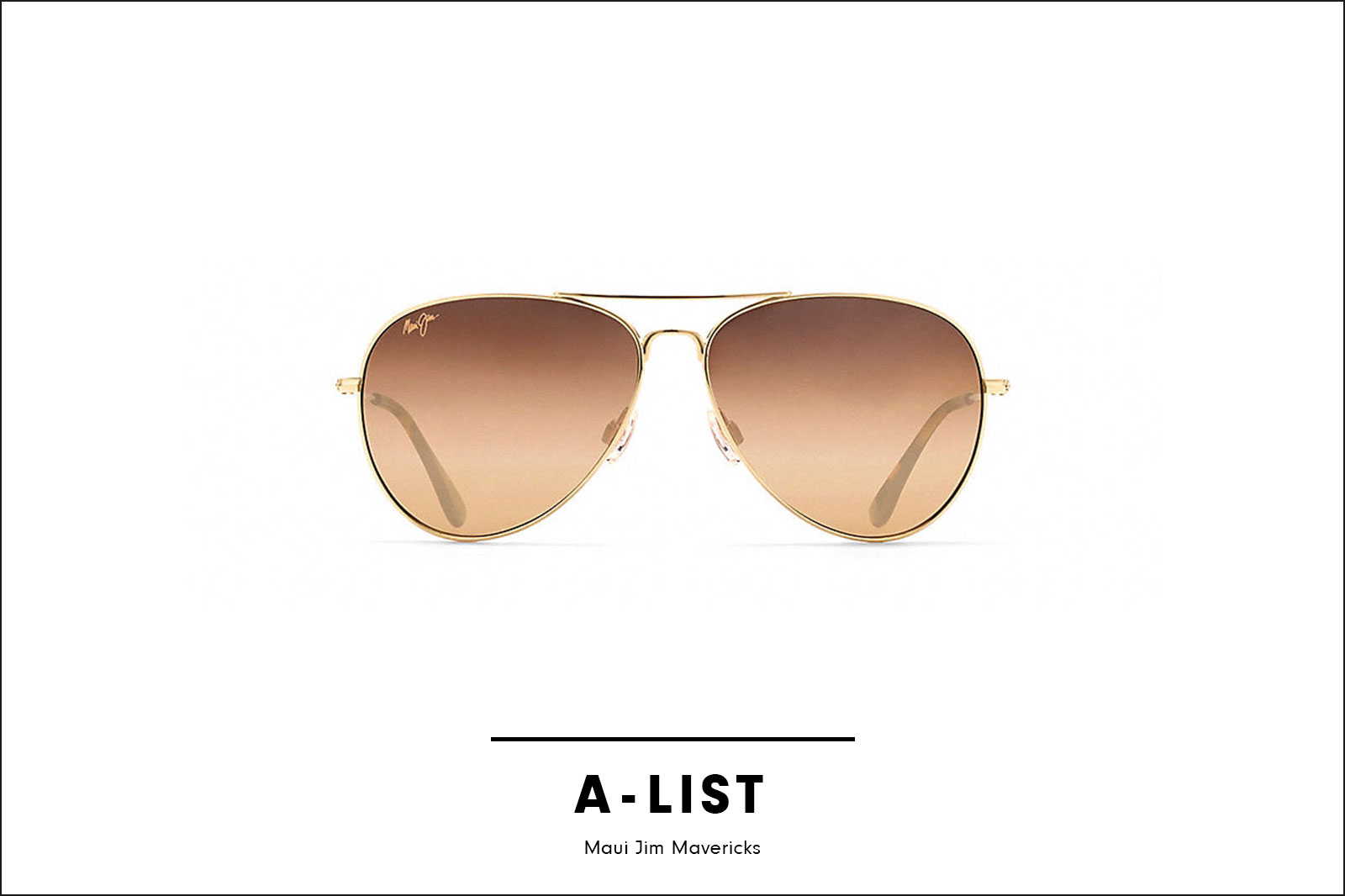 Maui Jim don't just sell sunglasses, they also let you tell others what you think of them: their website comes equipped with feedback and a one to five star rating system for every pair they sell. The Mavericks (the reference must be to Top Gun, surely…) have 4.8 stars and 153 (largely positive) reviews.

It's basically the classic aviator, with a modern update. The lenses are made from MauiPure – the brand's most popular lens material which combines super thin optics and excellent scratch and shatter resistance.
More info: MauiJim.com
Linda Farrow 662 C3 Round Sunglasses | £790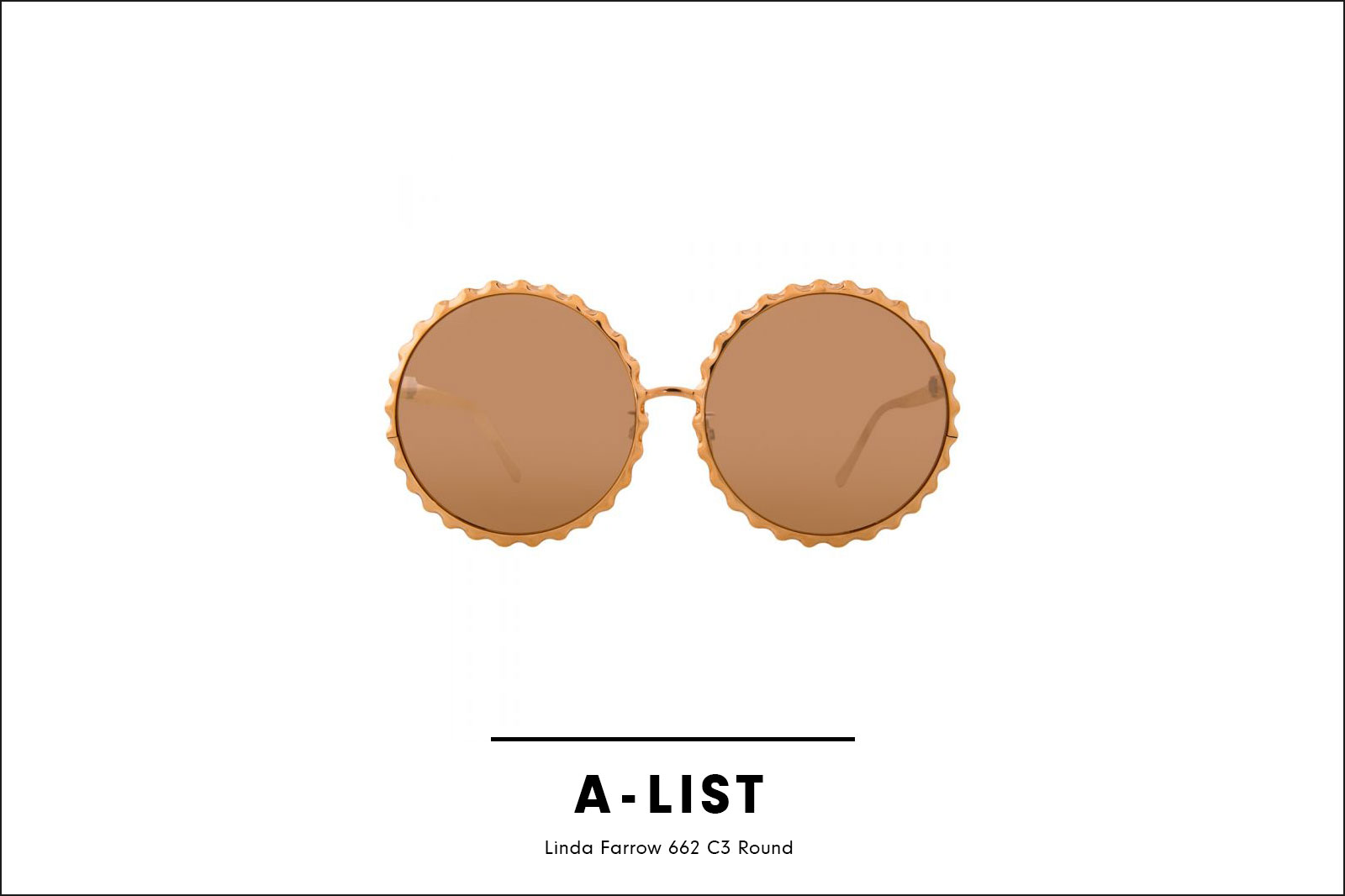 Linda Farrow founded her cult British eyewear label in the 70s before mass-produced sunglasses really took off. She designed frames for Yves Saint Laurent but then shut the brand due to family commitments.

Luckily for us her son revived it in 2003, and now the brand has grown internationally. The signature Linda Farrow vintage silhouettes and fantastical details can regularly be spotted on modern catwalks. This pair were created entirely from 18 – 22 carat rose gold-plated titanium. The right kind of bling.
More info: LindaFarrow.com
Ray Ban Original Wayfarer Leather Sunglasses | £251
Going full circle, this luxury update of the classic Ray Ban Wayfarers had to get a place on the list. Developed in 1952, the Wayfarer Sunglasses are an indisputable style that made history thanks to their popularity with everyone from Bob Dylan to Marilyn Monroe to Madonna. If you don't own a pair, are you even a celebrity?

More info: RayBan.com
Tagged: