Land of Hope & Dreams | Sin City
Ending his westward journey in the city of easy cash and fast living, photographer Chris Bethell soaks in the strangeness of Las Vegas life
The final instalment of Chris Bethell's 'Land of Hope & Dreams' series sees Chris & Bekky arrive at the grand temple of American excess, Las Vegas, for one last trawl through the strange streetscapes of Sin City. Shooting from the hip, or from the vantage point of a passing observer, Chris was able to capture a sliver of Vegas's inherent strangeness, and the characters that populate its boulevards.
As Chris imbibed the casino culture, and walked around the city's totems of faded splendour, thoughts once more turned to his grandfather Joey, the crooner who left his family for the bright lights of Reno and the life of the entertainer. It is precisely this notion of glitz, of extravagance, but also of chintz, and grandness for its own sake, that crystallised in Chris's mind as his grandfather's America, and the America of his dreams.
Amuse has been serialising 'Land of Hope & Dreams' for three months, chronicling Chris & Bekky's westward journey through the urban hubs of New York & Boston, the deserts of South Dakota & Utah, and the quaint small towns of Wyoming, Ohio, & Minnesota.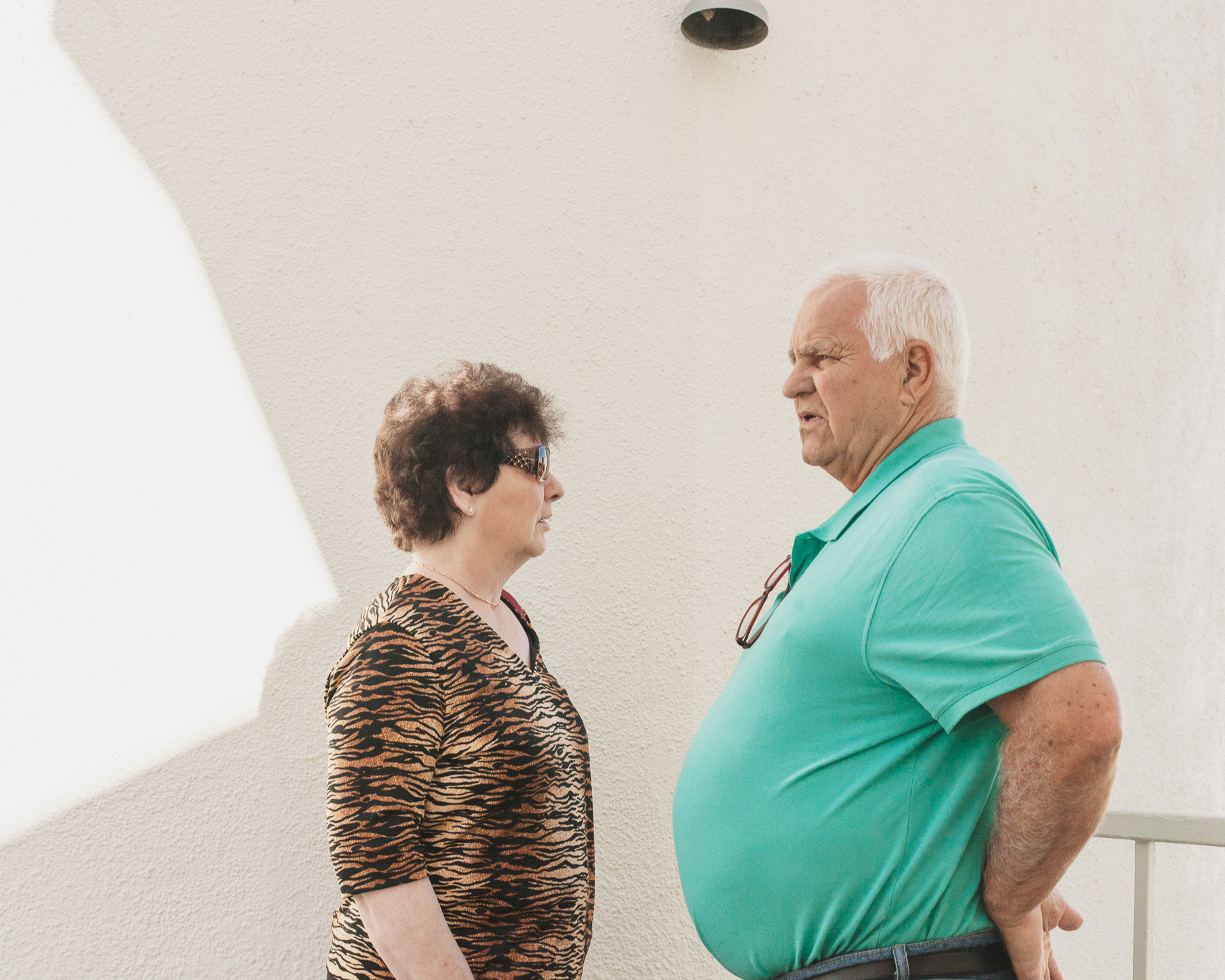 Las Vegas is mostly populated by people who look like this. Its wild reputation as 'Sin City' is well deserved, but it's retirees like these two who keep the wheels of the slot machines spinning; slumping further into their chairs each time they hit 'Repeat Bet'.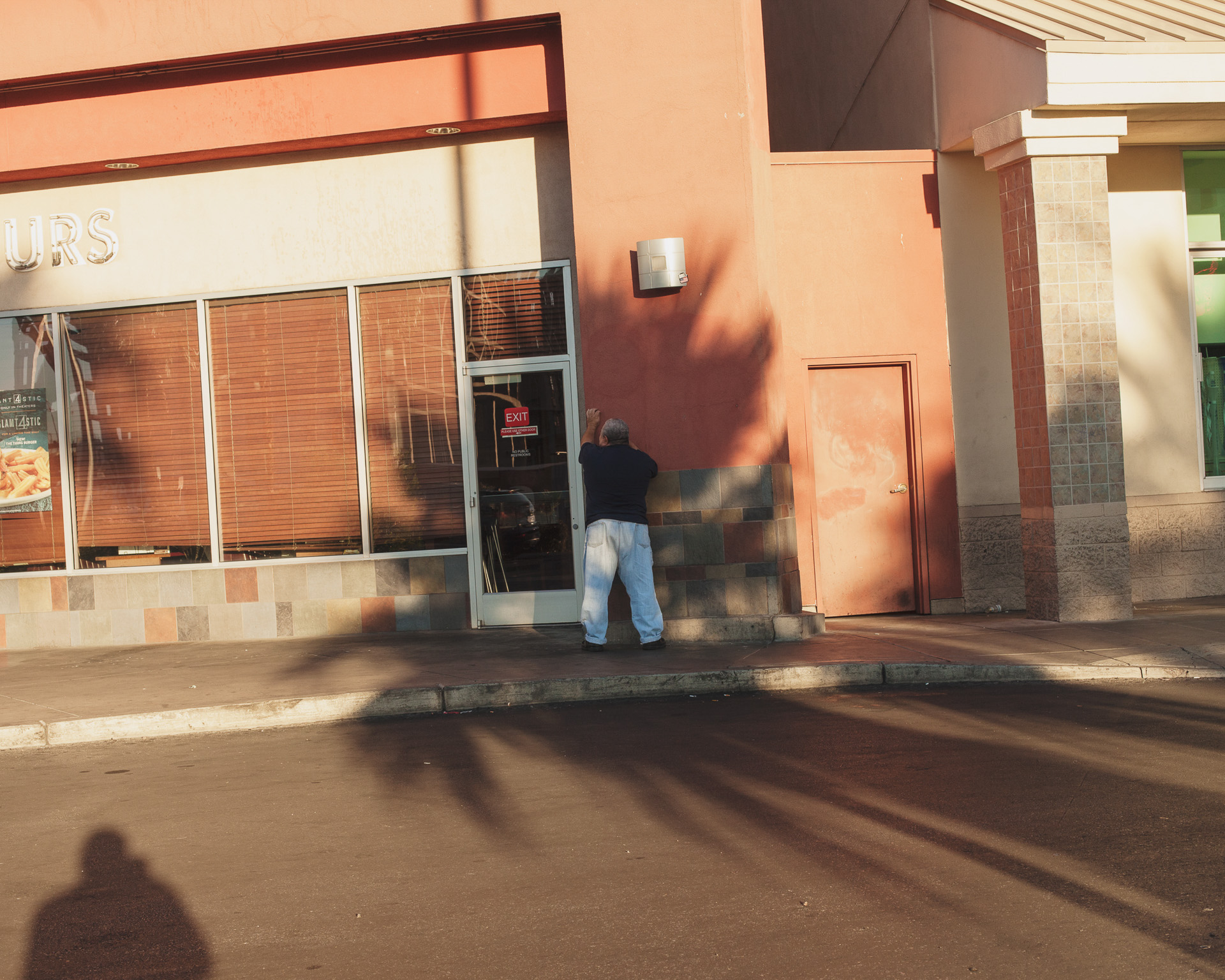 I occasionally see myself in my pictures: a shadow, a reflection, or something else. It makes me feel like Lee Friedlander. I love how the shadow of the palm tree explodes around this man as he uses the wall to stay upright.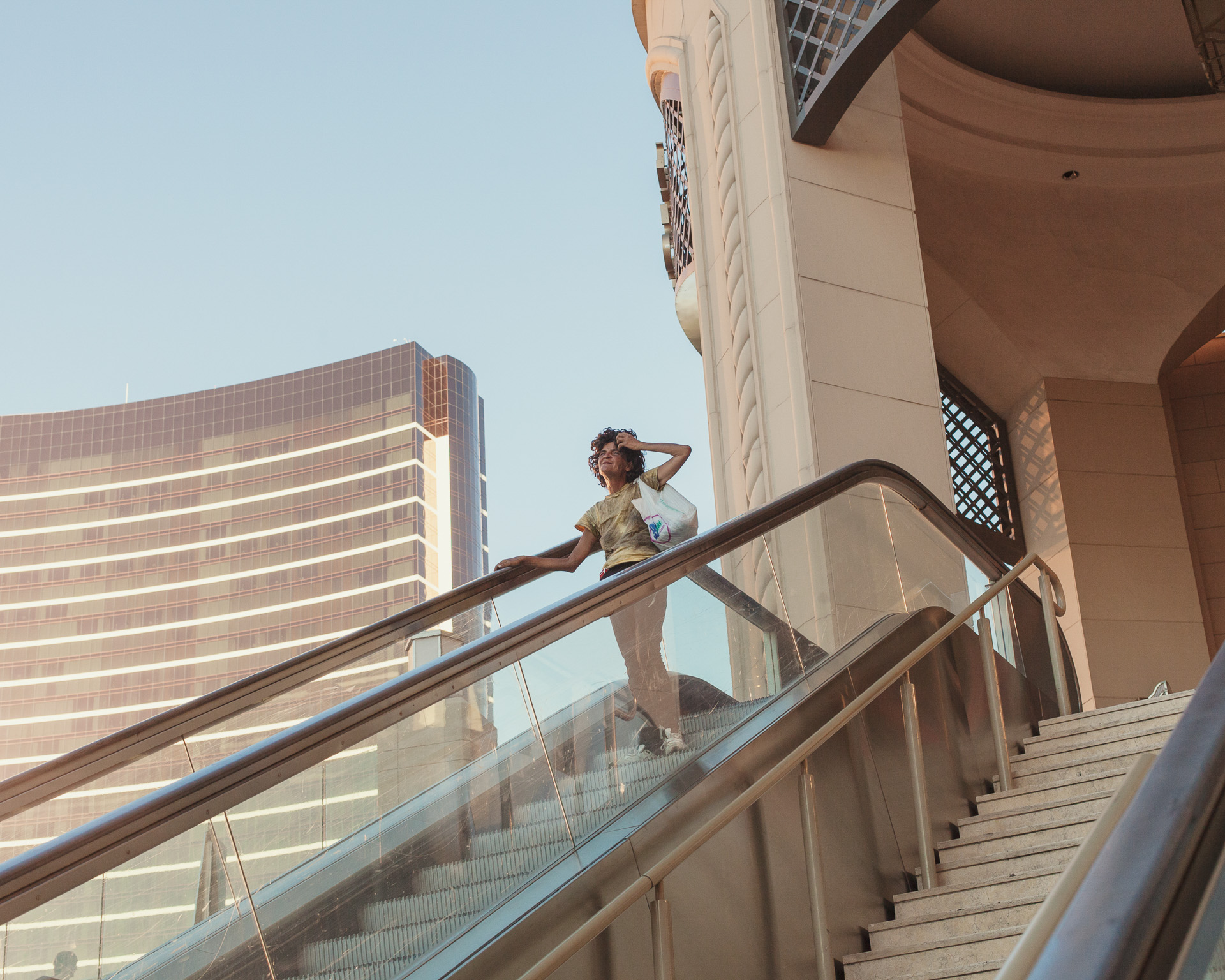 The woman atop the escalator has the attire of someone downtrodden; dirtied clothes and a plastic bag looped over her shoulder. Her clothes contrast against the clean buildings and sky that surround her, but she looks hopeful – happy, even. She holds onto the escalator with one hand, scratches her head with the other, and smiles at the heavens.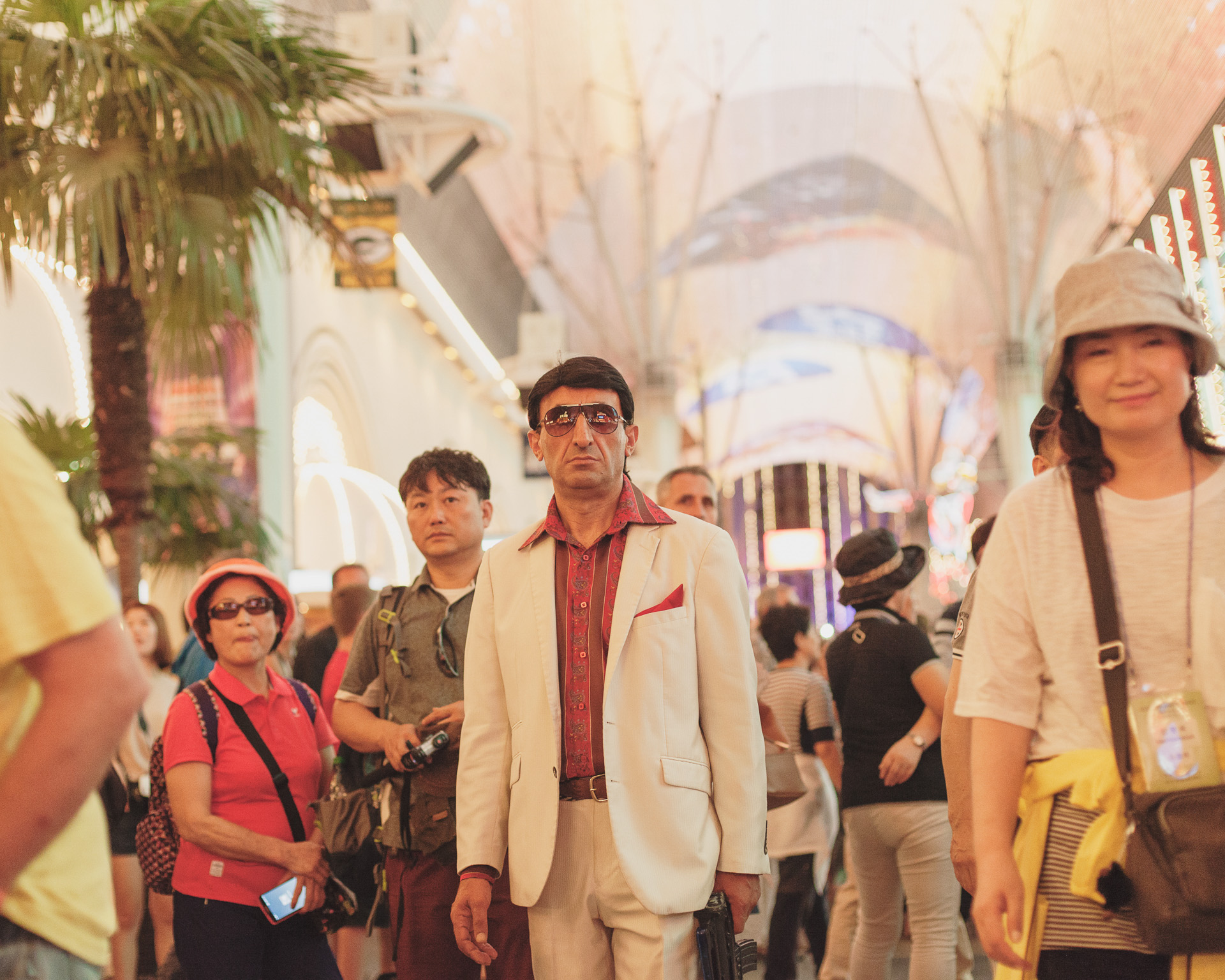 Fremont Street is populated with people in costume, hustling for change. This man is clearly dressed up as Scarface, but I still found it unsettling that he could walk around with a convincing replica of a submachine gun.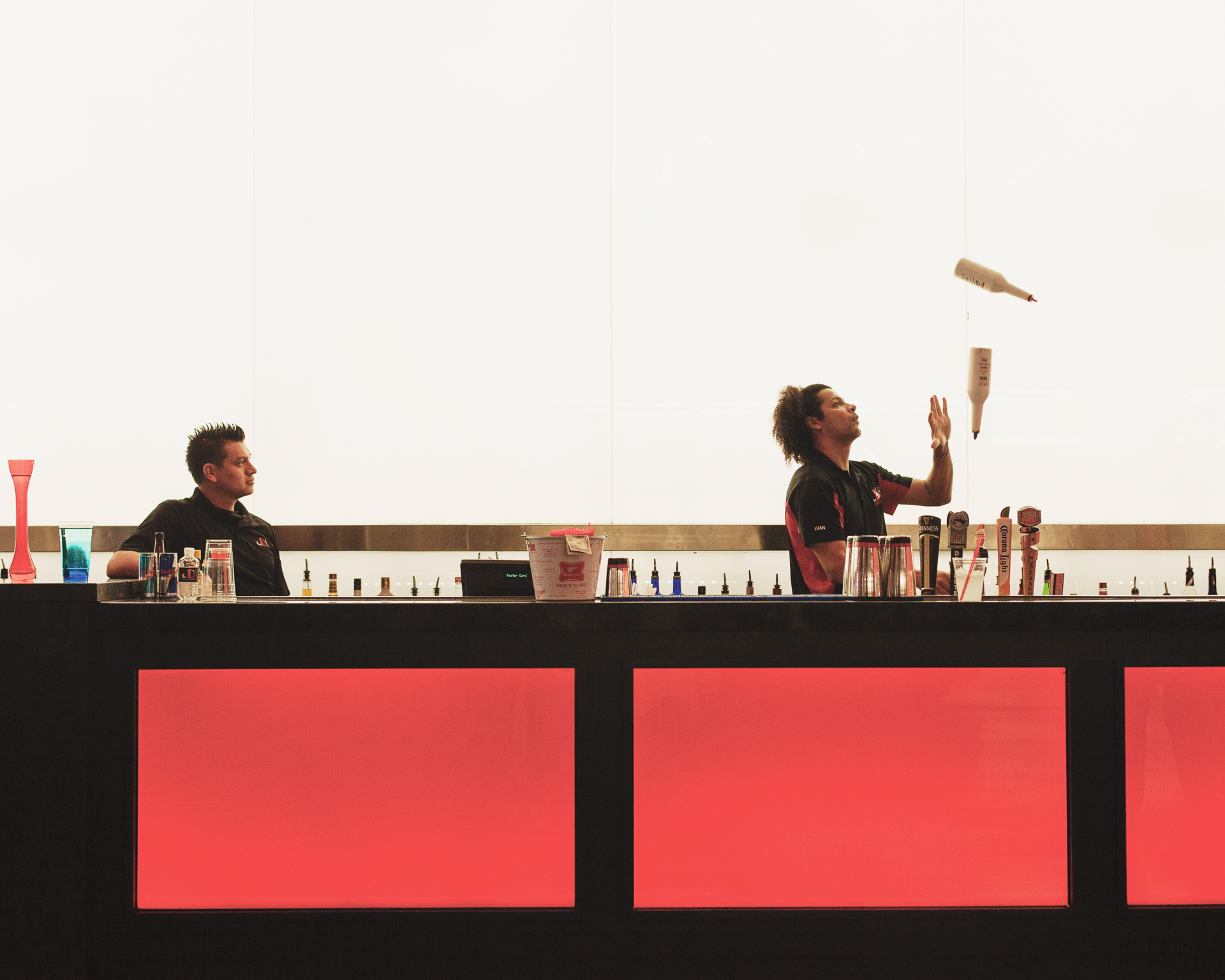 Why is flaring so mesmerising in Vegas? If someone spins a bottle at a house party they are suddenly socially excluded, but in amongst the flashing lights, I found myself photographing him for several minutes.
The queue to meet the Chippendales was about forty people deep – about a half an hour wait, I think. The queue was mostly made up of women over the age of fifty, but also a few hen parties and younger men.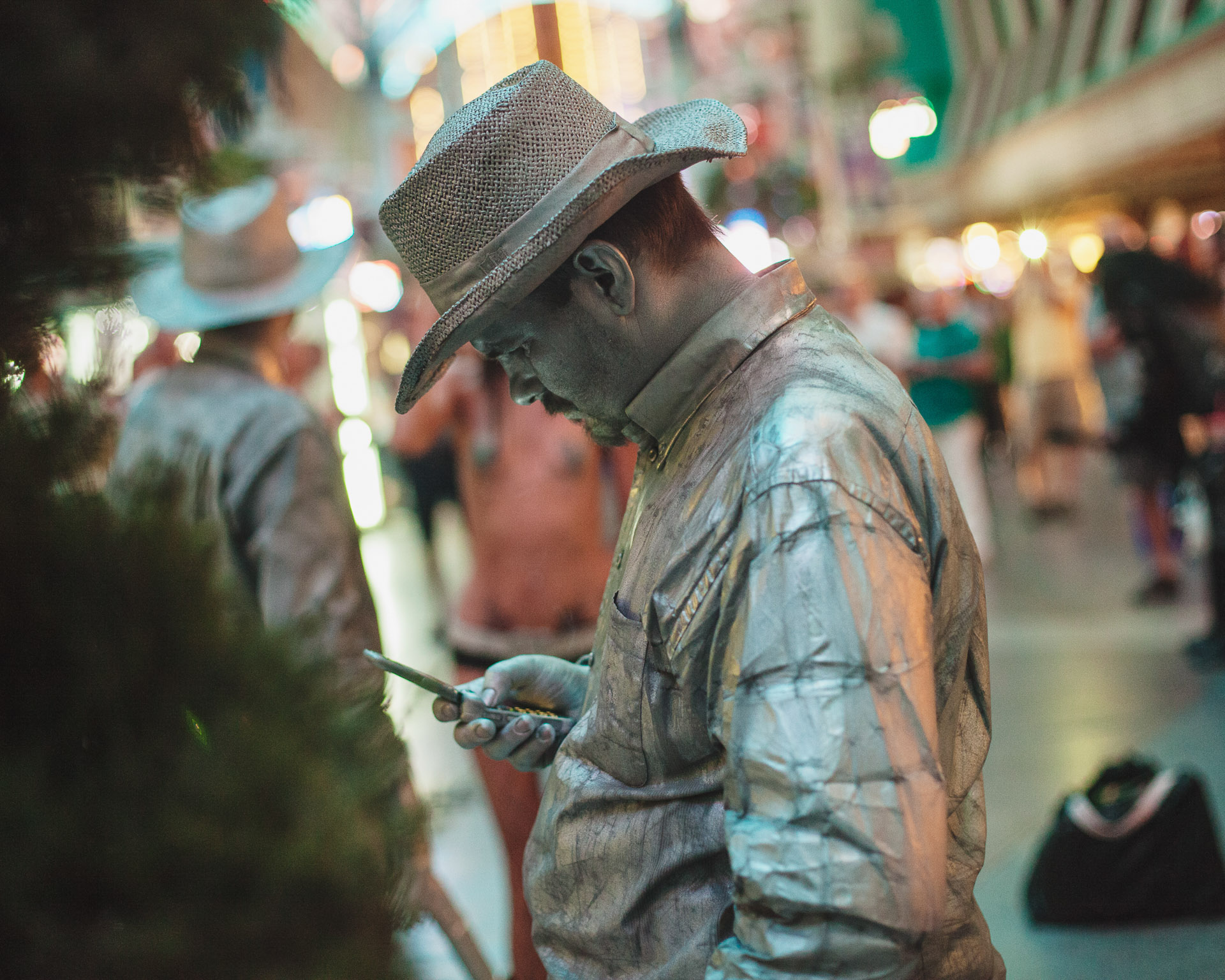 This street performer takes a break from acting with his partner. I like to think that he bought his phone to be consistent with his costume.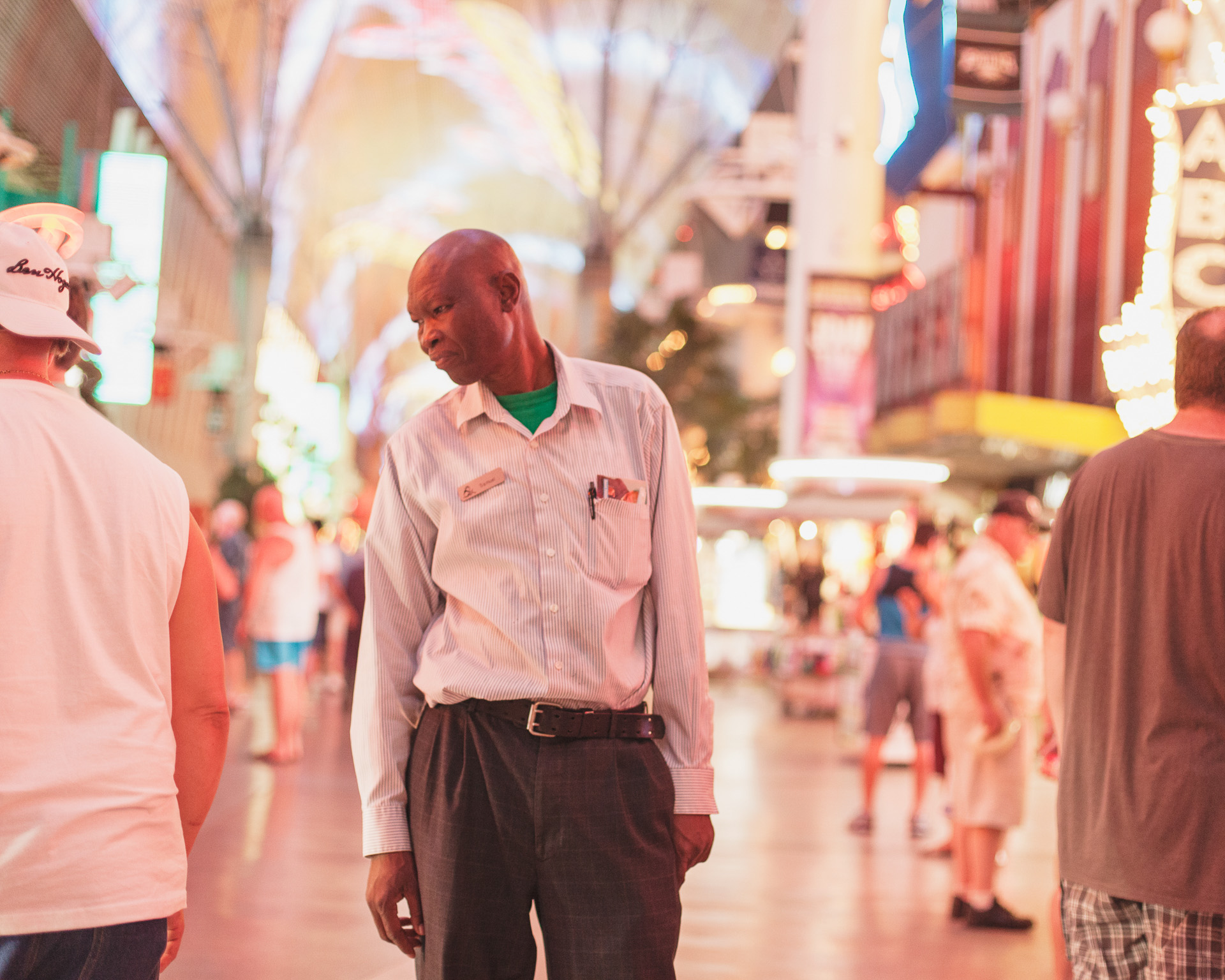 Samuel's feet are fixed to the floor – his torso contorting and slumping off to the side.He scrunches his face and furrows his brow as he looks to his right, displeased with whatever he sees.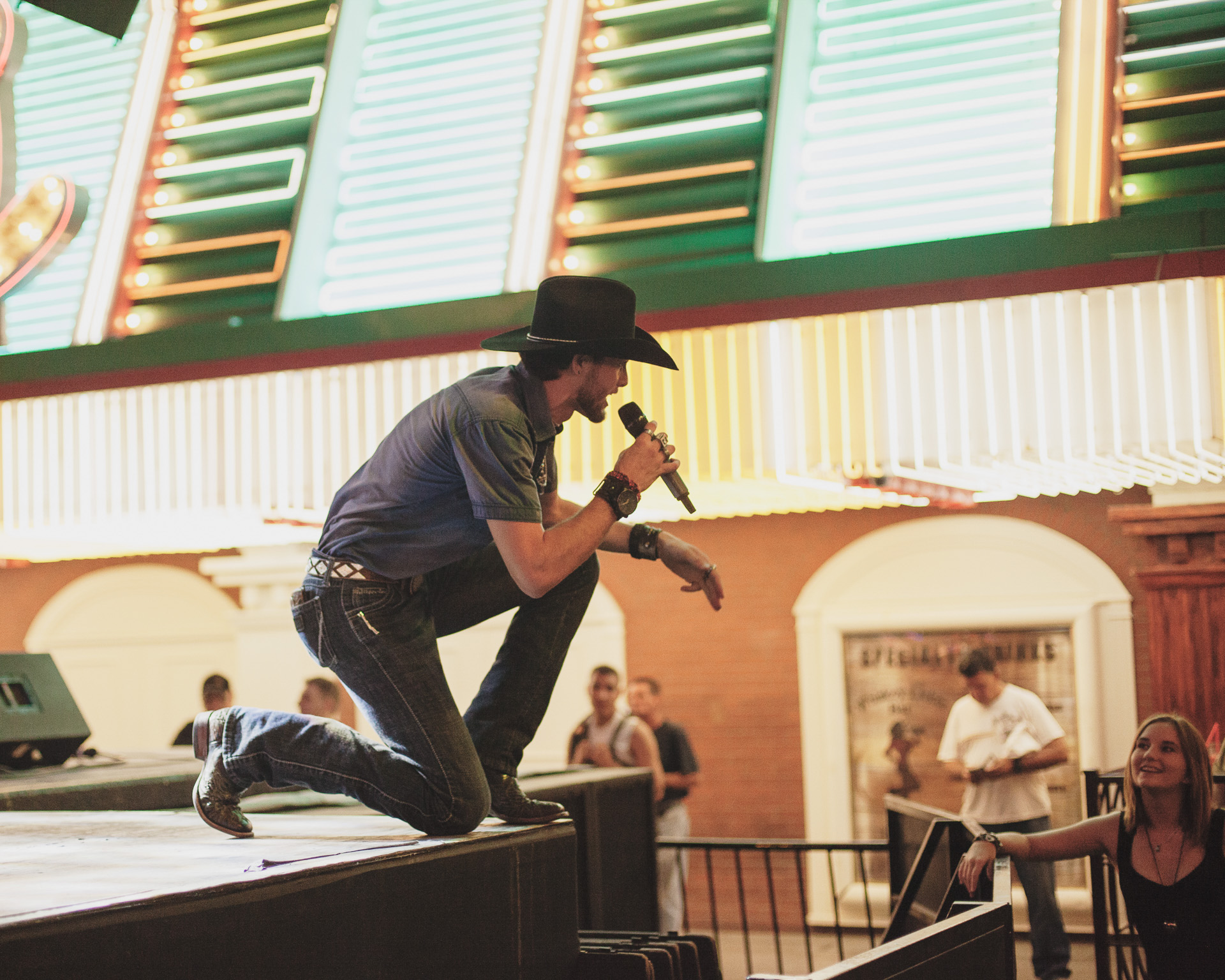 This cowboy-clad performer sang out across the square to a small audience; allowing me to walk up to the stage, and grab this photo of him singing to the only person paying him attention.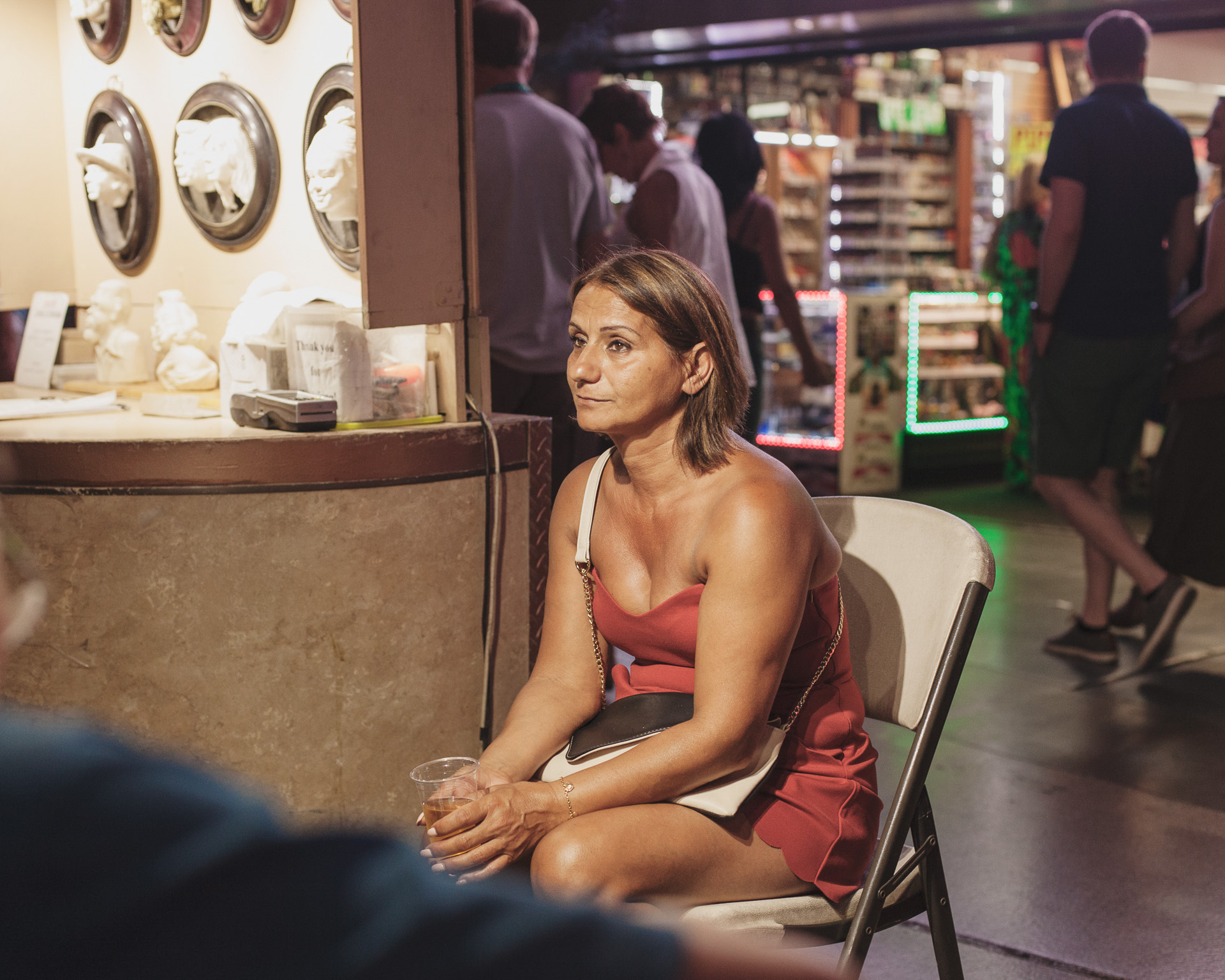 This bronzed woman sat for one of the many street artists found at Fremont Street. Her artist was constructing a clay sculpture of her head.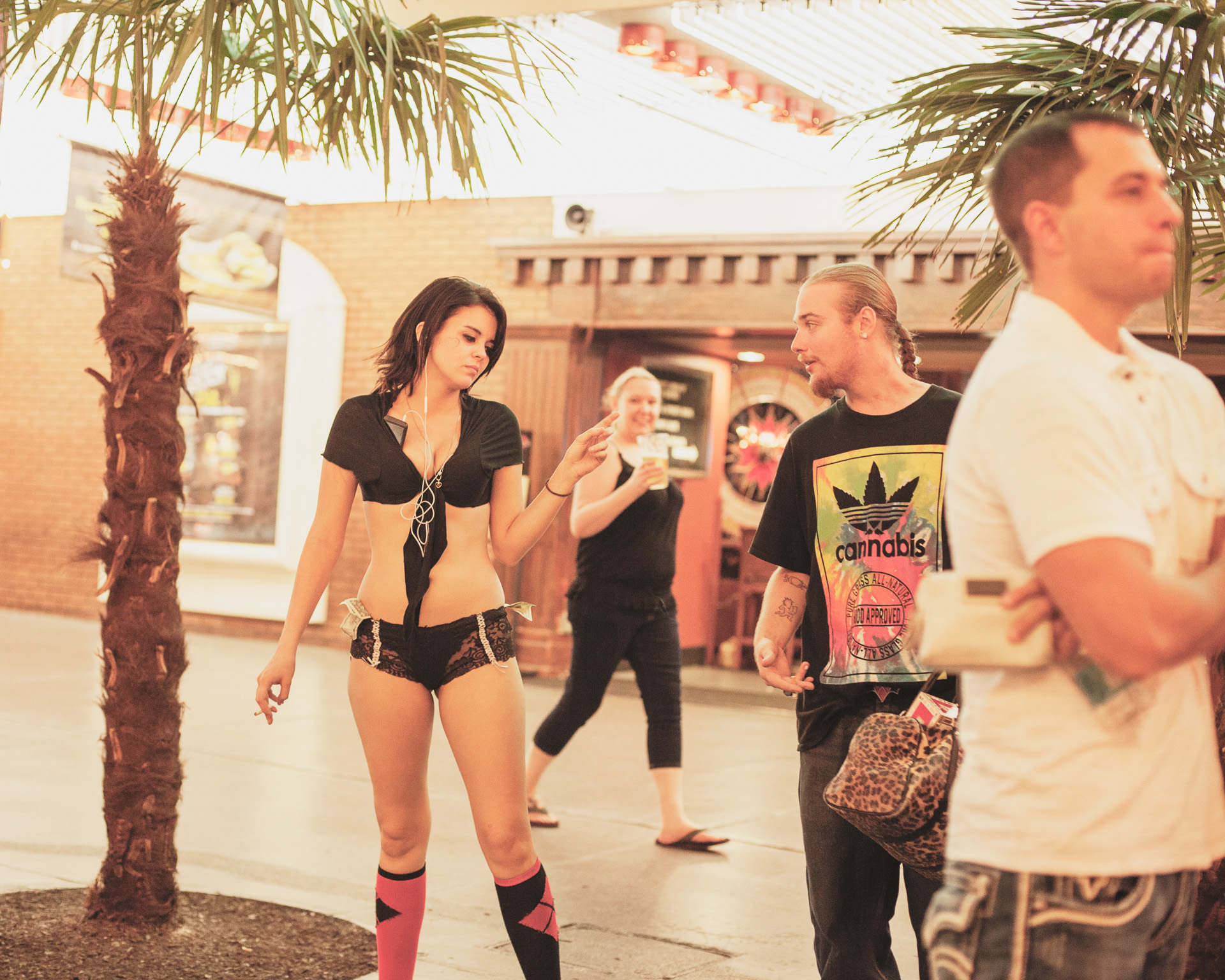 I don't remember taking this photograph. I've spent a lot of time looking at it, trying to figure out what's happening in this scene. I first thought that the woman was brushing off the advances of the man in the cannabis t-shirt, but then noticed the bag he's holding and gesturing towards. Her gaze follows down to it to. Is it her bag? What's in it? And why is the woman in the background smiling so much?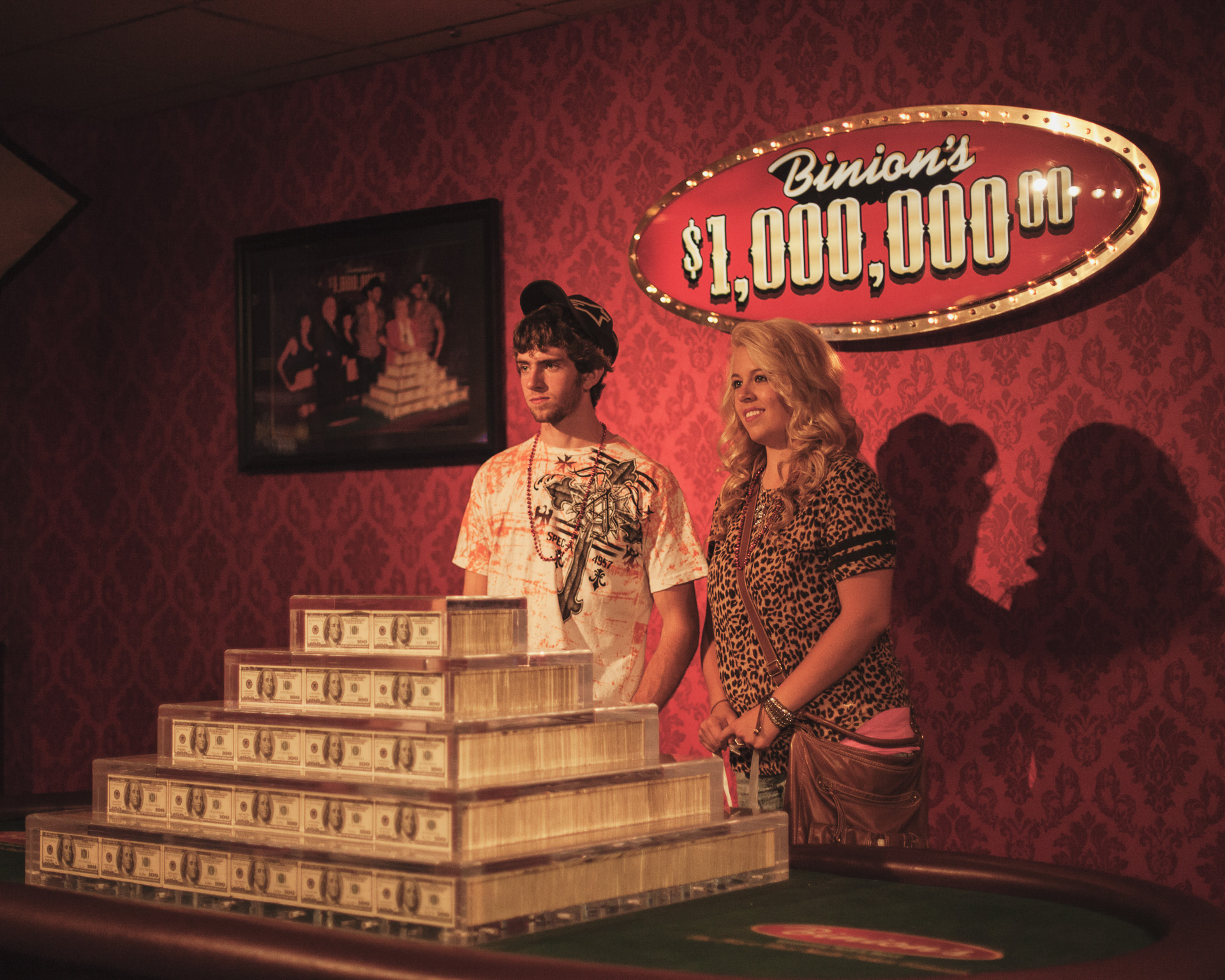 I feel uneasy when I look at this picture. Seeing so much money encased behind perspex displayed as a tourist attraction, something to grab a picture with. This money could do so much to help and change people's lives, but instead it sits here – taunting the people that come to visit it. Caught up in the atmosphere of the city and slightly drunk, I had my picture taken with it too.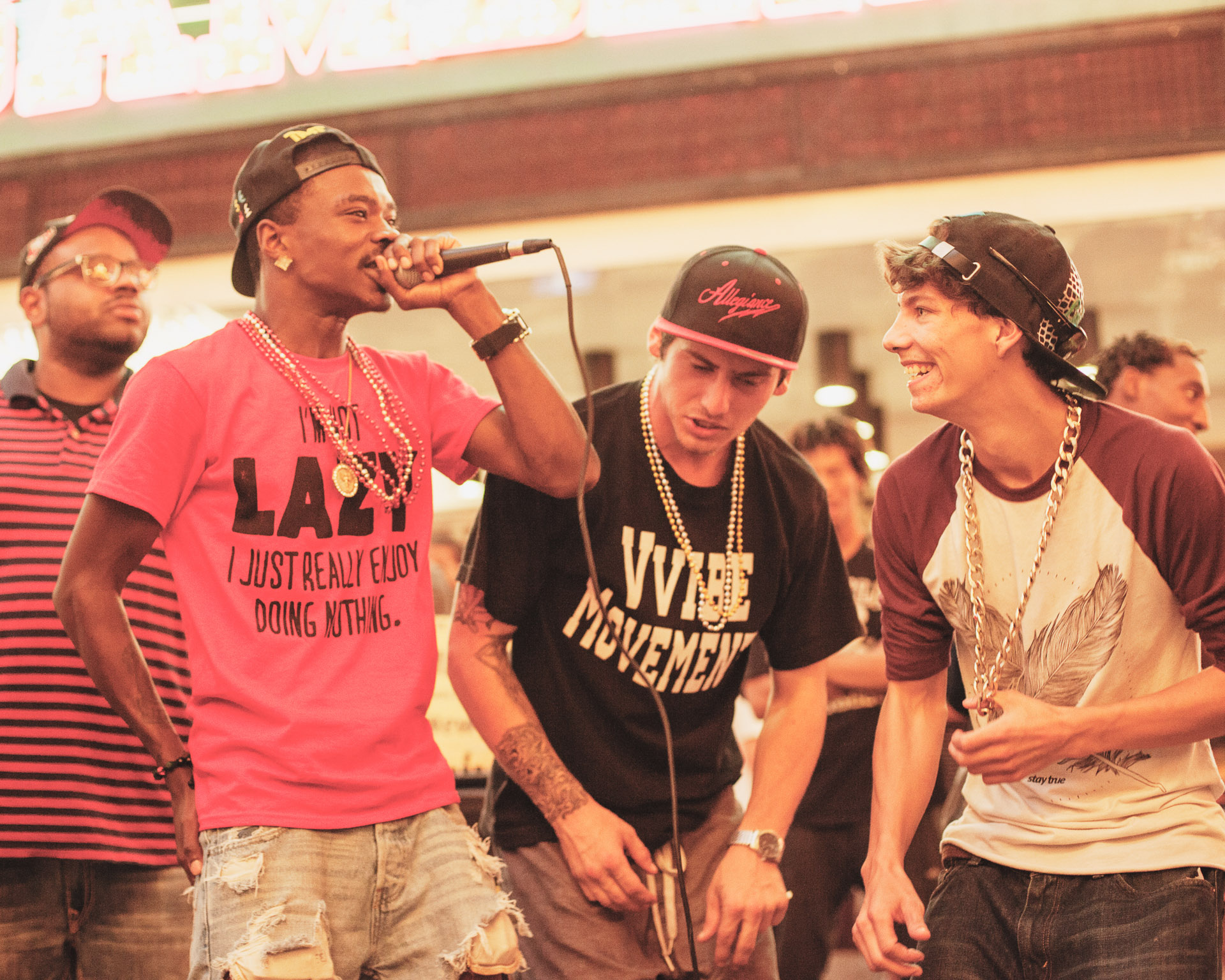 Fremont Street sits in the shadow of the strip, its glory now faded. It was the original hangout in downtown Las Vegas, and despite a lot of money being thrown into revamping it, it still doesn't compete in grandeur. Its strength, though, is in how people fill the space. This group of guys performed hip-hop tracks for the punters passing through.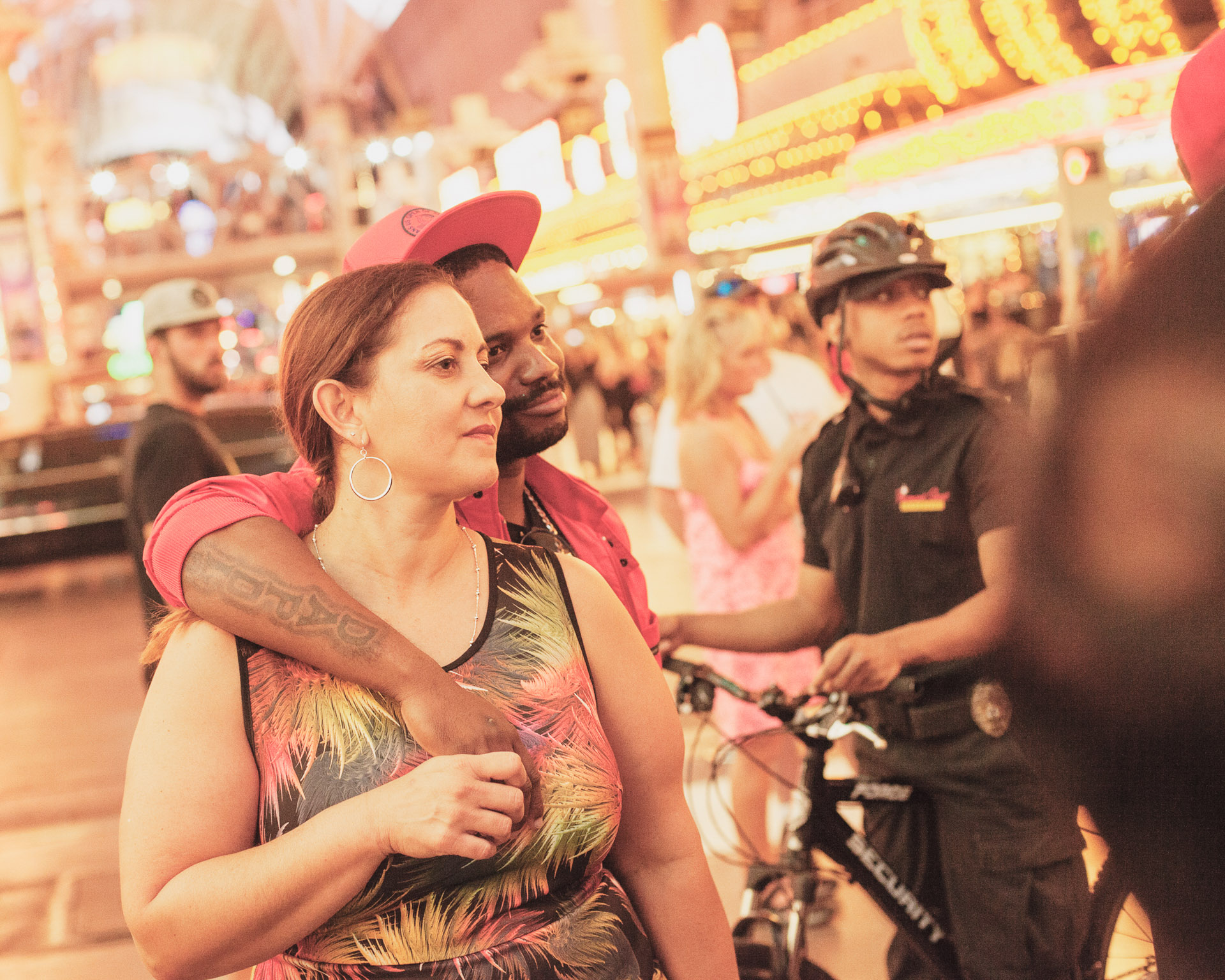 I like how delicately this woman holds onto the hand of her partner as they watch the guys in the previous image. Even the security guard stops his bicycle ride to check out what they're doing.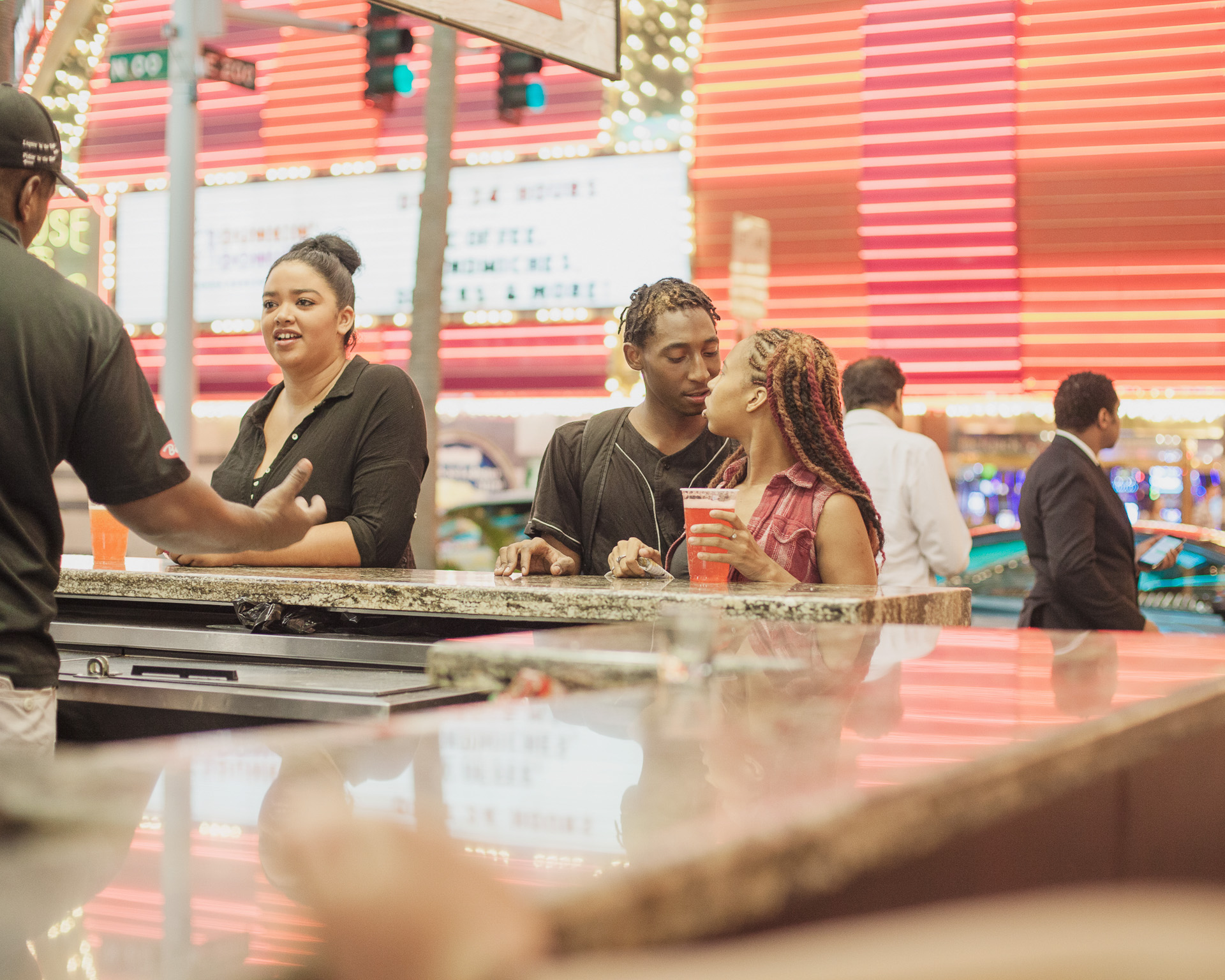 I find it incredibly difficult to capture real moments of intimacy whilst photographing on the street; it's hard to find people being vulnerable with each other in public. But this young couple are so caught up in each other in this moment: oblivious to the world around them.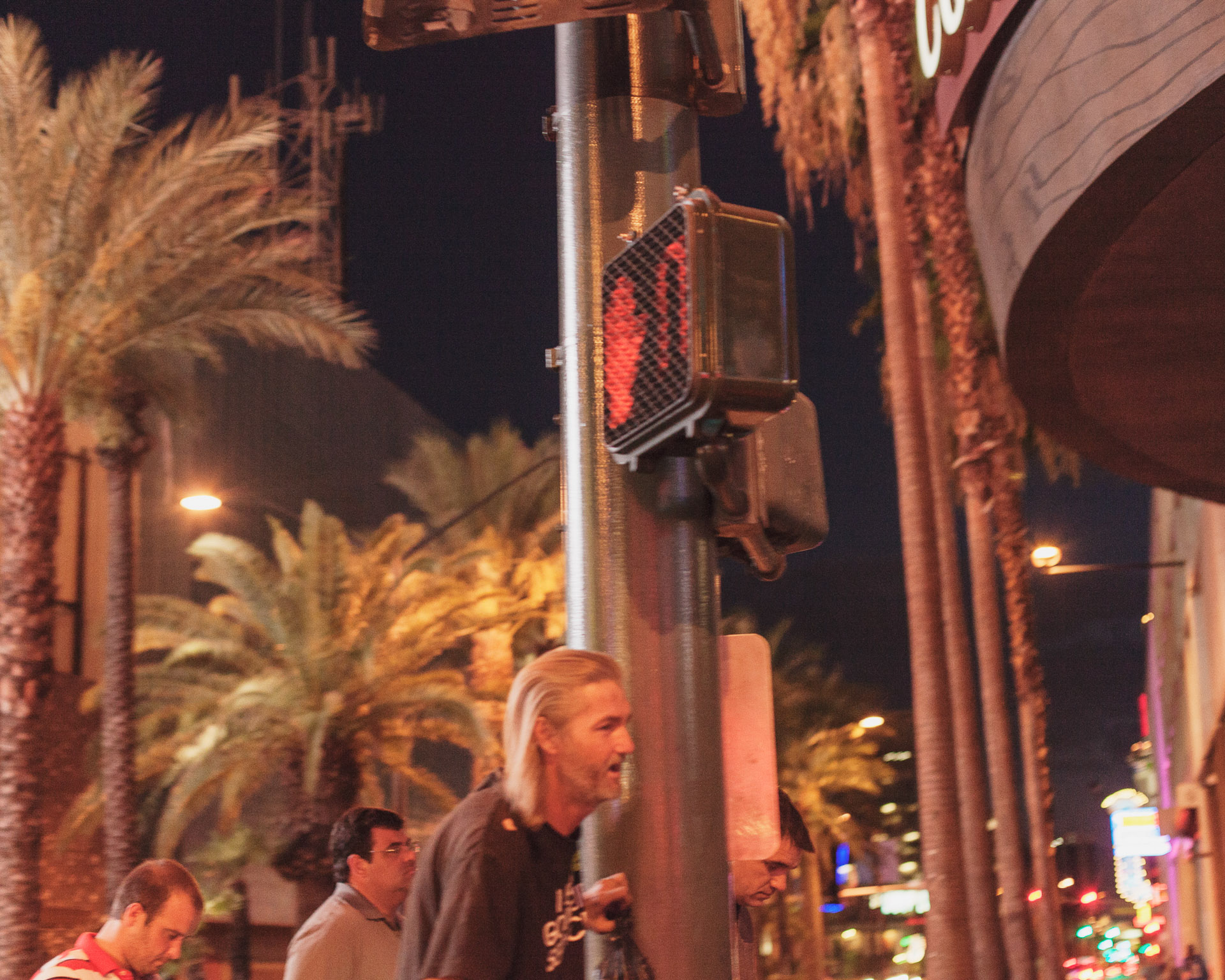 Las Vegas is not kind to its poor. The city's homeless drift through the streets, mostly ignored by the people jumping casinos. I can only imagine the frustration of having no money in a city famed for squandering fortunes.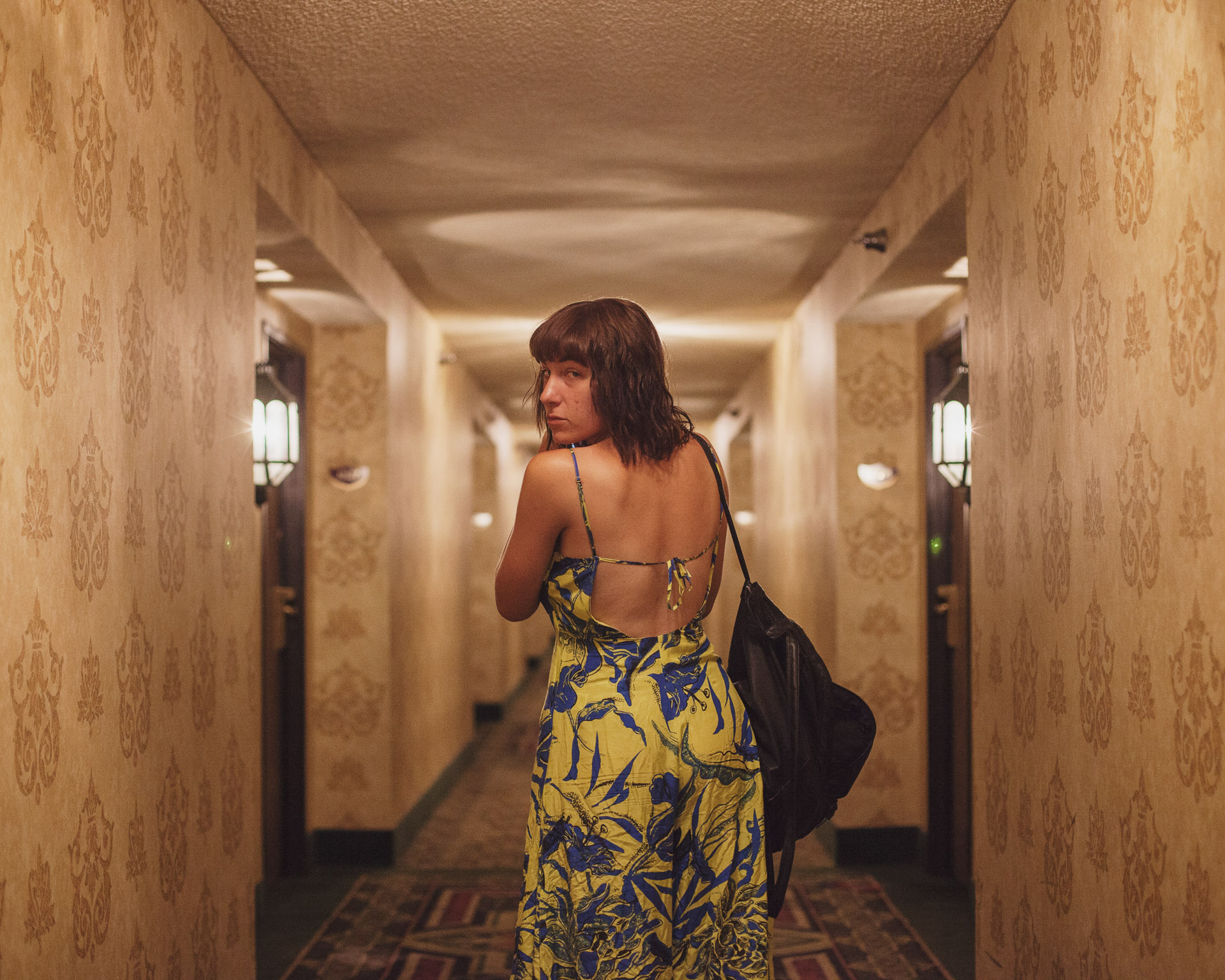 We stayed at The Excalibur: a casino that sits at the end of the strip and resembles a wedding cake castle. Our room cost $95 for three nights – cheaper than any of the one star motels we stayed in. I think we were able to nab such a bargain because they will do anything to encourage you onto the casino floor.
We made the mistake of buying drinks at the bar. One beer, one single rum & coke: somewhere around $30. Worried that we were going to spend a fortune on food and drinks, we sat down at a slot machine and fed it $5. After a couple of minutes, we were offered some drinks by a lady in red. Pro tip: as long as you have money in the machine, you can pretty much drink for free. I'm not much of a gambling man, but I'm pretty sure we won Vegas with this trick.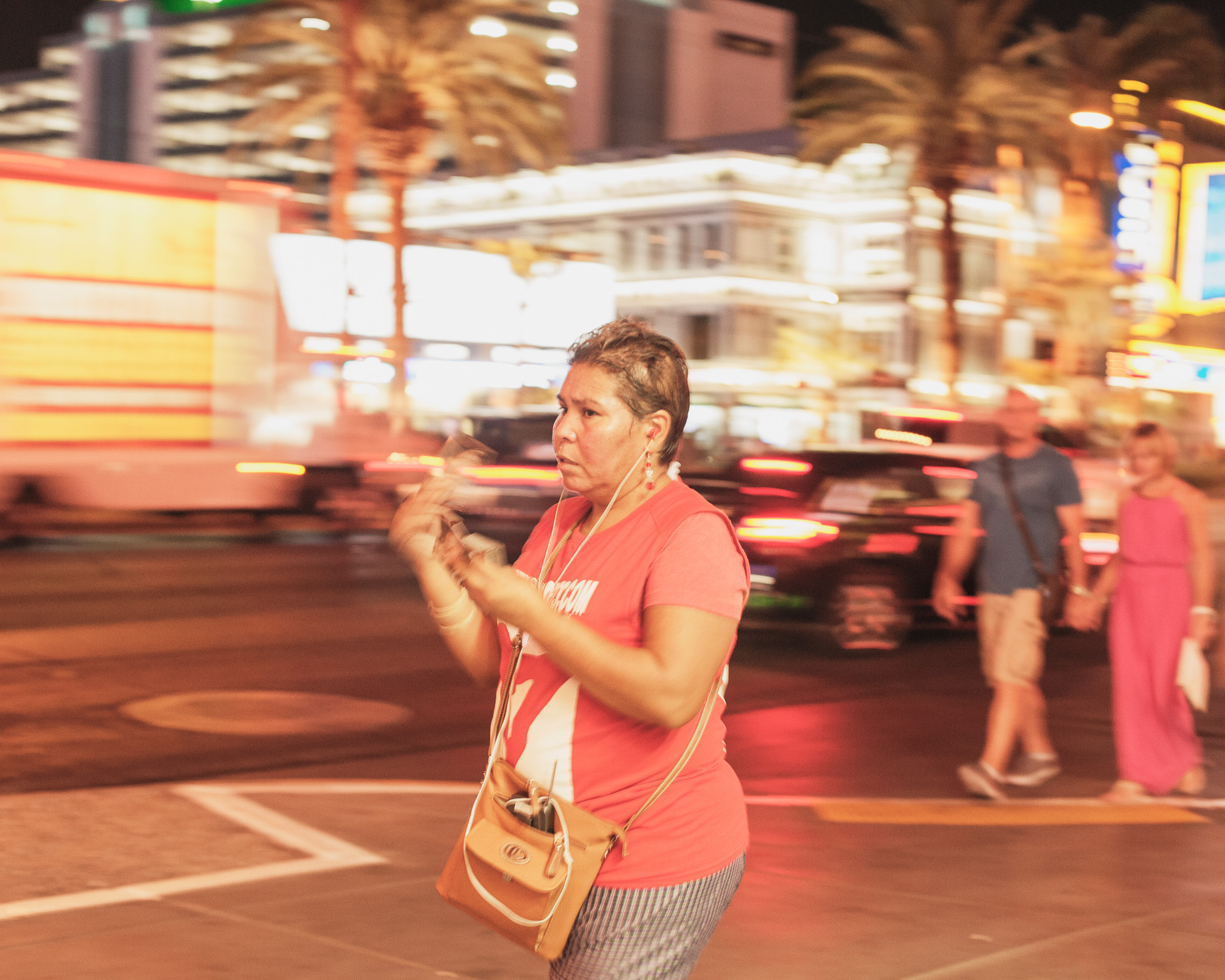 Men and women pace up and down the strip in uniform: each t-shirt advertising a different escort agency. Some would flick a stack of cards between their fingers before thrusting four or five into your hand. Each card would be illustrated with a portrait of a lady that you could supposedly call to your room within twenty minutes.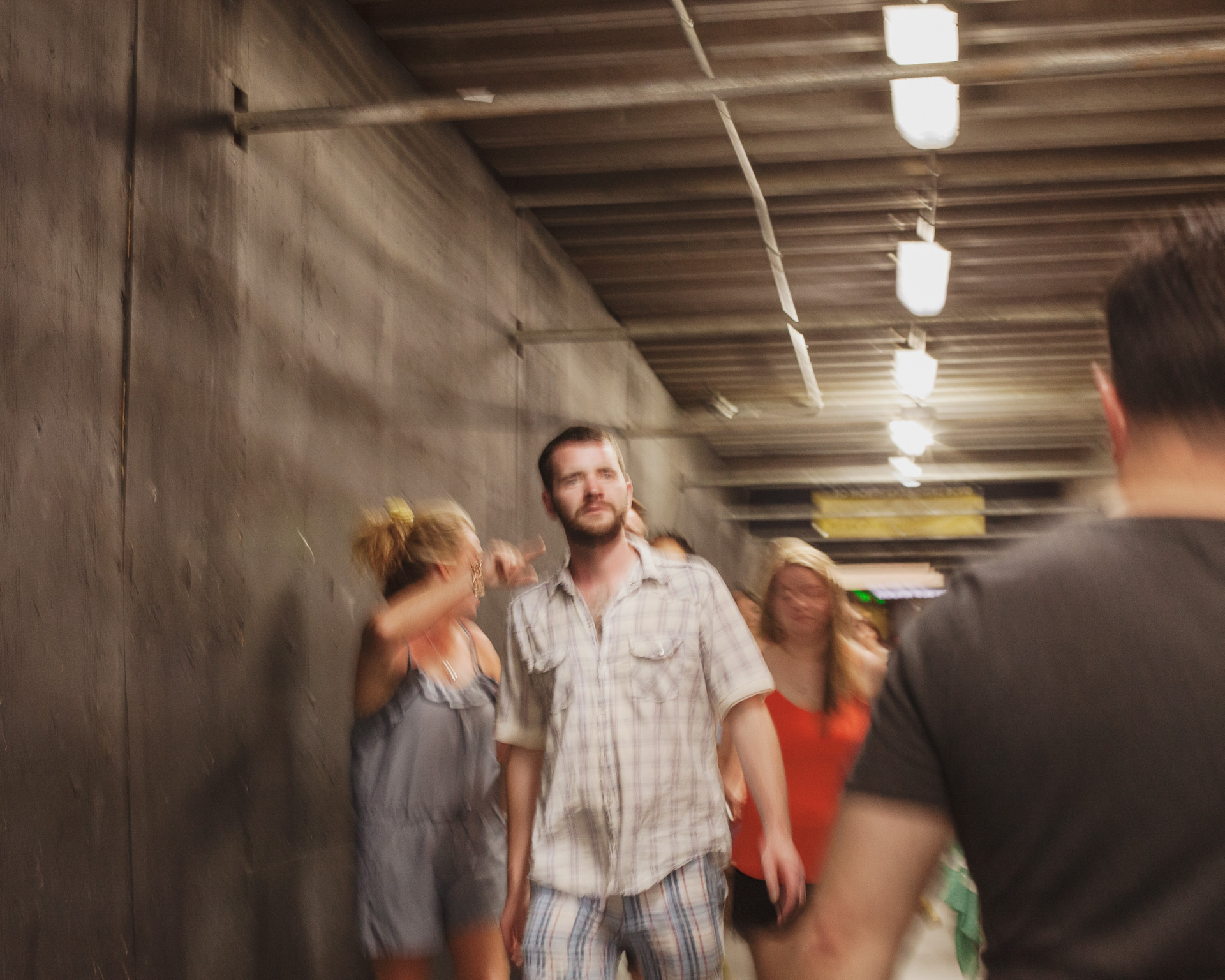 I played around with using slower shutter speeds as I walked the streets. I wanted to represent the bleary eyed sensation of being inebriated and watching people float by. This image reminds me of Jack Kerouac's description of Robert Frank's 'Elevator Girl', specifically the reference to 'blurred demons'.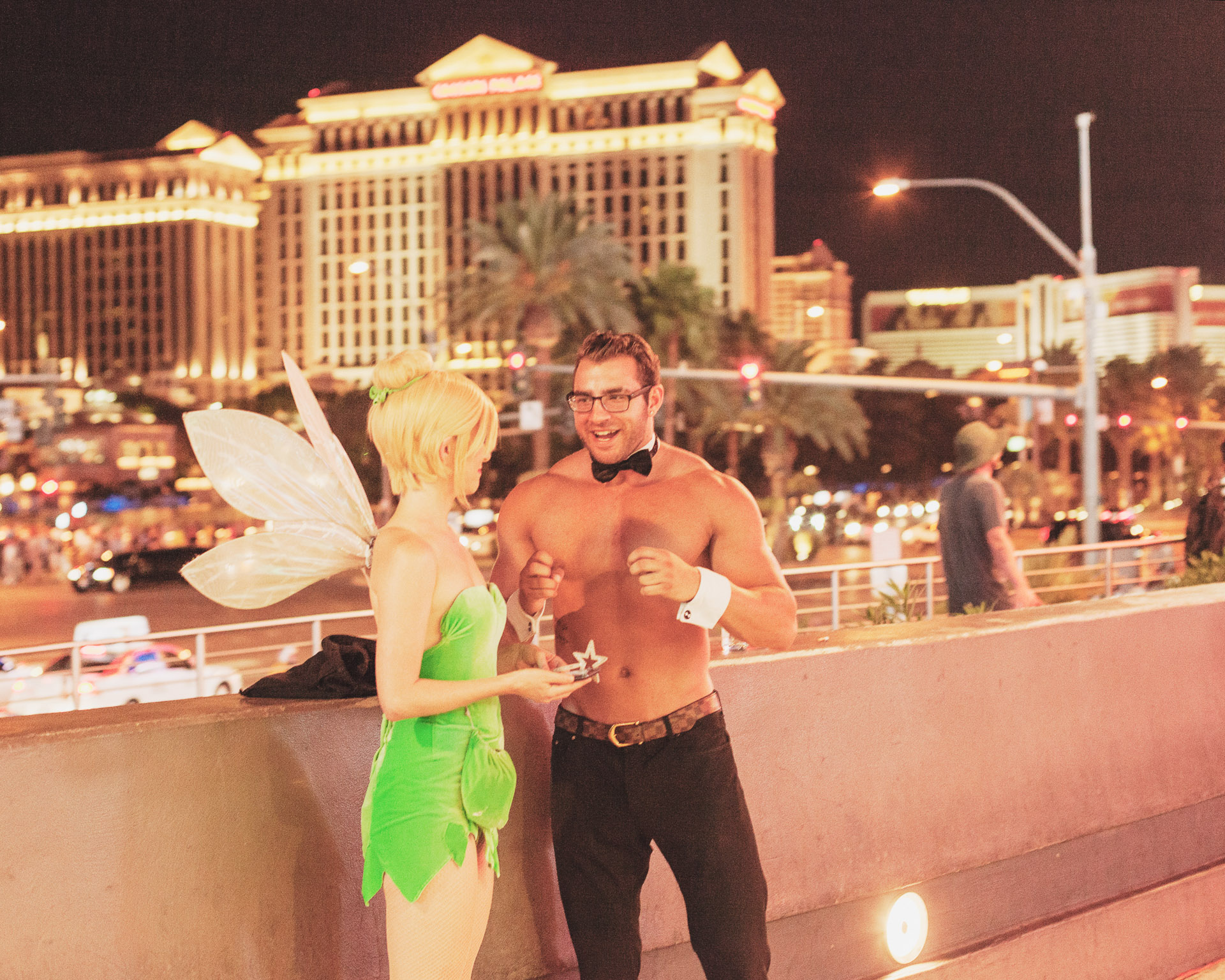 I wonder how much Tinkerbell and the topless waiter make in an evening.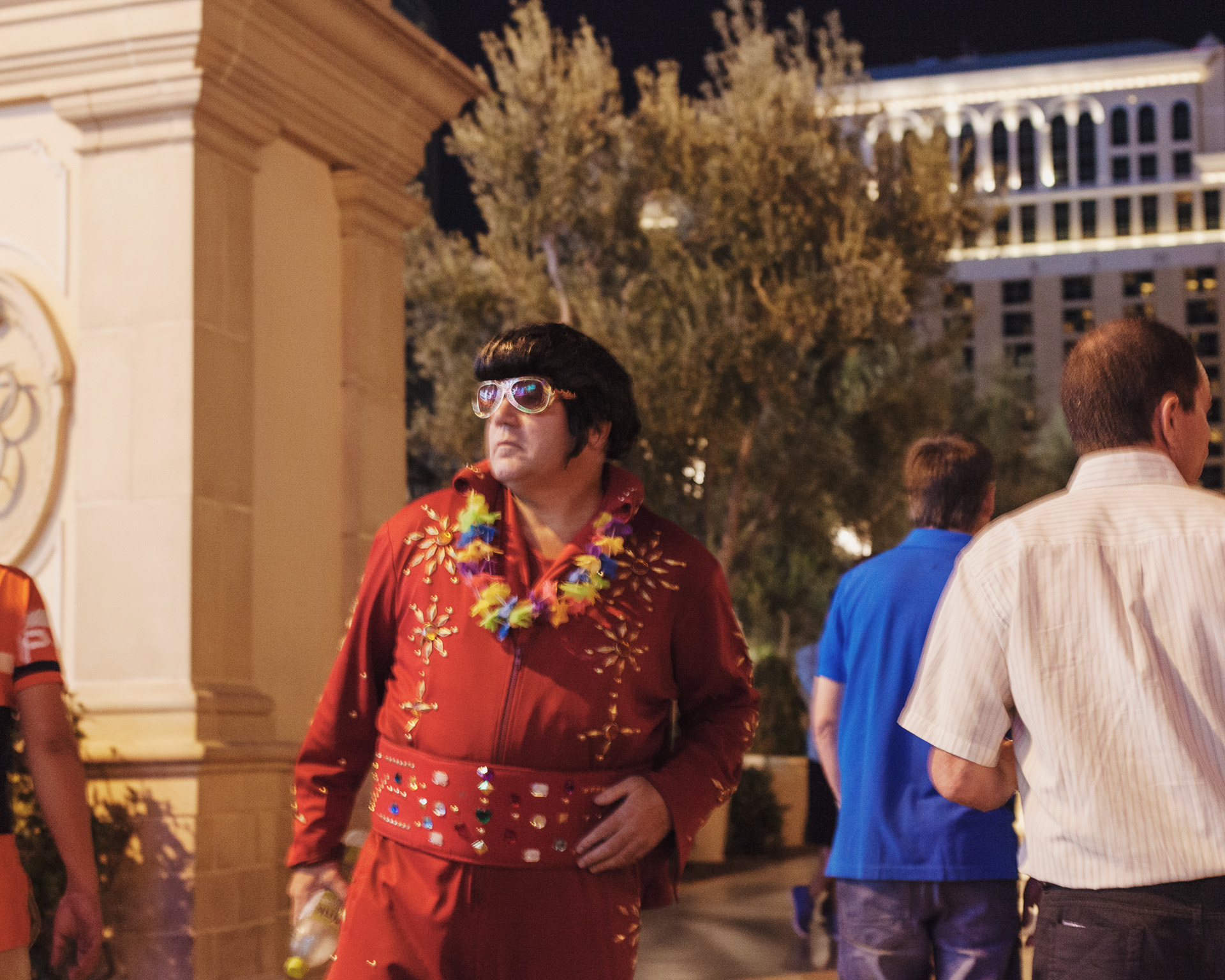 You can't photograph Vegas without borrowing from its clichés a little bit.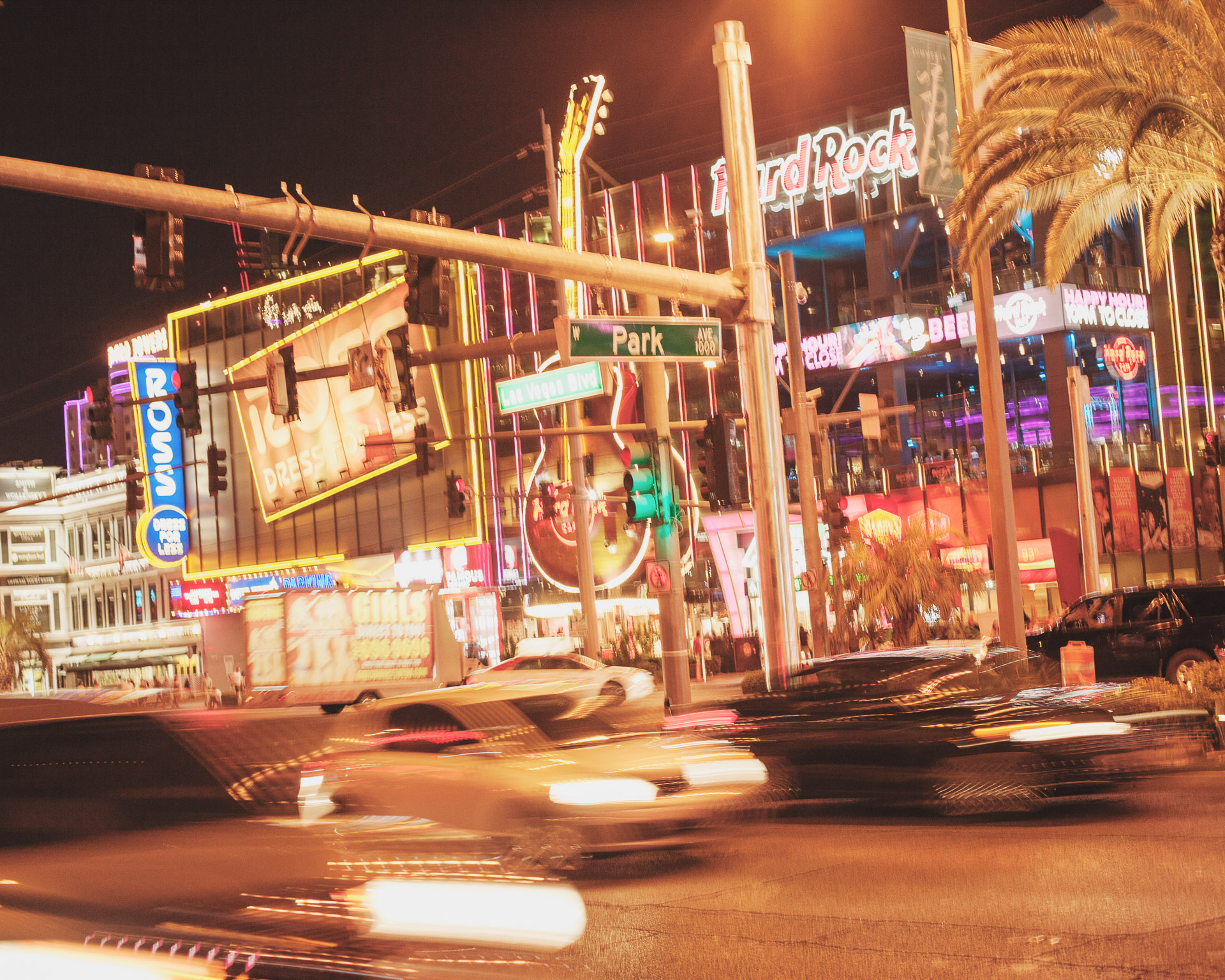 Have you even been to Vegas if you haven't attempted a blurry streetscape of its passing cars and neon lights?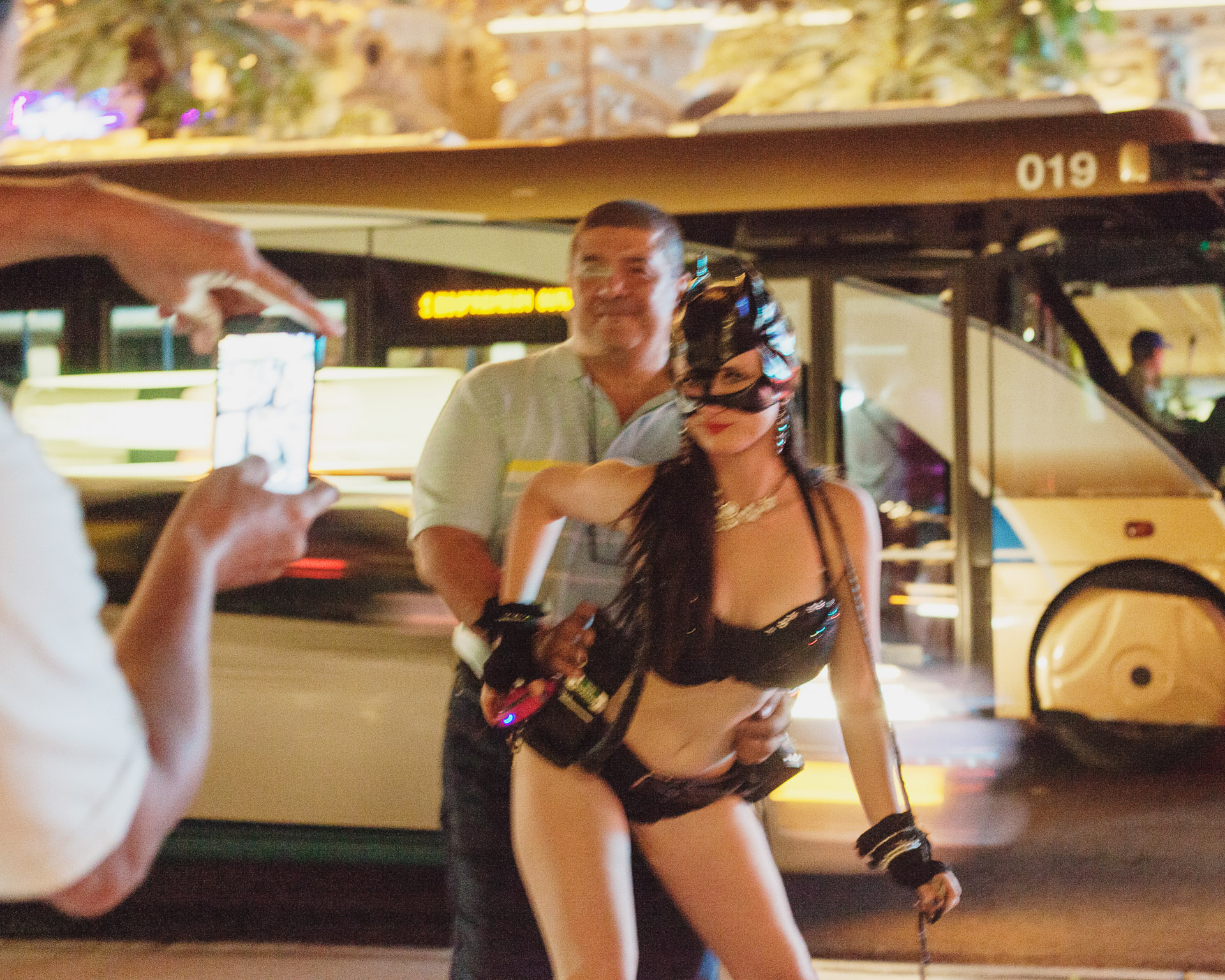 This was another one of the shots I took while playing around with motion blur – snapped from the hip, this man has his picture taken with Catwoman.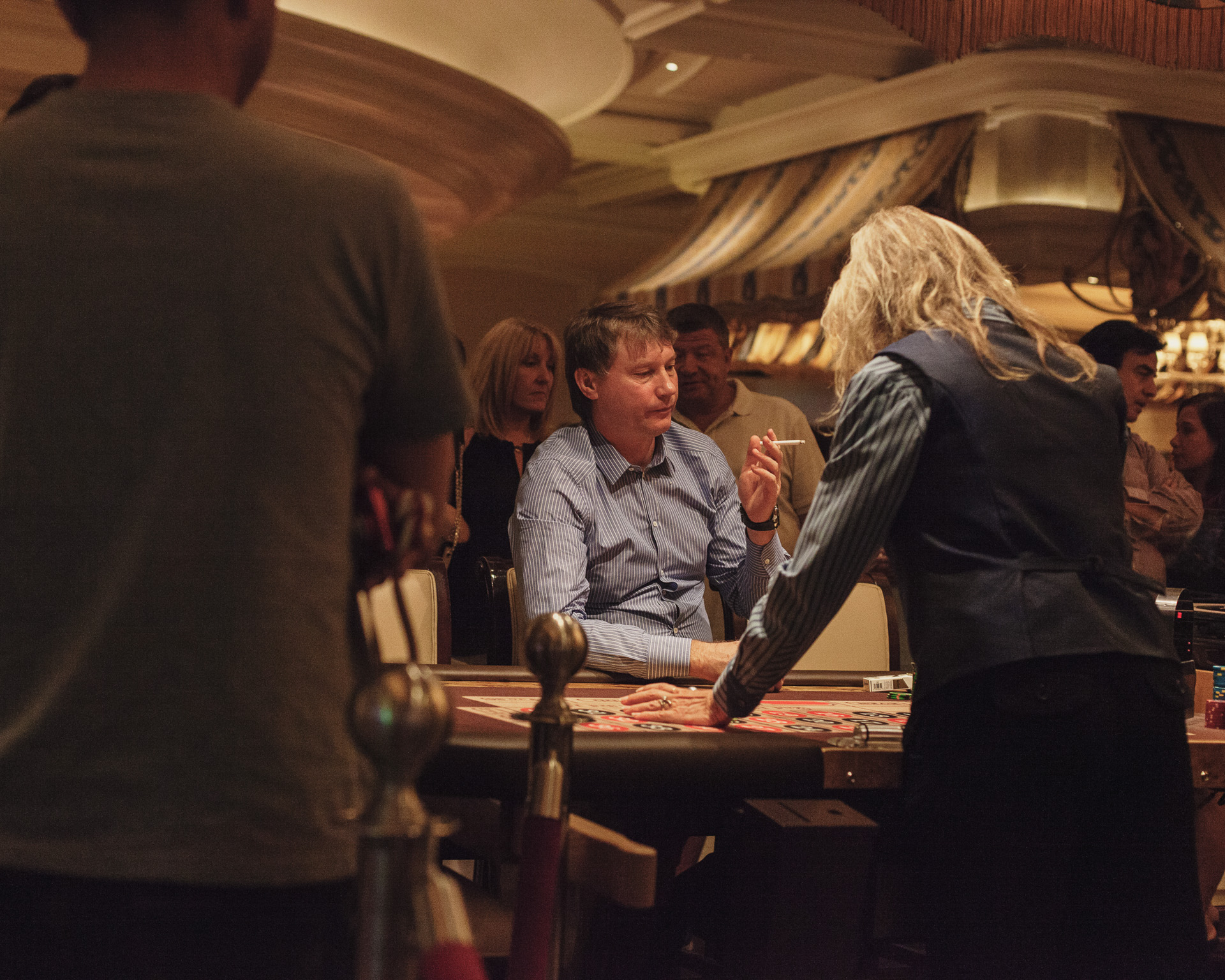 I don't know if you're allowed to take photos in casinos or not, but I thought it best not to ask. I'm pretty sure it's at least frowned upon, if not illegal, so best to play ignorant. I would shoot from the hip, squeezing between people at tables and pointing my lens towards the high rollers. This man played high hands whilst a crowd watched on.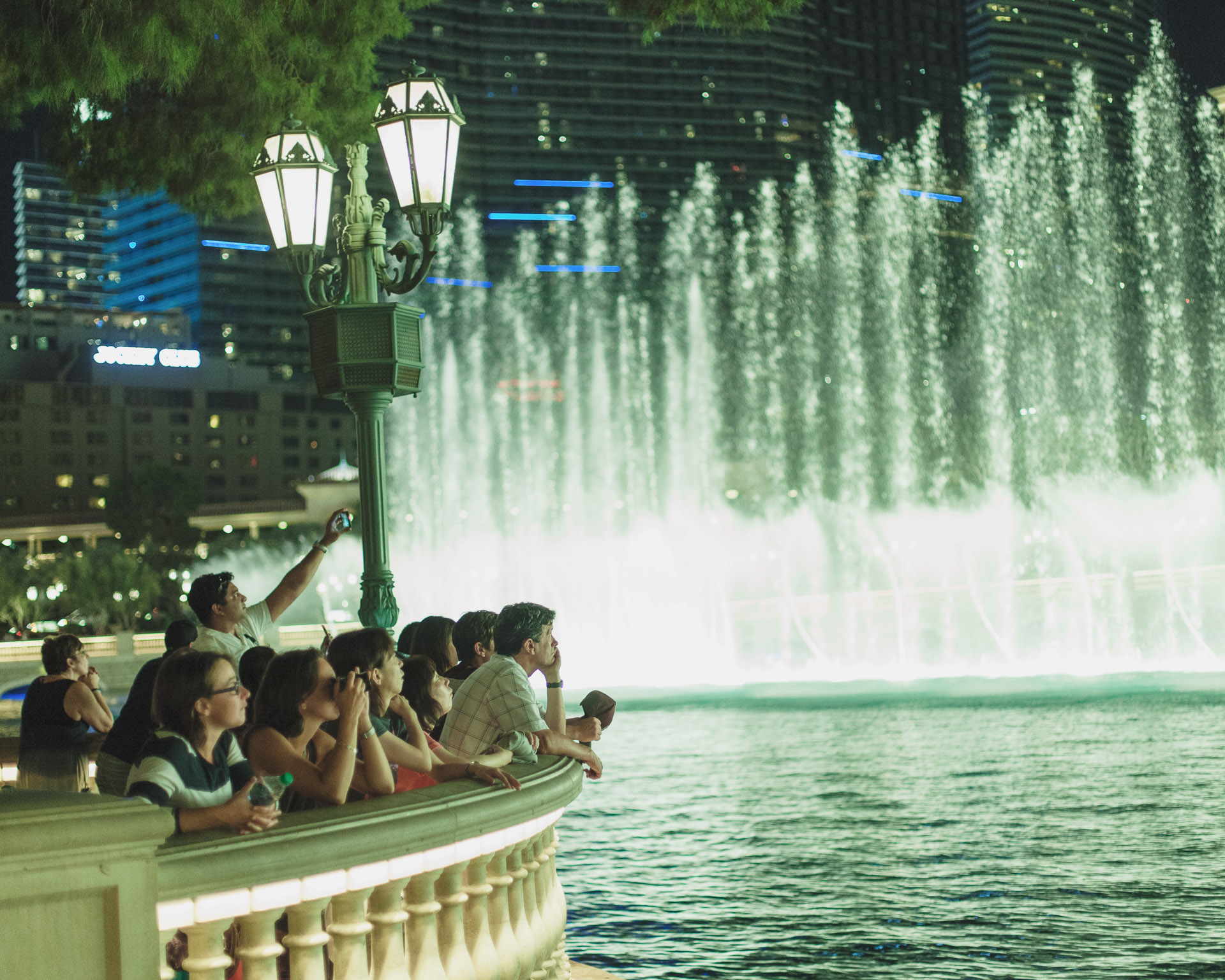 I grew up watching Ocean's Eleven on repeat. The film portrayed an environment I could imagine my grandfather existing within, and I think that's why I loved it so much. I would watch the final scene over and over again; the eleven men staring up towards the fountains of the Bellagio. I dreamed that one day I would lean on the same rail and watch the water crash in front of me.
Chris Bethell is a photographer based in London. Keep up with him on Instagram or his website.