Land of Hope & Dreams | America's Unseen Badlands
British photographer Chris Bethell heads out into the deserts of South Dakota to go where few tourists manage to reach
In part five of British photographer Chris Bethell's trip across the United States, we find him and his partner Bekky driving headlong into the South Dakotan desert, to the dry and desolate Backlands National Park. Bethell captures the peculiarity of America's wild west, still unique in its authentic Americana and its steadfast frontier spirit.
Much like in the rest of his journey, Bethell finds himself confronting, with his camera, the America he had only seen in movies, and imagined in his mind. Battling the heat, the vast expanses of desert, and his own homesickness, Bethell comes to understand America not in terms of its culture or people, but more in terms of its state of nature, and its permanence throughout history.
Amuse has been serialising Bethell's 'Land of Hope & Dreams' series, featuring Bethell's street photography of – and commentary on – Boston, New York City, the American north, and small town Minnesota. These photo essays will continue in the coming weeks, as Bethell chronicles his thoughts and feelings around his own American roots, and the nation that has always captivated him.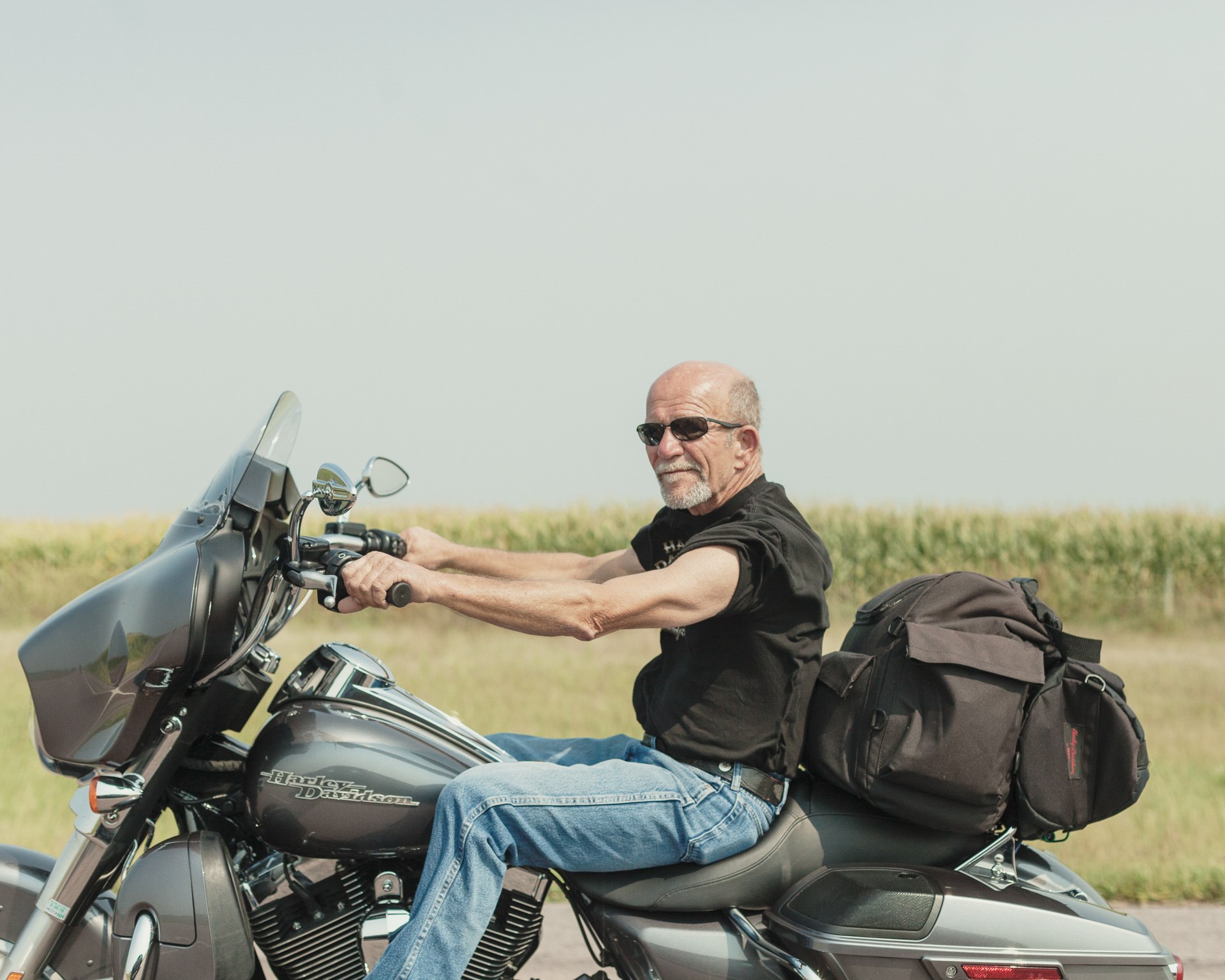 We didn't stop all that much in South Dakota. Heading in from Minnesota, myself and Bekky clocked up some pretty long hours as we pushed West through neverending cornfields. Eventually though, the land dried up, and the horizon flattened into a vista of sun-scorched grass. Occasionally, a truck or a bike would overtake us and provide me with something different to photograph.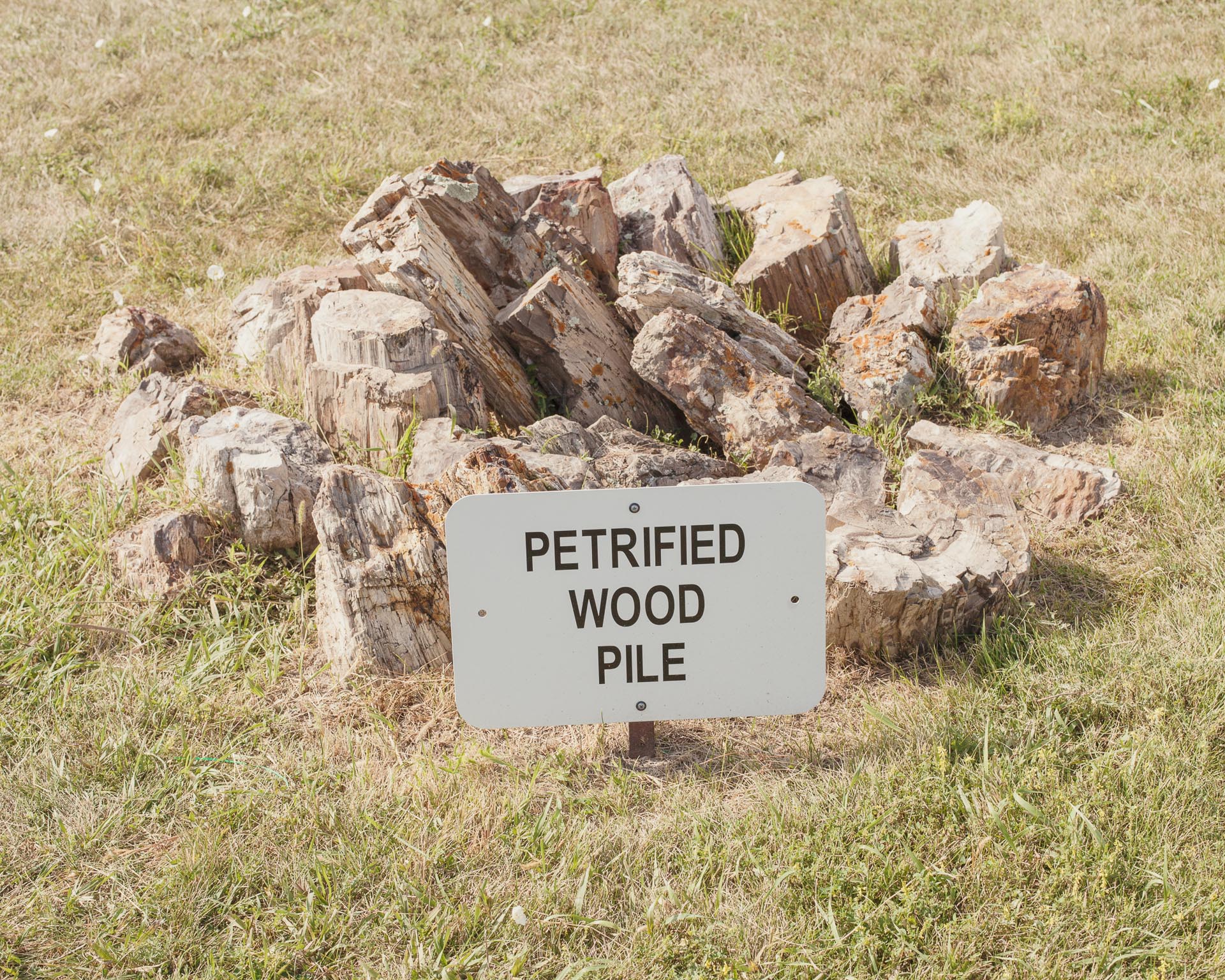 I had always been obsessed with the quirky roadside attractions I would see in films and read about in books – the world's biggest clown shoe, the world's smallest refrigerator, or something equally ridiculous. Our find was up there with some of the best: a museum of petrified wood. The pun gets a little tired after the third pile, but worth the $14 nonetheless.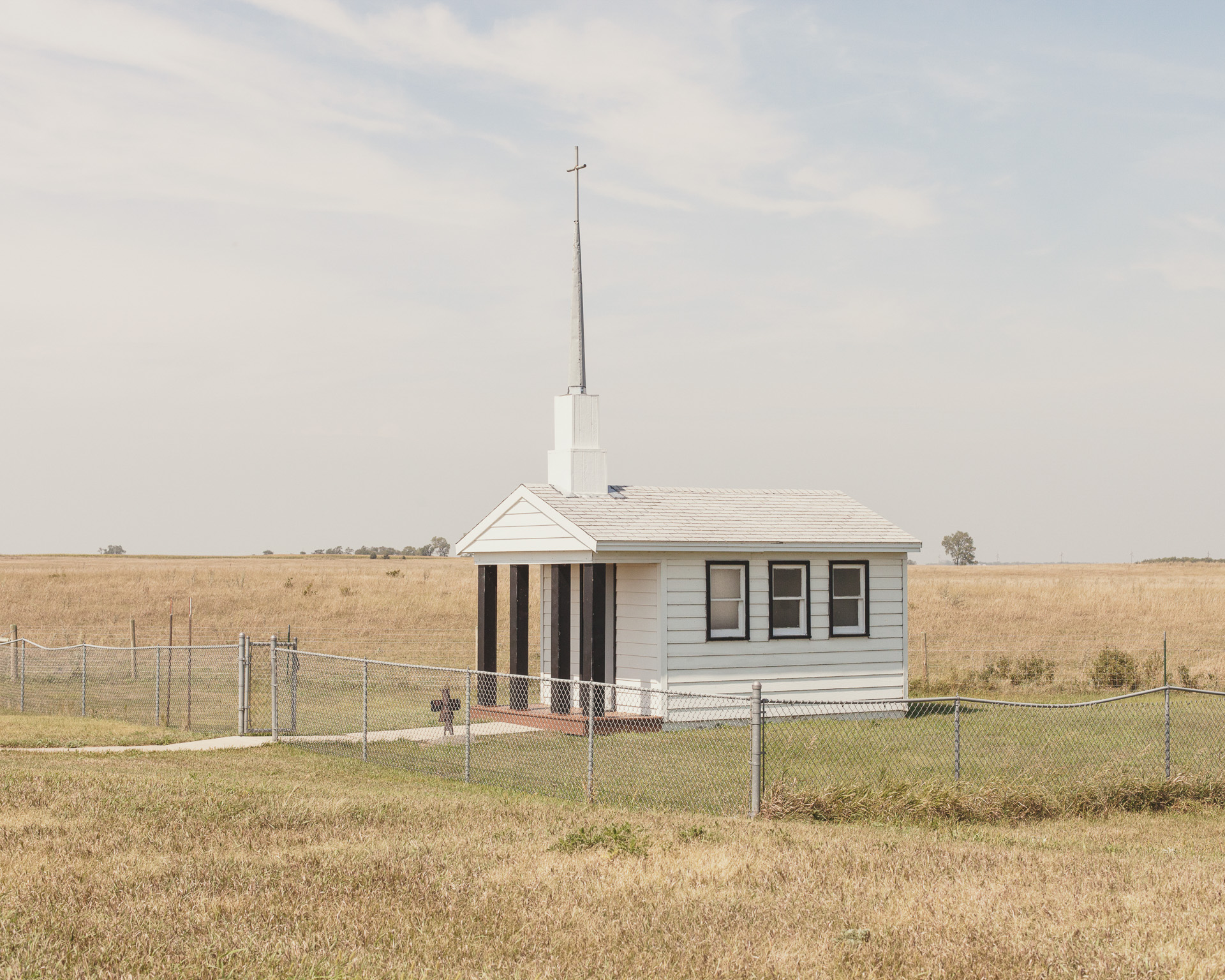 We broke up the drive with a couple of rest stops – taking a few minutes to stretch our legs and explore whatever there was to see at each one. This one hosted a modest, wooden chapel.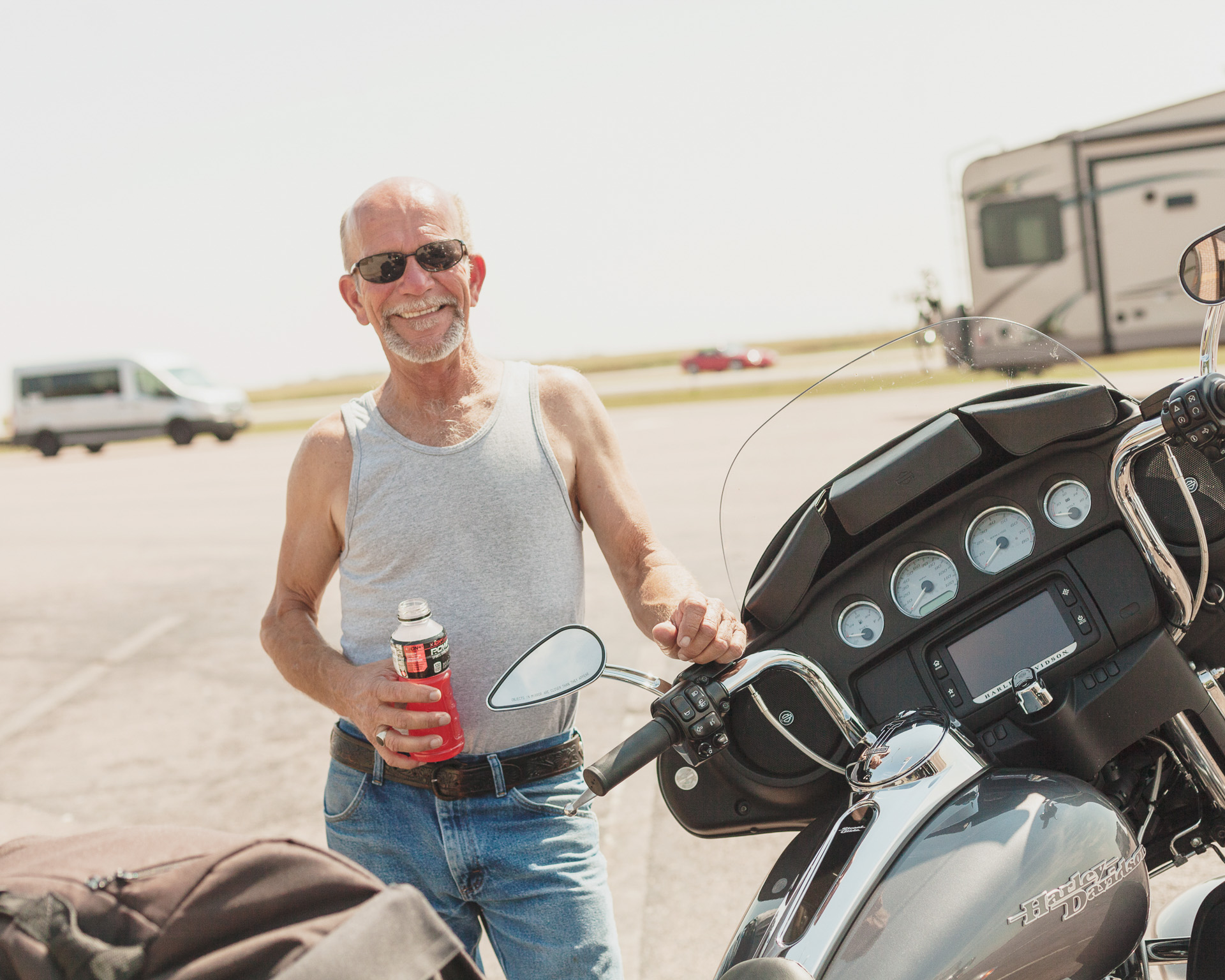 Returning to the car after checking out all four walls of the chapel, inside and out, we bumped into the same biker I'd photographed a few hours before. He welcomed us over and invited Bekky to try sitting on his bike for a few moments.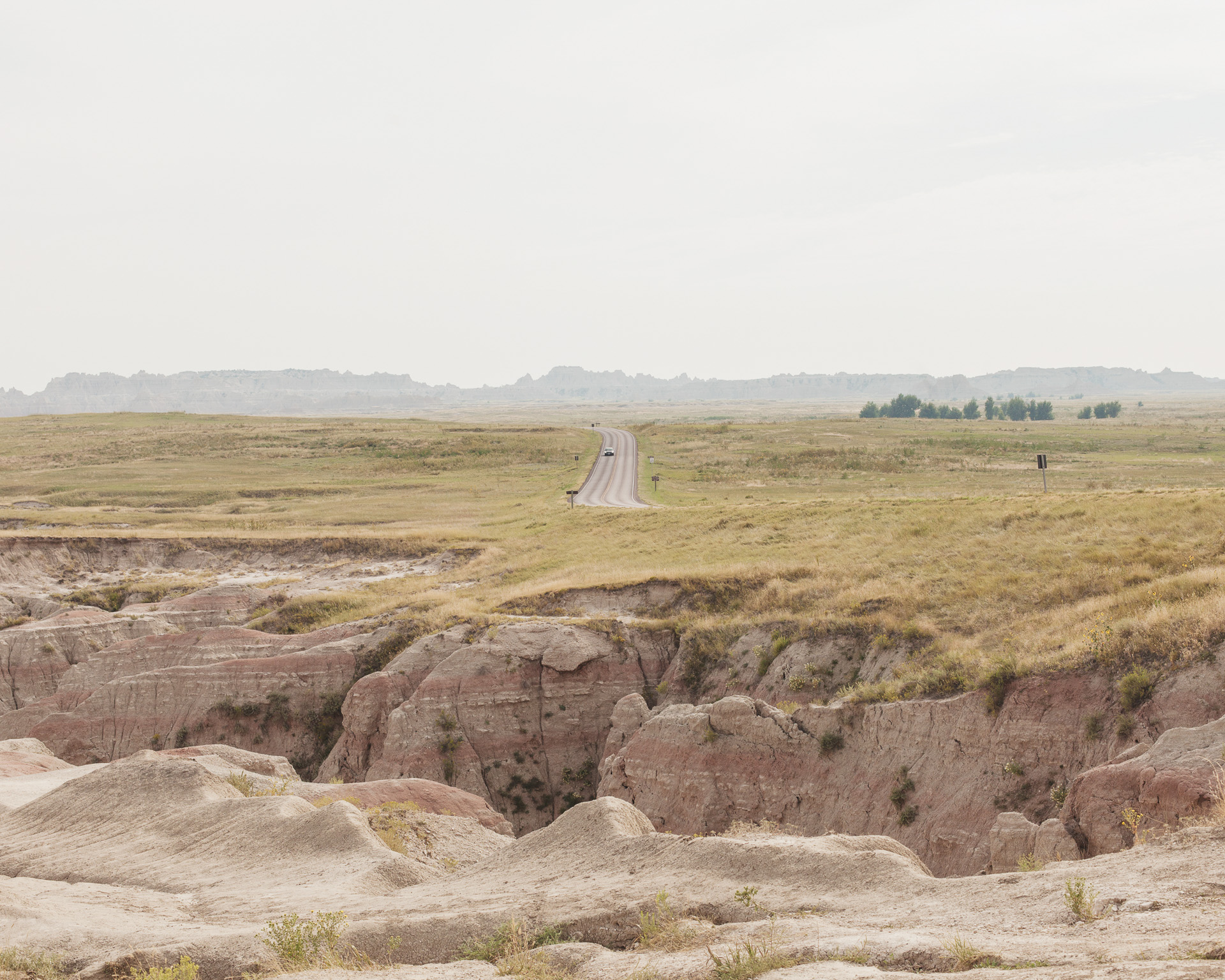 The landscape cracked open as we hit Badlands National Park. The flat plains disappeared from underneath us to reveal a layered vista of canyons and spires.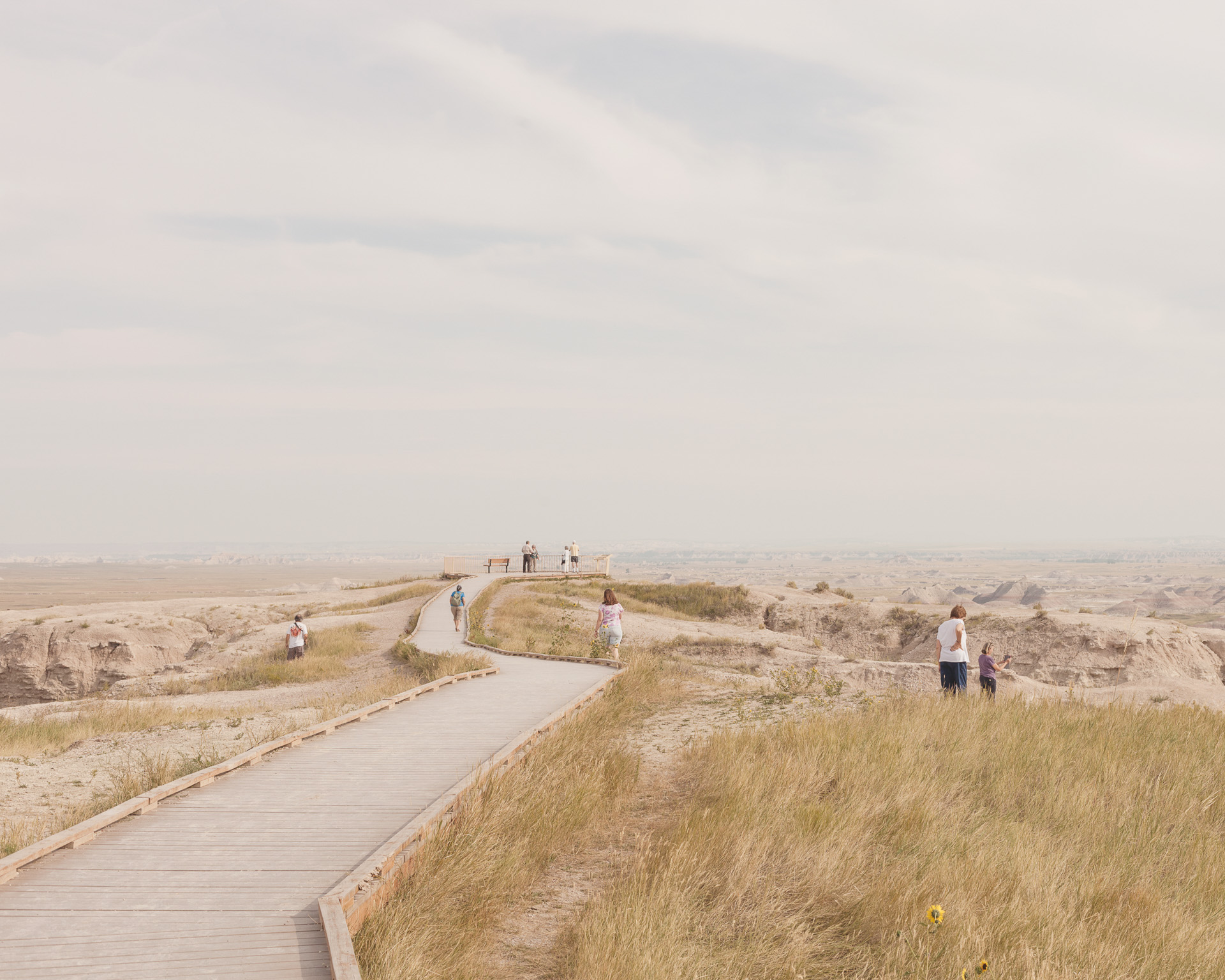 The Badlands supposedly houses one of the world's richest fossil beds. Sabre-toothed tigers once roamed here.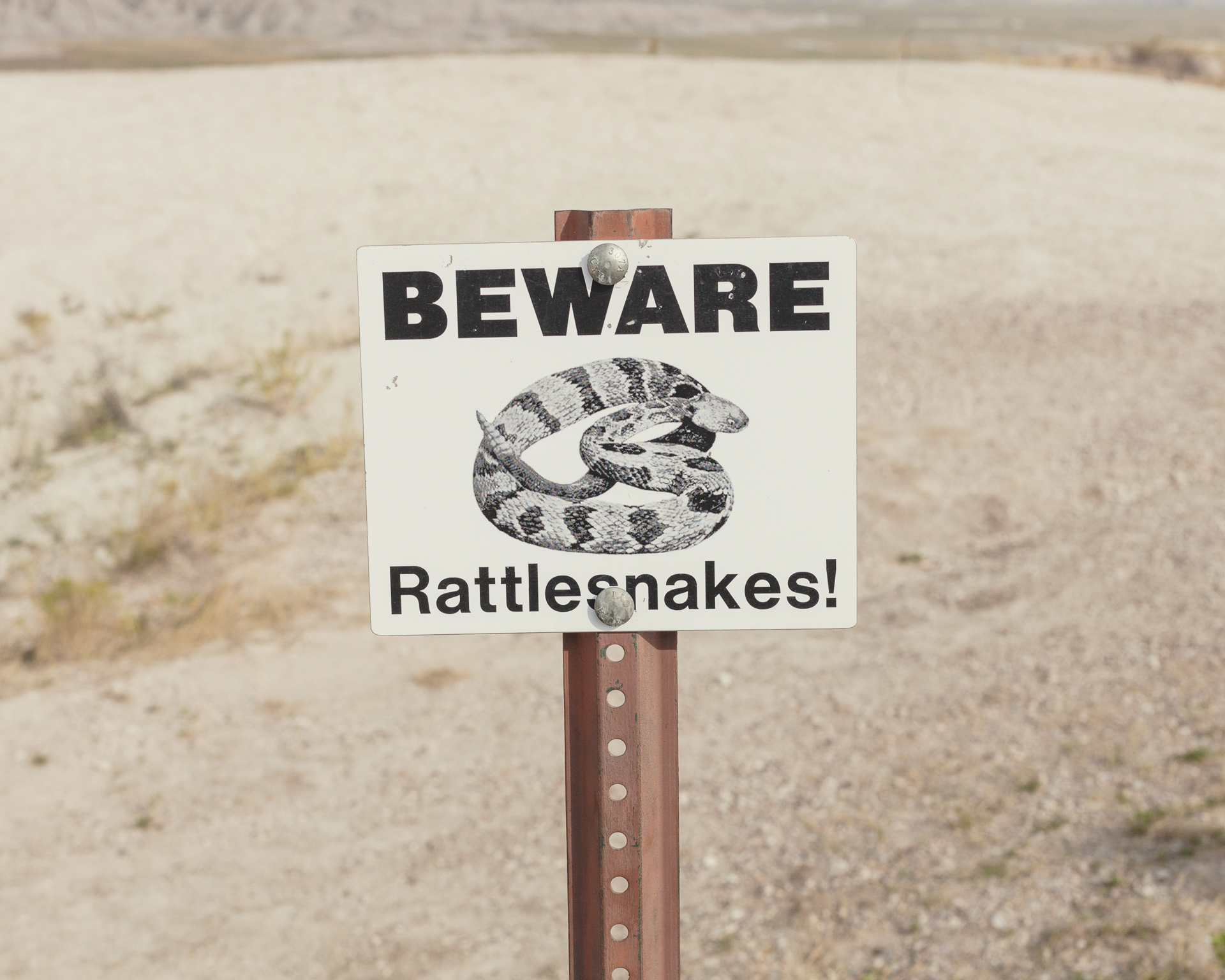 I was slightly alarmed by how casual this sign was – not instructions for how to avoid the snakes, or what to do in the event of being bitten. I decided to tread carefully.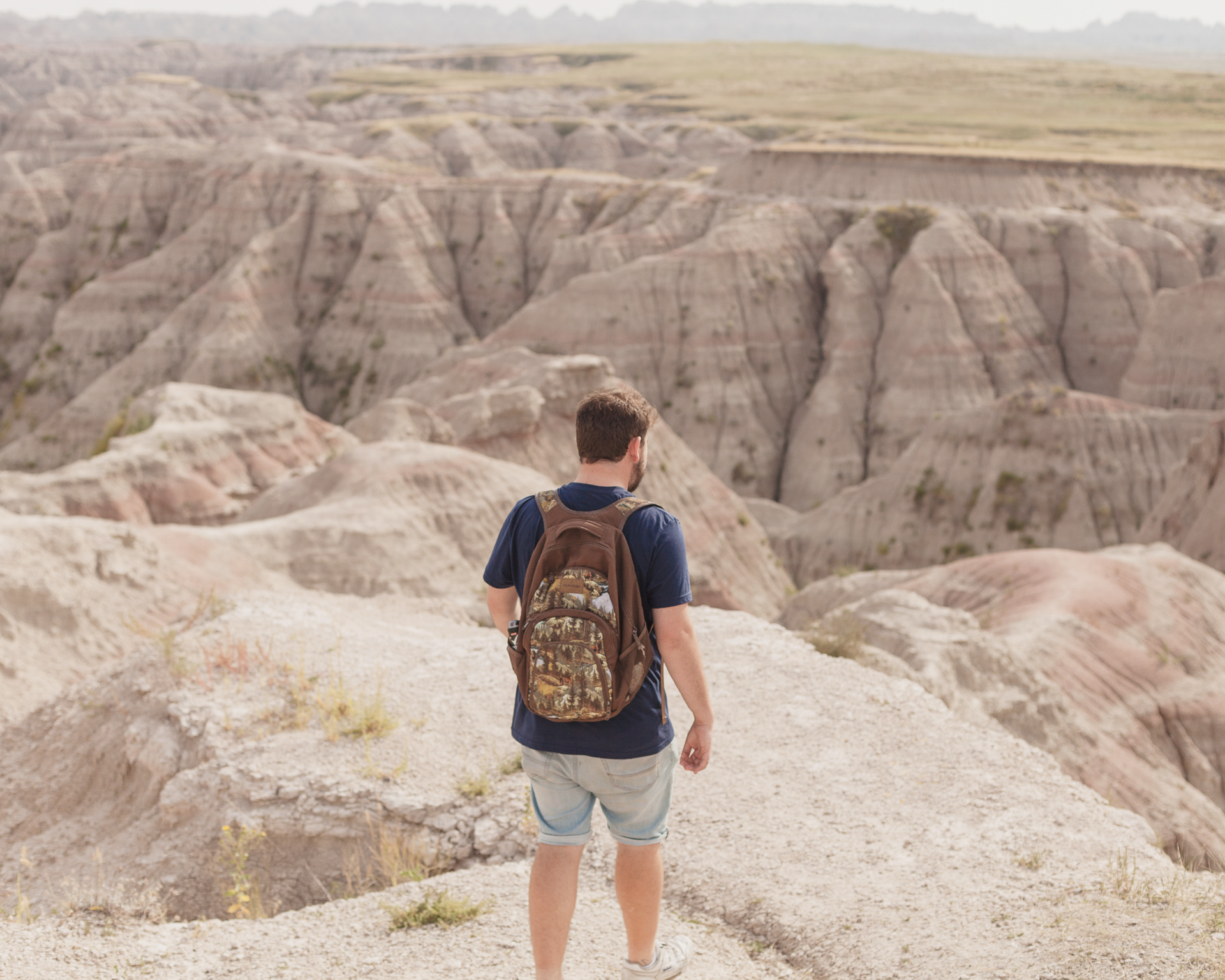 A rare picture of me – taken by Bekky. Shot from behind as I make my way down to one of the cliff edges of the Badlands.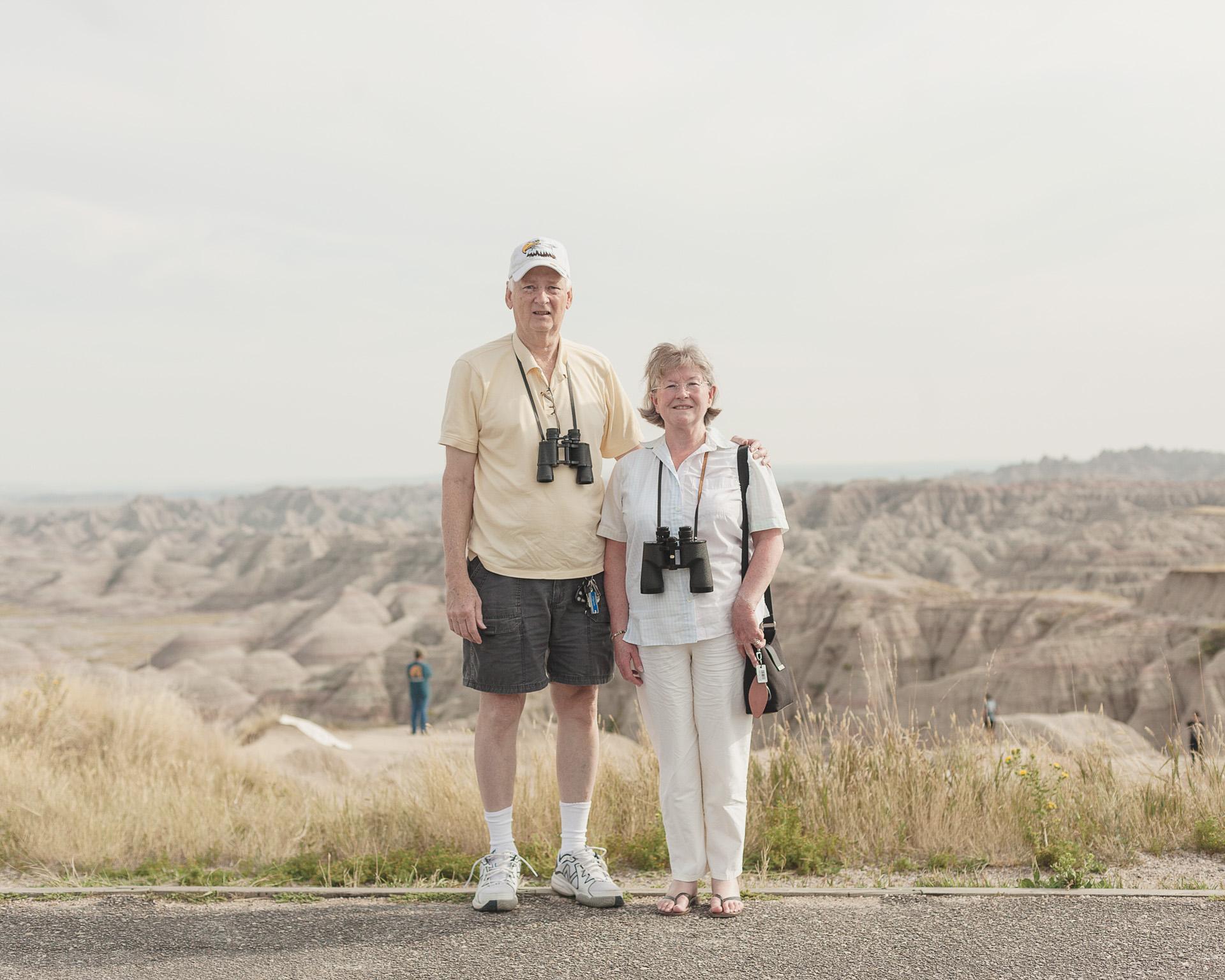 I found these two up on a viewing platform. I loved their matching binoculars and had to take a portrait of them.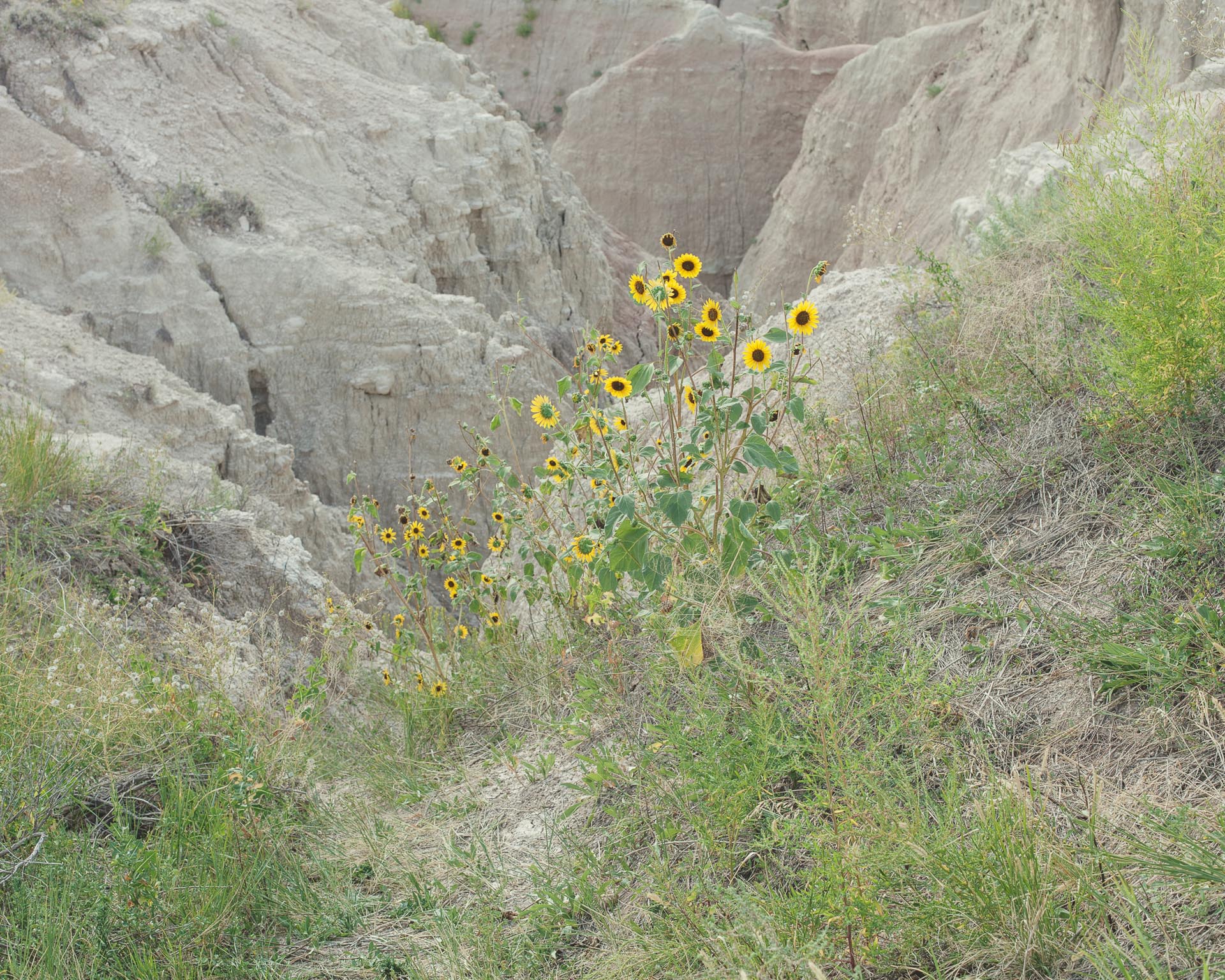 Not much seems to grow in and around the dry sediments of the badlands, so I was drawn to photograph the occasional occurrences of bright coloured flora that punctuated the landscape.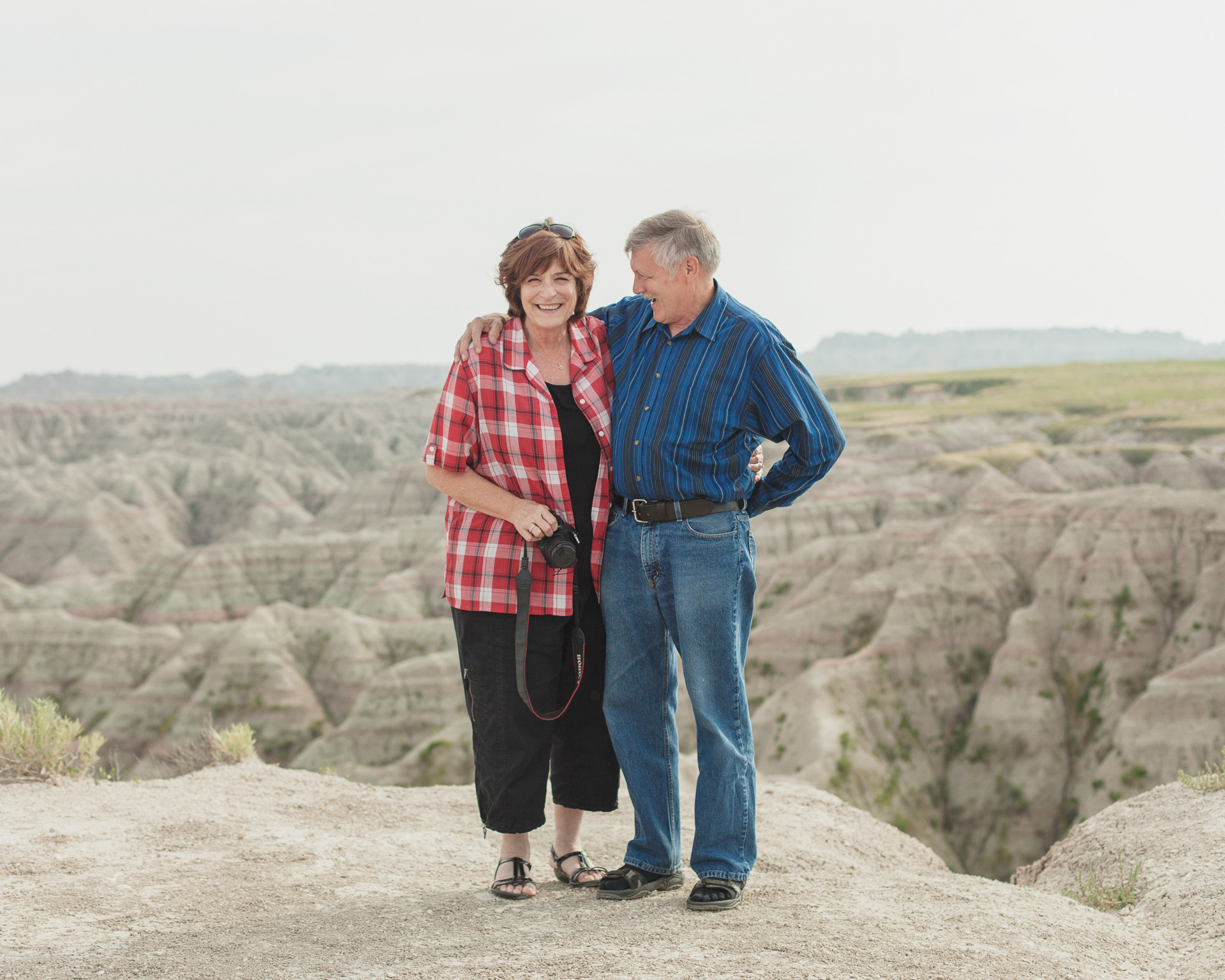 Unfortunately I don't remember too much about this couple, other than spending our entire time together giggling and laughing. I think they told us about how they were also on a road trip around a few states.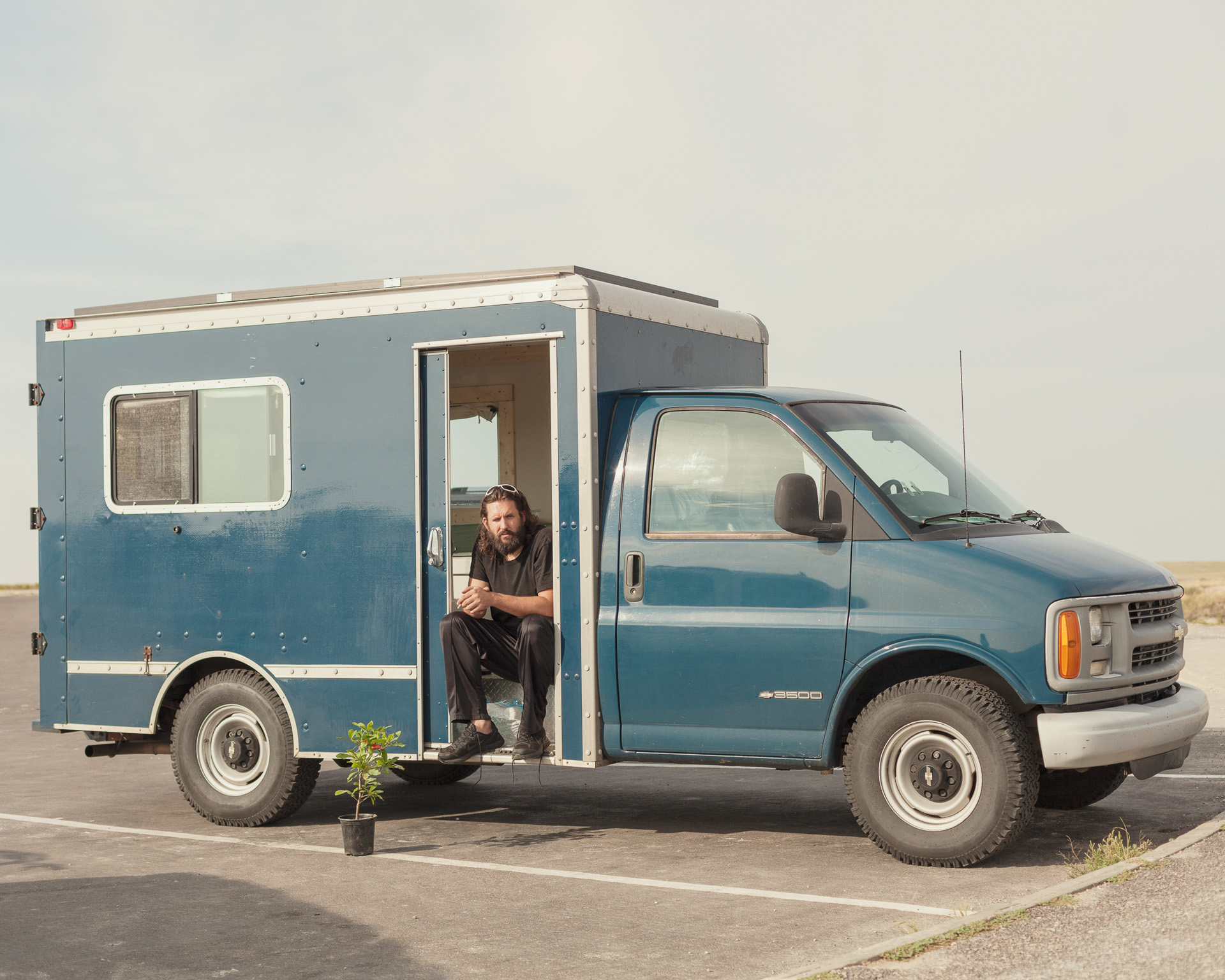 Next time I go back to the States, I need to make sure to get people's names. This man told me about how he had been on the road for a few weeks. Every time he stopped, he would let his plant out of the van to get some sunshine and fresh air.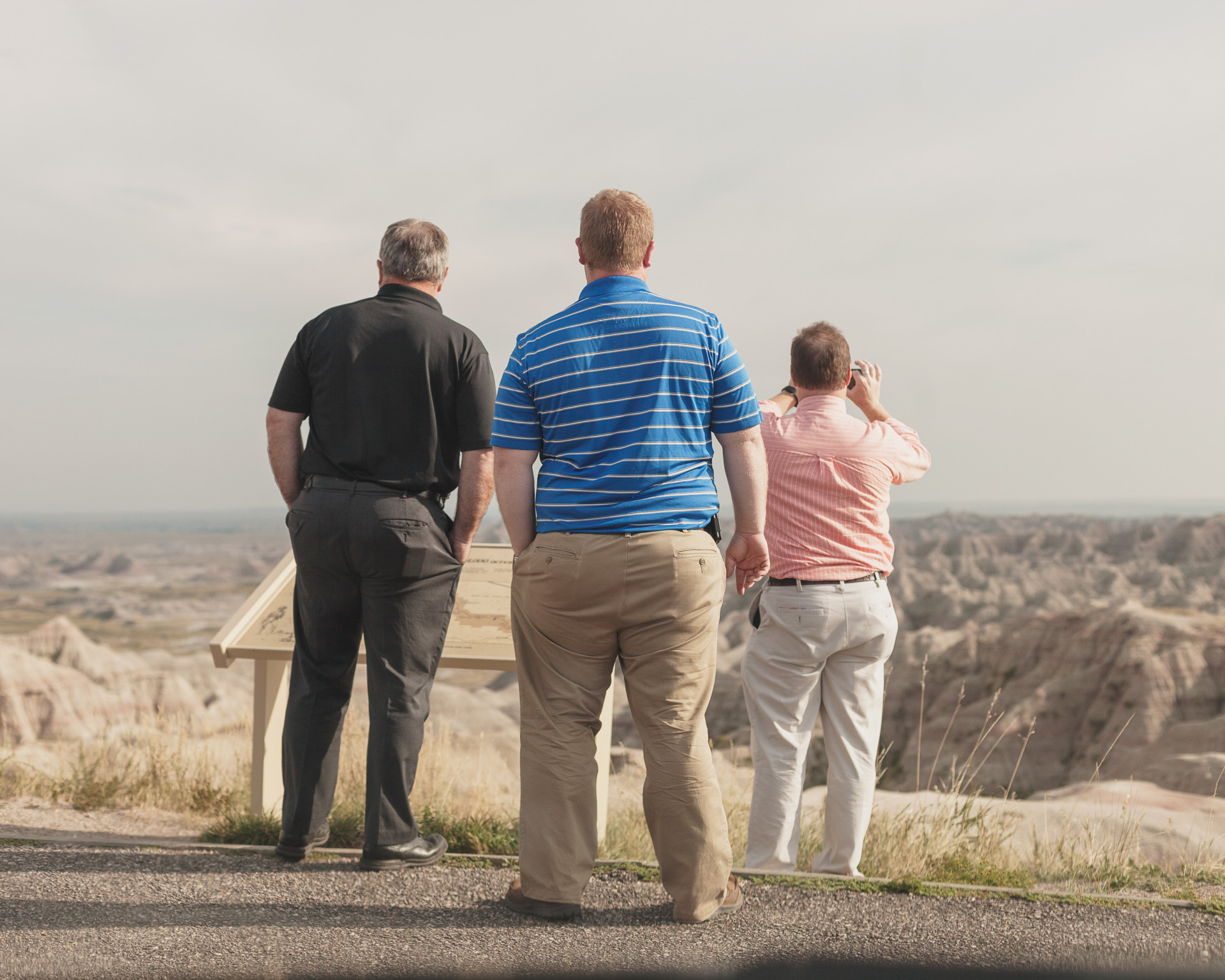 I like the contrast of these three guys against the landscape. I looked at them from behind and for some reason, I thought that they are all phone salesmen – maybe on their lunch break, or out on a team-building exercise.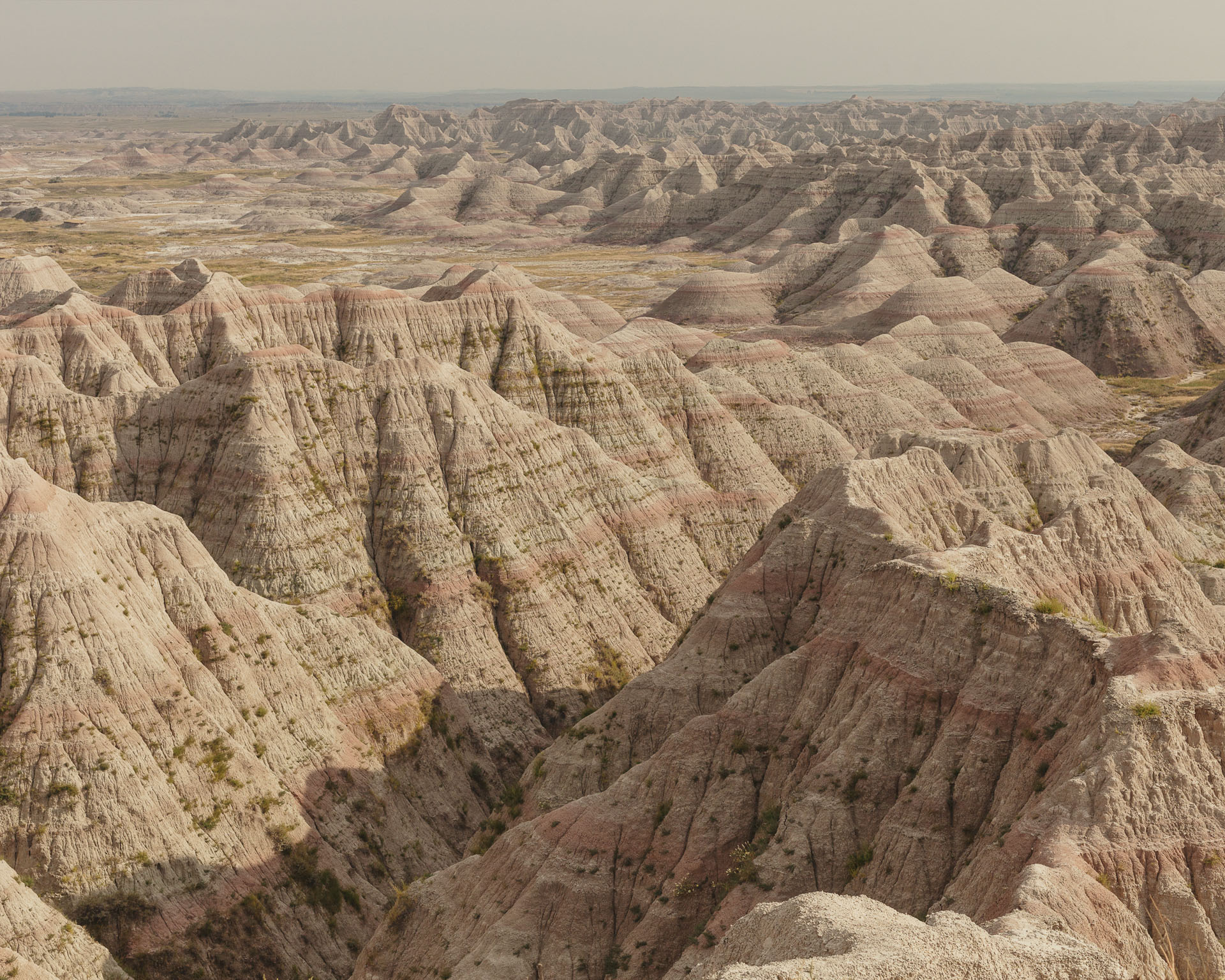 The Badlands National Park, so-called originally by the Lakota People, who called it 'mako sica' or 'land bad'. This is because of how inhospitable the area is – rugged land, a vast lack of water, and severe temperatures.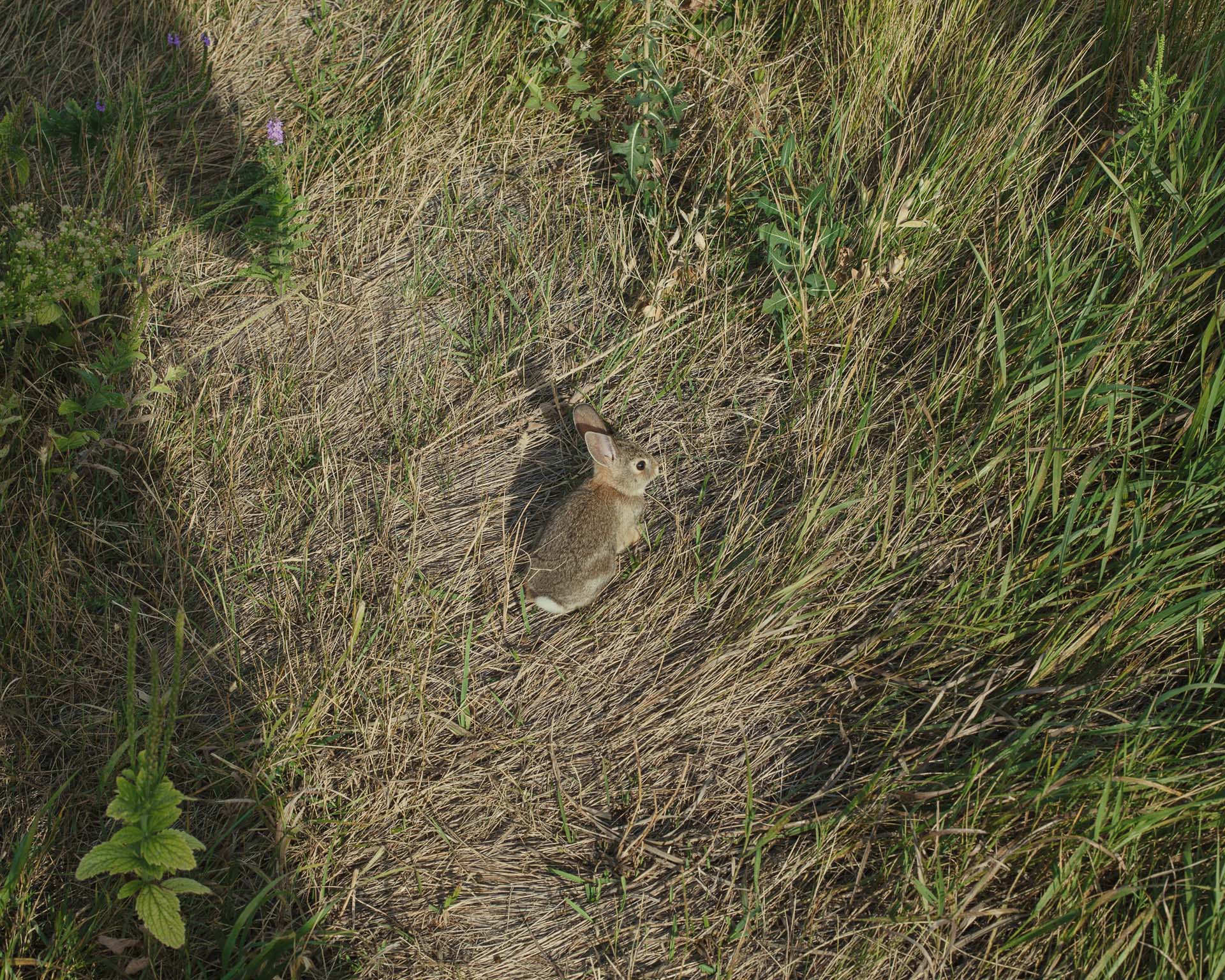 I found this bunny rabbit sat frozen amongst the grass beside one of the raised, wooden paths.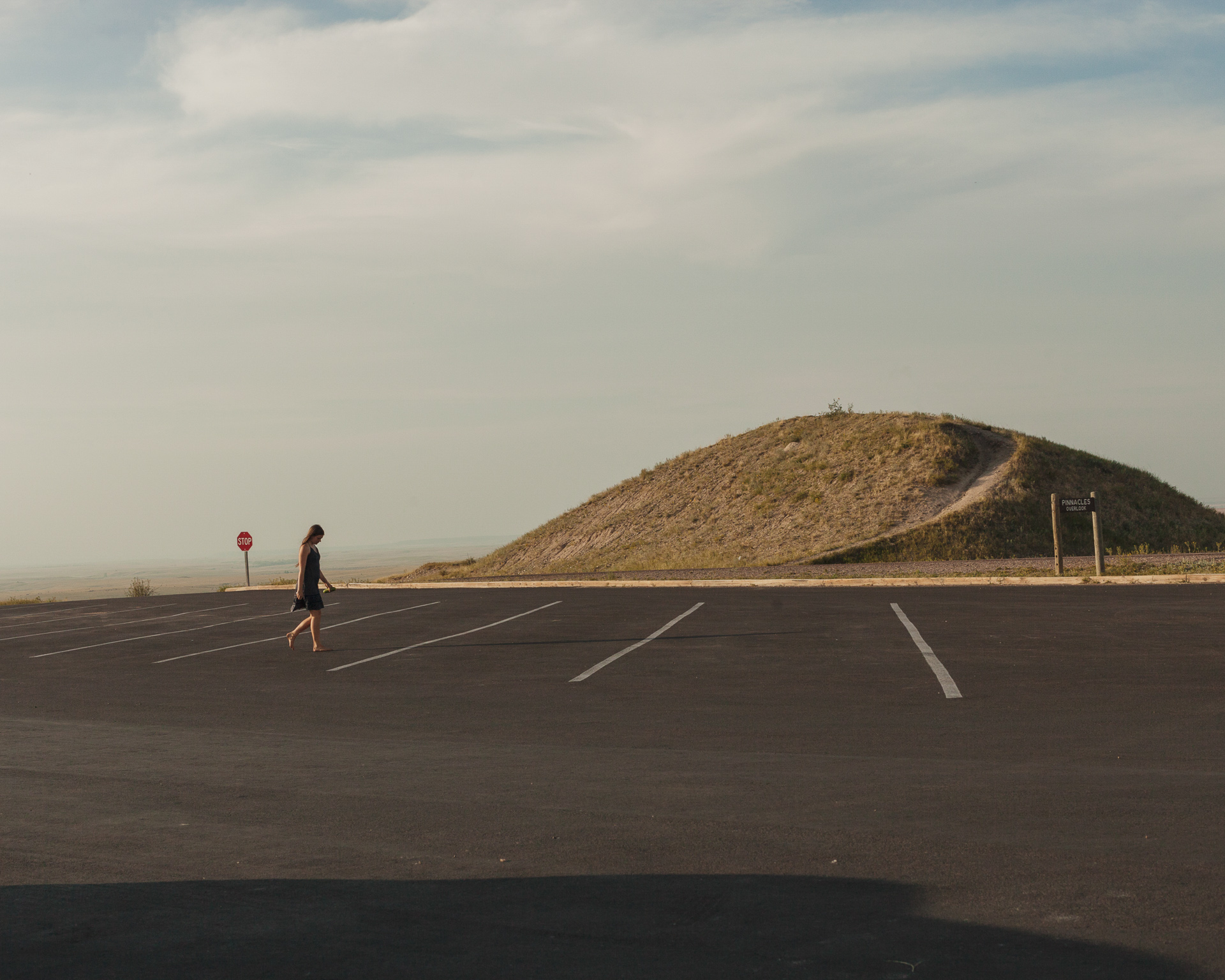 This was taken in the evening as the sun began to fall over the horizon. The woman in shot walks through the frame barefoot whilst staring at the ground.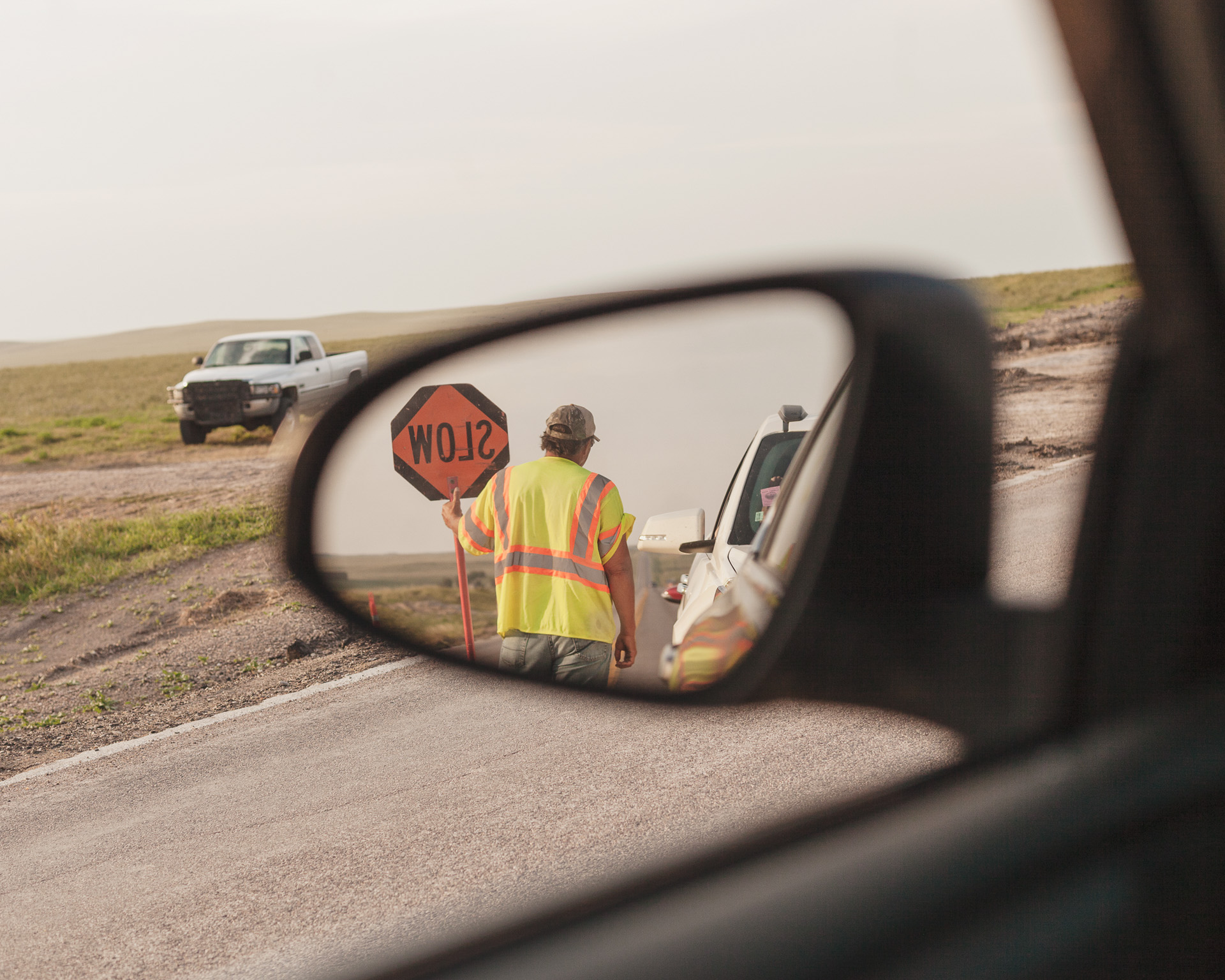 Leaving the Badlands we met this man, controlling the amount of traffic flowing through some roadworks up ahead. This must be the loneliest of jobs as the road works were not for another mile. He would have been stood for potentially hours on end in amidst the bleak landscape, turning his sign between 'Stop' and 'Slow'.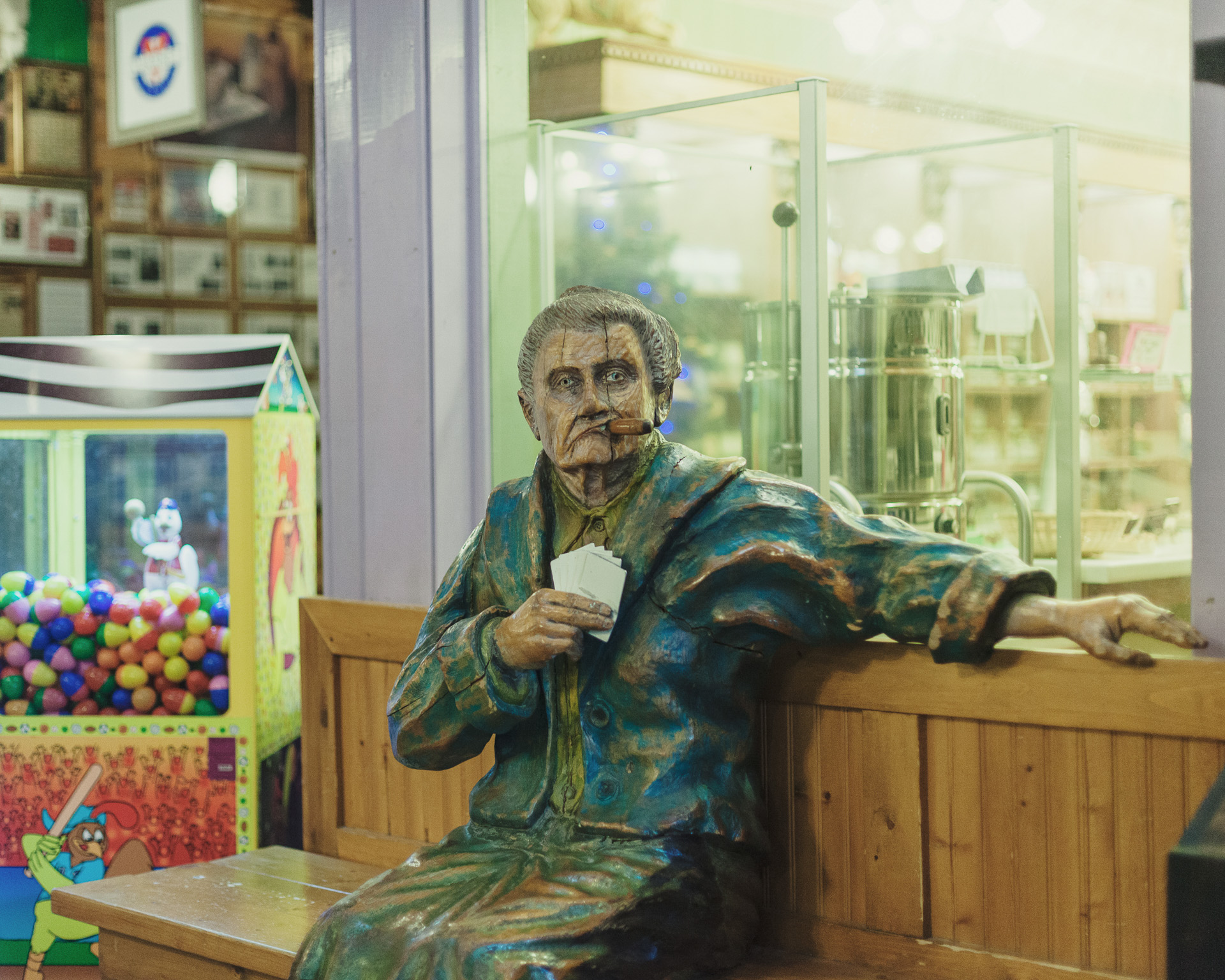 As soon as we entered South Dakota, we began seeing signs for 'Wall Drug' without much context of what it was. Every mile there seemed to be another – simply saying the name, or how far away we were from it. It turned out to be a treasure trove of Americana – even if it is essentially a tourist trap. It housed some particularly creepy models and statues, all of which Bekky is particularly scared of.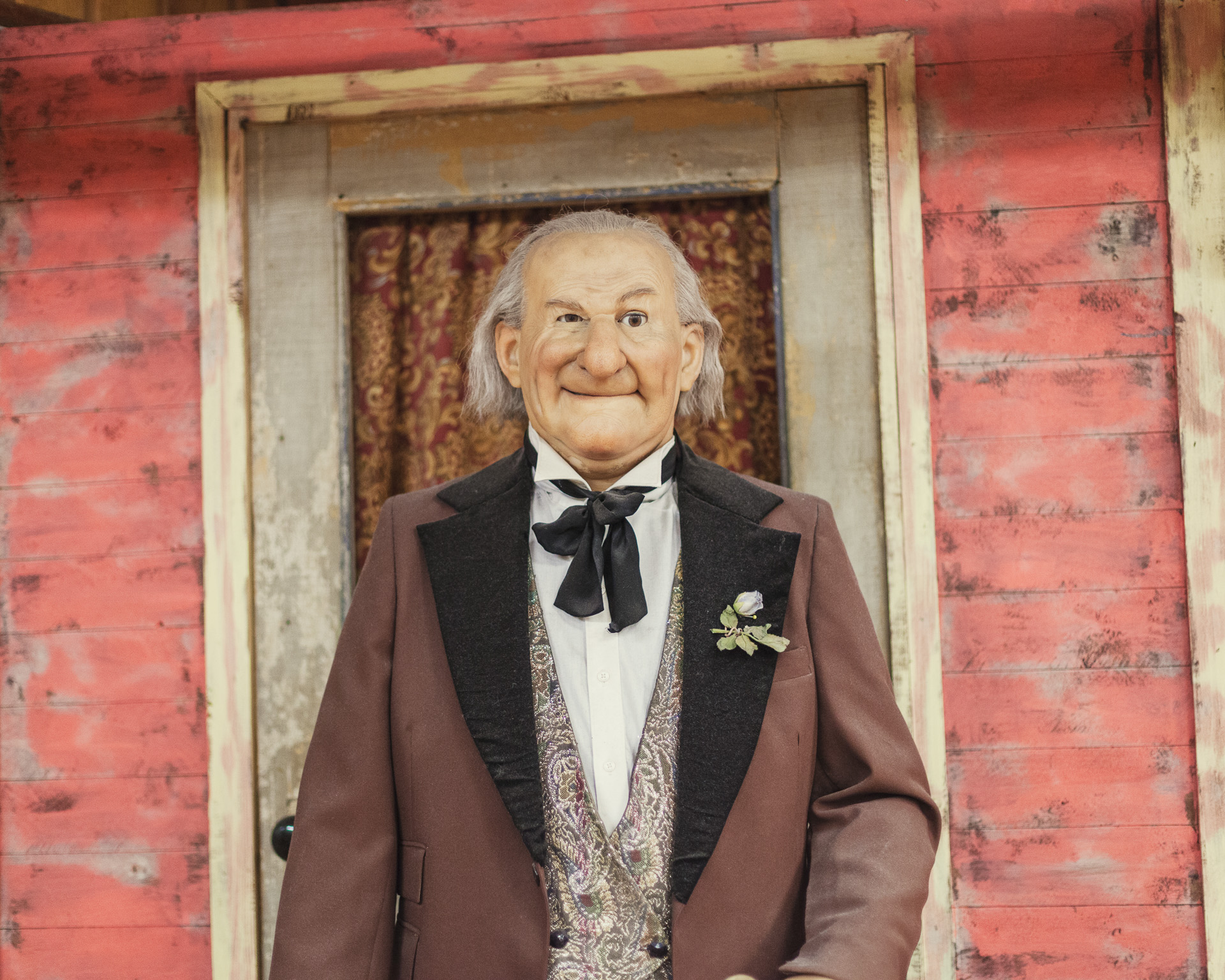 Another character of Wall Drug that struck fear into Bekky's heart.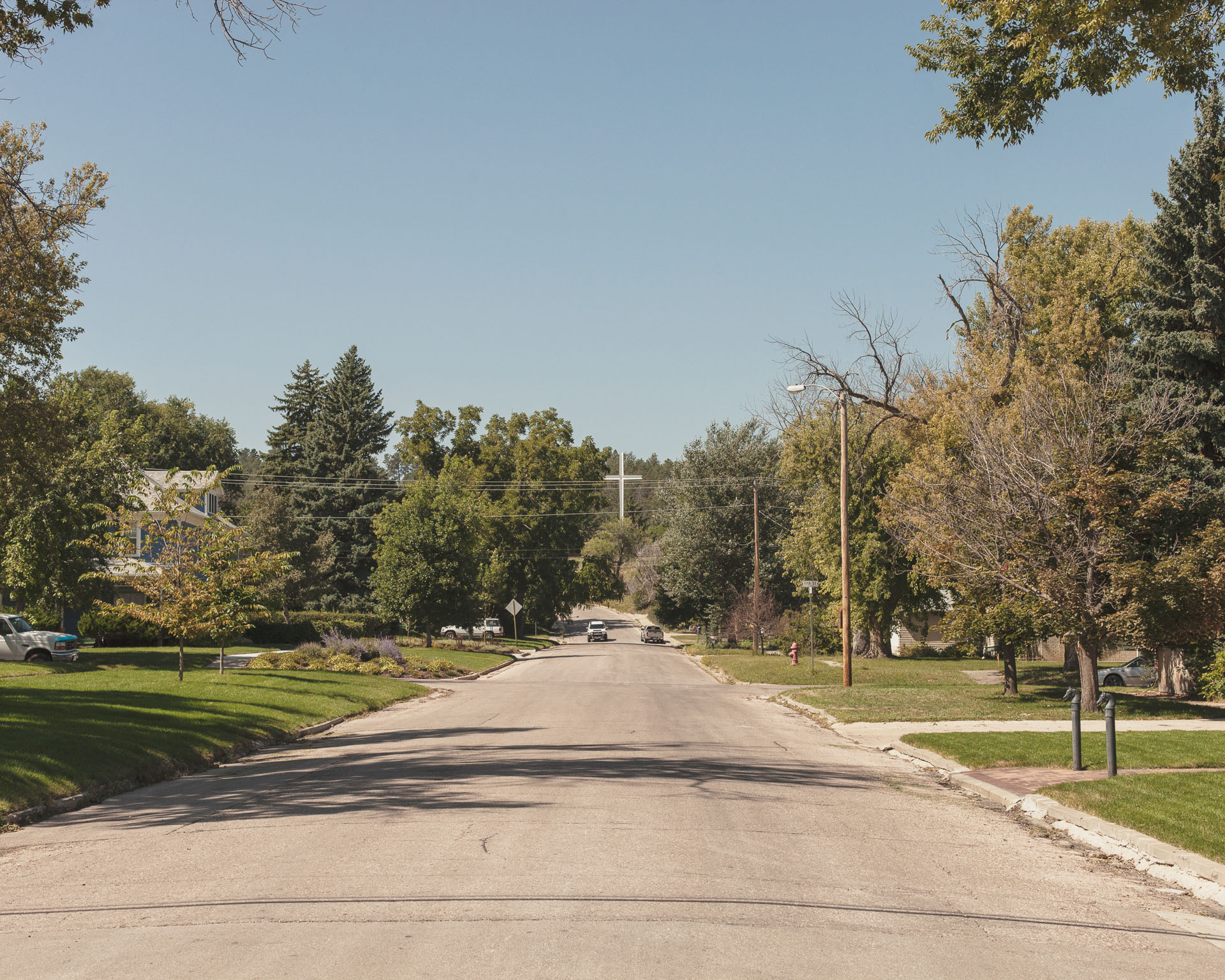 We spent the rest of our evening driving to Rapid City where we eventually lay our heads down in a two-star motel. The next morning we explored the city and its surrounding suburbs.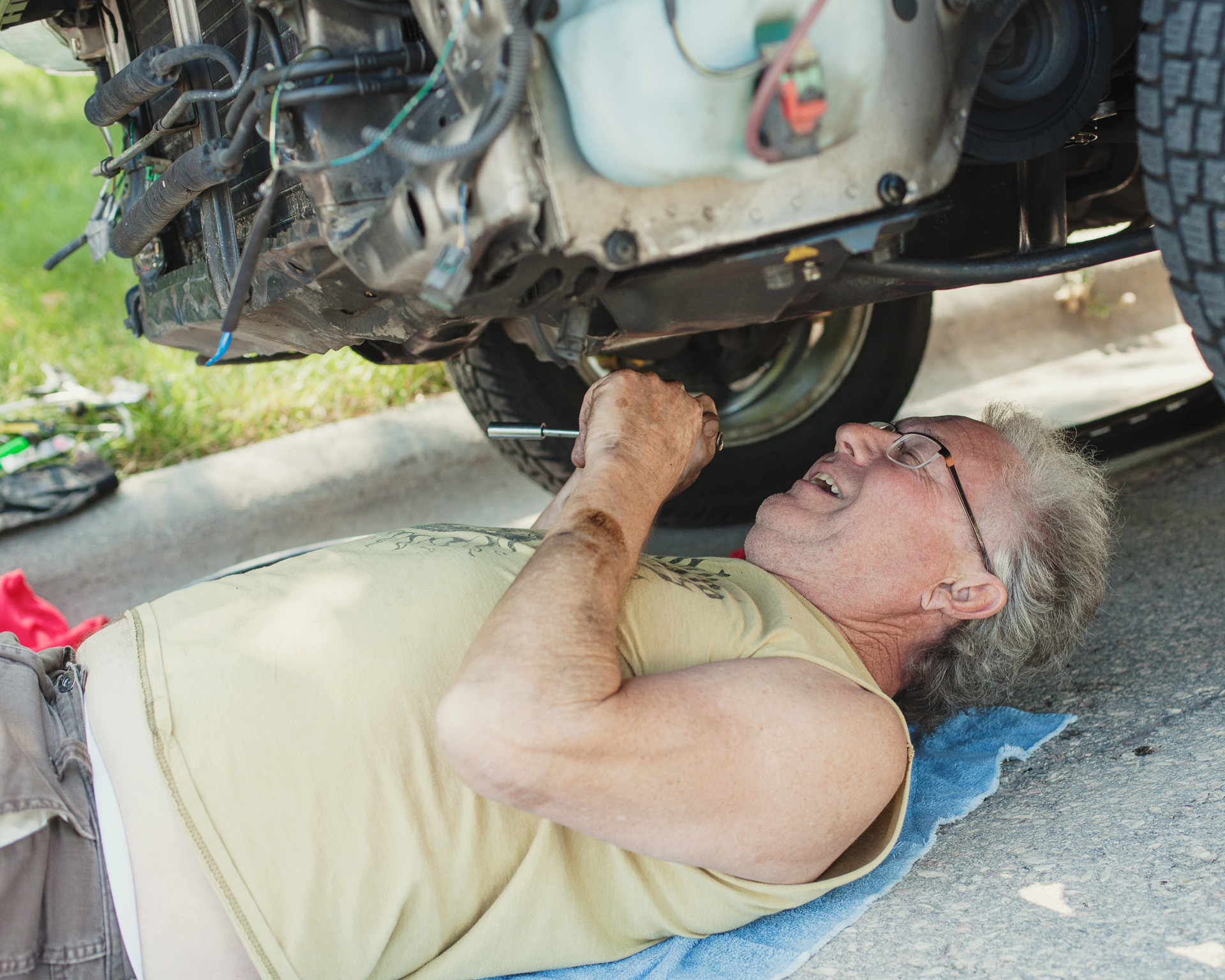 I found this man underneath a car he was trying to fix up. My initial 'hello' almost made him bang his head on the bottom of the vehicle.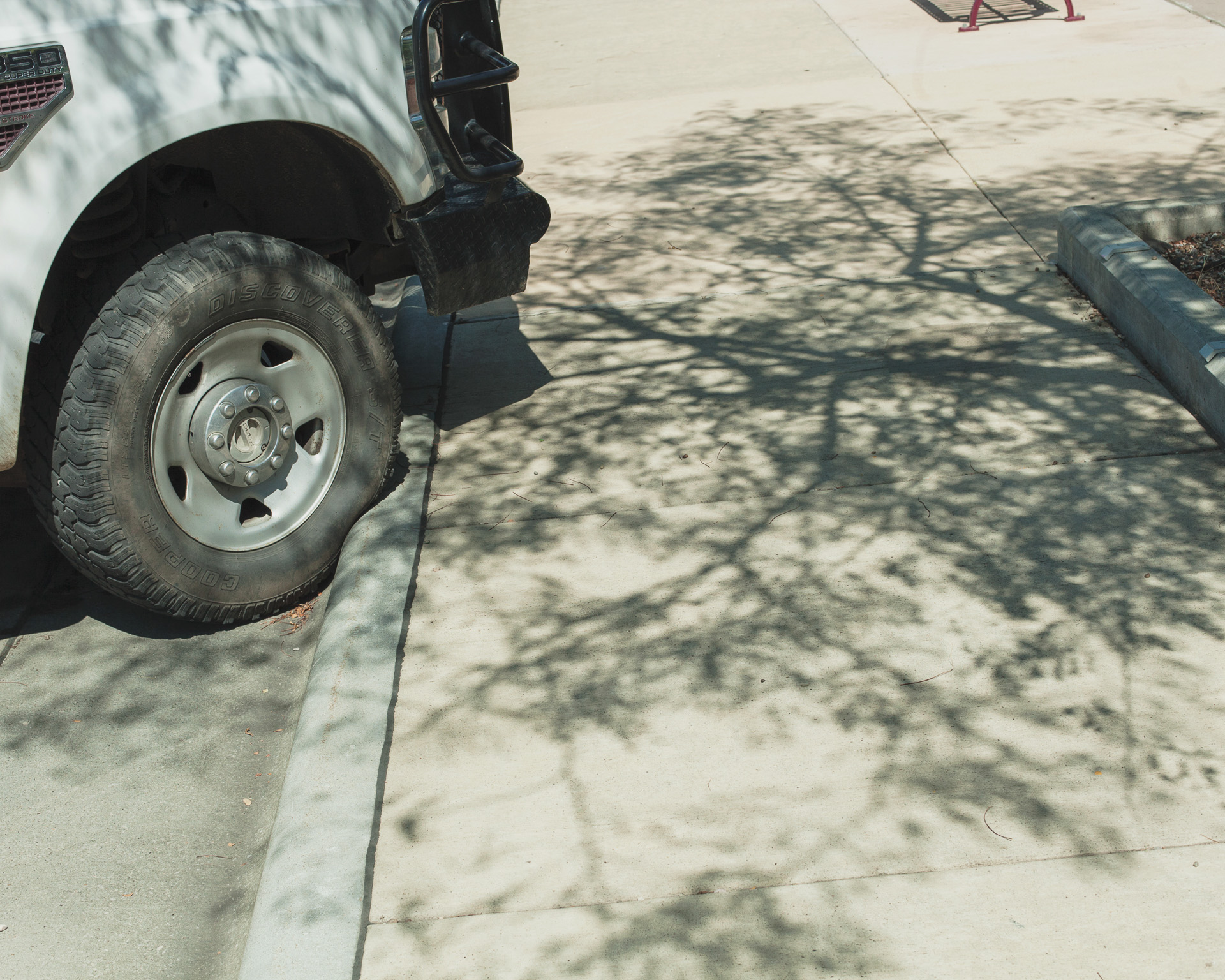 I love this photo, firstly for the dappled light cast onto the street from the tree above. The sun in Rapid City was unlike almost anywhere else – it beat down so hard and heavy, making it a struggle to be anywhere but in the shade. The scrunched tyre on the curb is also a familiar sight across the USA; with the 4×4 being so ubiquitous, these monstrous vehicles press down against the pavements they're parked against.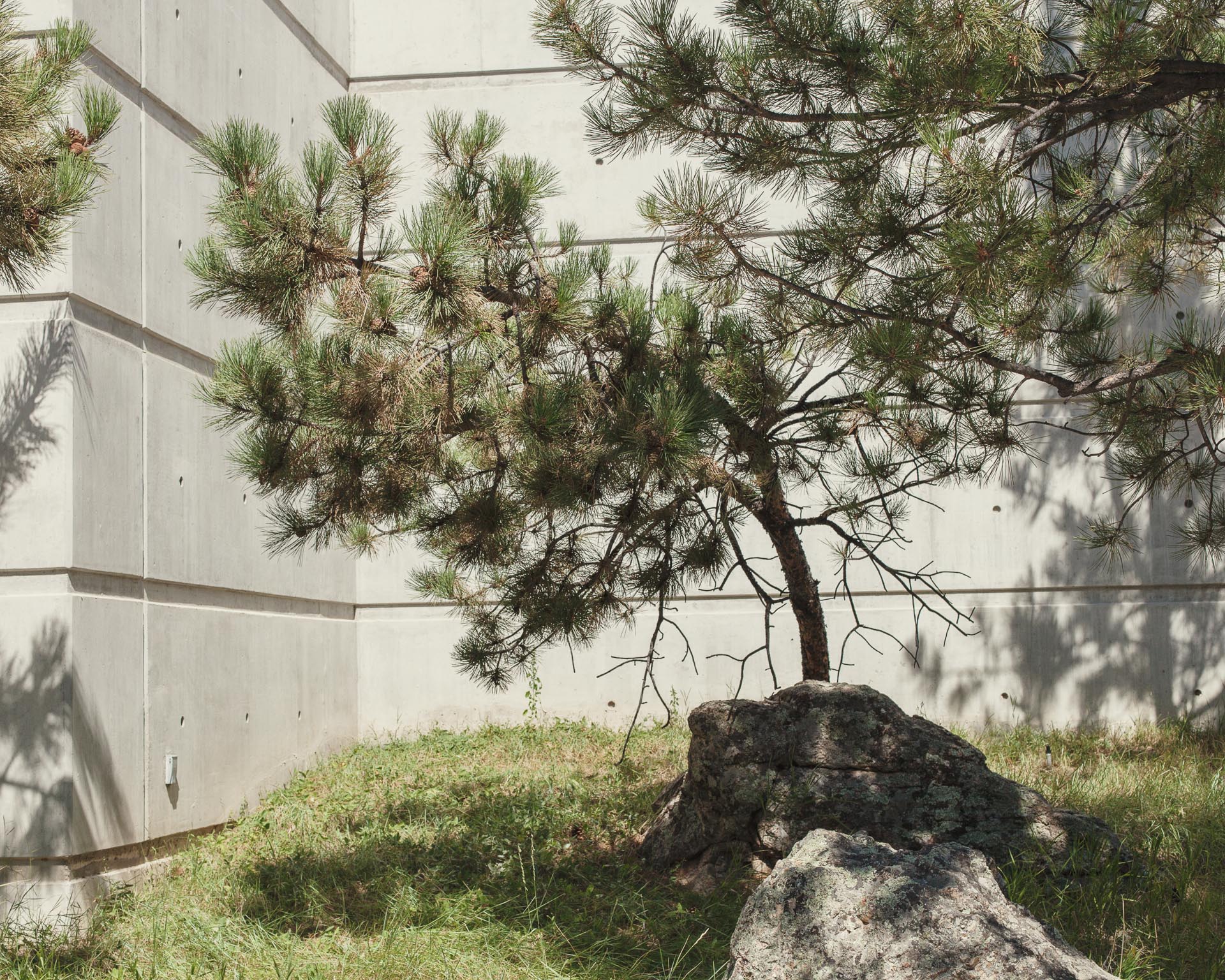 I simply like this image for following the last one. It wasn't taken in the same place but feels as though this tree could be our culprit for the previous shadow. Most of the leaves in South Dakota are similar to these – spiny so as to lose as little moisture as possible.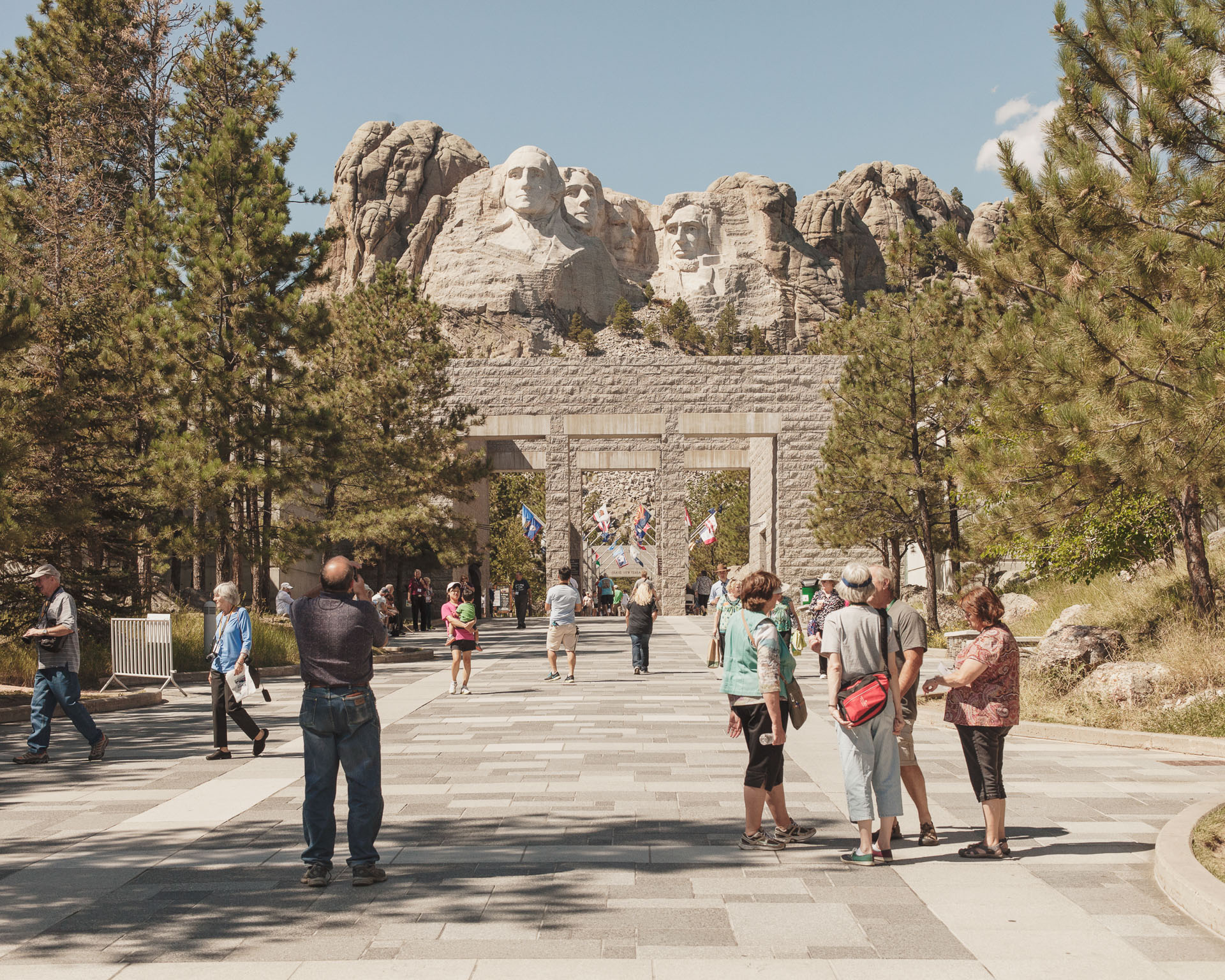 We discovered that one of my fellow MA students and friend, Mike Thomason, was also out in America working on his latest project. We figured out that we could meet him at Mount Rushmore on the day that we were leaving South Dakota. Chatting to Mike while staring up at the faces in the rock relieved some of my homesickness – it felt like catching up with a friend in the most impressive bar on Earth. Mike told us about how he had spent his weeks travelling around by bike, and about the cocktail of salts that made up the electrolyte drink he had with him. We hugged goodbye and drove past him a few minutes later as he cycled back down the hill.
Chris Bethell is a photographer based in London. Keep up with him on Instagram or his website, and keep your eyes peeled for the next instalment of Land of Hope & Dreams on Amuse.