DJ Harvey Wants You to Go to the Opera
The Forest Gump of disco tells Amuse how his summer's shaping up
Few figures captivate the club-orientated imagination like Harvey William Bassett. Harvey's story is well known. You know about his early days as a teenage drummer in a punk band and his wilderness years in mid-80s New York. You know about the warehouse raves the bled out onto Brighton beach and the hangout spot in Hawaii. You know that he found himself stuck in the USA for the best part of a decade before certain visa issues were resolved and the prodigal son was able to make a return to the best nightclubs in Great Britain.
And if you know that, you'll also know that few people on earth can do the things to parties that Harvey does time and time again. One night he's storming through cut after cut of state-of-the-art big room techno at Amnesia and the next he's treating intimate crowds at boutique hotels to florid sets of sunset-ready mellifluous new beat and rarer than hen's teeth jazz fusion records. Catch him a week after and he'll be playing five hours worth of tunes cribbed exclusively from 1976. He's a Friday night at Studio 54 and a Sunday morning at Berghain rolled into one ever-grinning bloke who always, and we mean always, manages to look cool as fuck.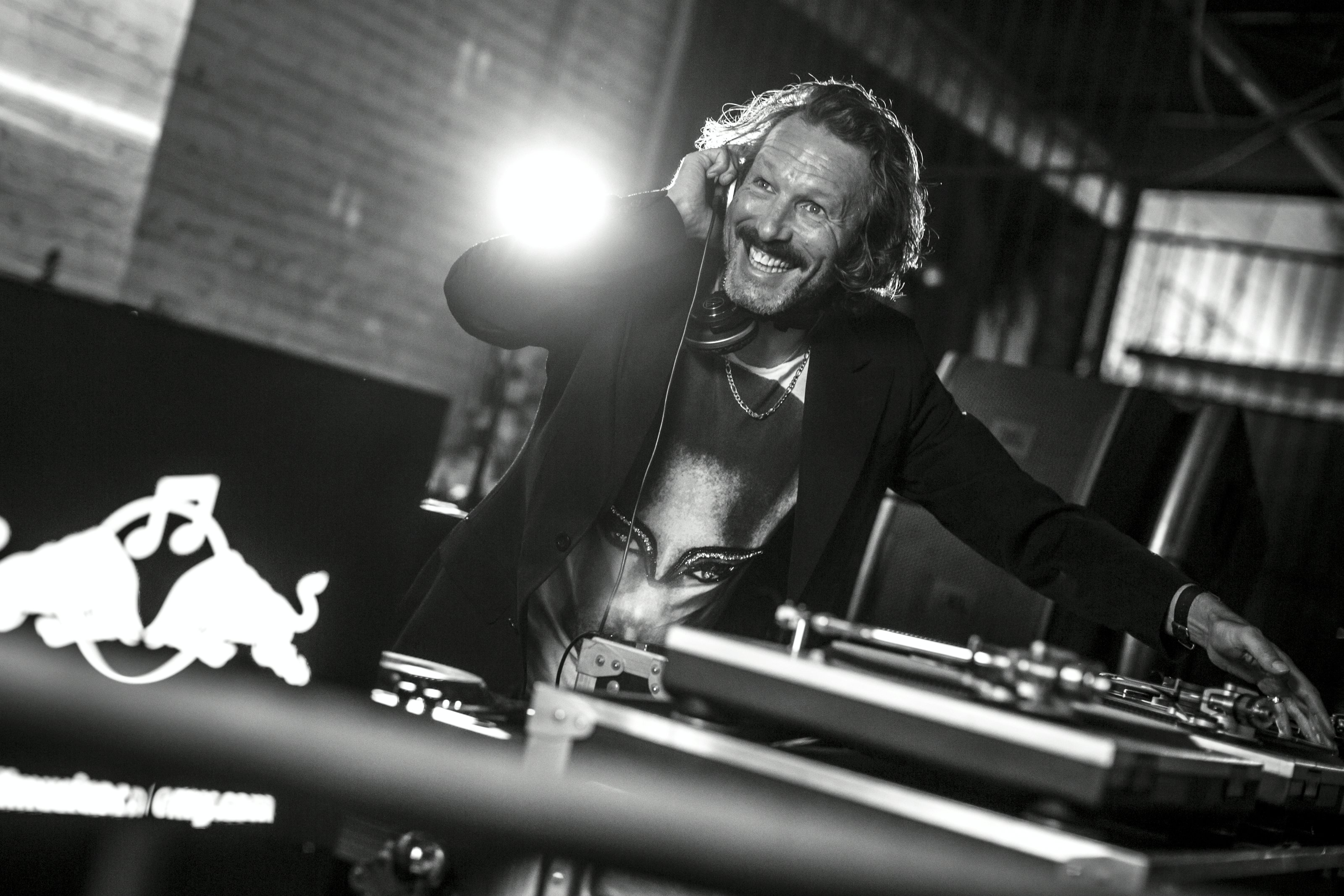 A quasi-messianic figure clutching a tamborine in one hand and a surfboard in the other, Harvey travels the world, converting the unsuspected at festivals and letting the faithful know he's still very much got it at events like his island-destroying Monday night Mercury Rising party at Pikes in Ibiza.
"I've been entertaining people on stage since I was 11 years old. Walking out onto a stage in front of 10,000 people can be nervewracking," he told Amuse. "I actually come to life in that situation. I feel more comfortable there than I do sat on my own in my bedroom. I revel in the roar of the crowd. You give me positive energy and I give it back double. That way, we all get high."
This summer music lovers around the world will have plenty of chances to get high with Harvey. Here in the UK he'll be blessing the decks at Alfresco, Lost and Found, and the inaugural edition of his very own Lovely London Festival which he'll be hosting with Artwork. He'll also be popping up in Tisno for Dekmantel's Selectors bash, and turning this year's Sonar by Night inside-out in mid-June.
Ahead of all that, we gave the Keith Richards of club music a quick call to talk through where you'll catch him between sets this summer.
Amuse: What's the one upcoming event you'd recommend to a festival-sceptic?
DJ Harvey: Maybe Desert Hearts festival. It takes place on an Indian reservation in central California which means it falls under tribal law, which is outside the state law. The indigenous regulations apply which means you can kind of do whatever you want. Quite often festivals tend to be huge and this is just a few thousand people max. I like the fact that they have one stage with music running 24 hours a day for about three days. The DJs just come on and you can gravitate toward or away from that as you choose. The location is fantastic, up in the mountains of California, and last time I played I really, really enjoyed it.
It was sort of like Burning Man with nice people. In many respects, it shares that kind of lawlessness and hedonistic thing. Burning Man is really about art, rather than music. I wouldn't go there to listen to music. It's somewhere that has both the space and finances to make some of the most wonderful art installations on the planet which then all burn to the ground. I do have slight issues with some of the punters, though, in that it tends toward an insincerity. Smiling faces but clouded eyes…I feel that Desert Heart's is more gentle and sincere and more real. Though I do enjoy the unreal from time to time.
What festival, or festivals, would you visit for a work-free massive party?
I haven't been to a festival as a punter for 35 years. I go to them to work. It just isn't something I choose to do with my time off. I live in the realm of music. I've wandered around Coachella when I've not been DJing to catch AC/DC or Motorhead, but I wouldn't have gone specifically there to see them if I haven't been there to play. I'd rather go to the theatre or the opera or a nice restaurant.
Outside of clubs, can you recommend a music venue you try and visit as much as possible?
I love the Dorothy Chandler theatre in Los Angeles. That place is absolutely stunning. They do wonderful, wonderful productions. The last thing I saw there was Puccini's opera Tosca and it was absolutely fantastic.
Which is the last venue you played for the first time that blew you away?
I've no idea! I'm rarely blown away by nightclubs. Most of them have issues which I have to sort out. And then people get blown away. Oh, I was in Tokyo recently and there's this little club called Loop and that was a nice, gentle nightclub with a good soundsystem. But I don't get blown away by nightclubs really. For me, a space is a space and the people blow you away. A good party blows you away; a nightclub is just a room with a soundsystem in it.
Where are you really looking forward to eating while on the road over festival season?
I have a favourite restaurant in pretty much every major city in the world. One I really love is Botafumeiro in Barcelona. It does great Spanish food and I think Spanish cuisine is one of the greatest in the world. That's why I accepted the gig at Sonar this year! Oh, and if you're in Malibu head to Malibu Seafood for some great fish and chips in the US of A. It's right on the Pacific Coast Highway and they have actual, real cod and chips; not some fish they call cod that isn't. They do weird things with fish now don't they? They change the name of things to like, North Pacific cod. Which doesn't exist!
Where's the next Ibiza?
Ayia Napa. Ask a silly question, get a silly answer.
Head here for more information about Harvey's summer schedule.