By Any Means Necessary | Everyday Life Within the Black Panther Party
After meeting Bobby Seale at a college protest, Stephen Shames became the Black Panther Party's official photographer
In 1967, Stephen Shames was just 20 years old when he met Bobby Seale, the founder of the Black Panthers, who asked him to document the movement's daily activities and introduced him to its most influential members: Huey P. Newton, Angela Davis, Kathleen and Eldridge Cleaver, Fred Hampton, and Stokely Carmichael.
For seven years, Shames was the official photographer for the political organisation. Unlike other photographers who also documented the Panthers — like Ruth-Marion Baruch or Pirkle Jones — Shames managed to delve into the intimacy of what was then considered by the director of the FBI, John Edgar Hoover, as "the biggest threat to the United States' internal security". Shames' photographs are now exhibited in Lille as part of the Power to The People exhibition at Maison Folie de Moulins. i-D met him to discuss resistance, the importance of photographic records, and Tupac's mum.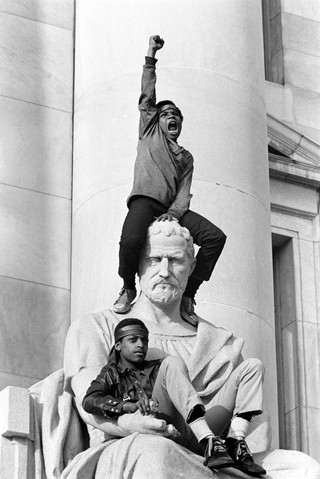 How did you come into contact with the Black Panthers?
In April 1967, there was a march opposing the Vietnam War. As a student at UC Berkeley, I attended [the march] and met Bobby Seale. He liked the photos that I took that day, we became friends, and then he allowed me to spend more and more time with the Black Panthers. He was like my mentor, so to speak. He was the leader of the organisation at the time, so he introduced me to everyone. I didn't necessarily realise, but, at the time, I was the only person outside the Party who was let into their world. Of course, nowadays, anyone can get their hands on public documents presenting the Panthers in the context of a demonstration, but back then, nobody had access to the intimate lives of the organisation's various members. For seven years, I spent most of my time documenting the Panthers, immortalising their daily lives, how they behaved with their wives or children when they would get home.
Read more on i-D…