Island Records | A Green Road Trip to the World's Most Remote Recording Studio
Leon Poultney, our resident motoring expert, traverses Scotland's Outer Hebrides in the new Nissan Leaf
With 'The Road Less Travelled', we aim to cover cars a little differently: putting them through their paces by seeing if they can handle a real adventure. This month, our motoring expert Leon Poultney whizzes through the Outer Hebrides in an electric-powered Nissan Leaf.
---
Scotland's Outer Hebrides run on their own time. Connection flights from Glasgow are often tardy, local shops and cafes sporadically close doors and residents will pass up the opportunity to surf perfect waves due to lambing commitments.
It's just the way life is on these remote but achingly picturesque islands, which jut out into the North Atlantic and face the full force of Mother Nature on a regular basis. It's also the most unlikely spot for a residential recording studio.
"Whether it is capturing the perfect still image, practicing a tight bottom turn or nailing a vocal harmony, this place offers very few distractions and nurtures creativity"
But like a handful of fellow ex-pats, Pete Fletcher, owner of Black Bay Studios and lifelong music producer, was drawn to the area for its tranquillity, the harsh remoteness and the ability to seal oneself from the outside world and invest every ounce of creativity into the business of making music.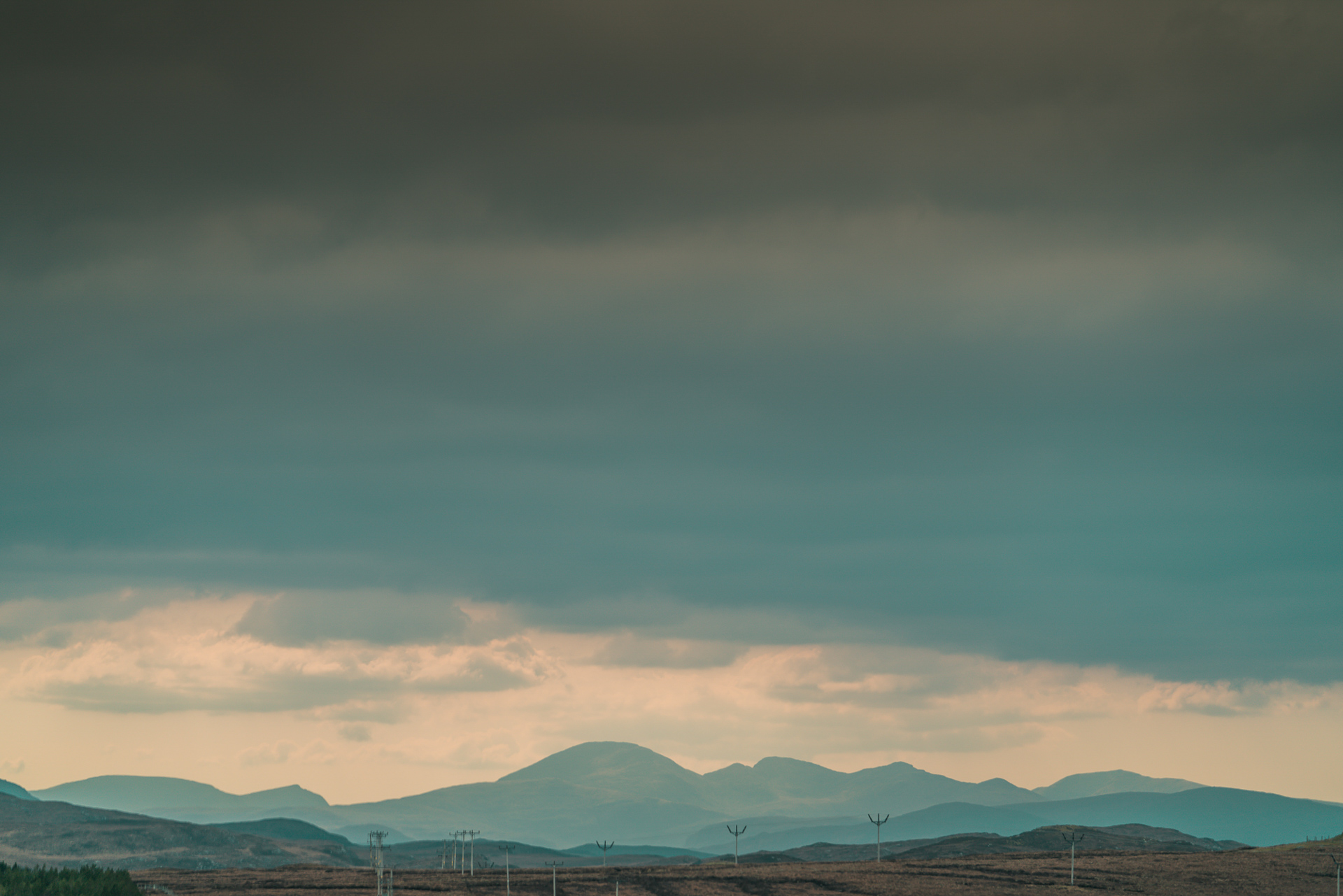 As we sit and wait for our small plane to arrive into Glasgow airport (it's unsurprisingly late), it is difficult to know what to expect from a studio that resides in an old shellfish-processing factory on the brilliantly named Kirkibost Pier.
For Alan Stokes, professional surfer and former UK Pro Surf Tour Champion, this trip is a chance to experience the buzz of recording some of his own music in a heavyweight studio. For friend, musician and fellow wave-hunter Neil Halstead, it is a chance to mentor someone through the process... and potentially steal a few tips on how to achieve the perfect backhand snap.
The plane is now over an hour late and we've emptied the nearby vending machine of snacks and supplies. Here's to hoping Stornoway's one and only Tesco supermarket is still open when we arrive.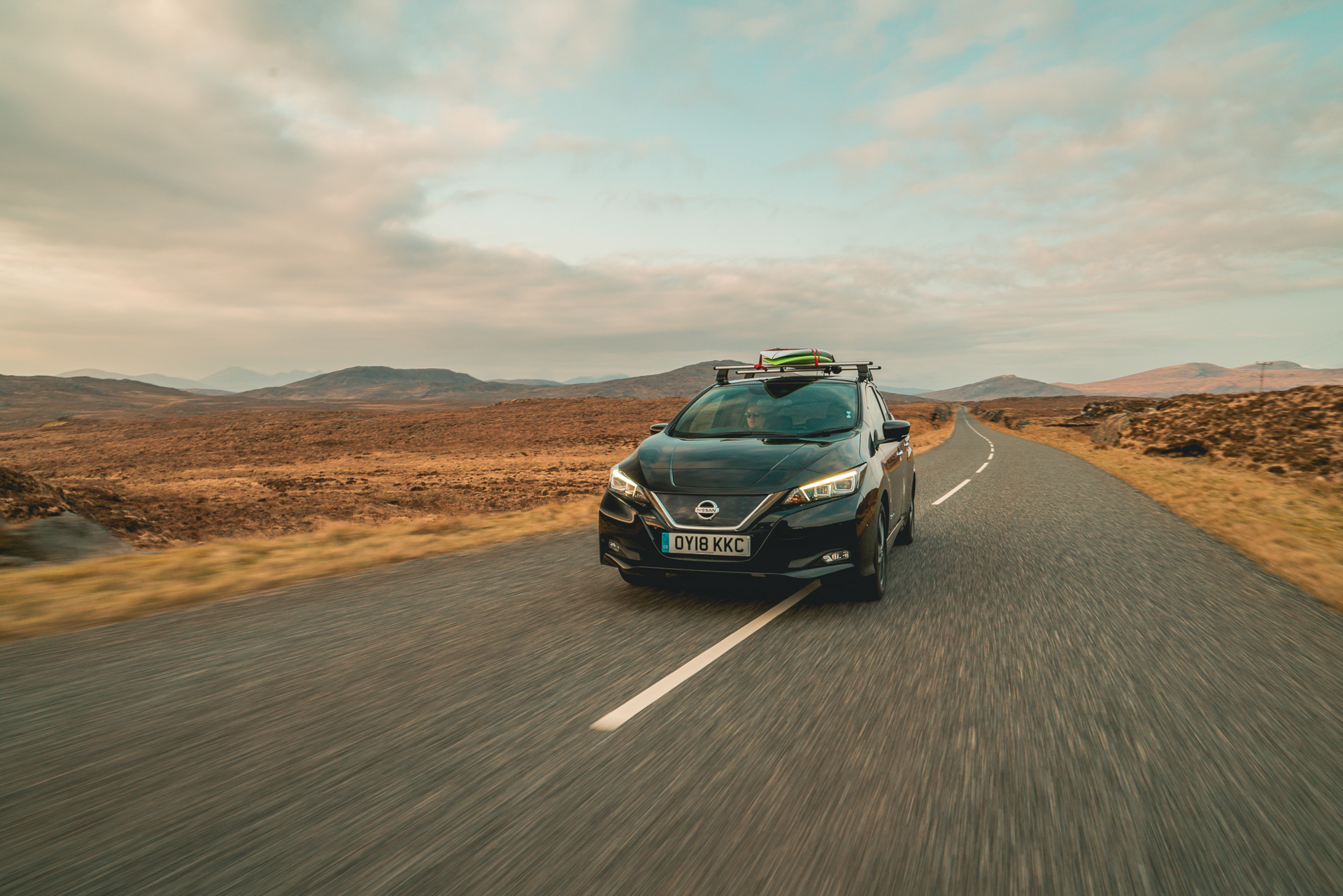 ---
A Solar Powered Record
There is a vague automotive link to proceedings and as we pilot our little Nissan Leaf, loaded up with surfboards and kit, away from the local Tesco (it was open, thank fuck), I bore my travelling companions with some fun trivia about Black Bay Studios.
Not only is it in the middle of nowhere, but owner Pete also decided that it would be daft to pass up the opportunity to harness and use some of the unpredictable weather to create his own electricity.
As a result, Black Bay Studios is one of the few businesses in the UK that uses Nissan's battery storage system to suck electricity from solar panels mounted to the roof and re-use it when required. Pete claims he can power most of his recording equipment on solar power alone.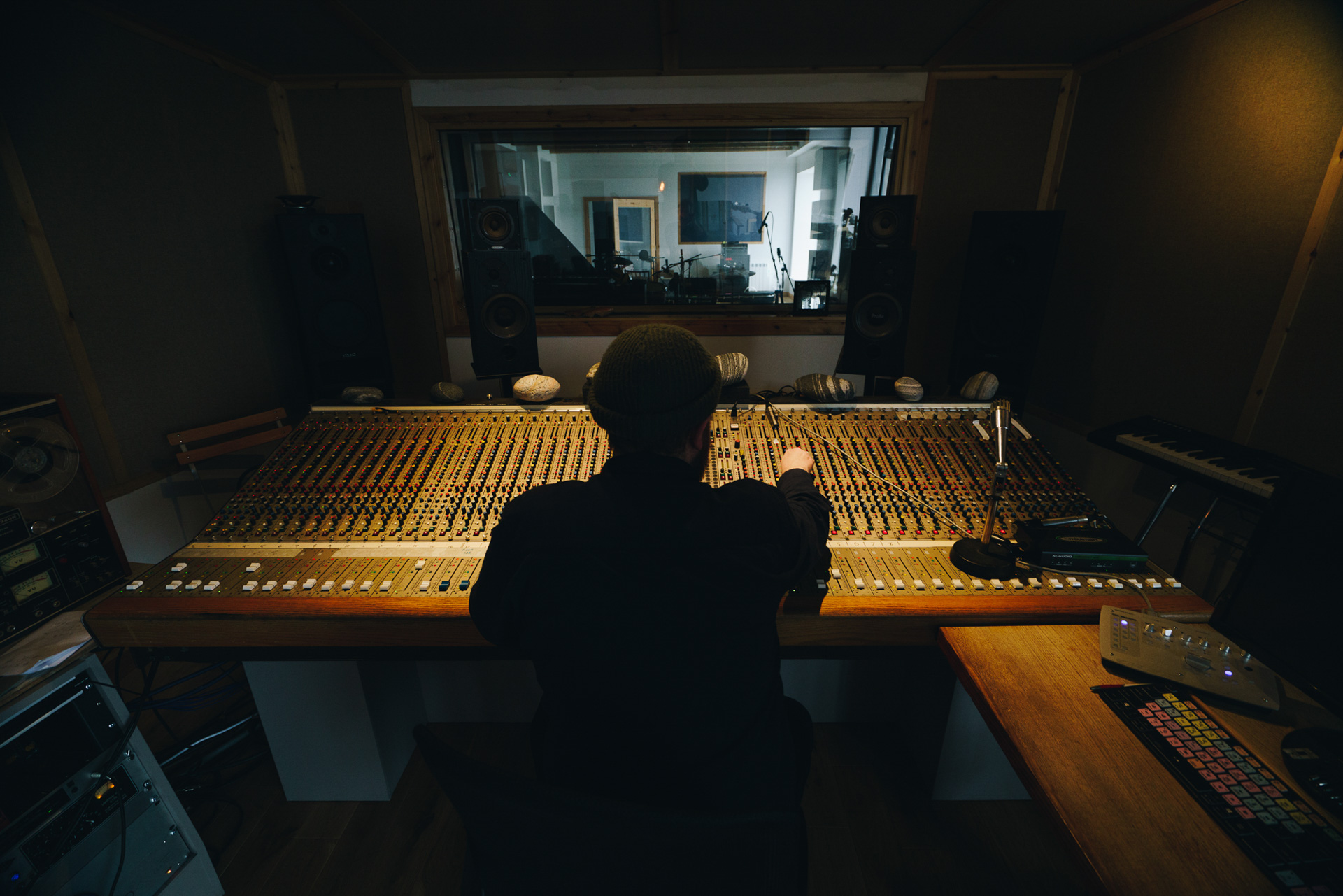 The sun begins to drop behind the golden-tinged hillsides as we pull into the studios, which sit unassumingly between small fishing vessels, lobster pots and a small pier that sees the occasional boat pull up to unload cargo.
It is like a TARDIS inside, with enough bedrooms to comfortable sleep eight adults, a small kitchen and lounge, a live room that's packed with instruments and the main control suite where Pete is busy working his magic on an enormous board of sliders and switches.
The view from the floor-to-ceiling windows is filled with nature: the water out front is mirror-like, its surface only troubled by the odd group of herons or a bob of passing seals, while the orange sky is punctuated by craggy hillocks whose faces are covered in bright yellow heather.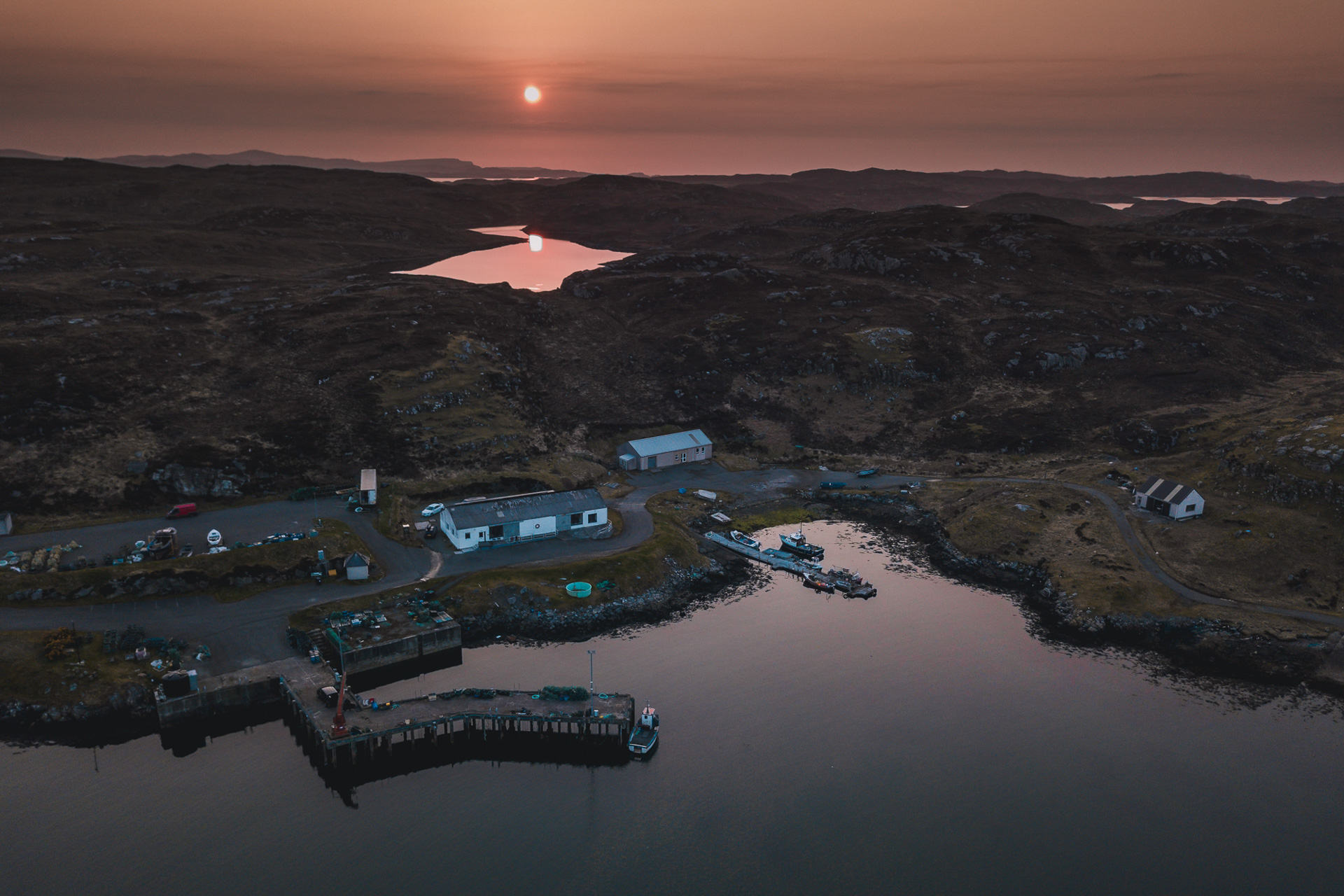 "Artists come here to escape," explains owner Pete, as he cooks up a fragrant fish curry for a clearly hungry group. "Something magical usually happens by day three, when a band or artist has been in the zone and has completely switched off from the outside world. The place forces you to enjoy nature, so when you're not recording or writing, you are wandering the hills or taking a kayak out. It's great for the creative process," he adds.
With stomachs full and a few cold beers consume, Alan and Neil head straight for the live room and start jamming a couple of tracks. The sun set a long time ago, but with the nearest neighbour half a mile away, the music can continue long into the night.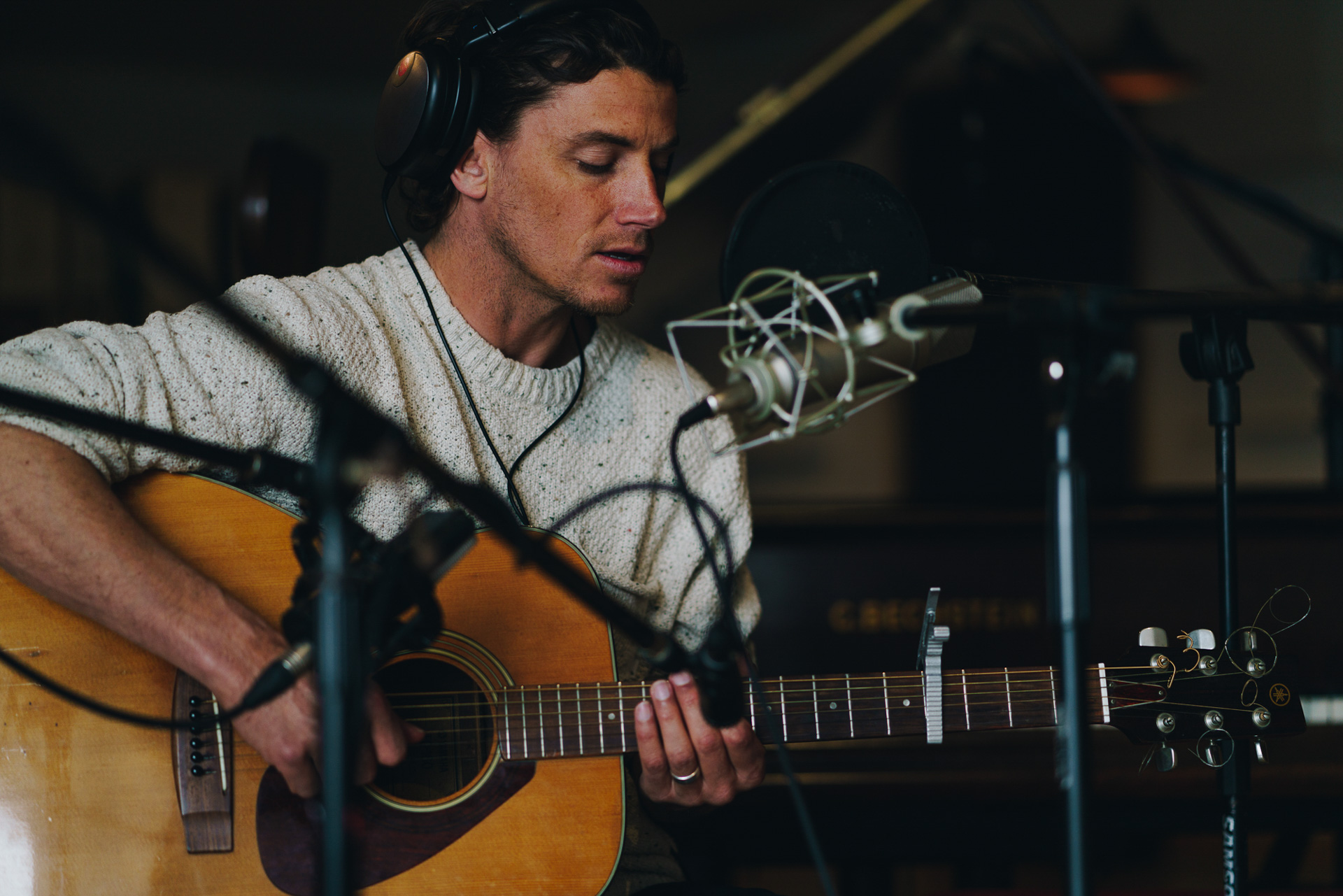 ---
Chasing Waves
The weather is unusually gorgeous for this part of the world and although the mercury rarely hovers above six degrees, the sky is piercing blue and the sun beats down on the white sands of Eoropie Beach.
Locally known as 'Europies', this exposed break sucks up the majority of the swell coming in from the North Atlantic and offers a mixture of fun rights and lefts. The swell is still pretty weak, but that doesn't stop Alan and Neil from suiting up in a ridiculous amount of rubber and sprinting towards the water.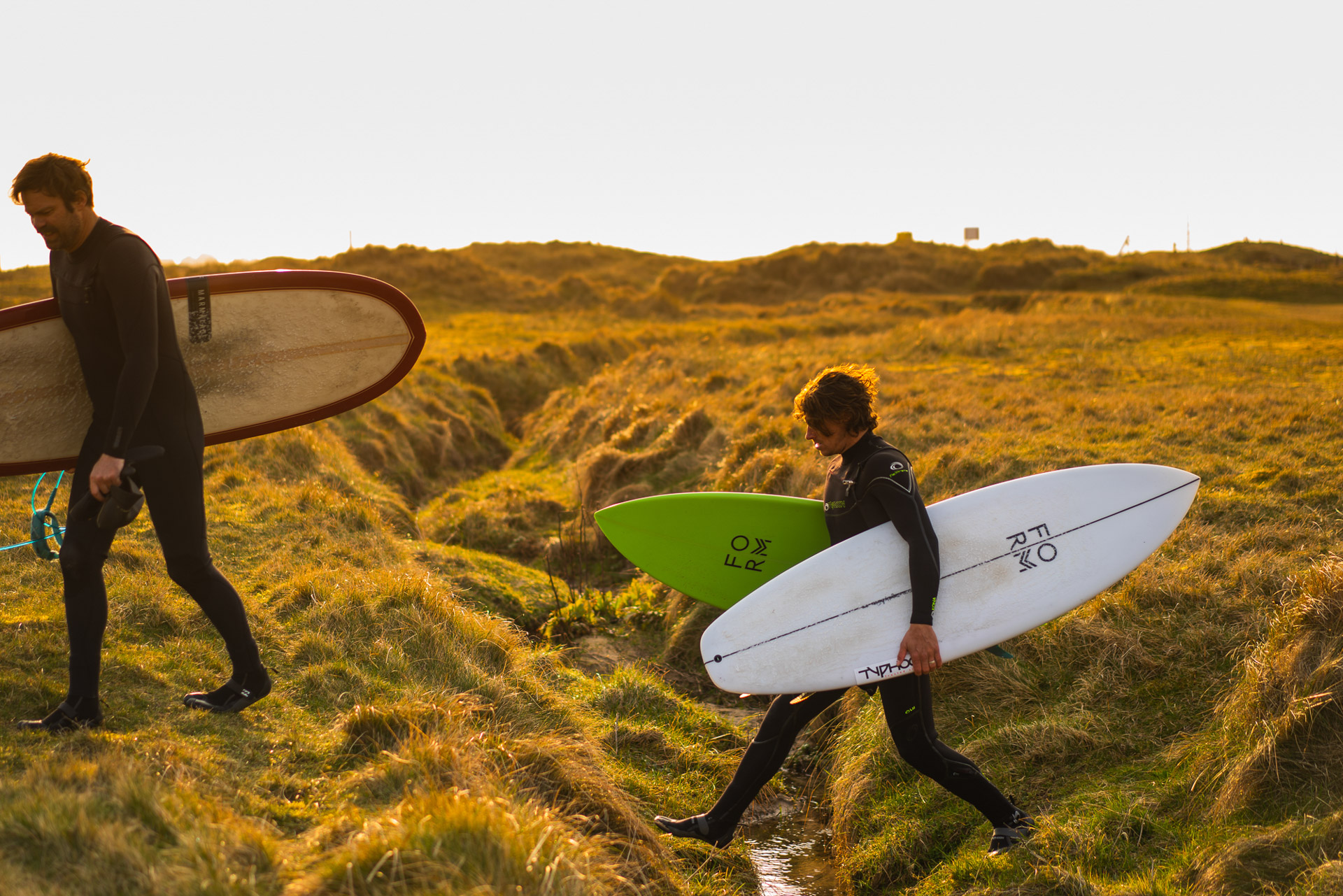 The lush green of the surrounding cliffs clash against the clear blue of the ocean and the pristine white sands, while small 3ft sets roll in from the horizon, offering little ramps for Alan to practice his air game.
There isn't another soul in the water, with only the occasional dog walker breaking the silence. It's almost eerie to witness, seeing as a break like this would be packed anywhere else in the UK, but Alan and Neil don't seem to mind.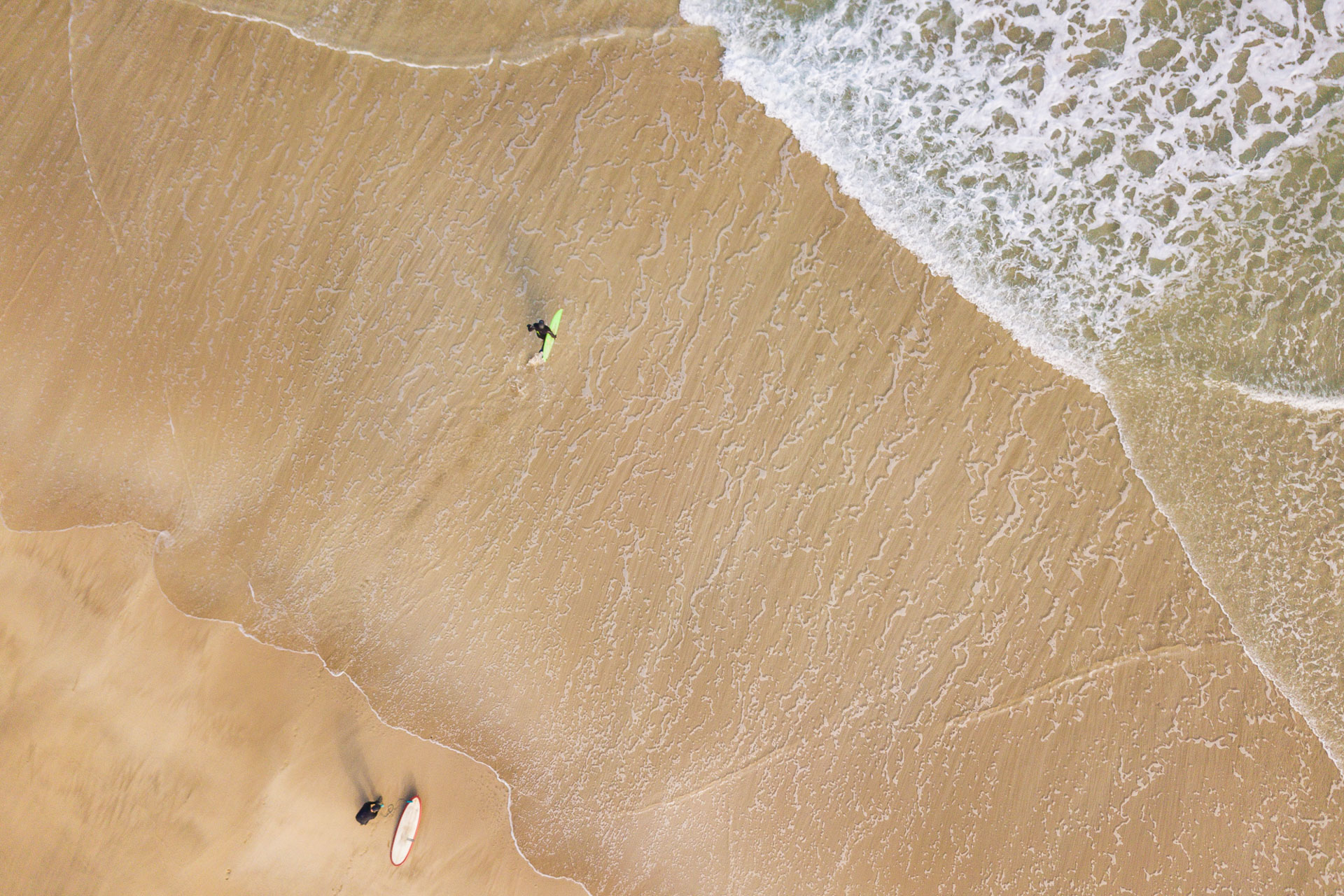 They trade waves for a few hours, the Butt of Lewis acting as the perfect backdrop to snare a few action shots, with only the frigid cold forcing the pair to seek the warmth of some heated seats.
Arguably the only downside of this utopian remoteness is a lack of facilities, seeing as the hunt for a hot cup of coffee and somewhere to charge the Nissan Leaf's batteries leads us to a local sports centre, where we are served a cup of brown sludge from a machine. The only way to pass the time it takes to top up the battery levels is to have a kip on the carpeted floor of a deserted cafeteria. Nobody seems to mind.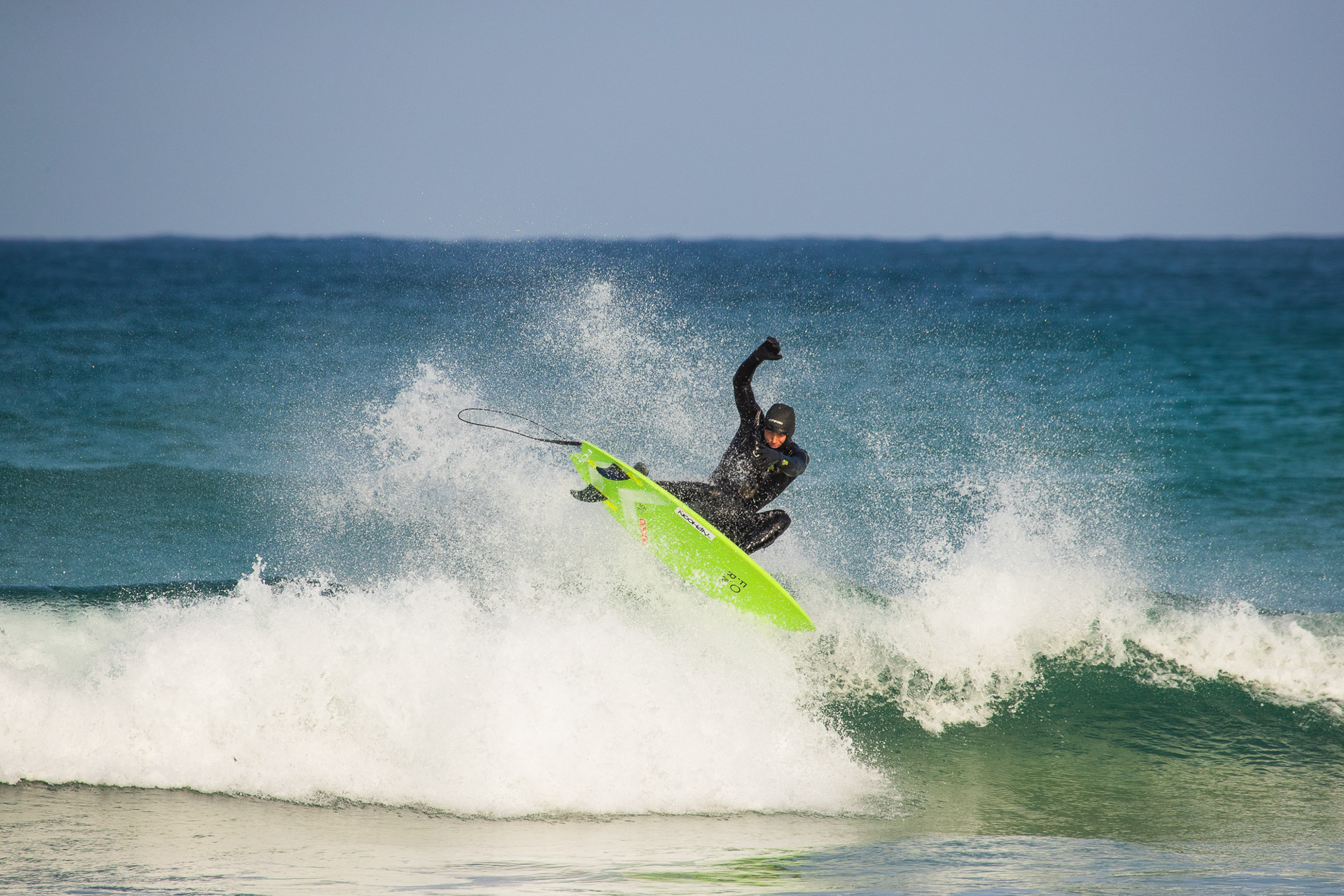 ---
The Remote Part
The following few days follow a familiar patter: wake up at the crack of dawn to explore a new surf break, shred in the water before the cold bites too hard, head back to the studio for food and make sweet music until bed beckons.
This routine proves productive, as Neil, Alan and Pete have managed to record and master two delicate tracks from scratch, while those into the act of wave-sliding have indulged in a number of different breaks - a spot called Cliff just south of the studio proving to be both the most picturesque and fun.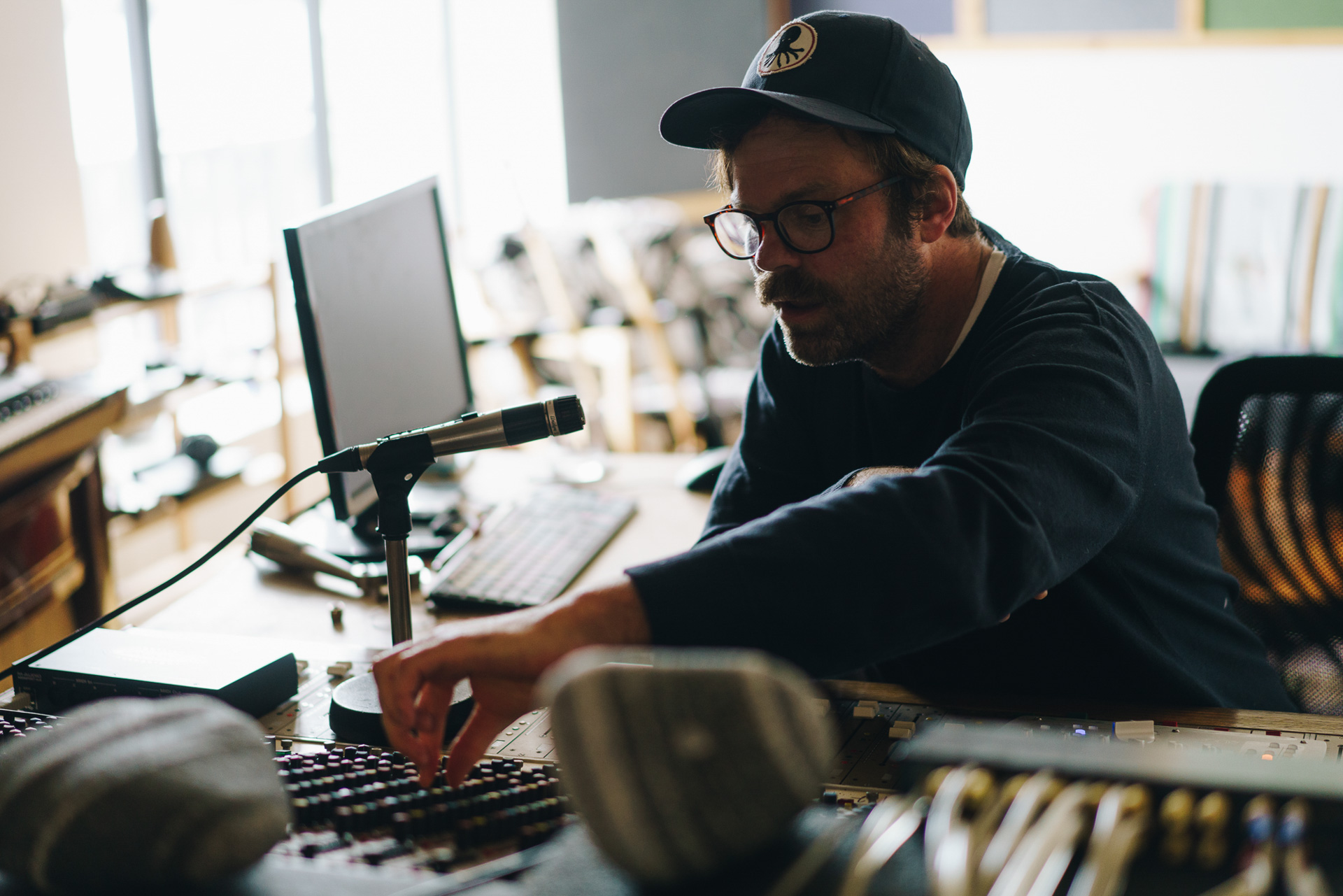 Time seems to disappear on these islands and a lack of conveniences forces us to make do with what happens to be in the cupboards. The desire to head into Stornoway and its numerous bars and restaurants (Digby Chick is arguably the most popular) fades with every day that passes and everyone seems to dive into a different headspace.
Whether it is capturing the perfect still image, practicing a tight bottom turn or nailing a vocal harmony, this place offers very few distractions and nurtures creativity. Thanks to Nissan's battery storage system, even a freak power cut doesn't really halt proceedings, as the musical trio can continue to work on their tracks while the rest of the group drinks beer by candlelight. But for most, this way of life takes a level of commitment and an acceptance of solitude that many can't handle.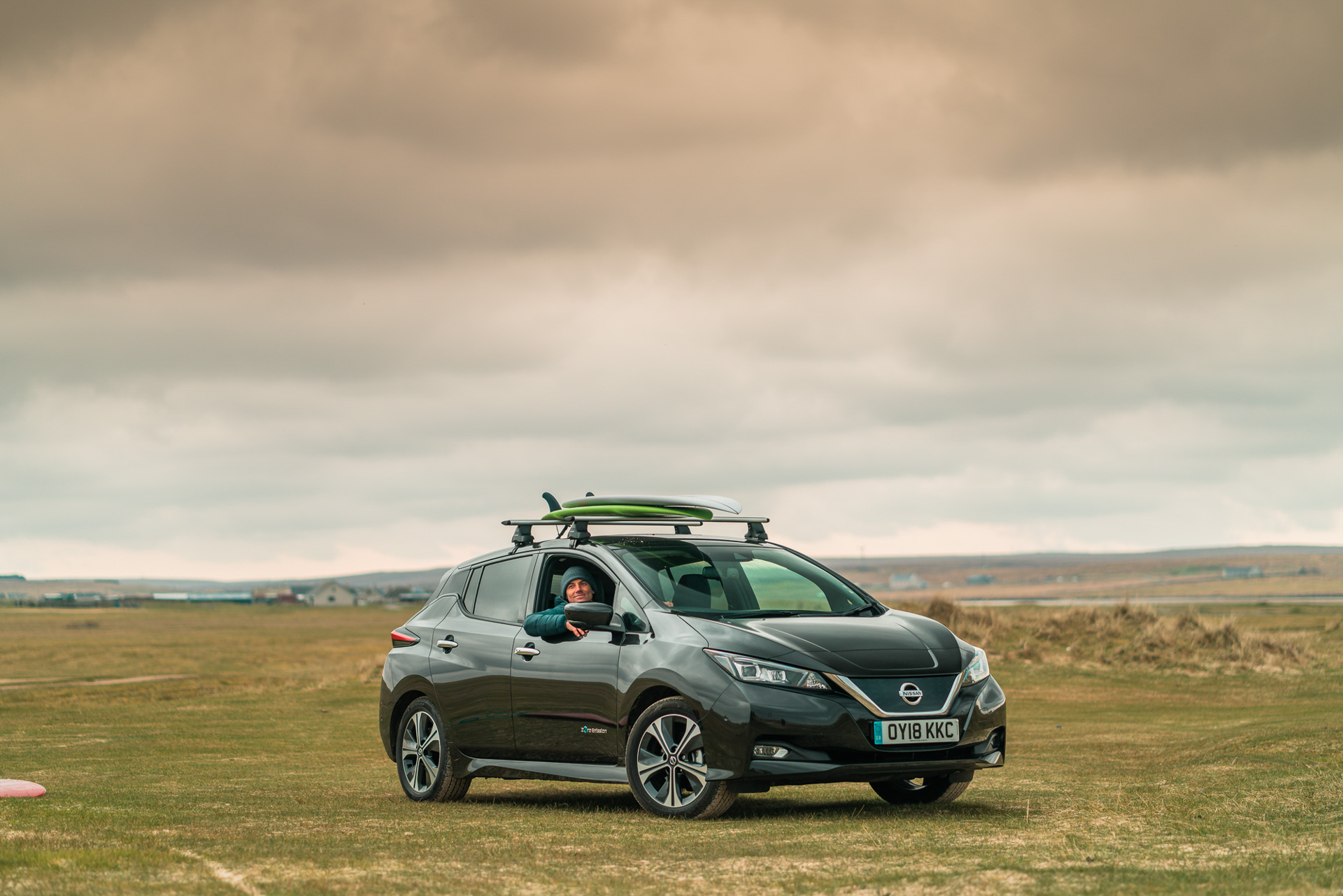 The cafe at Stornoway airport is closed, so we drop a couple of coins in the honesty box and reflect over a few cans of Irn-Bru. Each person in our small, ramshackle group has come away with something different, whether that's a folder of jpegs, a couple of professionally mastered songs or the feint afterglow of scoring waves in perfect solitude
Our flight back to the mainland is delayed and the empty chairs of a makeshift waiting lounge offer one last taste of Lewis and Harris before time returns back to its normal, frantic pace.
Leon Poultney is a freelance motoring journalist based in the UK. Keep up with him on Twitter.