Surrealist Dinner Parties | How to be the Perfect Host
Aphrodisiacs and other recipes inspired by the reissue of Dalí's exotic 1973 cookbook
We devour everything in sight. Primal pleasures lie in the blindly obvious and accessible: the snaffle and grab of food and sex, fuel that satisfies us humans for a few minutes, a couple of hours. The two go hand in hand: it's likely that at least one of the fancier dinner parties you've attended has resulted in an after-hours tryst, no?
Salvador Dalí's paintings and sculptures evoke otherworldly feelings, exploring the twisted nature of the human condition. His famed Surrealist recipes and dinner parties – co-created with his wife and muse Gala – did exactly the same.
Food featured heavily in Dalí's work and he is quoted as saying that from the age of six he wanted to be a chef. When the artist and his wife began throwing their infamous dinner parties in the early 1970s, the rulebook—and recipe book—went out of the window. Once they'd invited clashing characters (who would provide vast entertainment), they'd put on a predictably unpredictable spread, triggered by collected autoerotic musings, sketches and diagrams – as you can see in Les Diners de Gala, recently reissued by Taschen for the first time in 40 years. The text is as provocative as the imagery, merging philosophical opinion with Dalí's plain views on why certain foods or behaviours are repulsive and pointless (spinach and diets, FYI).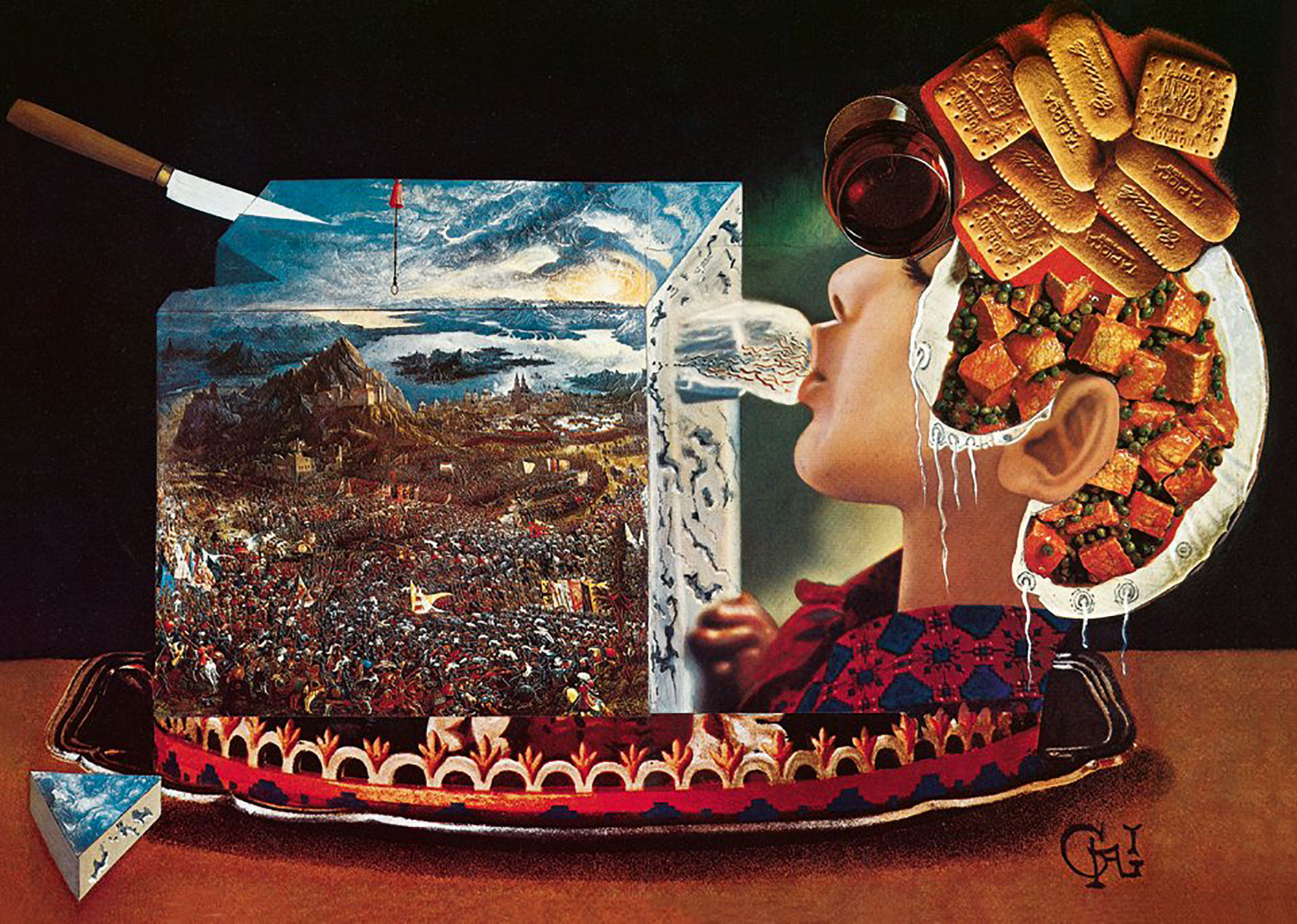 Oysters are just the beginning of the funny and sensual journey Les Diners takes both the professional and rookie chef along. Top Parisian chefs have been entertaining the recipes for decades, and the book is a highly desirable artbook collectible. The sexiness concludes in an entire chapter devoted to aphrodisiacs titled 'The I Eat Gala.' The book, so the Dalis say, is "uniquely devoted to the pleasures of Taste. Don't look for dietetic formulas here… If you are a disciple of one of those calorie-counters who turn the joys of eating into a form of punishment, close this book at once; it is too lively, too aggressive, and far too impertinent for you." Eat, Pray, Love this is not.
As far as the event itself goes – nothing is too much. The aim is to shock and delight guests in equal measure. Tantalize them with never-seen-before dishes and a general caj attitude that annihilates all former rules of how to behave at dinner. Inspired by Dalí, here's the Amuse guide to throwing the ultimate Surrealist dinner party.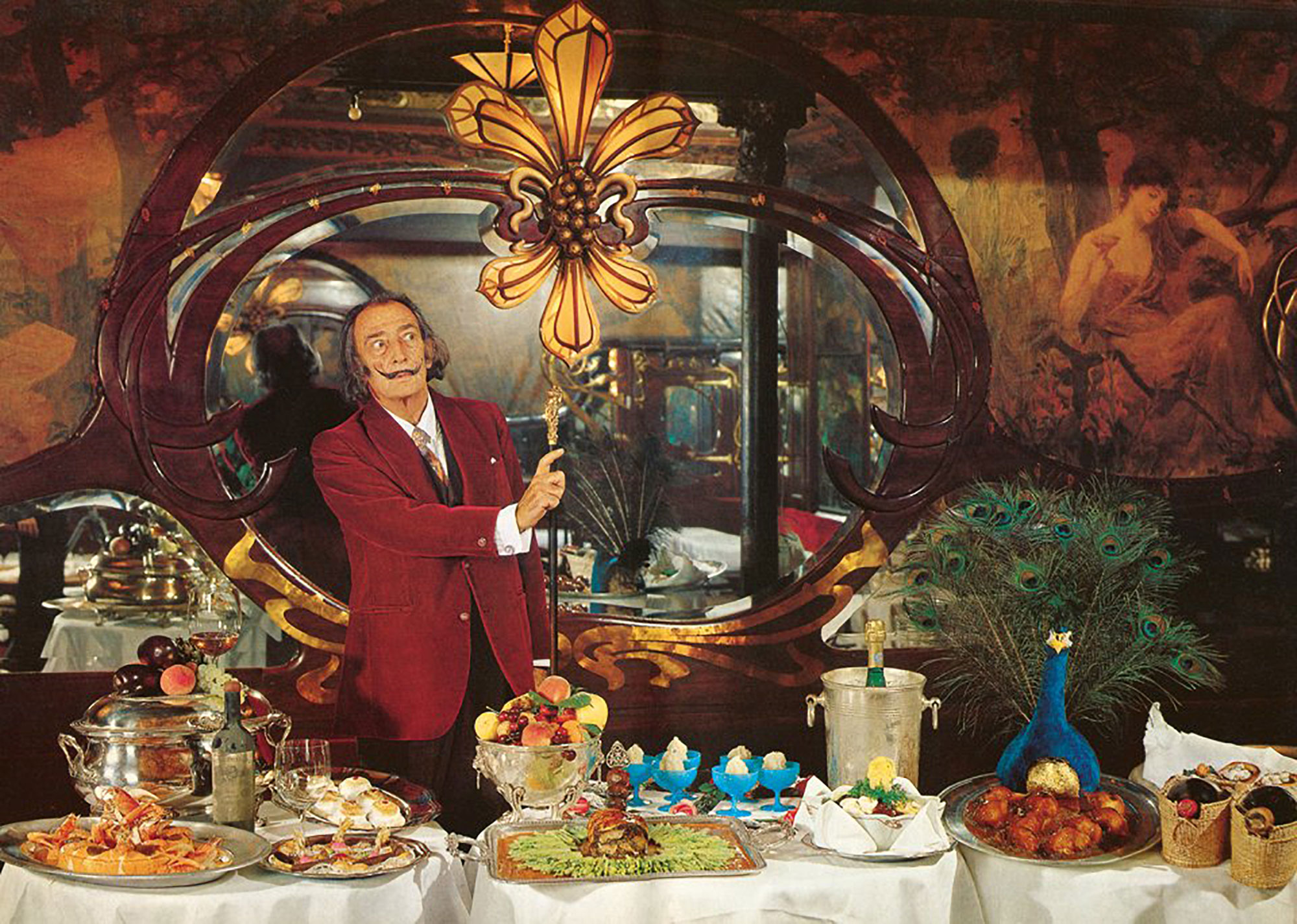 Dress Code
The Taschen cover is a lurid yet gorgeous gold, ensuring that it'll immediately stand out amongst the drably minimal recipe books currently clogging up precious space on your kitchen shelves. You might, if you were so inclined, want to leave it out on your coffee table. It's that sort of book.
Take this as your cue to do the same with your outfit and ask your guests to dress casually: all the while you have your light-reflective, regal number ready to reveal on the special night. You'll be effervescent and highly collectable, hazing the poor sods you still think of as "mates" into oblivion.
Guestlist
Obviously make sure you throw your party on a night when Andre Breton—your greatest friend-turned-foe is free—check with their PA prior to pinging out that group chat message. If you're wily, your party could be a brilliant publicity opportunity to plug whatever creative endeavours you're about to launch, and it's important to keep your enemies close to the action. You might also invite Luis Buñuel, or another past colleague with whom you wish to be reconciled. Subtly prop manuscripts of your debut novel/screenplay on each seat, or document your guests in action with charcoal caricatures as you sit watching from a stool in the corner. You're also allowed to invite one or two real friends/people you actually like. An odd idea, perhaps, but it seems to work.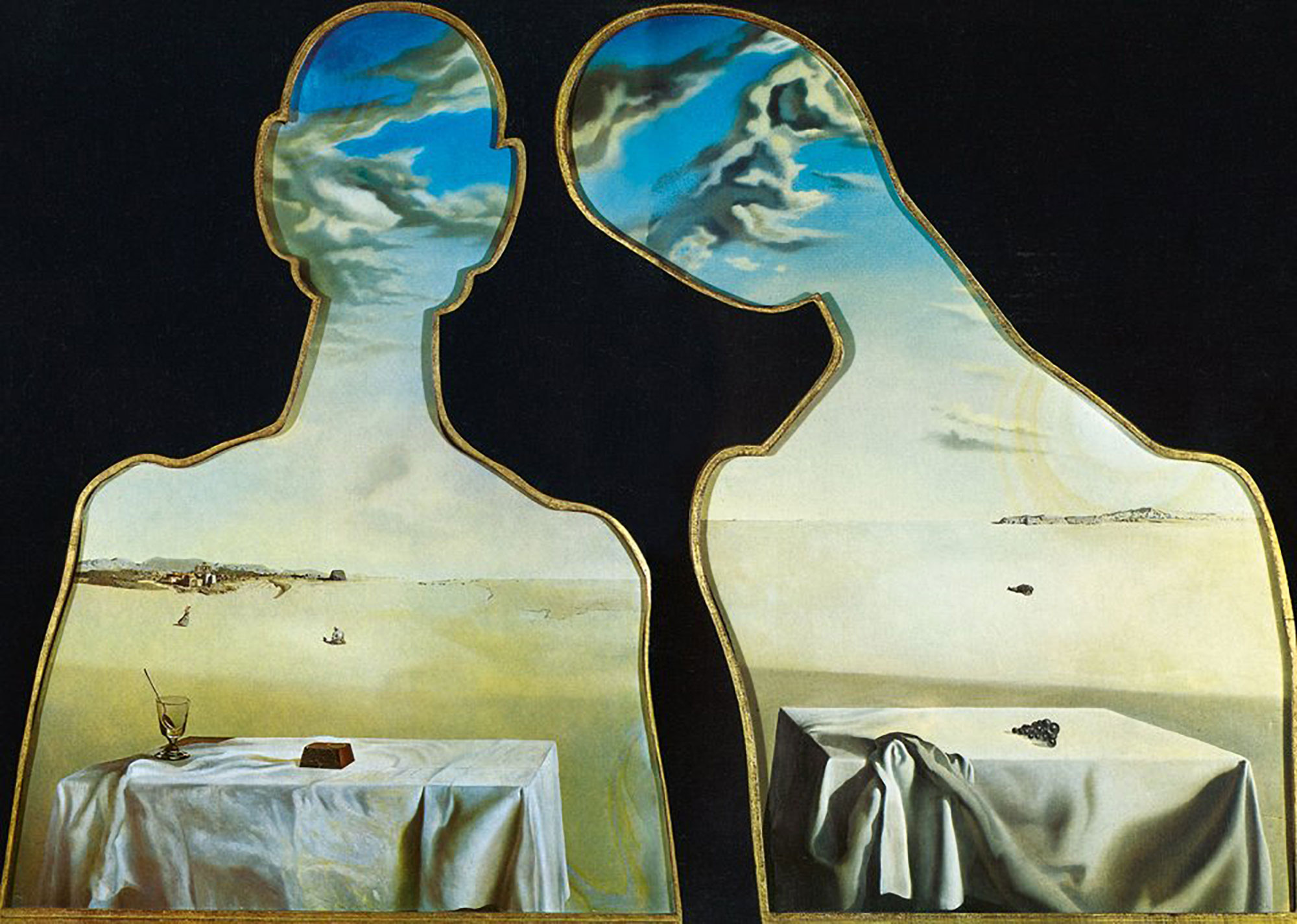 The Banquet Table
It's imperative that, for all your party's inventiveness, you do not forgo the table. Floor dining only works in fancy Japanese lounges or Russian tea rooms. Do you want carpet burn and cramp? No, didn't think so. Les Diners houses a lot of photographs where Dalí poses at long tables of plentiful, gleaming platters so polish up some second-hand silverware. Dress your table with pride and draw up a seating plan that promises plenty of drama and flirting. Don't forget the rest of the room. Tinsel and streamers are key in the transformation of your one-bedroomed flat in deepest, darkest Penge into a delicious Catalan palace.
Aperitifs
Serve up the Casanova Cocktail, the antidote to Beyonce's famous cayenne pepper detox juice. In the words of Dalí, its effects are 'rather speedy' and the cocktail is "quite appropriate when circumstances such as exhaustion, overwork or simply excess of sobriety are calling for a pick-me-up. A well tested recipe to fit the bill."
The juice of 1 orange
1 tablespoon bitters (Campari)
1 teaspoon ginger
4 tablespoons brandy
2 tablespoons old brandy (Vielle Cure)
1 pinch Cayenne pepper
Let us stress another advantage of this particular pep-up concoction is that one doesn't have to make the sour face that usually accompanies the absorption of a remedy.
At the bottom of a glass, combine pepper and ginger. Pour the bitters on top, then brandy and "Vielle Cure." Refrigerate or even put in the freezer.
Thirty minutes later, remove from the freezer and stir the juice of the orange into the chilled glass. Drink… and wait for the effect.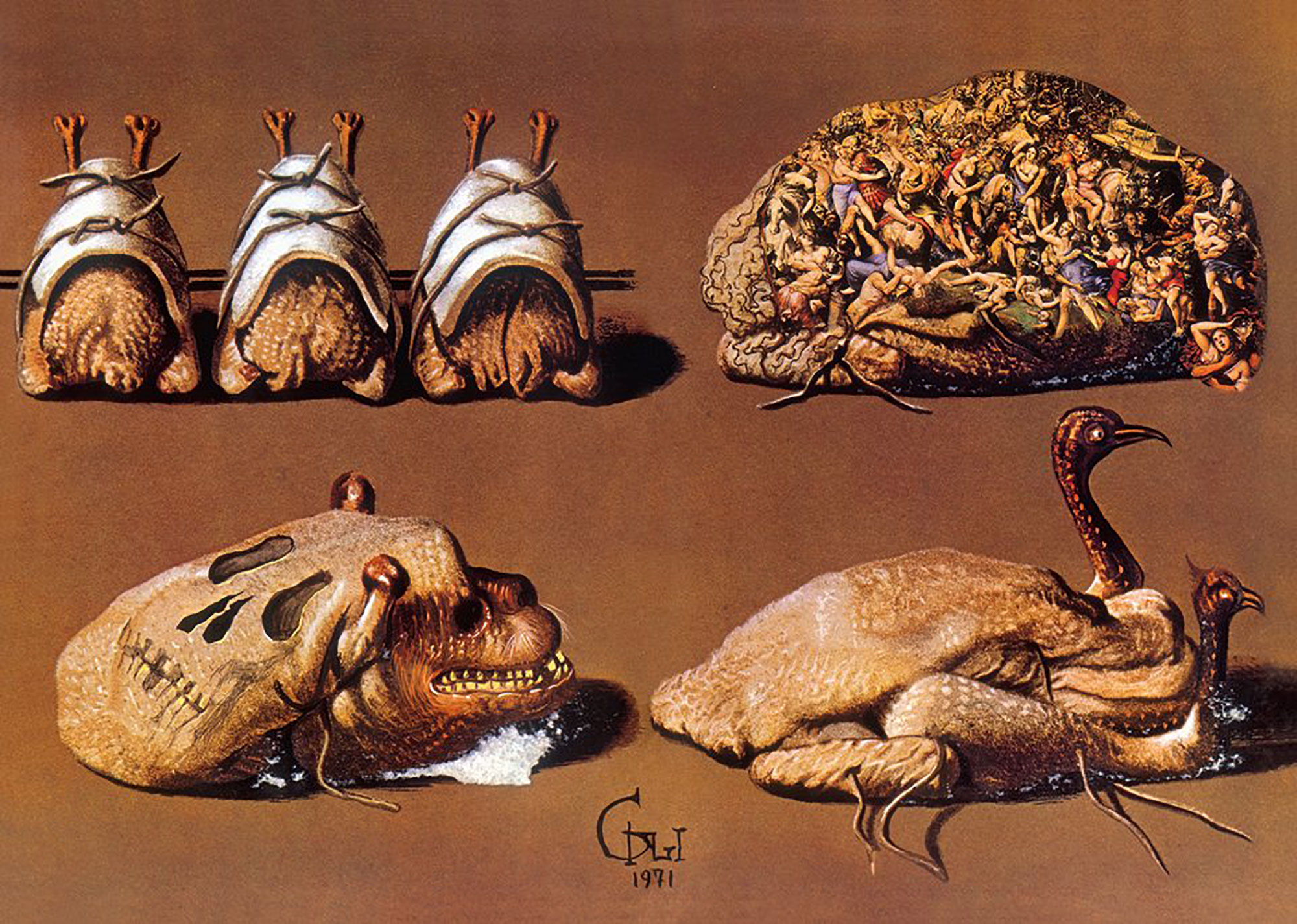 The Main Attraction (other than yourself)
As uneasy with vegetarians as he is with wellness freaks, Dalí is a big fan of shellfish and a bit of a salad hater. "The opposite of shapeless spinach, is armour. I love eating suits of arms, in fact I love all shellfish… food that only a battle to peel makes it vulnerable to the conquest of our palate." A prawn ring will do if you can't afford mass lobsters. Rifle through the meat section, or 'Prime Lilliputian malaises,' of Les Diners for decadent dishes such as 'Veal cutlets Stuffed with Snails.' Y
You might also attempt the legendary bird-within-a-bird-within-a-bird roast, which appears to have been sketched in the shape of a human brain filled with an orgy of people inside, on one colourful centrefold.
Finish off with a dessert of 'Toffee with Pine Cones' or my version: 'Entire Christmas Trees with Fudge Sauce.' Festive. Even if it's nearly summer.
Job done!