Ditch Rio, Discover Frevo | Brazil's Other (Better) Carnival
If you want a real experience, give Rio a swerve and head here instead
Photo: Alamy
Rio de Janeiro's carnival is the most famous in the world, with its spectacular (and expensive) Samba processions of thousands of dancers and musicians dressed in opulent costumes. But less known are the celebrations outside of the 'Marvellous City', particularly those in the tropical northeastern capital of Recife and nearby Olinda, considered by many Brazilians to be the best in the country.
"Grandmothers are drunk, children are dancing and bawdy costumes are on show"
Every year, the neighbouring cities in Pernambuco province host millions of Carnaval revellers who put on a unique display - a peculiarly northeastern take on the festivities where the party is inescapable and, most importantly, everything is free. Here are three excellent reasons to give Rio a swerve this year, and head for Recife instead.


The Galo
The Galo da Madrugada ('Rooster of dawn'), which takes place on 2nd March this year, is one of the biggest carnival processions in the world. For forty years, the city of Recife has placed a giant 25-metre-high rooster on a bridge above the Capibaribe river between the islands of Boa Vista and São Jose. From early morning the beer is flowing, and the numbers begin to swell – there have been up to 2.5 million attendees in recent years.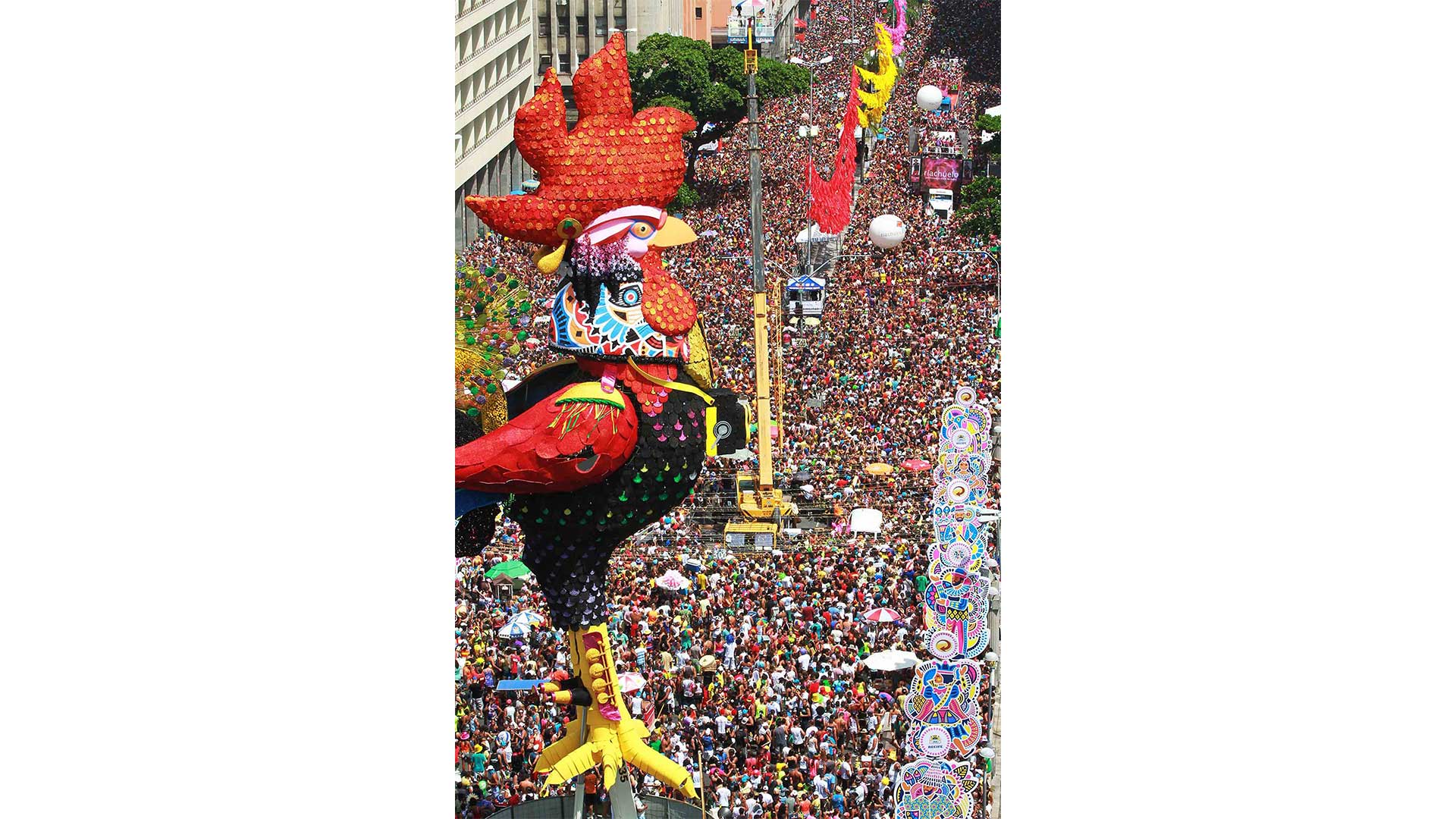 Deafening floats pass by the crowds with live bands playing local, carnival anthems from their roofs. 15-foot papier mâché dolls (bonecos) of famous local and national figures dance amongst the sound trucks. Hidden beneath them are the dedicated holders who shoulder these heavy figures in stifling 35-degree heat, their faces poking out from a small crotch-level windows, allowing them to see, breathe, and most importantly drink.
The event is one of the most popular for the city's working class and takes place in an area that's might be described as 'a bit rough around the edges'. But the atmosphere is truly something special. Among the broken pavements and abandoned buildings, grandmothers are drunk, children are dancing and bawdy costumes are on show. It's properly carnivalesque, in the original sense of the word - if Mikhail Bakhtin saw it, he'd have to crack a smile.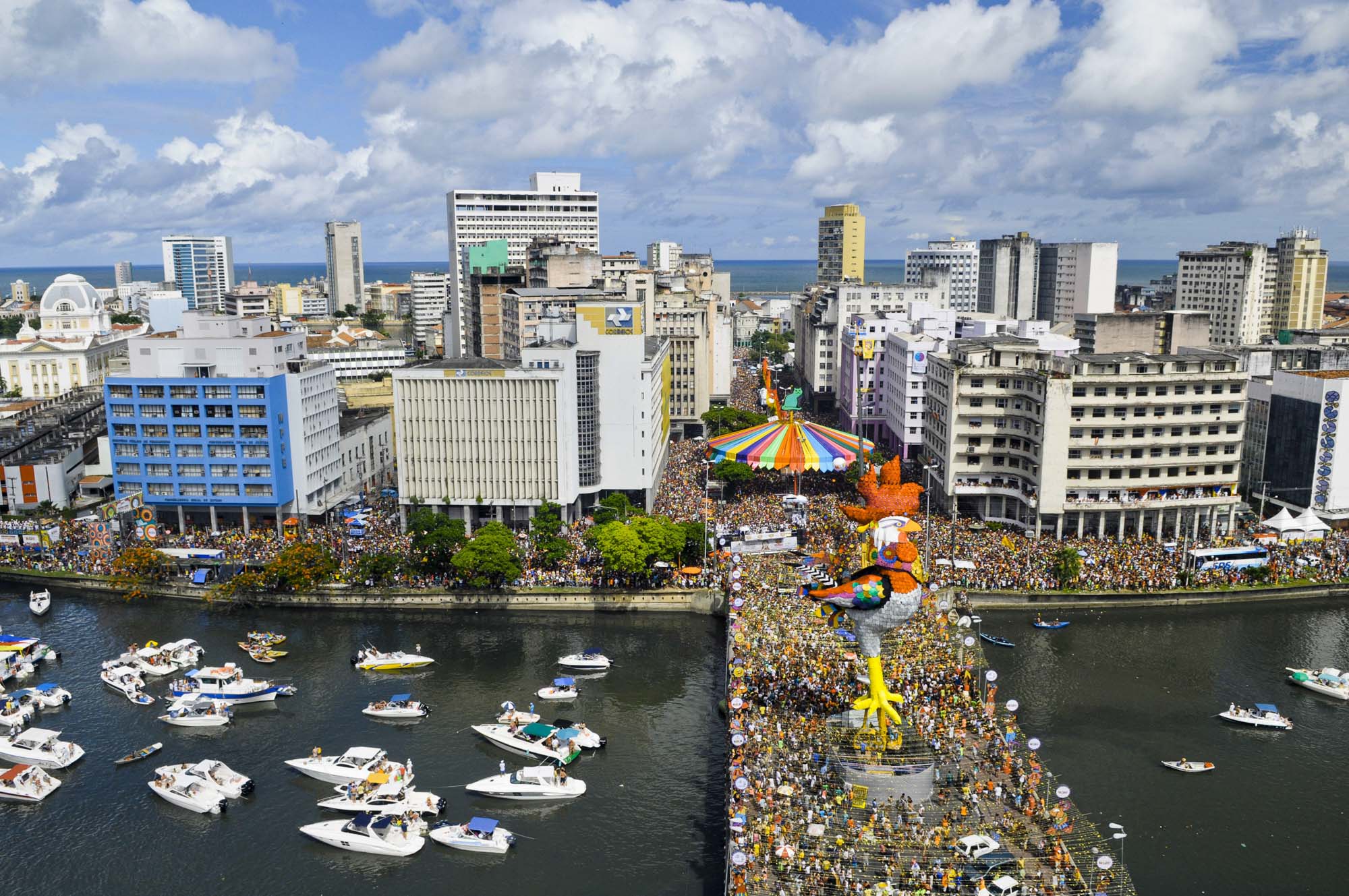 Jatiaci, a secretary in a local hospital, told me: "Galo is the symbol of Carnival, open to everyone no matter what colour or gender. As soon as people arrive, they forget all their problems. It's simply joy".
Frevo Blocos
The old town of Olinda - Recife's vibrant, picturesque neighbour - sits on a leafy hill overlooking the sea. For over a week during carnival (1st - 5th March 2019), its tight and winding cobbled streets play host to hundreds of processions known as blocos, each with their own theme. Like the Galo, the vibe is electric, but the sound here is acoustic.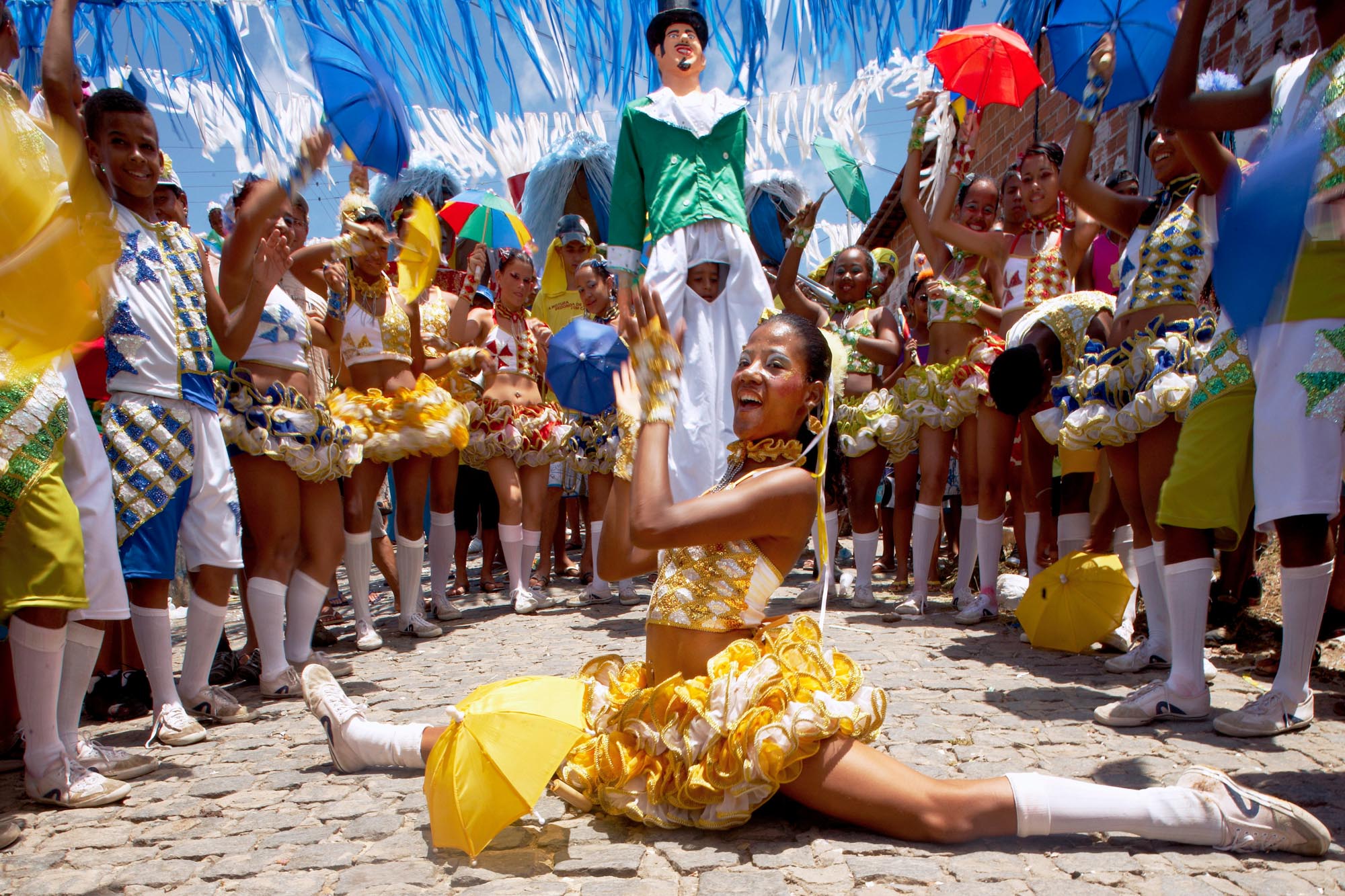 Orchestras, up to 30-musician strong, play brass and percussion instruments in a style known as Frevo. The music is over 100 years old and (somewhat bizarrely) based on 19th century Eastern European Polka; yet despite its age the anthems still pack a punch.

Crowds in their thousands follow musicians like Ricardo, who has played saxophone in the Maestro Oséas Orchestra for over two decades. He told me that every year he gets a "feeling of pleasure and freedom" through preserving this unique tradition.

Playing in these orchestras is grueling, with some blocos lasting up to 4 hours in the sweltering sun. One procession, Cariri Olindense, continues all night until early morning. But Ricardo brushes this all aside. "There's nothing a cold beer, or shot of whisky can't solve". A carnival martyr, he puts the revelers first: "they have waited all year long to see their banner or boneco in the parade, it won't be weariness that spoils the party."
Maracatu
Maracatu Nação is an exciting blend of colour, religion, history and hard-banging drums. The 300-year old tradition originated in Pernambuco amongst Afro-Brazilian slaves who hybridised a lampooning of the Portuguese court with African and Indigenous traditions.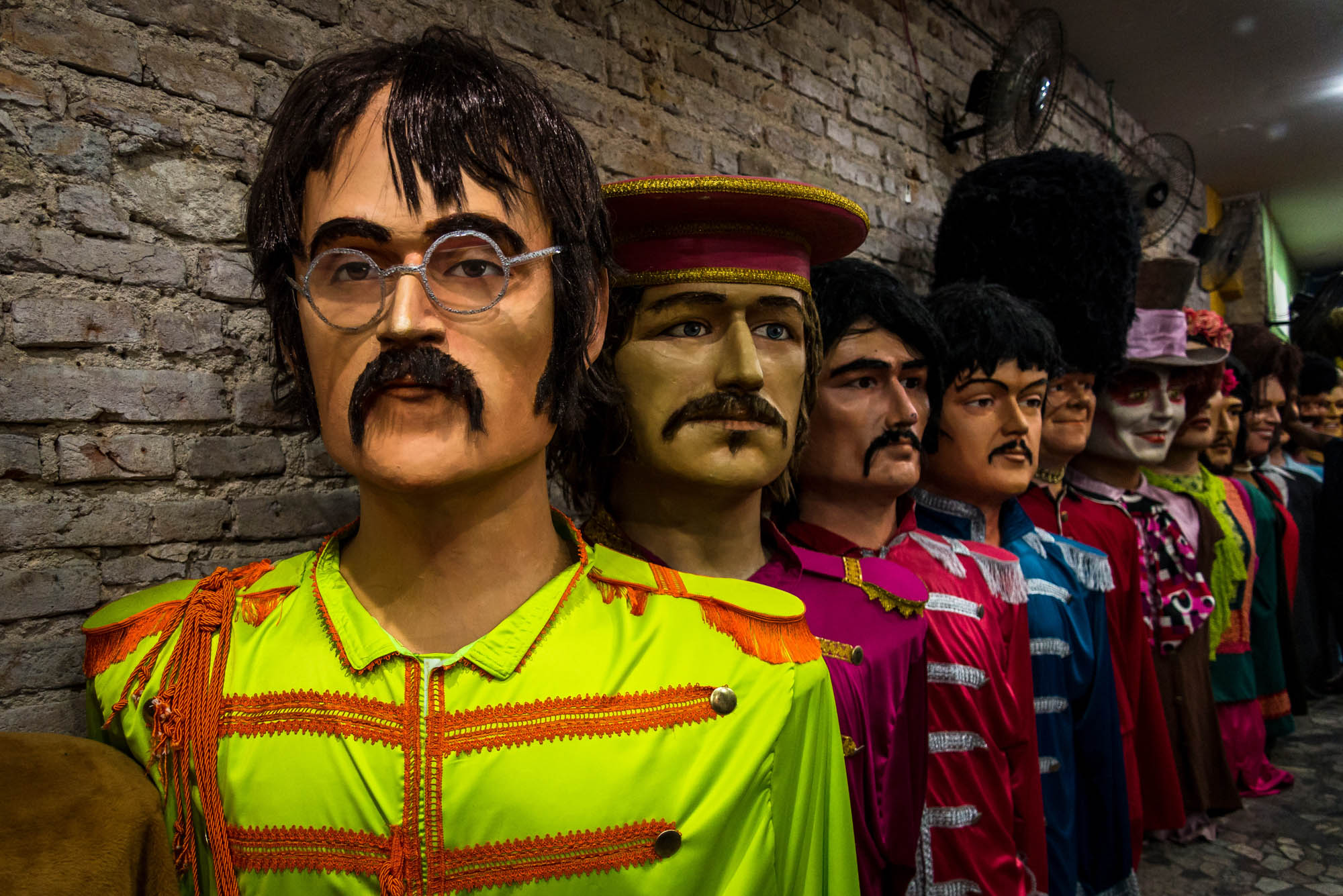 At Recife's Pátio do Terço, Kings and Queens, courtiers, and percussionists showcase their skills. Participants flash colourful faux-baroque courtly gowns, a Mestre (master) sings songs aggrandising the group and its ancestors, whilst the biggest drums, the alfaias, puncture the air.
The event's name Noite Dos Tambores Silenciosos ('Night of the Silent Drums') harks back to an era when slaves were forced to practice their traditions in secret. At midnight, in the darkness, a solidarity prayer is observed. Maracatu was banned during last century's dictatorship and was only re-popularised in the 1990's by Recife's legendary musician Chico Science, who mixed its percussive style with modern sounds.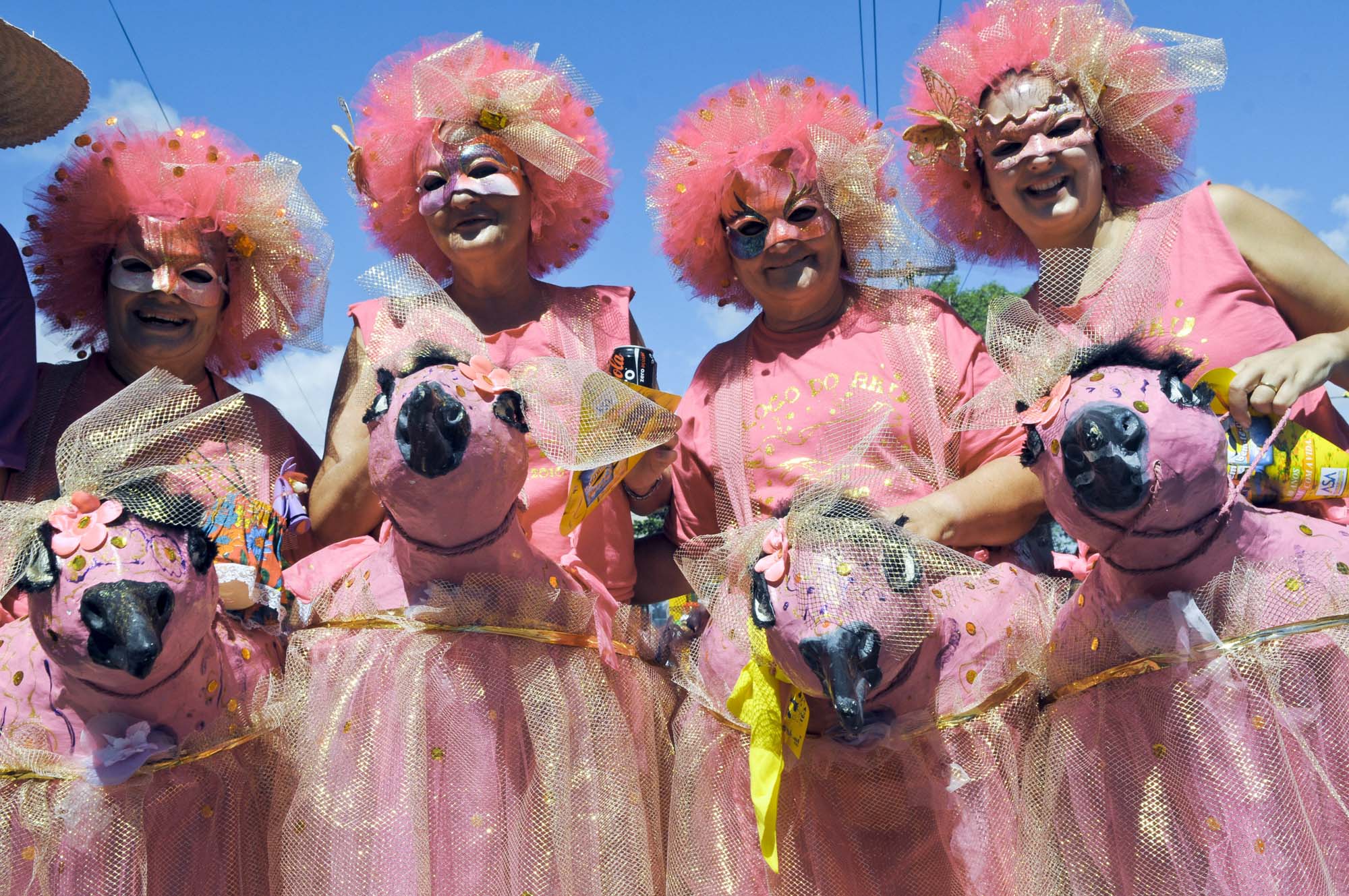 The music has since gained global popularity, with groups emerging in Australia, Germany and the UK. Jackson from Bristol, England has been coming to Recife to play in the group Almirande do Forte for the last seven years. He has experienced both Salvador and Rio de Janeiro but tells me "Recife's carnival wins hands down. There's such a diversity of traditional, folkloric and modern music here".
Peppered amongst the celebrations are the tireless, informal vendors whose cries of "Tres é Dez!" ('Three beers for R$10' - £2 or US$2.60), are just as familiar as the most famous of Frevo anthems. Ever-present street-side chefs, still awake at 3AM, cook up local delicacies of mashed macaxeira and salty carne-de-sol to help ease revellers' impending hangovers. At nearly every stall music is pumping, Bregafunk – Recife's own brand of urban music - is the soundtrack.
For a city that is sometimes jokingly referred to as 'Hellcife', carnival week in the northeastern capital is a special, crazy kind of heaven.
Tagged: