G-Unit | Testing the Ultimate Pimped-Out Ride in the Dirty South West
Our motoring columnist gets all four wheels off the ground (literally) in the new luxury Mercedes-AMG G-Wagen
With 'The Road Less Travelled', we aim to cover cars a little differently: putting them through their paces by seeing if they can handle a real adventure. This month, we're whizzing across to Dartmoor - in a Mercedes-Benz G-Wagen.
---
There are very few cars that get a reaction quite like a Mercedes-Benz G-Wagen. Its steroid-fuelled styling, enormous footprint and raucous engine note (in AMG models, at least) have passers-by either staring slack-jawed in amazement or shaking a walking stick in dismay.
It is not particularly practical, it is terrible on fuel, previous generations have been bloody uncomfortable and it has all the grace of an anti-aircraft missile emplacement. But for the profligate few who love these beasts, the £143,305 asking price for this V8-powered G63 AMG version still seems completely reasonable.
"If a Range Rover suggests that you dabble in a spot of clay pigeon shooting, a jet-black AMG G63 implies that shooting is more than just a pastime"
Why? Well, perhaps a quick stroll through the dusty halls of history can help get to the bottom of the Geländewagen's appeal.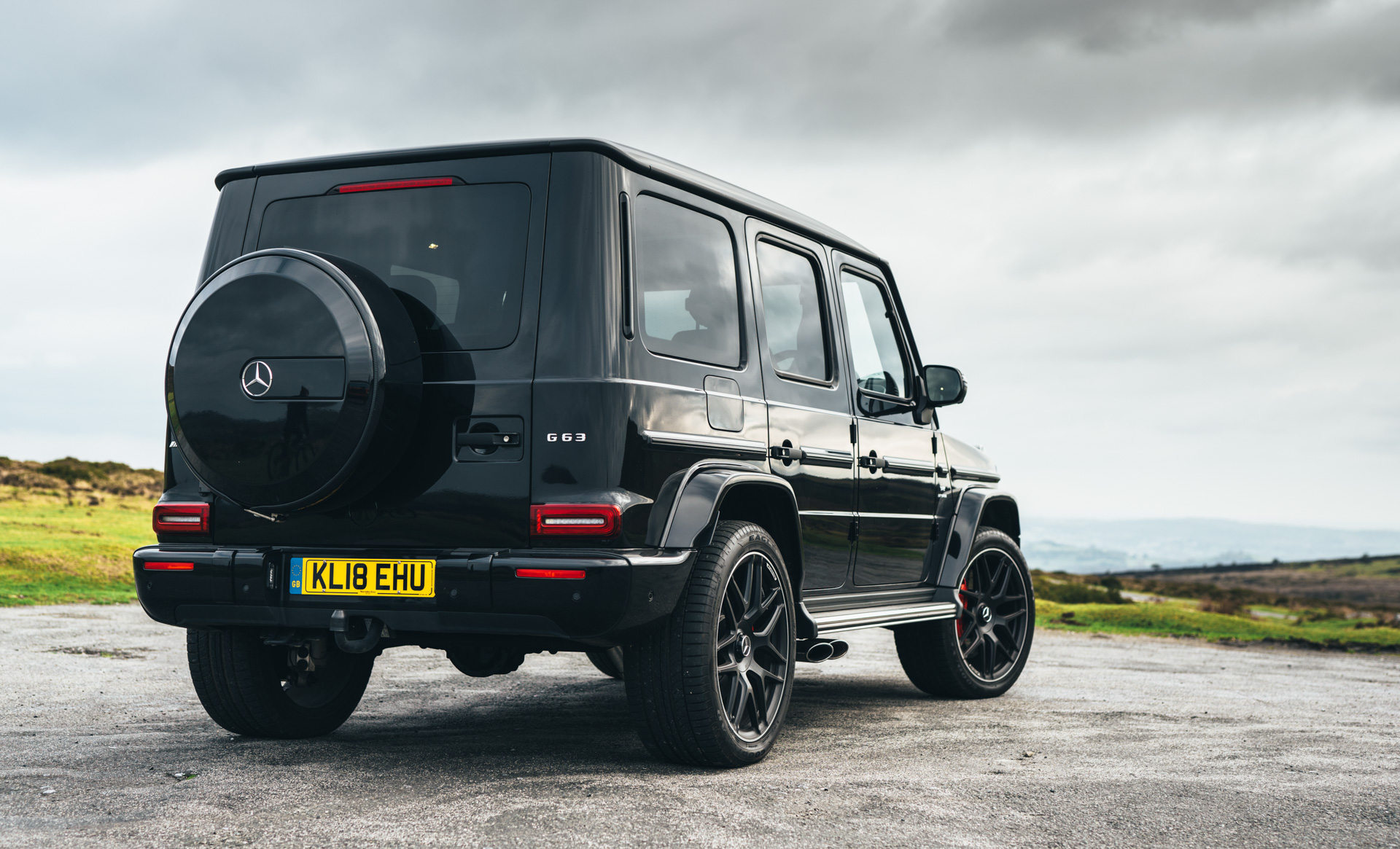 The well-trodden tale states that the Shah of Iran approached Mercedes-Benz back in the early 1970s with the idea of creating a proper military vehicle, but one with the mechanical backing and everyday useability of a trusted German manufacturer.
As a result, Austrian military vehicle manufacturer Steyr-Daimler-Puch was drafted in to help construct the oily bits. The resulting muscular machine has served in numerous European armed forces ever since.
You could argue that Mercedes' little side project produced a very early example of an SUV, but it wasn't until the late 1980s that the G-Wagen transformed from farmer's friend to Chelsea tractor.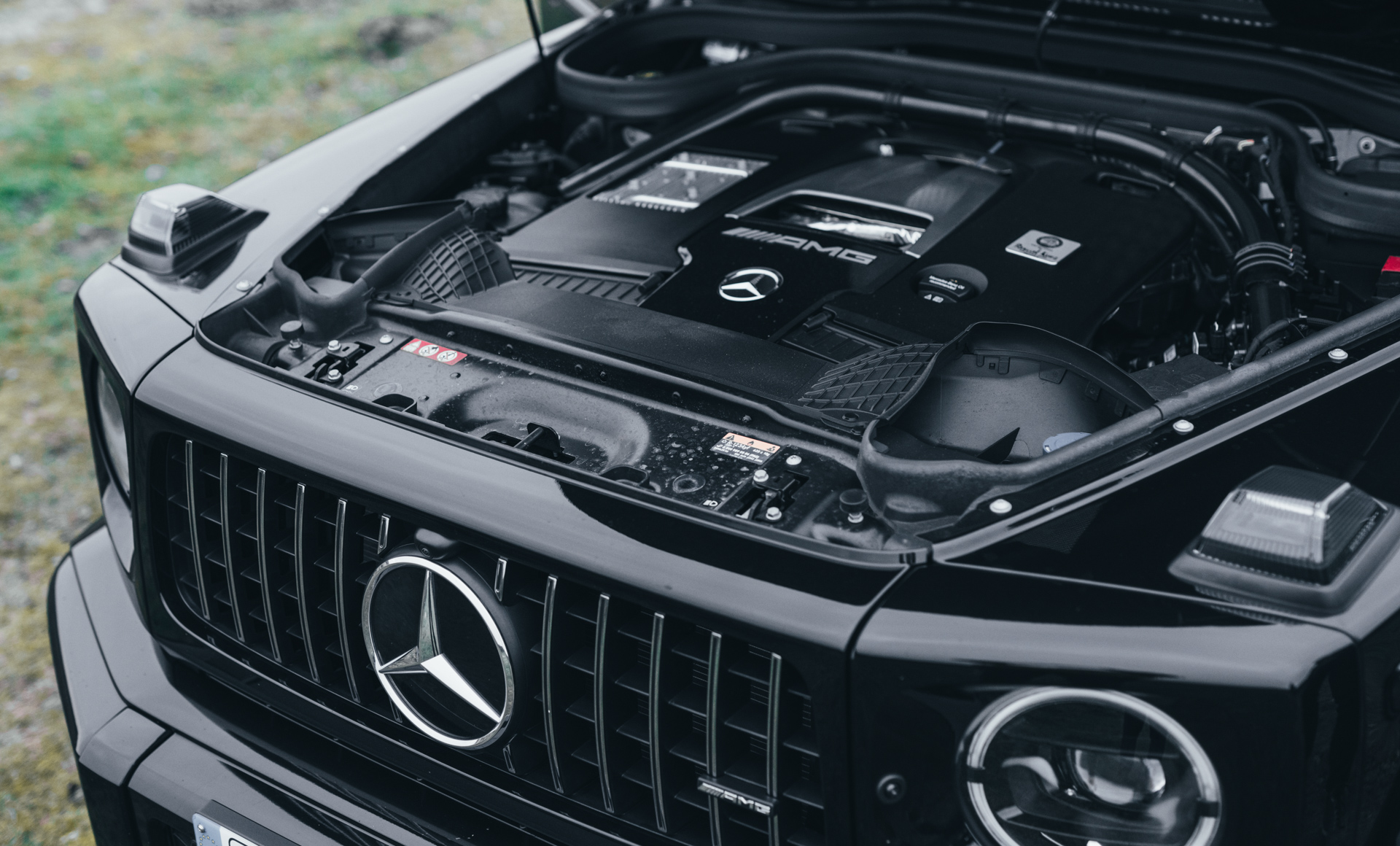 Since then, the Germans have been stuffing this blunt instrument with all manner of luxurious touches, including hand-stitched leather interiors and mightily powerful engines fettled by its revered tuning arm AMG.
Like it or not, the hulking brute has won a place in the hearts of many, including Russian oligarchs, newly-signed footballers, and the owners of questionable fortunes the world over - all of whom appreciate the reputation that comes as part and parcel of ownership.
If a Range Rover suggests to fellow road users that you dabble in a spot of clay pigeon shooting at the weekends, a jet-black AMG G63 implies that shooting is more than just a pastime.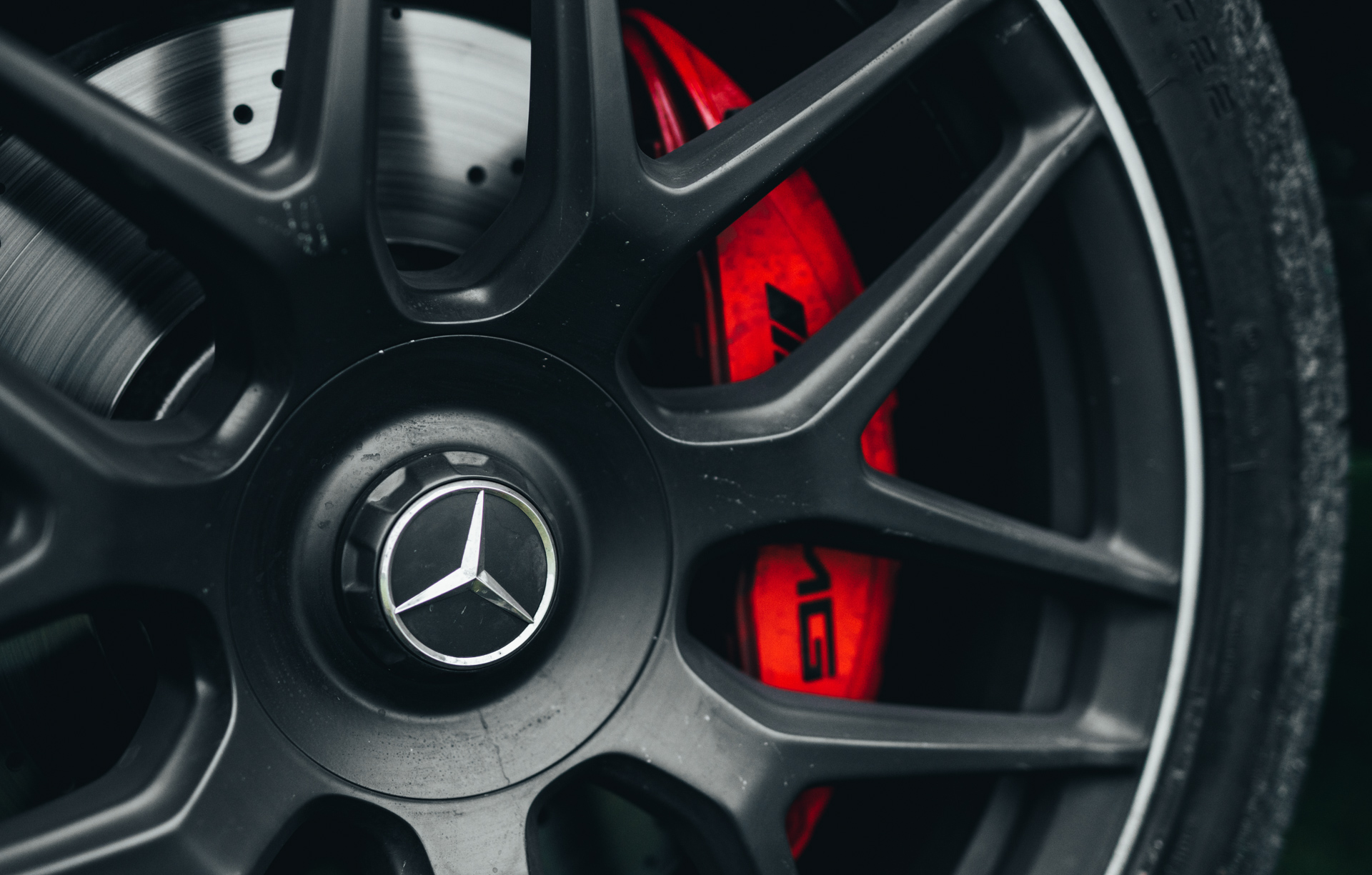 But as a daft as transplanting a 577bhp 4.0-litre bi-turbo V8 engine into an air raid shelter sounds, this latest generation is supposedly the most practical, lavish and comfortable incarnation of the G-Wagen yet.
To put that to the test, we decided to load up this monster with mountain bikes and make a beeline for the idyllic surrounds of Dartmoor and its many meandering trails.
The Moors Marauder
Thanks to a surfeit of farm machinery and caravans, our route – the A35 along the shoreline - is often one of the slowest roads in the south of England. But its stretches of dual carriageway, however brief, act as the perfect test bench for the firepower that lurks underneath the bonnet - the twin-turbo engine providing enough shove to move a jumbo jet.
Pin the throttle and the rear of the G63 squats for a moment before propelling passengers forward at a rate that has the potential to pickle internal organs. It's ridiculously fast, and all sorts of fun.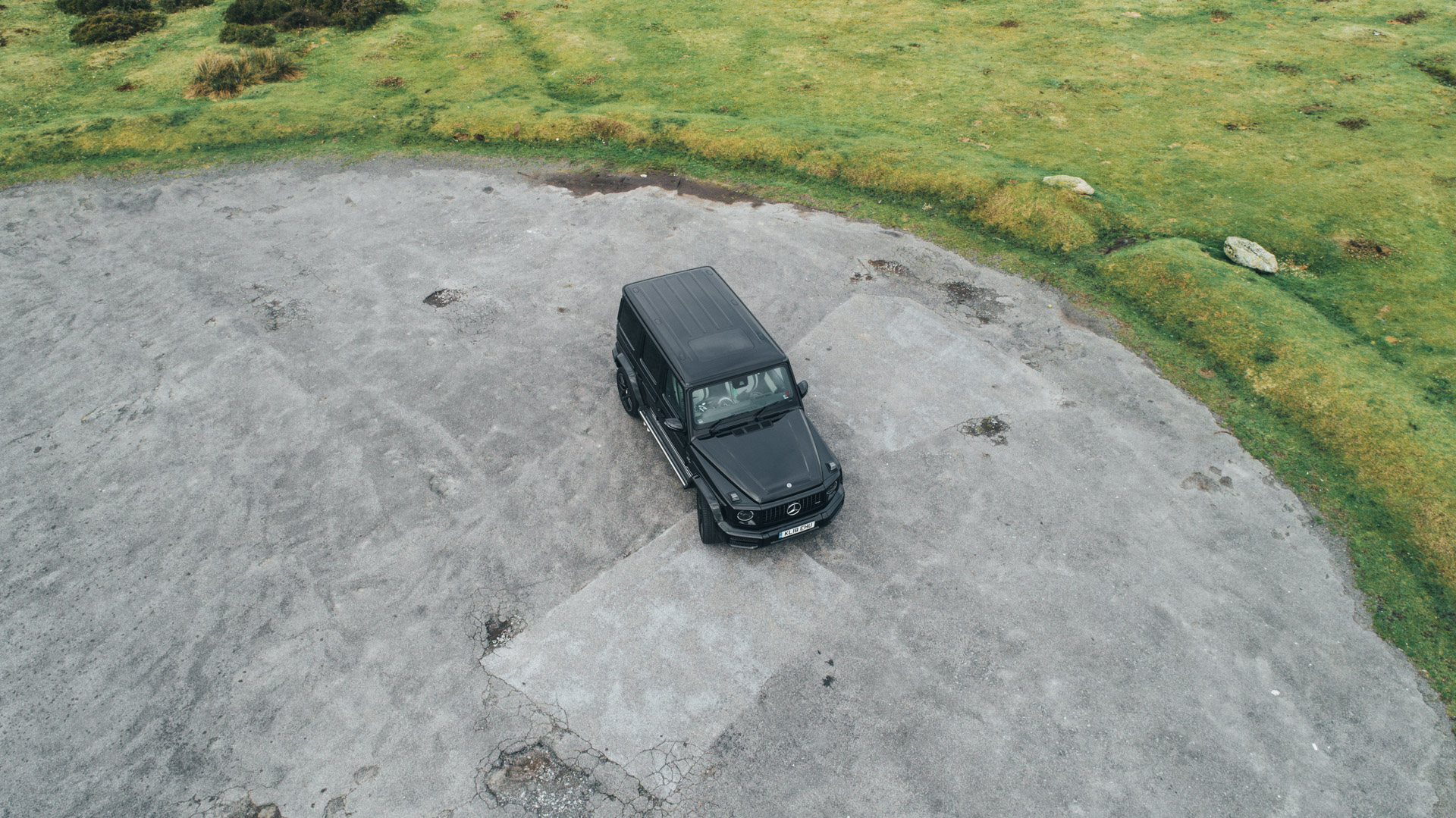 The instant fuel readout fails to raise smiles though - the space age interior 12.3-inch TFT screens often show single digits. If you're getting 17mpg, you're doing well.
After a brief stretch on the motorway, we pick up signs for Dartmoor and peel onto much smaller, twisting roads that lead towards the vast, open expanse of Britain's first officially decreed National Park (1951, fact fans).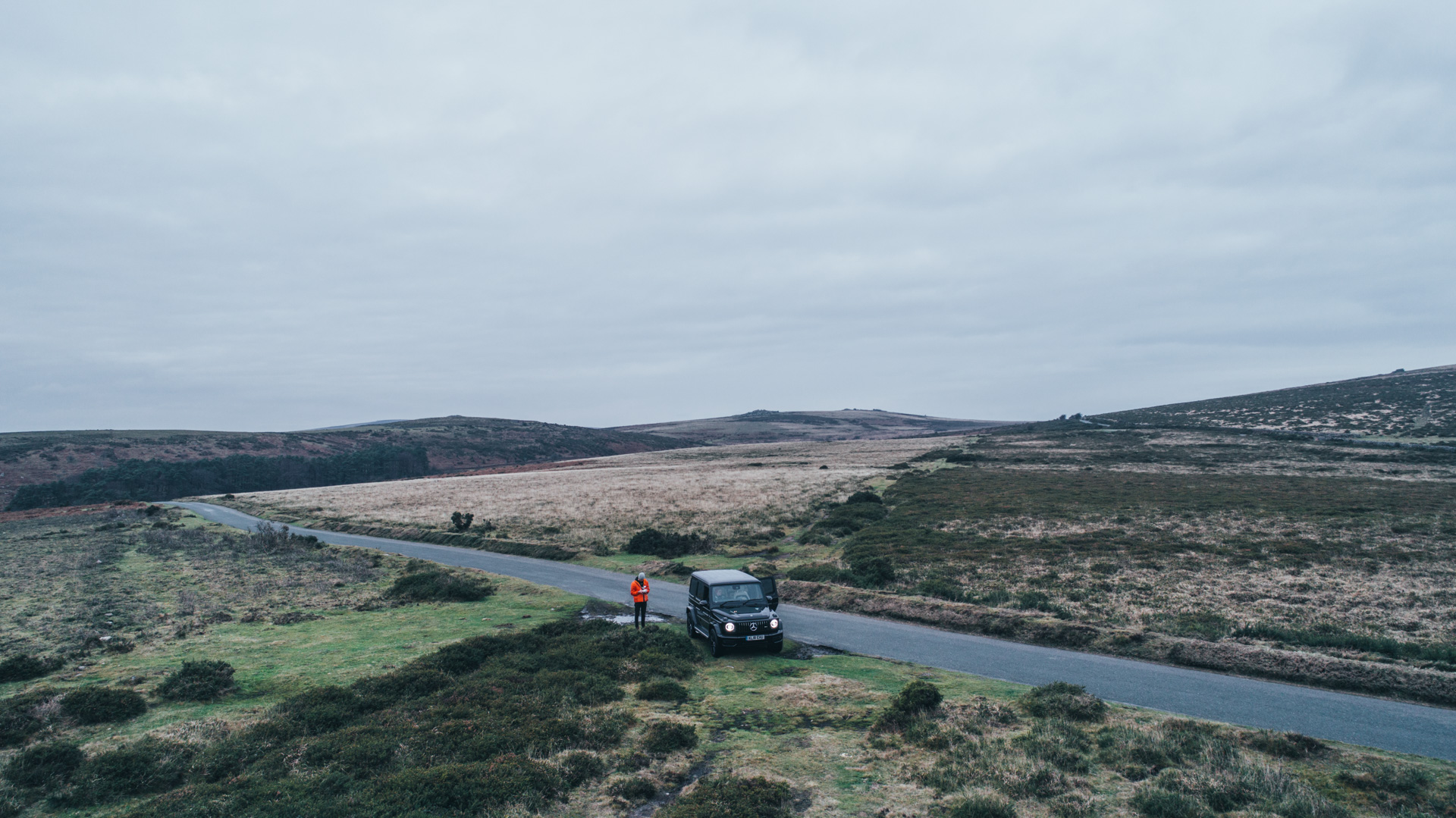 The 368.3 square miles of boggy vegetation will be familiar to anyone who enjoys the great outdoors and it's possible to partake in everything from a long and challenging hike to some wild water swimming without anyone batting an eyelid.
An impressive 37 percent of Dartmoor is common land, meaning there is 450-miles of public rights of way, most of which doubles-up as excellent single track terrain for mountain biking.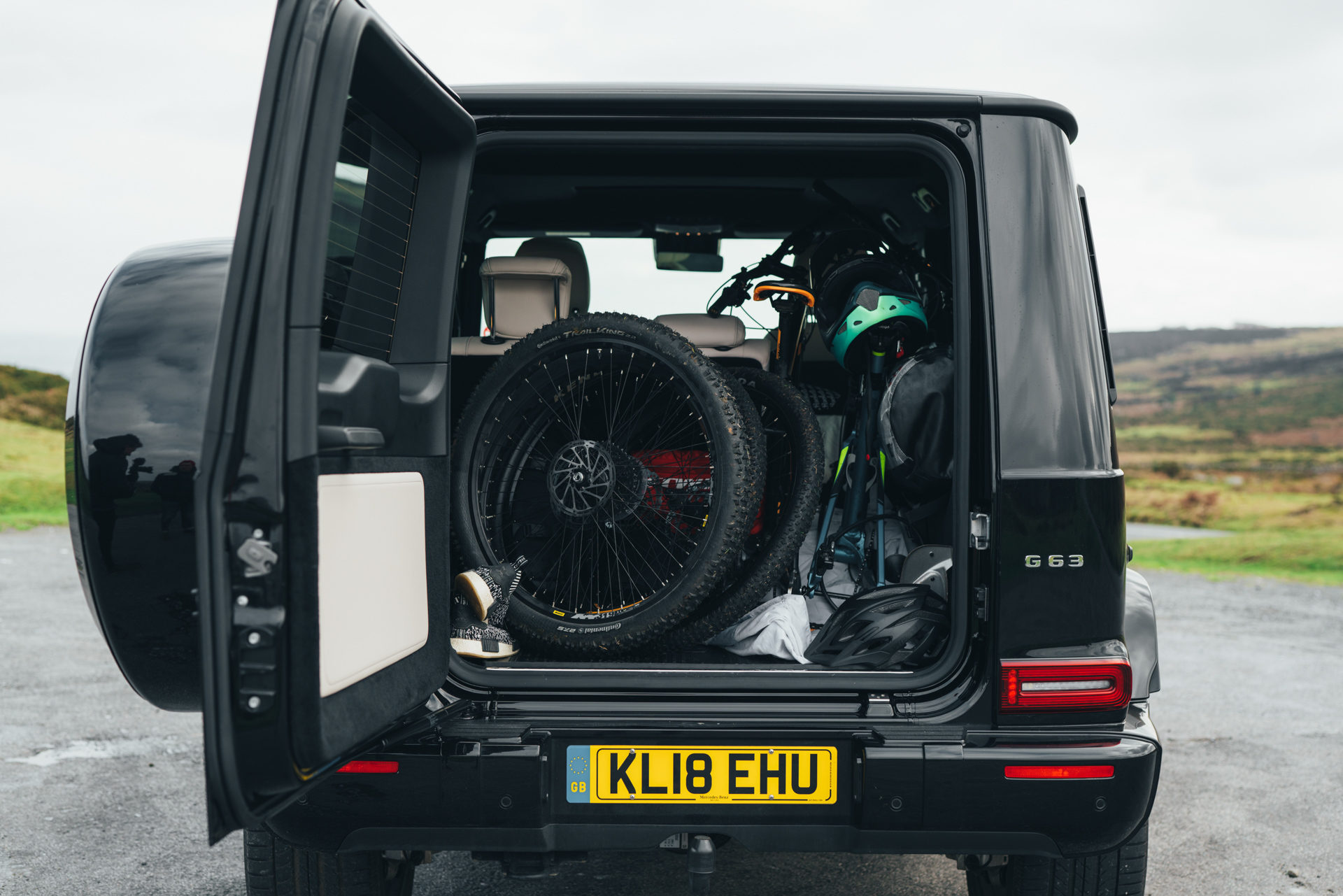 Routes range from the fairly gentile and picturesque to extremely rocky and technical, with one famous 24km loop that charts the northeast of the park boasting technical sections that include the worryingly-named 'Widowmaker'.
Having ingested coffee from a nearby fuel station (the G63 owner's most-frequented spot) and parked the hulking frame of the car at the foot of one of Dartmoor's many granite Tors, we carefully unpack the two mountain bikes, cycling gear and camera kit from the boot.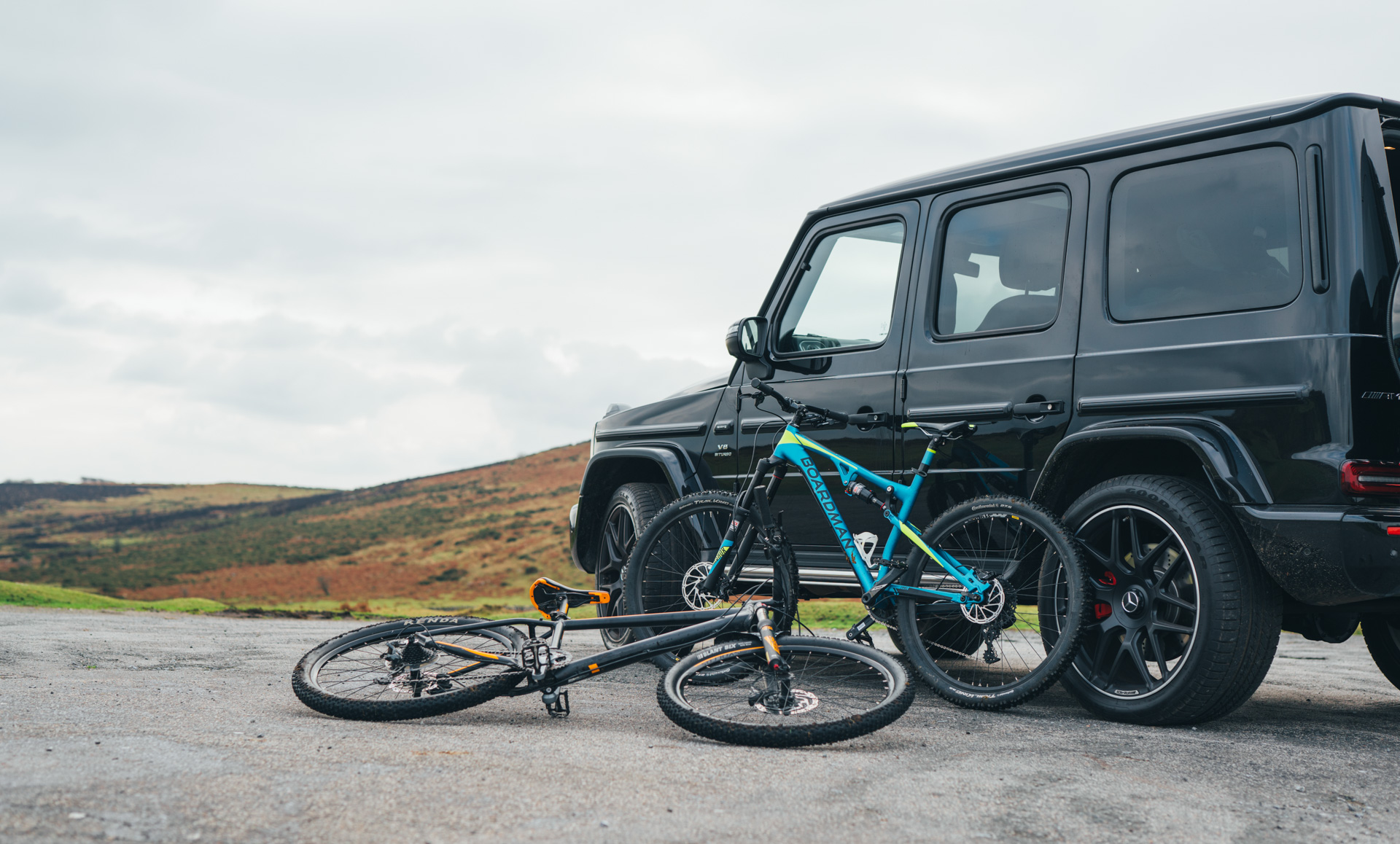 Despite its luxurious cabin and modern infotainment tech, the latest G-Wagen retains the brilliantly utilitarian side-hinged rear door. It might swing open with all the heft of a Hollywood bank vault, but it allows easy access to the rubber-lined rear.
With bikes assembled, we pick out a vague route that works its way up to a stack of ancient granite and then disappears into the bracken for a brief technical downhill section. It's fairly easy stuff but acts as a fun and fast warm-up for a longer route that we've got planned in the northeast corner of the park.
Ride into the Dying Light
With a complex array of mechanicals (including locking differentials and a low-range gearbox for anyone interested), the G63 is nothing if not impressive off-road.
It might have a huge engine, ghetto fabulous 22-inch rims and twin side-exit exhausts, but this AMG-tuned model will still happily climb a mountain and wade through the odd ford - when it's not drag-racing Lamborghinis.
"The horsepower is enough to rocket the 3.5-tonne beast from 0-62mph in just 4.5-seconds"
Yet despite Dartmoor's surplus of unadulterated greenery, there is very little opportunity to test out the G63's credentials on rough roads.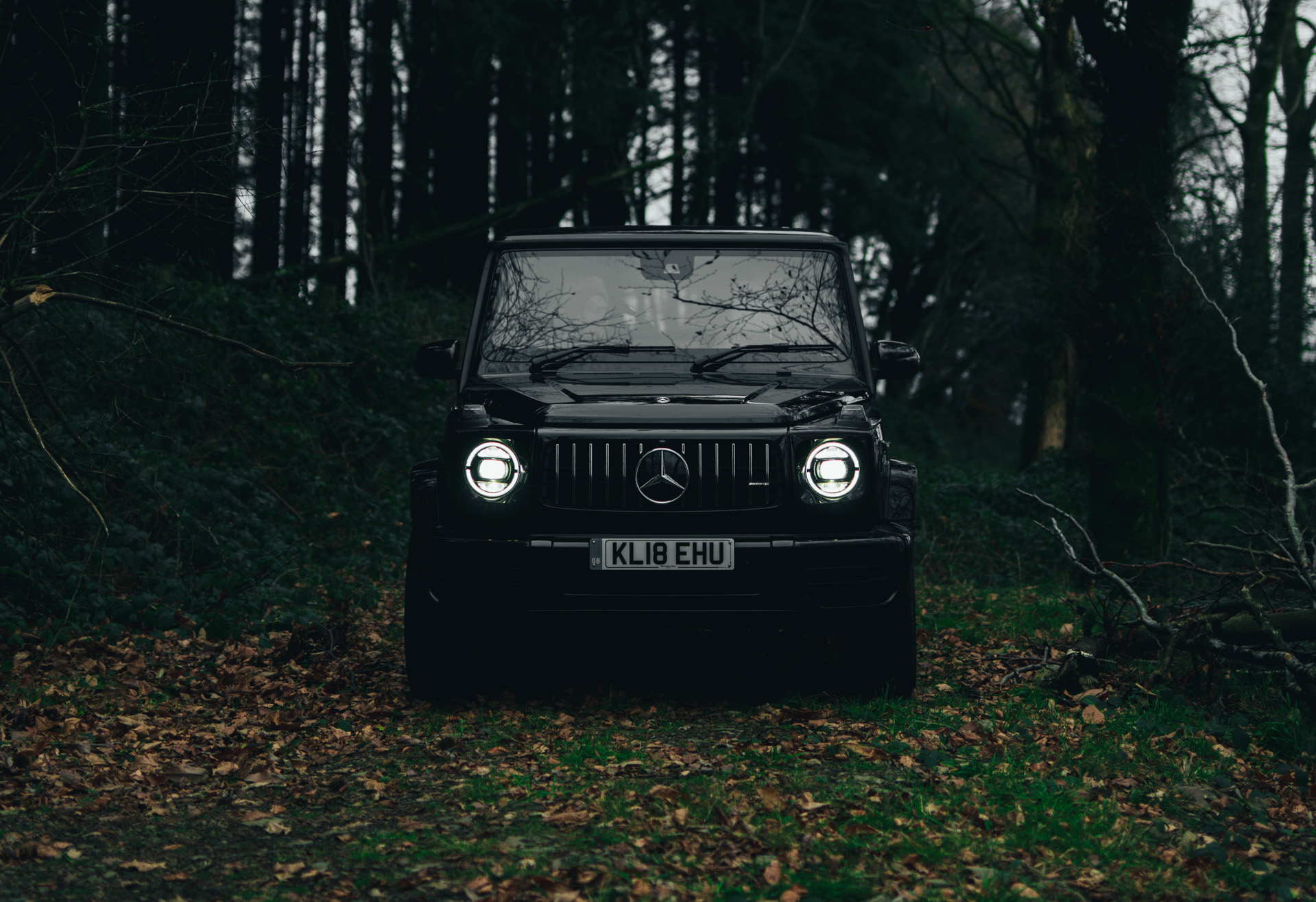 A quick Google search for 'green-laning in Dartmoor' only throws up a news story about a mud-plugging enthusiast's recent arrest for illegally chewing up land that's designed for walking boots, not knobbly tyres.
So we wolf down a hearty pub lunch and set off from North Bovey on a longer, more demanding mountain biking trek that takes in Manaton, Lustleigh and Hunter's Tor.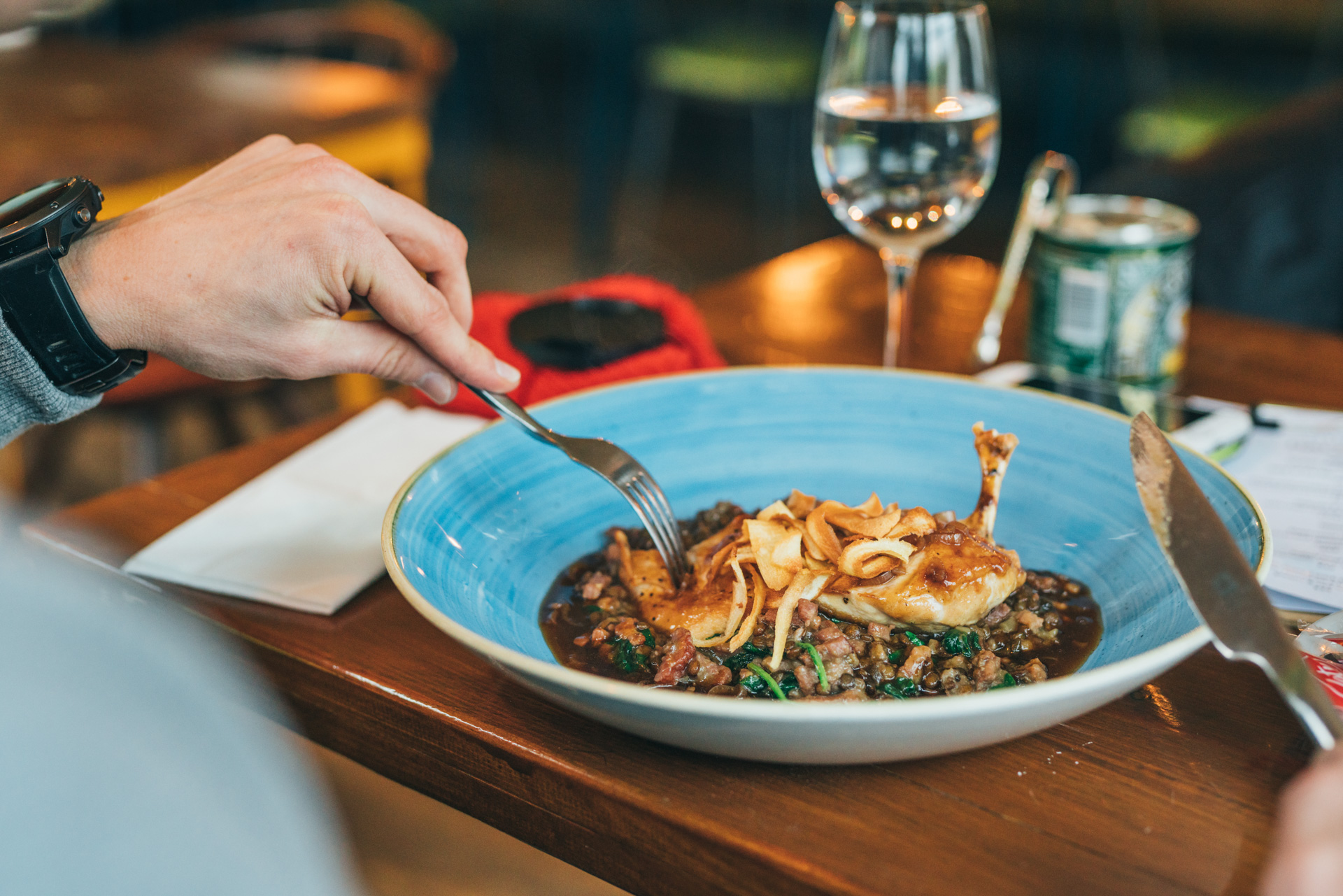 It is bitterly cold and blustery, which means we barely see a fellow human being all day. Meanwhile, the wintry weather has turned large parts of the route into slushy bog, which requires alloy frames to be slung over shoulders and hiked to the next waypoint on my bike computer's GPS.
The riding is demanding, with peak elevation of 1,583ft at one point, and the weather makes the most exposed sections eye-wateringly unbearable. But at least the tricky rocky terrain keeps the mind sharp.
Despite some fun, heart-pumping moments, the sight of the G63's menacing black paint job is a welcome one when we make it back to the carpark. Fiercely aggressive bum warmers and plush, cosseting seats are just what the doctor ordered.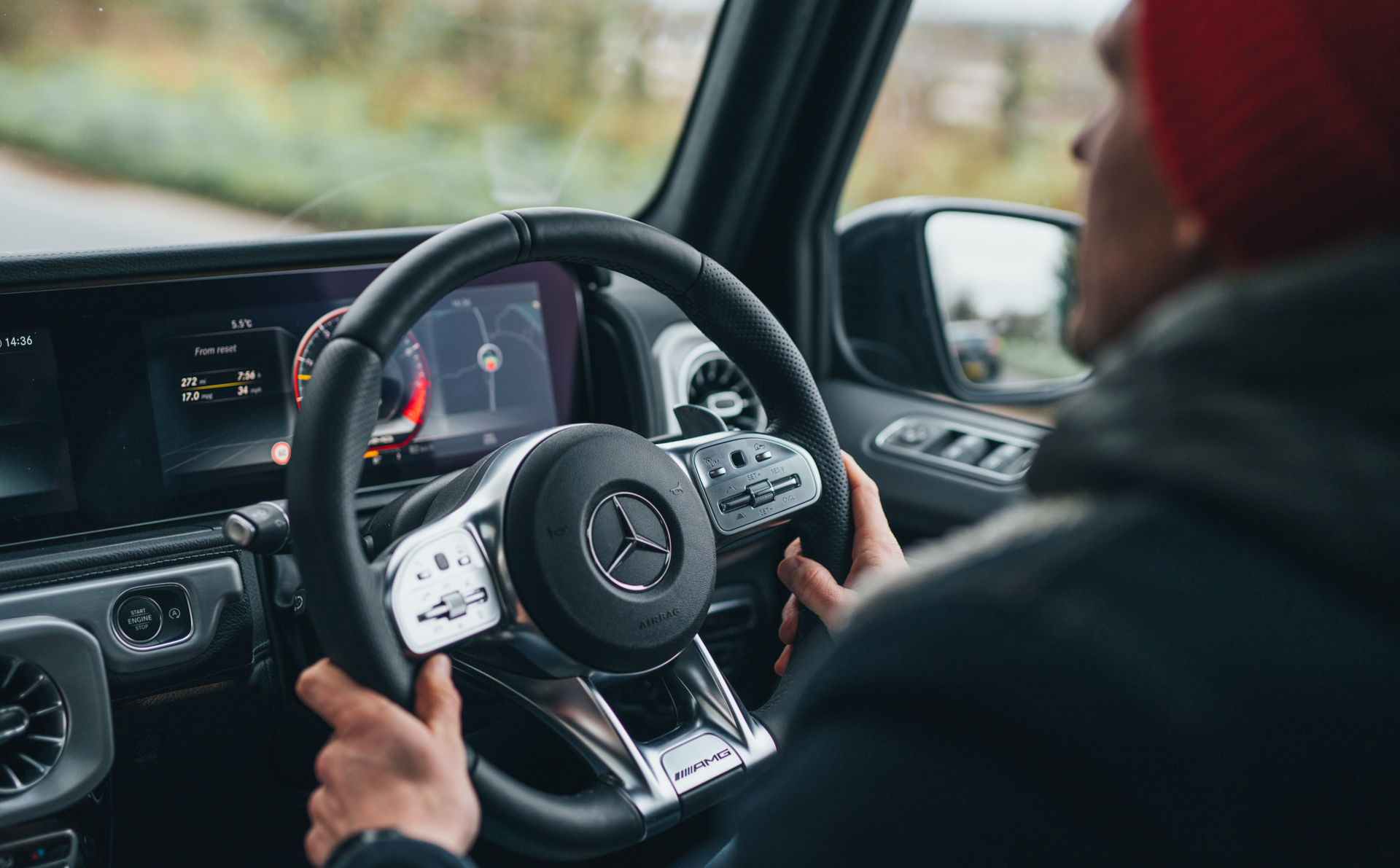 With only a shard of daylight remaining, it seems foolish not to make the most of Dartmoor's blissfully empty B-roads. The AMG G63 might roll around corners like a wooden dinghy in a Force 5 gale, but its straight-line speed is hilarious.
Official figures state that the horsepower is enough to rocket the 3.5-tonne beast from 0-62mph in just 4.5-seconds, but the accompanying cacophony of engine note and thumping automatic gear changes make it feel even quicker.
Dartmoor, it turns out, is not just the last British refuge of the rare Bog Hover Fly, and home to the world's largest land slug: it's also the only place in the UK where you can see a fully-loaded Mercedes-AMG G63 catch air over a crest in the road.
Sorry officer, we had a reputation to uphold.
---
Do it Yourself
Dartmoor is best accessed by car, but it is possible to get there by rail. Trains run regularly between London Paddington and Exeter, where a bus will deliver you into Two Bridges, which sits right in the centre of the Park.
There are a number of great biking loops in the area, with the most demanding kicking off in North Bovey and heading off-road towards Hunter's Tor. After this, it skirts around Haytor Down and Hound Tor, before looping around Headland Warren for a descent to Headland Farm. It continues through Langdon and arrives back in North Bovey.
A less punishing 22-mile ride makes the most of a disused railway and head towards Yelverton, circles King's Tor, passes Leeden Tor and runs along the bottom of Burrator Reservoir. Park at the Plume of Feathers Inn in Princetown and enjoy a big lunch at the end of it.
Princetown is also your best bet for B&B options, which will be essential if you're thinking of tackling the epic 95-mile loop that circumnavigates the entire park. Most riders break the big ride up into multi-day chunks with plenty of pub stops in between.
For more information on the Mercedes-Benz G-Wagen, go to their website.
Leon Poultney is a freelance motoring journalist based in the UK. Keep up with him on Twitter.