Lunar Landscapes | It's Time to Rethink What You Know About Miami Beach
Subverting the Spring Break and Scarface clichés, photographer Marco Argüello catches shots of Miami Beach at its most serene
At around midnight, Marco Argüello takes off his backpack and sets up his tripod on Miami Beach. He stares into the viewfinder of his Pentax 67 medium format camera that's pointed at a lifeguard stand. He's alone on the beach, but it's not quiet. As he walks back and forth, checking the framing, he hears the murmur of crowds and muffled bass from a hip-hop festival in the distance. Then he spots an ATV patrol vehicle approaching. A flashlight lands on Argüello, then on his camera. It's the cops, but their initial concern soon gives way to curiosity. What's this guy doing with this huge camera at this time of night?
That was basically Argüello's routine over the course of three nights during Urban Beach Week, a hip-hop festival held in Miami over the Memorial Day weekend. Each night, between 11pm and 2am, Argüello took advantage of temporary floodlights that illuminated parts of the beach.
The result? Meticulously framed photos of lifeguard stands, shot in long exposure, their lurid colours popping out against an inky black sky. The lights cast hard shadows across the small ridges in the sand, on which sit the eye-popping huts that Argüello likens to "tropical spaceships". The effect is haunting and otherworldly, as if these were lost colour photographs of the moon landing.
"You have this idea of the beach – which you'll see on postcards in every tourist shop along Miami Beach – and then you suddenly see it in a completely different context"
The Texas-born photographer, who was living in the coastal resort city at the time, originally wanted to shoot at the hip-hop festival. "It's a really crazy party scene," he tells me. "At night I was walking around to see what was interesting and I saw that parts of the beach were completely lit up with these giant floodlights. It was perfectly lit, as though Roger Deakins was there lighting a dystopian movie scene."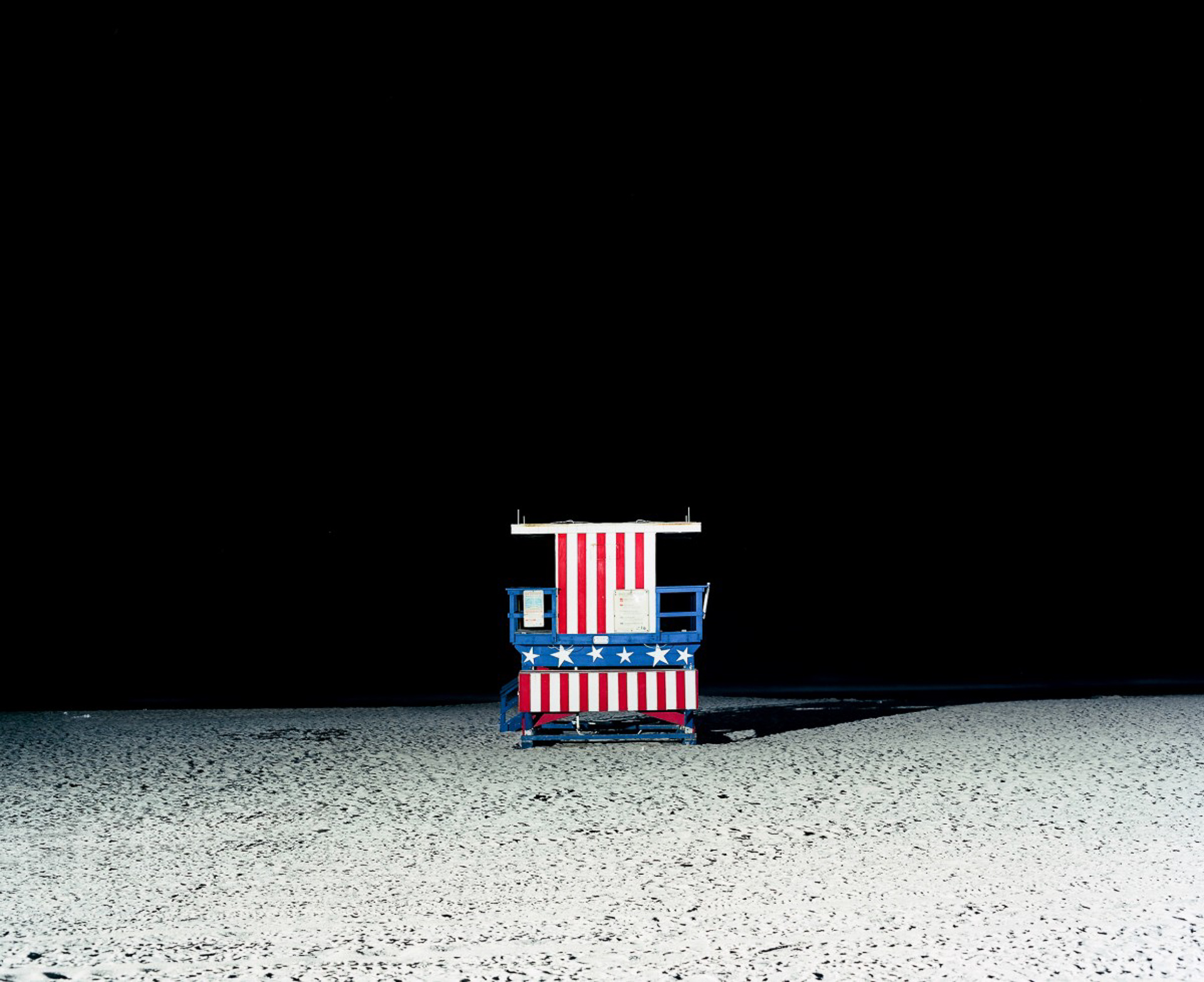 Not only was he compelled by this cinematic glow, he saw it offered a different perspective of a beach famously saturated with sun-seekers. "You have this idea of this beach and those lifeguard stands – which you'll see on postcards in every tourist shop along Miami Beach – and then you suddenly see it in a completely different context," he says.

He frames these stands dead centre, drawing your eye to them as objects worthy of artistic merit, with their colours that, during the day, get lost in the swamp of bright bikinis and umbrellas. "I thought it was interesting that you never see the lifeguard stands at night on those postcards, or if you do, it's very faint, with a full moon."
The postcard view of Miami Beach – a city famous for having the largest collection of Art Deco architecture in the world – typically frames the pastel-hued apartments that fill the background of movies like Scarface and Miami Vice. It's become a visual cliché, along with pictures of hench guys on the beach, whose bodies glisten in the sun as they work out. Where this clichéd view depicts the beach as a place of laughter and life, Argüello presents it as eerie and apocalyptic, like a disaster movie that shows an abandoned beach in the aftermath of some global calamity.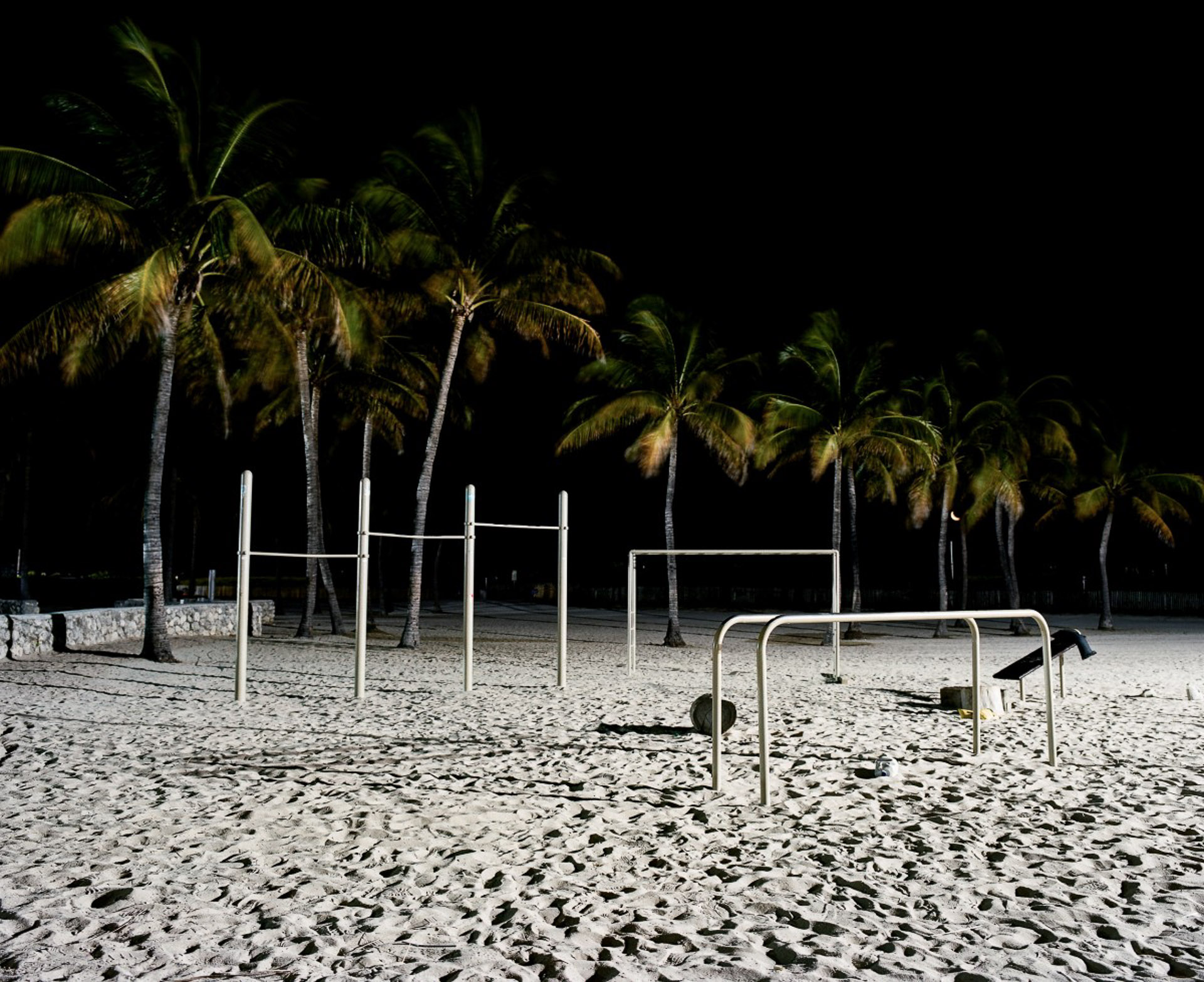 When I contact José M. Ramírez, a photographer and instructor at the Miami Institute of Photography, he's immediately drawn to this suggestion of narrative in the work. "The photos show us a different, perhaps dystopian, vision of the places that we commonly associate with tourism and fun," he says, "places that, like human beings, rest in darkness, waiting for the next day." For Ramírez, the work is situated in "a long tradition of the 'new topographics' [a term rooted in American landscape photography that broke with convention], while some photographs recall Raymond Depardon's work in France."
Maggie Steber, a lecturer in photojournalism and a judge at the Miami Street Photography Festival, is fascinated to see the beach emptied of its sunbathers. "I've always loved the beach when there are no people around, so it makes sense I would like the work, in which Argüello shoots this normally crowded beach at night when it's deserted. His photographs take us beyond the nightlife of Miami Beach and its busy discos and restaurants. Instead he shows us these splendid little cabins for lifeguards along the beach, standing alone like guardians of the waters, in sync with the playfulness of the beach, but also looking like beings out of Star Wars."
For all the dystopian eeriness that the pictures evoke, Argüello's experience of the place in the moment was wildly different. "I think the photographs give off that feeling, like there's nothing happening," he says, "but if I could record the 20-second exposure you would hear really loud music behind me, and Ocean Drive, which is the famous boardwalk, where there's people partying and driving around showing off their sound systems."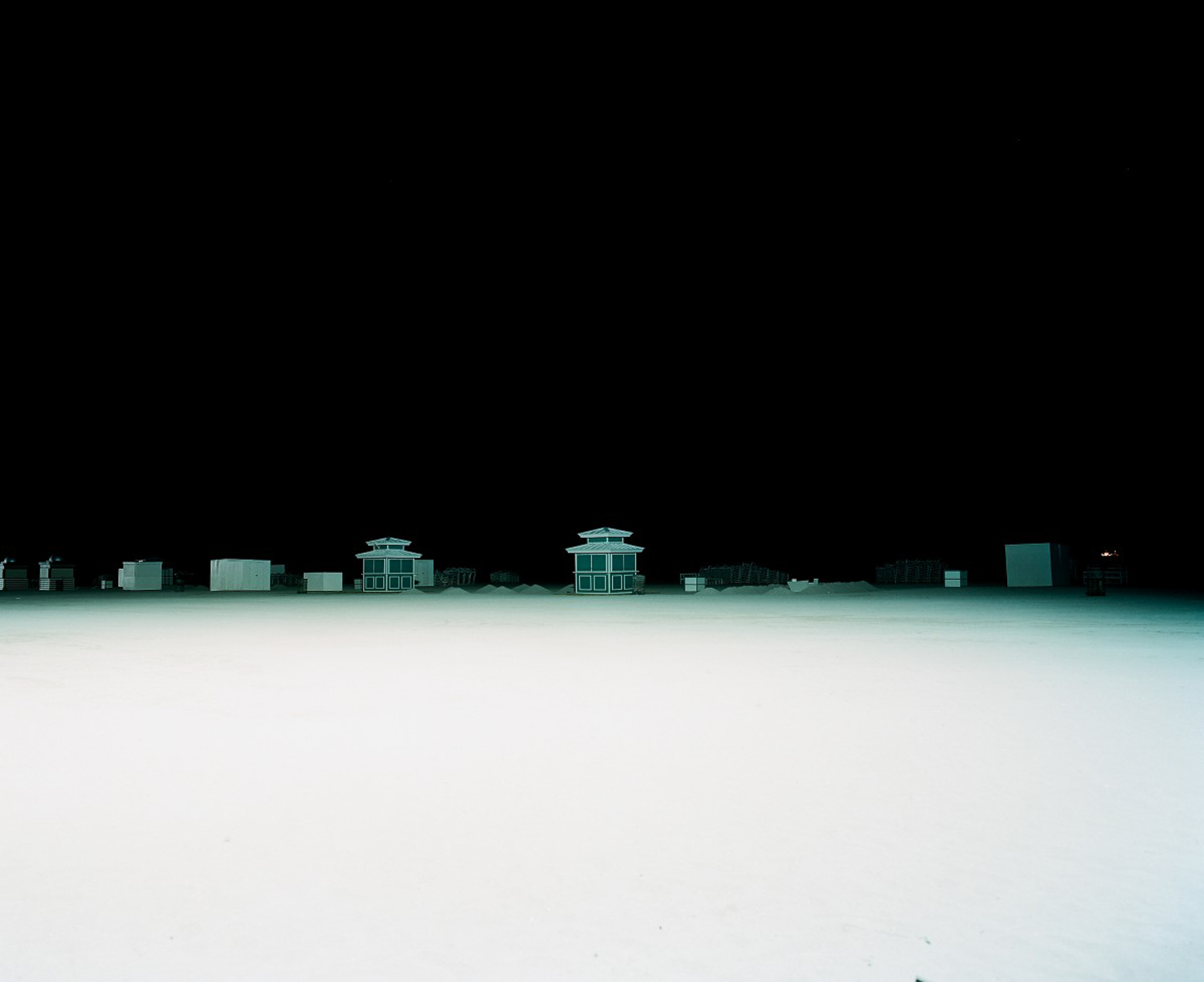 Though Argüello himself was quiet and discreet, the police approached him on all three nights. "A lot of officers came up to me and asked me, What are you doing? Because they were on heightened alert, and it wasn't like I had come by with my camera phone to take a quick photo," he explains.
"I could feel them watching me … Because there's quite a lot of historical violence at this hip-hop weekend – people have been shot in past years – that's why they had the floodlights; they usually don't put them up for other events. There was just a heightened sense of police trying to do their jobs."
During those nights in late May it was thrilling for Argüello to be completely alone, completely lost in the love of the process. "Just being out there was a means to an end in itself," he says, cutting to the core of what he loves about immersing himself in a project like this. "It's really fun being alone, just searching and looking. That's what I really enjoy about photography."
Argüello's process was refreshingly simple. He went out at night, he spotted something that captured his imagination, he took pictures. It's the way he usually does it. "My work focuses on going out and finding what's interesting to me," he explains. "Sure, it can be annoying at times – because you go out for a few hours and you don't come back with anything; or when you get the film developed it's not what you imagined – but that's part of the hunt, which I really enjoy."
Picturing Argüello again on the beach – clutching his Pentax 67, photographer as hunter – I try to imagine the thrill he feels when he spots his catch: a lunar-like landscape lit by floodlights, glowing in the dark Miami night. It compels him enough to stop and remove his backpack. With his tripod set up, and the waves breaking a few meters away, he peers through the viewfinder and sees it: a cinematic scene that beckons the click of the shutter.
Oliver Lunn is a London-based freelancer. Keep up with him on Twitter.
Marco Argüello is a photographer from Athens. Follow his travels and his shots on Instagram.
Tagged: