Game Changer | The Hidden History of Johan Cruijff's Amsterdam
Uncovering the surprising origins of the world's most influential footballer
On the corner of a housing estate in the east of Amsterdam, at the point where Wembleylaan and Anfieldroad meet, is a 36-foot-high mural reminding you why you're here. In bright Dutch orange, with the number 14 on his back, is Johan Cruijff, flicking an instructive wrist towards a teammate in the distance like Giuseppe Verdi to a hyperactive woodwind section.
"I remember our PE teacher telling us 'don't try and play against Johan - he's unplayable'"
Cruijff the footballer's eyes never stray from the action in the distance; Cruijff the icon, however, stares right back at you, near-formless like a Shepard Fairey print, his angular features somehow standing out despite the stencillist's omission of them. Beneath the two figures, 'JOHAN CRUIJFF' waves on a tattered Dutch flag like a parody of a Presidential logo. This is Betondorp's unofficial welcome sign: beyond this point, you're in Cruijff country.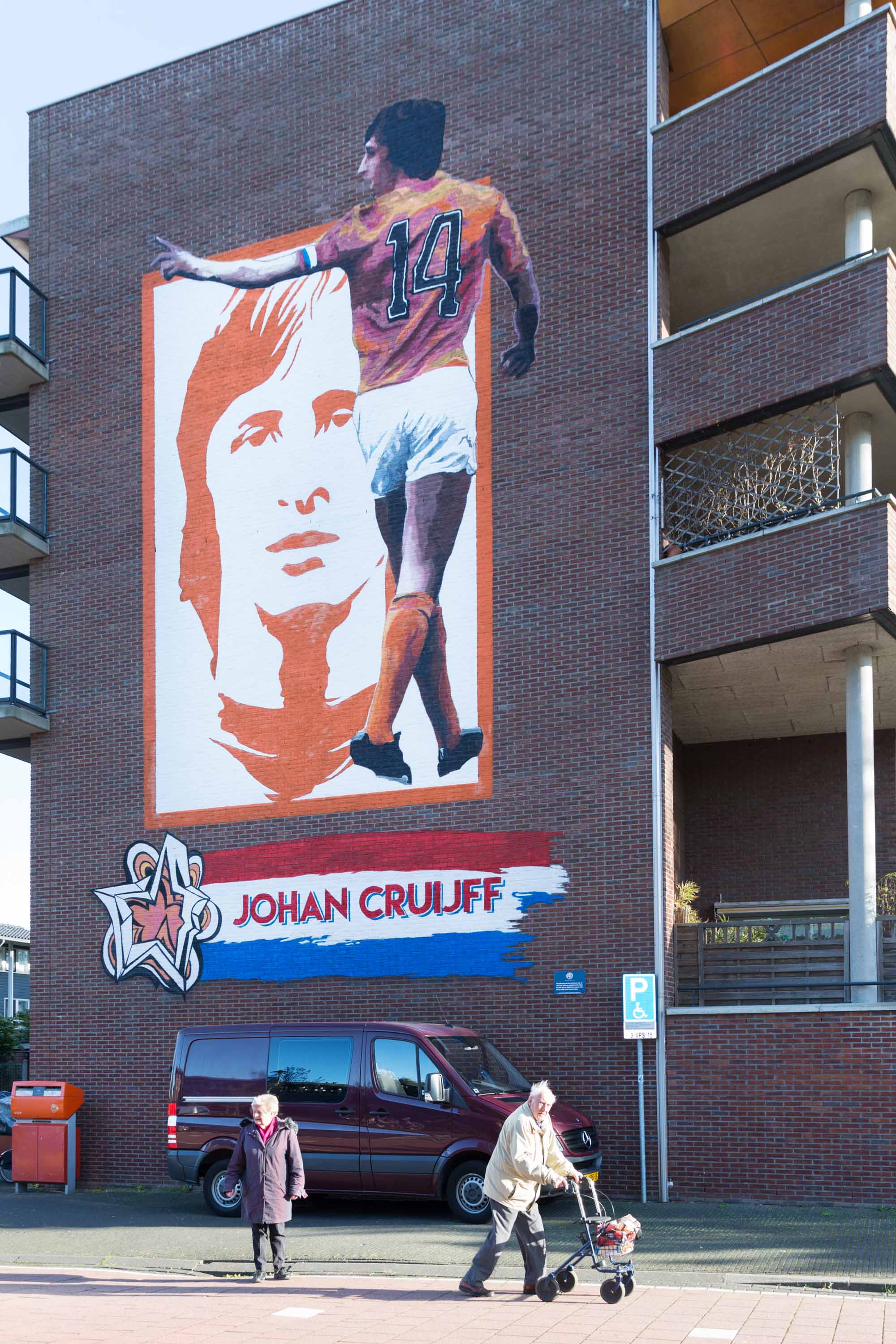 ---
It's impossible to overstate the impact that Hendrik Johannes Cruijff (to give him his full name) had on Dutch, European, and indeed world football. The trophies would speak for themselves - eight Dutch titles and three European Cups with the all-conquering Ajax side of the late 60s and 70s; helping Barcelona to their first La Liga title for 14 years in 1973-74; winning three Ballons d'Or (the first player to do so) and leading the Dutch national team to the 1974 World Cup final.
But it was the philosophy he espoused, both as a player and later a manager - his revolutionary embrace of the concept of 'Total Football' - that cemented his status as a true sporting legend. Cut him from history, and you'd have no Guardiola, no Xavi, Iniesta, Busquets or Messi, and no 2010 Spanish World Cup win. Cruijff's philosophy underpinned Barcelona's four recent European Cup wins (as well as, of course the one he won at the helm in 1992), Louis van Gaal's two European Cups, and Manchester City's 100-point season - a legacy without compare. Nowhere is that legacy appreciated more than here, in the concrete suburb where it all began.
To gauge the level of Cruijffmania in this part of the city, I head to the pub directly opposite the mural, De Avonden - named after Gerald Reve's seminal novel about the trauma and tedium of post-war Betondorp (which he uncharitably dubbed Cementwijk). Today is the date of the biggest fixture in Dutch football, De Klassieker - between Ajax and their hated Rotterdam rivals, Feyenoord - and I've come here to watch it with Ajax's diehards, in the city's most football-crazy district.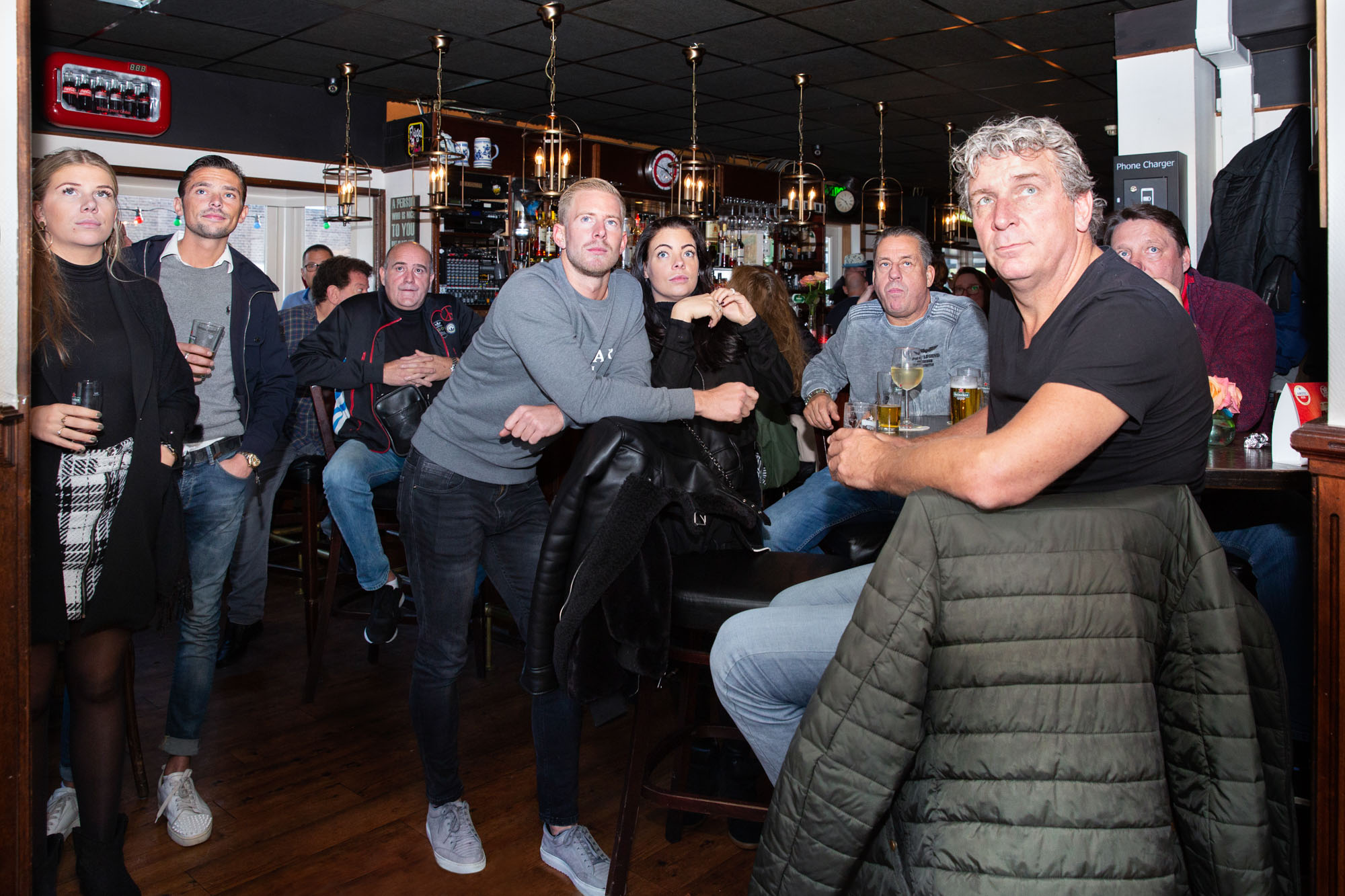 Ajax are inescapable in Betondorp. This peculiar suburb was the club's home until 1996, when they finally moved from De Meer - a creaky, small park which looked from the outside like a textile factory - to their current home, known until recently as the Amsterdam ArenA. The area where De Meer once stood has been redeveloped as a housing estate with one foot firmly in its glorious past. Its roads are named for iconic Ajax victories (Bernabeuhof; Delle Alpihof; Stade de Colombes, amongst others), and its bridges (or brugs) for the club's most famous stars - there's Ruud Krolbrug, Sjaak Swartbrug and even the mealy-mouthed Horst Blankenburgbrug.
And then, of course, you have Johan Cruijffbrug. Johan is Betondorp's most famous son, much as he is Amsterdam's and, one could argue, the Netherlands'. His two childhood homes were here: his first at Akkerstraat 32, and his second at Weidestraat 37, two minutes down the road by foot. Betondorp's wide streets and grass inlets were the maestro's first training ground; videos still exist of the precocious young Cruijff doing seal dribbles and keepy-ups out in the street, as he dreamt of twisting and turning like his idol, Faas Wilkes.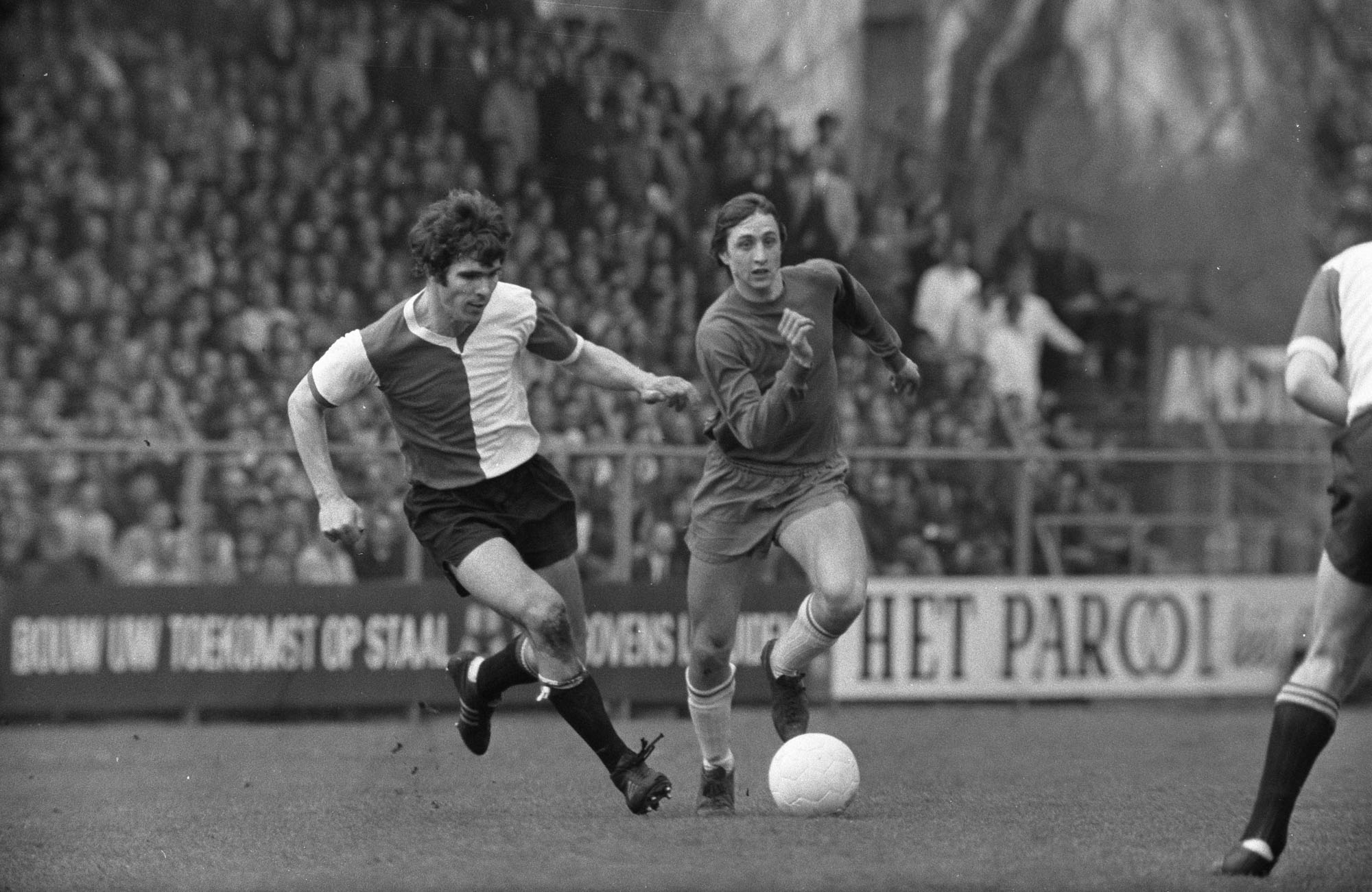 Everybody knew Cruijff. Certainly, in De Avonden, it feels like everybody I speak to has their own story about the man. One regular who I get chatting to at the bar, Eddie, went to school with Cruijff, who was two years above him. "I remember our PE teacher telling us 'don't try and play against Johan - he's unplayable', and he was; he'd beat you on his own," Eddie recalls. "Eventually, he left school early to play full time for Ajax. And he kept beating everyone on his own."
---
Amsterdam's history is often overlooked by visitors. Sketched in broad strokes as a place of carnal indulgence, grubby canals and ersatz rastas, it's often seen as a place to party - not to look at the past. People 'do' the Rijksmuseum, the Van Gogh Museum, and Anne Frank's House in one day, and come away feeling like they've learned all there is to know. And yet in the past hundred years, Amsterdam's history has been as fascinating as that of any city in mainland Europe. This is a place that's had its identity cruelly stripped away, before being steadily rebuilt into the city we know it as today.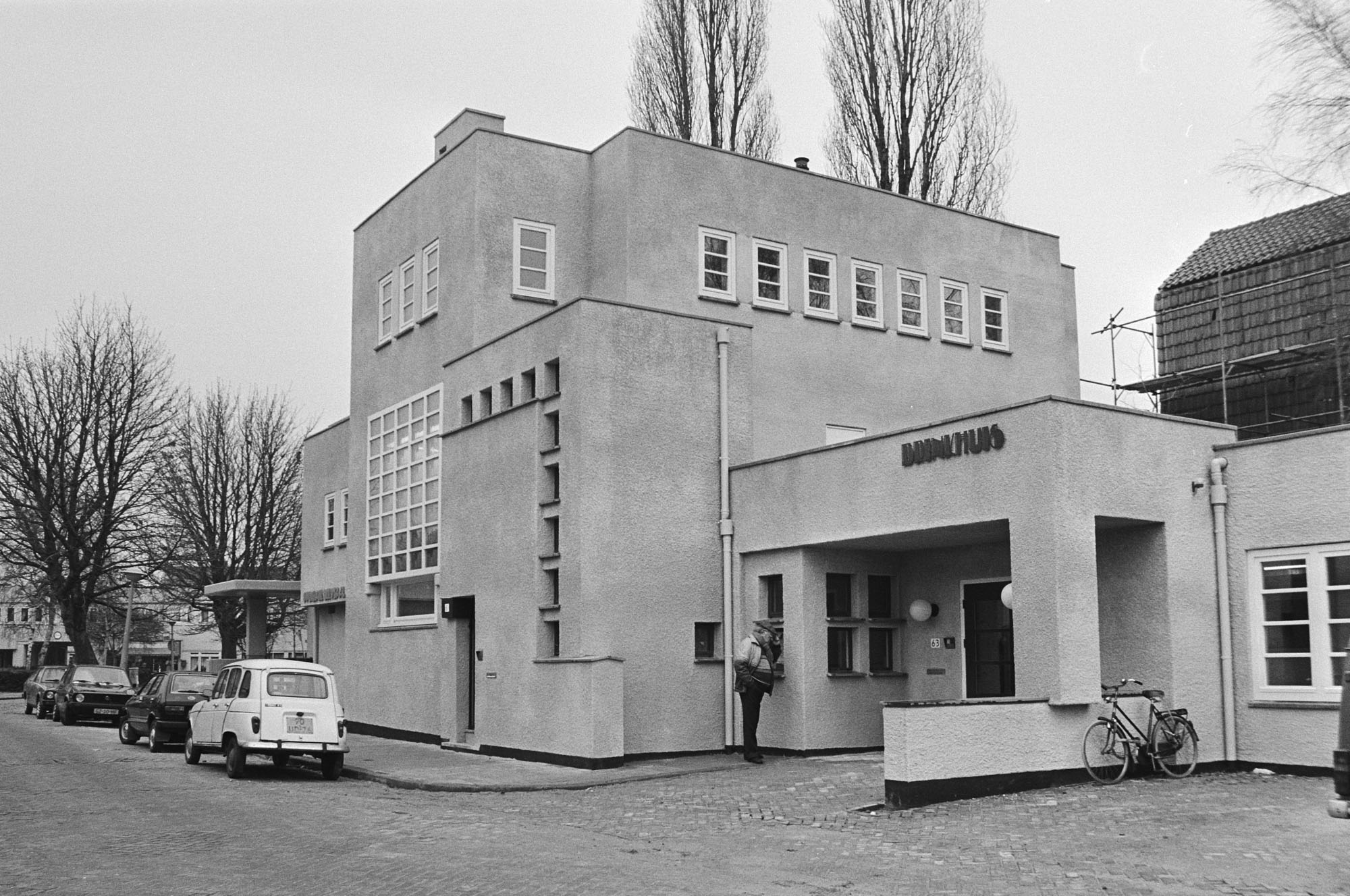 Betondorp is as good a place as any to understand the enormity of these transformations. Half an hour by tram from Dam Square, yet pointedly free of visitors, this suburb doesn't look like a typical tourist trap. There are no remnants of imperial splendour; no traces of philanthropists' decadent mansions; no Franciscan convents claiming to have invented such-and-such; nothing you could really stick in a Lonely Planet. Instead, Betondorp's history is written in concrete - lots of it, contorted all manner of ways - and the lingering glow from when Ajax ruled the world.
"Van Loghem's socialist suburban planning was so well-received that he was later commissioned by the USSR itself"
Planned and built in the 1920s by two Dutchmen, Dick Greiner and Han van Loghem, Betondorp was, from its very inception, an experiment in what a suburb could be. Van Loghem in particular was keen to base Betondorp on socialist principles: his building team was organised as a workers' collective, and his plan for the area was to fuse the 'garden village' concept, that had emerged from rebuilding Belgium after the First World War with the propulsive modernism of the Bauhaus and Art Deco schools.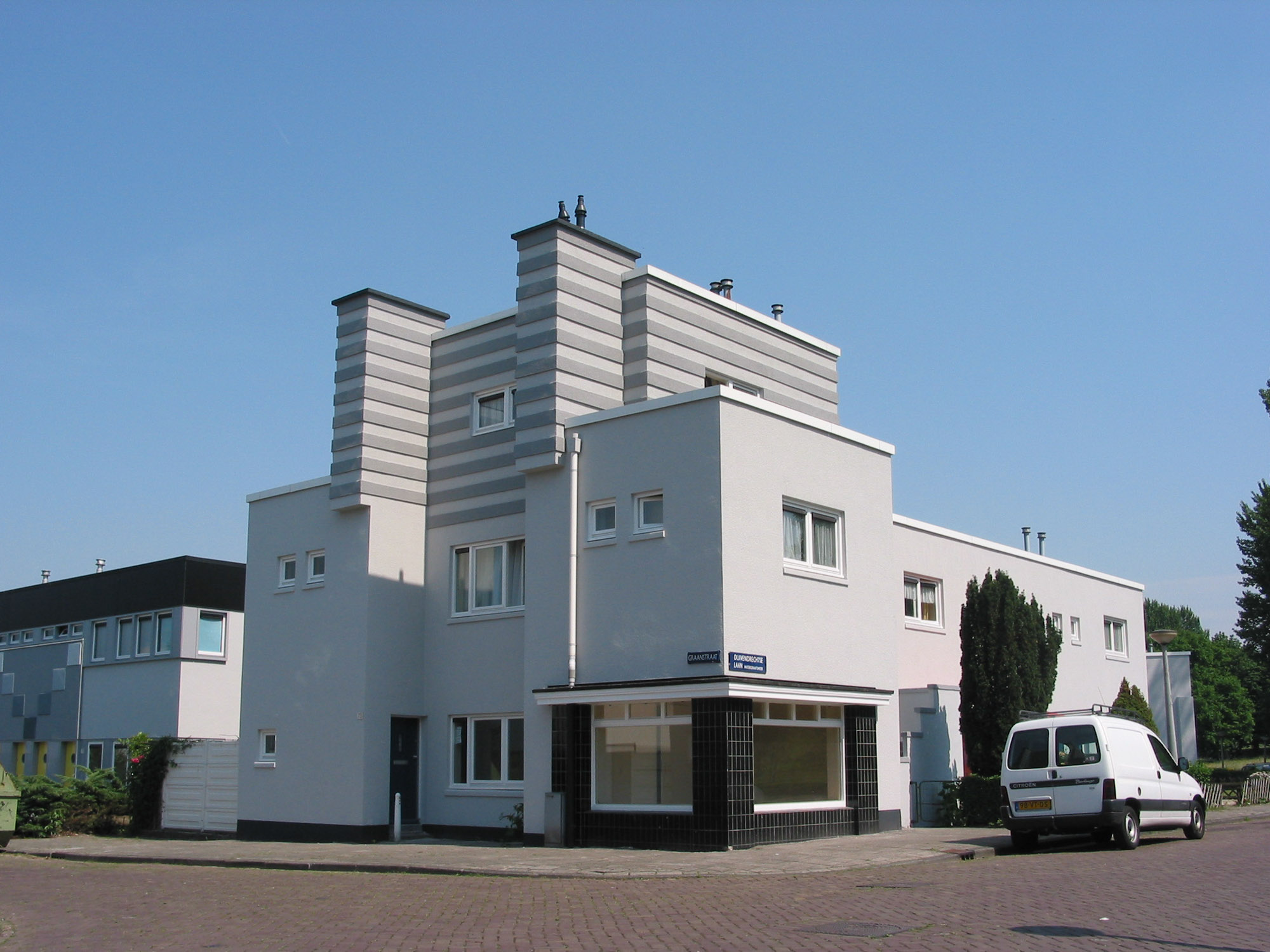 Betondorp was to be a workers' eden - bucolic enough to provide a respite from the grind of inner-city factory work, but built with sophisticated new methods and materials in order to provide homes for the greatest amount of families. The suburb's avowedly socialist foundations, and its staunchly left-leaning residents, later earned it another nickname: rode dorp, or 'red village'.
Van Loghem's socialist suburban planning was so well-received that he was later commissioned by the centre of socialism itself, the USSR, to build a 'second Betondorp' in Kemerevo, deep in the heart of Siberia. It looked, briefly, like Betondorp might be the first of an easily-replicable series of ideal workers' suburbs. But due to funding issues the project was never completed, and as the utopian dreams of the 1920s collapsed in the face of fascism, Kemerevo would prove to be the high watermark for Van Loghem's model.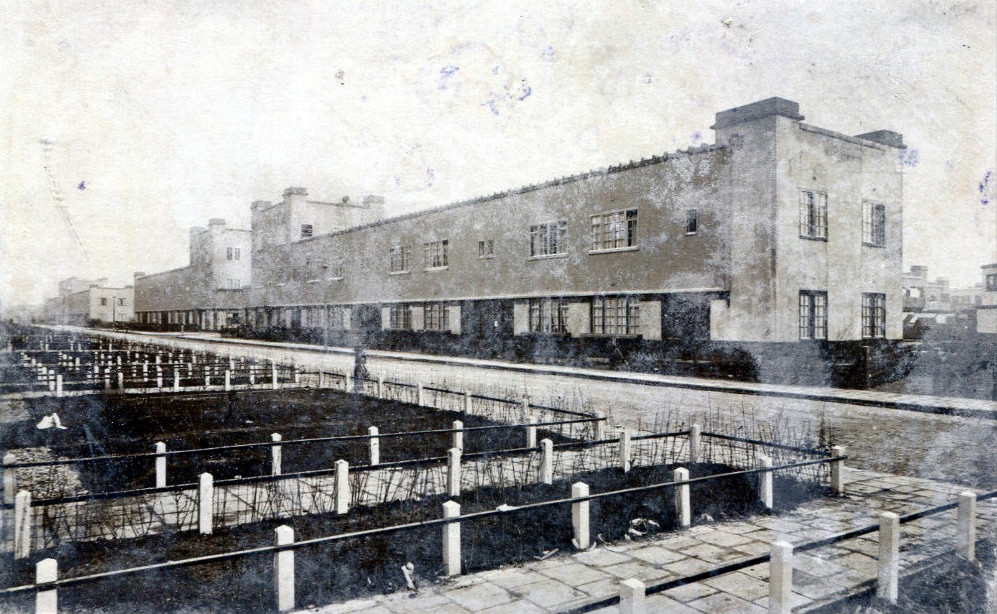 Instead, the Nazi war machine swept across Europe, and Amsterdam saw the decimation of one of the continent's oldest, largest, and most historic Jewish communities. Before the war, over half of Holland's Jews lived in Amsterdam, accounting for around 10 percent of the city's population. Over the course of the occupation, the Nazis forcibly relocated as many as they could to the ghettos, as a precursor to deportation and the death camps. By 1945, when the city was freed by Canadian troops, only 20 percent of the country's Jews had survived.
Betondorp before the war had a particularly large Jewish population, and as such, Ajax became a team indelibly connected to the city's Jewish community. Indeed, two of the club's historic nicknames, de Joden (the Jews) and de Godenzonen (the Sons of God), persist to this day, as does the use of the Star of David and the Israeli flag in the crowds on matchdays.
Dutch Jews were woven into the fabric of Betondorp: they stood in the stands of De Meer, they ran grocery stores, they sold ice-cream in the summer. 229 of Betondorp's Jews were killed in wartime; the suburb's backbone was torn out, and the trauma of the war drained the colour from the concrete.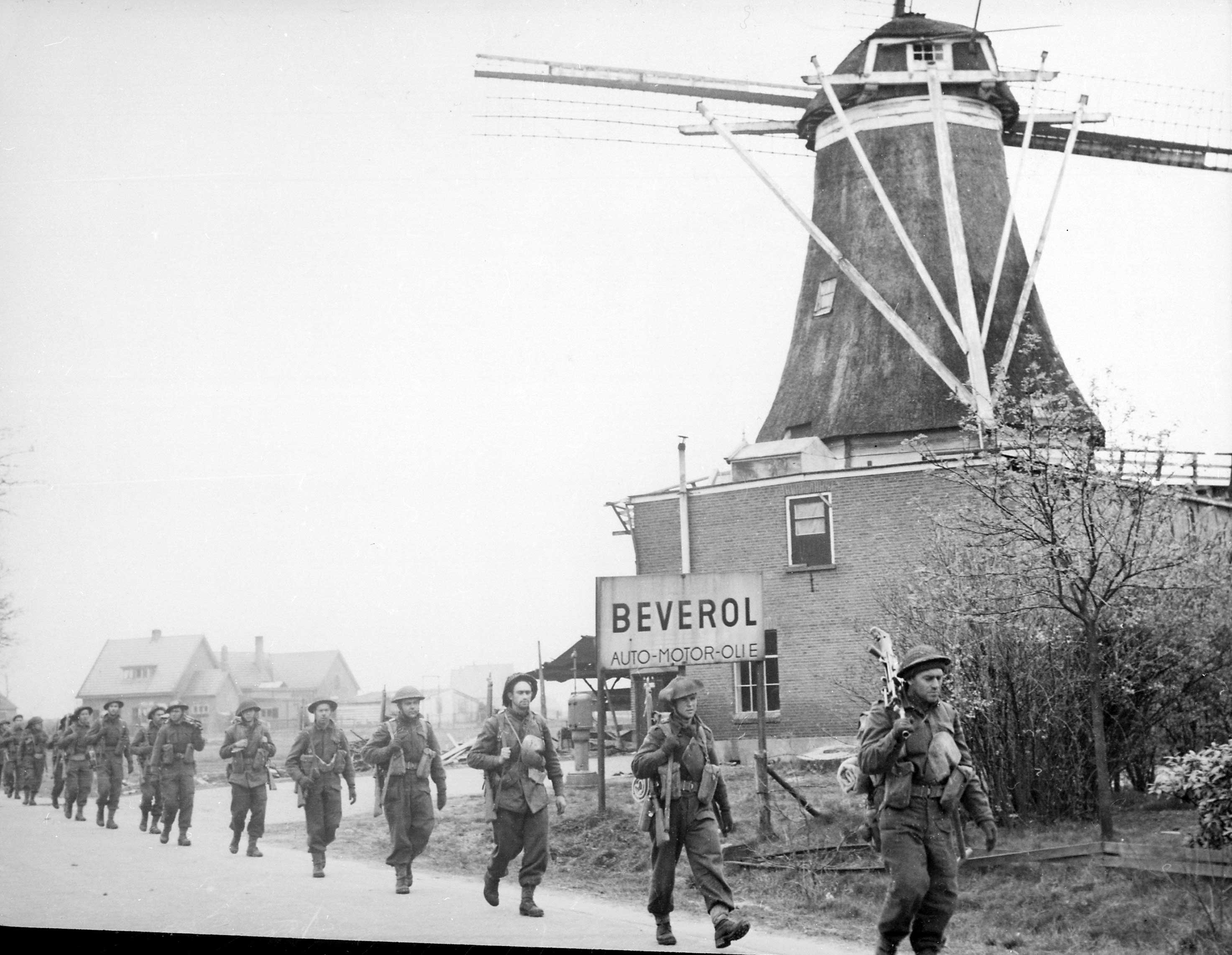 The aforementioned Gerald Reve, (Betondorp's second-favourite son) described the experience in unflinching terms: "Across the entire neighborhood, the houses, gardens, roofs, streets, squares, I have always hung an atmosphere of unfathomably deep, inescapable melancholy. 'Let every hope sail, you who grow up here'. I could summarize my feelings [...]: Fear, danger, loneliness, the houses as many caves and caves, inhabited by unpredictable demons."
This sadness is the oft-overlooked history of Amsterdam - and may go some way to explaining the hedonism of its present. This was the world that Johan Cruijff was born into, and perhaps the reason why his brilliance stood out so clearly.
---
Ajax are 2-0 up before half-time, and the air is already thick with breathy bonhomie. Everyone's sinking back coupes of 7 percent Amstel Bock like it's the most normal thing in the world. Truth be told, Feyenoord are done for after five minutes, when their talented young centre-half Jerry St. Juste leaves an impetuous foot in on the Argentine full-back Nicolas Tagliafico. Sly digs and tackles are part-and-parcel of any fixture this historic, mind - St. Juste, in his inexperience, has merely paid the price for doing so directly in front of the linesman.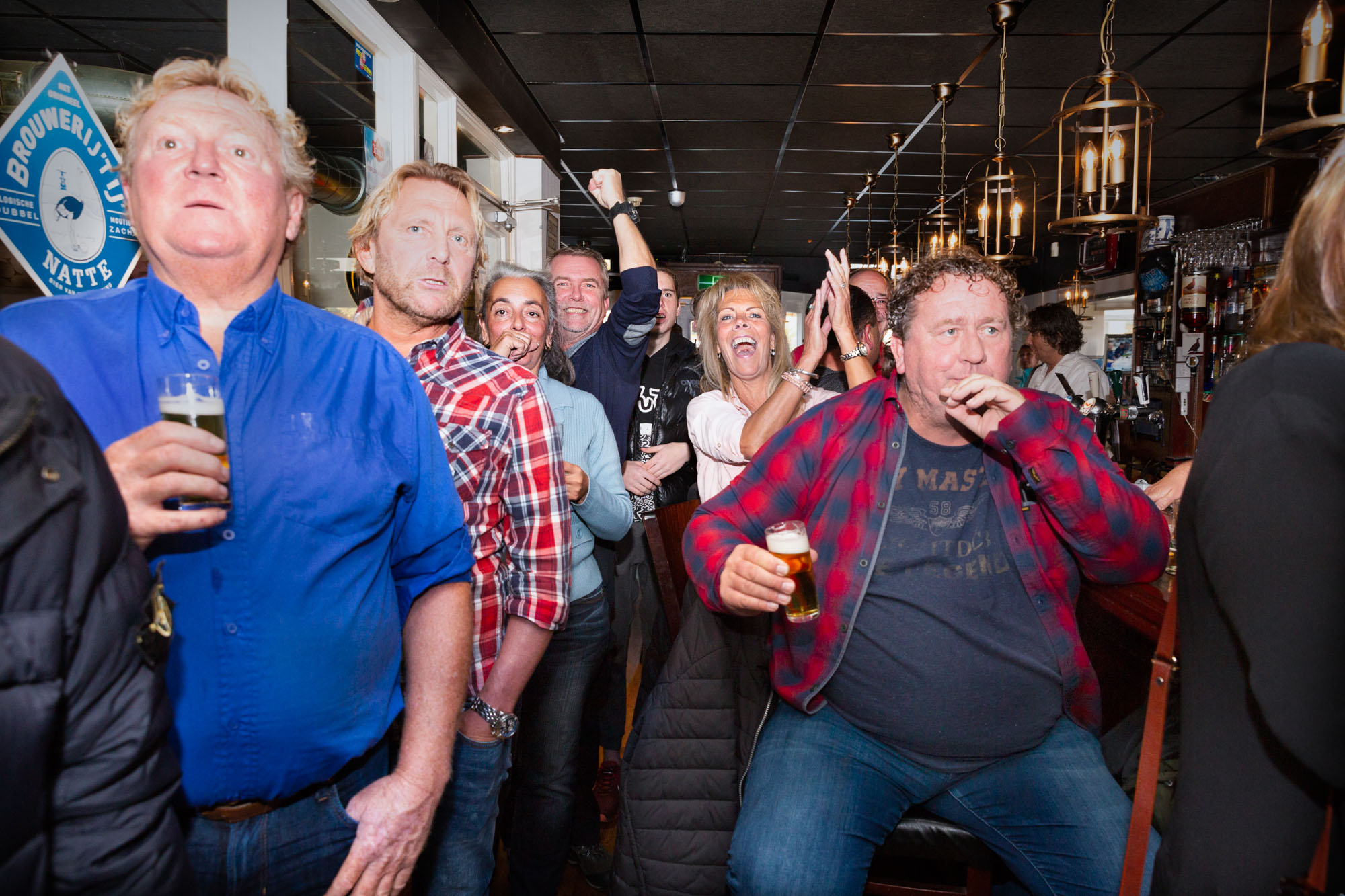 I catch some poor unsuspecting soul at the half-time whistle; a fan by the name of Edwin, who has only just paused for a moments' reflection before I start bothering him, in a way I would never have tried back home. We speak about Ajax, the game, the city, before getting onto Betondorp, and without prompt, he tells me: "I used to live next door to Johan Cruijff!"
As it turns out, Edwin grew up on Weidestraat and Cruijff, despite his colossal world-bestriding status, used to return regularly to his old stomping ground. Astoundingly, Edwin would wear one of Cruijff's match-worn Ajax tops for PE kit in school. If he got it dirty, he could always ask for another.
"Edwin would wear one of Cruijff's match-worn Ajax tops for PE kit in school. If he got it dirty, he could always ask for another"
He goes on to tell me how, in the days before ticket-scanners and solid trespassing laws, he would climb over the barriers of De Meer every weekend, watching Johan from next door leading the world's best football team, running riot against any opposition that dared to visit them. "If you played Johan, you would lose - every time", he says.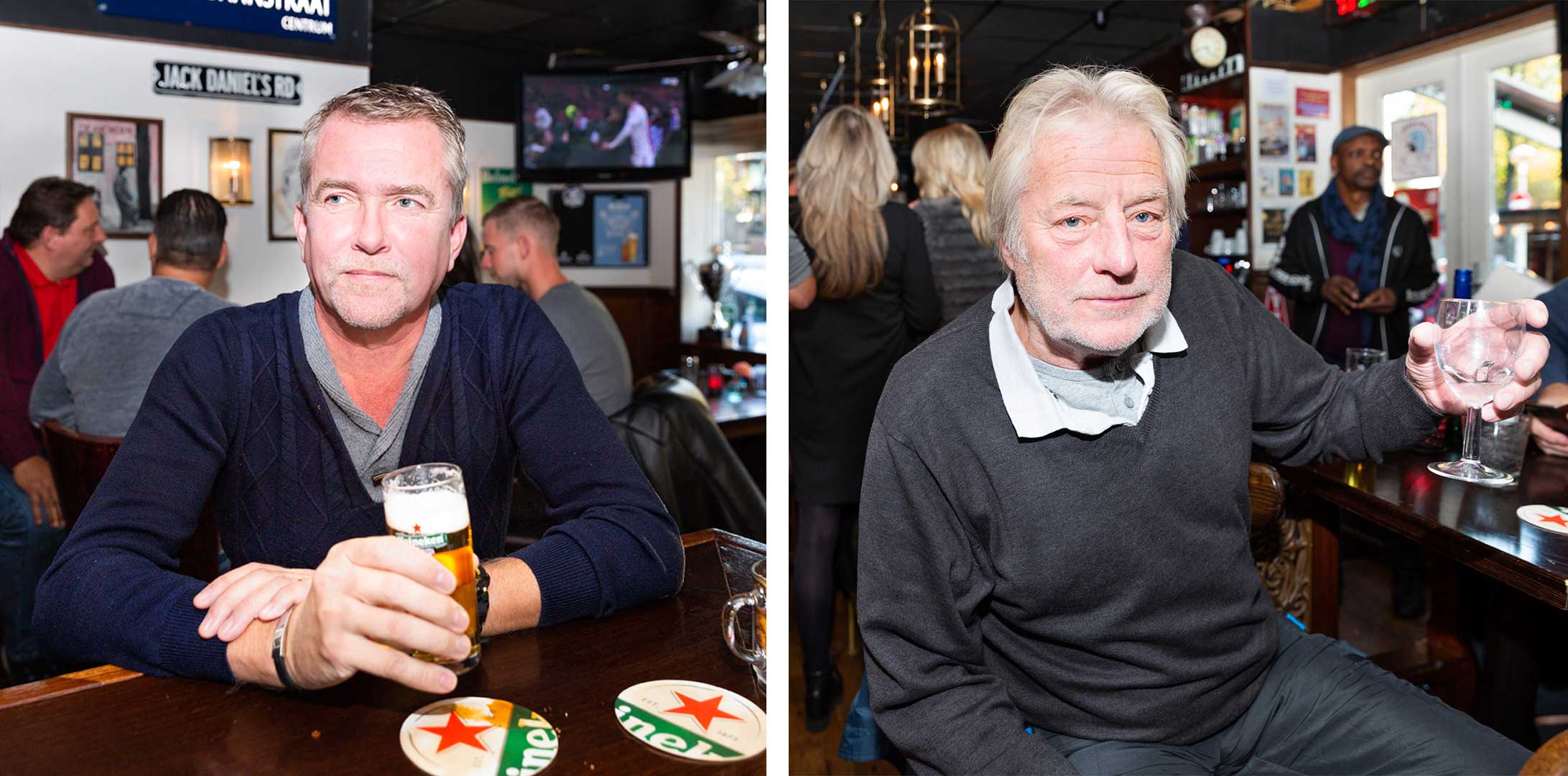 That seems to be the consensus in Betondorp; I haven't asked the rest of the city, but I doubt I'd find many dissenters. I ask him what he thinks about the newly-named Johan-Cruijff-ArenA, where the day's game was being played. To my surprise, he tells me that he doesn't go. "It isn't Ajax's home. Betondorp is."
In the neat and ordered streets around De Avonden, Betendorp's masterplan is immediately apparent. Brinkstraat - which ironically enough for any of you would-be hoolies translates as 'Green Street' - bisects the suburb, bringing you straight into the centre of town. Everything around you is relentlessly linear, and angular, and sharp. There are no rounded forms of any description, save for a green-and-black Art Deco clock tower jutting into the sky; the exception that proves the rule.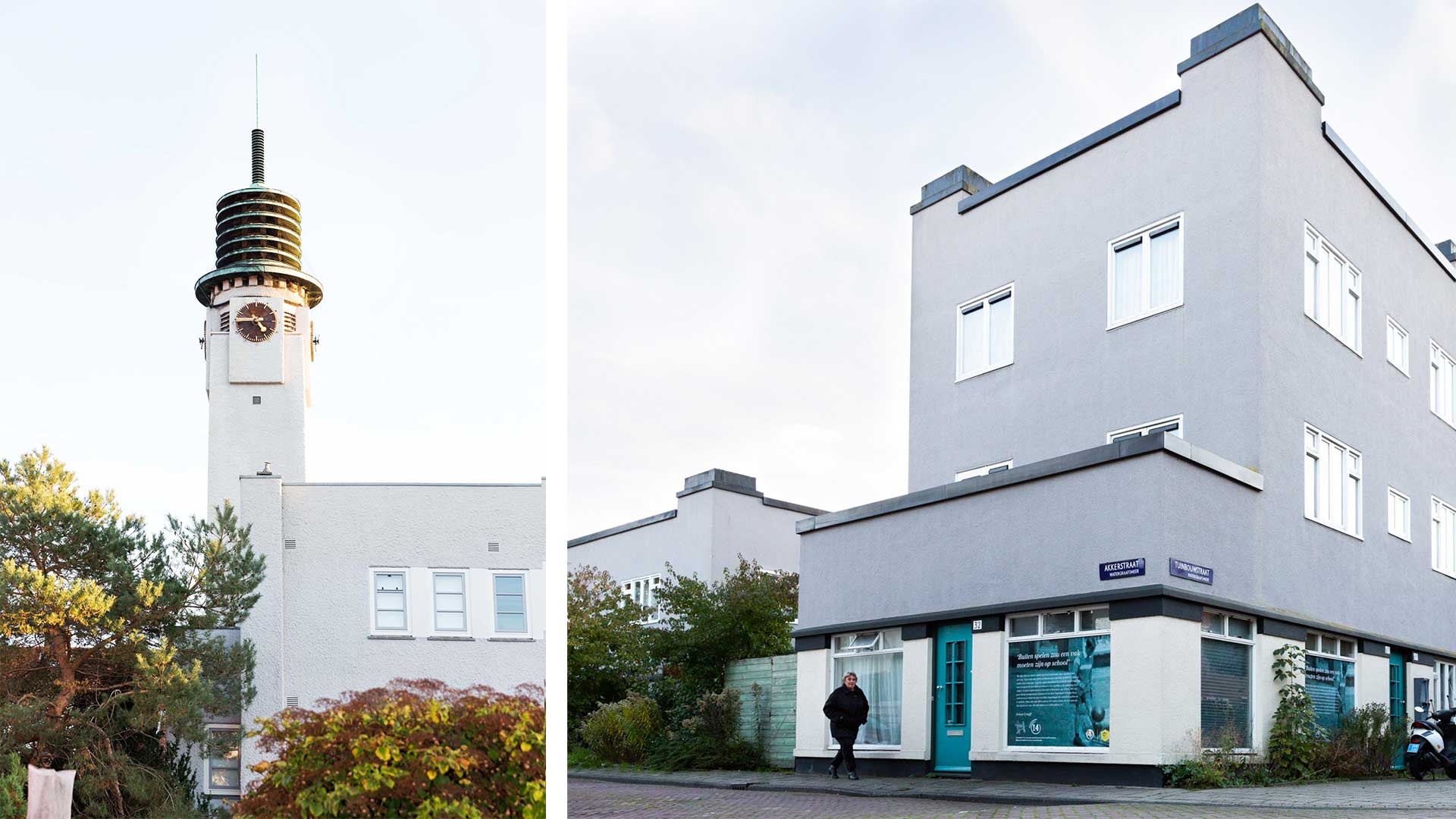 Yet one flat stands out from the rows and rows and rows and rows and rows and rows of identikit maisonettes. You'd notice Akkerstraat 32 because of the like-minded rubberneckers, red-and-white scarves, and the occasional sagging bouquet of flowers. But if you're not one for 'subtle' visual clues, the two full-sized Cruijff stickers covering each window should give it away.
This is the hallowed temple - the place where it all began, bestowed with the kind of spiritual reverence usually allocated to beatified saints. These were the paths, the curbs, the roads where Johan and his brother would pass, move, tackle, dribble, skid, scrape, and shout at one another. But these streets aren't Cruijff property - nor is the flat; it's someone else's, now. It has long since moved on, just as Johan intended.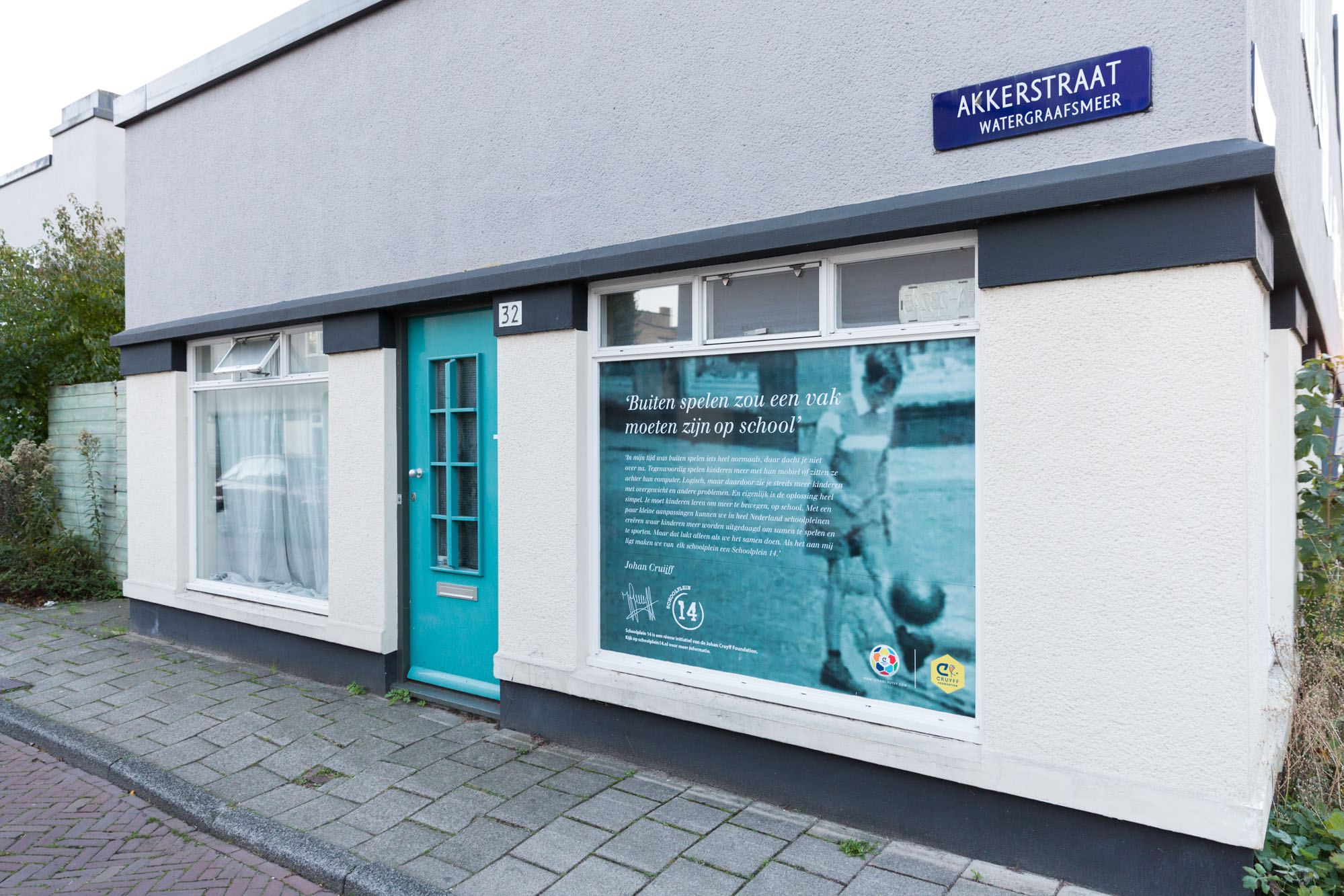 Upon his death in March 2016, it emerged that Cruijff had not only personally intervened in blocking efforts to turn his childhood home into a museum, but had explicitly prohibited it becoming so after his passing. Furthermore, he requested that the flat be returned to the local council, and be made available only to low-income families. As such, this tiny ground-floor flat is occupied, and a chapter of someone else's life is playing out on the paths, the curbs, and the roads surrounding it.
---
Meanwhile, in De Avonden, Ajax have just scored a third - a thumping free header from the mercurial Serb, Dušan Tadić - and De Klassieker is over and done with. The pub disperses gradually: some fans head home for dinner, warm with triumph and pilsner; some stay for a valedictory coupe, suitably thrilled with the potential of this young, quick, smart Ajax side. The sun, already smothered by the weighty autumnal clouds, sets over a satisfied Betondorp. Walking around the suburb for one last lap, I chance upon the Cruijff Court, and about a dozen kids in the middle of a kickabout.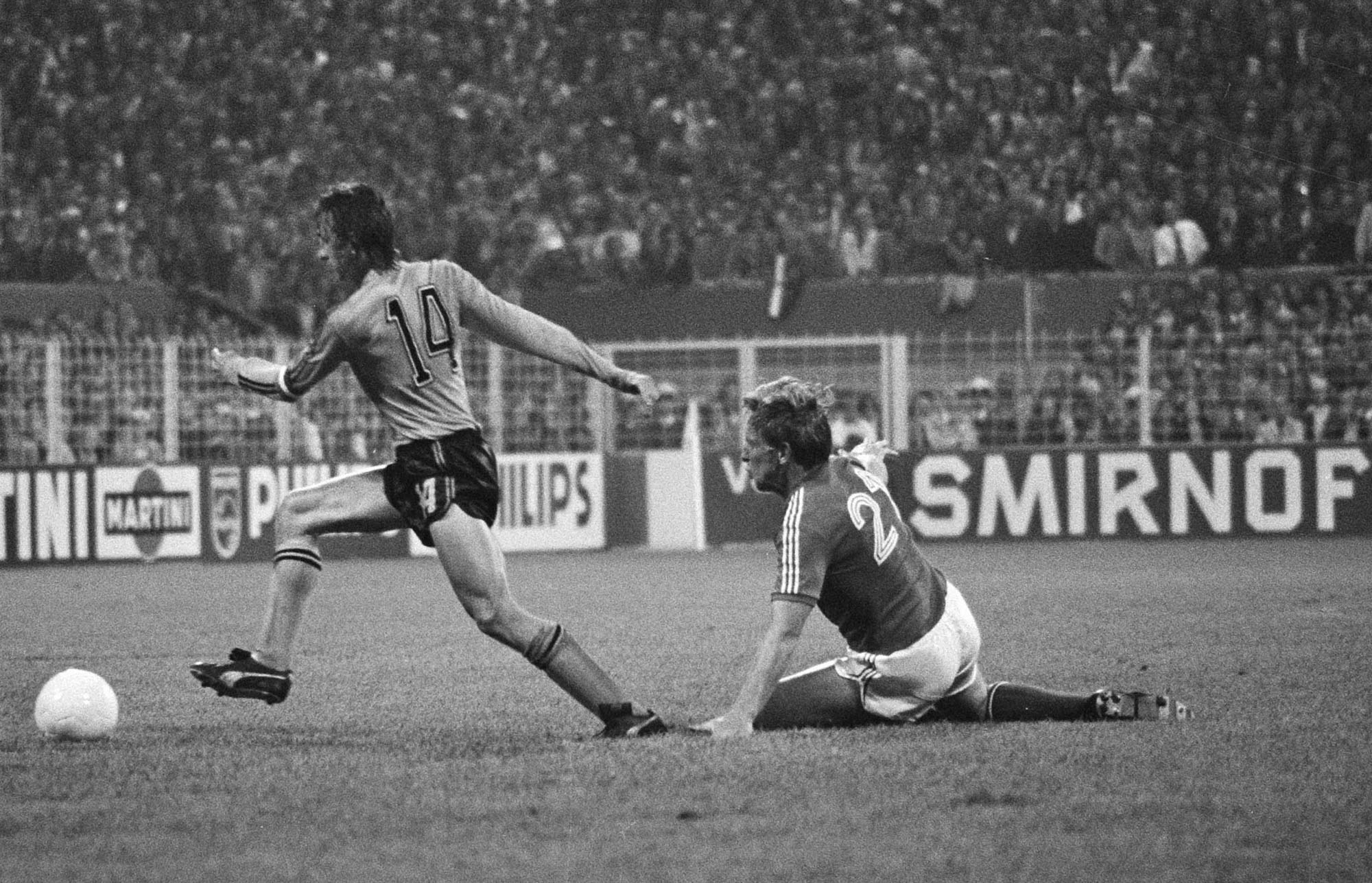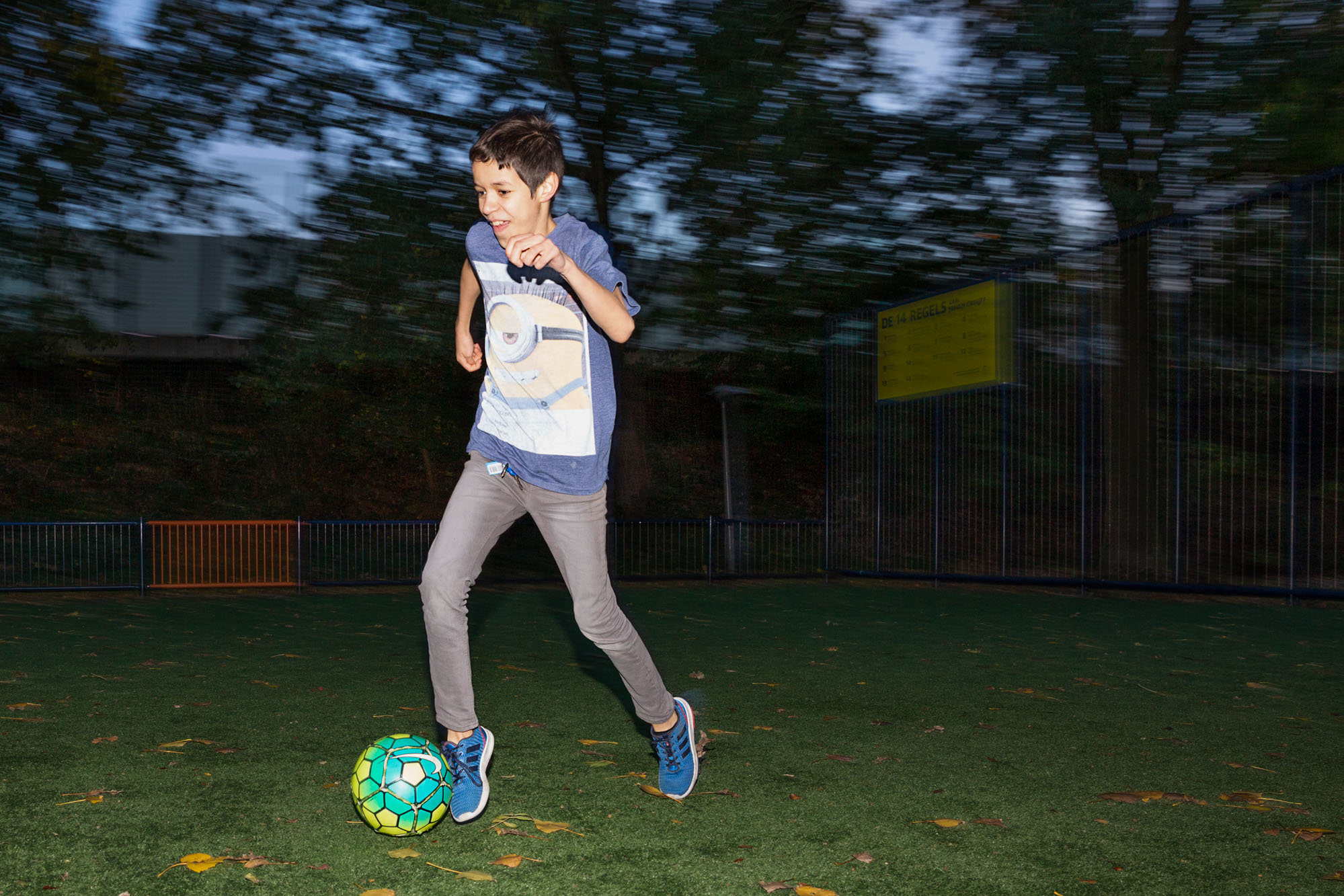 Soufyan, who co-ordinates this youth group, watches on from the sidelines, occasionally attempting to give some cohesion to this very free-form game. In classic schoolyard style the kids move in an eternal swarm: whoever has the ball is driving forward, and whoever doesn't is charging at the player who does.
Against the gate, looming over the play, is a board displaying the "Fourteen Rules of Johan Cruijff". These encourage, amongst other things, teamwork, creativity, development, technique, and social interaction. "The kids want to be more like Neymar nowadays", Soufyan tells me, but the influence of Johan is as unmistakable as it is unavoidable.
It was playing out in the parks of Betondorp - expressing himself with the ball at his feet, enjoying himself - where Cruijff first caught the eye of the Ajax scouts. Today's young Betondorpers are doing the same, playing the game with a smile on their face as they try their luck with keepy-ups, rainbow flicks, rabonas, and (inevitably), Cruijff turns.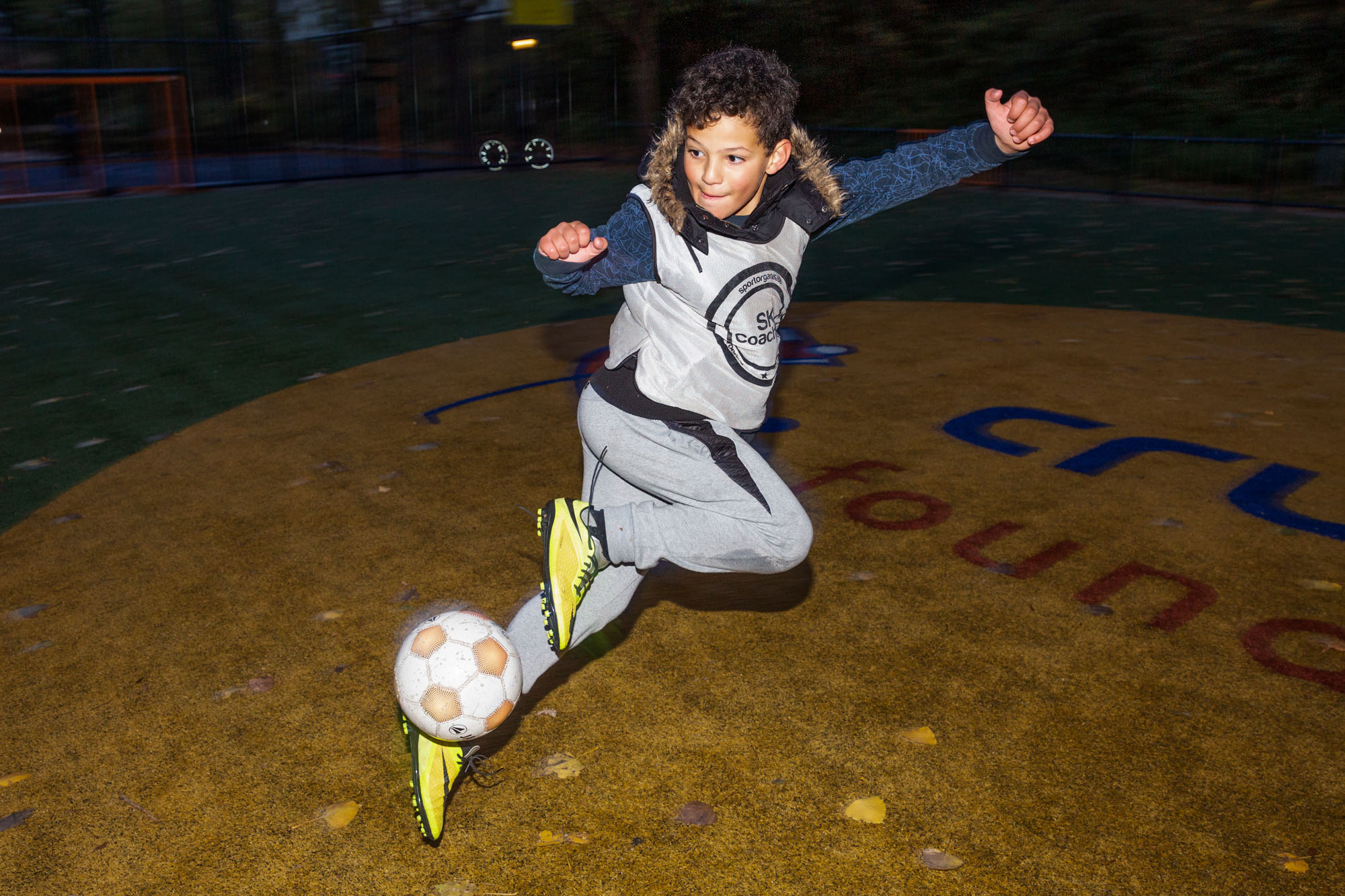 ---
When Cruijff died, the whole of Amsterdam came to Betondorp. Thousands of fans filled the streets and roads, bringing the east of the city to a total standstill on their slow march into Cruijff country. The atmosphere, far from being sombre or mournful, was more akin to a title procession: red smoke filled the sky, displacing the clouds; whistles and whoops and chants rang out joyously from a sea of outstretched arms.
The memory of what Cruijff brought to Amsterdam, lifting the city from its post-war immiseration and making it the home of progressive, urbane, invigorating football, was brought into sharp focus with Johan's death, and has grown stronger than ever in the years following. There have been no limits to the re-namings, and murals, and plaques, as Amsterdam tries to remind you why you're here, and who put the city on the map again.
But Amsterdam does not belong to Cruijff; nor does Betondorp, or the Johan-Cruijff-ArenA, or his childhood home, or De Avonden, or the park, or the streets, or the curbs, or the alleyways. Cruijff belongs to them - he is one part of their story: a high watermark, waiting to be superseded by the next son or daughter of Betondorp. This won't be Cruijff country forever, but that is exactly what he would've wanted.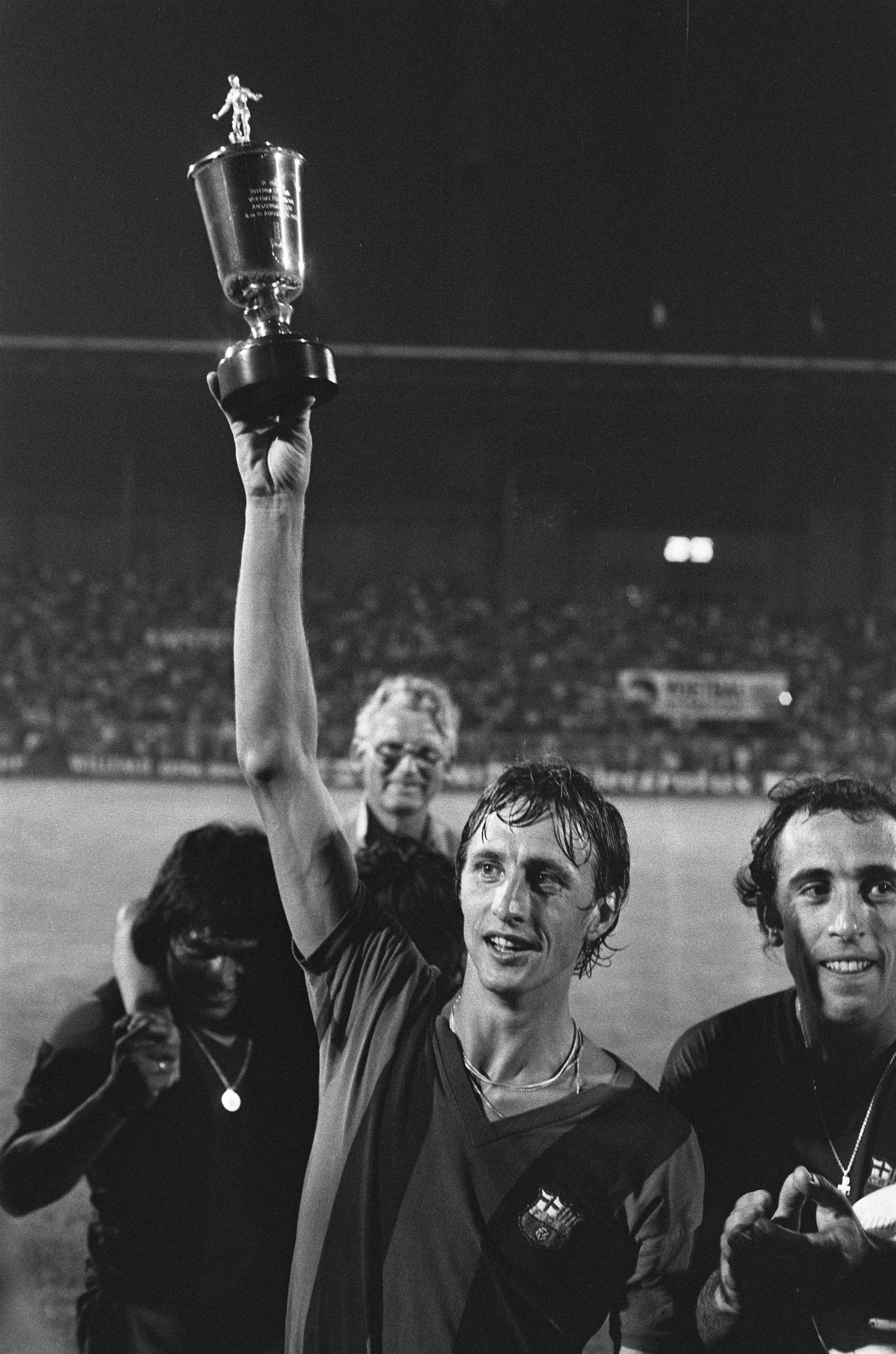 Kieran Morris is Amuse's Junior Editor, you can keep up with him on Twitter. He stayed as a guest of Soho House Amsterdam