Troubled Waters | The Women Fighting Sexism in the Fly Fishing Industry
Reclaiming the rivers in the name of equality
Photo: Chris Sayer
By her own admission, Rachel Therkildsen wasn't ready to deal with the first wild bear she came face-to-face with.
"My sister and I were in Montana's Glacier National Park, fishing for cutthroat trout at Hidden Lake," she tells me. "There was a small outlet that went down into a waterfall, and once you hiked down into it, you could see these spectacular cutthroats swimming over beautiful gravel. I started casting my dry fly but kept missing them, so I tied on a second fly and immediately began to catch. That's when I heard people screaming, 'Bear! Bear!' I look up, and there's a huge grizzly, just 15 yards in front of me, right across the stream. I froze."
"What's surprised me the most about being a female fishing guide, is that they're always staring. You're always being looked at"
"To make matters worse, it was a mother bear with her cub," Rachel says. "She began stomping at the water. I dropped my rod and backed up slowly." By the time the bear crossed the stream, Rachel and her sister had managed to move out of their way. But it was a close call. "It was so scary".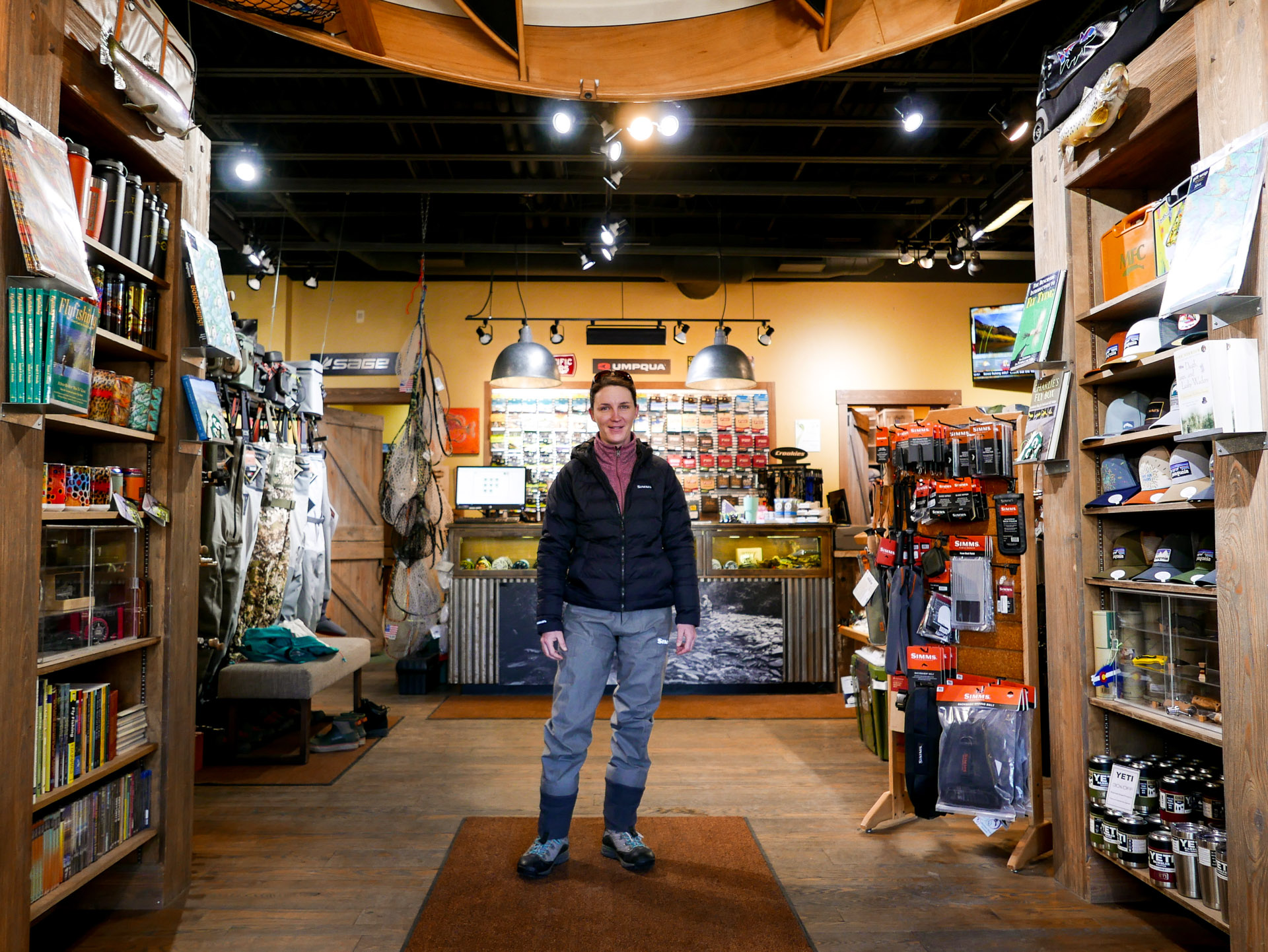 Today, she feels more prepared. Like most fishing guides working the waters of America's mountain states, Rachel, who's driving us both to one of her favourite trout spots on the currently ice-lined Colorado River, brings to the riverbank the necessary precautions to deter or deal with the predatory threats she's likely to encounter in her wild outdoor workplace. The unnerving thing, however, is that as a woman, these threats don't just come from the local wildlife.
"It's not uncommon to hear of people carrying pistols. I carry a knife and pepper spray for emergency situations, but also for self-defence, in case there's anyone on the river who gets a little too close. Or if they begin threatening me. I've never had it happen, but I've heard enough stories."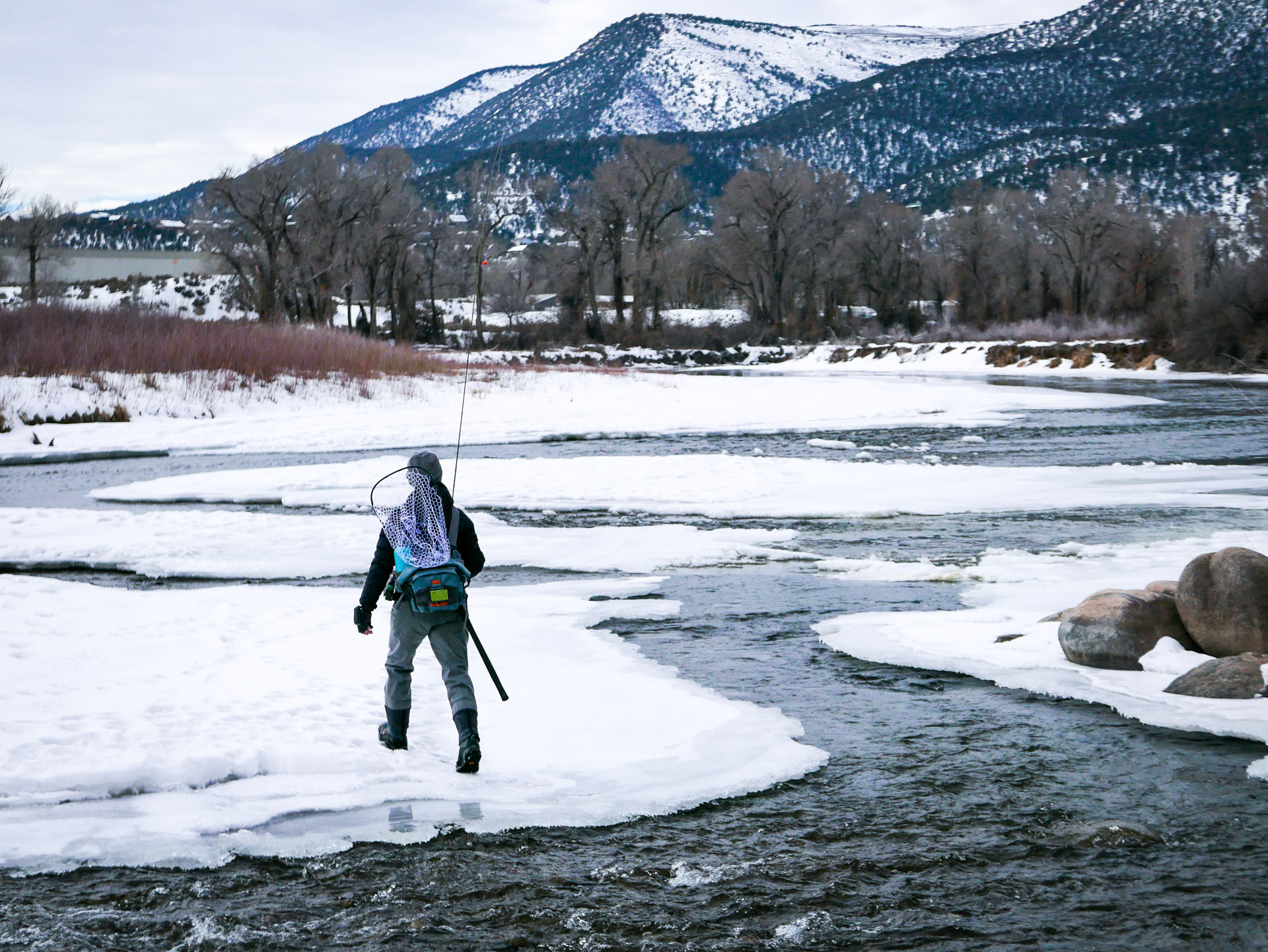 ---
Rachel, 26, never intended to become a guide. Picking up a hand-me-down rod for the first time in 2015 as "just something to do", she made guiding her profession two years ago, after seeing first-hand how few women there were in the industry. She's since been based at Zach's Mercantile at Devil's Thumb Ranch, just outside of Winter Park.
"I'd go to fly shops and attend events, and I would be one of maybe three women in a crowd of men," she says. "It was uncomfortable at first, sure, but it was cool to feel like I was stepping out of my comfort zone. And to feel like I was pushing the men out of theirs, too."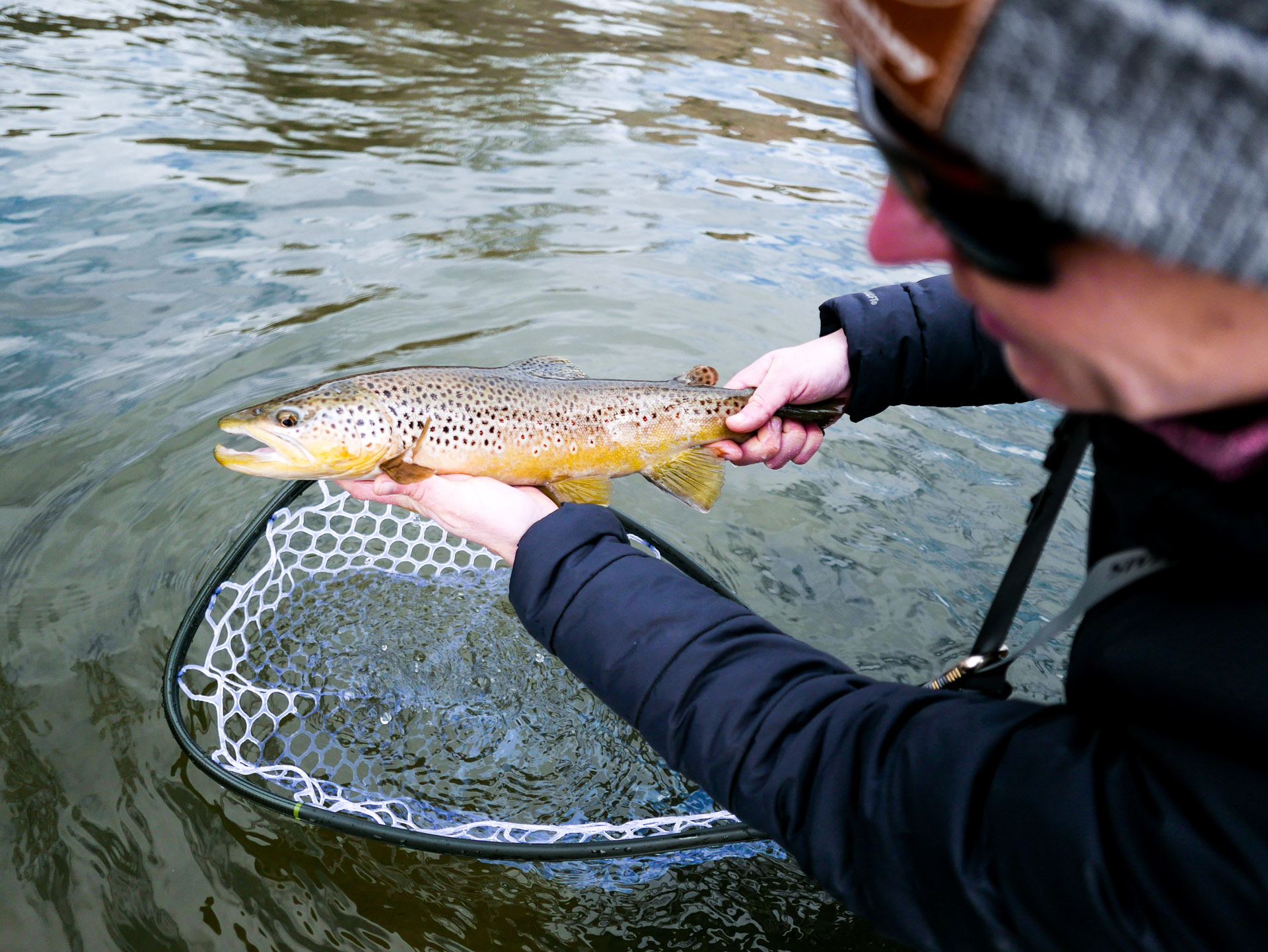 We're parked off Highway 40 just outside of Parshall. It's a blink-and-you'll-miss-it Rocky Mountain town of 68 people, a handful of humble houses tucked under blankets of January snow, one bar, and the right to proudly brag of being home the largest pike ever caught in Colorado. These cannibalistic ambushers are off the hit-list for us today though – specimen brown trout and the highly elusive Parshall rainbows are what our tiny nymph flies are targeting. Or, they would be, had we not discovered two Stetson-wearing river cowboys hooked into fish right where we've trekked through snow and undergrowth to reach.
"That was genuinely the best interaction I've ever had with men on the river," Rachel tells me, after seeking their permission to fish just a little further downstream. "They said they've been here a while and are soon to move on, so we can stay. That's awesome of them."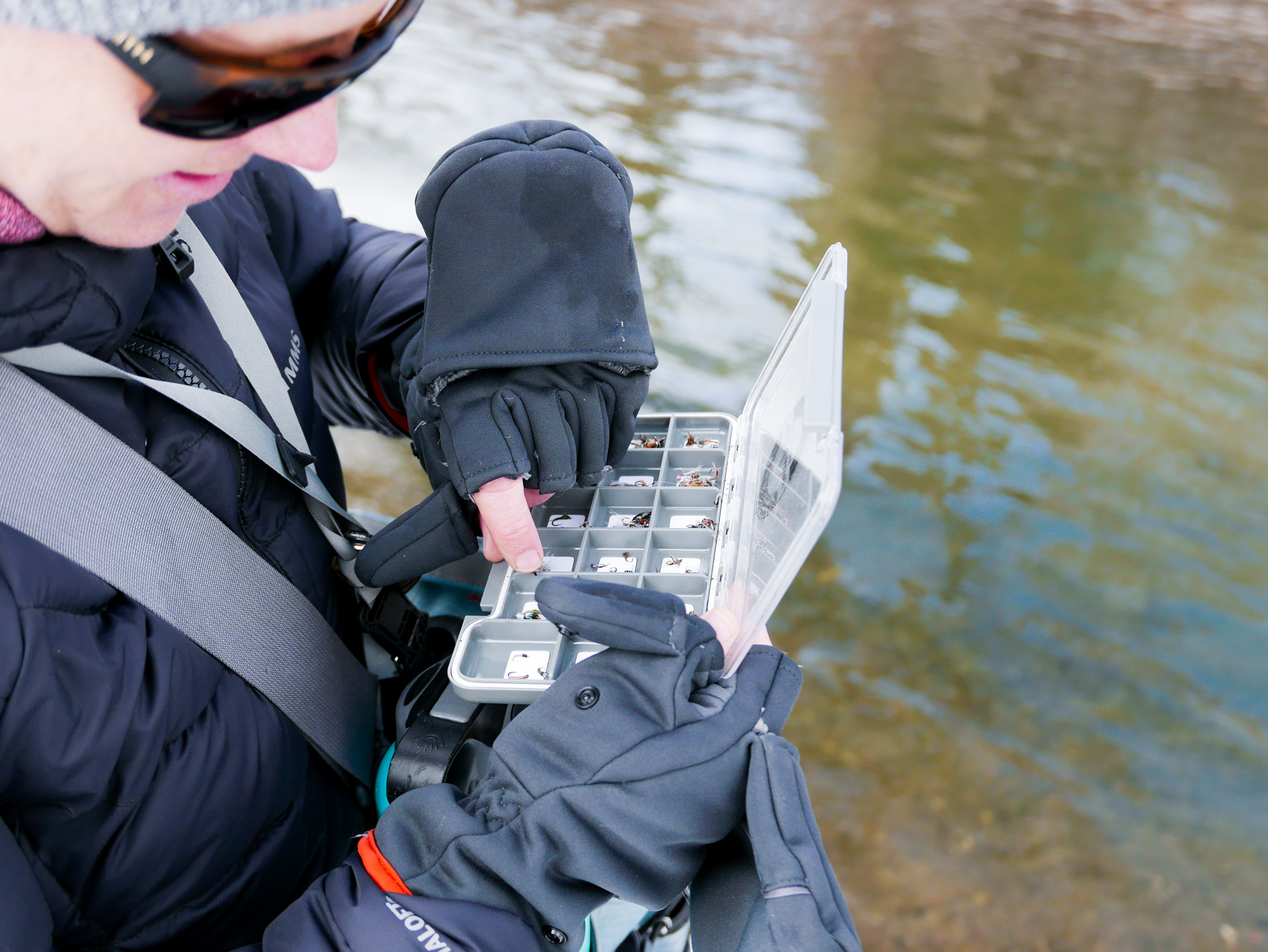 As cool as these guys are, it does beg the question - what's the worst it's got for her?
"I've heard stories from other female guides that've taken men out, and they've been a little too pushy or made bad comments. And another guide who'd experienced a man get uncomfortably close to her whilst she was fishing alone," she says, fixing a chubby black bug imitation to my line.

"What's surprised me the most about being a female fishing guide, is that they're always staring. You're always being looked at – it feels like you're having your cast judged and your drifts critiqued. And I do get occasions where men will encroach on my spot and try to force me out of a good fishing hole. If I were male, they'd expect me to talk back and put up a fight. But because I'm female, they feel they can push me out."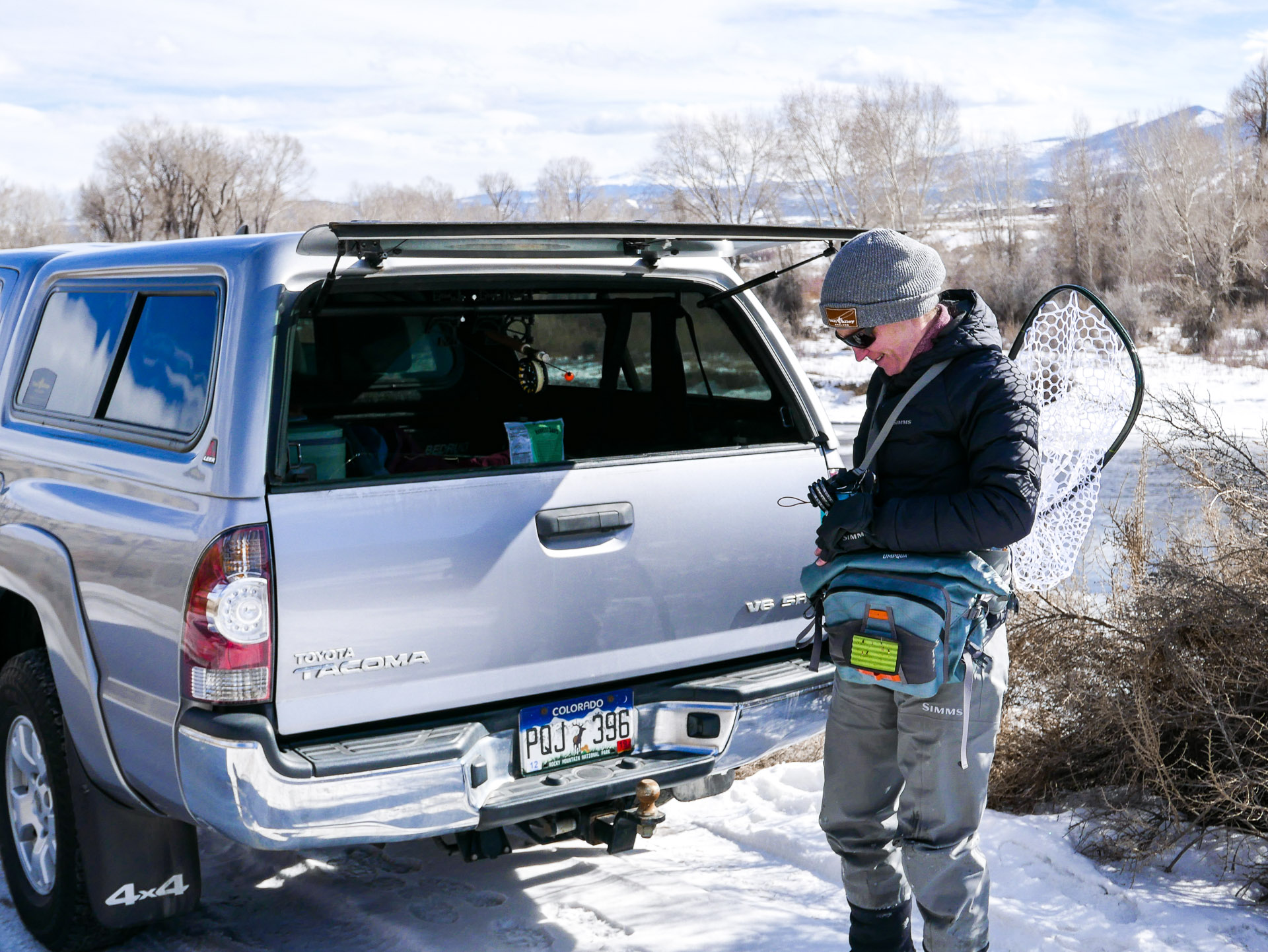 ---
It doesn't take long for a tug. With the line's small white indicator disappearing into the flow of the water and an impulsive strike of the rod, I'm attached to a fish that, once it leaps from the water in protest, Rachel excitedly declares as one of the rare Parshall rainbows we'd need either a lot of luck or a vast amount of patience to come to blows with in these frozen conditions.
Loudly sucking in the icy air to push down the adrenaline that's rising from my stomach, and aware that any movement of my submerged feet would result in me having to fight it whilst floating down river, it takes all my might to centre back and let this fish boss the situation. When it runs, I feed it line. When it tires, the slack is spooled back in my favour. Finally, it arrives in Rachel's net, to a thumbs up and "nice work!" from the cowboys on the opposite bank – who I now feel indebted to - and a high-five from my beaming guide.
"I've been fishing alone with nobody else around, and all of a sudden this guy's walked right up to me and got uncomfortably close. You can't just zone out. You have to stay self-aware"
These guys have been more than welcoming. But as we're walking back to the car I ask Rachel more about the men she's encountered who weren't, and where she thinks that behaviour stems from.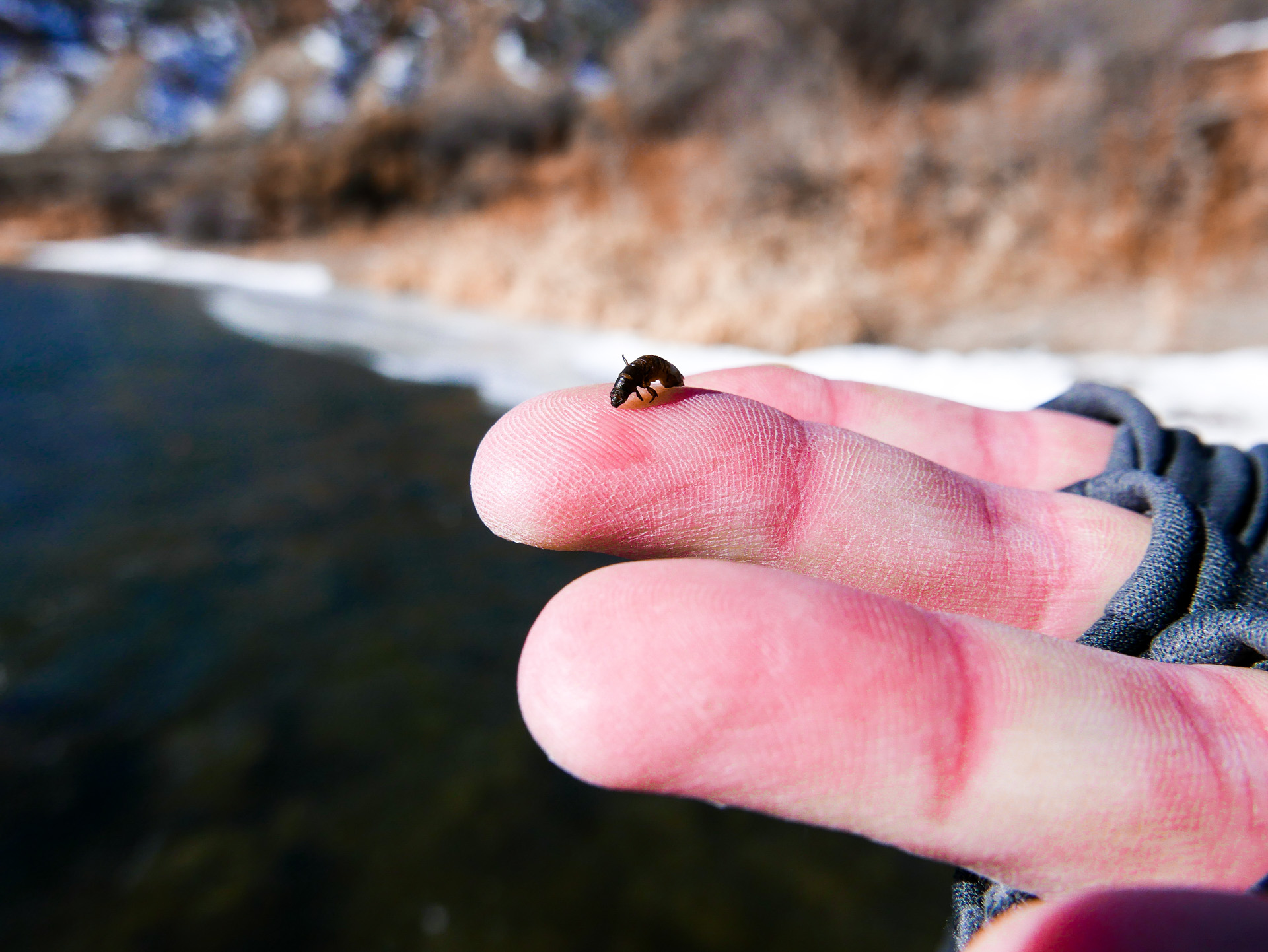 "Fly fishing never used to be an affordable pastime," she explains. "The reason it's so strongly associated with white and well-off males is because they were the only ones that could afford to do it. That exclusivity, I think it produced a private-club mentality where these older guys felt like it was their sport, their water. You'd hear them talk about how young kids fishing in their flat-brimmed hats shouldn't be out there, and that they were ruining the river, when in fact it was quite the opposite - some of these younger people were more in tune with conservation and helping the environment. But that mentality, I'm seeing it change. Fishing is no longer the old boys' club it once was."
New statistics reflect Rachel's sentiment. Industry leaders agree that women, right now, are not only the fastest, but the only, demographic in fly fishing that's growing. Women now make up 31% of the 6.5 million Americans taking rods to the river, and the growth is far from slow - in 2016, a study by the Recreational Boating & Fishing Foundation recorded an increase of 142,000 female participants year-on-year. But although the seismic boom of women's fly fishing is changing the landscape of the sport, it's yet to raze the deep-rooted stigma that still makes the riverbank a threatening place for them to be, alone.
---
"I'm still not seeing many female anglers out here by themselves," says Emily Dmohowski, a guide with Vail Valley Anglers who I join a couple of days later to target the big brown trout of Lower Eagle River. She estimates there to be 250 professional guides in Vail Valley, of which, just five are female.
"They're always with someone else, because when you're fishing by yourself as a female angler, you're constantly spinning your head, thinking, 'Okay, who's sneaking up behind me?' And I've experienced it - I've been fishing alone with nobody else around, and all of a sudden this guy's walked right up to me and got uncomfortably close. You're immediately considering how many pounds more he has on you, and that if something happens, what your exit strategy needs to be. You can't just zone out. You have to stay self-aware."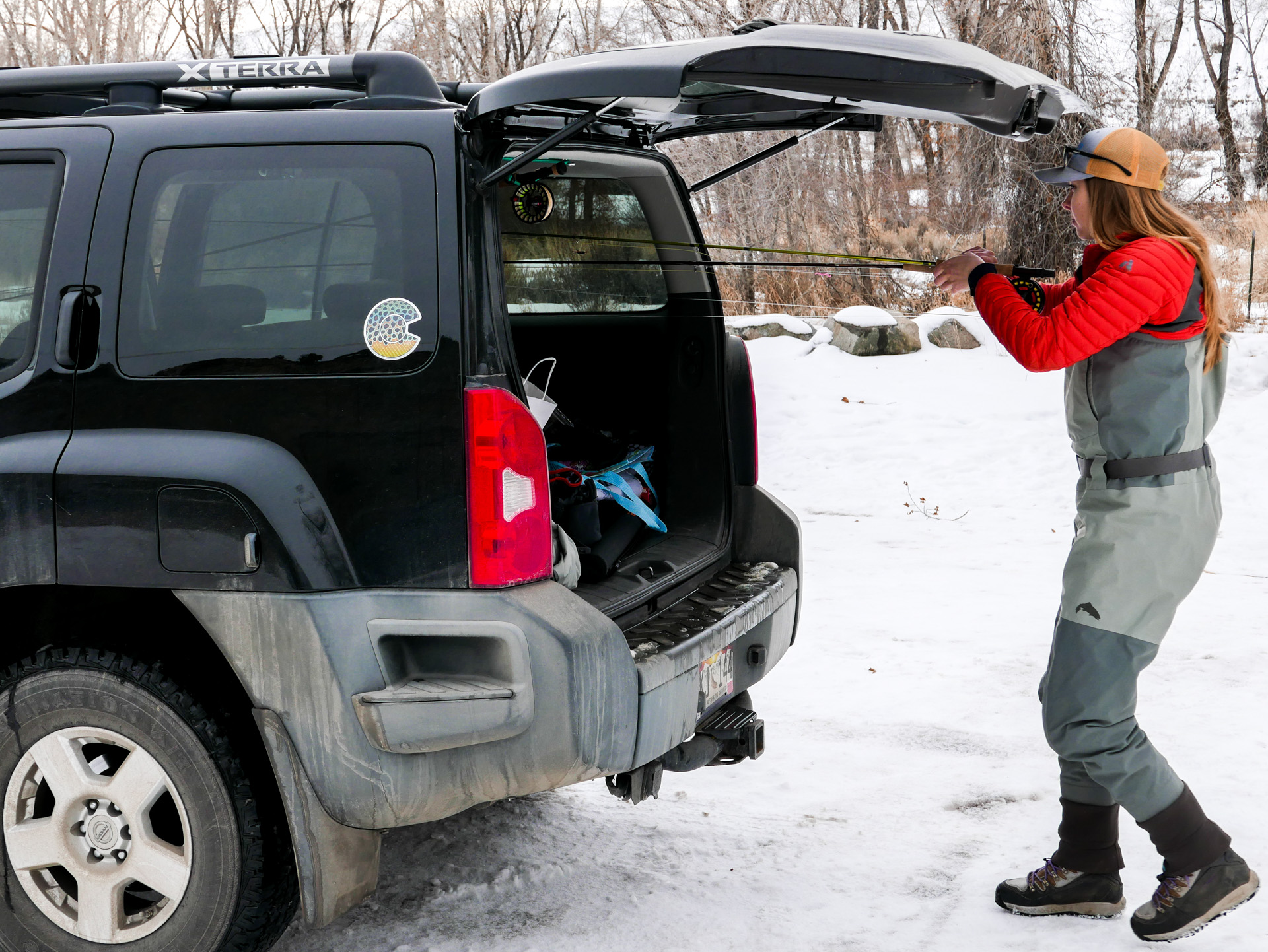 Emily tells me she's been "fishing for 29 of her 30 years", having grown up in the suburbs of Denver and spent her childhood summers in the Rockies. Her family would stay in a cabin built by her grandfather and use the 'Colorado spinner' lures that he'd hand-make to catch small brook trout.
"I came from a family of girls," she adds. "If you didn't fish, you were kind of the black sheep. You go out, you fish until you couldn't carry any more, and if you came home with dirty hands, then you just wash them before dinner. For me, fishing's never been a man's sport."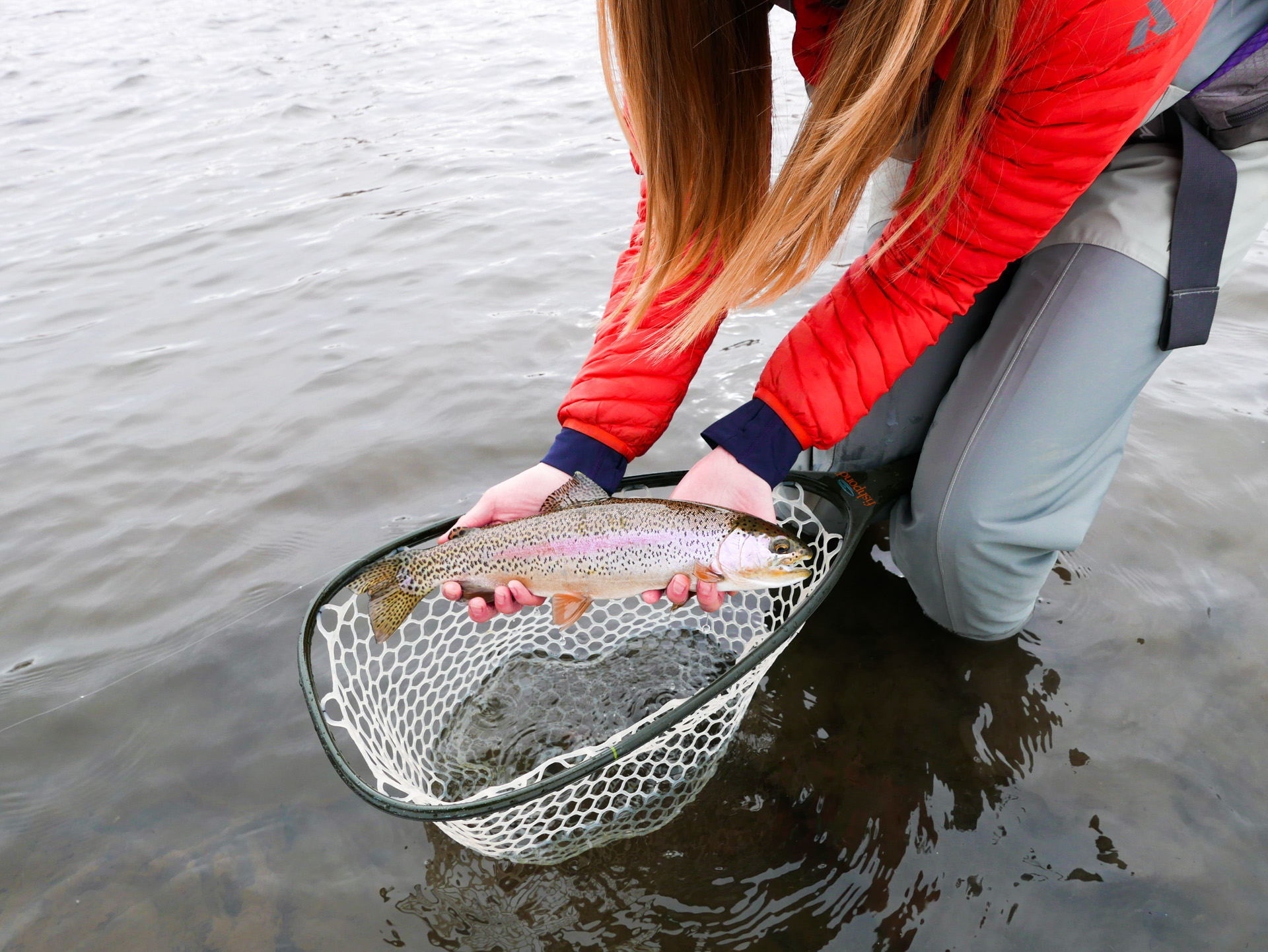 Emily's three decades of hands-on experience is the reason why, despite the fresh 11-degree air temperature, the large ice flows routinely knocking my line, and the eyes of my rod regularly clogging with frost, we've managed to find, fight, and land two sizable Colorado brown trout - big enough to proudly boast about in the bar later that night. Almost thirty years of knowledge is still not enough, however, to break through the prejudiced preconceptions many men still have about women in waders.
"When I'm working in the fly shop, I'll introduce myself to customers and offer my help. On occasion, they sidestep me and wait for help from one of the guys. That'll always grate on me. But it doesn't happen frequently enough for me to start hating the industry – in fact, it makes me giggle when my male colleague then comes to me for help with a question he doesn't know the answer to. It's just that one in one hundred that makes you think, 'Oh, I guess that still does happen.'"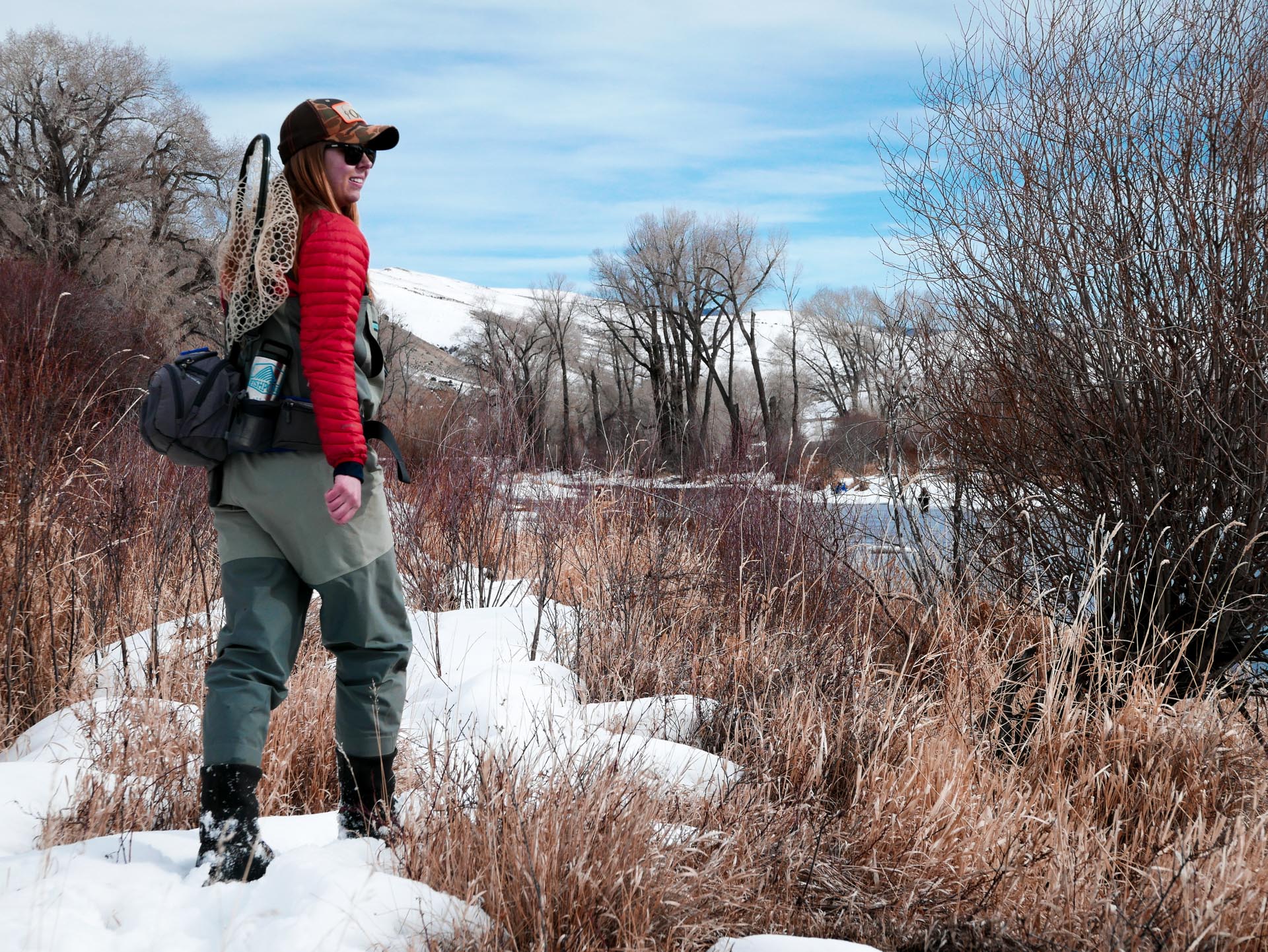 Disappointingly, a new report finds that Emily's "one in one hundred" is an optimistic estimate. Whilst I was in Colorado, Camber Outdoors – a national non-profit organization dedicated to achieving equality in the active-outdoors industries – published what they believe to be the most comprehensive study on gender representation in the outdoor industry to date. And the findings weren't pretty.
According to the report, 36 percent of women asked and working in the outdoor industry said they'd been directly or indirectly affected by discriminatory or biased behaviour based on their gender.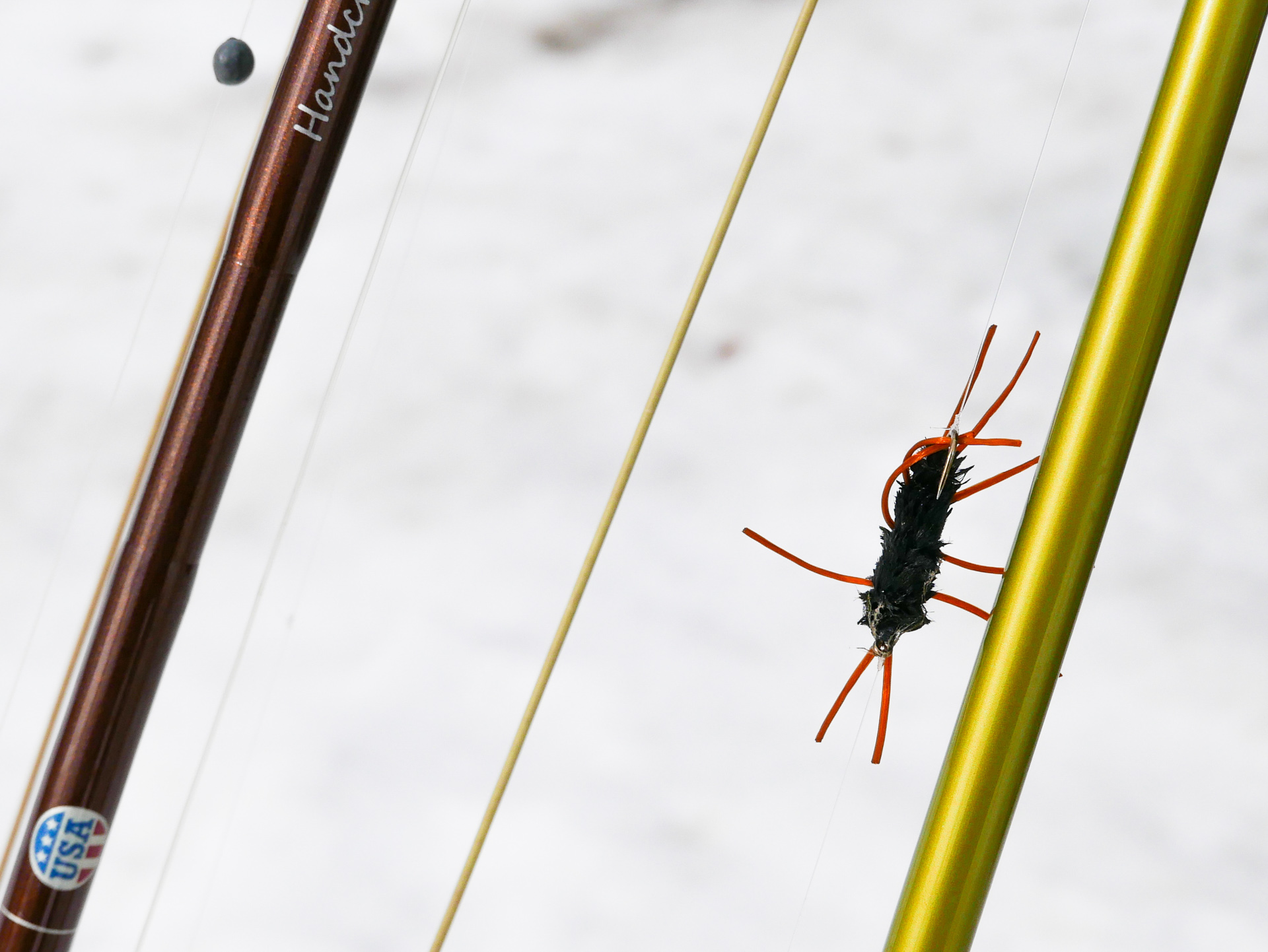 "I feel like there are two groups of guys," said Rachel, when I raised the report with her on our way to the Colorado River, and revealed that these same issues are apparent not just on the river or the fly shop, but amplified across social media, too. "There are the ones who don't see a difference between male and female fishers, are super-supportive, and help when they can help."
"And then there's the kind of guy who goes out of his way to beat down on women who dress up and do their hair to go out on the river. You see it in comments. Stuff like, 'Your boyfriend caught that fish' or 'You're not good enough to be out here'. I've seen a lot of those. But there's never been a worse time to be 'that guy' - for every one terrible comment, there are a hundred telling that person they're a piece of shit."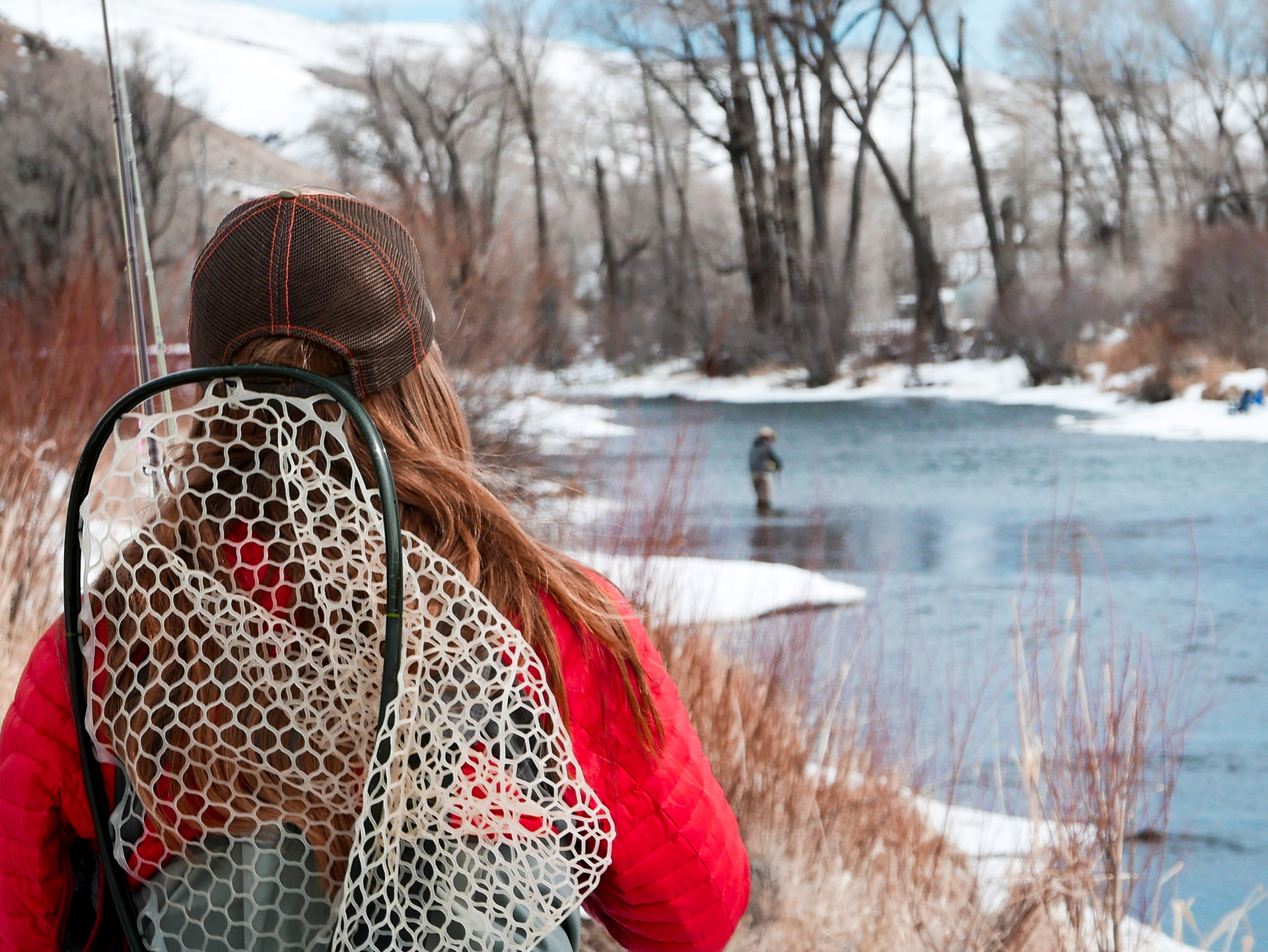 ---
If the banks of American rivers remain battlegrounds on which the female fly fisher still feels outnumbered, then social media seems to be one on which the fight has begun to swing in their favour. It's not just open-minded fisher folk on their side, but some of the industry's biggest brands, too.
Spearheaded by high-end fly-fishing outfitters Orvis, 50/50 On The Water is an industry-wide initiative that's set itself the seemingly enormous target of reaching gender parity on the river by 2020. They believe they can achieve this through the development of gender-specific gear, hosting of female-only casting masterclasses and adventures, connecting first-time female fishers to online communities and groups in their area, and promoting a more representative image of fly fishing across their social media platforms. But their movement hasn't been without its challenges.
"I'm seeing more female foot traffic in the shop than ever before. And the water will get more comfortable. The next couple of years are going to be really interesting"
Visit the 50/50 On The Water website, and you'll be greeted by an introductory video showing women in a variety of sun-kissed locations, hooking into aspirational fish. In direct contrast to this positive feel-good message, its soundtrack is a scathing voicemail, left to the company by a now-former customer, in November 2017.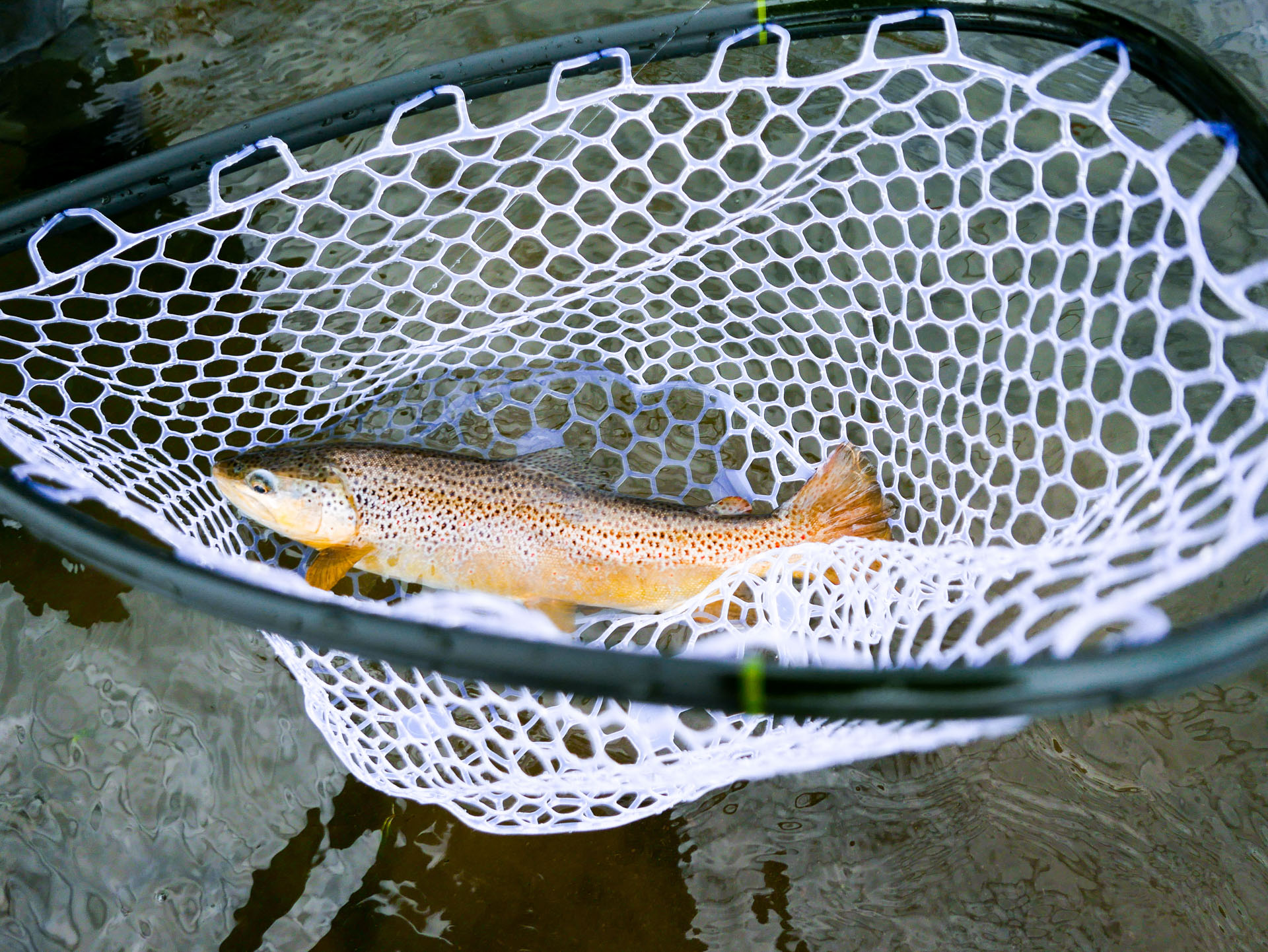 In it, he describes how the initiative was aiming to start a "battle of the sexes against men, promoting women to get in the face of men and be arrogant and have an attitude". It goes on to describe how "Men built Orvis" and that he's "returning the stuff that I bought [and will] never buy another Orvis product." Perhaps the most concerning line, though, states that "Women should learn they're not so spectacular".
"It made me sick to my stomach," Jackie Kutzer tells me over Skype from her office in Vermont. It was Jackie, who, along with her Orvis colleague Chrissy Atkins, kickstarted the 50/50 On the Water program. "I listened to that voicemail about 20 times, and it really made me question if we were doing the right thing."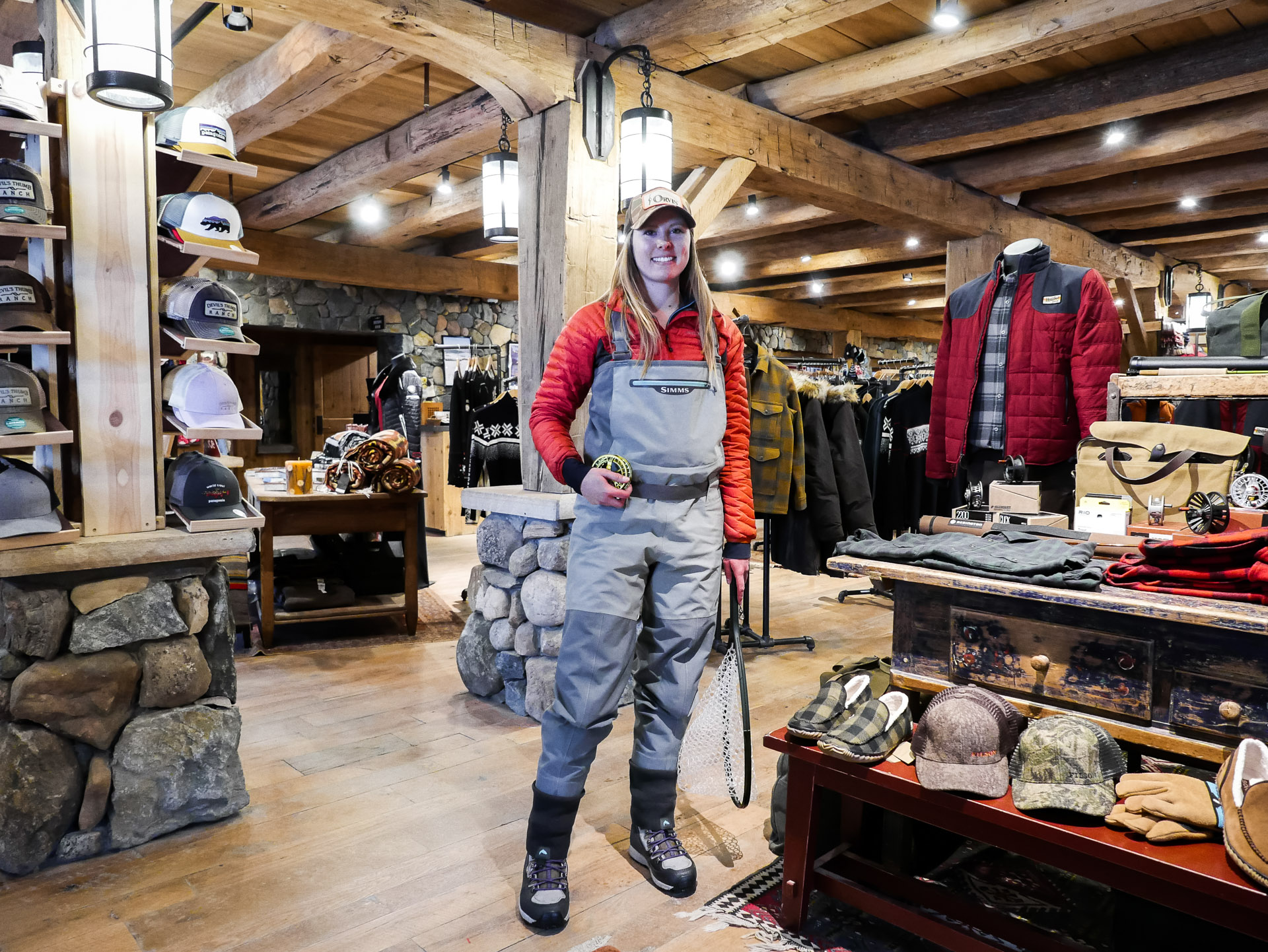 "He said that he doesn't feel as though it's right for a company like Orvis to be starting a gender war, but that's absolutely not what we're doing. I know we lost this gentleman as a customer, but I also know that what we're doing is the right thing to do."
"It's no secret that fly fishing has, historically, been a male-dominated sport," Chrissy adds. "But, we're not attacking anyone's way of life, we're not taking anything away. We're trying to add something to the lives of others. As we inspire more women, it'll become more normal and, hopefully, we arrive at a point where it's not something we have to shout about from the mountaintops anymore."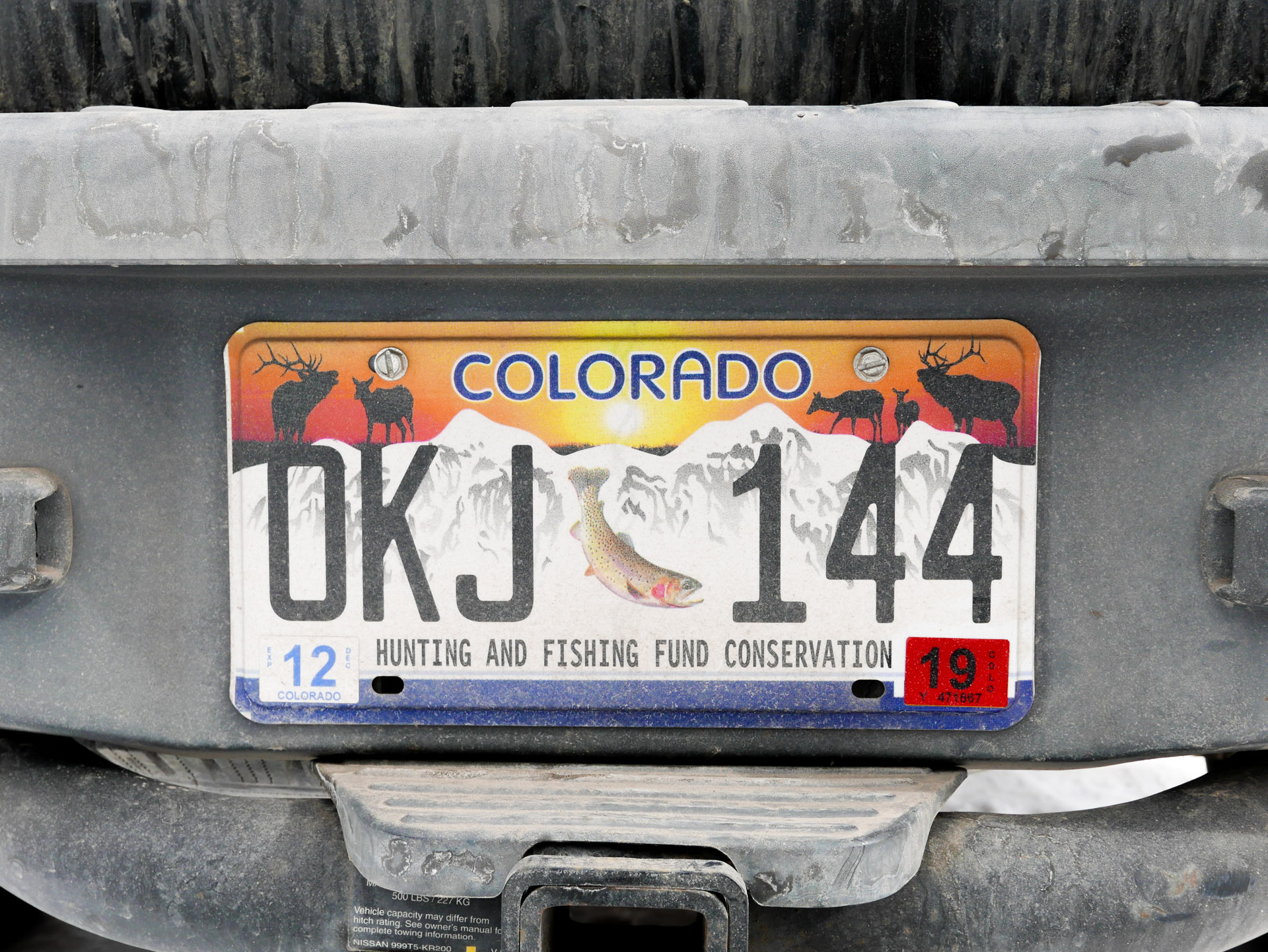 ---
With the rods in the back of Emily's truck, my fish returned to the water, and circulation almost restored in my frozen feet, I only have one question left on my mind. Despite an impression that the tide has begun to turn on the gendered prejudices around fishing, what would my guide say to a young girl – someone's sister, someone's daughter – inspired to pick up a fly rod for the first time and hit the water, despite the very real possibility of encountering some type of harassment on the river bank?
"I don't know if I would explain the challenges of the industry," she says. "I'm seeing more female foot traffic in the shop than ever before. And the water will get more comfortable. The next couple of years are going to be really interesting, and I'm excited to see where we end up."
"Why set a negative tone about a sport that they're slightly interested in? So, I'd say go try it, kick ass, and don't look back."
"Please excuse my profanity," she adds. "I work with a bunch of guys."
Chris Sayer is a freelance journalist, based in London. Keep up with him on Twitter.
Click here for more information on Devil's Thumb Ranch. Click here to find out more about Vail Valley Anglers. And click here to visit the 50/50 On The Water website.