Basslines & Beets | The Spanish Eco-Festival that Combines Raving with Farming
Could the new Re-Generation Festival turn into the "Green Davos?"
"The rest of Spain calls this place Mordor," Jonathan Church, of the non-profit Eco Restoration Camps, says about Murcia's baked land and arid climate. Looking around the dusty steppe that surrounds the dilapidated hamlet of La Junquera, I can see what he means. This isn't the obvious place to hold a festival celebrating the fecundity of the soil, and yet that's exactly why I'm here.
Re-Generation Festival, a three-day event based around La Junquera, is a "celebration of life", championing the rehabilitation of "soil, soul, and society". For the past year, Jonathan and a revolving team of volunteers have been stationed at nearby Camp Altiplano, living out of a yurt and working this land, which – initially at least – looks to have all the fertility of a eunuch.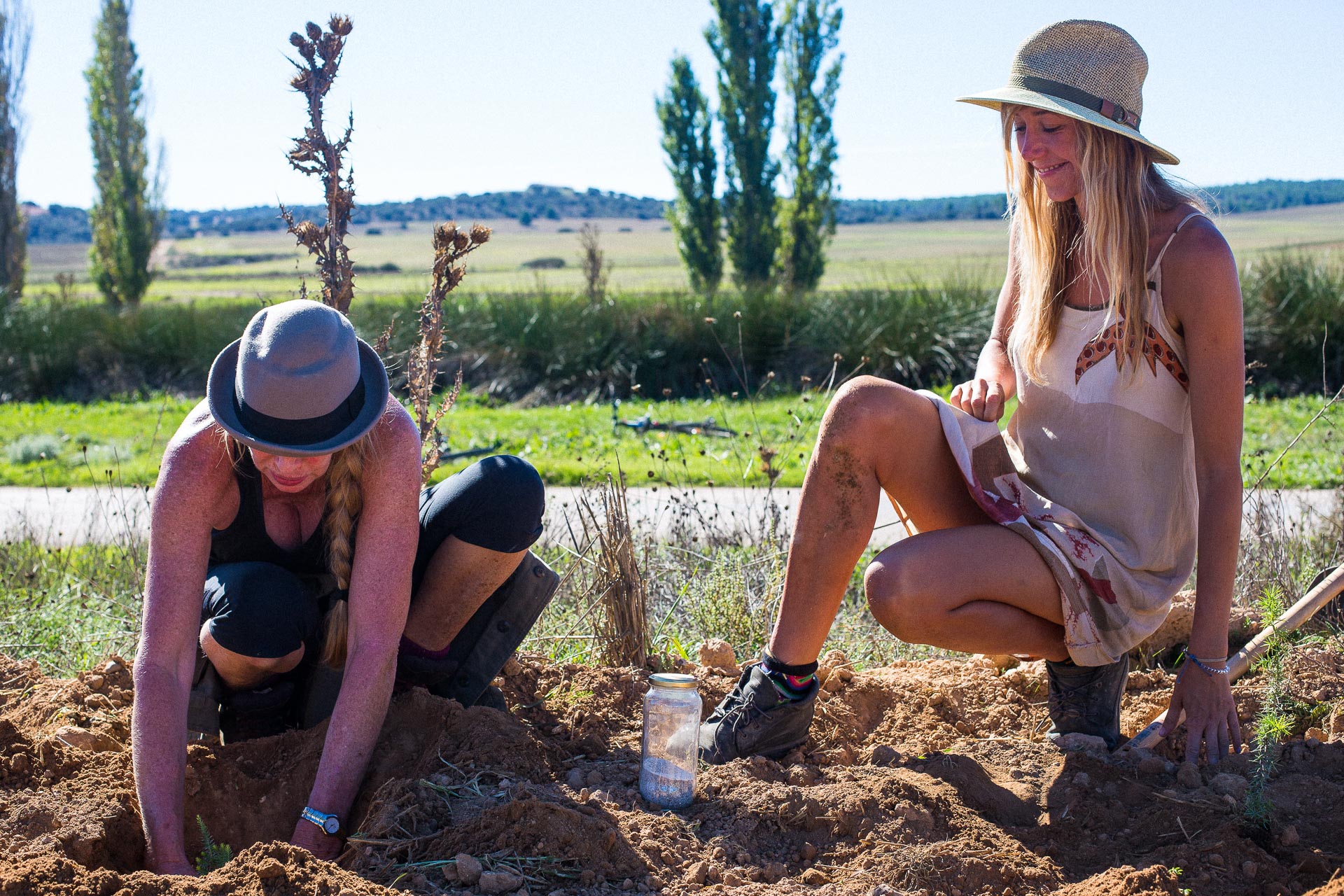 They set out to prove three things: that they can kick-start the heart of this over-farmed, brink-of-barren land; that regenerative farming techniques can not only maintain but improve an ecosystem's health; and most importantly, that it can be done in a way that makes cash sense to monoculture farmers reliant on government subsidies. This weekend, they're holding a party to celebrate these efforts.


At this particular instant however, I feel less than fully able to celebrate life. I was told that the biodynamic credentials of the wine I guzzled last night would help me escape hangover. No sulphites, no headache, right? Wrong. But I have a job to do. Kilt, leopard-print leggings, factor-50 suncream – I'm ready for the field. When I arrive, a hundred people are already lined up along the roadside; a gang of colourful convicts ready to perform their community service.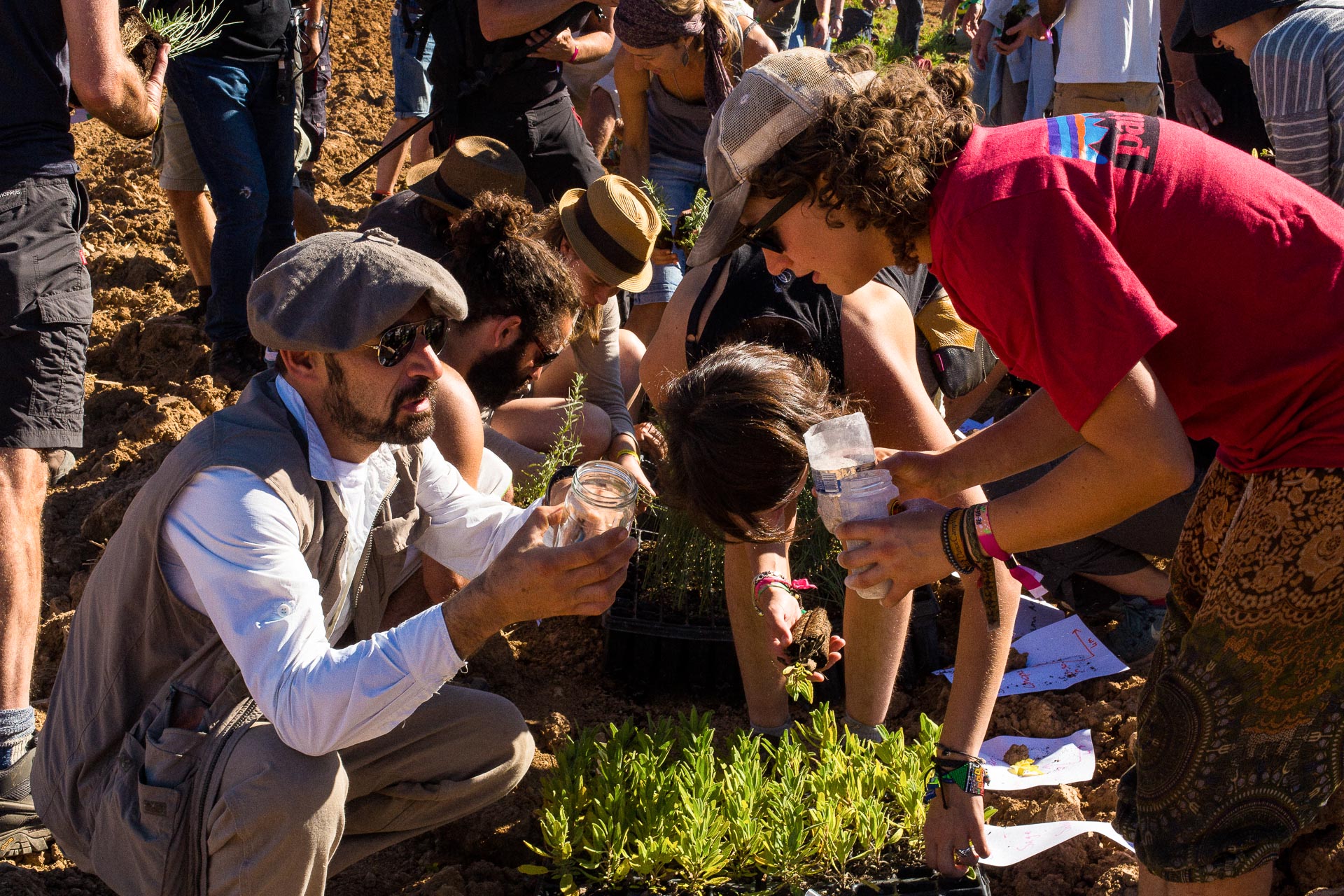 Instead of armed men on horseback to drive us along, we have DJ duo Sound Matters. They waste no time pumping out their tunes: the soundtrack to our two-hours of beat-matched hoeing, planting, and watering. Mercifully, their music is not the happy-hippy clap along I was expecting. This is four-to-floor, steely-eyed, and atmospheric. The sort of stuff that makes you work harder.
The brains behind the noise, Michael Edwards, explains how the finished tracks have been made using sounds harvested from the surrounding area. Birds, frogs, and farmers all get a credit. Mike's intermittent didgeridoo playing completes a noise that's as affecting as it is effective.
Our legion of soil soldiers are a mixed bunch. I see a teenage girl from nearby Andalusia handing a bucket of water to a German man in his 60s. Next to them, a tall Swede is dancing with a hoe in his hand. It's the first time many of them have put a plant in soil, but they're going at it with a will. We're planting juniper, one of 14 kinds of native shrub chosen by a local expert to suit the conditions.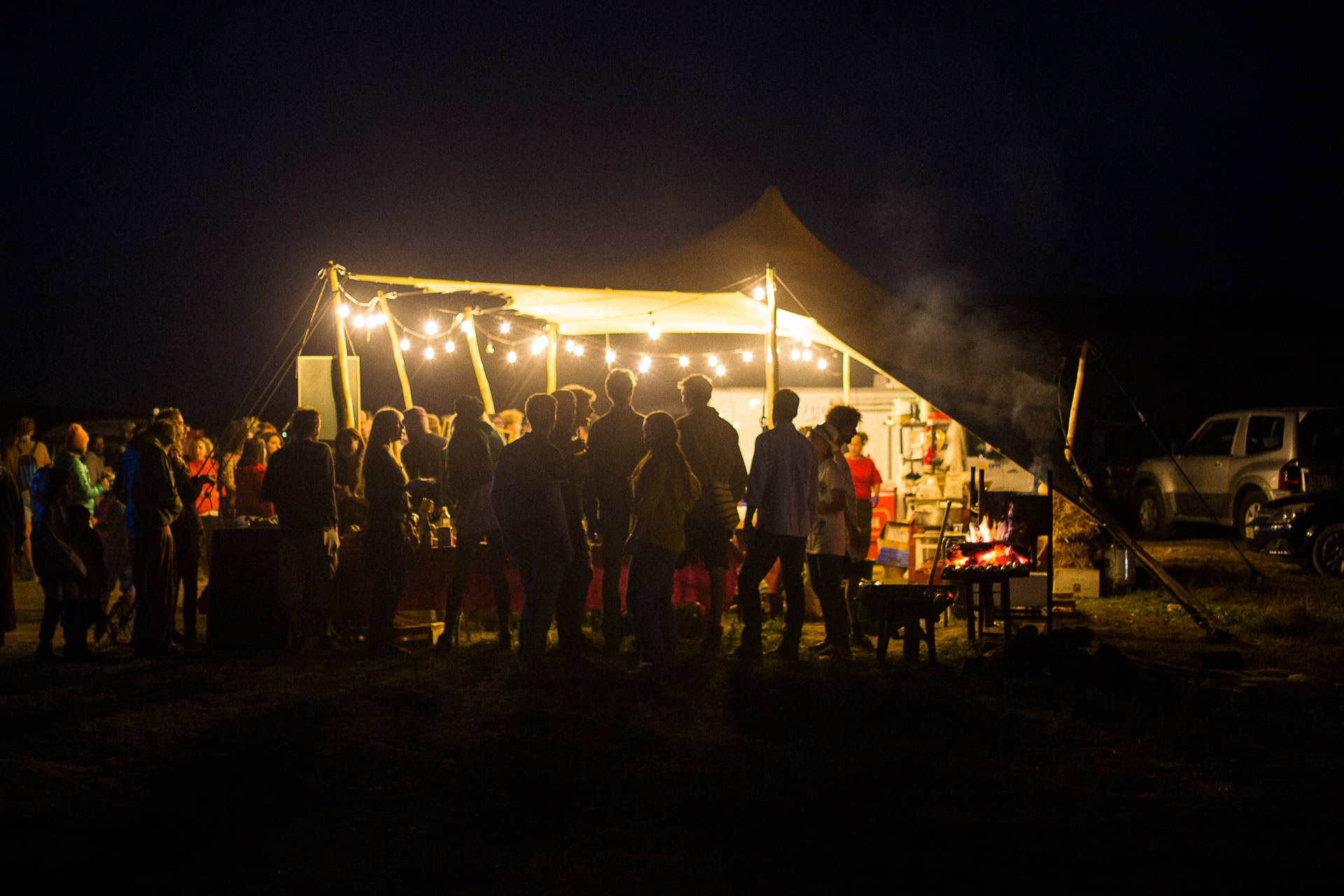 Festival co-organiser Ashleigh Brown explains the thinking behind this effort: "Normally at festivals you leave the land worse off, or at best, as it was." Heiko Specking, another of the festival's top brass, adds: "The world doesn't need another Burning Man. Re-Generation is a step further – a chance to contribute and learn, but with a party. With the sex and rock 'n' roll!"

Ashleigh says: "We wanted to make environmental action something fun rather than a drag. The messaging till now has been, 'You need to cut back, reduce, or not do that'." She continues, "There's a rapidly growing feeling from people that we're in big trouble [environmentally]. But people are becoming more aware of it, and are looking for something to do that will have a tangible impact that's also really fun."
By tapping into this sentiment, Re-Generation is part of a growing trend. Tim Williamson, who works for Responsible Travel, one of the world's largest "green travel" companies, agrees that awareness is on the rise: "Programmes like Blue Planet have done wonders for the way people think about plastics, and also, the political situation right now – with the likes of Trump actively denying climate change – is making the problem more obvious to people."
Tim gauges the groundswell for ethical tourism in the exponential growth of his employer's business: "We've seen a 20-30% increase in business over the past few years – and this is just the start." For Ashleigh and the team, the festival is just the start. They will begin hosting what they call experiences at Camp Altiplano in April, which will include workshops (making natural cosmetics, for example), guided walks and horse riding.
Following our hip-swinging dalliance with Mother Nature, everyone heads to the hamlet where lunch is served, canteen style, by Foodtopia, a caterer who use organic food that would otherwise have been binned. On the side, punnets of local charcuterie fly off the table for one euro a pop. Carrot cake for dessert. Someone is quick to mention that the seemingly 'plastic' cups and cutlery are grain made, "Corn and maize, I think".
Afternoons at the festival are dedicated to workshops, presentations and talks. Today, an enthusiastic group are busy making 'insect hotels' and butterfly boxes from scrap wood. Heineken in one hand and hammer in the other, I bash away at nails bravely held in place by my partner.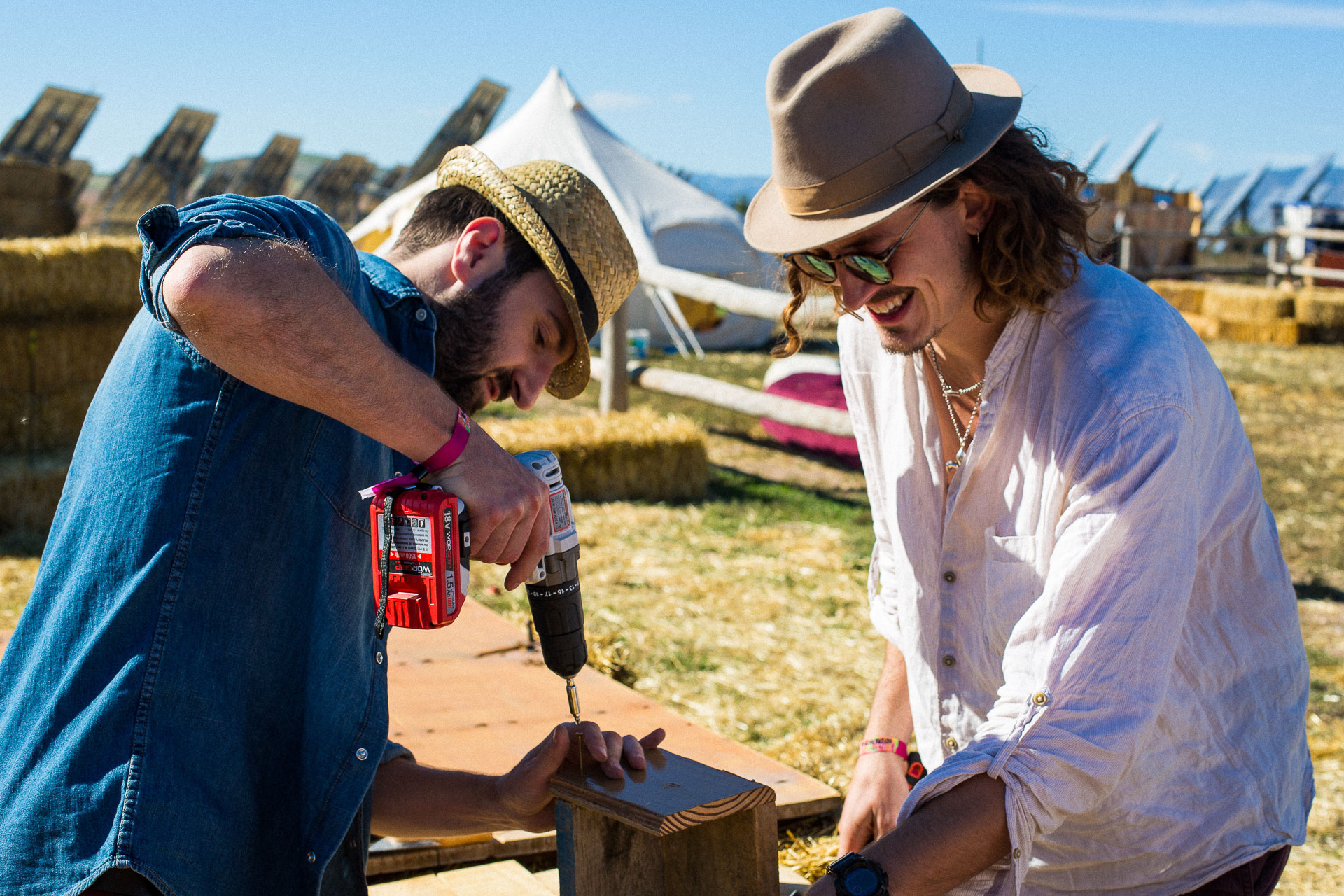 Proving less than adept at building insect houses, I decide instead to sit in on a talk hosted by Alvelal, the region's nascent regenerative farming cooperative. They're working on a three-year project with TUI Group – the world's largest tourism company – to connect local producers to the coastal hotels and restaurants that TUI fills with nearly a million tourists a year.
In the gaps between activities, small groups form all over the site's shaded areas to share ideas and network. The feeling, to me at least, is that of being at a dress-down summit: A green Davos, if you will, attended by the eco-community's movers and shakers.
I sit with a precocious 23 year old called Gus who's flown over from Belgium. He intends on sticking around to help improve the quality and quantity of the compost the Alvelal farmers use. Nearby, the CEO of Ecosia is explaining to someone how his search engine uses its profits to plant trees. "Nearly 40 million so far".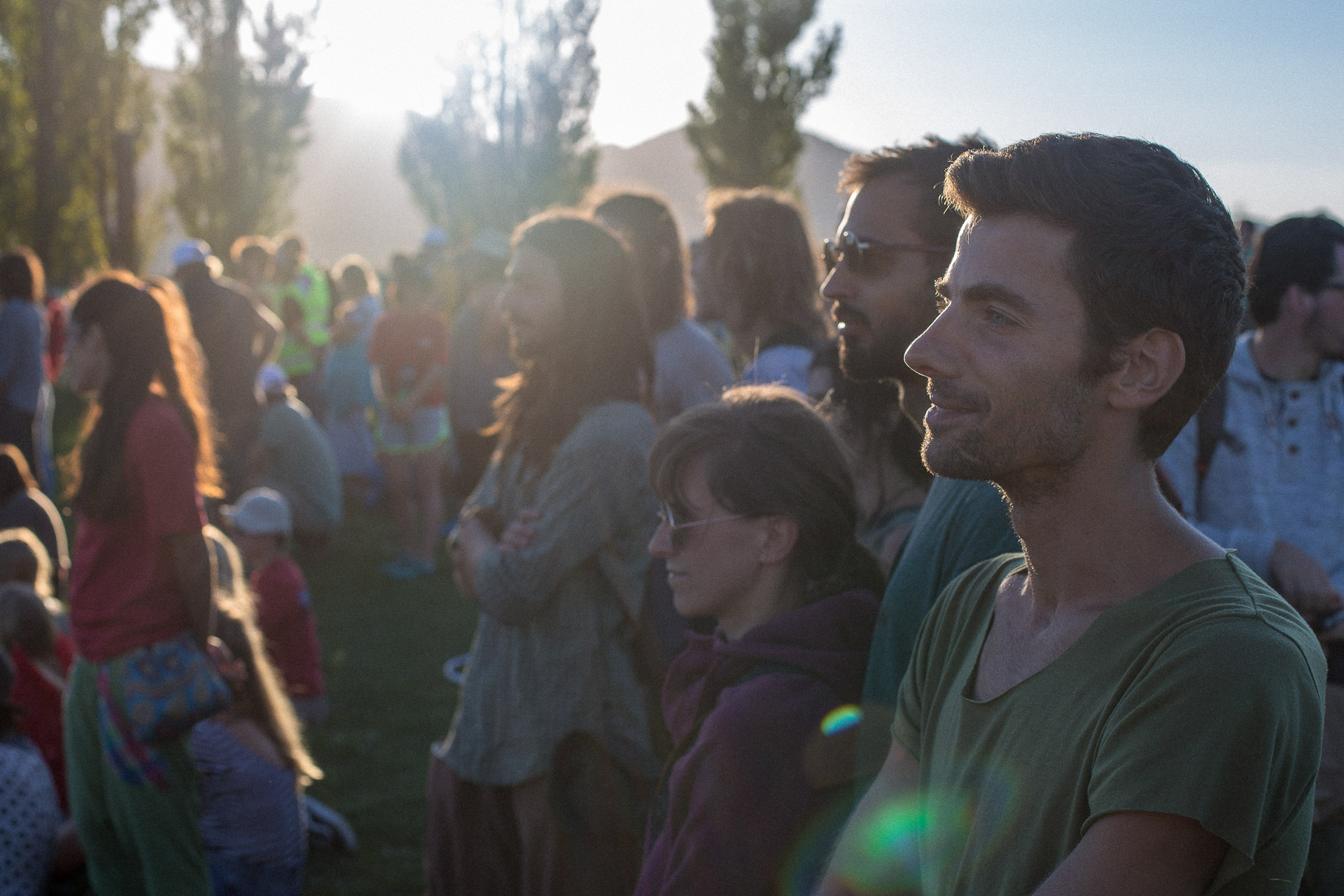 As the weekend progresses, it's clear the event is not without its teething problems. Timing and coordination niggles sometimes leave people confused about what's happening where. There is a sense, though, that much has been achieved on a minimal budget, something that should be attributed to the patent zeal of the organisers. This is an endeavour as challenging as it is noble – to combine something as serious as saving the planet with having a ball.

If the days are about the former, then it's at night that the latter properly rears its head. A string of international musicians provide the sort of atmosphere you'd expect from a regular boutique festival back in Blighty. DJs then carry hedonists through the starry night.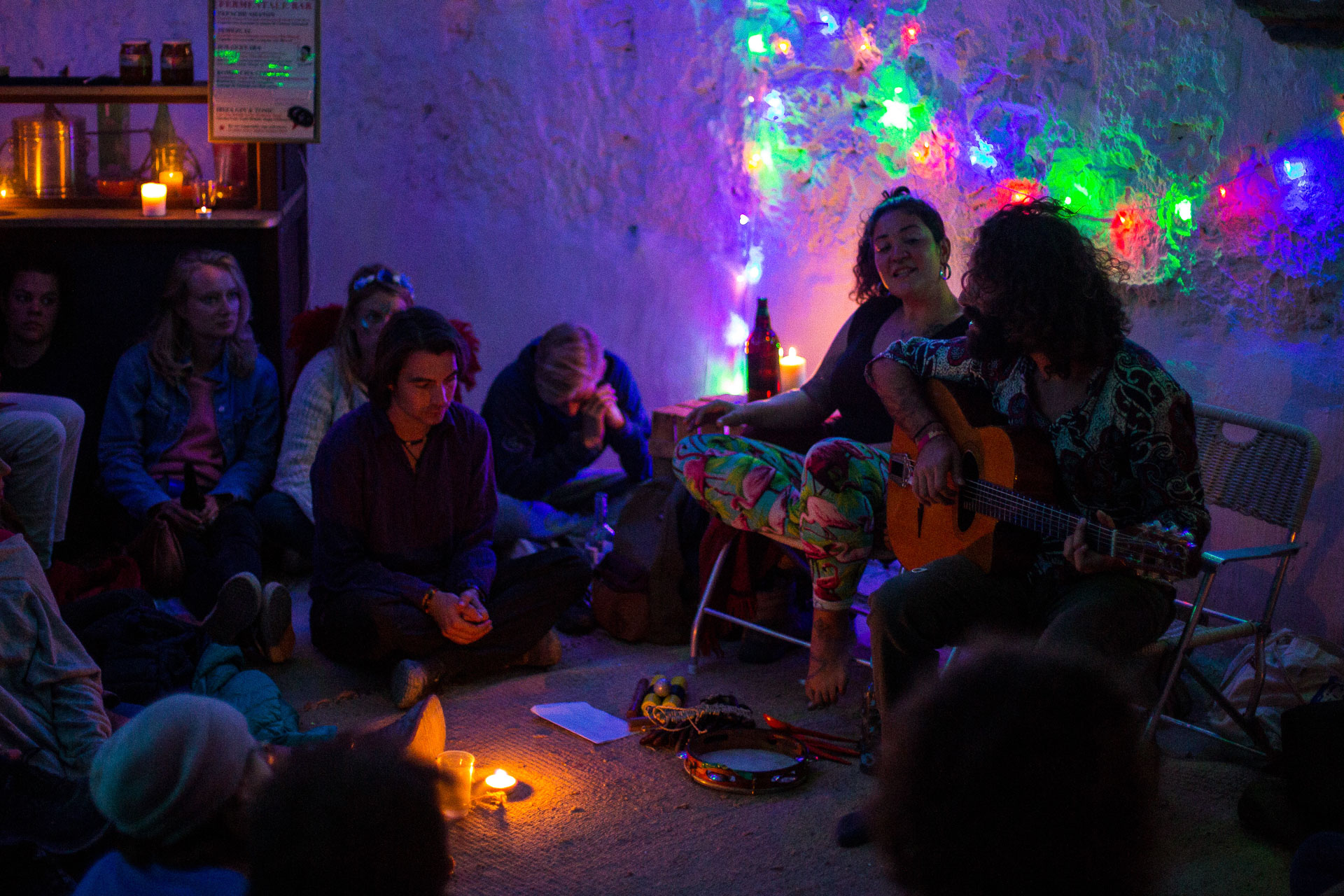 It's Ashleigh's hope that by combining pleasure and purpose that the festival can bring land restoration into mainstream. "It's still niche right now, so I thought putting on a festival would be a good way to bring in people who love partying, but don't necessarily know about ecology." There were 300 people here this year, but the aim is to add a zero to that fast. When that happens perhaps they'll start calling Mordor "The Shire".

Damien Gabet is a freelance writer based in London who covers travel, food and events.
Tagged: