Aponiente | Why the World's Best Seafood Restaurant Wants to Give Up Fish
Ángel León is on a mission to prove that there's more than fish in the sea
Two-thirds of the way through the 20-course tasting menu at Aponiente, the lights in the dining room are suddenly turned off, and the curtains are drawn against the muddy riverbed outside. Some gentle music starts up, and a waiter appears at each table holding dimly-lit flashcards: "I'm going to share something with you so beautiful" - and the instructions to "rub the liquid around the bowl"; you are then presented with a small bowl of bioluminescent liquid to play with. It is an Attenborough documentary come to life: incredible blues and turquoises dance around - mercurial and alien, but compellingly organic too, somehow.
You can't eat it - not yet; they're working on that - but it's still a bit of elaborate dinner-theatre that speaks to the spirit of this acclaimed, highly-unusual fine dining restaurant, in a rundown, historic port town in southern Spain. Specifically: that there is plenty more to the sea than just fish.
"Even the snacks are impressive: a sea urchin cookie, a sea anemone meringue, and a biscuit made with prawn shell-flour, topped crunchy shrimp"
The Aponiente philosophy begins from the fact that only 20% of marine life is cultivated; that many stocks are dangerously overfished, that climate change has set marine ecosystems and biodiversity in a death spiral, and that anyone with a passion for seafood - and a passion for the ongoing viability of life on earth - has no choice but to support a radical, experimental approach, given the parlous state of our oceans.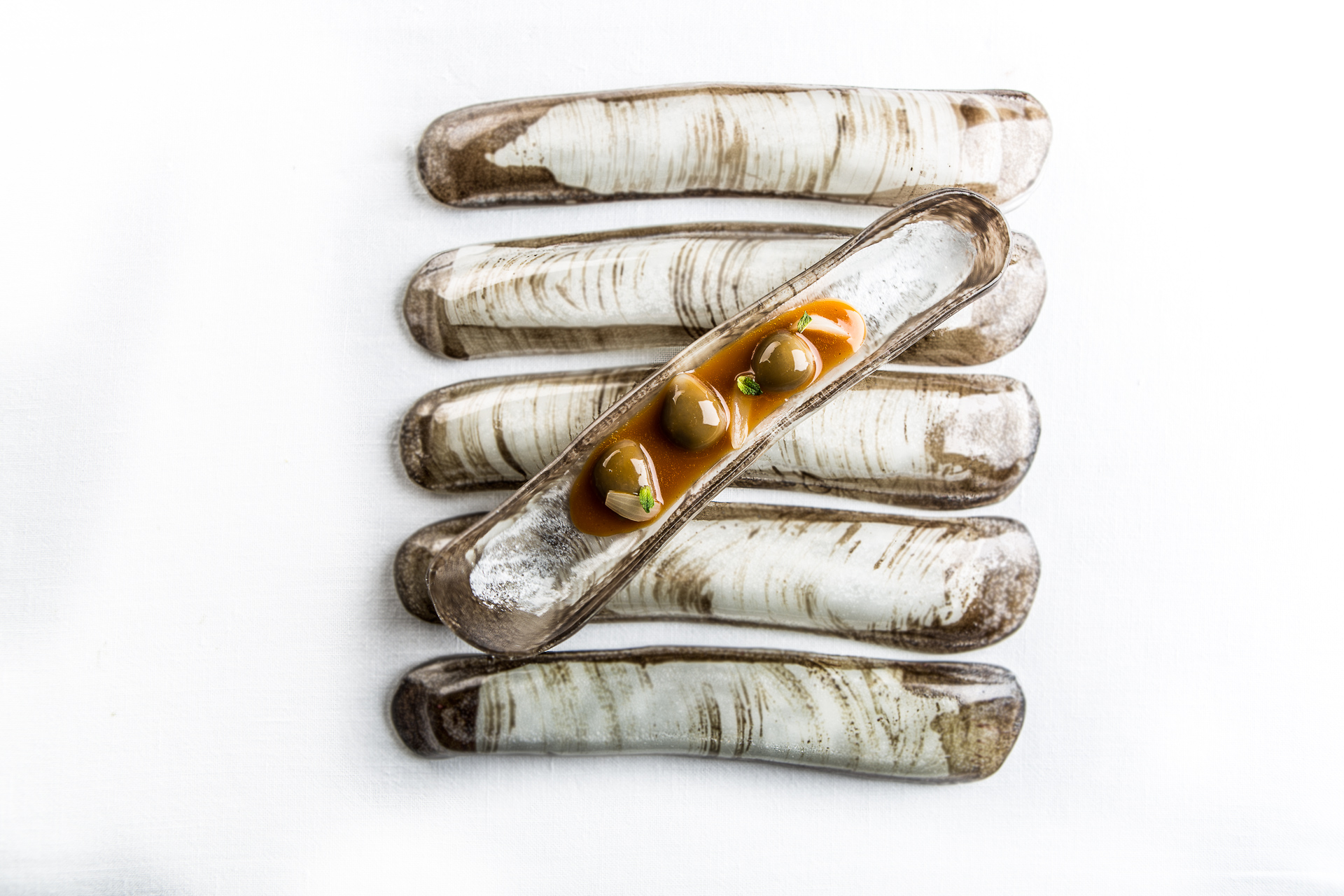 This is where edible plankton, marine sugars, edible crustacean shells, seaweeds and sea vegetables, cheese and charcuterie made from discarded fish, and playful bioluminescence come in. Incredibly, for a seafood restaurant, their plan is to eventually eliminate fish from the menu altogether.
Opening in 2007 in El Puerto de Santa Maria, Aponiente won its first Michelin star in 2010, and quickly leaped through accolades to become, in 2017, the first 3 Michelin-starred restaurant in Andalusia - Spain's largest and most populous region; but also long one of its poorest.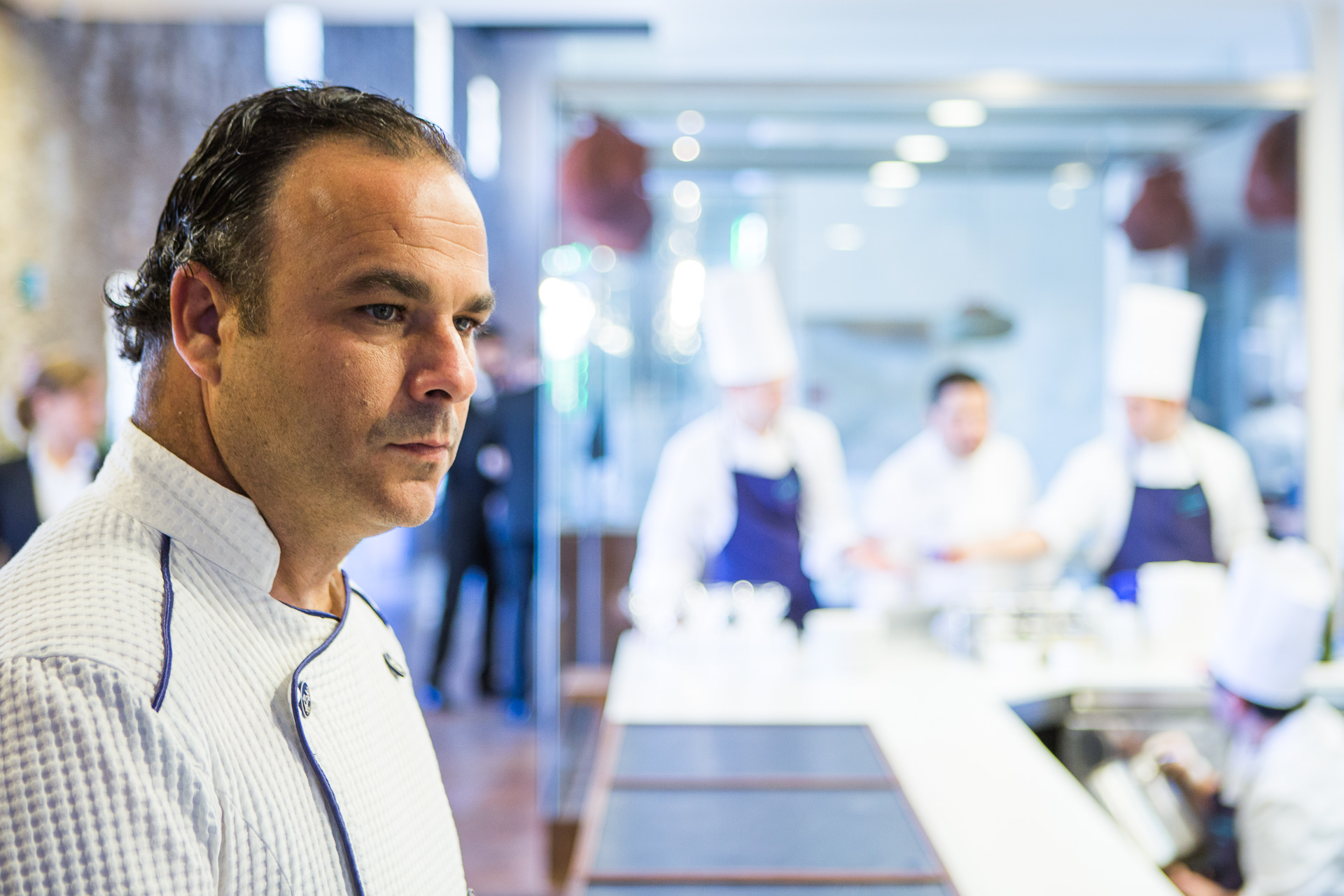 At the helm, 41-year-old local Ángel León - Spain's newest culinary superstar. His official title as head chef at Aponiente is 'Captain of the boat'. León's fixation on the sea began with childhood fishing trips with his father into the Bay of Cádiz; after bringing home the catch, it was young Ángel's job to clean them. "I liked to crack their bellies to see what they ate, to know what bait to use," he recalls. "The sea is my true obsession: in my case, it was the sea that took me to the stove, not the other way around."
His star has soared in Spain in the last two years, with increasing demands from food-obsessed Spanish TV - including a 13-part series entitled 'El Chef Del Mar', the chef of the sea, in which his friend, the legendary Ferran Adrià, was one of his guests.
Four years into Aponiente's 11-year history, León went to Adrià when he had a wobble, lamenting 'they do not understand me' - the senior chef told him to stick to his guns: they don't understand you, he said, because you are the vanguard. "For me Ferrán is a teacher, a genius, a visionary and without a doubt a reference point - and whenever I've needed his support, he's been there," León says. "I am proud of his confidence in me."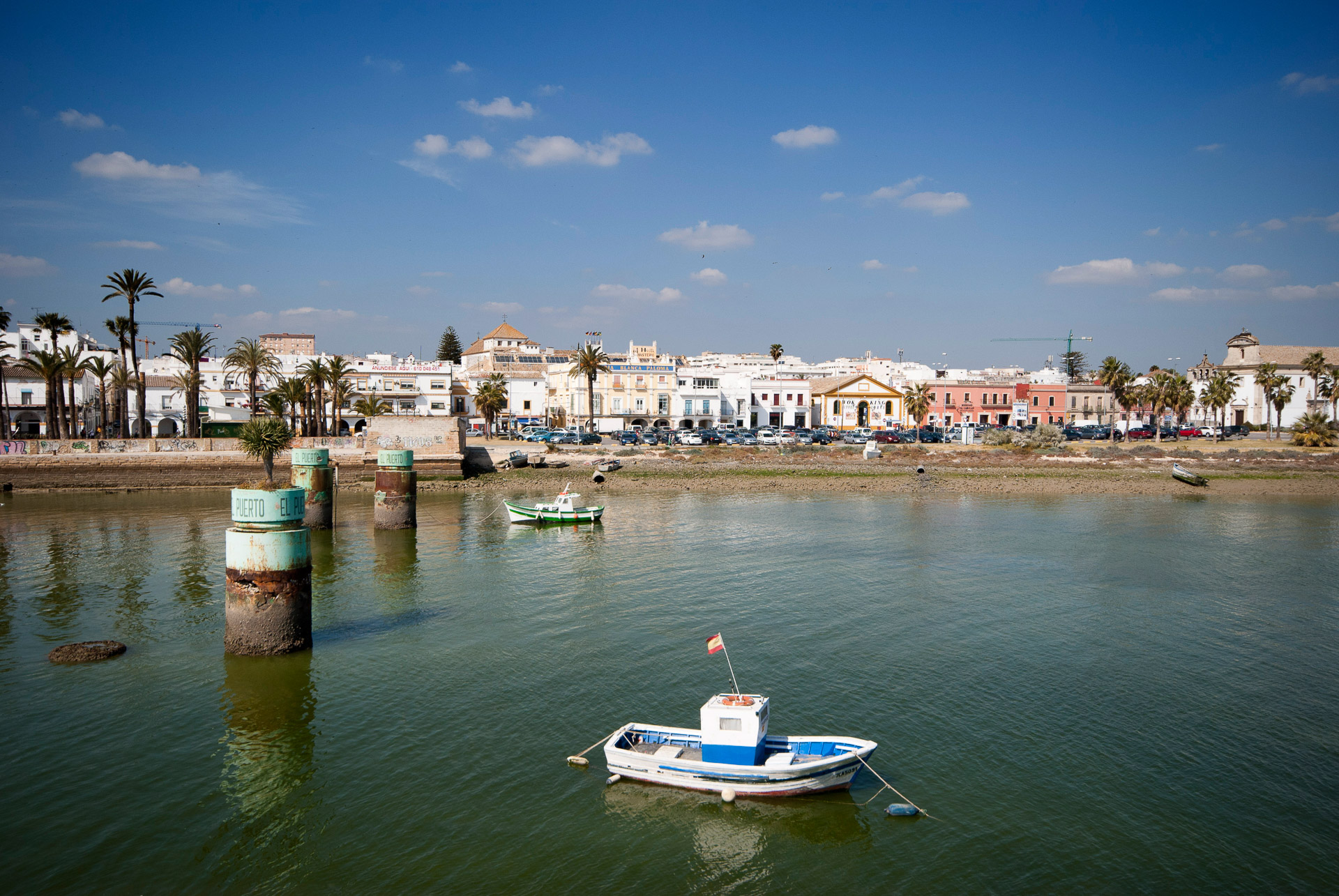 ---
León grew up in El Puerto de Santa Maria, a port town of 90,000 people, where history vibrates off the pavements as brightly as the autumn sunshine. El Puerto is mentioned in Homer's Odyssey; Christopher Columbus set sail for the Americas from here. It was long known as "la ciudad de los cien palacios": the city of one hundred palaces - trade with the new world made it a prosperous, cosmopolitan port full of epic 18th century mansions and an aristocratic getaway from Madrid.
Through its generation of work - and food - El Puerto is existentially tied to the sea; for centuries it was home to thriving salt, shipbuilding, and fishing industries, and is also one corner of the 'sherry triangle' with nearby Jerez and Sanlucar de Barrameda, full of famous sherry bodegas - huge, windowless, single-story white buildings that occupy entire blocks to themselves. The town also contains one of the largest and most prestigious bullrings in Spain - a stunning edifice, and a marker of historical preeminence, however gory the contents.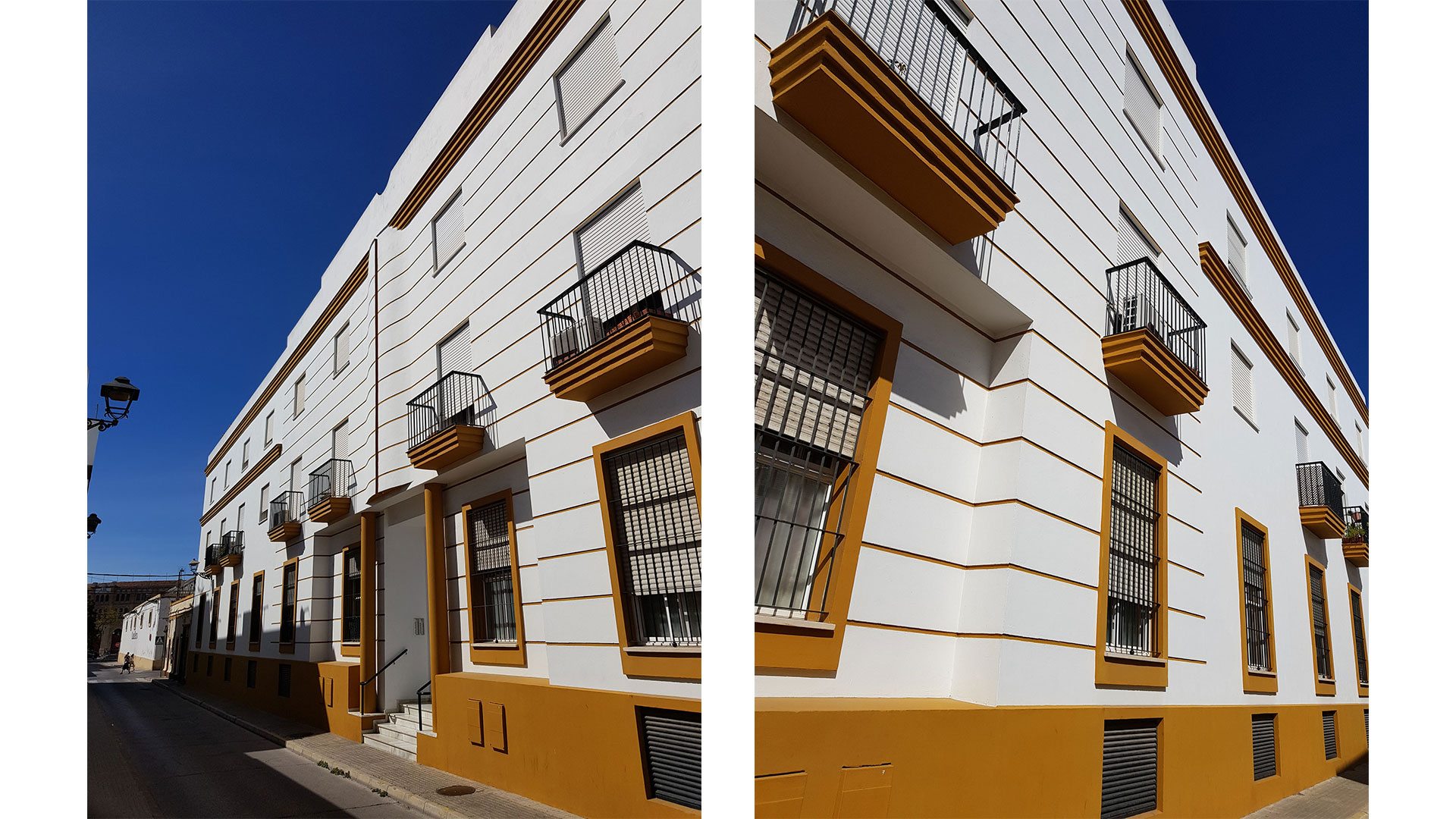 El Puerto's present can, however, look less dazzling than its past. In 2019, its unemployment rate stands at a grim 27% (the EU average is 7%). Like many port towns in the 21st century, it is weathered not just by the salty ocean air, but by time. It wears its decline in idling wharves and mottled warehouse buildings haunted by ghosts of a more prosperous age.
In the town's indoor food market, as the siesta period approaches, reggaeton plays and the stallholders scrub down their scarlet, tuna-bloodied slabs, little threads of red lingering in the melting ice. On the meat stalls, big vats of lurid orange 'manteca' - lard flavoured with paprika, sold by the weight in plastic tubs - sit among the chunky chorizos, pigs' feet and cheeks, along with freshly-breadcrumbed flamenquíns of beef, still pale and ready for the deep-frier, and croquetas in ten or so variations, including gothic, jet-black morsels, coloured with squid ink. It's a world away from the €220-a-head, bioluminescent dining experience on offer at Aponiente.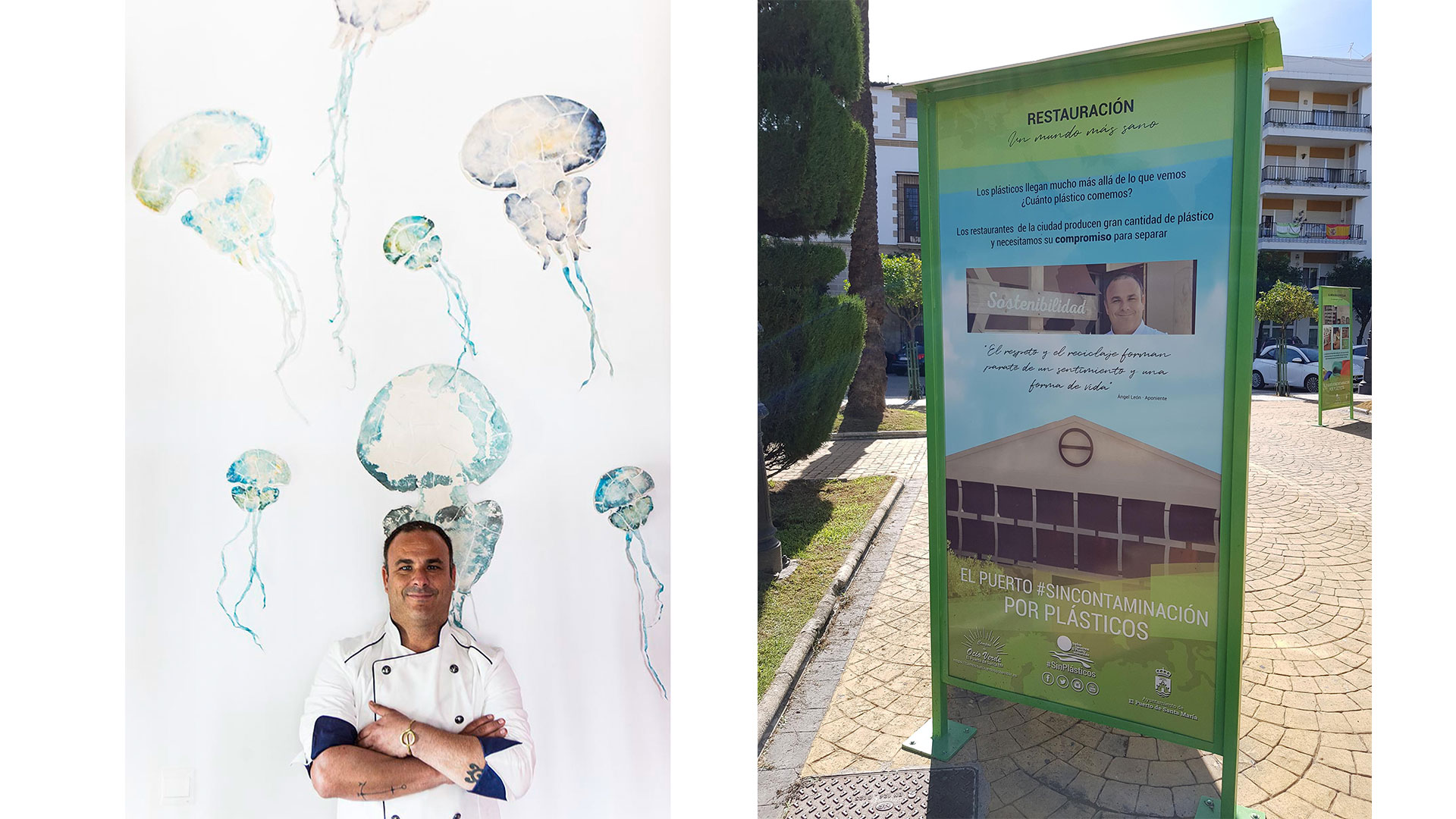 Yet on an eight-foot-high, permanent billboard in Plaza del Polvorista, the town's newest incarnation of royalty espouses a philosophy more progressive than that of his palace-dwelling predecessors. "Respect and recycling form a mentality and a way of life" reads the quote from Ángel León. "Plastics reach far beyond what we can see," the sign adds, "and are heavily used in the restaurant business, and we need to commit to changing that."
Some of the chef's esteemed peers have urged Ángel to bring Aponiente's high-end experimental marine cuisine to where the high-end diners are; there were several empty tables when I visited the restaurant for lunch in October. "It might have been easier to decontextualise our work and take it to a city like Madrid or Barcelona, where it is easier to fill the restaurant daily," admits León. But their message is localism, sustainability, context: he says he needs his diners to be able to see the Bay of Cádiz. Aponiente belongs to El Puerto, and vice versa.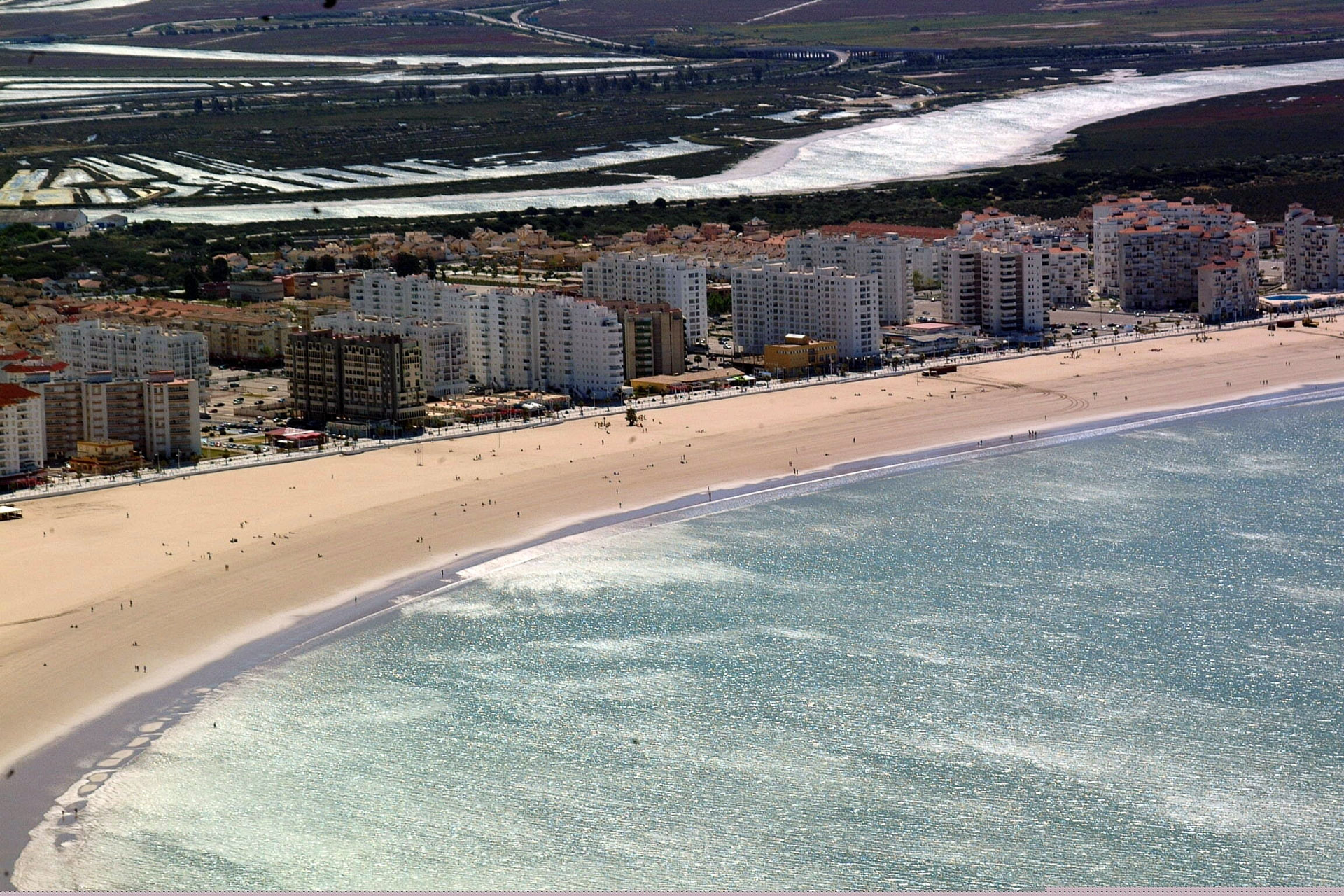 ---
On an insalubrious back-street on the edge of town - indeed, literally on the wrong side of the railway tracks, tucked away behind El Puerto station - stands what was once the Cano Mill. Now reclaimed from decades of dereliction, the walls are pock-marked and cave-like from the abrasions of history. 10 foot high gates made of rusty weathering steel yawn open revealing a cream-painted building decorated with 28 square 'sails', made of the same material.
In some parts of the west this kind of rust porn is used to suggest a story, and a history, where there is none - like Werther's Original inventing a back-story that never existed. They're a shorthand for the passing of time, for decay, for a life well lived; a reminder of ours, and the earth's mortality - at Aponiente, that history is real. Built in 1815 to channel the wave power of the tides coming up the Guadalete from the sea, the Cano Mill processed flour from the surrounding countryside for bakeries in the town, as well as milling sea salt. For more than two centuries it has been engaged in feeding local people.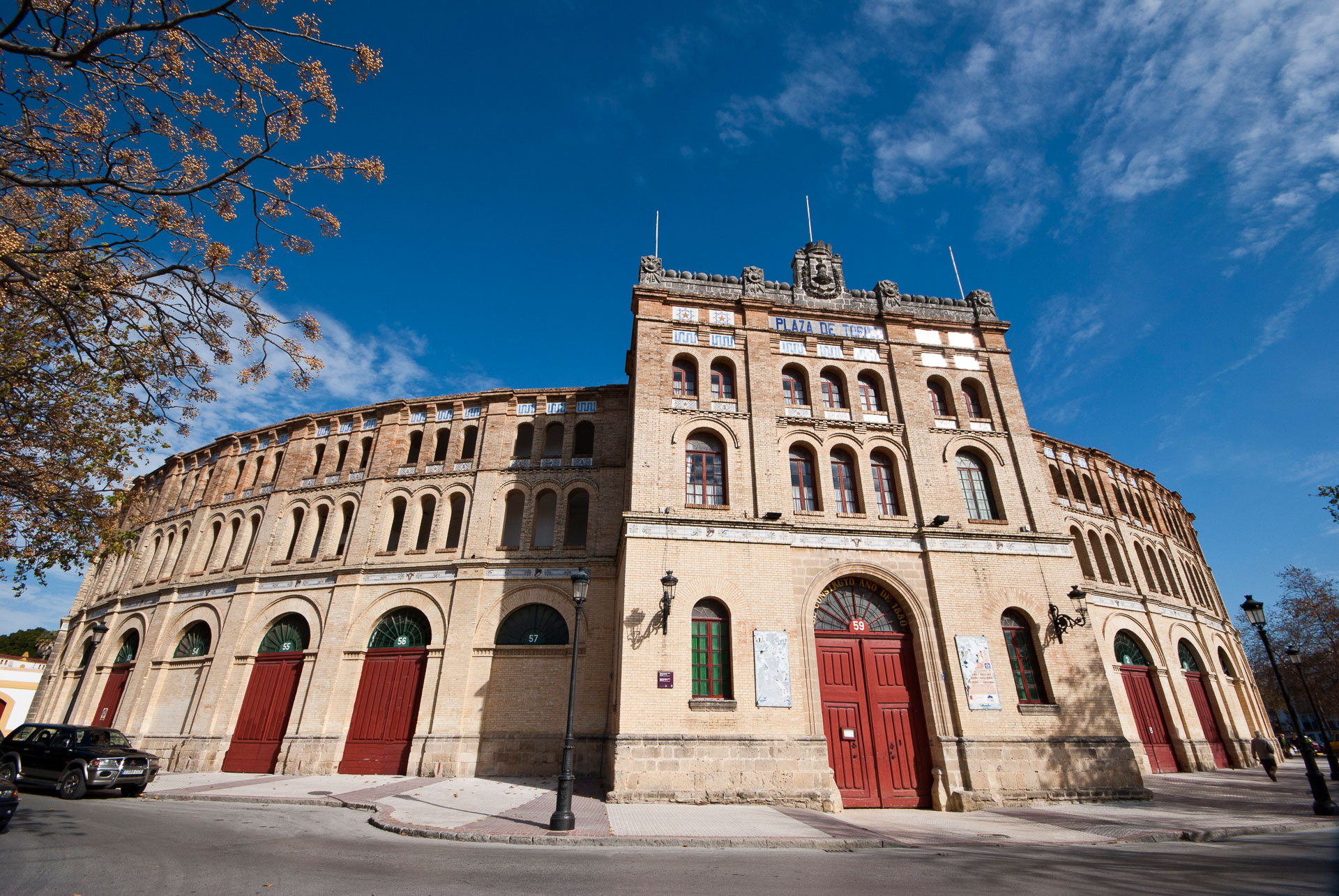 There used to be no fewer than 300 saltworks in the marshy estuary surrounding El Puerto - today only a handful of industrially-sized businesses remain. If you take the train to nearby Cádiz - the regional capital, twinkling across the bay from El Puerto - you see huge white pyramids of the stuff, as tall as warehouses, piled up towards the sky. In the 1970s, the salt crisis devastated the local industry - the mass take-up of fridge-freezers transformed the need for curing fish.
Aponiente's Paco Galisteo tells me they want the smaller, artisanal saltworks to return, using the Guadelete estuary's "natural labyrinth" of pools of water, with varying salinity, used to farm the salt. Tomatoes grown around here do not need salt added to them, he says proudly - "they're perfect already".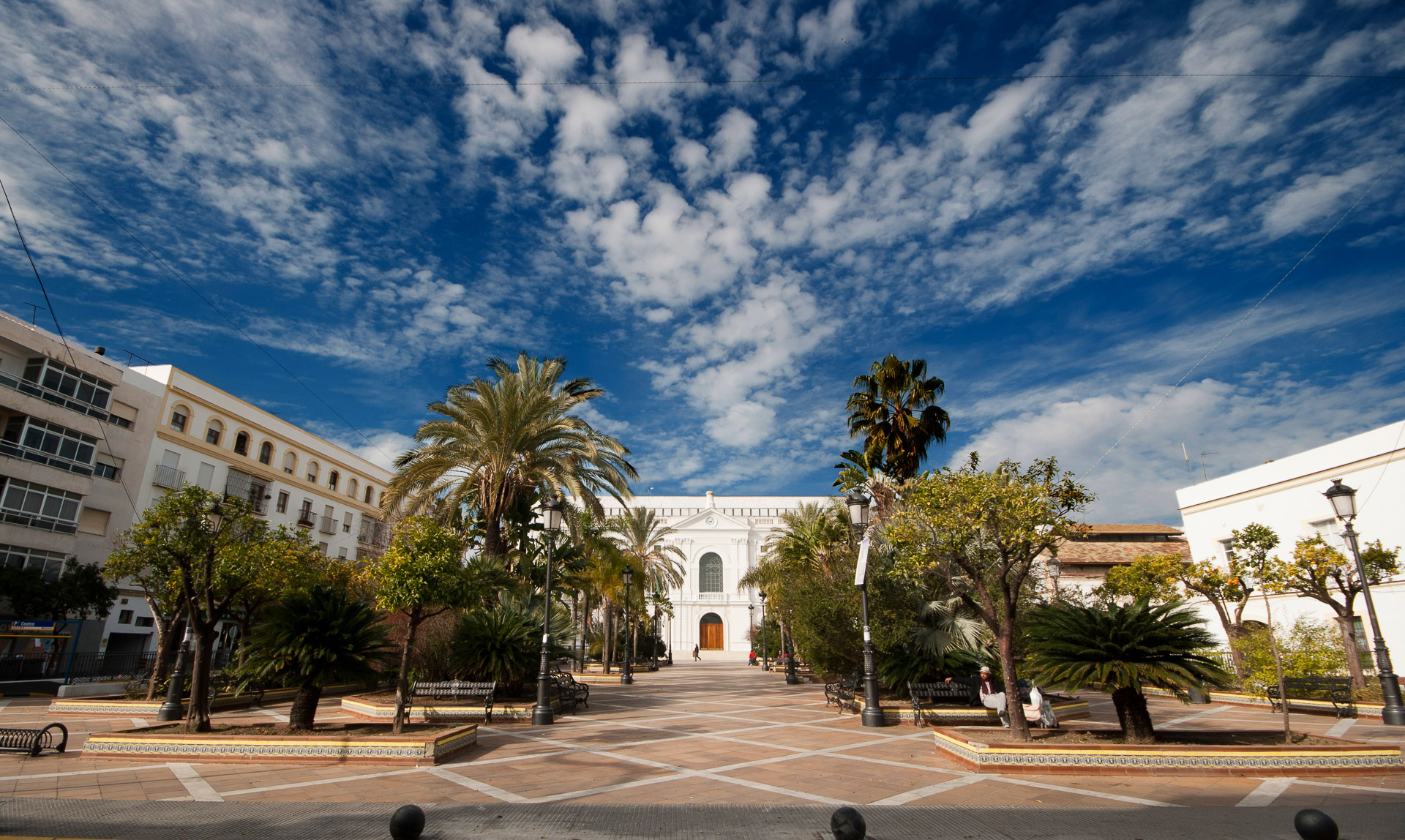 ---
When you enter the dining room, what immediately catches the eye is a massive fish tank filled not with water - or fish - but hanging sausages - Aponiente's famous fish charcuterie. It's one of the most explicit examples of León's philosophy - as an analogue to nose-to-tail, the need to innovate gill-to-fin dining, making use of less popular fish, and discarded fish parts. The result is stunning: there are slices of mullet butifarra, sweet and light pink, a mullet and sea bass salchichón with a banging peppercorn kick, and a sea bass chorizo, rich with pimentón - served with bread made in-house with seawater (instead of water and salt), a deep green seaweed dipping oil, and a squid ink biscuit.
Even the snacks are impressive: a sea urchin cookie, spiked with Moroccan spices, a sea anemone meringue, and a feather-light biscuit made with prawn shell-flour, topped with tiny, crunchy shrimp and spots of parsley emulsion.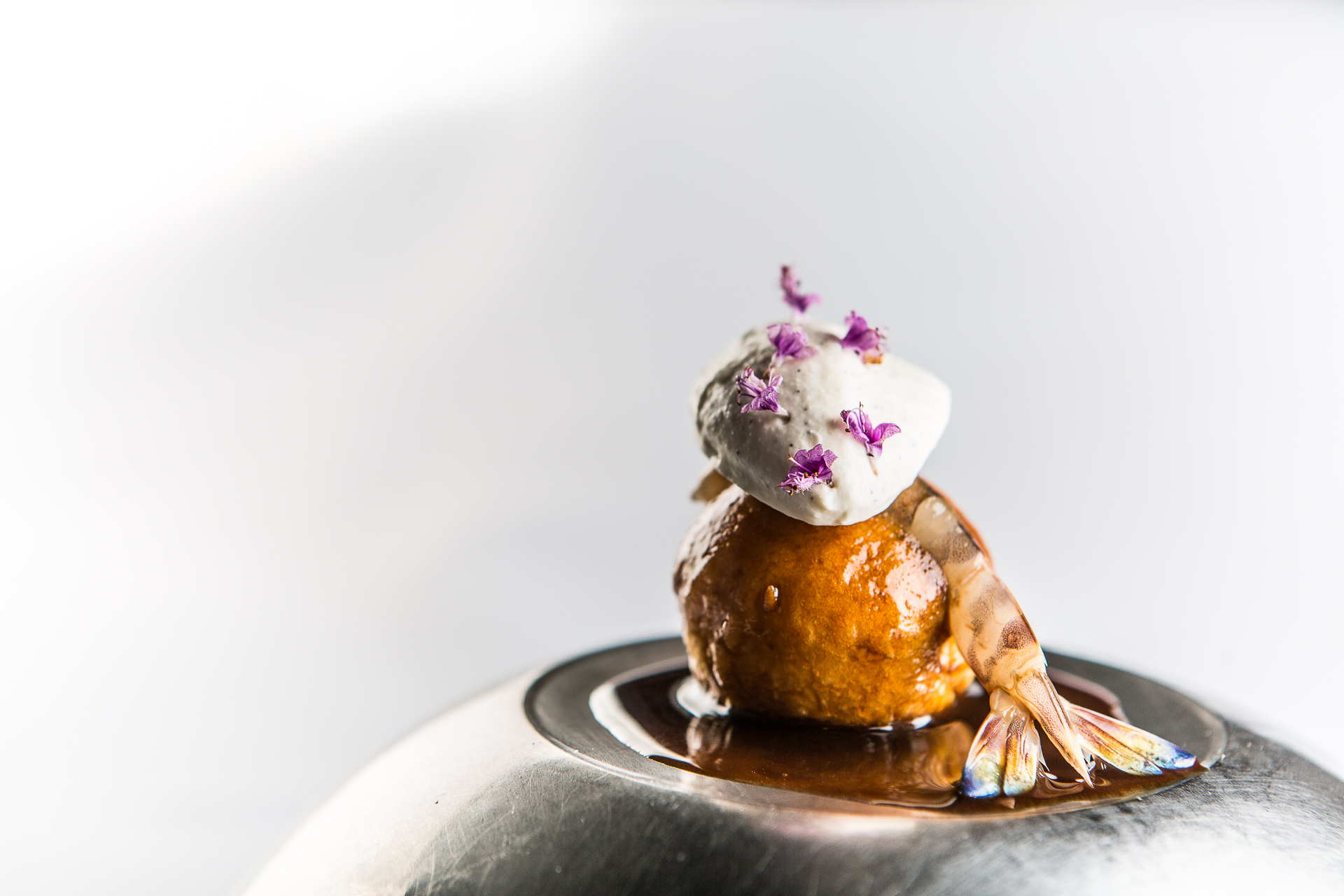 My notes include a line from my waiter José that I evidently did not want to forget: "you start with plankton, you finish with plankton". At another point - at a stage far too early in proceedings to be thinking about dessert - he asked me with a grin, "are you familiar with a rum baba?" Y-yes, I replied, slightly hesitantly. "Well for your next course, you should imagine that - but instead of rum, we used crab." It is as divine as it is silly: the soft, sweetened dough concealing an umami burst of buttery dark crab meat.
The surprises are delightfully relentless. A foamy fish-liver soup is peachy pink, sweet and fluffy, studded with nibs of bitter cocoa. A bowl of frozen barnacle bites is covered in a heavenly, foamy white gazpacho. Slivers of abalone - the 'ear shell' mollusc - are given an autumnal feel layered with slices of truffle and mushroom.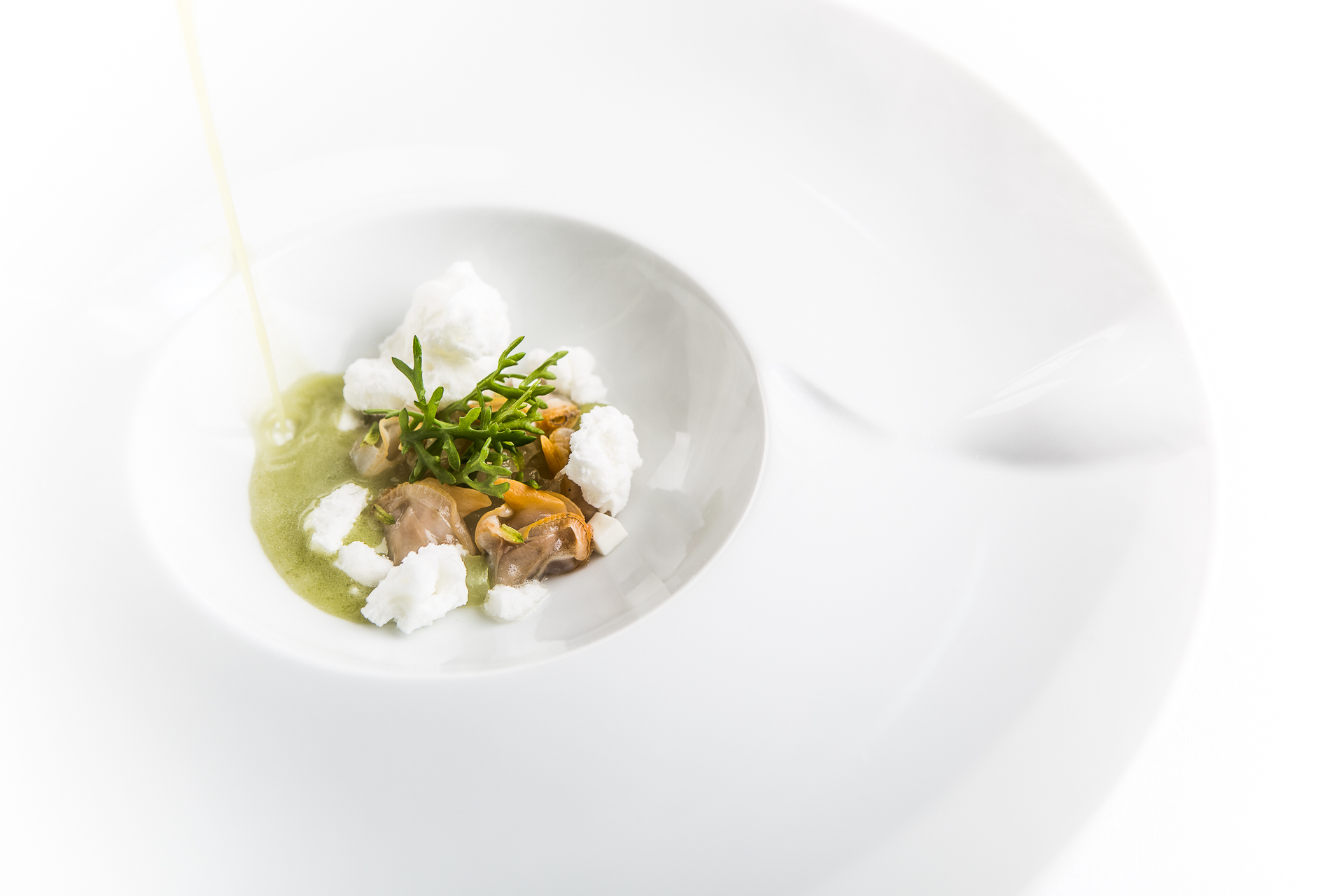 A lobster bisque is served with a lobster head, which has somehow been softened to an edible state, something closer to a soft-shell crab, then encased in a mildly sweet, fried dough, and served as a kind of slightly crunchy brioche-doughnut for dipping in the soup.
There is more theatre, beyond the bioluminescent interlude. El cochinillo del mar, or 'sea piglet', pays tribute to the traditional Segovian suckling pig, except… the pig is a moray eel, cooked to provide a perfectly crunchy 'crackling' skin, mottled brown and black, and snipped off the eel at the table, and served with a black treacle-like sticky eel sauce.
---
At Aponiente they are surrounded by their ingredients. Even the plankton is local: a company based in El Puerto, Fitoplancton Marino, makes the only edible plankton in the world. León had been wondering for years how to recreate - pleasantly - the sensation of being a child on the beach, and accidentally tasting sea water while splashing around. Other Michelin-starred restaurants are buying it now too - Noma in Denmark, and Dan Barber's Blue Hill at Stone Barns in the States.
Research and development is a "fundamental" part of Aponiente's work, León says - and they have been working with universities and marine researchers ever since they opened. "I am a restless and insatiable mind," León tells me. "If I hadn't been such a bad student, I would have loved to be a marine biologist." Upstairs, after the meal, I am shown the laboratory and R&D kitchen, where the shelves are stacked with giant, sinister looking jars full of various possibly-delicious, possibly-deadly sea triffids, plants, and weeds.
"The sea is infinite," León insists, "and I dream of an Aponiente that could serve a marine tasting menu without fish." It's an extraordinary idea, a three-Michelin-starred seafood restaurant that doesn't serve fish; but surely it's not realistic?
Certainly, León and his team are swimming against a pretty strong tide. Fishing has always been a big deal in Spain. The country has the largest fishing industry in the EU, and eating habits are ingrained.
"When we started, 11 years ago, we said 'no meat, only fish and seafood, from the Bay of Cádiz," Paco Galisteo tells me. "No cod, no salmon, nothing from outside." That approach was already revolutionary, but the idea is to take it further. "People tend to look at the sea in a very narrow way," says Galisteo, "missing some of the things growing in the depths. Sea plants and vegetables are the future."
The month before my visit, Ángel León took Aponiente's vanguardist approach to sustainability to a new level, hosting 67 leading chefs (Ferran Adrià among them) and suppliers at the restaurant to share ideas, and launch a new manifesto for sustainability in the food industries, "to try and change patterns and habits," and turn their principles into "palpable results".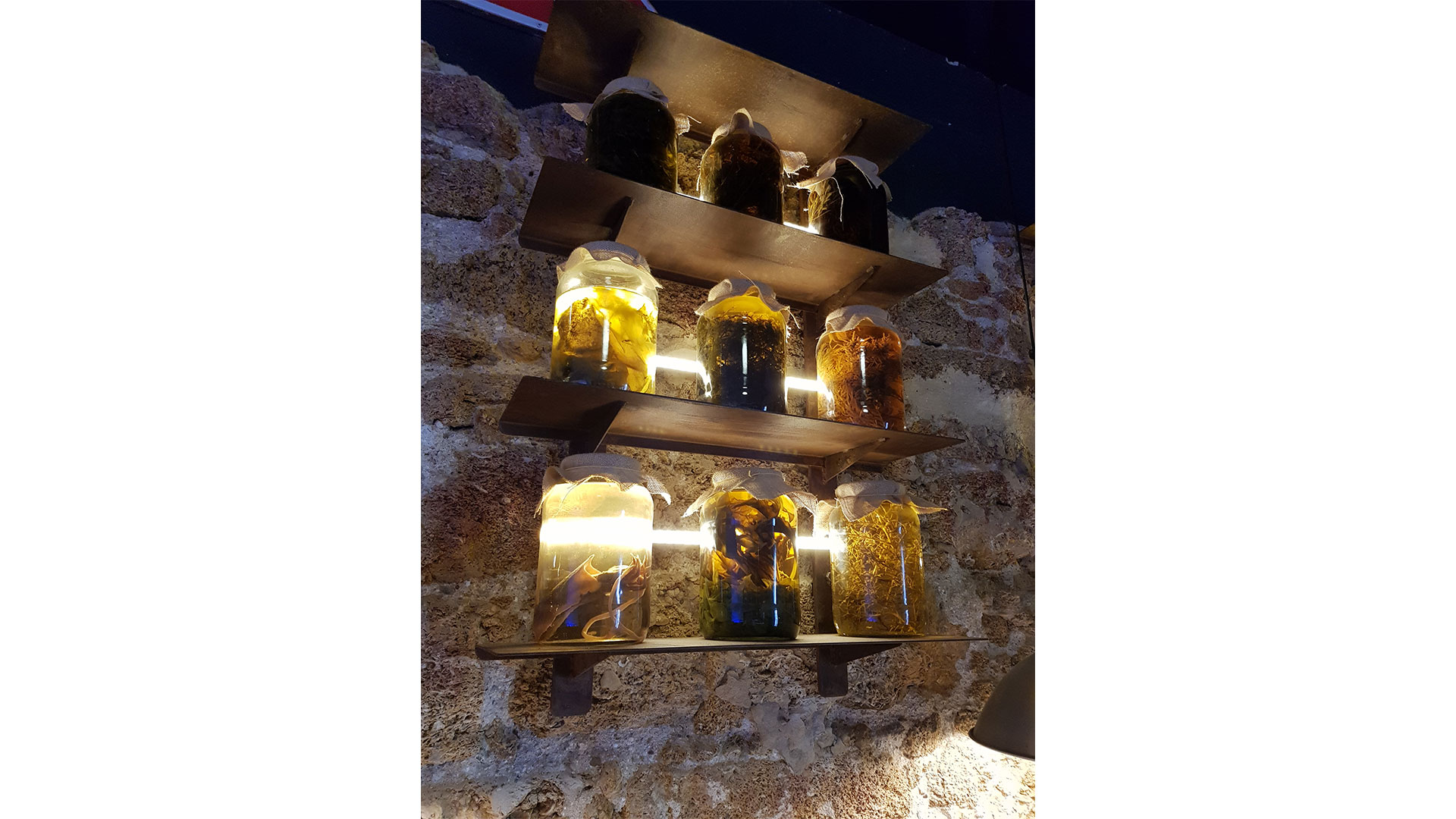 "Everyday we get closer," he says. "[Eliminating fish] could be a real goal in the medium-long term. Maybe in five years it will be a reality in Aponiente."

With León's fame continuing to rise, would they ever look again at moving away from El Puerto? After all, these ideas are still a distance away from the mainstream, and despite holding three Michelin stars, the restaurant isn't booked solid.
As swarms of green crabs busy themselves making holes in the muddy riverbed below, Paco Galisteo reminds me of a reason for their patience, and stoicism: this used to be the rich part of Spain - two centuries ago, people from the north migrated to Andalusian port towns in search of work, not the other way around. Tides come in, and go out.
Dan Hancox is a London-based journalist and author. Keep up with him on Twitter.