Hotel Rooms | Five Female Artists Turning Hotel Selfies into Art
Check in, take your clothes off and make some art
Artist: Polly Brown
You know that feeling, when you're entering a hotel room, and it's absolutely yours. It's so clean and perfect: soft light, folded towels, branded stationery, large white bed. It feels so new and yet hundreds of people slept on this bed before you, and hundreds will after you.
The anonymity is liberating, the brief nature of this encounter is arousing. What do you usually do? Read? Write? Sleep? Masturbate? Watch TV and order room service? Have a glass of champagne in the bathtub? Maybe take a selfie? There is a better option: take your clothes off and make some art.
The hottest contemporary art is quite often about vanity – that's why we get so hooked. We too would like to think that our bathroom selfie at the Chiltern Firehouse is to some extent a form of art. Universal yet intimate, luxurious and sometimes strange; hotel rooms make perfect materials for contemporary art. They put you in the centre of the frame.
And a new generation of female artists are more than willing to take this place. Hotel rooms for them are playgrounds of endless creative possibilities – a stage for exploring the body, sexuality and identity. We talked to five artists who take self-portraits in hotel rooms about their obsession with temporary accommodation, the favourite hotels they've captured, and hotels they are dreaming to work in.
Polly Brown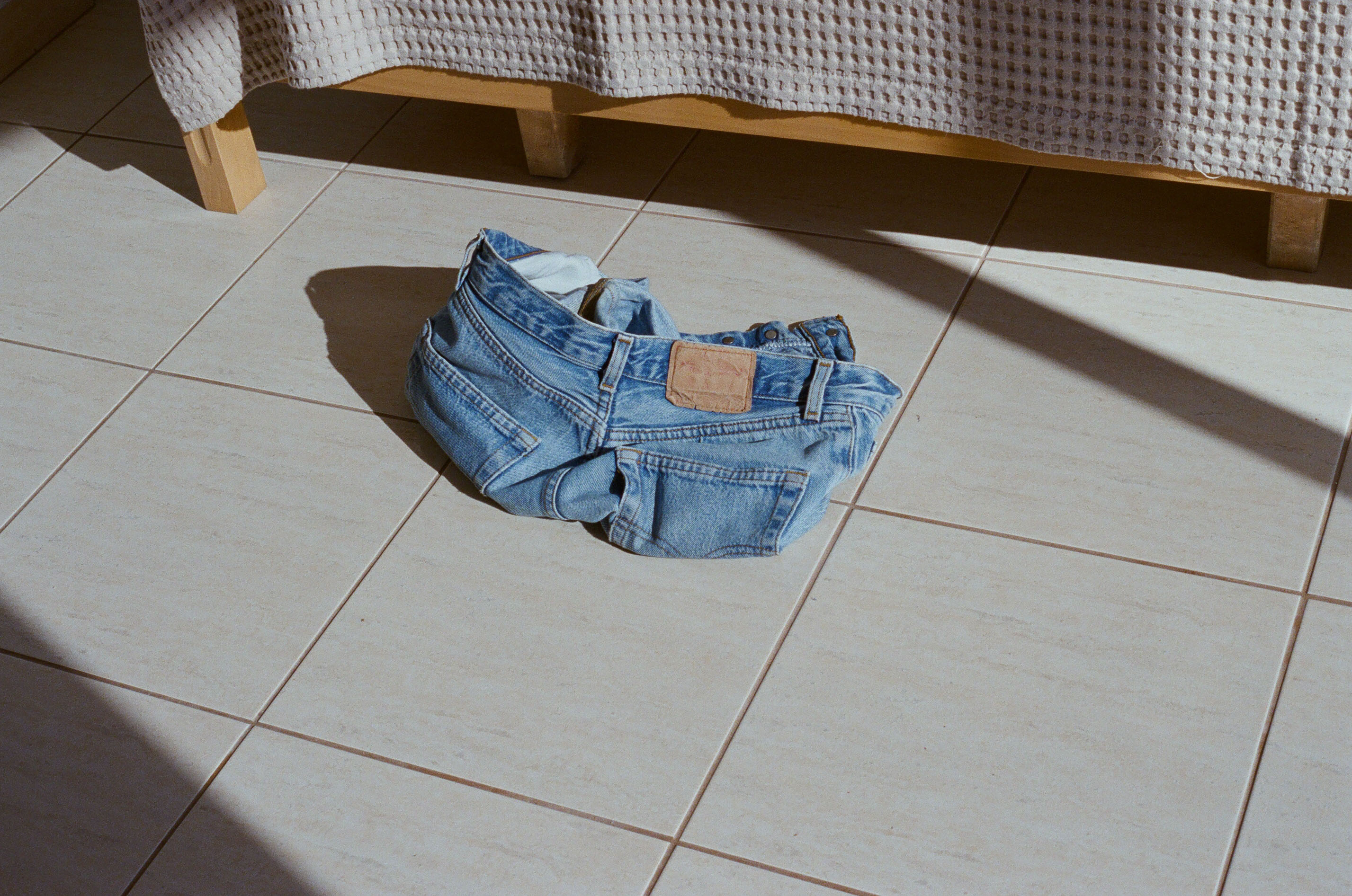 For Polly Brown hotels are a subject of a long term visual research. She captures the details—beds and towels, logos, chandeliers, textures—which somehow turn into an amazingly accurate account of what staying in hotel actually feels like. Whether she appears in the photos or not, her artistic presence is always powerful. "I used to hang out in hotel lobbies quite a lot. They were a good place to sit, use the free wifi, be warm and spend a few hours when you had nowhere else to be. I slowly became fascinated by the feeling I got from being inside them; the removal from your own real life; the fact no one asked why you were there, or who you actually were," the British photographer tells Amuse.
"Over time I started to arrange to have meetings in them even though I wasn't staying. I'd ask dates to meet me outside them, and I started travelling up and down in their lifts just for fun. I realised it was the unique space hotels inhabit between public and private, real and unreal, permanent and temporary that became so addictive. Hotels are somewhere you can check in to, but also somewhere to check out to."
The best hotel I've worked in:
Mar Hotel Alimuri Spa in Sorrento, Italy – because it had seahorses carved on the bed.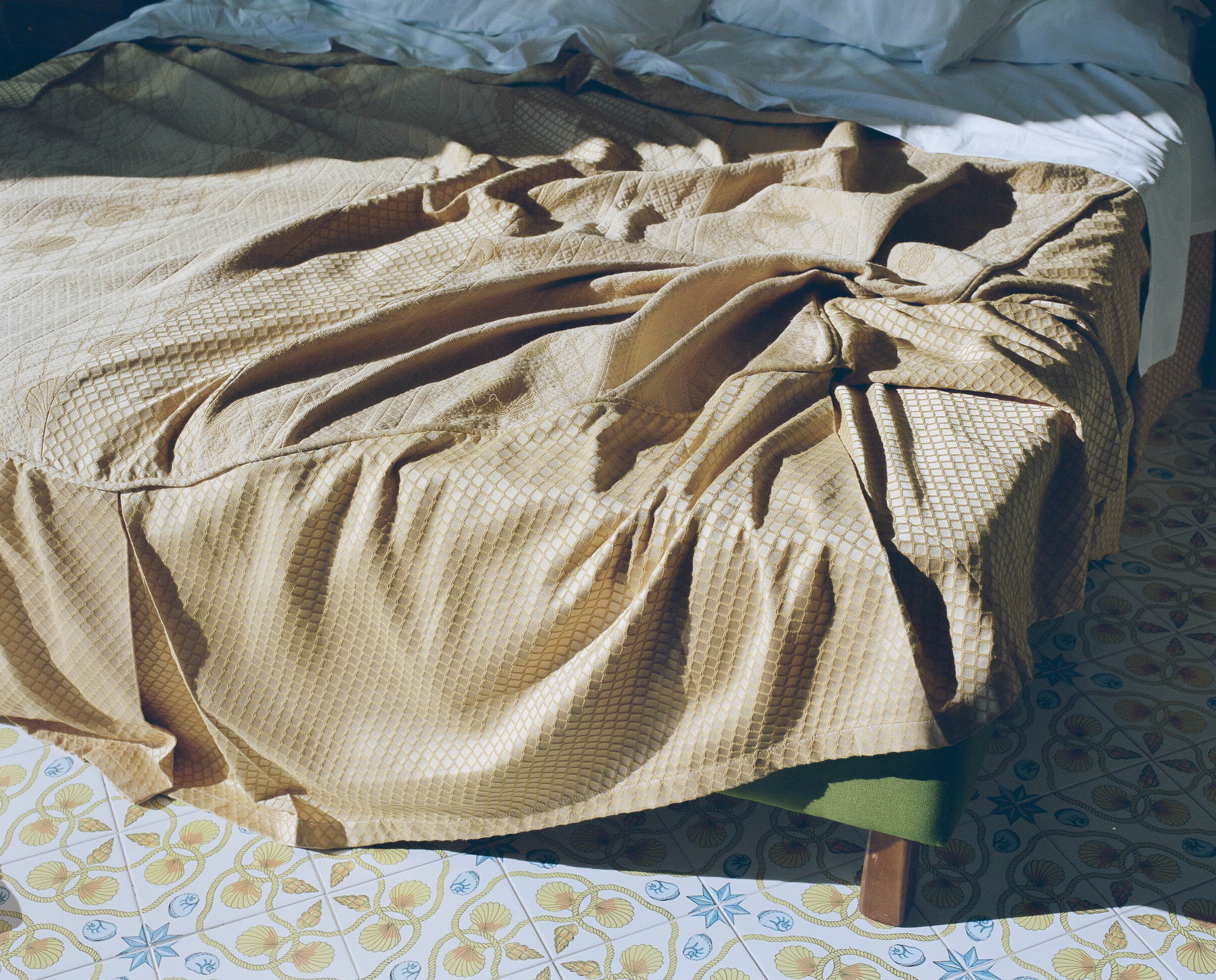 The hotel I would love to work in:
The Verandah in the Forest in Matheran, India.
Myla Dalbesio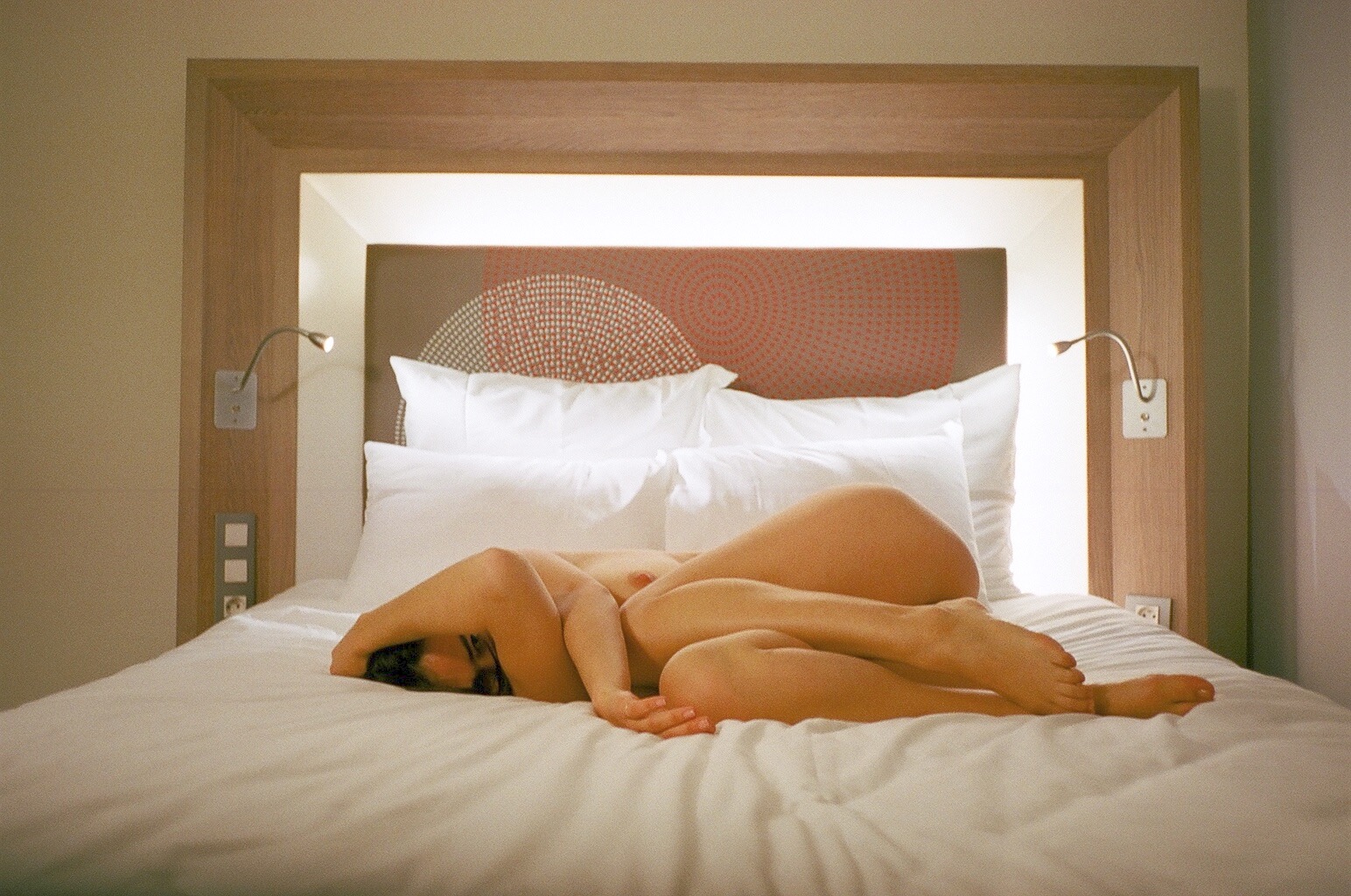 The American artist and model Myla Dalbesio started photographing herself in hotels during work trips. For Myla, the rooms served as a temporary studio; a place where you unwind and work on new ideas. Her series of naked self-portraits In My Room is a meditation on the symmetry of these spaces – specifically, how she can disrupt it with her naked body.

"For some reason they usually try to make the areas on both sides of the bed look exactly the same, which can be like a visual trick," she says. "I was drawn to doing these portraits nude because it seemed like it provided an interesting contrast to the regimented regularity of standard hotel rooms – to insert an organic, dynamic shape and force into the middle of these stale settings changes the way we look at them."
The best hotel I've worked in:
"My favourite hotel is the Hotel Lautner. It's only four units, out in rural Desert Hot Springs, a small town in between Palm Springs and Joshua Tree. Originally designed by the famed architect John Lautner in 1947 as test units for a planned suburban development, the project stalled and the units were sold off and left empty until a couple of designers bought them in 2008 and re-did each unit, completely decking them out. They are gorgeous and each unit is super unique, which funnily enough is why they didn't fit into my hotel room project – not enough boring symmetry!"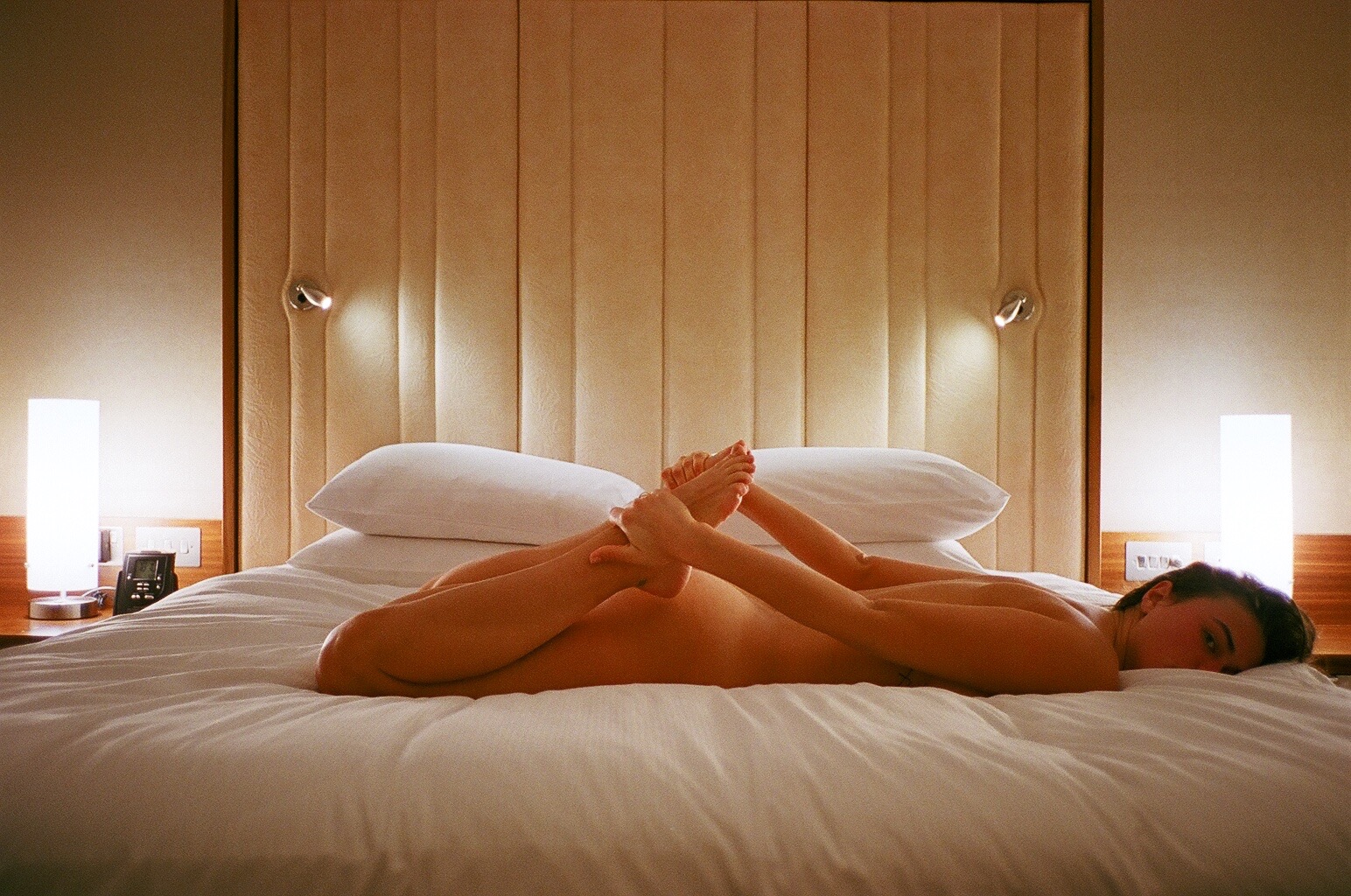 The hotel I would love to work in:
"I love shitty roadside motels – they can be more interesting than the fancy design hotels. I guess my dream would be to shoot in a string of hotels on the old Vegas strip. I like the idea of decaying fabulousness; the moments when the excess starts to fall away."
Nadia Bedzhanova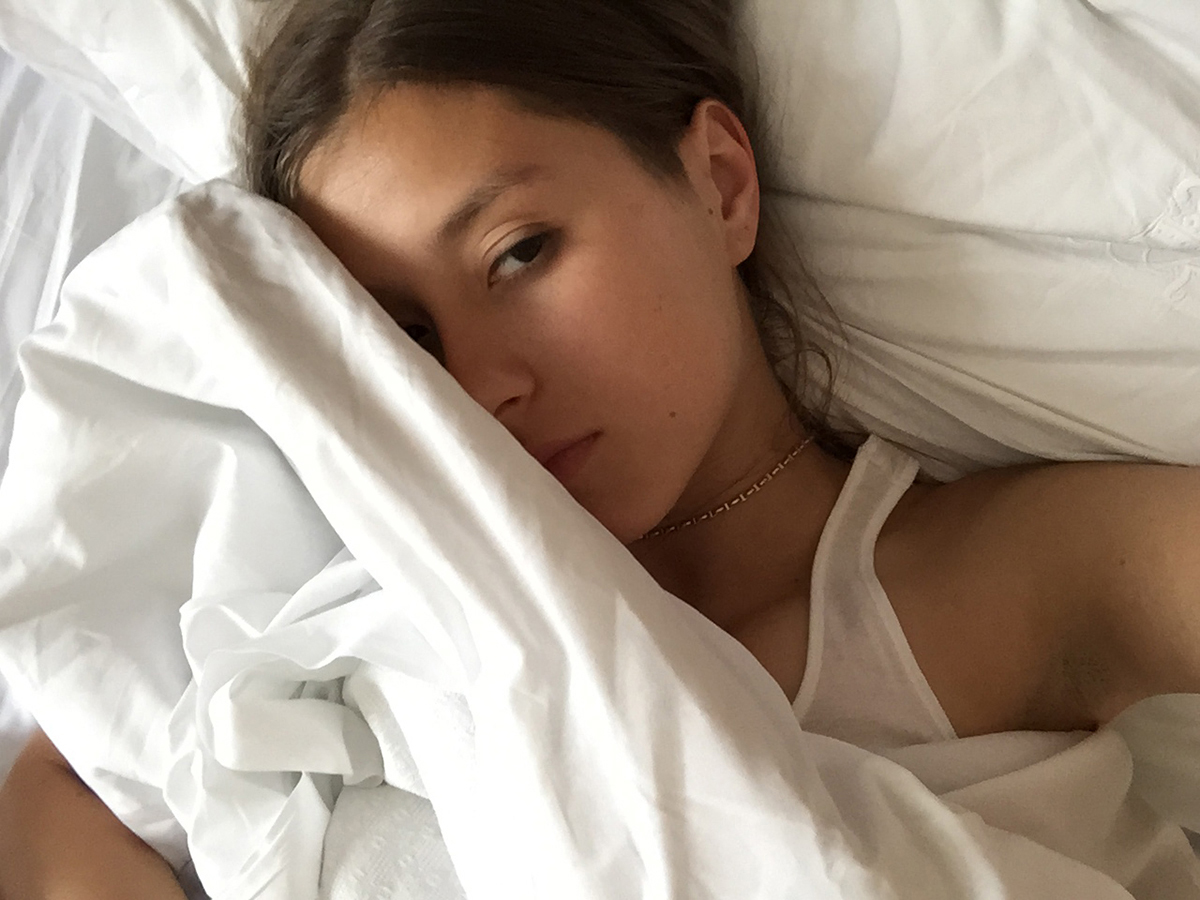 In her works shot in hotels, Russian photographer and director Nadia Bedzhanova subverts the logic of intimacy: something meant to for the eyes of a distant lover is exposed and therefore makes us all distant lovers. She has documented her digital love affair in hotels across Europe and Mexico in an ironic mishmash of mirror selfies, empty beds and at times hideous interiors. Her lover appears in the second part of the project when they reunited during a Californian road trip.

"I think hotel rooms bring an intimate motif to anything if used as a location. Intimate not just in a sexual way (we don't really want to know what these walls and beds and bathrooms had seen), but more personal," she says. "You have time for yourself, away from everyday life and eyesore interiors. One of the definitions of intimacy is a private cozy atmosphere, which is what hotel rooms are about. I also like noticing little details hotels include in their interiors, like vases with flowers, weird phones, carpet patterns…"
The best hotel I've worked in:
"I like the fact that Hotel de Reconquista in Oviedo, northern Spain, was one of the shooting locations in the movie Vicky, Cristina, Barcelona. I like the luxury of Kharkiv Palace Premier, and they have amazing Ukrainian food. In León, Spain, I had a two-floor suite for myself – it sounds nice, but I really wanted to share it with someone, or throw a crazy party. And the Madonna Inn, in California, is a specific hotel itself: each room has a different theme and interior."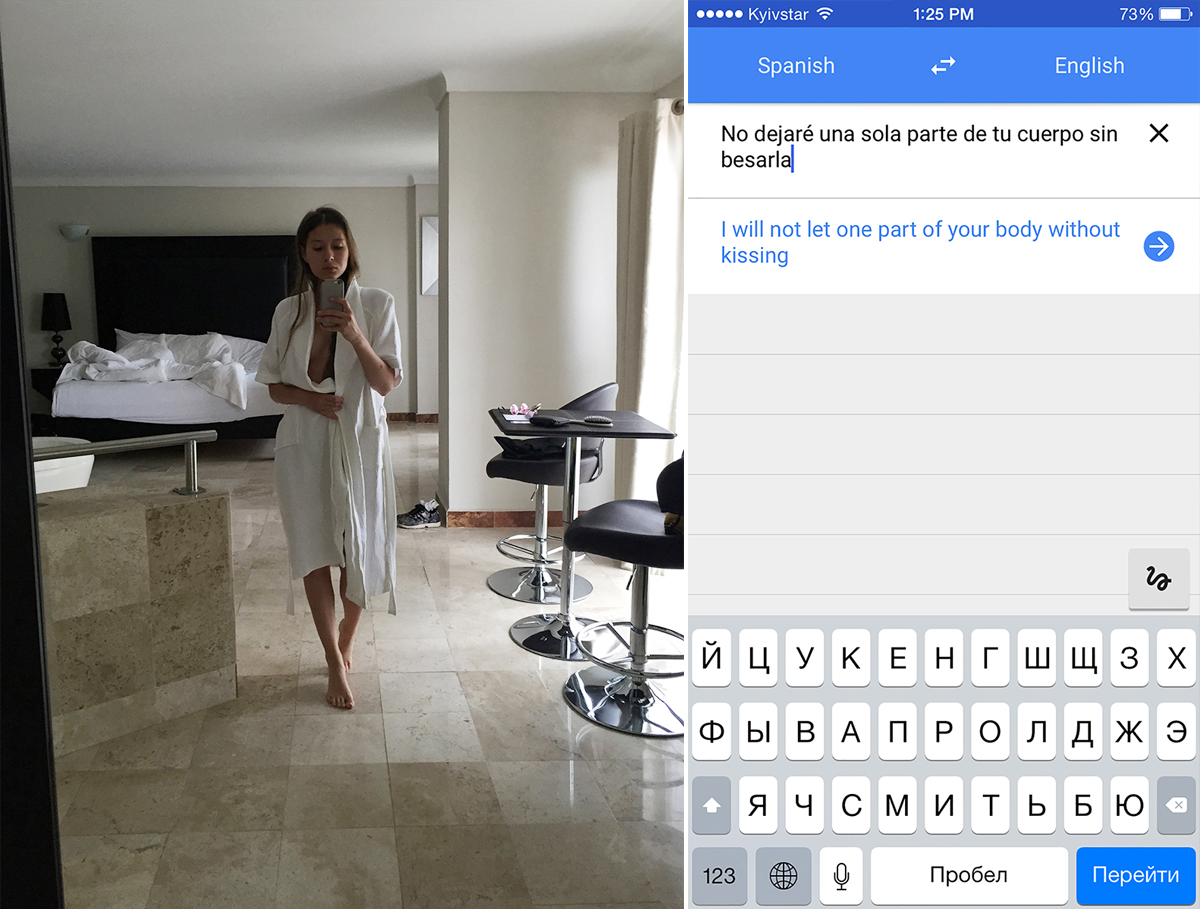 The hotel I would love to work in:
"My next hotel destination will be one of these American road motels somewhere outside of the city. I also would love to shoot something in Ryugyong Hotel in North Korea, but I don't think I'm going to be able to realise this dream as the building's been abandoned."
Juno Calypso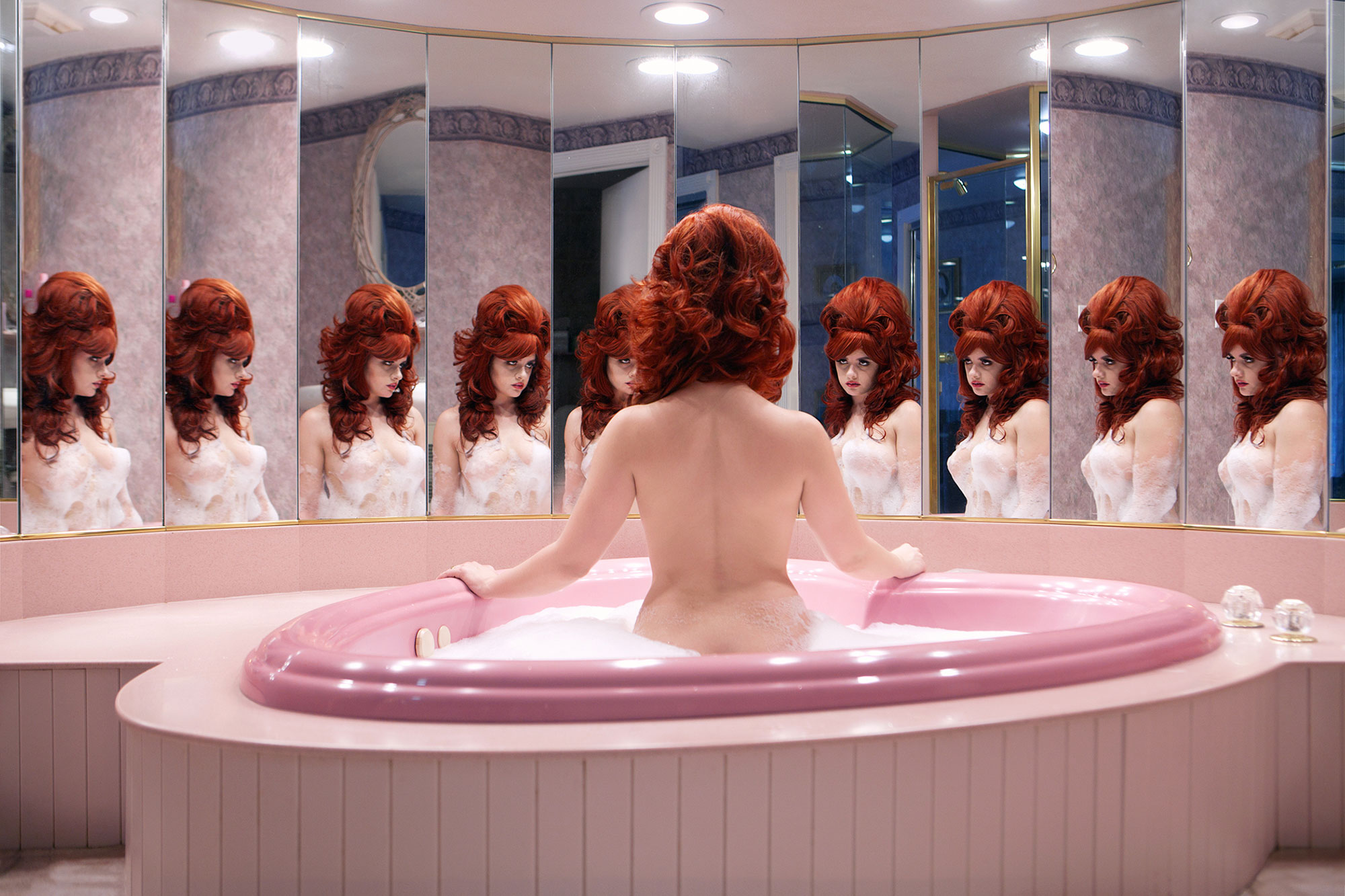 Juno Calypso takes pictures of herself as a fictional character called Joyce in rented bedrooms and, most notably, honeymoon suites. Taking the place of loved up couples like a solitary Venus of the 21st century, with a heart-shaped pink monstrosity of a bath in place of an oyster shell, Juno explores the social rituals of seduction and imposed ideals of beauty. June first turned to hotels for their privacy and cinematic settings. "I like the privacy. They leave me alone to do whatever I like," she says.
"When I've used people's spare bedrooms it's more awkward. I found that particular honeymoon suite before I thought about the concept of it. I just found a picture online of a pink mirrored bathroom and had to find it. I like the way a lot of the décor hasn't changed over decades. They can feel like a time-warp. Having lots of people sharing private moments in the same building creates an atmosphere as well."
The best hotel I've worked in:
I would like to tell you where it is but I've had so many people copy my work I'm so reluctant to share details now! It was a three hour coach away from New York. It's easy to find online so I'm sure someone will. I picked it because I loved it, and I hadn't seen anyone else make work there. They filmed a straight-to-TV movie there in the eighties, but I can't find it anywhere.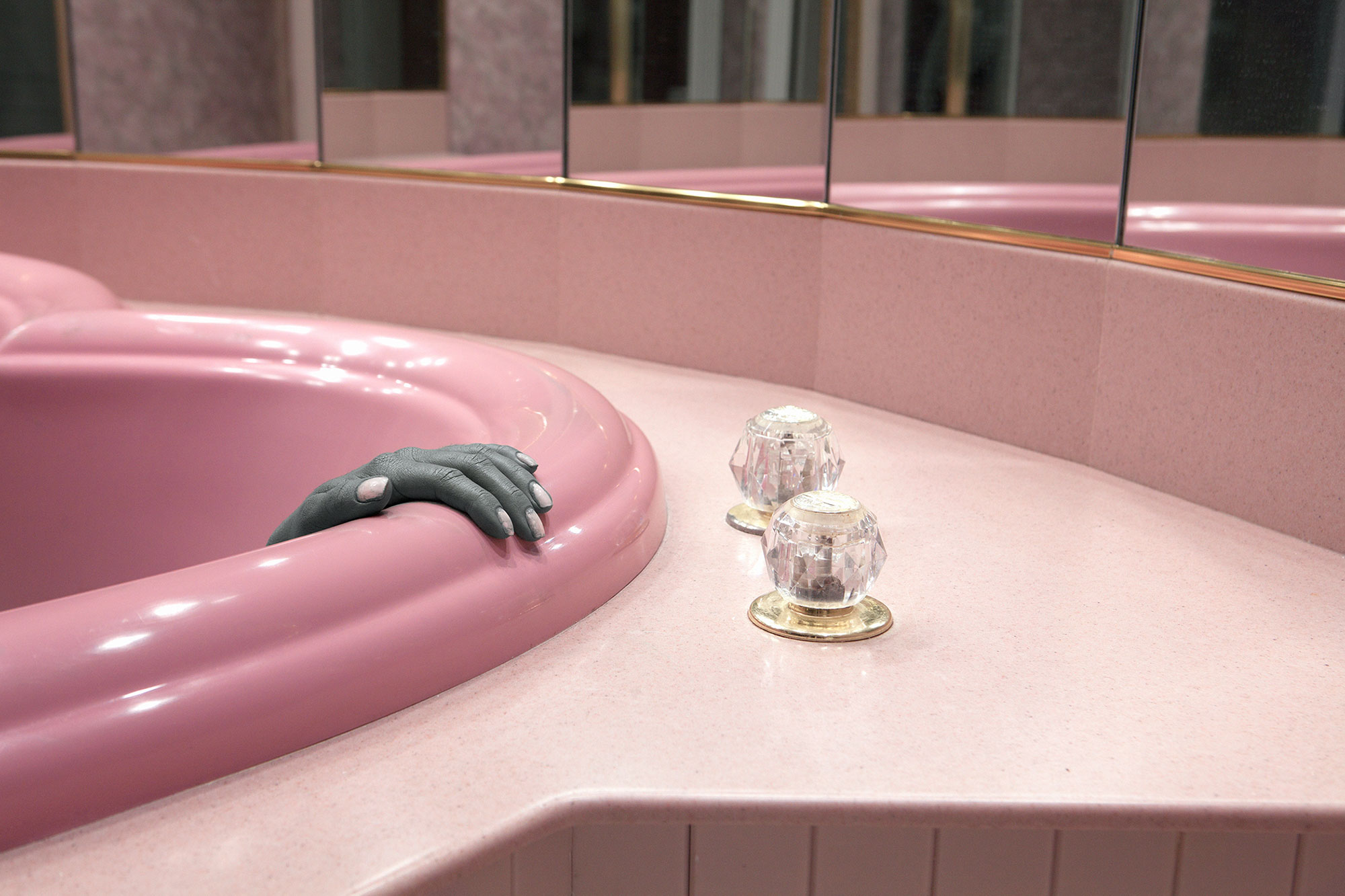 The hotel I would love to work in:
I think a Japanese love hotel would be fun.
Alexandra Marzella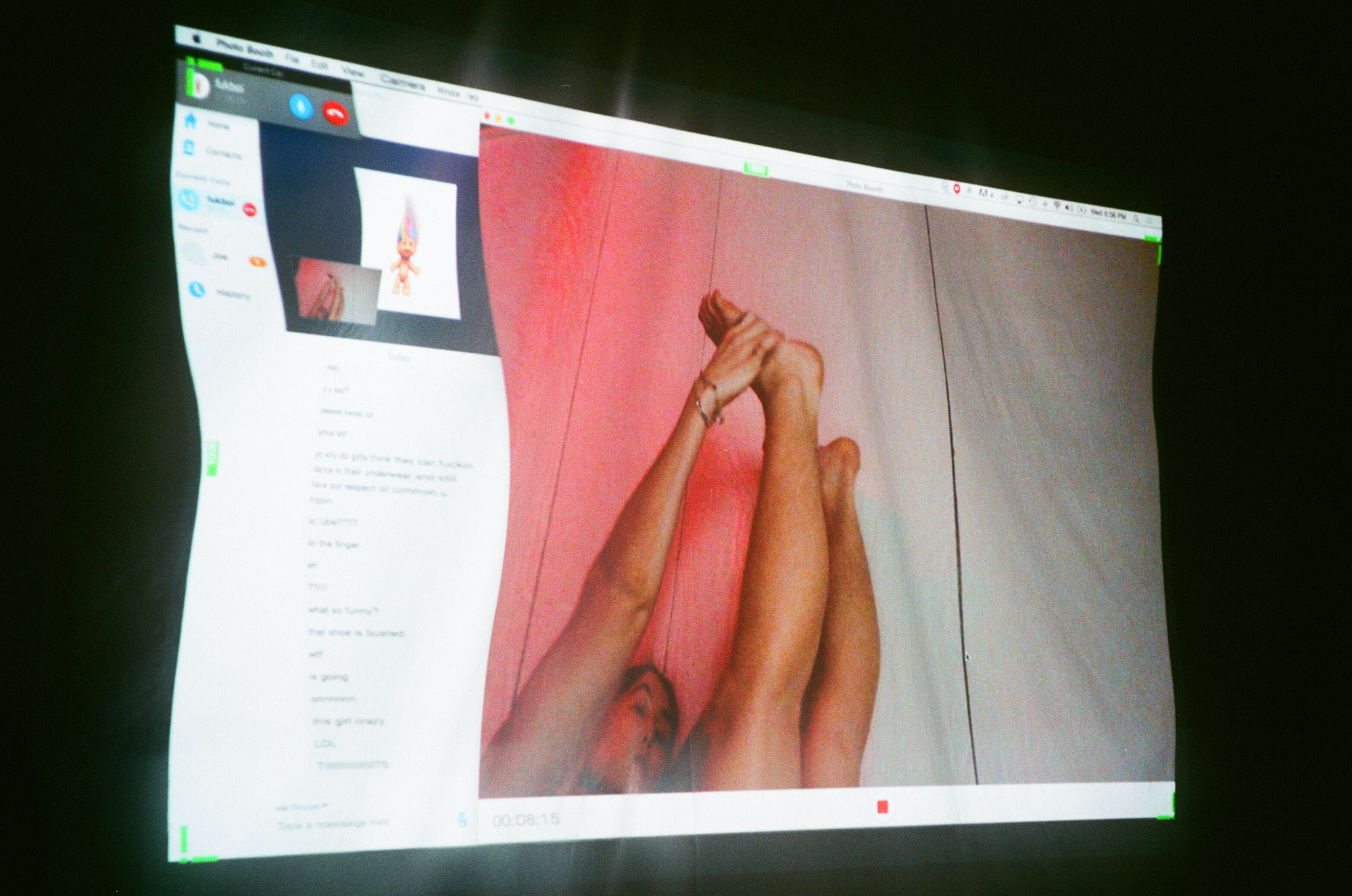 For American performance and visual artist Alexandra Marzella, hotels are anything but intimate. During her performance at the Standard Spa Miami Beach the hotel room was crammed with people filming on their phones as Alexandra undressed and cried on a hotel bed as a way of holding up a mirror to strangers' fantasies. Her work demonstrates that the hotel room is that magic place where our longing for intimacy and unstoppable desire to show off finally meet.

Exploring desire is not new for her: in New York she used to work as an exotic dancer, and she still uses her body as an artistic tool, a forceful self-love weapon in sexual warfare. Luxurious hotel interiors naturally hint at sex, but also they're the perfect setting to let your body do the talking. "I'm definitely inspired by hotel rooms," she says. "I don't know why – it's a new space, that still feels somewhat like a nest. I'm a nester. Luxury is pretty inspiring… and hilarious. B&bs work too."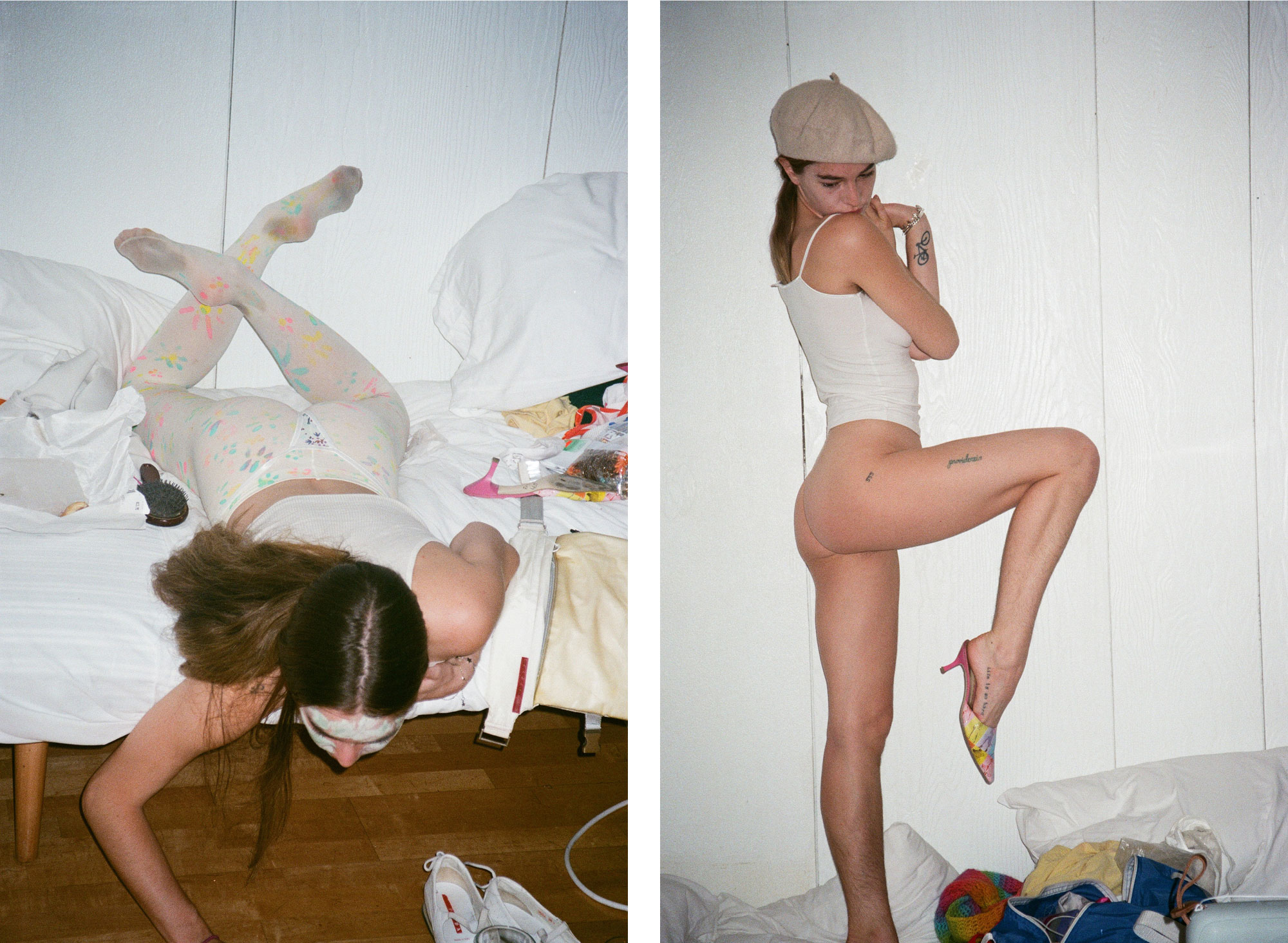 Best hotel I've worked in:
"Shit, I've made art in every hotel I've ever been in, and will continue to do so. More hotels should put me up as an artist in resident – The Standard didn't even put me up! Next time they better…"