Land of Hope & Dreams | The St. Charles Parade, Minnesota
Photographer Chris Bethell, by total accident, finds himself deep in small town Americana
Photo: Chris Bethell
In this week's 'Land of Hope & Dreams' – part four of the series – British photographer Chris Bethell, and his partner Bekky, drive as westward as they can manage, arriving in the small town of St. Charles, Minnesota. Through a turn of fortune, they find themselves in the midst of the town's annual parade, where Bethell was able to capture the workings of the archetypal American community in full flow.
Moving quickly, since the opportunity had presented itself to him, Bethell went throughout the parade, speaking to the residents of the town as he took up position and documented the highlight of their annual calendar. The purity and beauty of small town life sparked feelings of a connection between Bethell and his grandfather, whose origins in the States had prompted him to travel through the country.
"I love the intensity of these kids' expressions. They're so caught up in the procession of tractors, trucks and ambulances, staring out onto the parade while snacking on cheese-strings and lollipops"
Amuse has been serialising Bethell's 'Land of Hope & Dreams' series, featuring Bethell's street photography of – and commentary on – Boston, New York City, and the American north. These photo essays will continue in the coming weeks, as Bethell chronicles his thoughts and feelings around his own American roots, and the nation that has always captivated him.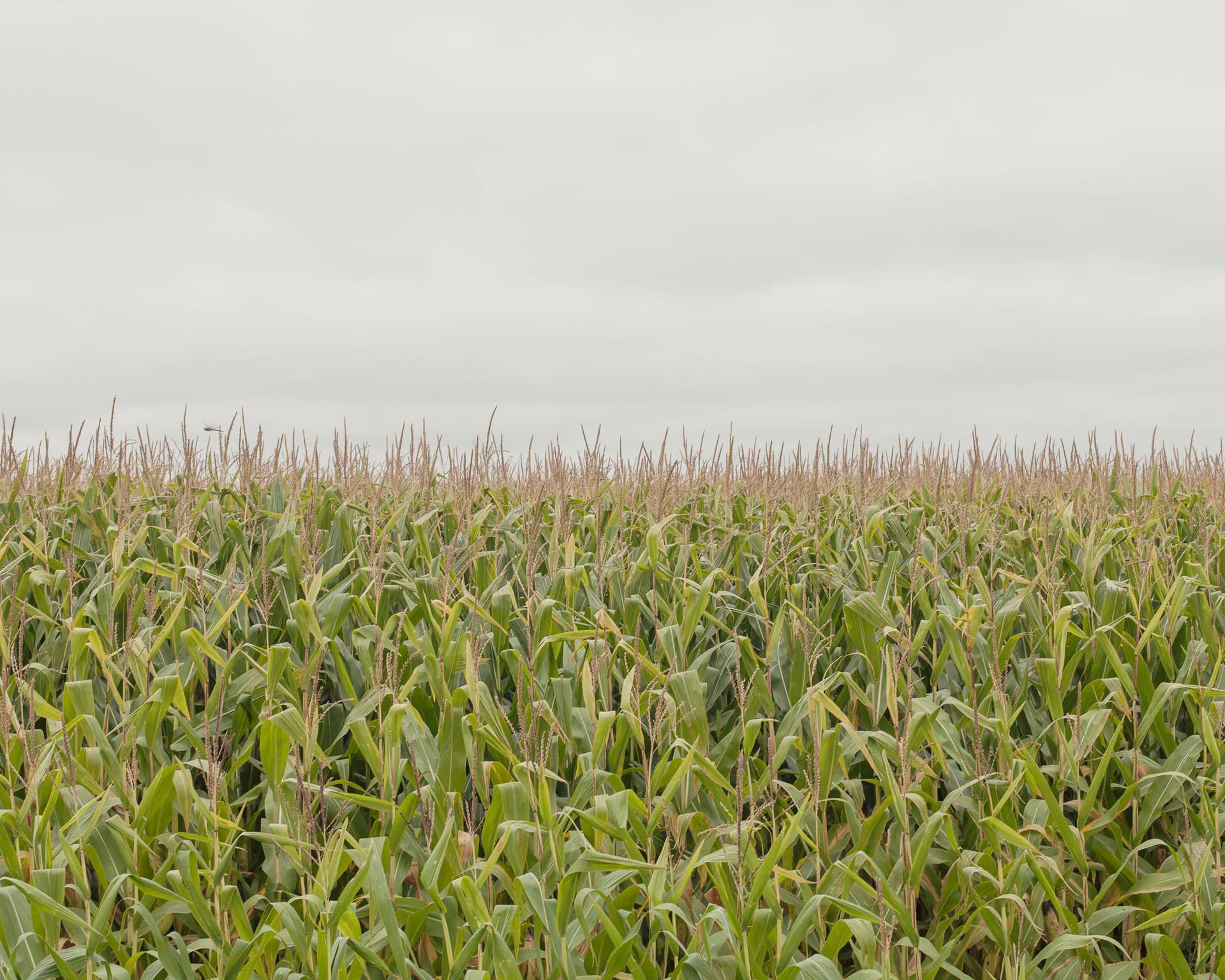 After Ohio, we decided to push further West, spending an entire day on the road. We took in as much as we could of Indiana and Illinois, but pulled over at a motel in Wisconsin when we couldn't drive any further. The next morning, we crossed into Minnesota and immediately the landscape flattened; for miles and miles and miles, all that could be seen was a horizon of crop fields.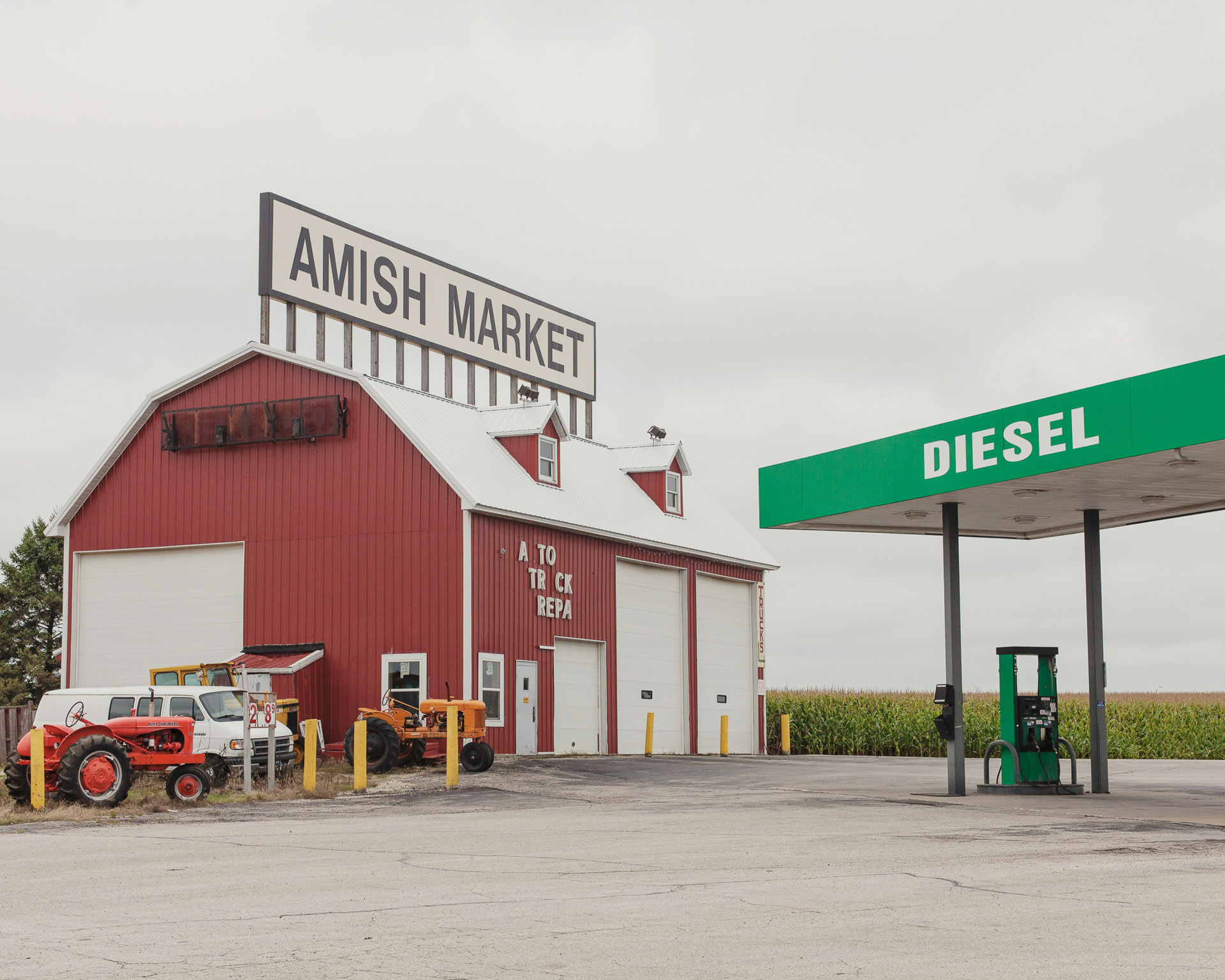 Occasionally, the landscape would break to allow for garages and rest-stops. This one especially piqued our interest due to its Amish branding – leading us into thinking that an Amish town was nearby.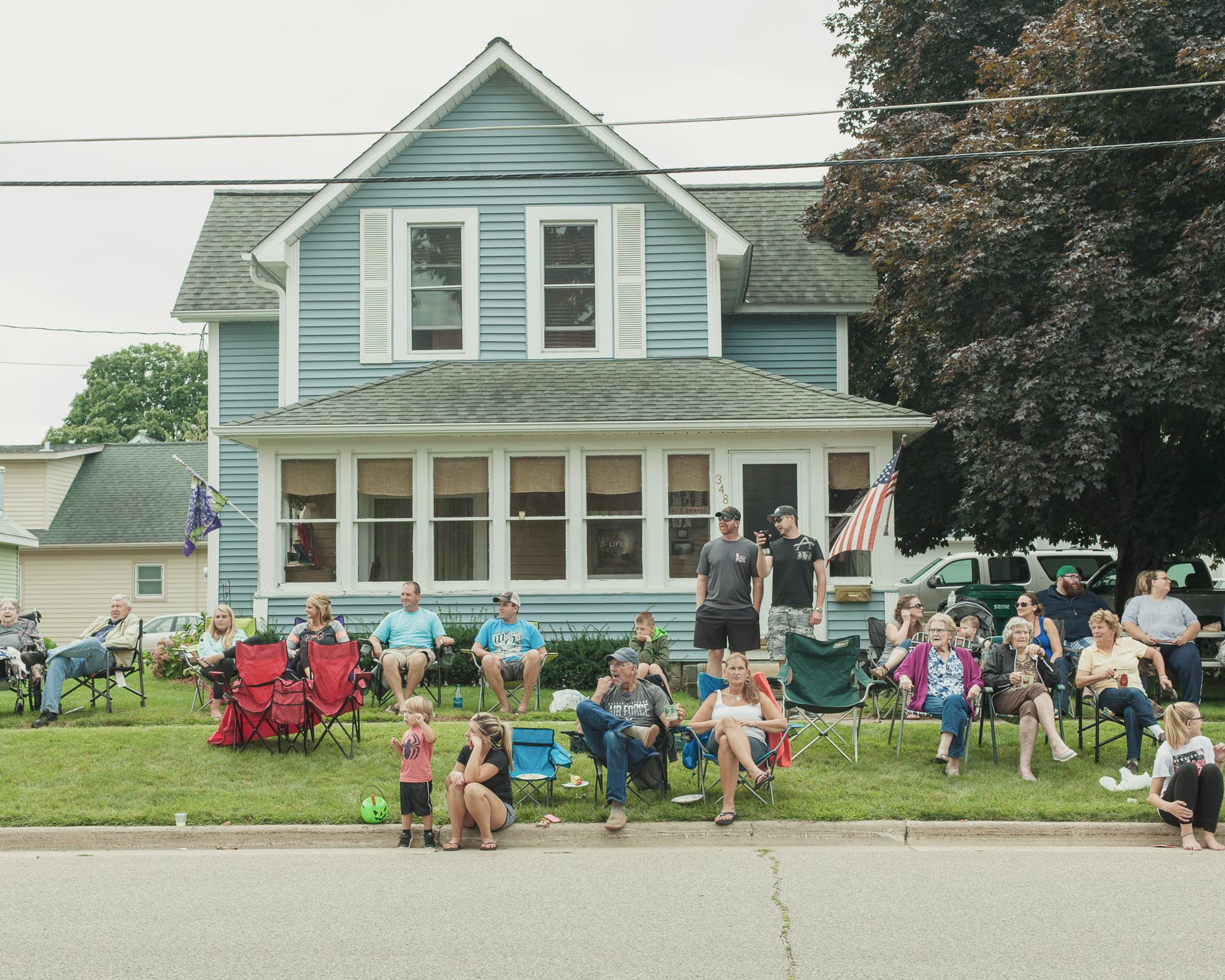 We drove towards St. Charles, the nearest town, and were greeted in a bizarre way.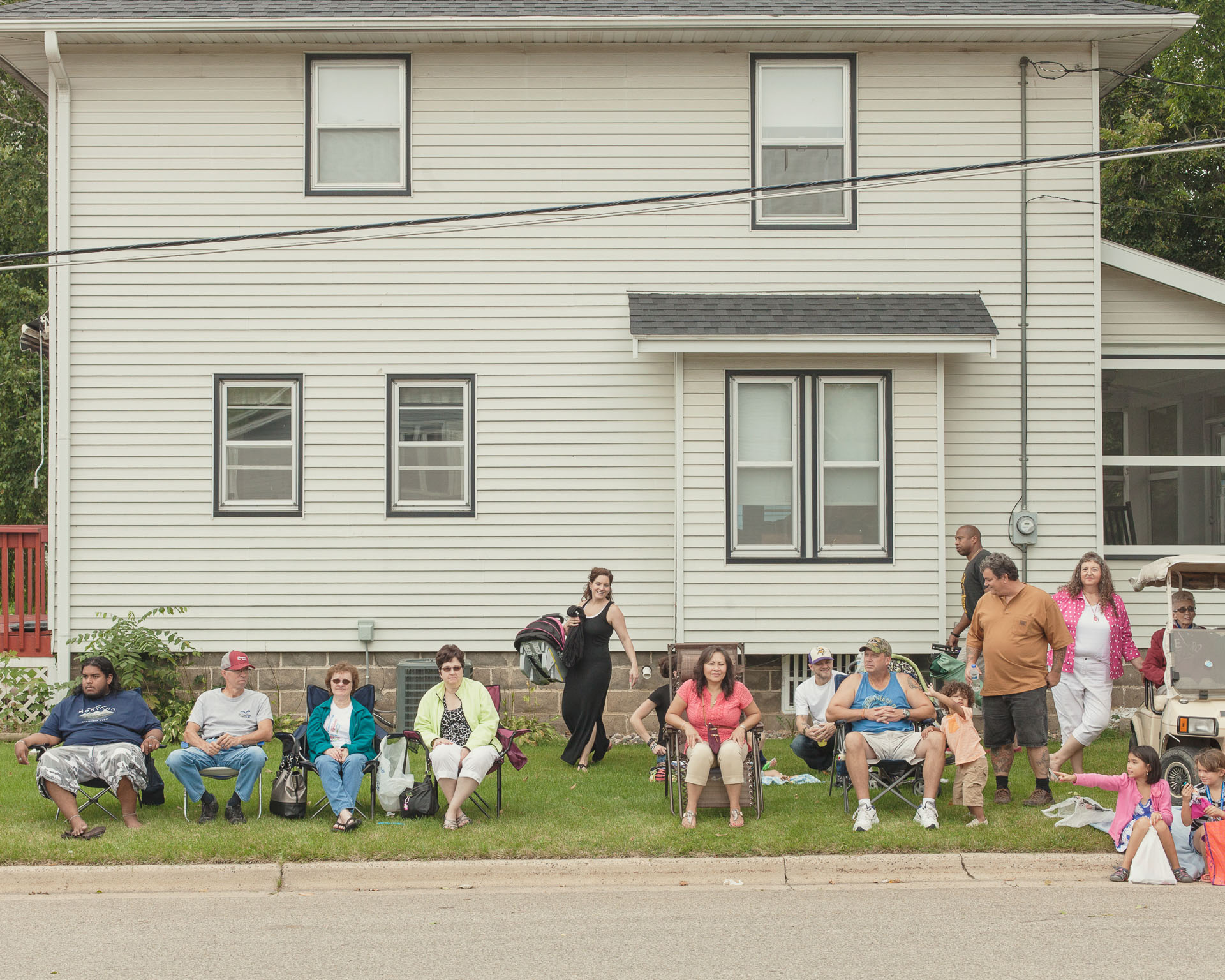 The town's roads were lined with hundreds of people in deck chairs, all staring at us as we drove down the roads between them.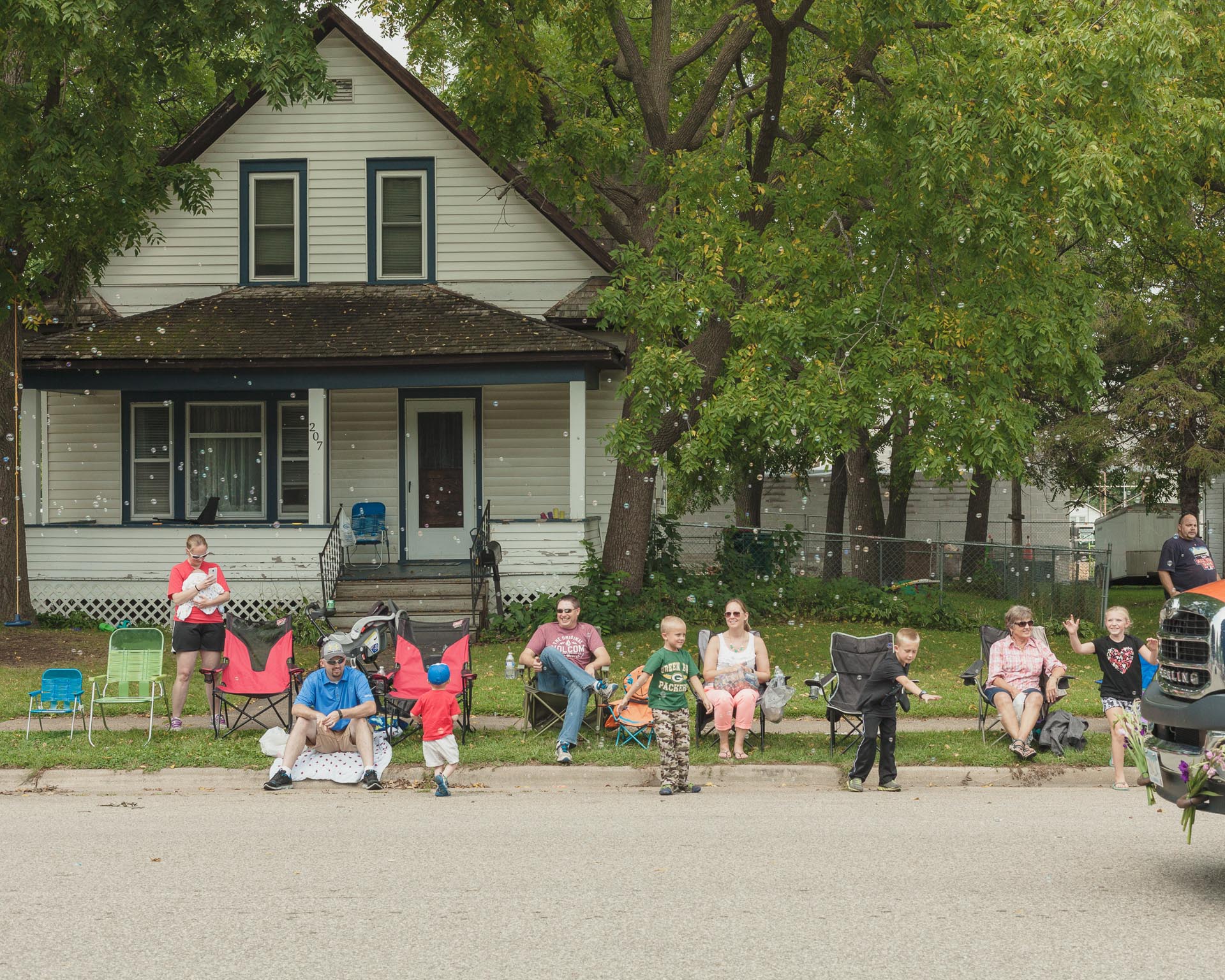 As we turned a corner, it became clear what was happening – we had somehow driven the wrong way down the town's annual parade route. We just about managed to get to the end of the route and pulled off the street, before a fleet of tractors moved past us and kickstarted the event.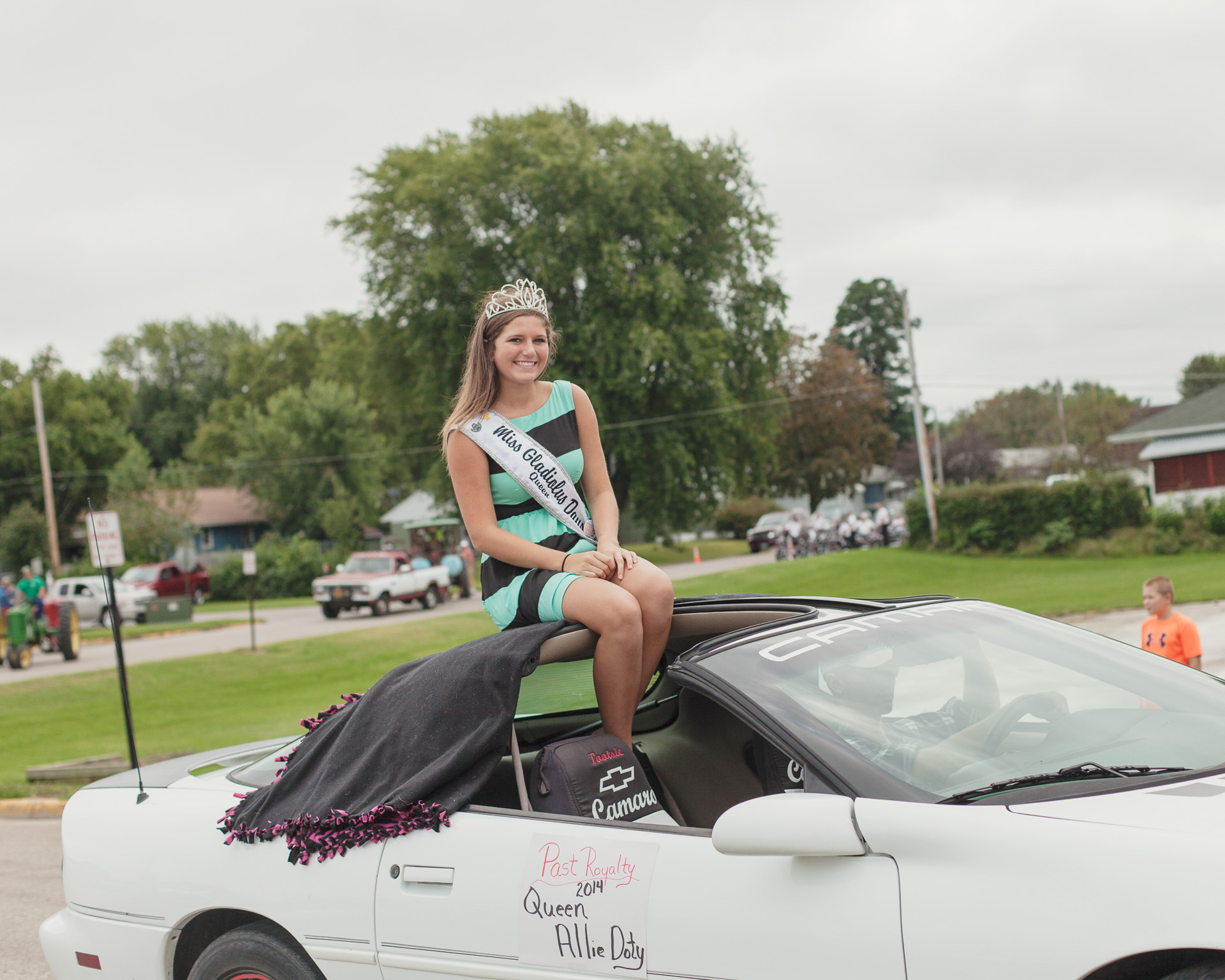 Myself and Bekky couldn't believe our luck and timing. I grabbed my camera, and began photographing all of the floats and cars that prepared to parade through St. Charles. This is the 2014 Queen, Allie Doty.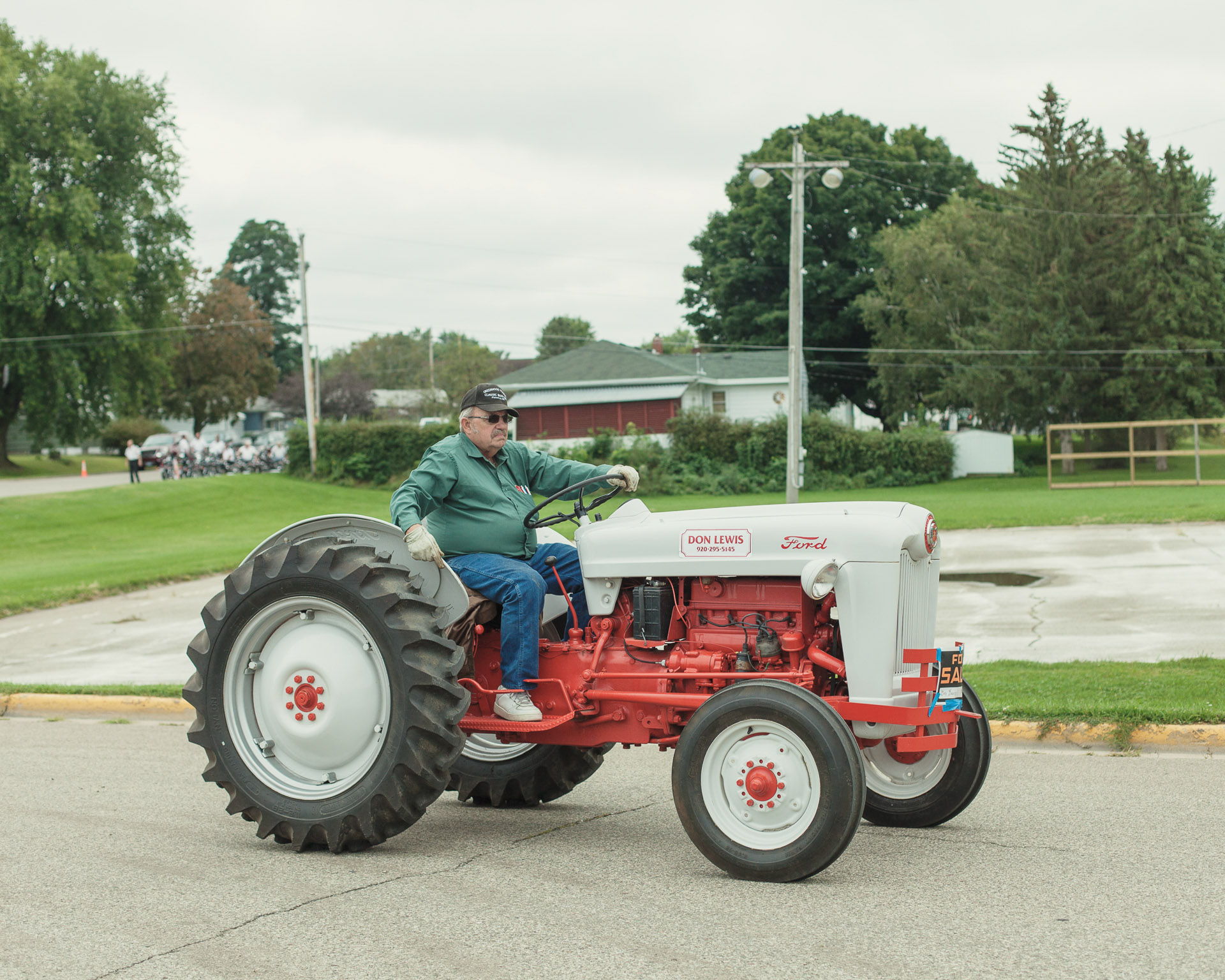 This was the most American thing I had ever seen. It brought a lot of my fantasies alive – the sense of community, and earnest celebration amongst the people on the streets, was beautiful. The pride that people had for the vehicles they were displaying was really sweet.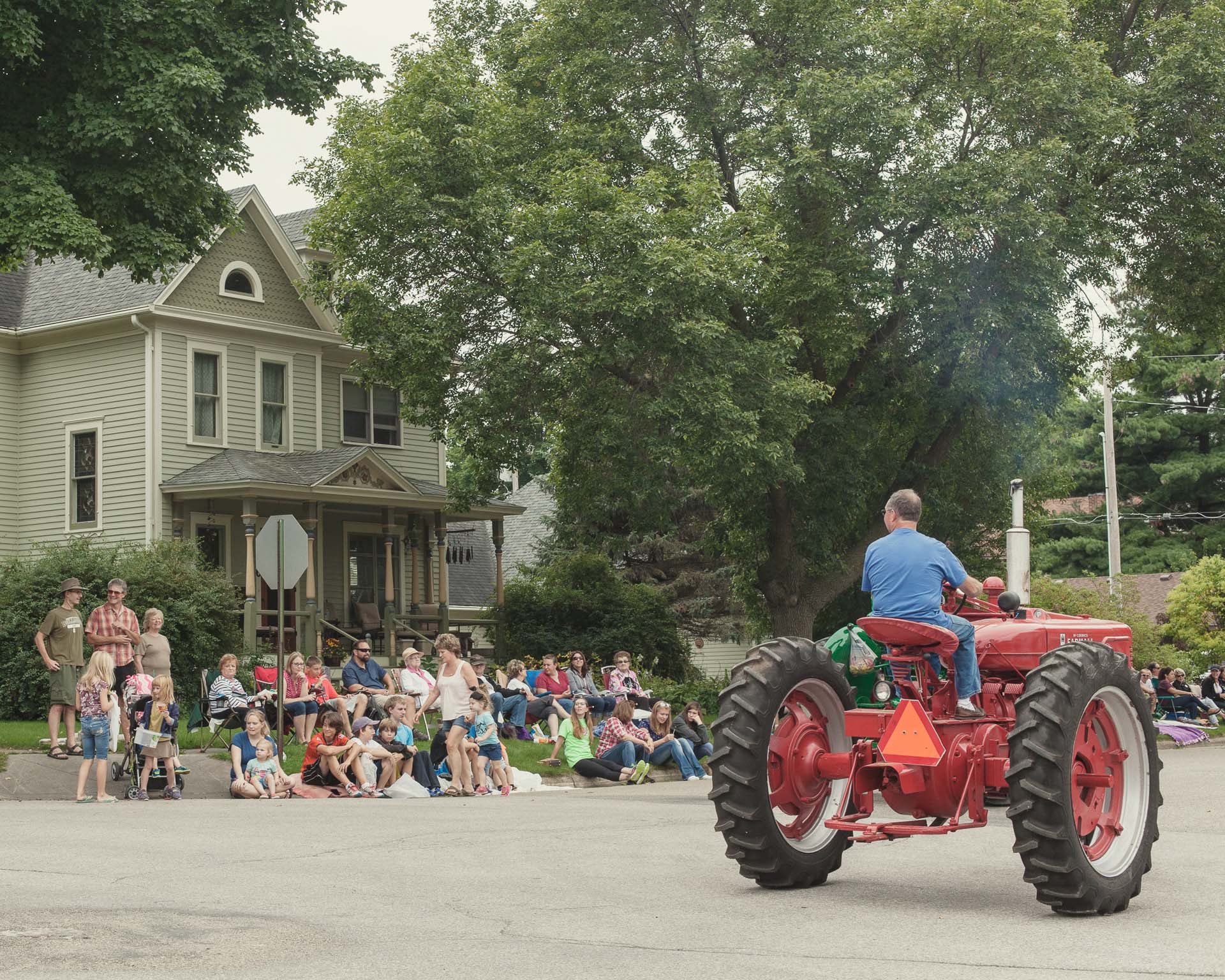 I love zooming in on these photos and looking at the expressions of the people enjoying the parade, and the relationships between them.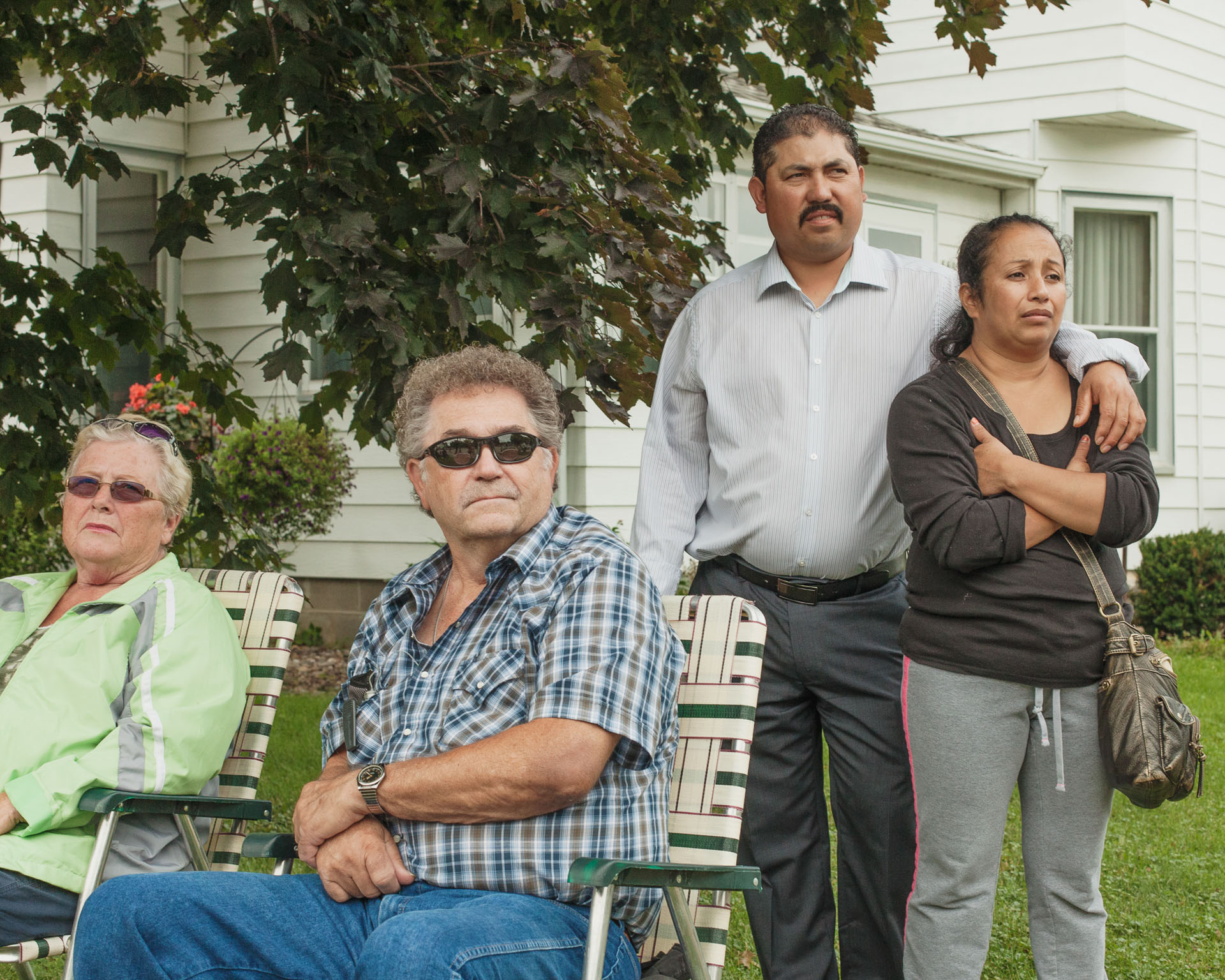 I am fascinated by this photo because I don't remember taking it, and as such have no recollection for what these four could have been looking at. The woman on the right of the frame looks visibly sad – her arms tensed up and her lips curling down. Her partner appears possibly annoyed or apprehensive. And the other couple seem melancholic and reserved. What were they looking at?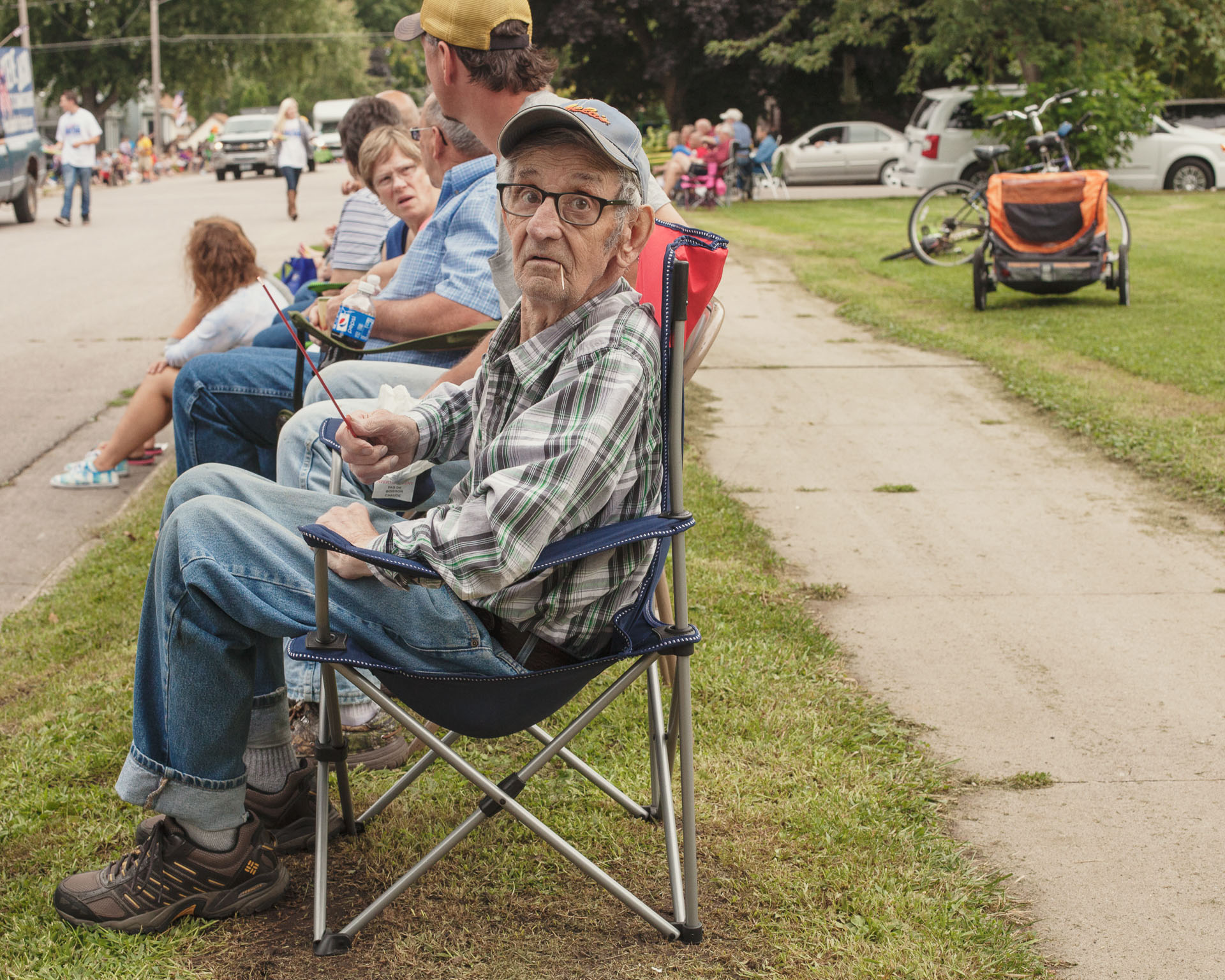 I shot this picture from the hip. The man's gaze is ever-so-slightly looking away from the camera – looking up towards me, I imagine. I love his soft expression of surprise and interest, staring up at me whilst his toothpick hangs from his mouth.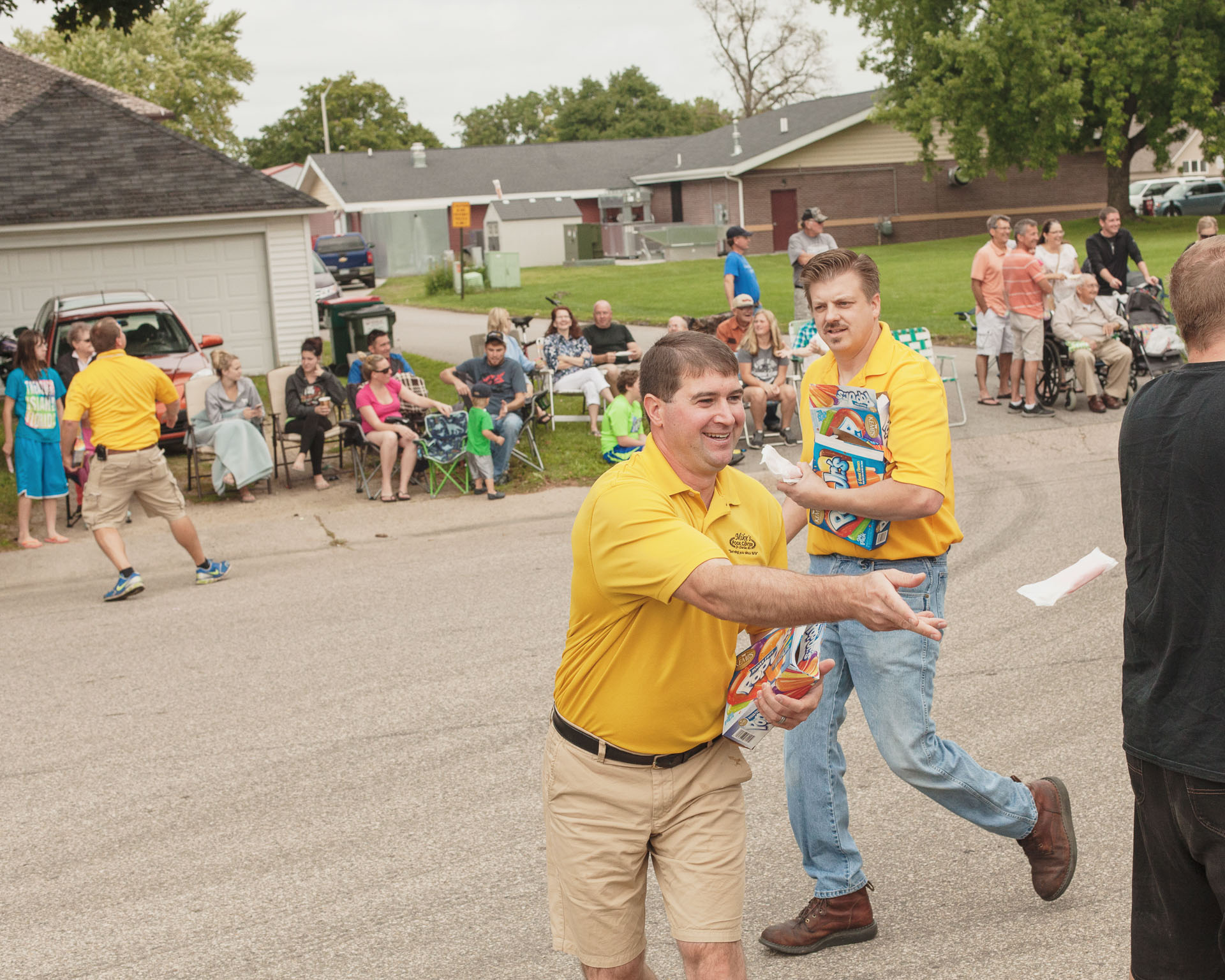 These men should be paid full-time to constantly wander the streets, throwing out free ice lollies.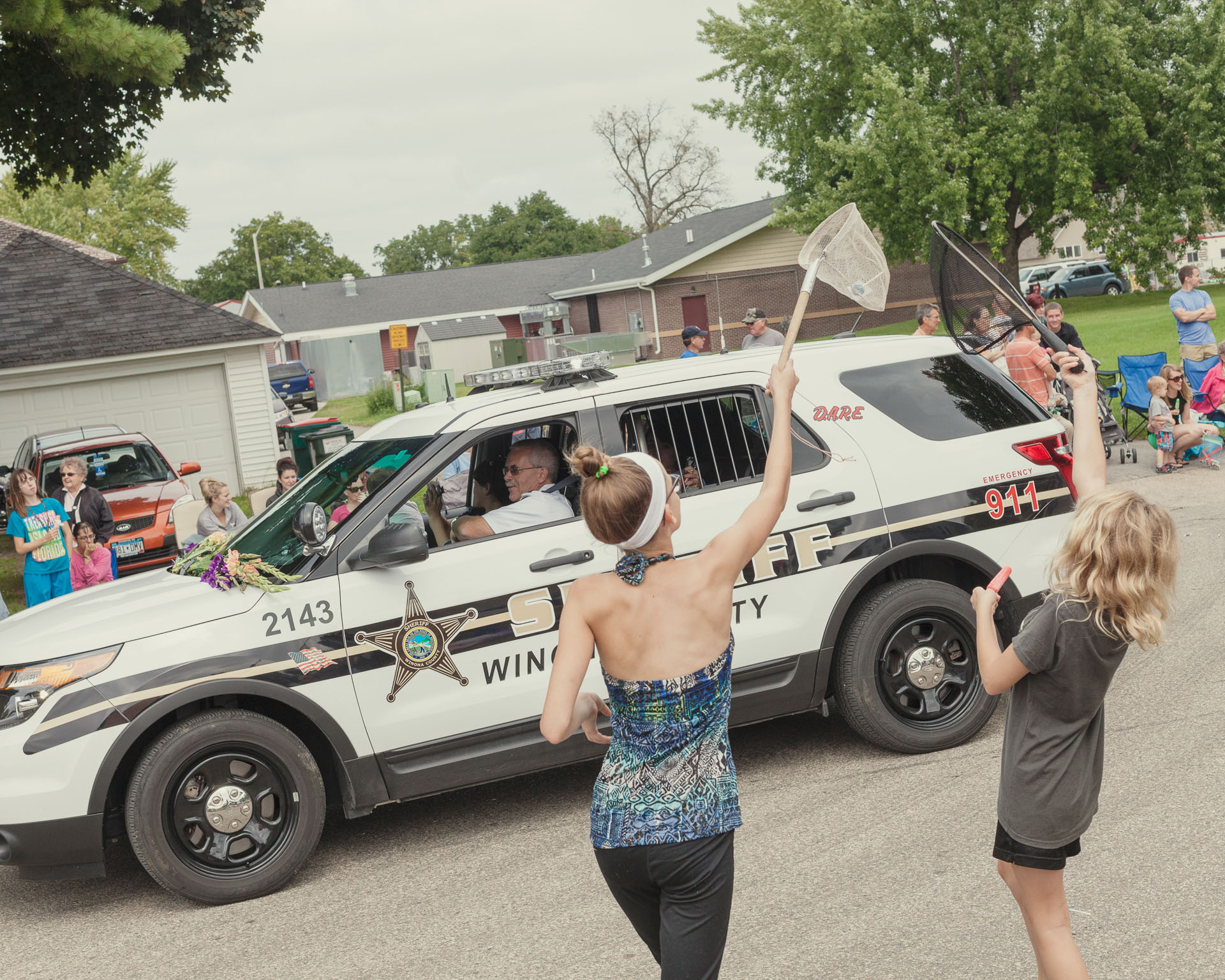 These kids' dedication to collecting sweets is admirable. They brought along nets to catch all of the candy flung into the crowds by passing floats.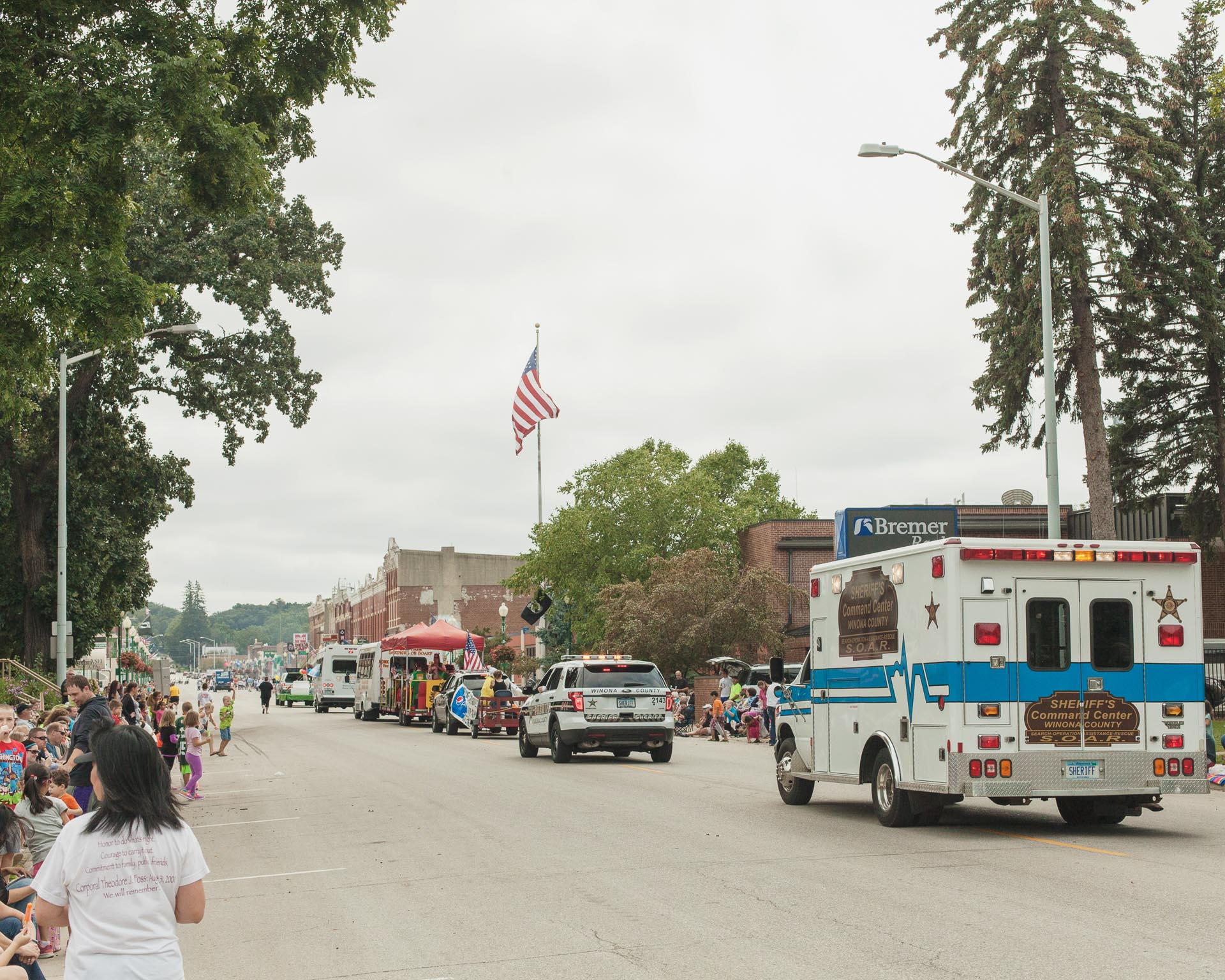 'Honor to do what's right. Courage to carry it out. Commitment to family, public, friends. Corporal Theodore J. Foss. August 31, 2000. We will remember.'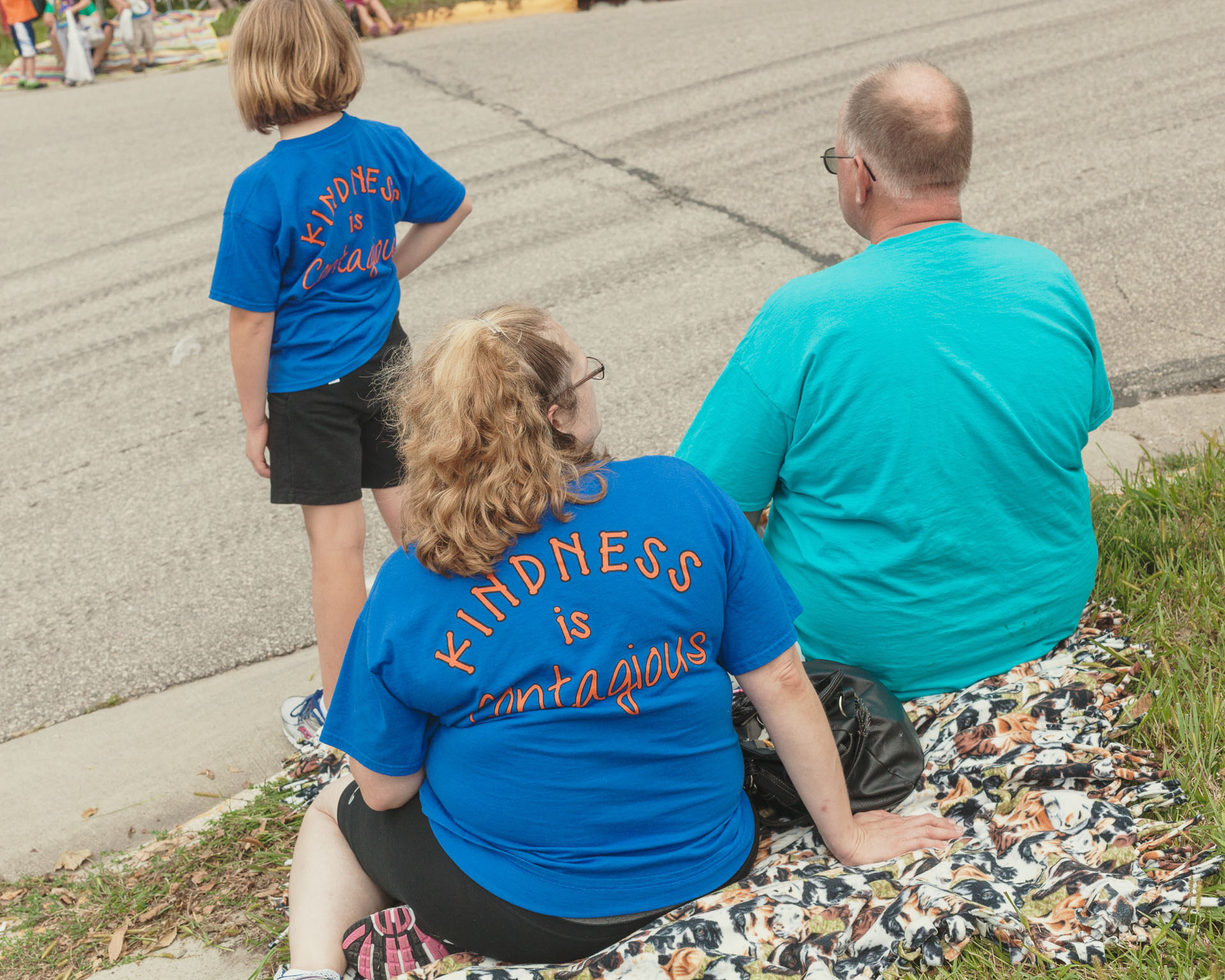 Is there anything that says 'smalltown American values' more than a mother and daughter in matching 'Kindness is Contagious' t-shirts? Probably not.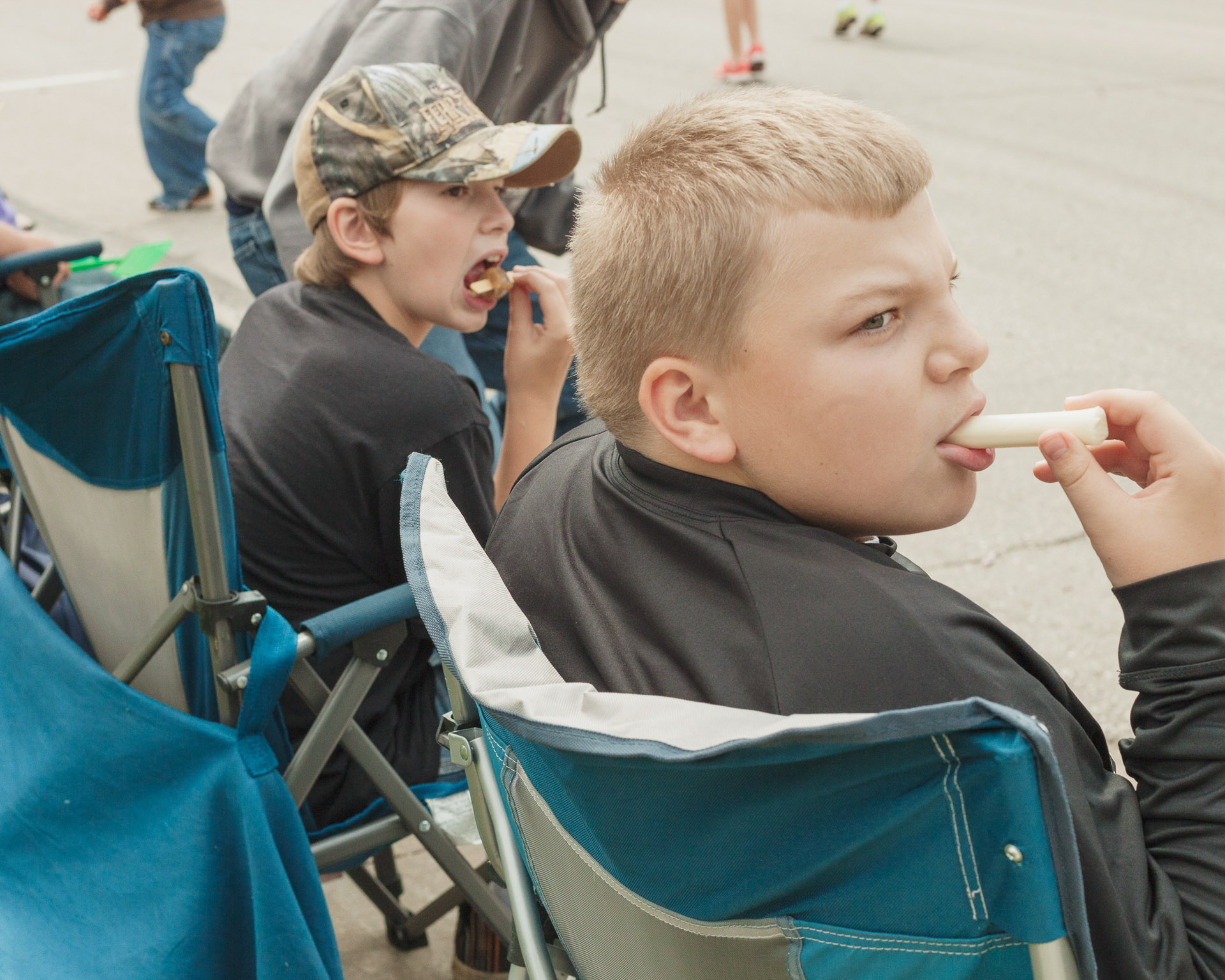 I love the intensity of these kids' expressions. They're so caught up in the procession of tractors, trucks and ambulances, staring out onto the parade while they snack on cheese-strings and lollipops.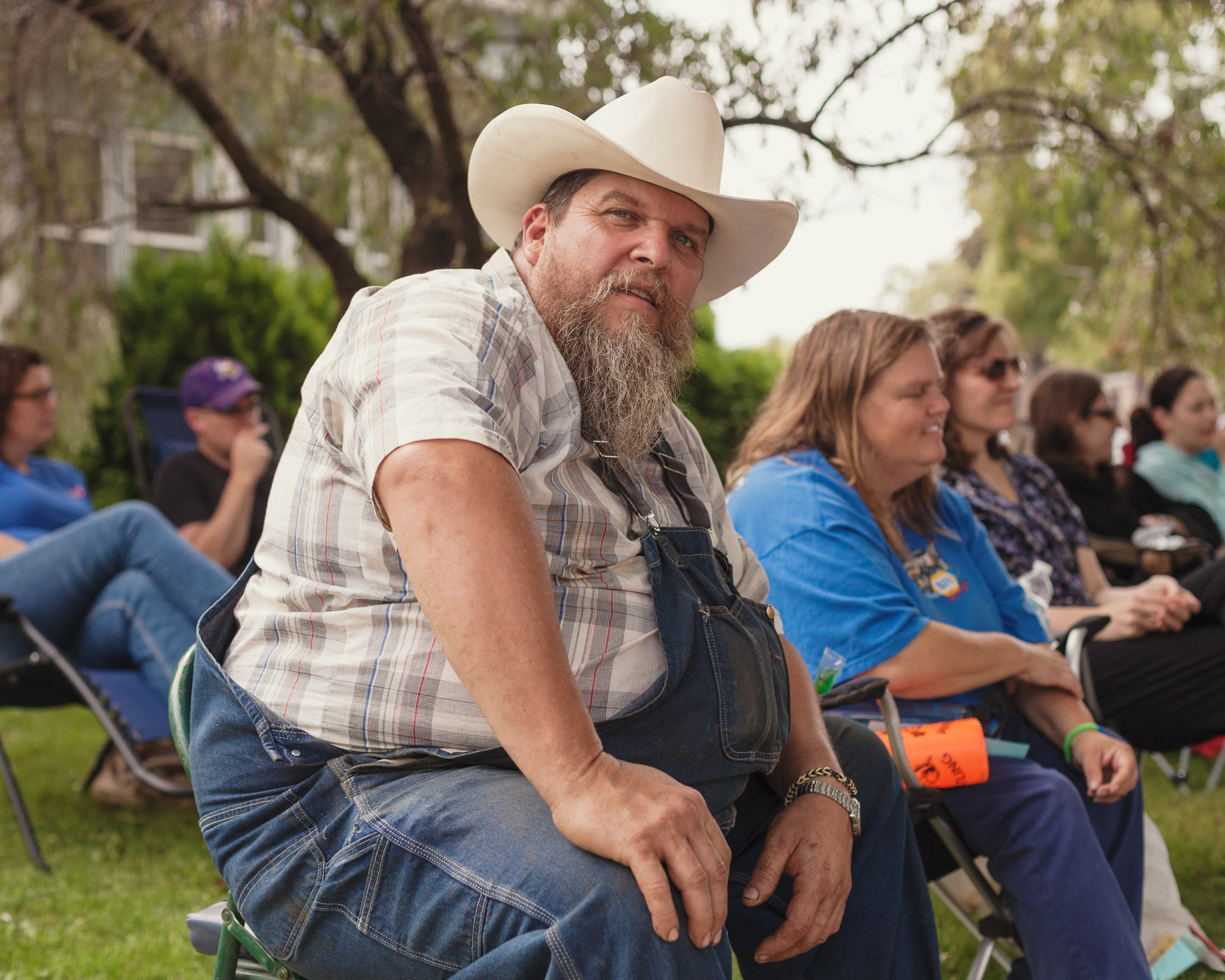 I was nervous when I photographed this man. I asked him for his portrait and he politely agreed, but I felt too anxious to stay and chat. I regret this now: I would love to know what he does for a living, what he spends his free hours doing, and simply just what his name is.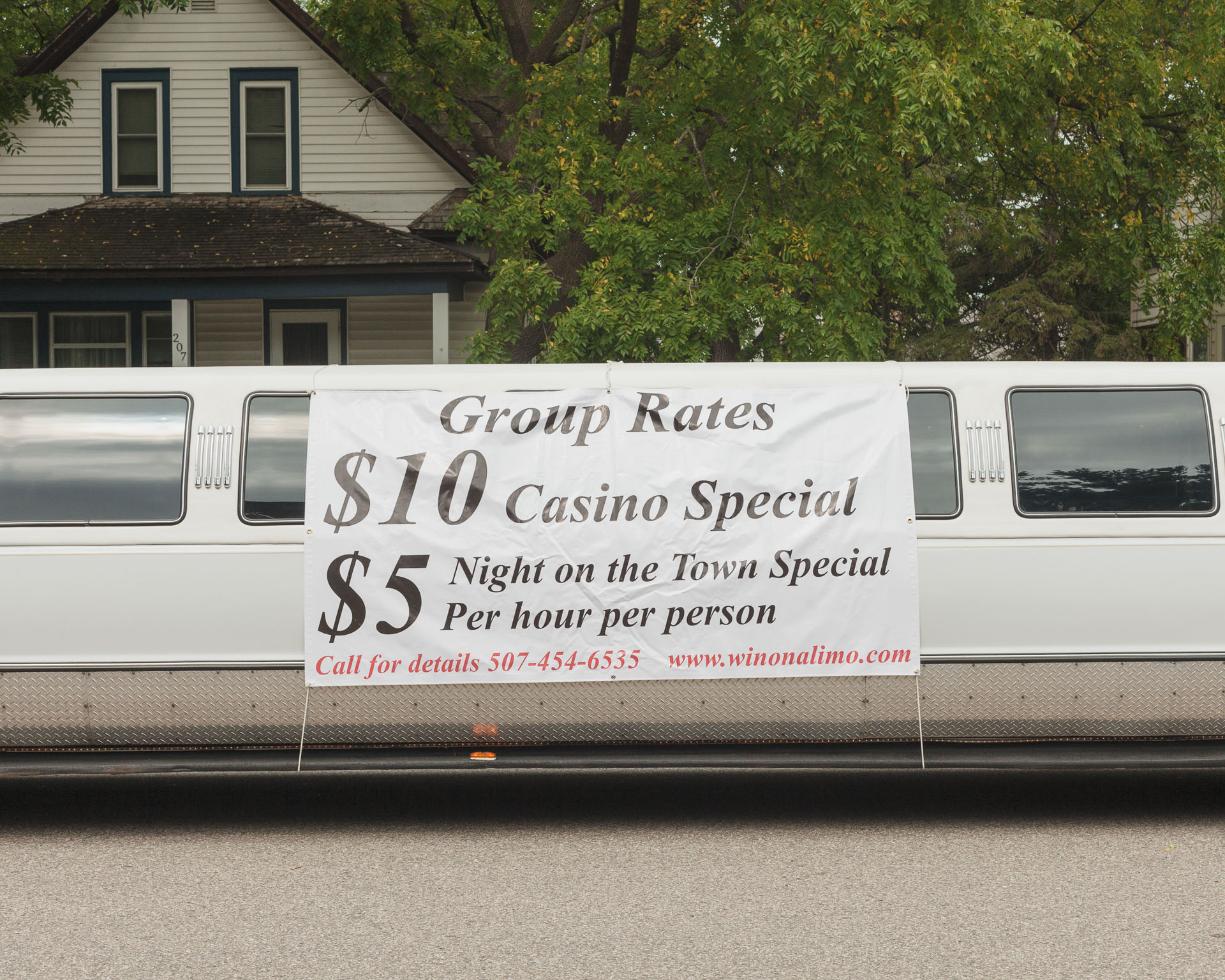 Some of the parade participants used this opportunity to market themselves. I have since tried to visit their website but it doesn't seem to exist anymore. Hopefully they're still in business, treating people to a special night for the special price of $5 per person.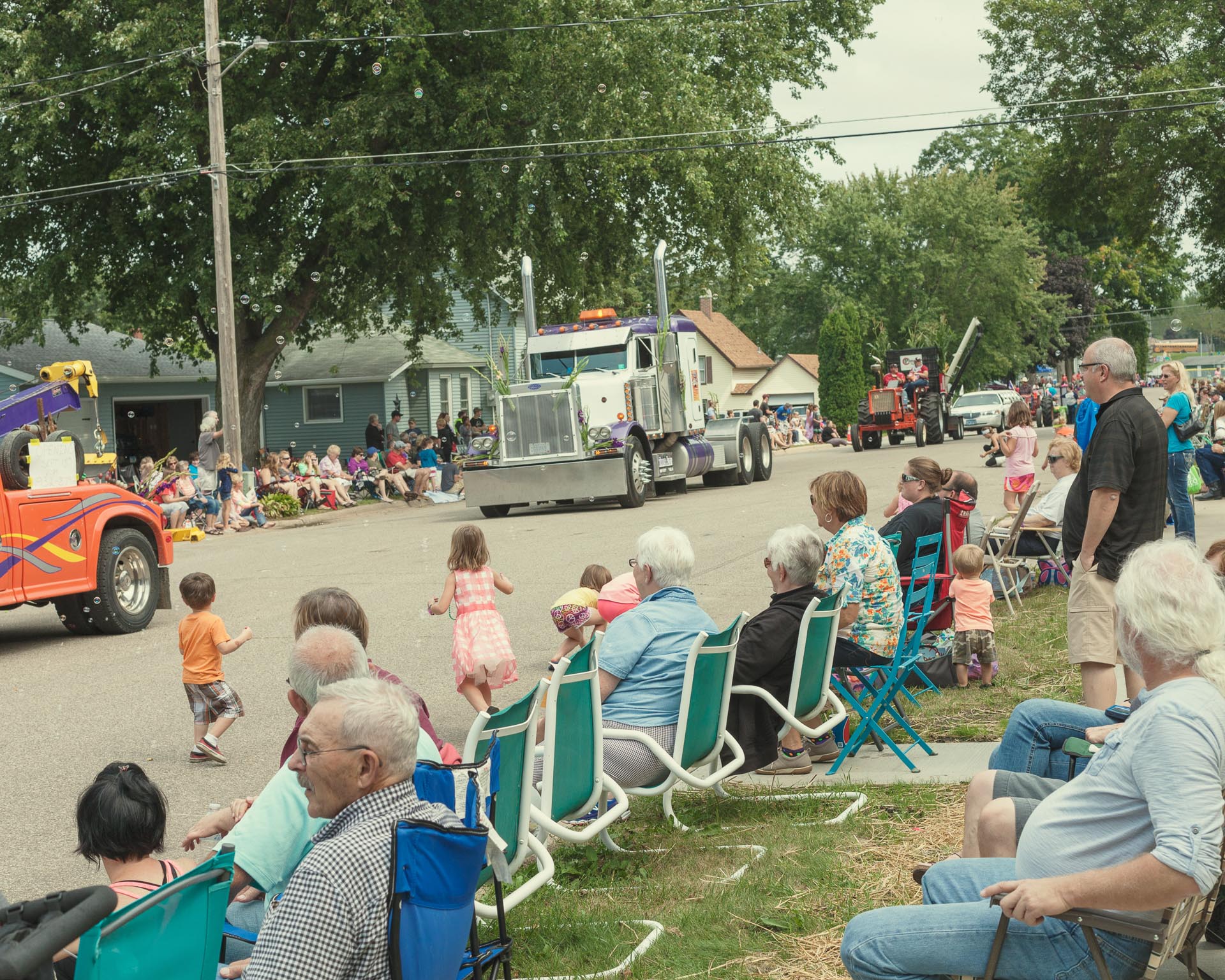 The parade route was pretty eclectic. Christian motorcycle gangs zoomed around in circles, anti-fracking protestors waved placards as they walked next to their pickups, and beautifully decorated trucks cruised along as their drivers enthusiastically waved at their community.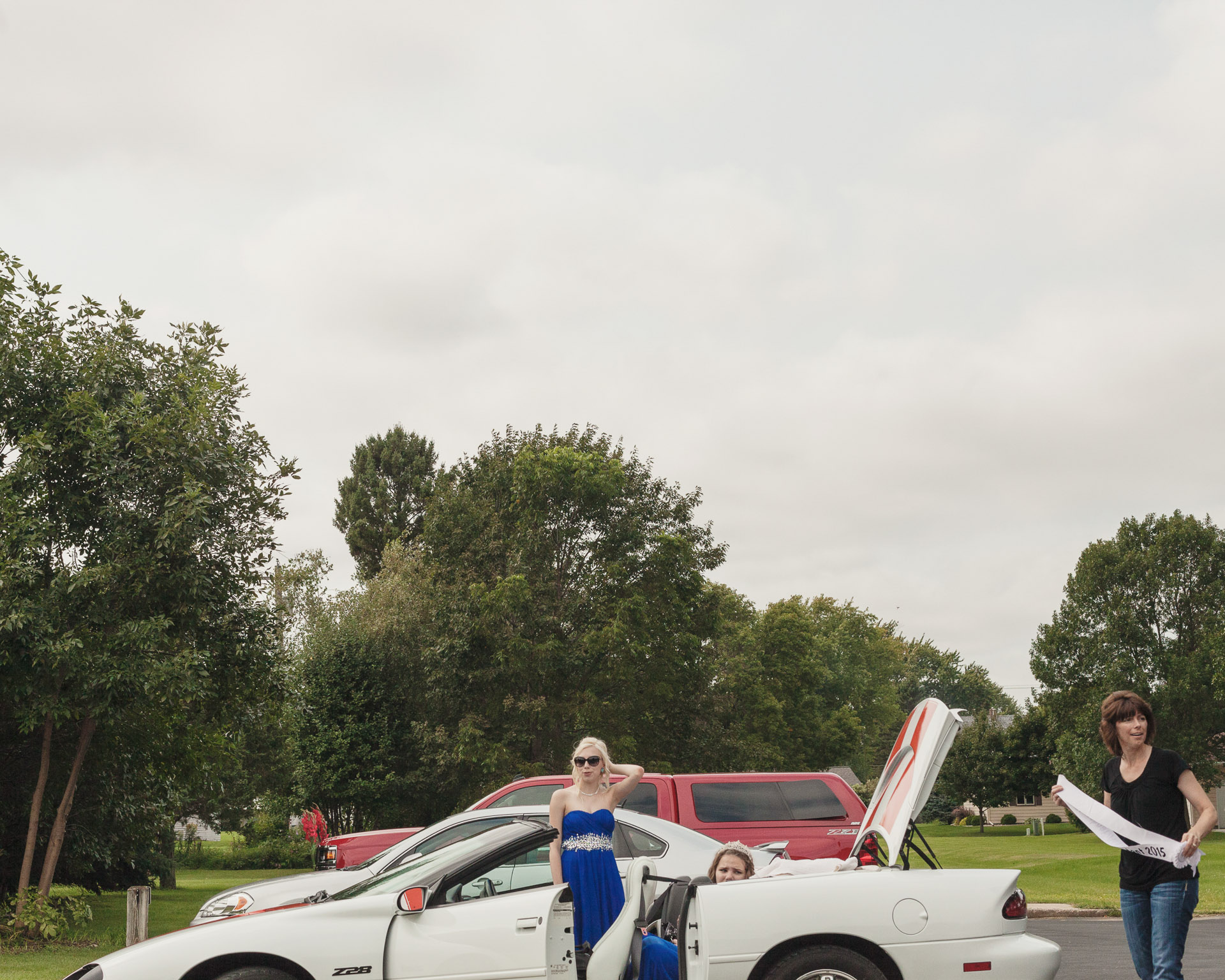 In this photo, we see a mother prepping her daughters for one of the pageantry floats. The older daughter is practicing her posing and pouting, whilst the other daughter hides in the back seat with a furrowed expression, possibly anxious about her role in the parade.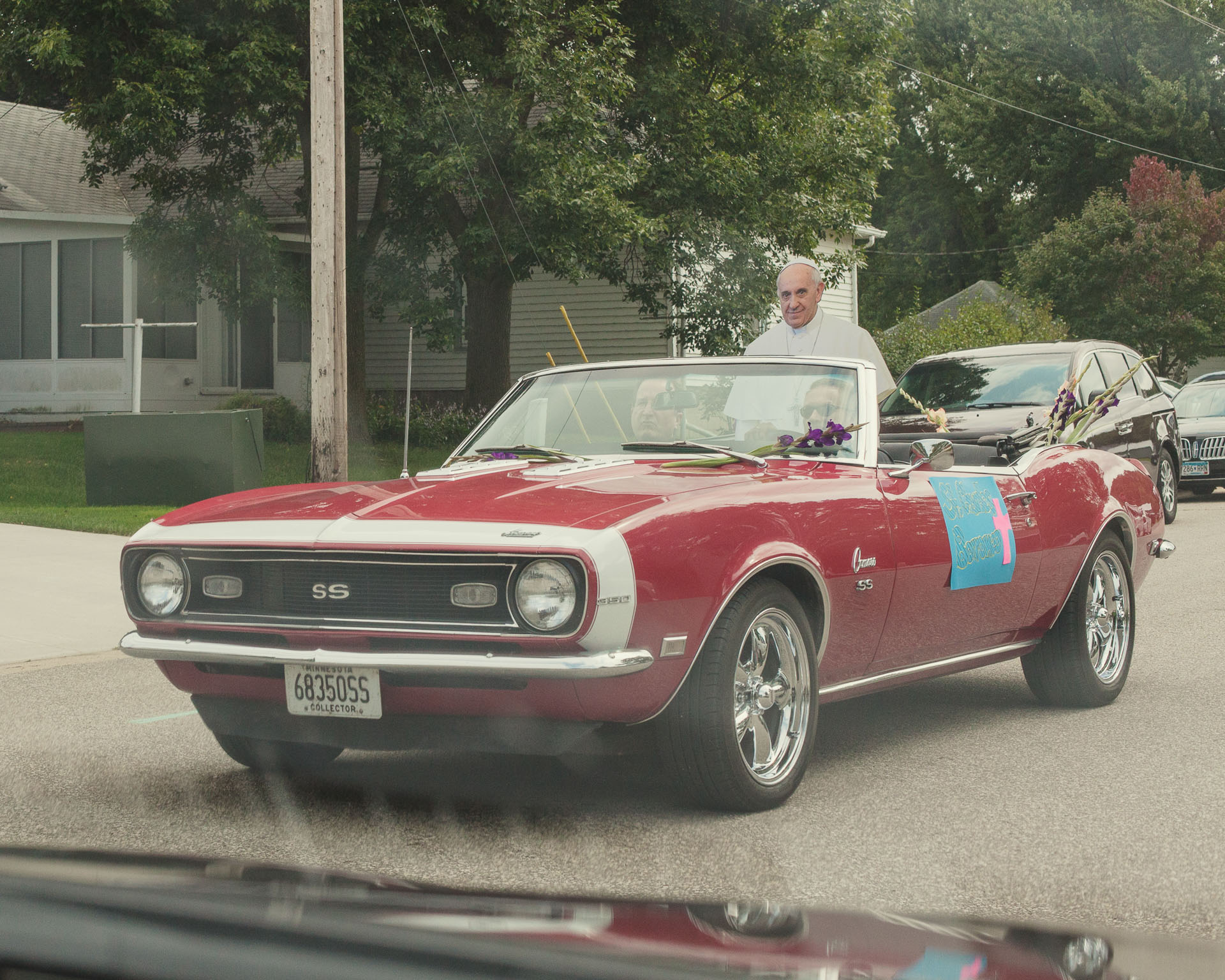 The all-American 2D Popemobile, in all its glory.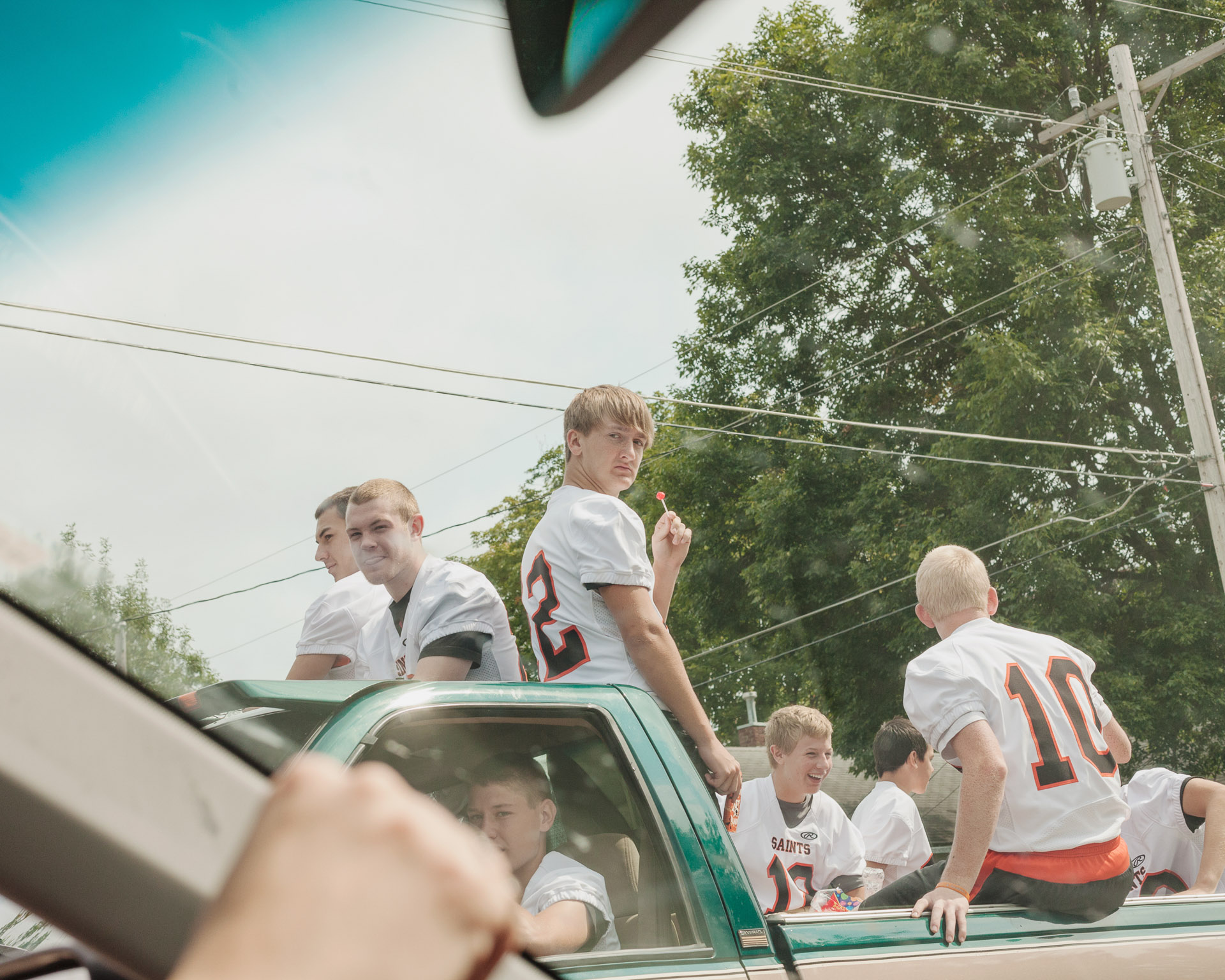 I love the relationship between Bekky and the boy with the lollipop in this image. As the rest of the boys laugh and joke amongst themselves, the boy grasps a juice carton in one hand and his lollipop in the other – staring slightly away from camera and towards the owner of the hand in the bottom left of the frame. I feel like this picture is reminiscent of every film that uses the jock trope.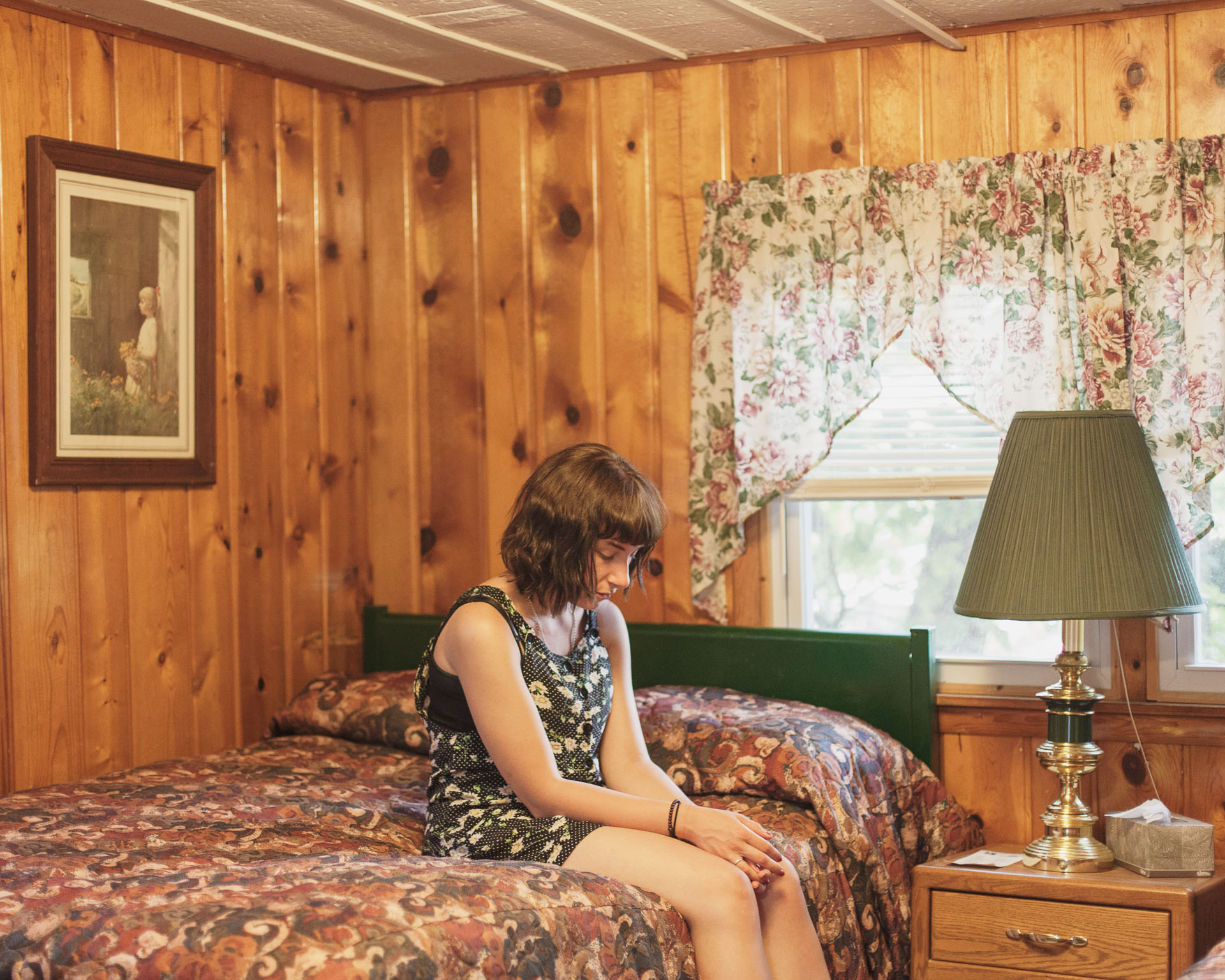 As a surprise to Bekky, I booked a lakeside wooden cabin for us to relax in, so that we could take a bit of breather from the trip so far. The cabin was decorated with taxidermied fish, and trophies of fishermen who regularly stayed there. I asked Bekky to sit on the bed, and caught this moment of her in quiet reflection.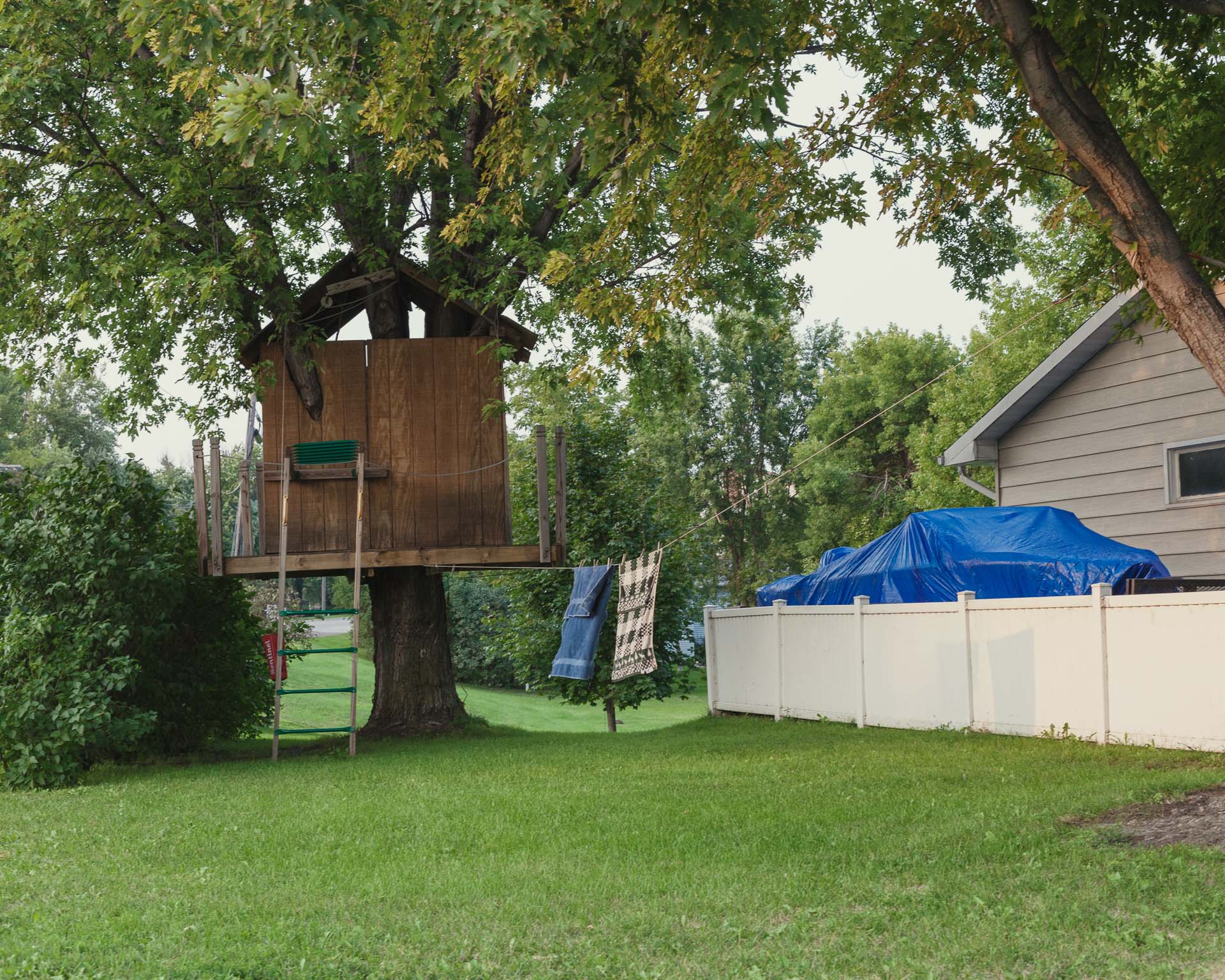 We headed out through Fairmont to grab some groceries for the evening. This scene reminded me somewhat of the suburbia found in William Eggleston's work.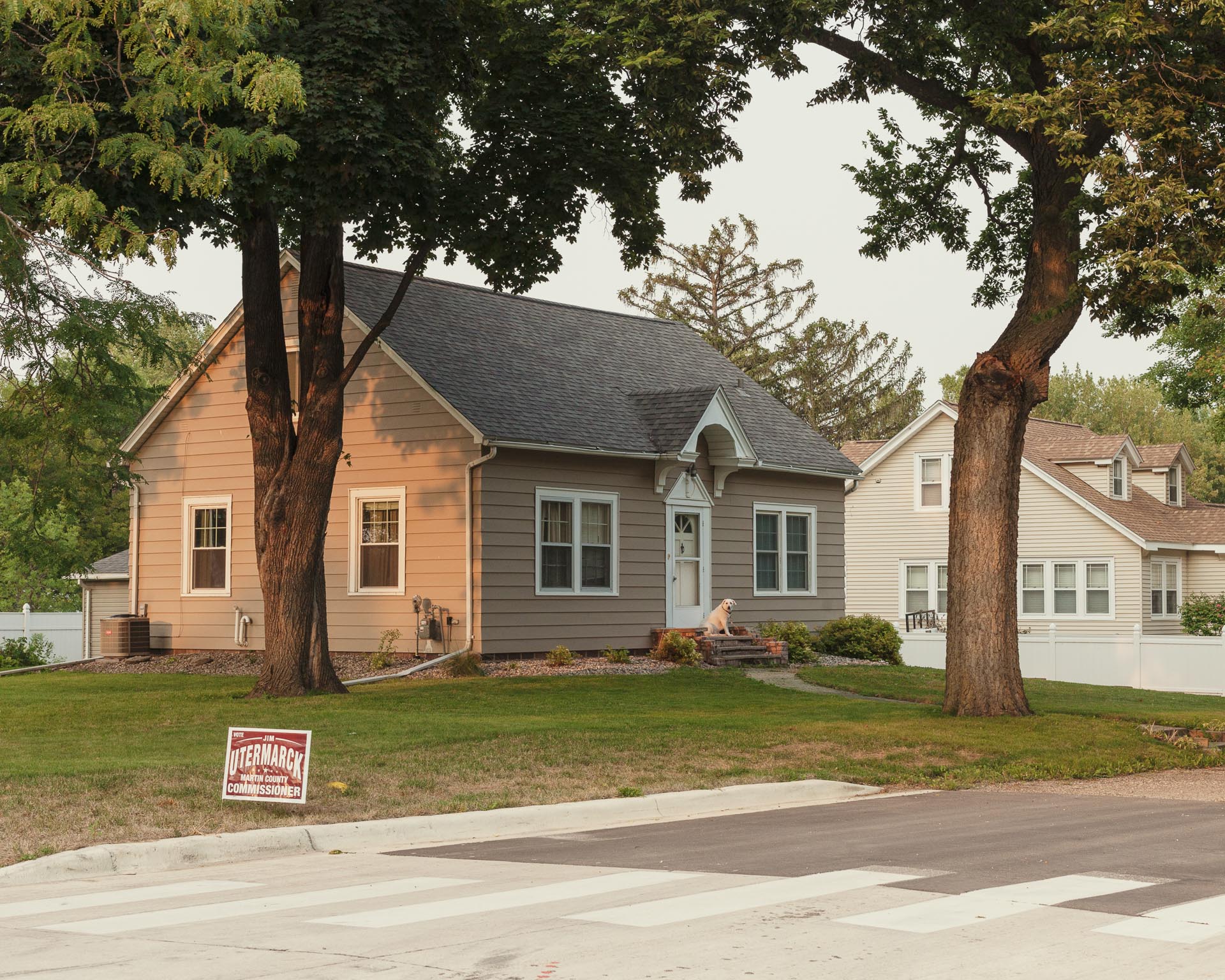 I came across this very good boy as we wandered Fairmont's residential streets – sat outside of his house at golden hour.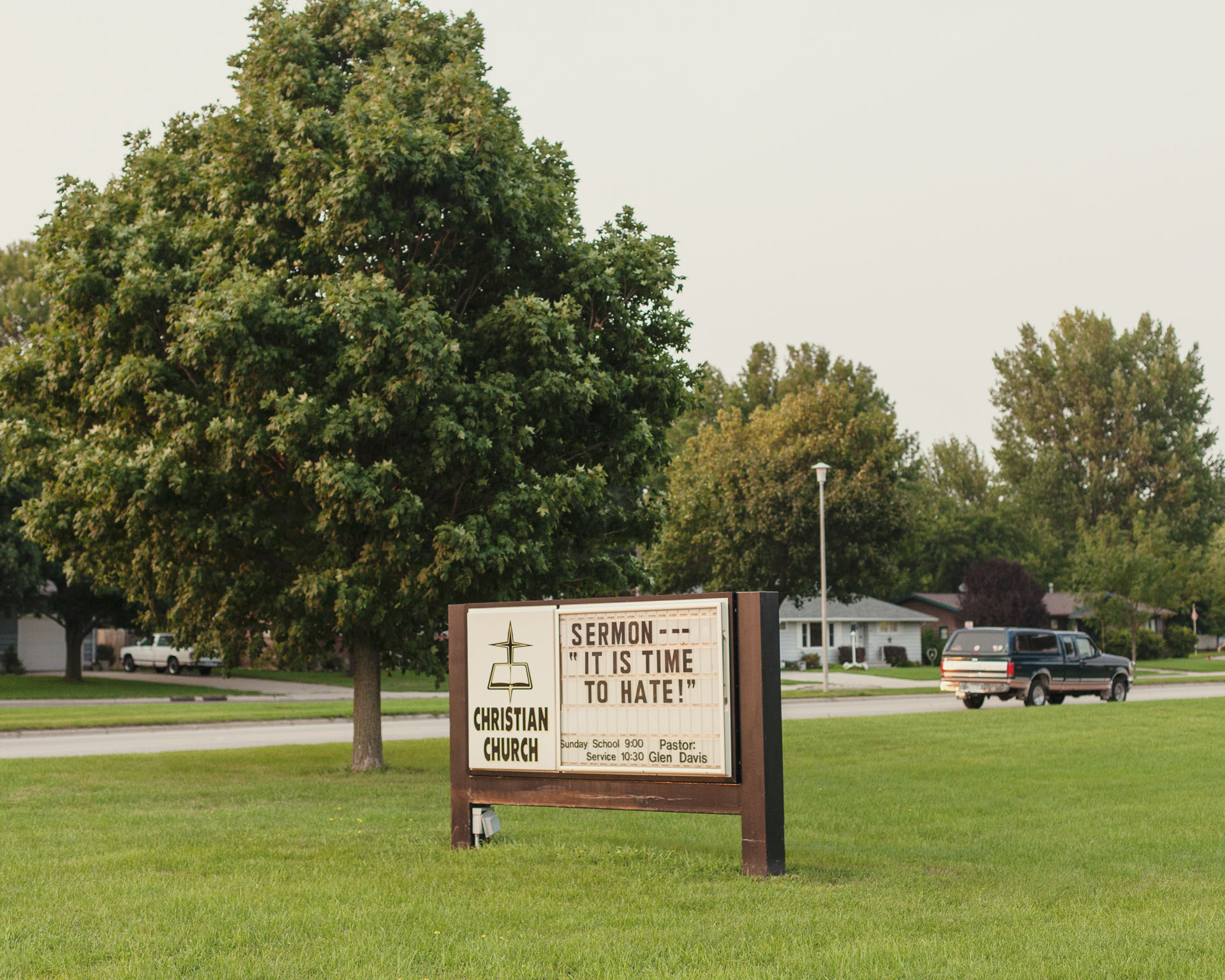 This signage struck me – it's not often that you see a church promoting hate. I wonder how fun the Sunday school classes here must be.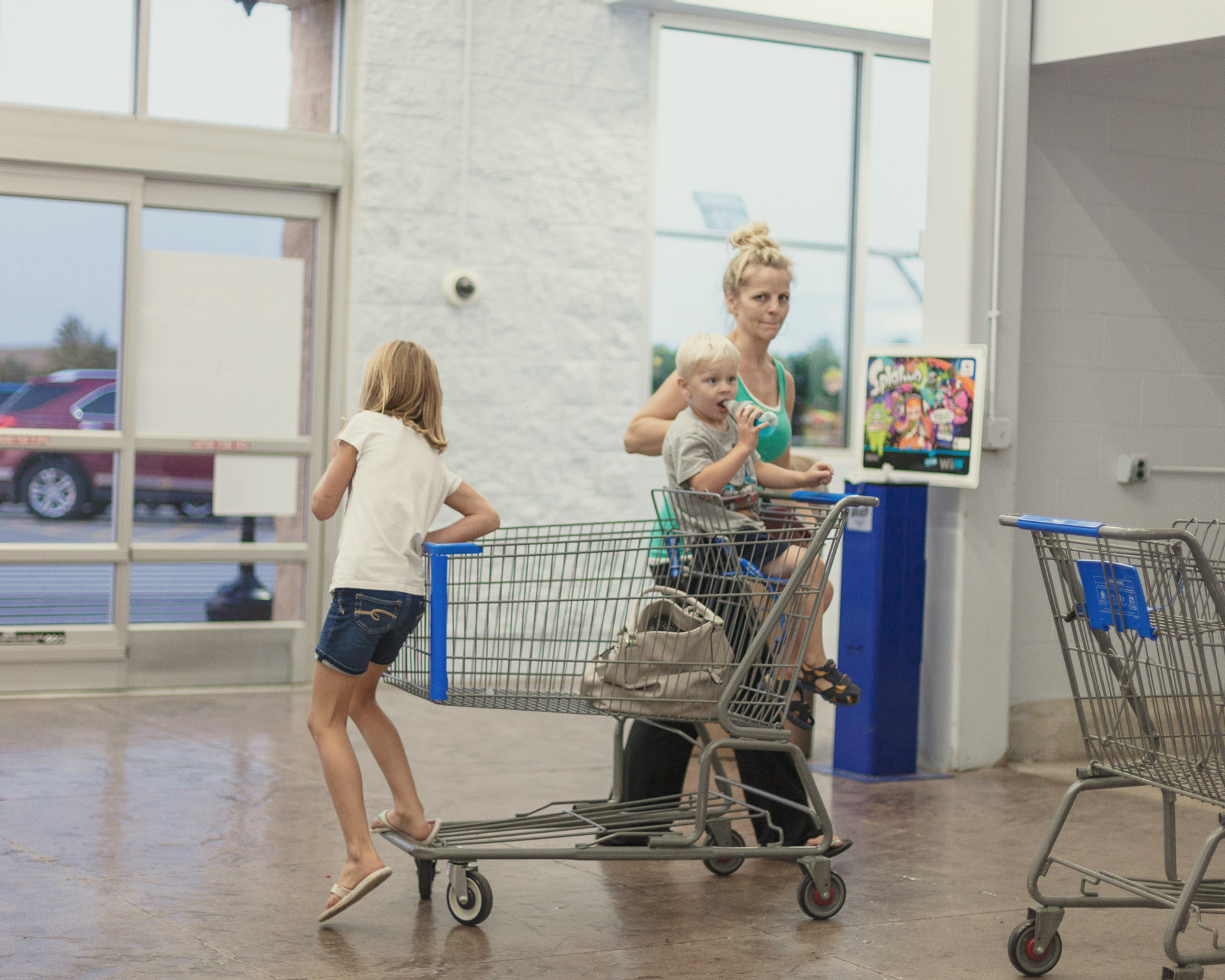 My first ever visit to a Walmart – America's church of consumption. I photographed this family on my way out, slightly dazed by its masse of bright lights.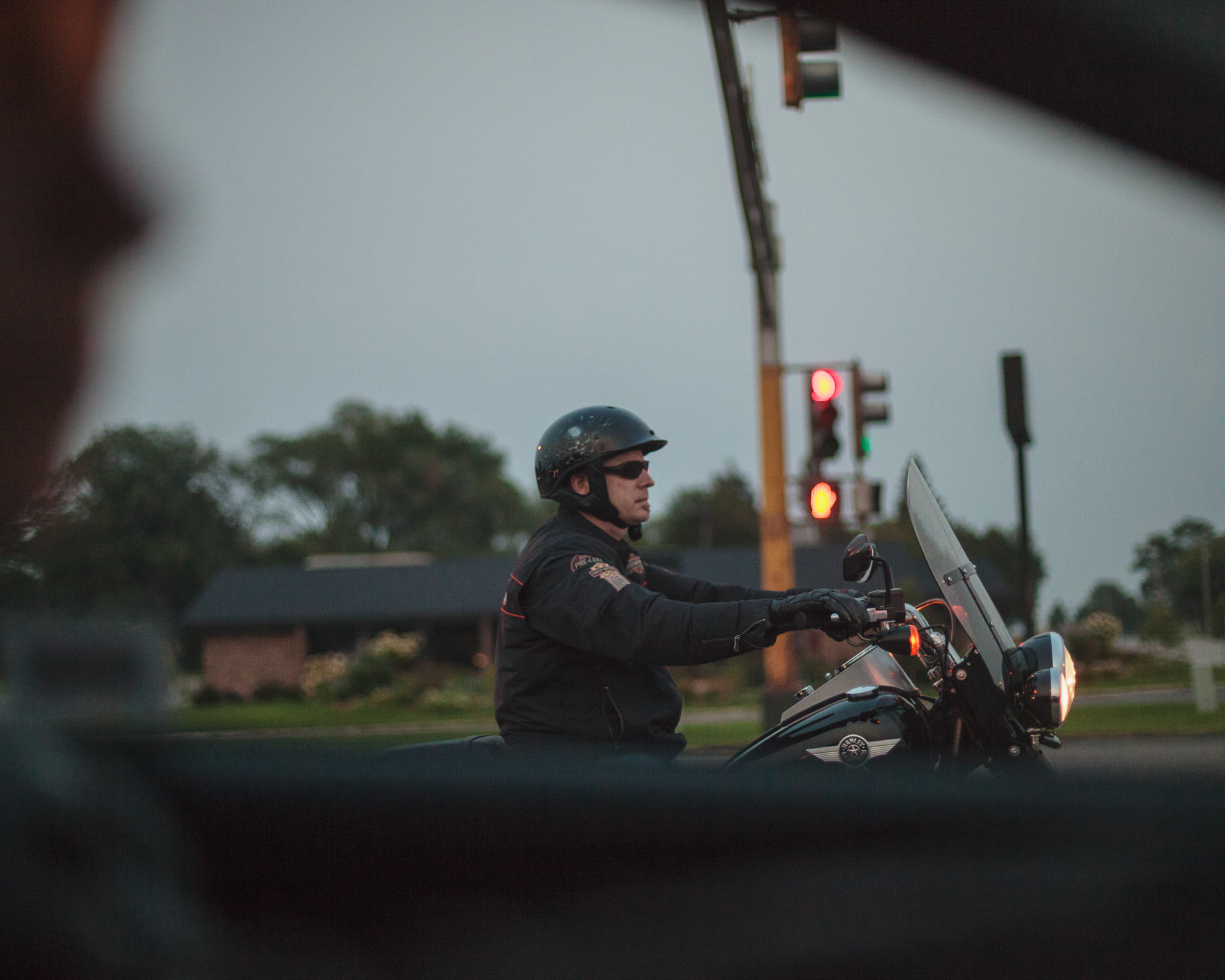 I'm not sure why I love this picture so much, but it's one of my favourites – I think it's something about the romance of the road, the colours of the evening air, and Bekky's silhouette looking out at the biker.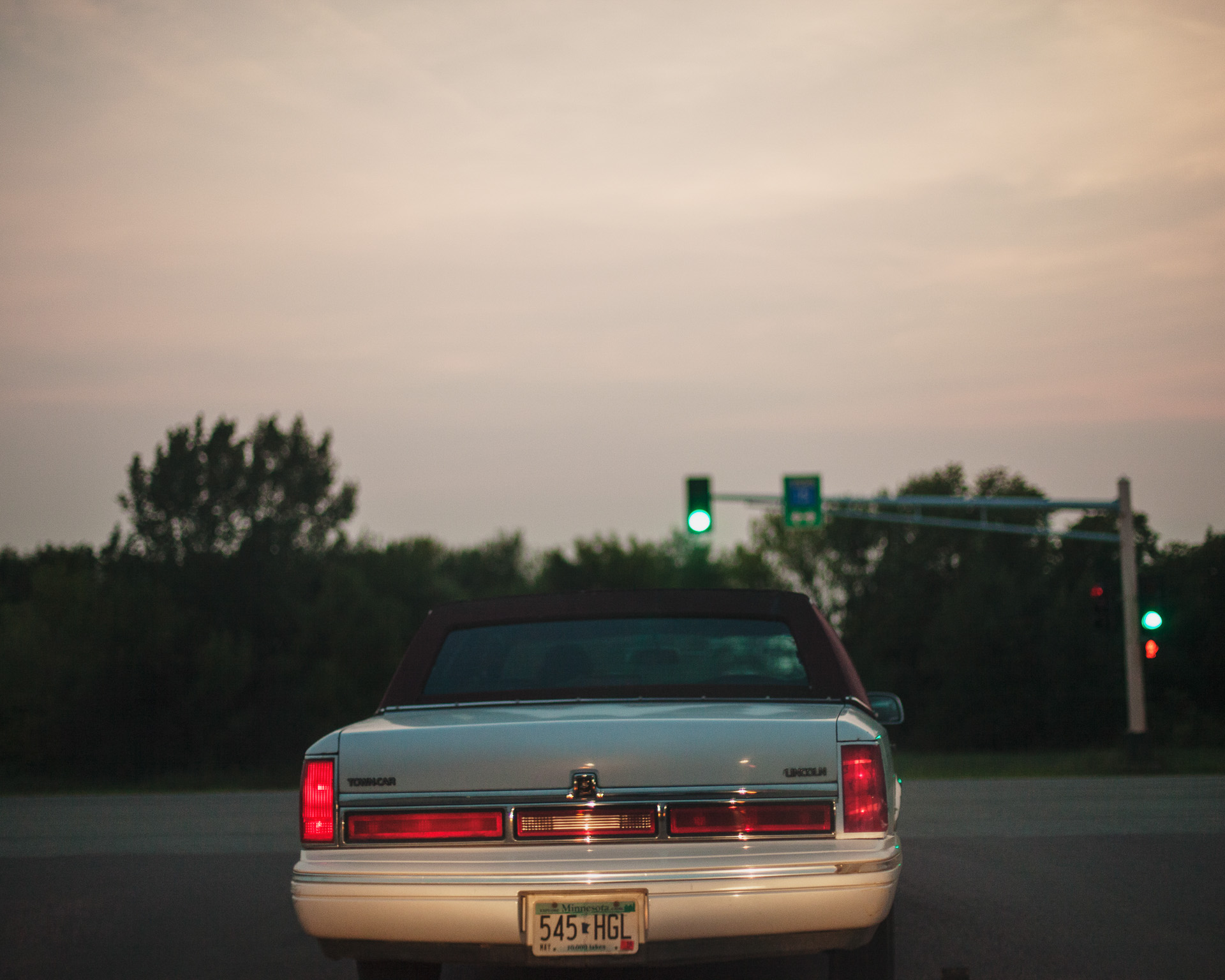 This is one of those pictures that really resonates with my America – the America, I imagined, of my grandfather. Similar to the biker photograph previously, the colours of the sky and the significance of the road scream out at me. It's such a quiet image, and I love imagining my grandfather to be in the driver's seat.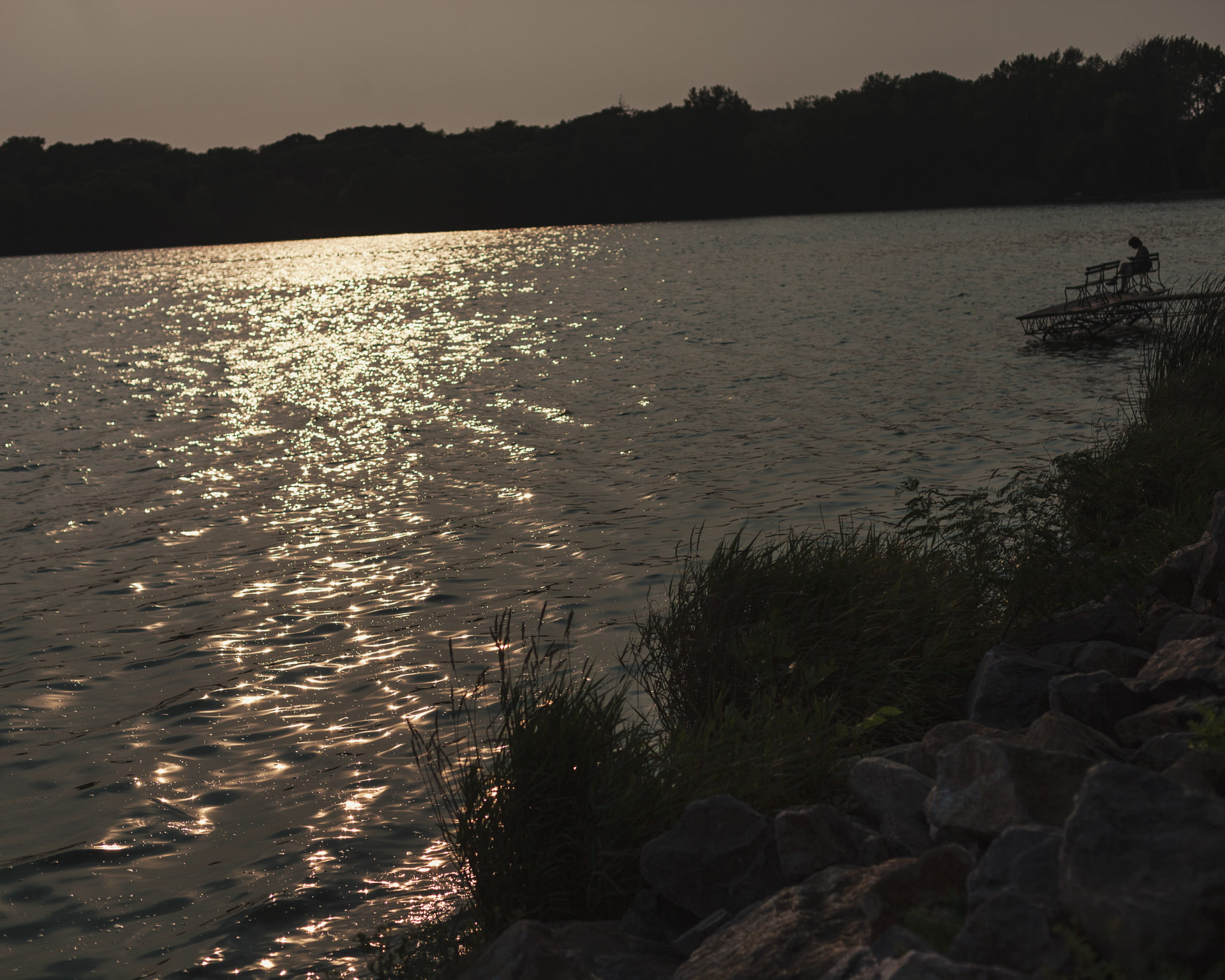 We spent our evening off lying down, staring at the rolling waves and how they glistened in the evening sun. It was too beautiful to not take a few photographs.
Chris Bethell is a photographer based in London. Keep up with him on Instagram or his website, and keep your eyes peeled for the next instalment of Land of Hope & Dreams on Amuse.