Material Boy | Raf Simons on His Collection in New York
The designer talks about his new Kvadrat textiles, the shock of colour and how art is like drinking Coke Zero
Photo: Anton Corbijn
On a very blustery afternoon in New York City, Raf Simons is wearing one of the covetable super-sized sweaters from his Twin Peaks-inspired menswear collection. The rich chocolate brown one is moth-gnawed and dotted with Boy Scout-ish patches. Simons has had these jumbo jumpers in steady rotation since debuting them in January 2016, but today's wardrobe choice is slightly more apt.
We're at the National Academy of Design's long-time home — a Beaux-Arts townhouse on Fifth Avenue — where Simons has chosen to reveal his fourth collection with Kvadrat (Europe's most esteemed textile manufacturer) in a special furniture installation. He's made use of the mansion's slightly Lynchian neo-classical flourishes to present the work in an unexpected context.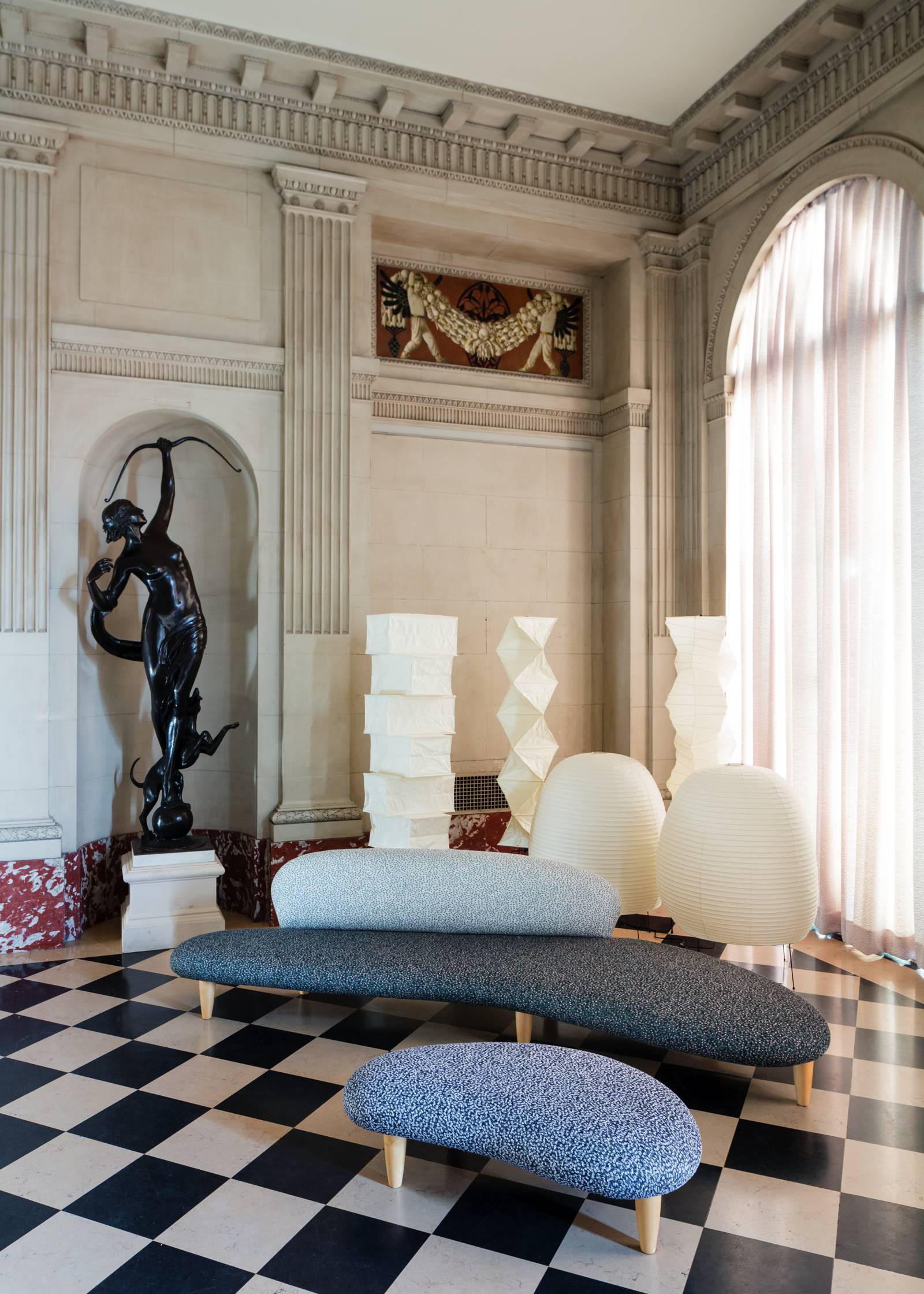 "This is the first time that I'm working with [Kvadrat] on something where I was very specific about the environment I wanted to present it in," Simons says of the installation. Ria, his new textile, upholsters mid-century couches, ottomans, chairs, and curtains in a variety of contrasting hues. It's even been used to reimagine the iconic Sacco, the original beanbag chair.
"It just felt wrong for me to go in a clean gallery and look too much at the pieces as a kind of design piece in itself. I like the idea of taking more of a curatorial position in how we proposed the fabric. Not only in terms of a suggestion of how it can be on the piece, but how the piece can be in an environment, and what the pieces together become."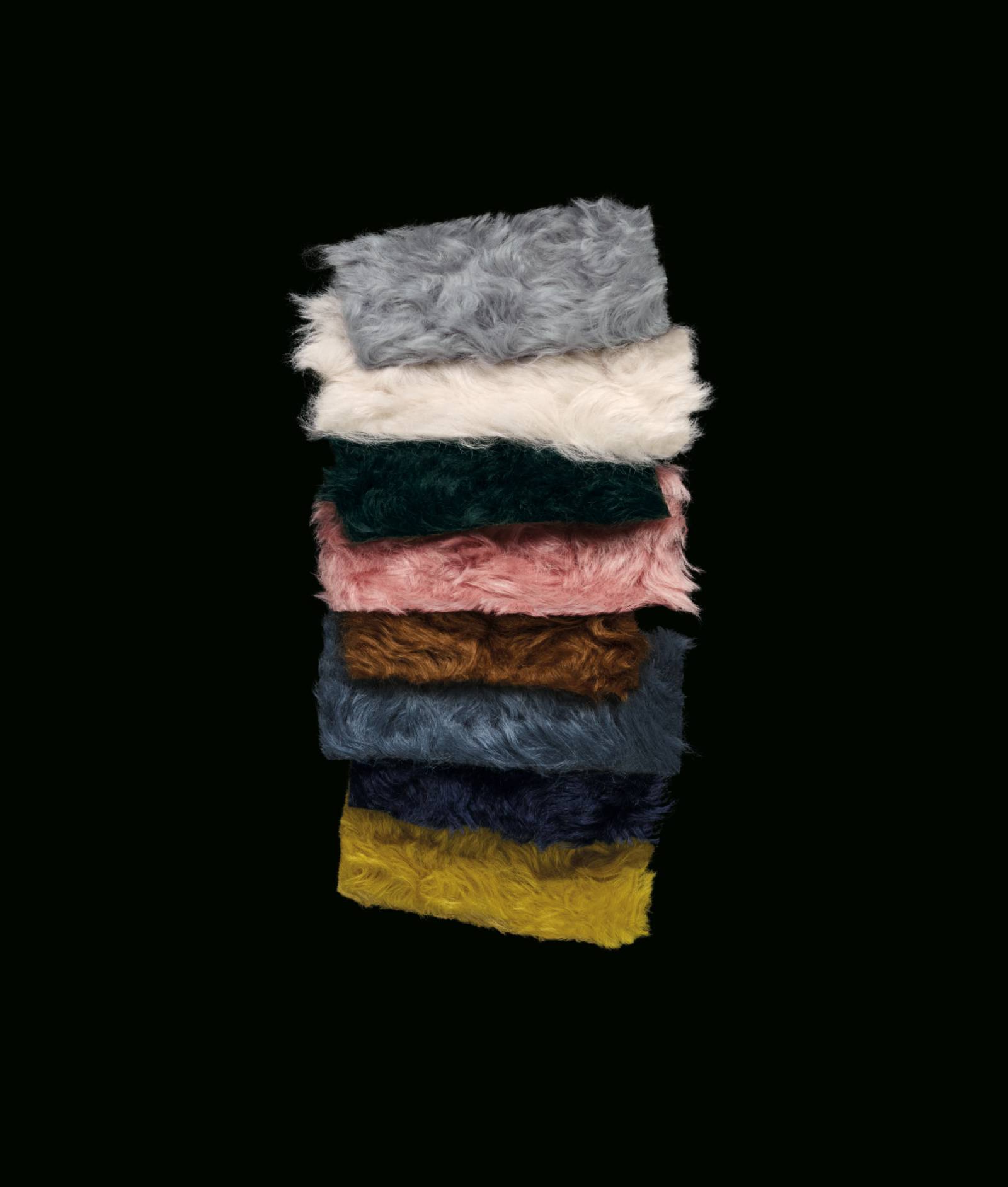 Simons has been working with Kvadrat since his days at the helm of Jil Sander, initially drawn to the vibrant colours of the Danish company's materials. "He was very excited when he saw us as a resource for doing something unusual," says Kvadrat CEO Anders Byriel. Simons's first collaborative textiles were revealed on the runway, in the 2014 menswear collection he produced with artist Sterling Ruby.
Subsequent Kvadrat upholstery designs featured in the designer's Dior ready-to-wear and couture collections, as well as in his eponymous label. "In a way, we have been a unique source for Raf," Byriel explains, nodding to the differences in pace and process between fashion and furniture textile production. "Many of our things are constructed to last, at the very minimum, 10, 15, or 20 years. There is more performance, and more materiality."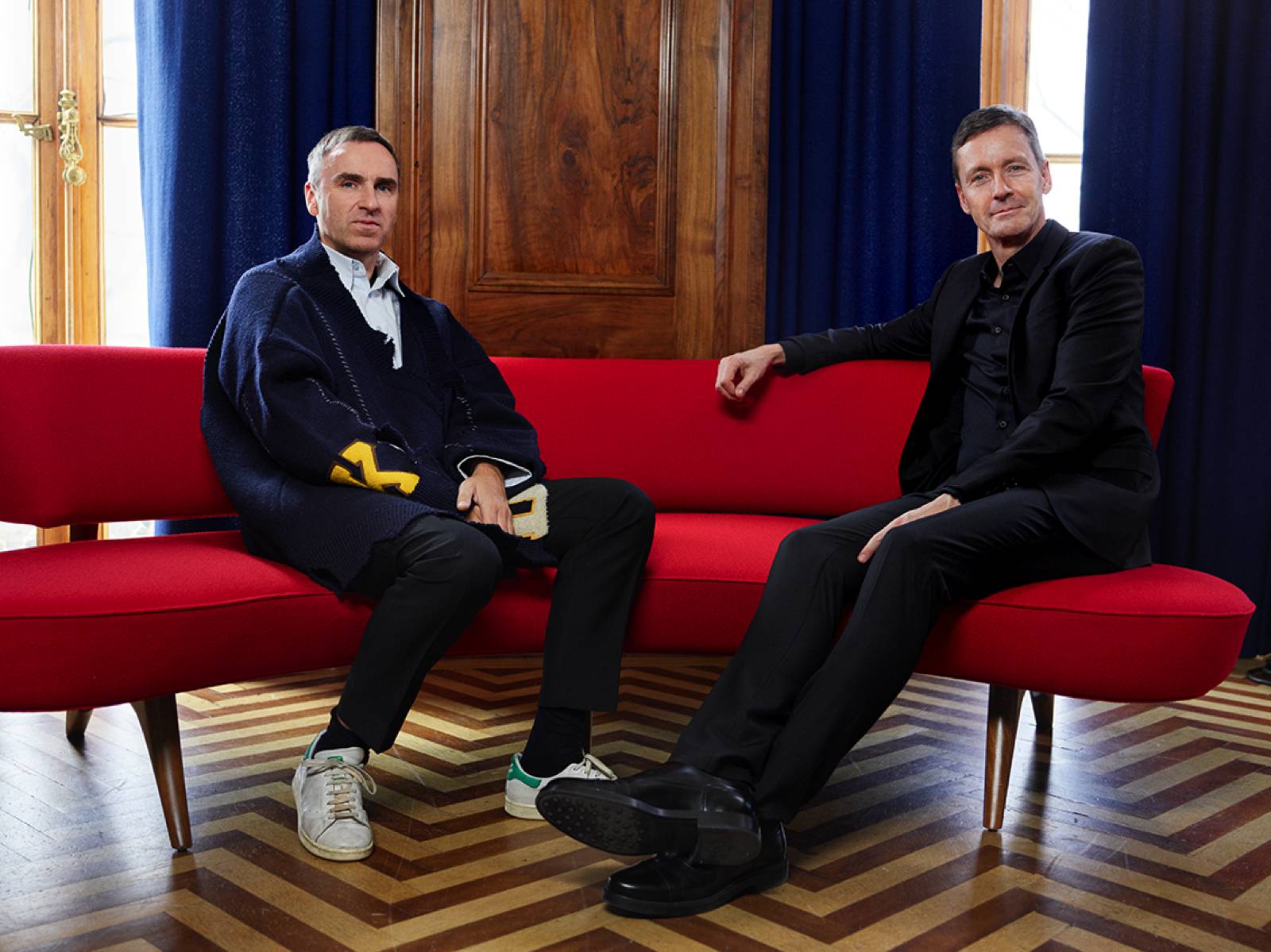 Ria is the ultimate culmination of both worlds. Created by weaving two tones of richly textured yarn through a contrasting base colour, the textile evokes Pointillist painters' approach to light and shadow. But rather than aiming for Georges Seurat and Paul Signac's micro-precision, Simons achieves a more liberated, romantic sensibility. And despite its late-19th century inspiration, Ria exemplifies the kind of contemporary that both Kvadrat and Simons do so well — a fresh impressionism you want to touch and feel.
Today, the work of any designer is so often based on its aesthetic (often because the clothes or fabrics are seen from a distance at shows, in magazine pages, or online), so we spoke with Simons about living in the material world.
You often draw inspiration from art or music. How do you begin translating these ideas into tangible materials?
I am very often inspired by nature as well. I look around a lot for colour in nature. Not only in nature, actually; also in the street. "Outdoors," let's say. I never would go and start looking at imagery online for colour, because it needs to be the real thing. I pick up everything that I run into that I find interesting. Sometimes it's a very small little piece — the wrapping of a candy or something — because I'm fascinated with how far you can go purely by the use of colour and the juxtaposition of colour.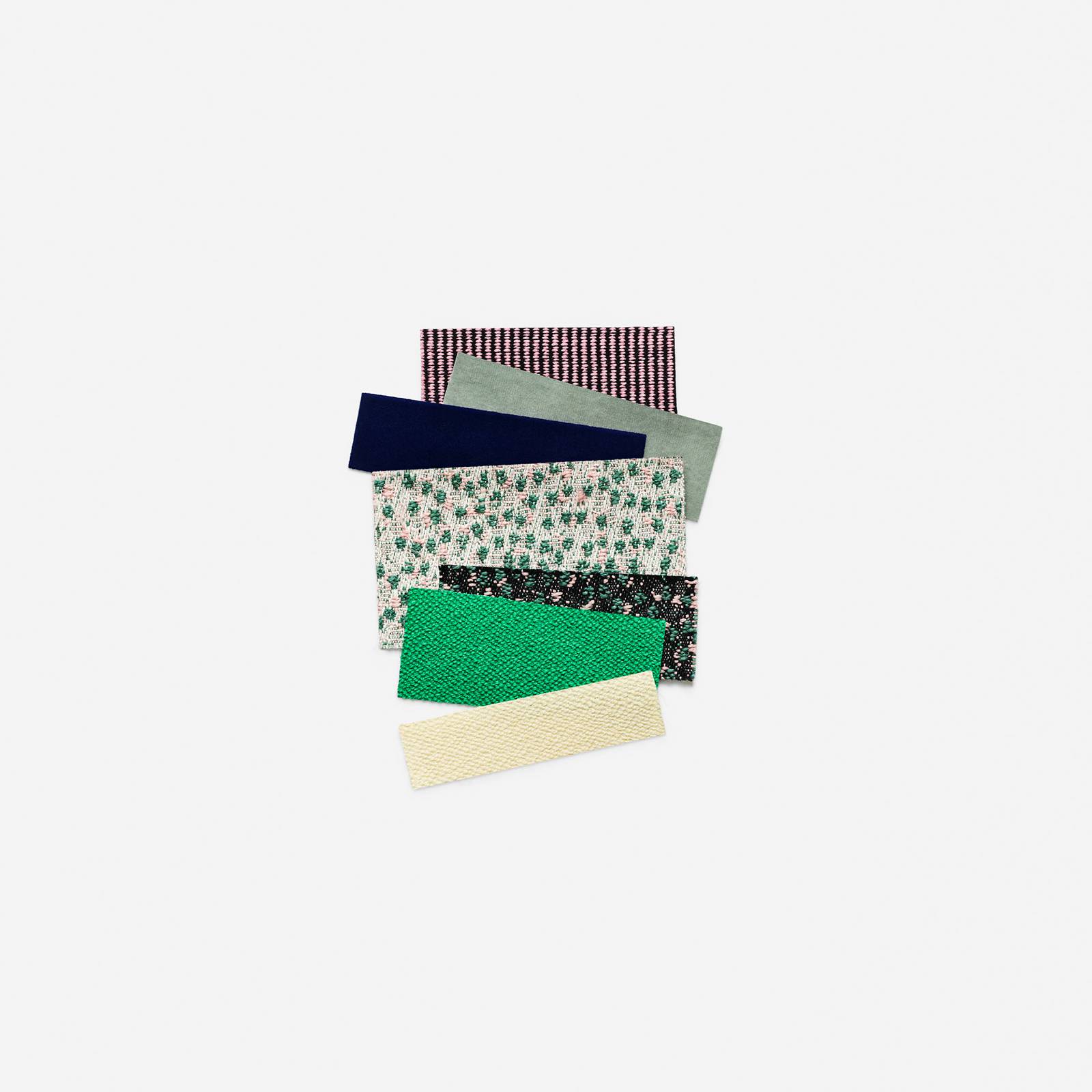 I had a period in fashion where I was so fed up with how everything was so defined, for so many years, by the use of a neutral colour that I tried to really kind of attack that by using the opposite as a reaction. Later, it became more about juxtaposition. Someone like Ellsworth Kelly was always an inspiration in terms of the juxtaposition of colour.
For this [Kvadrat collection], I was obviously looking a lot at Pointillist paintings, but I didn't really want to go the way we know them. They are very figurative. Even if they are soft, very often they represent something. A landscape, literally, or trees, people, whatever. I didn't want to do that. I like the idea that [the textile] felt organic, but not figurative. That gave a lot of possibility with the colours. Sometimes the contrast is hard, sometimes the contrast is very soft. Some of the [textiles], you see them together and think they're the same, but they're not. So you could create your own kind of landscape, if you want to.
Tell me about this environment. The floors, lighting, and red fabrics in the other room remind me a little of Twin Peaks.
Ah yes, The Red Room, as you see it. This room [we're in] was also supposed to be a little bit 2001: Space Odyssey — a weird juxtaposition of sculpture. I wanted to do different suggestions in terms of how [the textile] could look on a big surface, how could it look on something clean and stretched, how could it look on something completely different? How can you get certain items that are so well-known in our world of design and kind of destabilise them? Maybe the wrong word. Take them out of their comfort zone. The Sacco, for example. We all know them in [synthetic] leather and a primary colour. It becomes something completely different in this kind of fabric. I like the idea of creating a weird juxtaposition between colour and form, or colour and colour, material and shape, piece and environment.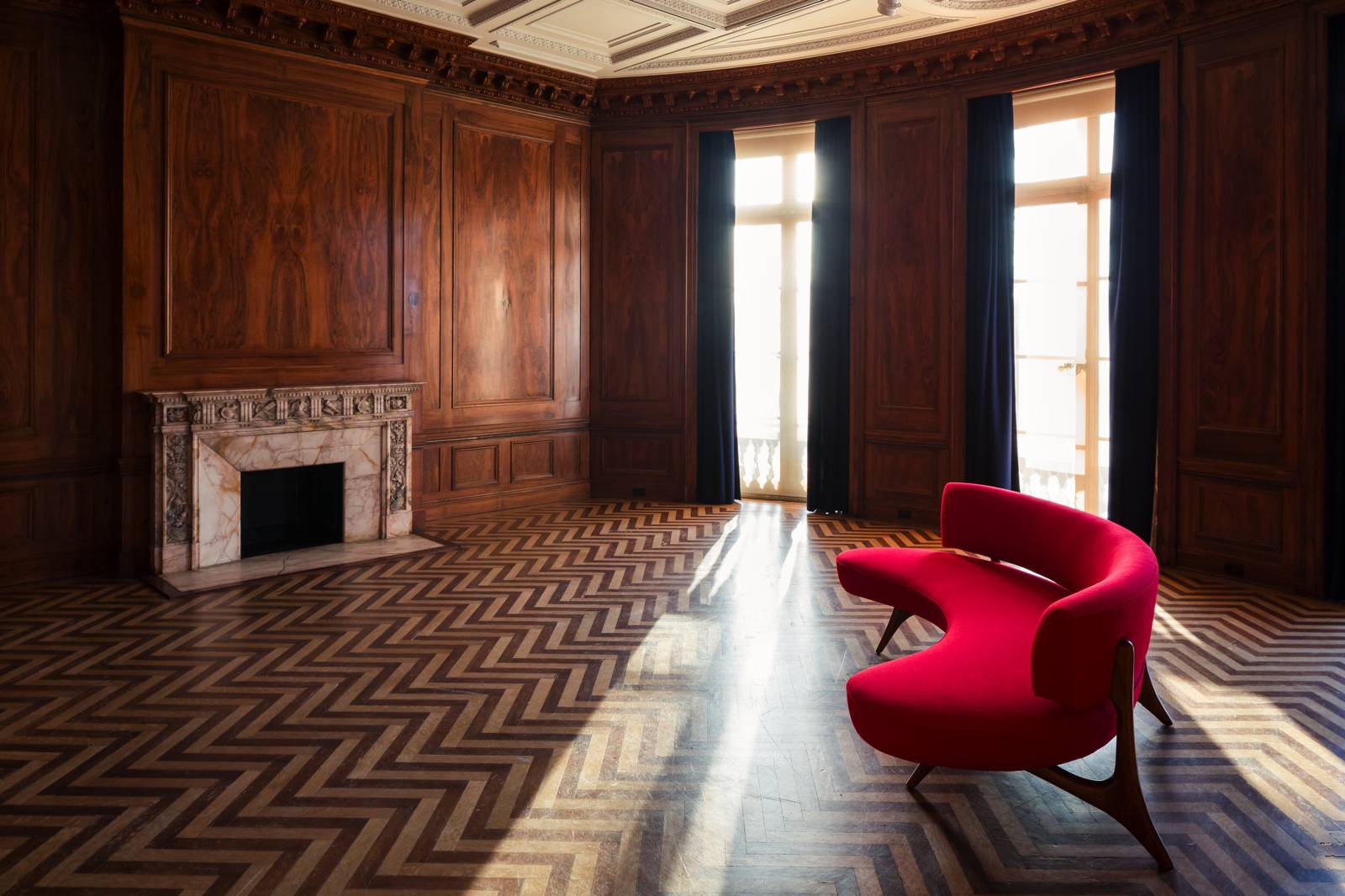 I didn't want to make a domestic suggestion, but I also didn't want it to become a gallery-arty thing either. So just trying to find a new way. Like this room. This hard black and white checkerboard that makes such a weird contradiction with [the Kvadrat pieces]. The dirty walls, the marble edges, the figurative sculpture, the Noguchi paper lamps. The previous presentations were sometimes very hard. I didn't want to have something that felt technical.
Do you find yourself drawing on your background in industrial design when you're working on these kinds of collaborations?
I think the only thing – but I let it very much in [Kvadrat's] hands – is that the technical aspects are quite hardcore. Each textile takes between one and three years to develop. In fashion sometimes we develop like 50 fabrics in a month for an upcoming show. But it's not with the same responsibility. Everything that goes out on the level that [Kvadrat] is in, which is the highest, it's supposed to last, and not only from an aesthetic point of view. What Hermès is in fashion, [Kvadrat] is for me for upholstery and the furniture business. And they have a very beautiful attitude. They are producers of fabric, but they connect to artists and architects — from unknown to known, young, old. We are now some years later and it feels very natural.
So in that sense, it's not that I can just do whatever I'm interested in, because if it will not go through the quality tests, it will just be a no, which is also great. I like that [Kvadrat] are very technical, but the materials don't look technical. They always have an authentic kind of look and authentic kind of feel. The worst thing for me in interior design is when the fibres and the fabrics feel very non-natural and technical. I don't like that at all.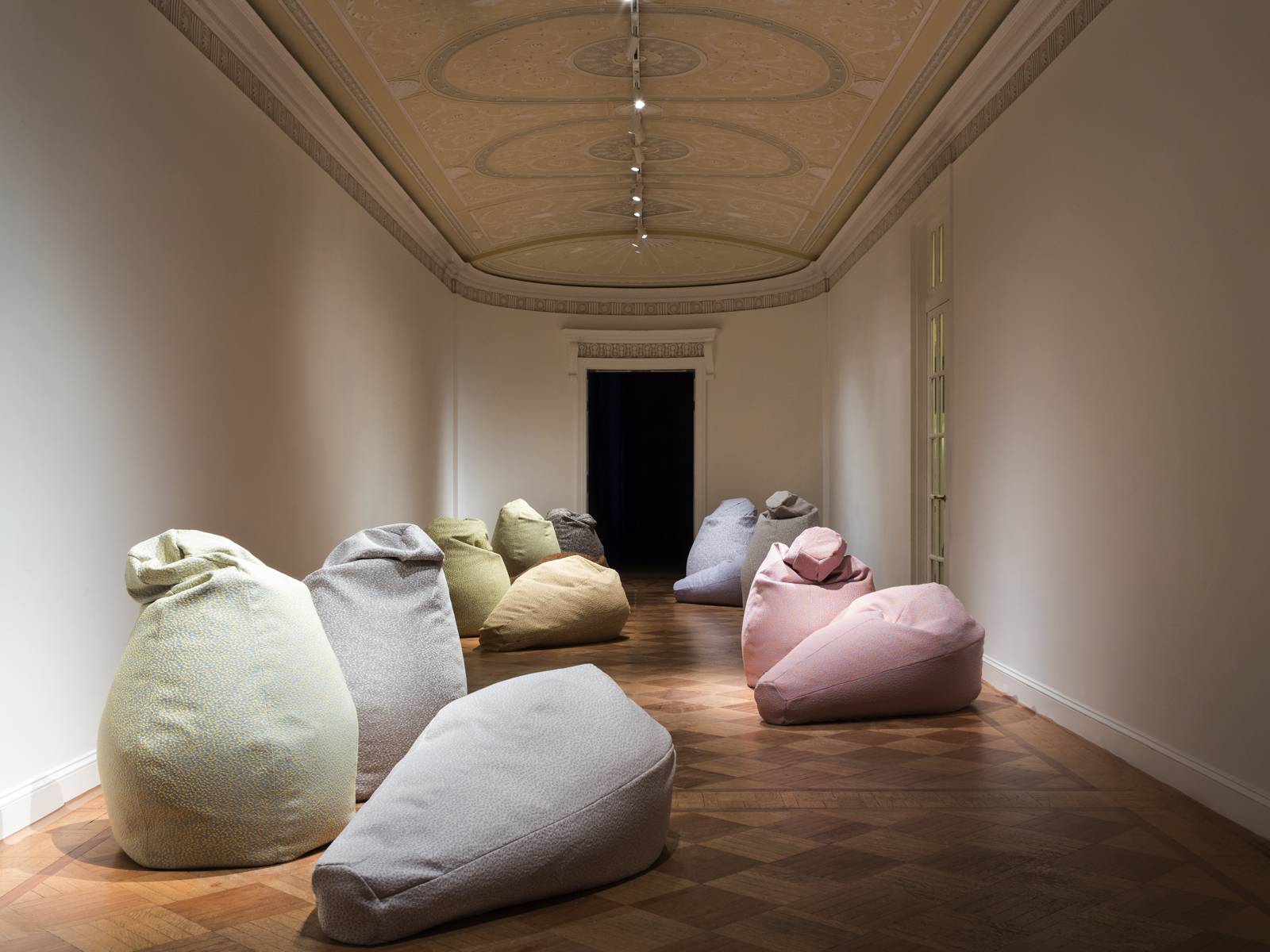 What materials do you dislike working with?
I'm always scared of somebody asking me, "What do you not like?" because everything is an evolution, so it might come back to me if I feel it's right. But, for example, when things go more plasticky. And yet in that time — you could almost call it plastic time — during the 60s and the 70s, designers made very strong suggestions for living environments. Joe Colombo with Visiona, this whole kind of world where there was a lot of experimenting with plastic.
It's just a personal thing that I don't like to sit on something that has plastic, but I think the suggestion was interesting because it was more connected to environment. It was more placed in the idea of how we live our lives. In the 60s, we were dreaming about the future and the space age, the possibility of travelling to the moon, inventions. And out of that came all that kind of space age furniture. First, romantic, and afterwards quite liberated.
More and more, I think that the design world becomes very object-oriented — always about designing a piece, an object. It's not a critique, but what I kind of miss a little bit is the suggestions from people actually responsible for all these designs to place it more in the reality of our lives — what it is about, or what it could possibly be about. Because it can be anything. It can be reality, it can be a future dream. Now, I think, it's done by decorators. And I just keep wondering how one person — a designer, a furniture designer — could push it further. Visiona and Joe Colombo is for me the biggest example. I just think it was incredible how he kind of imagined, for himself and the people he was designing for, new living. New ways of living, new possibilities.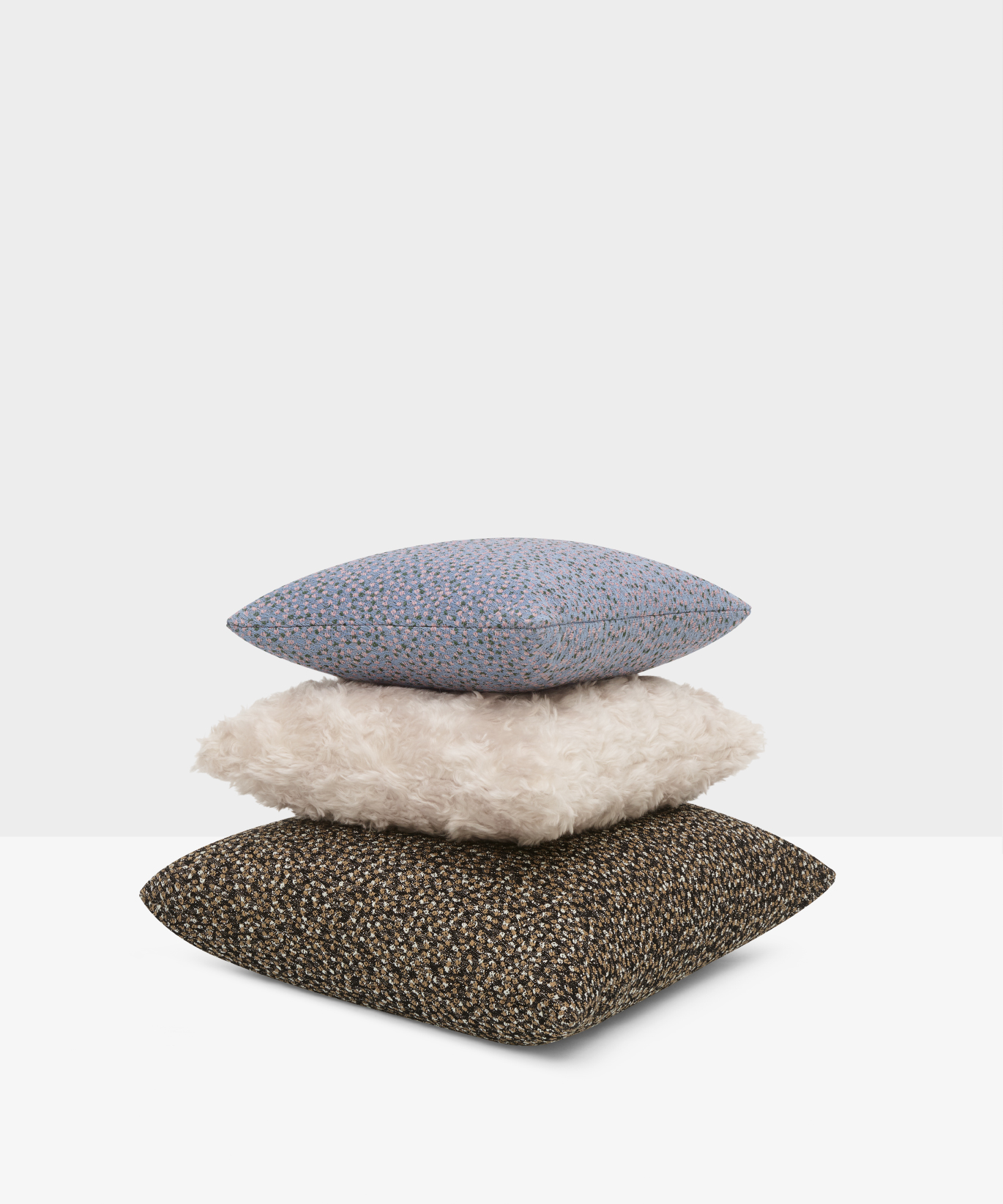 Are there any materials from your childhood that you remember finding compelling?
Not really, if I have to be honest about the environment in which I grew up. My childhood, up until I was 16, was very nature nature nature. Animals, farms, small streets. But I was living in an environment that did not know anything that was the way we define culture. Galleries, boutiques, cinema, theatre — didn't know what it all was. Until Jan Hoet, the Belgian curator, curated a show called Chambres d'Amis, and that was a click — a whole different kind of moment for me [in 1986, Hoets staged an art exhibition, but not at a museum, instead mounting artworks throughout 59 private homes in the Belgian town of Ghent. All homes were then open to guests who'd paid for a $6 ticket. When he was 16, Raf saw Chambres d'Amis advertised on TV and travelled by train to see it].
People always ask, "Why do you collect? Why is it important for you and your environment?" Maybe that was the trigger, because my first connection to art was immediately in a domestic context. I only discovered afterwards that art was usually presented in museums, and I still, kind of, think the best circumstance I've ever seen it in was what he did. It would be like Bruce Nauman in that family, some other artists in that family. It's still very fascinating for me.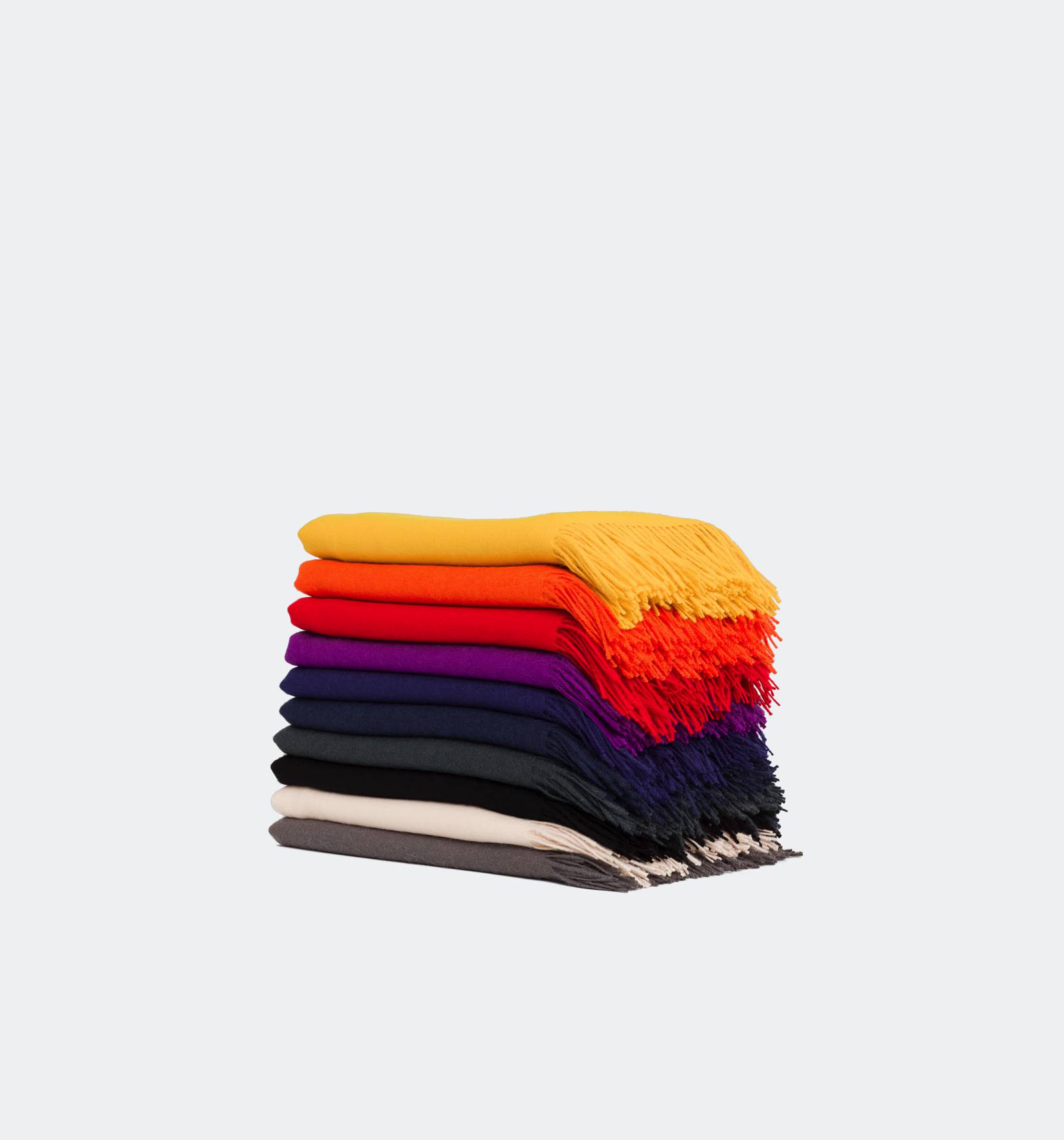 John Waters talks about his artworks — Mike Kellys, Cy Twomblys — as his roommates and about what it's really like to live with pieces art.
It's very inspiring to me to connect to the thought processes of other people. And it's not always about that specific work. If I have Sterling around me, it's because I'm really interested in his thinking and it feels good to have that around me. The same for other artists' work I live with. Sometimes I know them and sometimes I don't. Sometimes they are my generation and sometimes not. I haven't read the John Waters book, but it's like you say: interesting because they're all different kind of characters in a way.
Sometimes I'm scared to talk about it because people can also think you're pretentious when you always connect to art and you're not in the art world. But I cannot explain it. It's something I am connected to since I was 16. It's like breathing air, or drinking Coke Zero. It's a daily thing, an automatism. If I have a moment, I'm looking at art sites to inform myself about shows and reviews because I have less and less possibility to go around. Of course, going around is the best experience.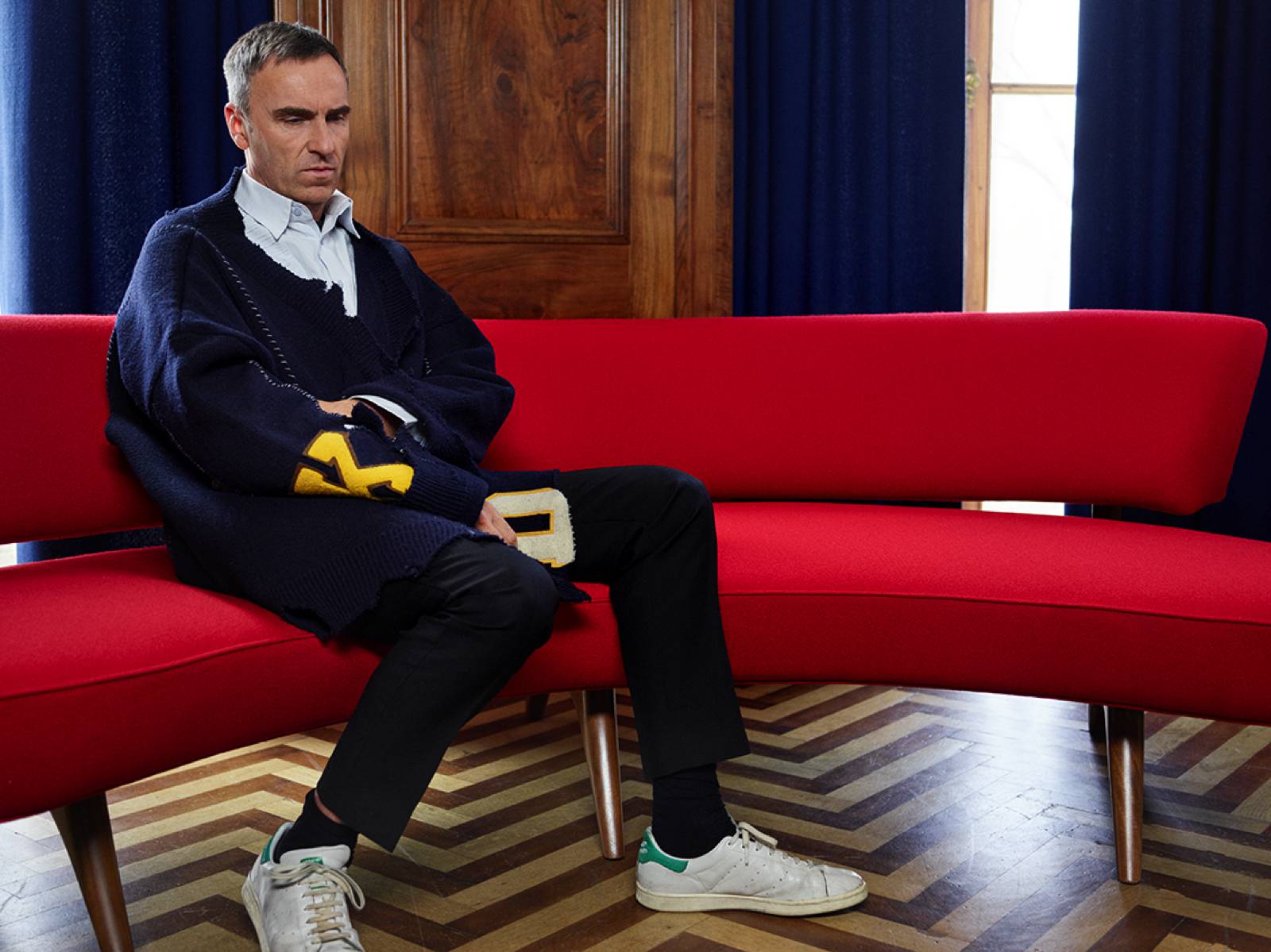 Does it bother you that someone may be so influenced by your work but never have the chance to touch it?
Well, with Calvin underwear now that could be possible! To be really honest, the attraction and the reason why I came to Calvin is because it has the highest and the lowest and everything in between, so you can reach out to everybody. Which, in high fashion, is not always easy. It was not something that was possible at Dior, for example. It is possible at Calvin Klein.
I remember when I was a young kid — not 16, more like 19 or 20 — I was obsessed with Helmut Lang. I couldn't afford it, but I was connected. That was my world. Fashion-wise, it was my world. And at one point, I could maybe buy a shirt, but I was completely a Helmut Lang kid. It's more about how you connect to it in your mind, I think. Of course you want some connection for yourself, but some brands it's just not possible. You could not even buy a lace of a sneaker, it's just too expensive.
I spoke with Willy [Vanderperre] before his recent show at Red Hook Labs, and there was a similar motivation. He made stickers and pins and patches in limited editions so that they were still art objects, but accessible to young people.
[Willy and I] are very close, so it's always one way or another about having a connection to youth. Like the Sacco, the ultimate teenage element. Back in the days when I was studying industrial design, I wanted a Sacco so badly but I could not afford it. So I would just copy the pattern and make one. It's nice, you know, this kind of do it yourself. I am the same with my brand. If I can be inspiring for kids, I'm already super happy. If that means that if I do a black coat and they find one in a vintage store and they tape it up, I love it! That's interesting to me.