Ghosts on the Coast | The Beauty of Britain's Forgotten Seaside Shelters
Photographer Will Scott's new book charts the state of Britain's seaside towns
Ever notice how beautiful seaside shelters are? How much they vary from town to town? How many genuine one-offs there are dotted along our coastline? Will Scott has. He's a photographer who's been lovingly chronicling these structures, driving from one grey coastal town to the next, sleeping in crappy hotels and strolling seafronts in search of these solitary structures. Name a seaside town and he's been there. Blackpool, Weymouth, Exmouth, Southsea, Frinton-on-Sea, Colwyn Bay – to name but a few.

In Scott's study of seaside shelters, he frames the whole gamut: from no-frills concrete huts to ornate structures that typify the faded grandeur of turn-of-the-century seafront culture.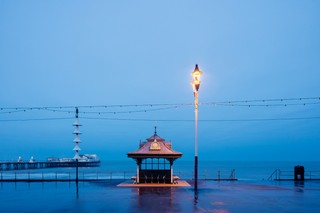 To picture these shelters is to picture an icon of British beachside living, to imagine every seaside town you've ever been to. Those penny slot machines, those doughnuts doused in sugar, that choppy sea under an overcast sky. Of course, you now also picture Pete Doherty scoffing a mega breakfast and opening a Libertines hotel.
It's hard, also, not to be reminded of gentrification. Towns like these, you've been told, are the latest hotspot for young creatives priced out of Hackney. Headlines have reported on the changing face of Margate and Hastings, detailing the former's influx of hipsters and its newly restored Dreamland amusement park (a revamp that cost £25 million), while the latter has been dubbed 'Dalston-on-Sea.'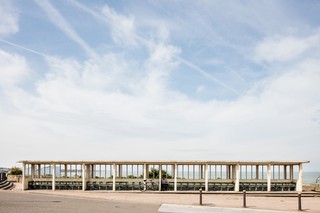 A glance at these forlorn shelters is a reminder of how British coastal towns are changing – and have changed. Spain, Greece and Italy are no longer holiday destinations just for the affluent. Anyone with a bit of disposable income can hop on a flight to wherever their heart desires. Which is why there's often a sadness about the UK's seaside towns, as though they've been left behind, their shelters a ghostly trace of their former glory.

Scott, whose day job is in architectural photography, tells me he tried not to get caught up in the politics of seaside towns. I explain that I ask about gentrification because, often, during that process, towns lose something special: older buildings might be knocked down, singular structures might be threatened. "Yeah, definitely," he agrees.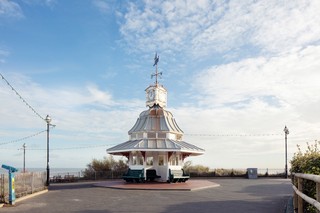 "The first shelters that I photographed, in Boscombe, weren't really shelters anymore. They were just benches, because they had the tops knocked off. I was conscious that a few of them had gone, and there were a couple others I had on my list that I didn't get to in time," he explains.
Though his project grew naturally from a visual attraction to these shelters and having fond memories of childhood trips to coastal resorts, there was an element of documenting the shelters. "I was definitely thinking now is a good time to do the project, because I don't know how many will be around in 10 years time," he says.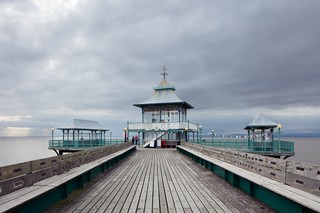 What he documented – and what few people notice when trotting along the seafront – is the sheer variety of shelters. Some feature ornate clocks and sundials; some are stripped to a basic skeletal structure, like unassuming military bunkers; some have peeling paintwork, marked by scribbles and scratches.
Part of the reason why they're all so distinct is because of town planning – or lack thereof. There's no consistency between towns, says Scott, no agreed upon design that councils have copied. It was something that surprised him: that you could drive five miles between parts of Kent and see shelters that differed wildly.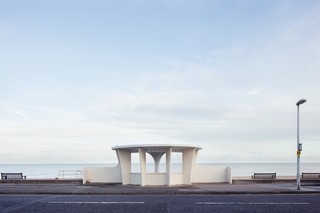 "It seemed there was almost no planning," he says, adding that, "many of the shelters don't really fit in with the rest of the town's aesthetic." (One exception was Hastings, where Sidney Little – known as 'The Concrete King' – was Borough Planning Officer from 1926. Little built many concrete structures, including car parks, a covered promenade, and yes, concrete seafront shelters. He's one of the reasons why Hastings is one of the more visually harmonious seaside towns today.)
Catherine Croft, Director of the C20 society, an organization that exists "to safeguard the heritage of architecture and design in Britain from 1914 onwards", was involved with preserving a seaside shelter in Hunstanton, Norfolk.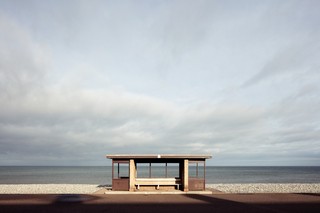 "I think a lot of the small-scale structures like the beach shelters get overlooked in these seaside towns," says Croft. She points to Deal pier as an example. "It's a lovely 20th century concrete pier, but I don't think a lot of people register that."
She says these shelters have an important place in the story of these towns. "I thought the Hunstanton shelter was a beautiful structure and could coexist [with different architectural styles] and tell the story of changing seaside fashions over the years."
Seaside fashions have definitely changed – far beyond Victorian head-to-toe swimwear. And again gentrification, which Croft refers to as "a double-edged sword", plays a part, ushering in new architectural styles, threatening older ones. One minute concrete is fashionable, the next it's glass. Towns are constantly being reimagined and reshaped. To see so many shelters still standing, unchanged through the whirlwind of sloppy town planning, is reassuring then.
In Scott's pictures, you sometimes sense regeneration lurking just out of frame. Was he conscious of it? "I was more conscious of the fact that some of towns could do with some regeneration," he says. The ones up north were "quite bleak," he says, mentioning that Redcar – which now has its own TV series – seemed to be having a huge amount of regeneration. "Its whole seafront is getting redone, yet you can get on a plane to Spain for 50 quid. Why would you go on holiday to Redcar?"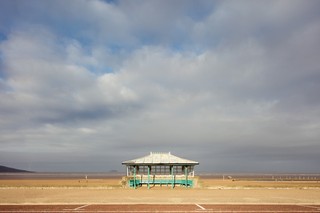 With the current fetish for seaside resorts, he points out the ones that succeed are typically within striking distance of the capital. "You've got Margate, Hastings, Deal – they all seem to be quite affluent," he says. "There were a few other towns that I won't mention that weren't at that stage yet but people think were gonna be next in line. But not all of them will be the next Margate. It will only be one or two of them."
The hipster-isation and gentrification in places like Margate (aka "the hottest property market outside London" according to the Guardian) is accelerating into overdrive. Against this backdrop, will the majority of seaside shelters survive? "I think they will. I think they're too small and don't have any commercial value. I don't think many are in danger of being knocked down and replaced by a cereal bar."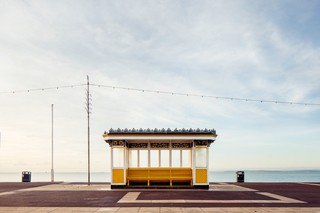 Croft is similarly optimistic about their longevity. "Some of the shelters aren't very big, and they're very much something that's in the public realm and enjoyed by a lot of people. That makes them quite popular with HLF [Heritage Lottery Fund]."
I wonder: could they get listed? "Yes, and I think some of them should be," she says, adding that the grounds for listing are "architectural and historic interest", which would definitely apply in some cases. Who knows, they may even be thought of similarly to London's red phone boxes: quaint icons of Britishness that attract tourists like moths to a flame. National treasures, even. Or maybe that's going too far.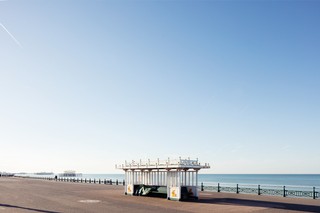 When so much is uncertain about the ever-morphing face of seaside towns, it's a comforting thought: that as indie rock hotels pop up, as heavily-inked Hackney creatives open barbers with novelty names, Scott's seaside shelters will remain on the shorefront, untouched, the only threat being the salty air that cuts into their peeling paintwork.
Seaside Shelters by Will Scott, is available now from Heni Publishing.
Oliver Lunn is a London-based writer. Keep up with him on Twitter.