Photo: Will van Wingerden
Electric Dreams | London to Amsterdam in Nissan's Latest Green Machine
Our motoring columnist tries to reach Europe's greenest city on a single charge, and finds a glimpse into the future
Photo: Will van Wingerden
With 'The Road Less Travelled', we aim to cover cars a little differently: putting them through their paces by seeing if they can handle a real adventure. This month, we're whizzing across to Amsterdam - Europe's greenest city, in all manner of ways - in the all-electric Nissan Leaf EV.
---
Nissan is proud of its e-pedal functionality, which sits at the centre of an extensive suite of driver assistance systems found on its latest Leaf EV. When activated, it allows the driver to operate the little electric vehicle using nothing more than the accelerator pedal. Like a glorified go-kart, you can squeeze it for power and gently ease off to slow the vehicle to a complete stop.
It's all thanks to the clever regenerative braking system, which harnesses energy typically lost when slamming on the anchors, and turns it into electricity to top up the batteries - theoretically increasing the electric range as you drive.
"The journey is impressively quiet and surprisingly comfortable, with my camera-wielding colleague praising the deeply sumptuous rear seats and powerful bum-warmers"
It works, and makes motoring one-pedal a doddle most of the time, but most of this convenience is undone when it starts raining. Why? Because the driver's mind is suddenly busied with the task of constantly adjusting the wiper speed and flicking on the fan heaters to de-steam the windows, which fog up at an alarming rate.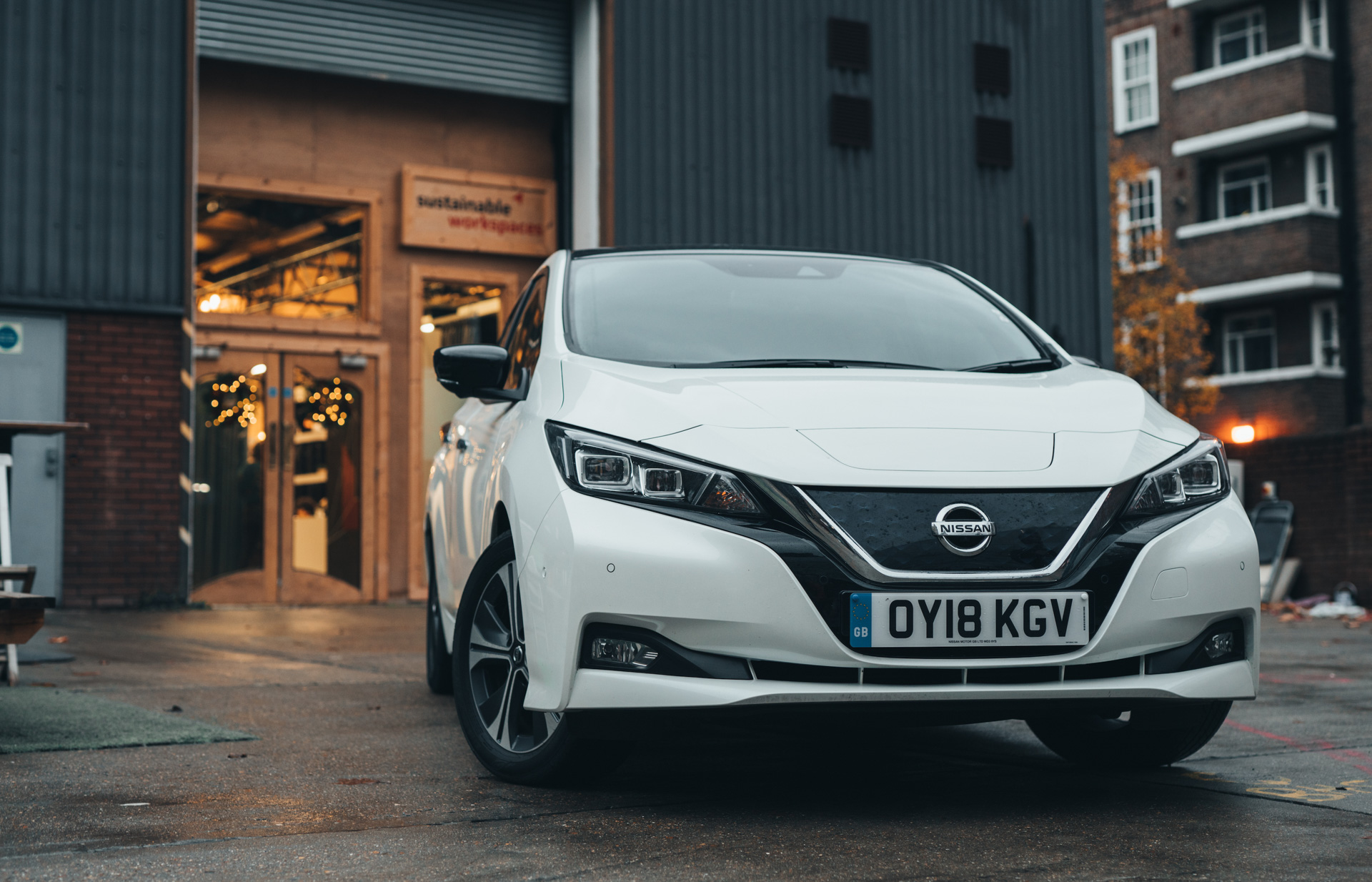 One thing electric vehicle manufacturers often fail to highlight is just how much using things like lights, wipers, and the radio effects the range of their cars, while loading up a Leaf with three blokes and tons of camera gear is also likely to drain juice.
Hence why I'm admitting now, at this very early stage, that attempting the 170-odd miles from London to Amsterdam (via a ferry boarded in Harwich) on a single charge of the Leaf's 168-mile range batteries during a particularly drizzly week in December was probably a very stupid idea.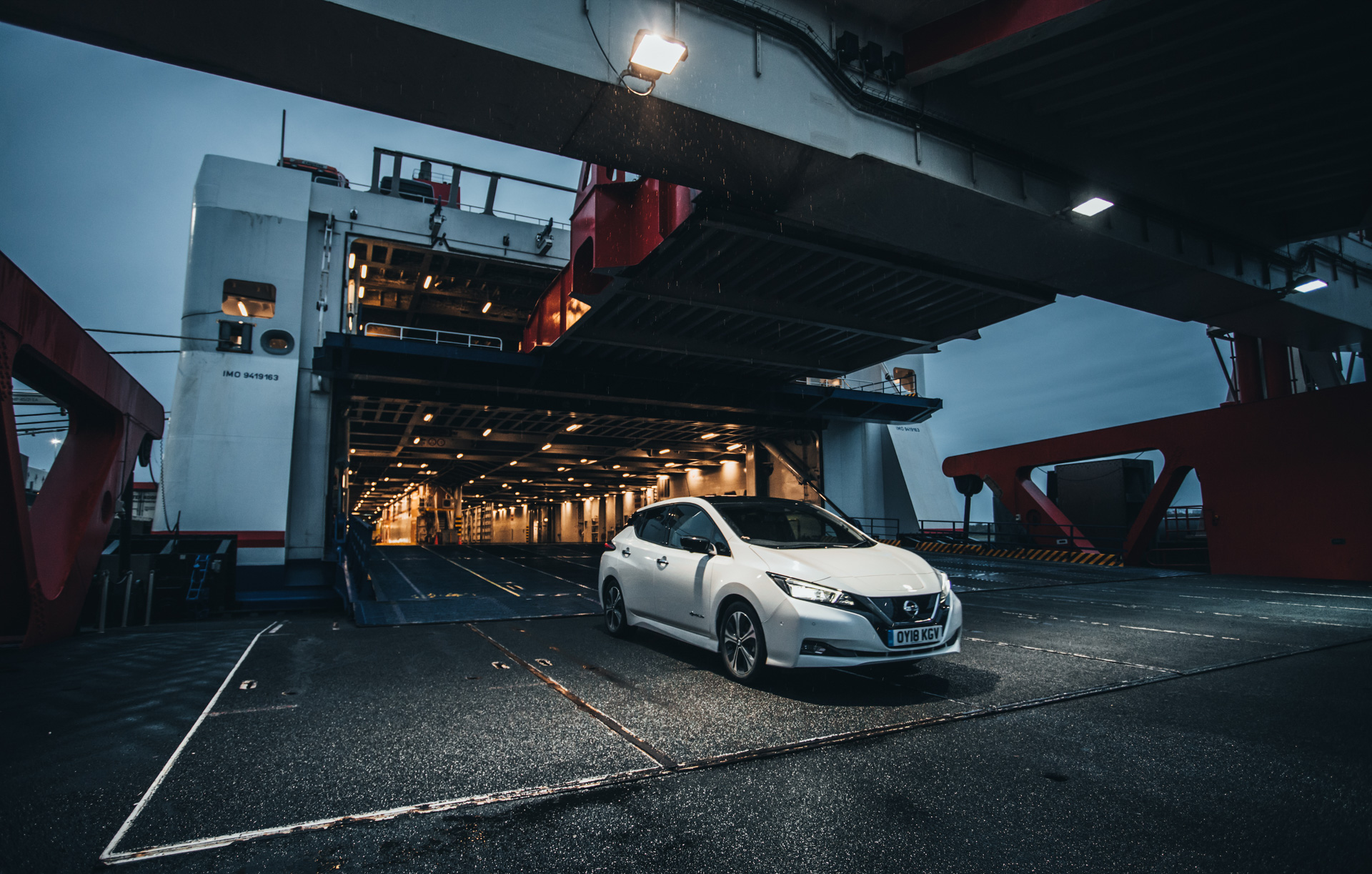 ---
Sustainability is a buzzword of modern times (and rightly so), with global warming and climate change having a very real impact on susceptible communities around the world. But a brief tour around the Sustainable Workspace in London's bustling Bankside proves that there are small pockets of resistance fighting for the greater good. The typically industrial-looking co-working space acts as an incubator for start-ups and businesses looking to reverse some of the damage humans have inflicted on the planet.

Home to businesses that create everything from craft ales made from excess bread, to eco-friendly light bulbs, it seems as good a place as any to kick off this CO2-free road trip that starts in a city slowly coming around to the widespread use of EVs and renewable energy, and ends in one of the most forward-thinking cities of Europe.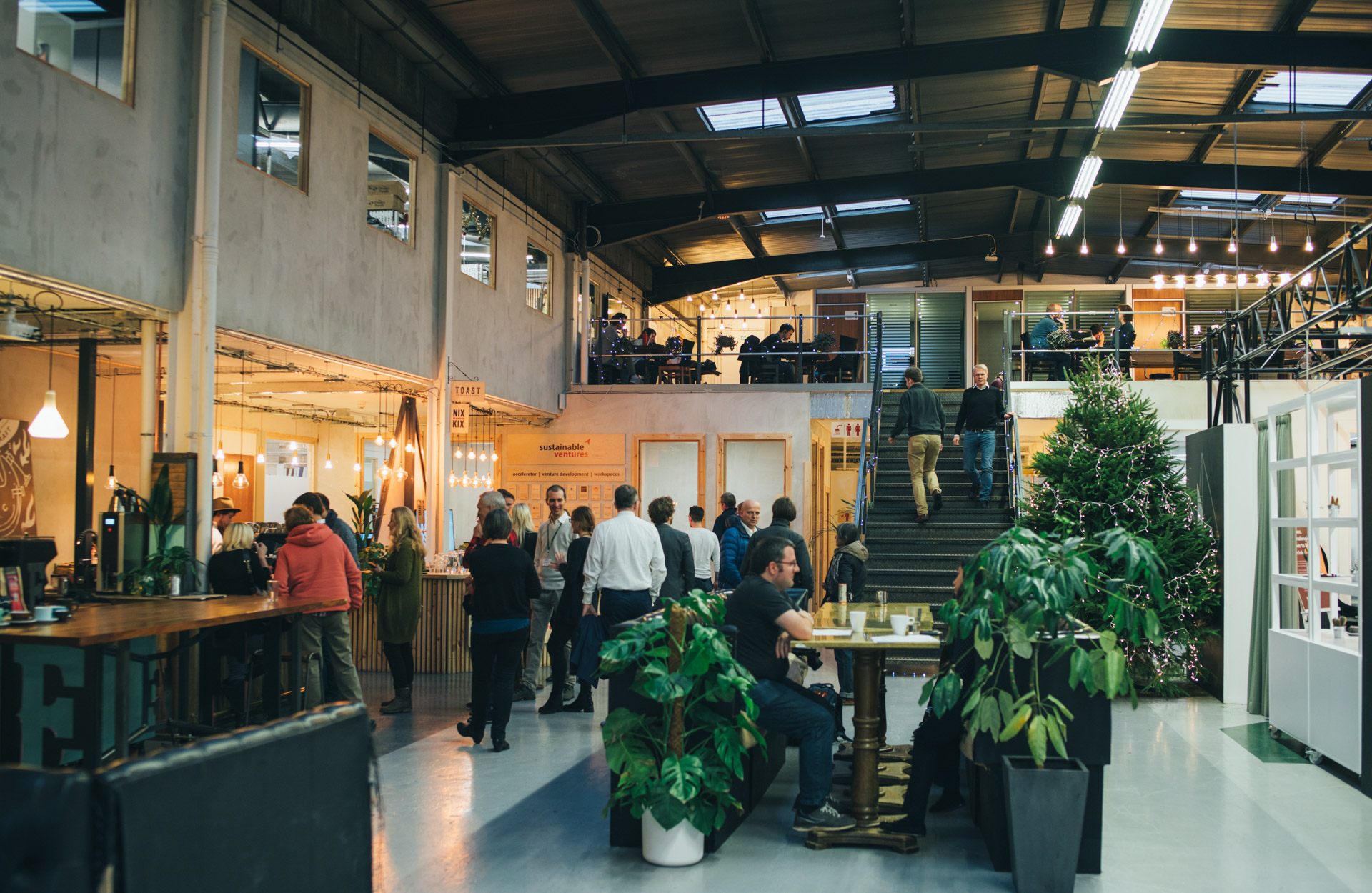 With a partially-charged Nissan Leaf loaded to the gunwales with kit, we venture out into the London rush hour traffic and crawl for several hours as the lights, wipers, and heating do their best to eat into remaining range.
The journey is impressively quiet and surprisingly comfortable, with my camera-wielding colleague praising the deeply sumptuous rear seats and powerful bum-warmers; although I couldn't keep them on for too long - we weren't made of electricity.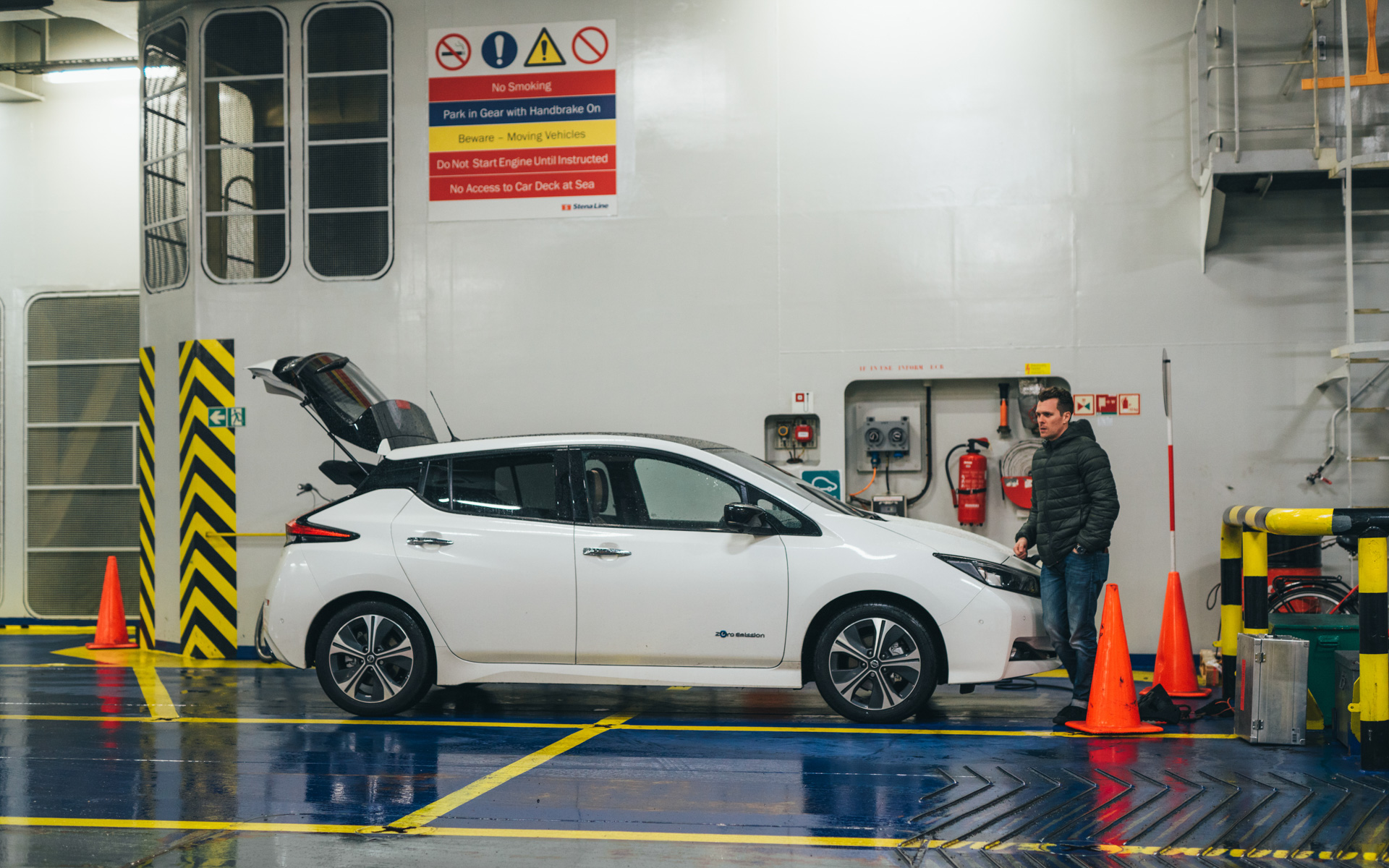 Despite my best attempts at conservation, the digital read-outs already reveal that we won't make it to our intended destination in Amsterdam on the remaining charge. Thankfully, a Stena Line steward waving us onto the overnight ferry from Harwich to the Hoek of Holland points out that the ship has several charging outlets and that he's happy for us to plug in while we bunk down.
It seems silly to pass up the opportunity of free 'fuel', so we admit an early defeat, unfurl the cable from the boot, plug into a nearby outlet and make a beeline for the ship's restaurant and a slice of disgracefully greasy pre-slumber pizza.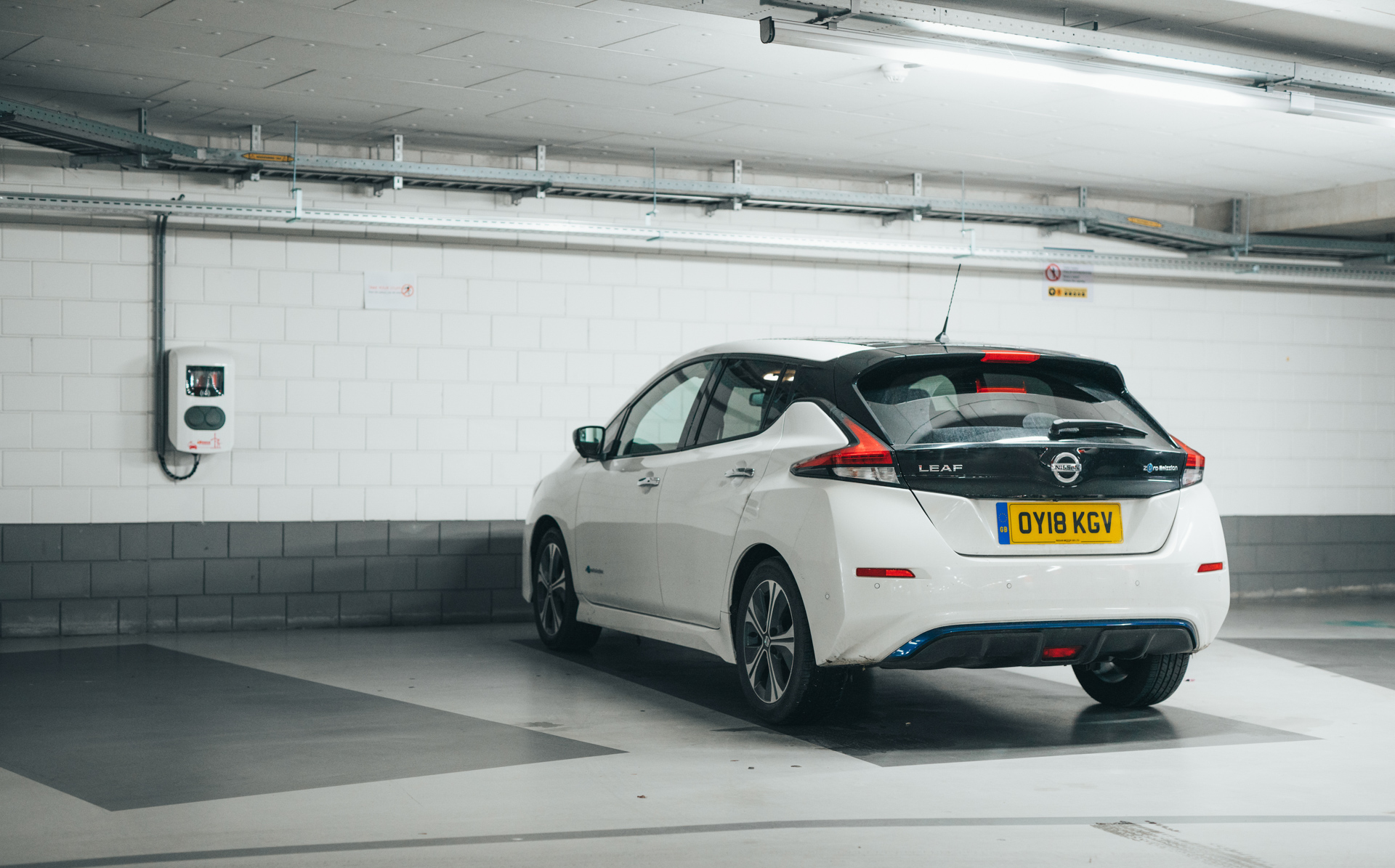 ---
The damp evening gives way to a grey morning, and a choppy crossing means nobody is particularly keen on the ship's cooked breakfast, so we clamber back into a freshly topped-up Leaf and make a beeline for The Hague and its wind farm-lined coastline.
A quick check of the Fastned smartphone app reveals a glut of 150kW fast-charging points along the planned route, which are capable of charging the batteries in the time it takes to grab a coffee - should we need it.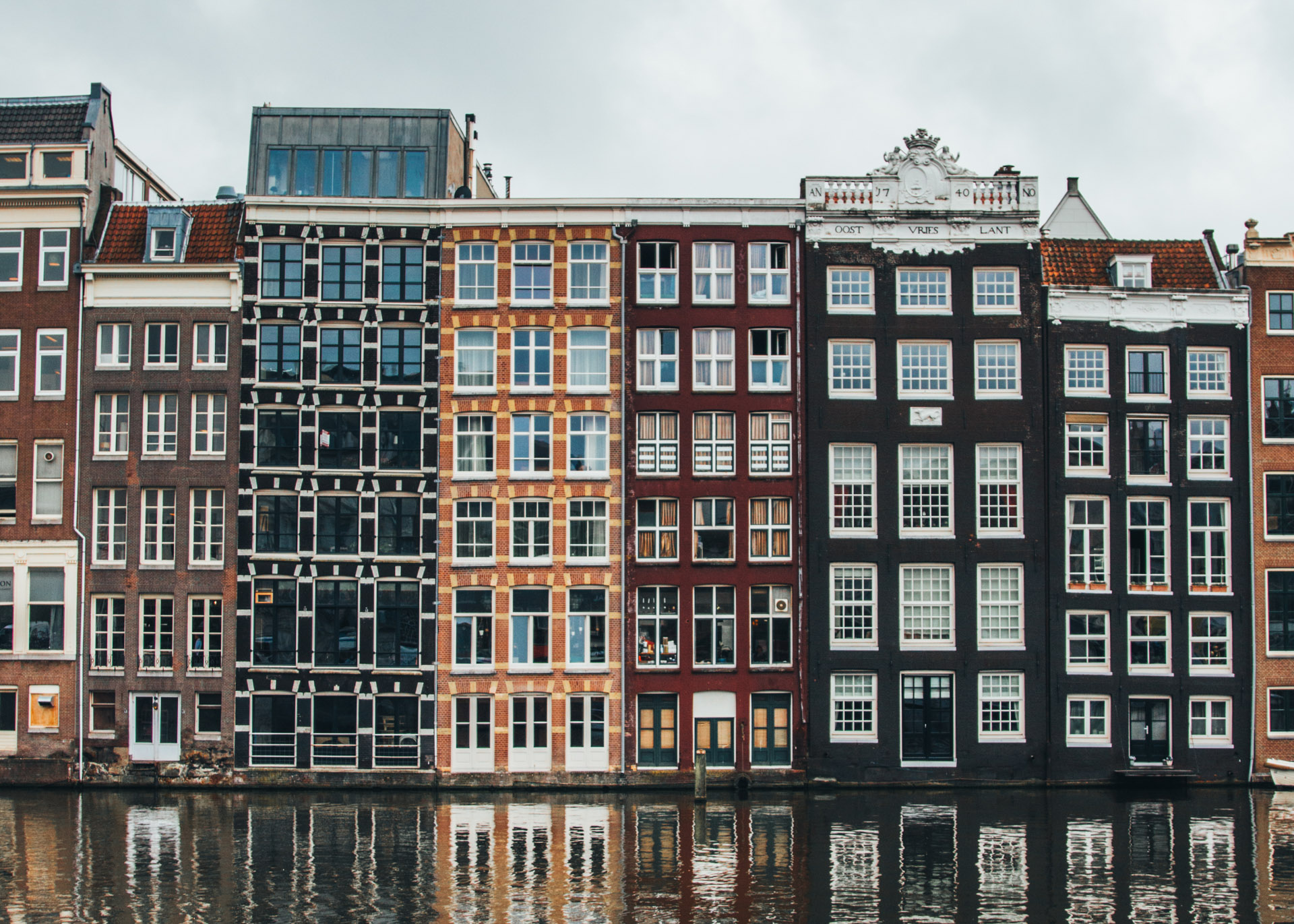 The Netherlands, and particularly Amsterdam, is a model 'sustainable' destination, with the government implementing a whole host of initiatives to cut carbon emissions and reduce the reliance on fossil fuels.
The city achieves a world-leading 30 per cent energetic yield from a local renewable waste-fired powerplant; Amsterdam's extensive tram network runs exclusive on renewable energy; and its fleet of taxis are largely made up of zero-emission Teslas.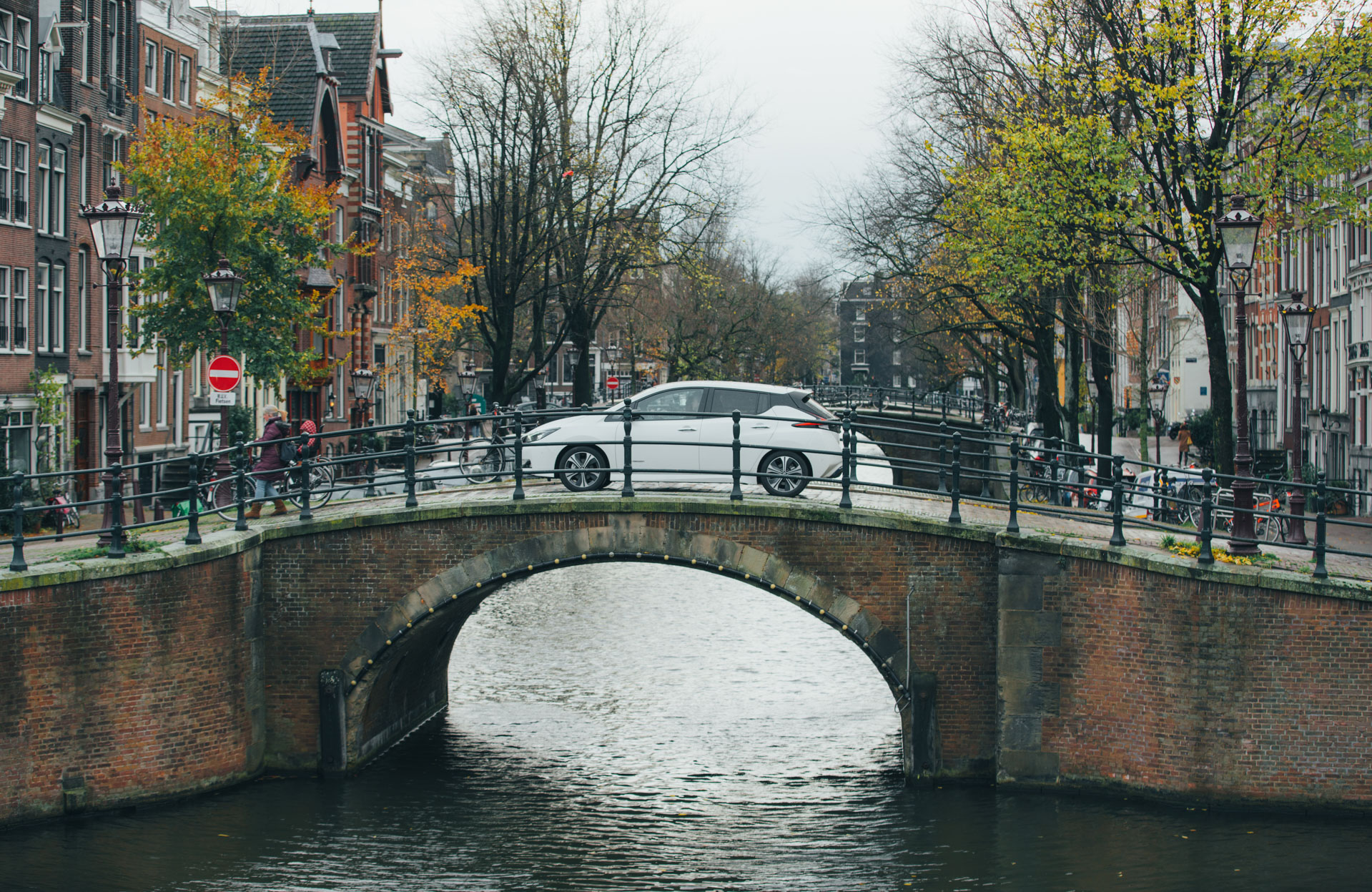 Fast forward to the year 2020, and Amsterdam will generate 20 per cent more renewable energy, and use 20 per cent less energy per resident, than it did in 2013, thanks to one of the most ambitious green agendas in Europe, while plans for the world's largest offshore wind farm are in the pipeline for 2027.
After a quick break at the Hart Beach Strandtent (which plays a major part in Holland's oddly vibrant surf scene) for a hearty plate of Dutch pancakes, we hit the impressively flat A44 and press on towards the capital.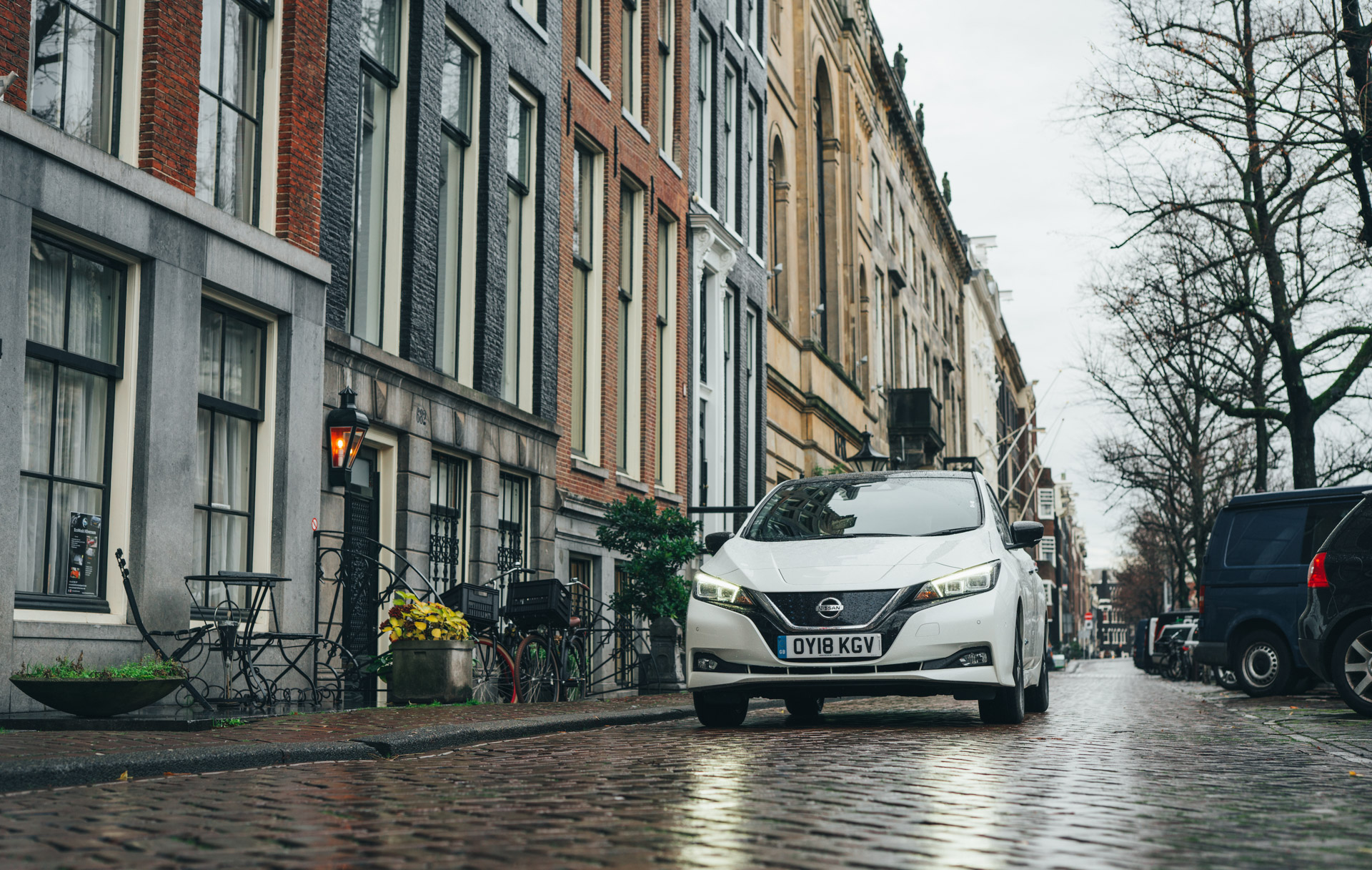 The roads are eerily quiet for such a bustling city, but that comes as no surprise seeing as the bicycle has long been king here, while a faultless public transport system and Metro line, which has recently been upgraded, makes journeying by car seem foolish.
Despite this, and the fact that Amsterdam and its complicated network of canals sit just above sea level, the electric vehicle charging network is deeply impressive. Almost every street corner has somewhere to plug in, while public parking facilities are littered with outlets. It makes us Brits look like scrotum-scratching cavemen by comparison.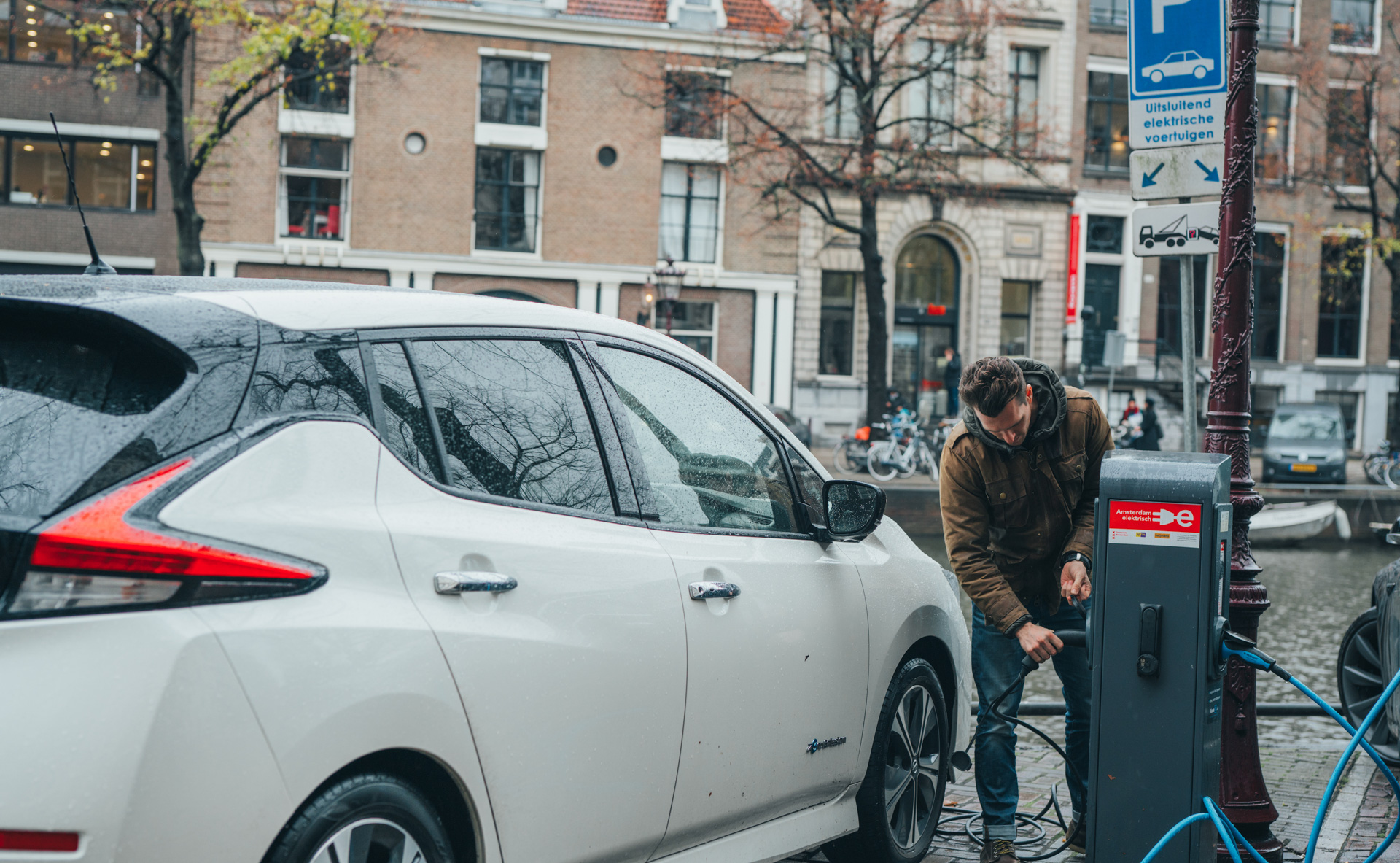 The Leaf continues to silently trundle around the city centre as we explore some of the most popular pedestrian areas by car - collisions with the hordes of cyclists somehow avoided thanks to the city's mythical sixth sense, and mutual respect for traffic infrastructure.
As evening descends, we take a trip to the vibrant Binnenstad neighbourhood, and offset some of the good we have achieved with a filthy dead-cow treat from the fiendishly tasty Nude Burger Club.
There's no shortage of excellent bars and clubs in the area, but we decide to toast the rest of the evening with a slightly-cheesy but amazing view of the city afforded by the SkyLounge, which sits atop the DoubleTree by Hilton Hotel.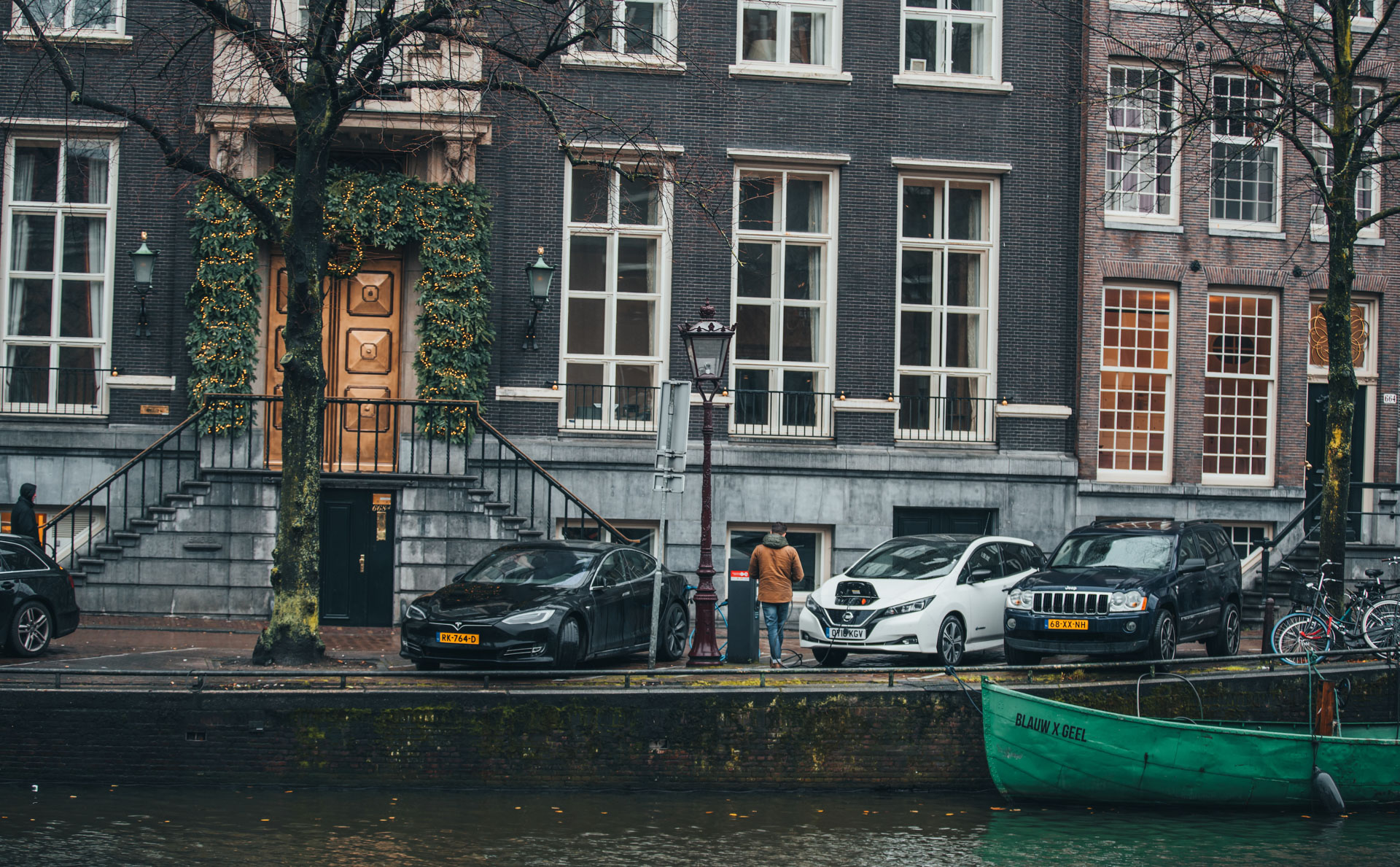 ---
With mission partially accomplished and the Nissan Leaf rightly returned to its owner (with plenty of battery range left), the focus of the trip shifts towards my son, who is rapidly approaching three and has flown out with mum to experience a city that offers a glimpse into the future.

Accommodation for the weekend is secured at The Student Hotel - a concept that is just unfathomable to anyone who has studied at university in the UK.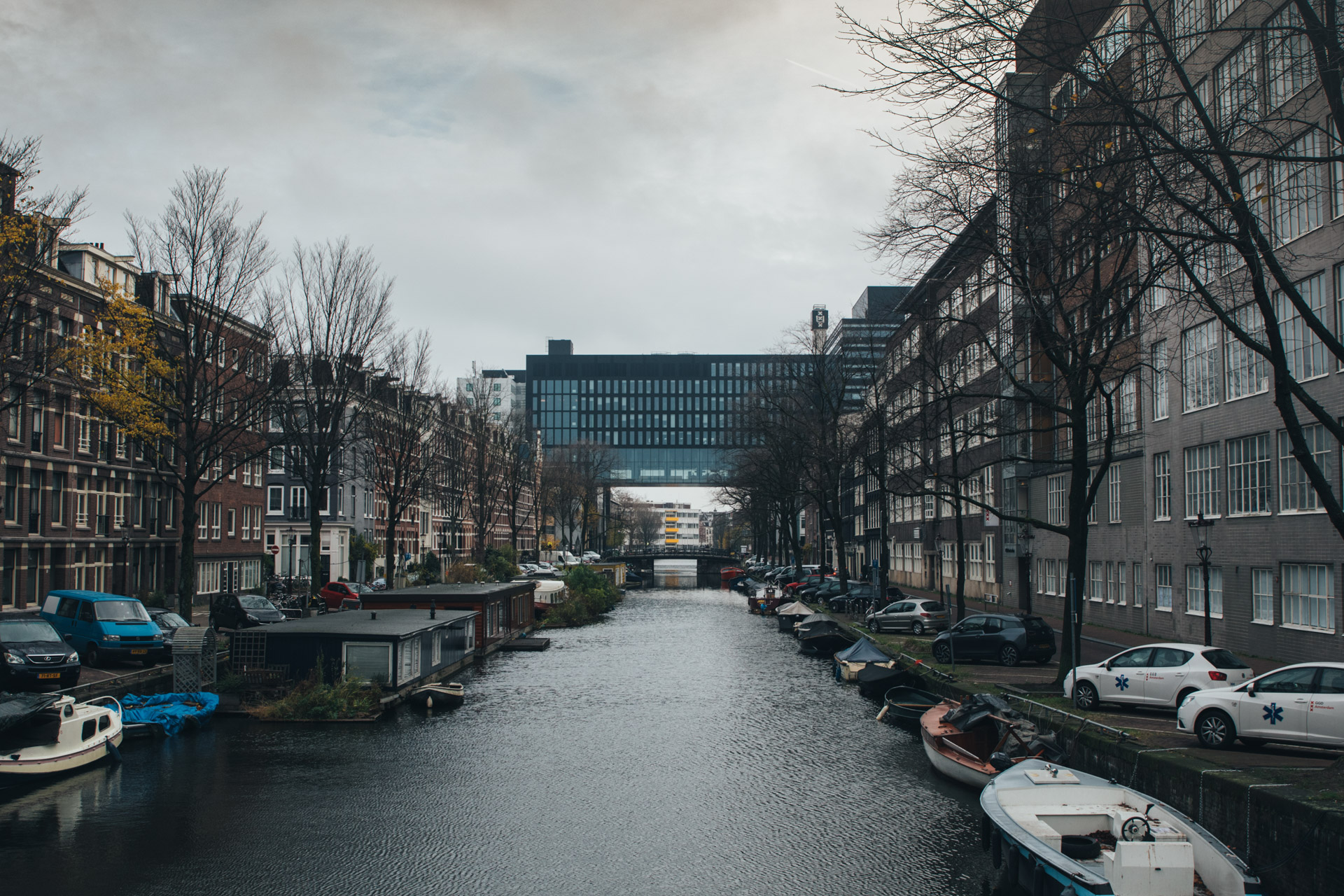 The premise is simple: to simultaneously improve Dutch student accommodation and get around the stringent laws and legislation, CEO and founder Charlie MacGregor realised that the only way was to create a hotel that could accommodate both the studious type (for up to a year at a time) and tourists.
Its expansive public areas boast funky pool tables and competitive ping-pong zones, while students gather in groups around the many large tables to work on projects or discuss assignments.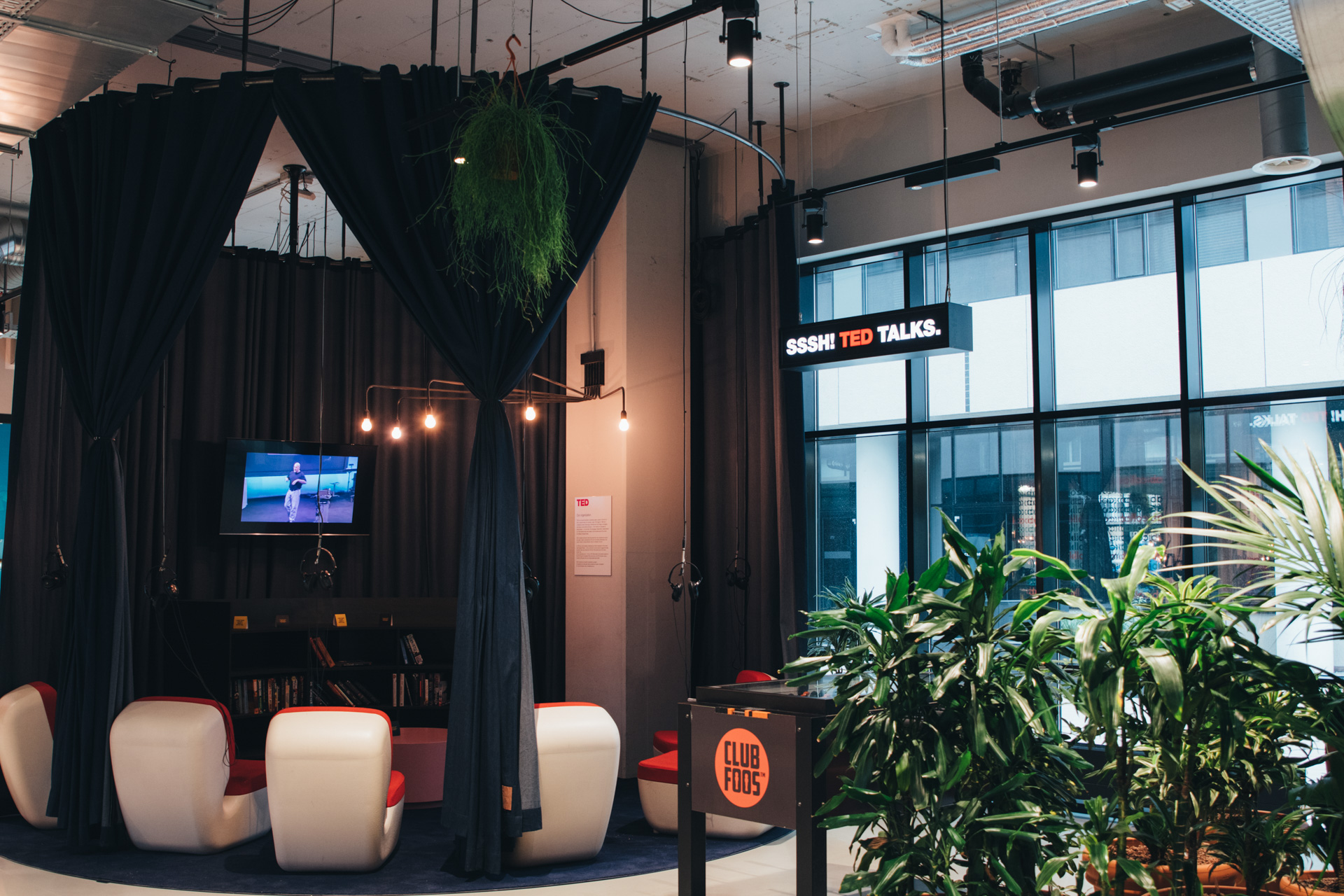 There's a positive energy to the place, and the exposed brickwork and bold branding give a sense of modern luxury, which Chief Brand Officer Jason Steere tells me over a lunchtime coffee "promotes a feeling of pride among students" and sees them "treat the place with respect".
Wander the reclaimed post office site and you'll stumble upon a co-working spaces, an on-site gym, and even a penthouse Play Room that sleeps up to six people, and has its own pool tables and bar.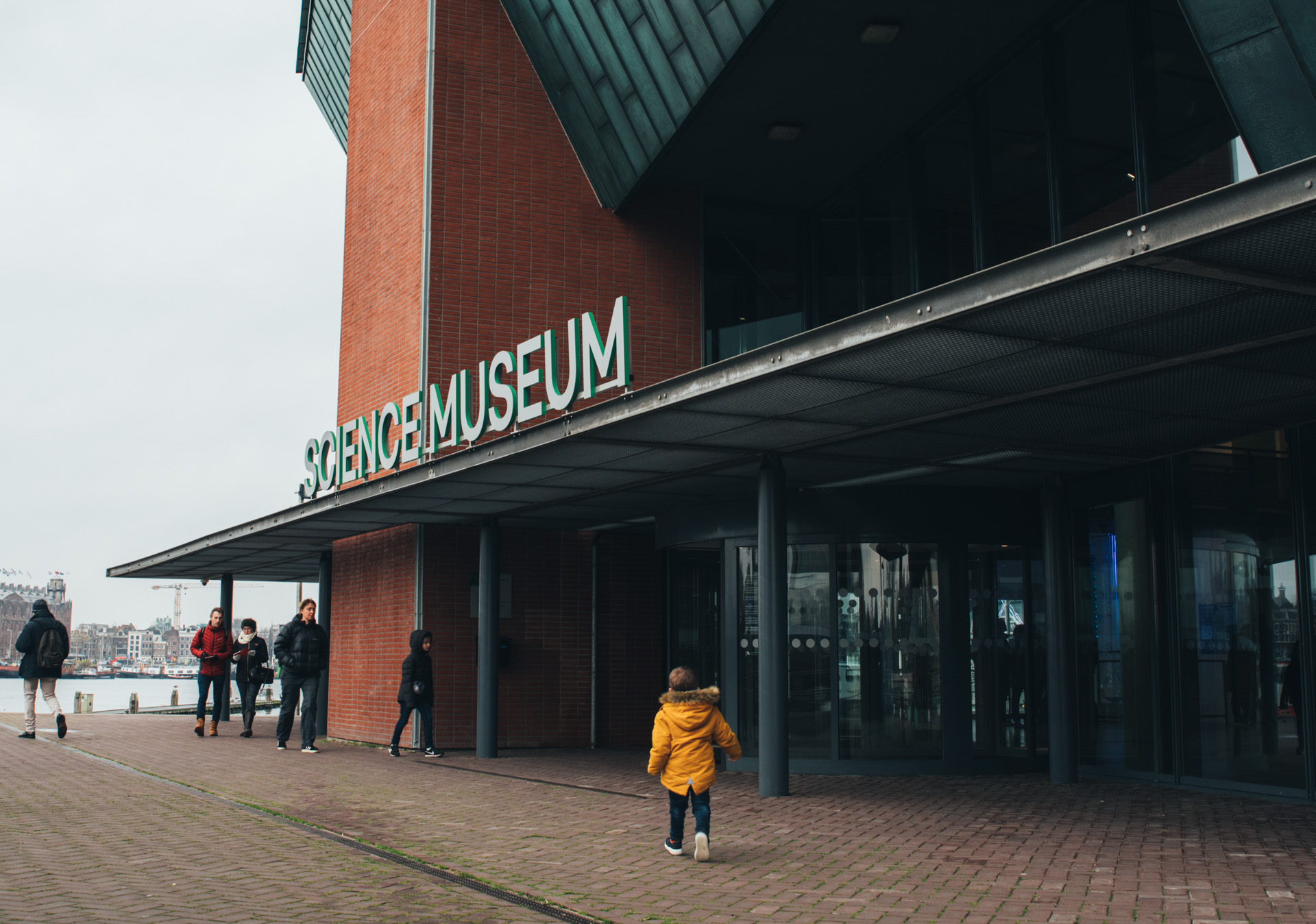 Admittedly, I dreaded the potential late-night parties and drunken student halls antics, but I couldn't have been more wrong. The rooms are large and stylishly furnished, and it is more likely you'll get into a conversation about advanced physics over a game of pool than have sleep disturbed by pub-crawling alumni.
The student theme continues with a trip to the awesome NEMO science museum, a waterfront architectural wonder that's packed with floors of interactive scientific displays. My son is beside himself, running around the various activities and getting stuck in to the hands-on stuff.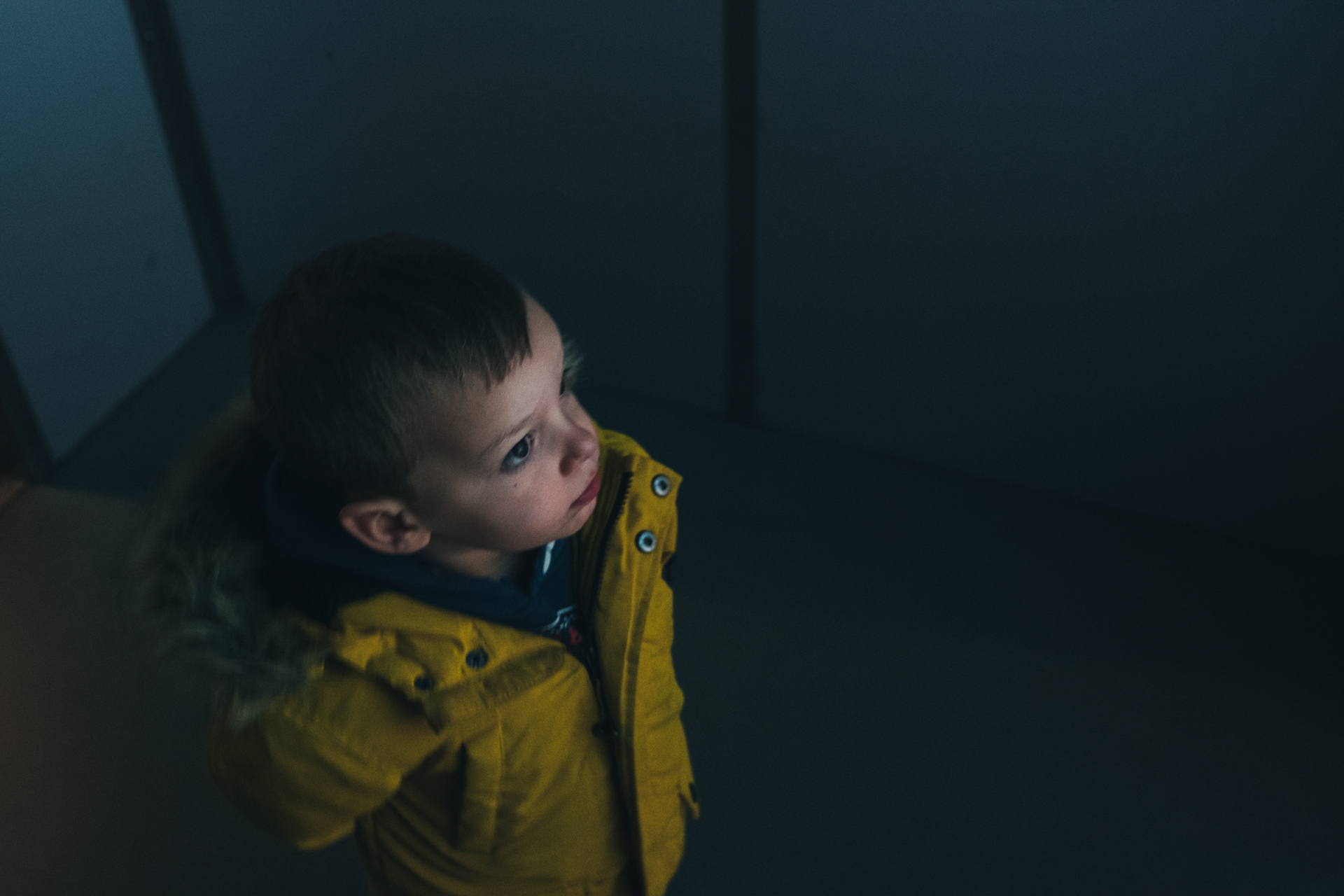 It's impossible not to stop by the staggeringly popular Hartog's bakery on the way back and sample some typical Dutch wholegrain delicacies, while a trip to the city's Oosterpark reveals a great green space to stop for a glass of wine in the OOSTerBAR at the fantastically hip Generator Hostel.
The Transvaalbuurt neighbourhood and surrounding university district is lined with highly recommendable eateries, including a taste of America's deep south at Mississippi on Derde Oosterparkstraat.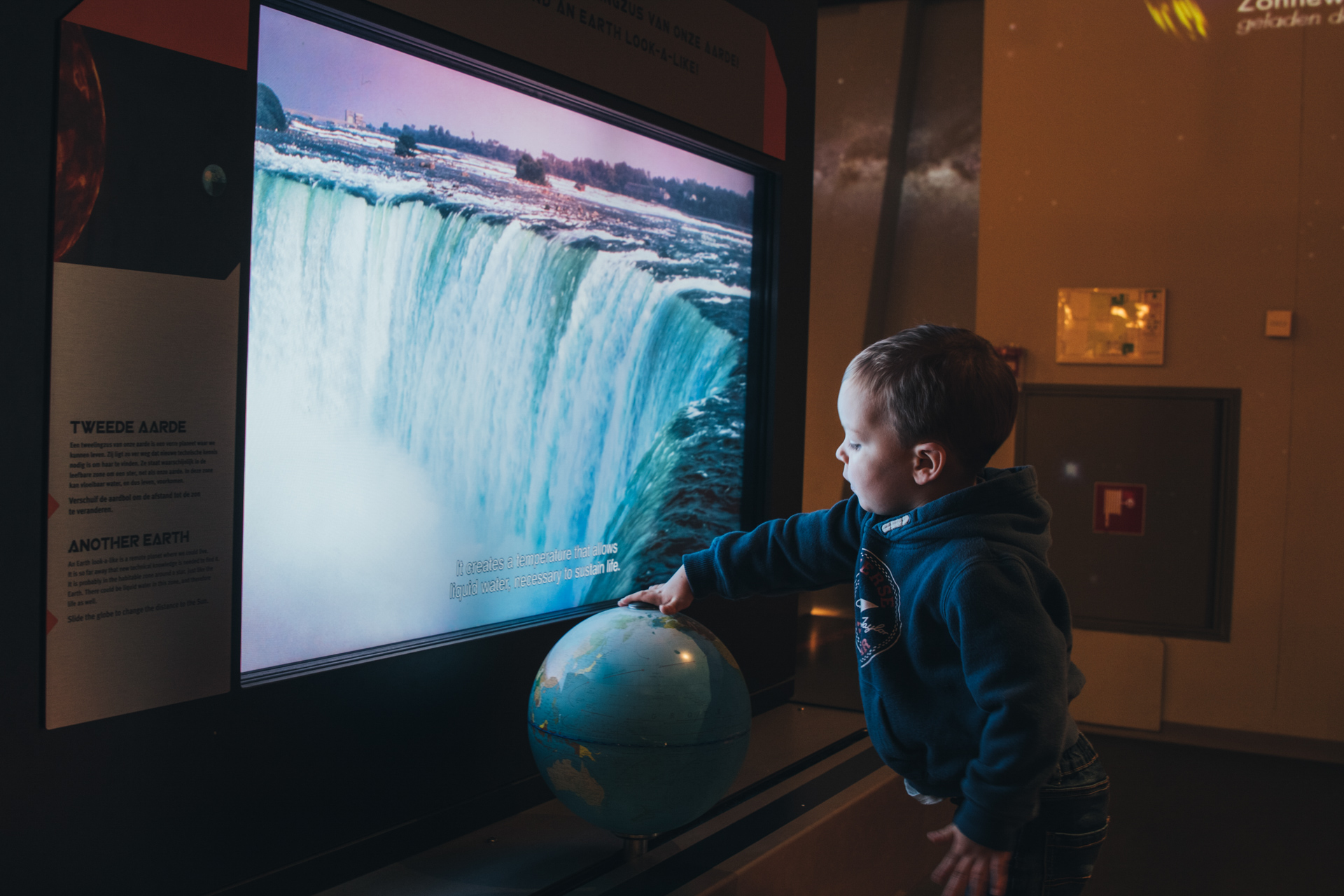 A far cry from the tourist traps of the Rijksmuseum Museum and the stag-do messiness found in the infamous Red Light District, this side of Amsterdam proves a perfect weekend getaway. The surplus of bicycles, trams and easy-to-navigate pavements means that setting foot in a car was never really on the agenda.
A bizarre sentiment on a road trip, but this is the very real future for many modern cities. The concept of filling a vehicle up with combustible fossil fuel will likely be completely alien to my son when he reaches driving age, but Amsterdam is proof that emissions-free cities can work. And so long as he can continue to explore the world via electric propulsion, I'll be one happy dad.
---
Do it Yourself
Stena Line ferries from Harwich to the Hook of Holland start from as little as £59 for a small car, but it's advised to secure a cabin if you fancy getting any sleep. These start at around £40 for a single berth and rise to £125 for more luxurious Captain's Class cabins.
The Student Hotel now has locations all over Europe but a weekend stay in Amsterdam City starts at €75 per room per night. Secure the awesome Play Room for €895 per night.
A trip to the NEMO Science Museum is well worth it if you have little ones to entertain and entry is free for 0-3 year olds and costs €16.50 for everyone else.
For more information on the Nissan Leaf, go to their website.
Leon Poultney is a freelance motoring journalist based in the UK. Keep up with him on Twitter.
Will van Wingerden is a freelance photographer, based in Dorset. Keep up with him on Instagram.