'Fuck Your Jesus' | This Russian Artist Wants Your Blood
These groundbreaking new artworks in Belgium need blood - your blood - to exist
Every young creative is familiar with the feeling of being bled dry. Student loans, unpaid internships and extortionate studio rents can leave artists feeling the life has been drained out of them. One Russian born conceptual artist, however, is turning the tables on his audience. Andrei Molodkin wants your blood.
From the 8th of February until mid May, his new installation offers visitors the chance to donate 200ml of their own blood. Their fresh plasma will then be seen dripping through one of the impactful typographic sculptures - and a projection of this shown large on the gloomy, post industrial canvas of the gallery wall. Together these elements are named 'Young Blood' – a project of the BPS22 warehouse space in Charleroi, Belgium.
"We couldn't organise a clandestine blood withdraw as that would be illegal, and I would be considered a human organ trafficker. That's just too much for me!"
Is it safe? Apparently so, as Pierre-Olivier Rollin from the gallery reassures us; "In Belgium, blood is considered a human organ, like a heart or a lung. So to withdraw and distribute blood is rigorously controlled. Only a few institutions, like the Red Cross, are legally authorised to collect blood but those institutions refused to collaborate to our project for different reasons. We couldn't organise a clandestine blood withdraw as that would be illegal, and I would be considered a human organ trafficker. That's just too much for me!"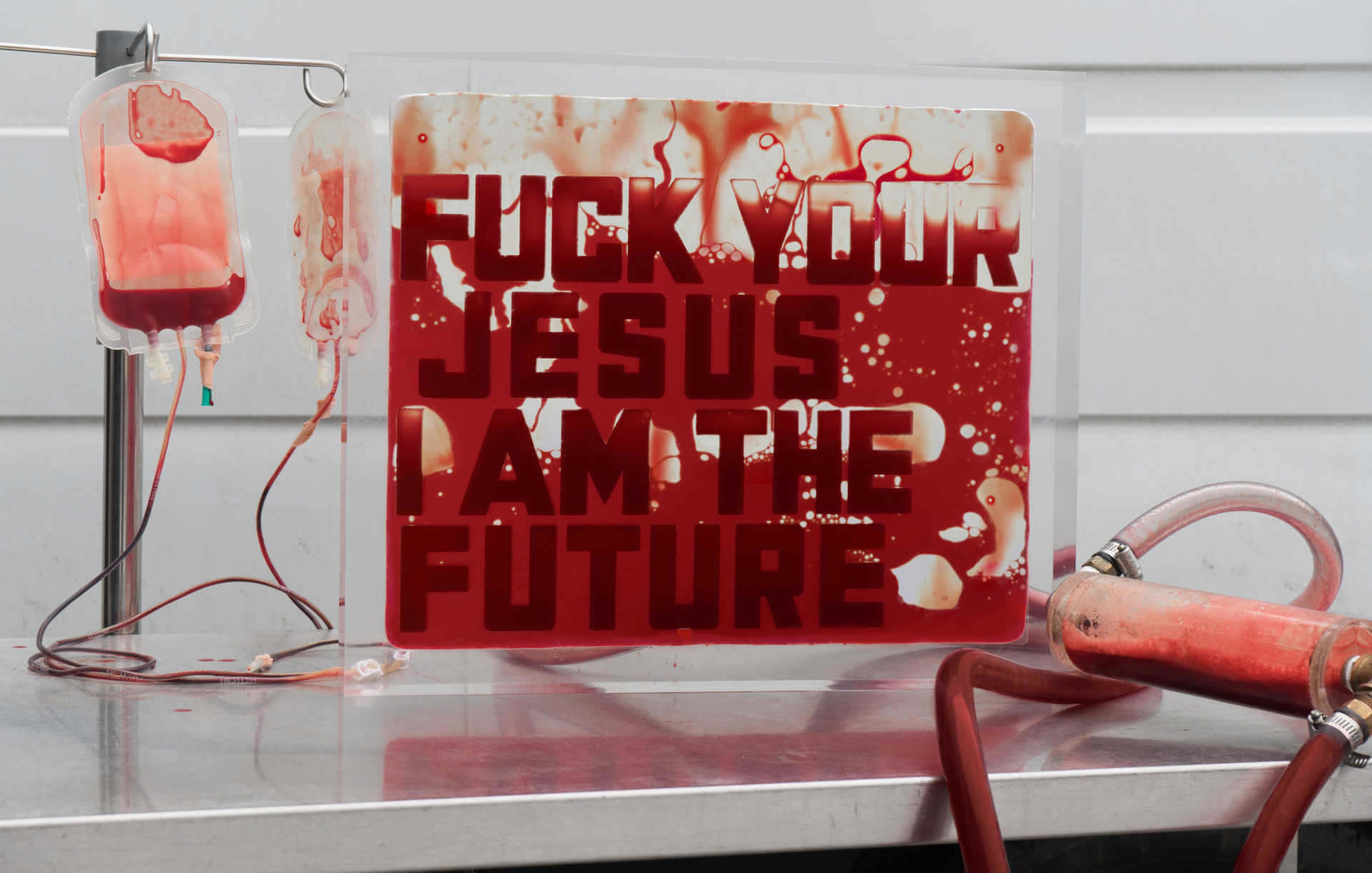 As each letter is rendered in transparent plastic, their message becomes increasingly legible as more blood is added to the system. Therefore, the responsibility lies with the viewer to decide which message they want to embolden.
Having chosen, their red and white blood cells will pass through a series of compressors and chambers and enter into fragments of words and lyrics taken from songs blacklisted by various governments. Interestingly, this includes a few stanzas from the South London drill scene.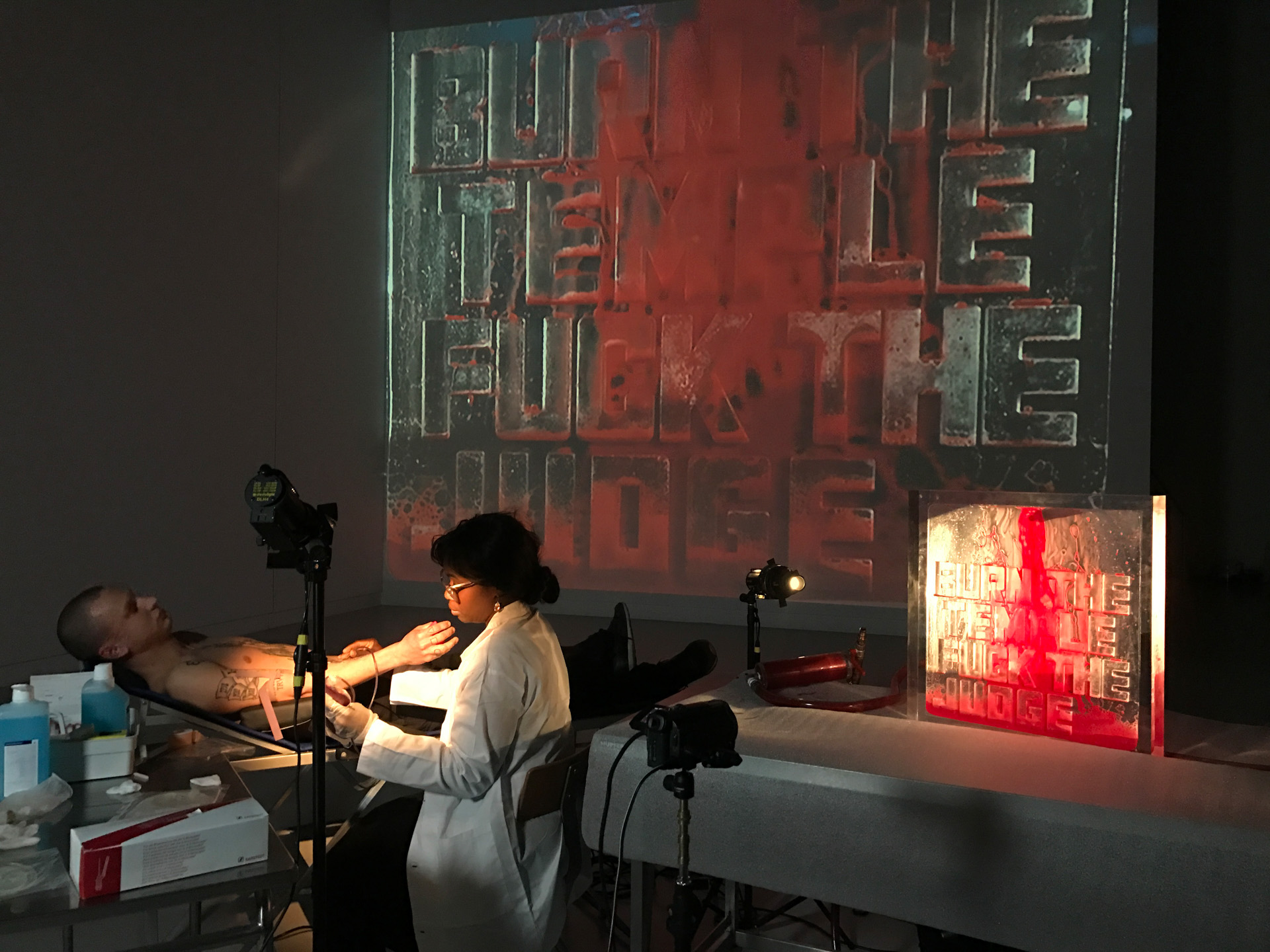 Having grown up in Russia, and been enlisted in the now-defunct Soviet army, it makes total sense that Molodkin is preoccupied with rejecting control of speech. As a reaction to the violence of his home country, Young Blood offers a morbid channel for communal poetic defiance.
"It sits next to an 8-metre sculpture by another Soviet-artist, called TO SHIT ON IT"
Becky Haghpanah-Shirwan from a/political, the curator of the exhibition explains that: "The idea is for people to choose a statement that they would give their blood for."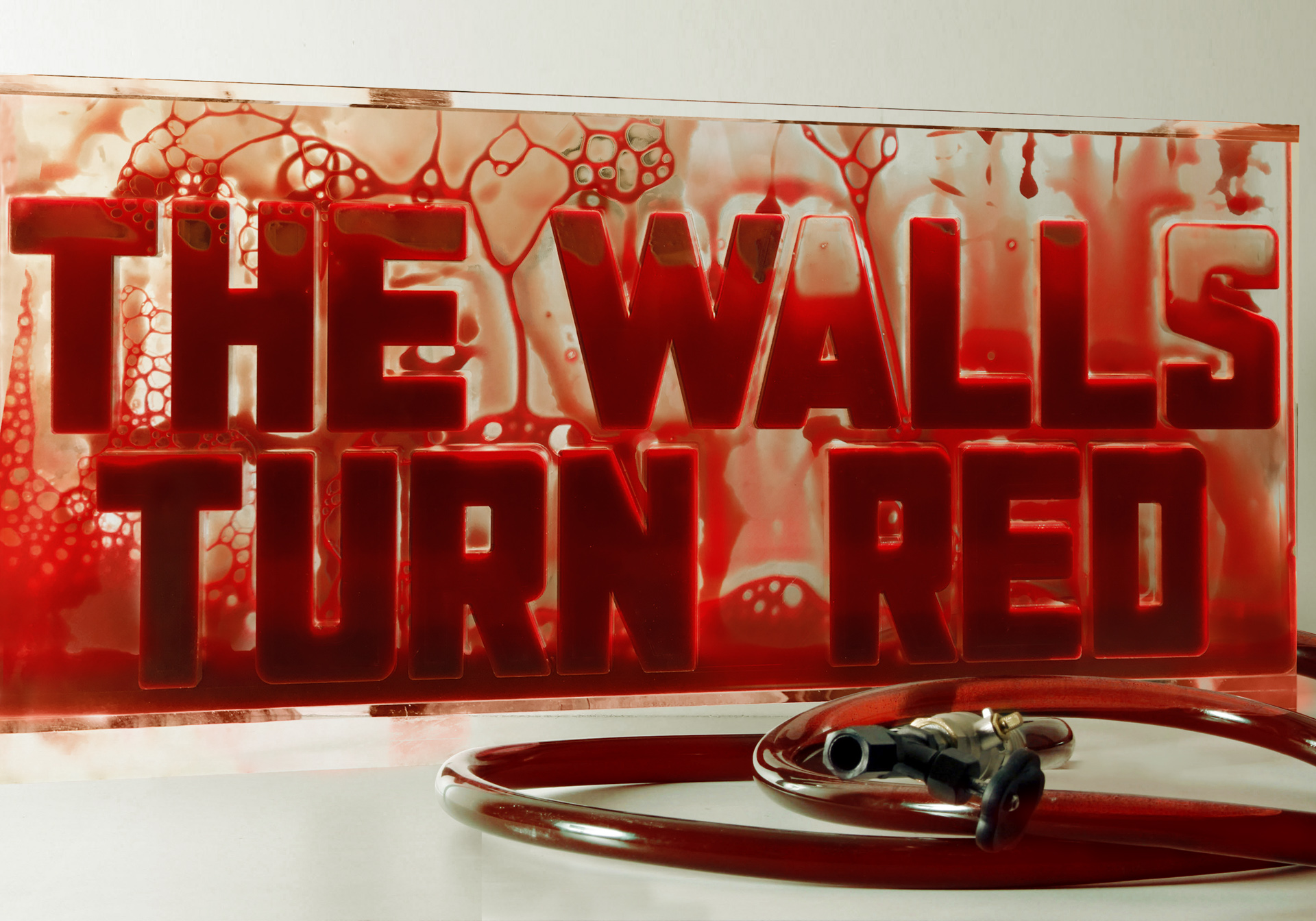 She has placed the work alongside an eight-metre sculpture by Soviet-born artist Bulatov, taken from his exhibition called НАСРАТЬ ('TO SHIT ON').
Sharing Molodkin's typographic tendencies, the piece consists of letters spelling out "Everything's Not So Scary" in Russian, a call-out for visitors to reject propaganda and censorship. He highjacks the language of Russian Constructivist posters to construct a 'Fuck You' to Putin's autocratic rule.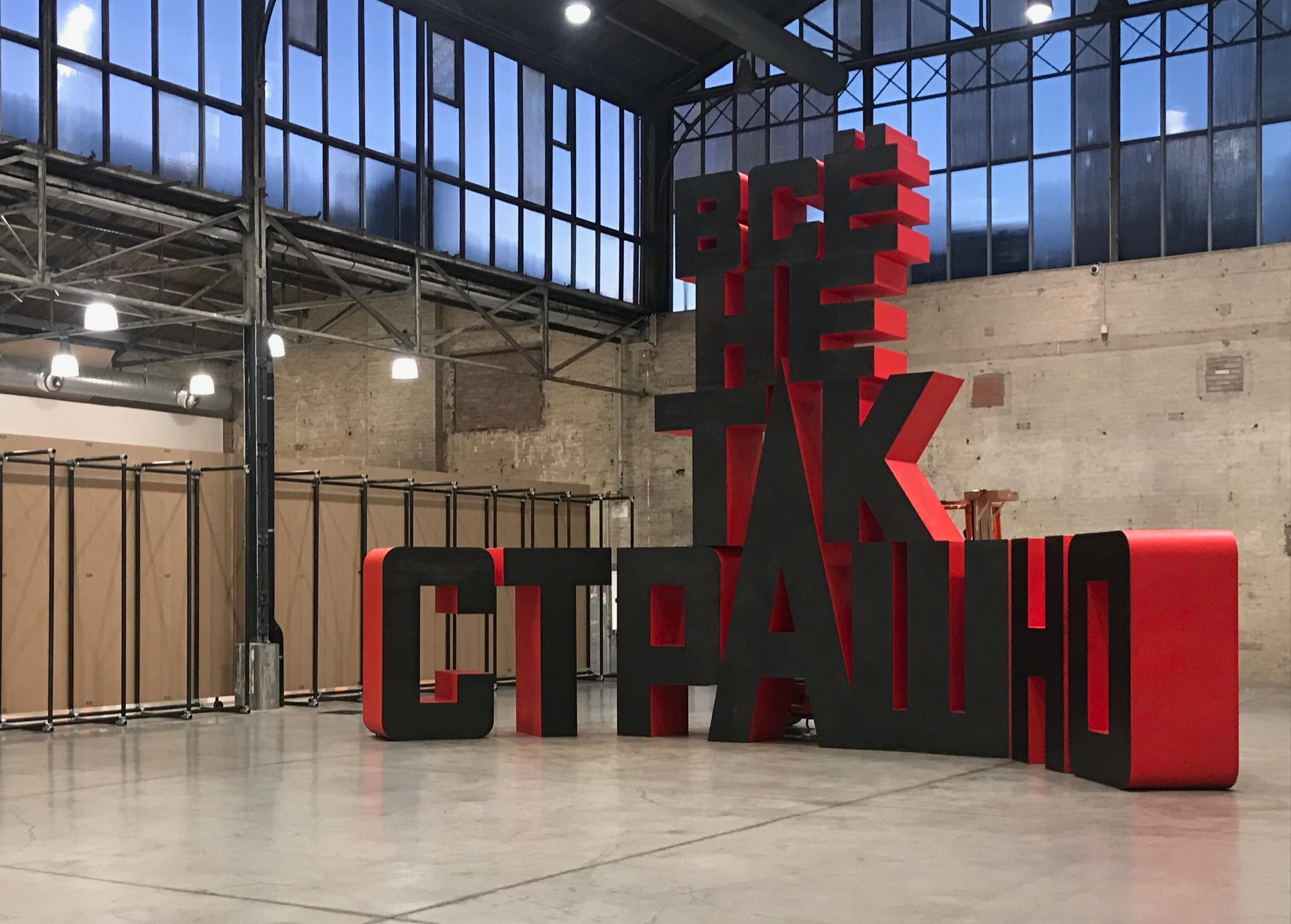 She explains that, "for us, it's a rare opportunity to show two Russian artists from different generations who have known the end of the Communist world more than thirty years ago. In this time of crisis of the European democratic model, it's interesting to have their point of view."
This is certainly a show worth seeing in the flesh, albeit not for the faint hearted.
The 'Black Horizon' exhibition at Charleroi's BPS22 will be running until the 19th May, 2019. Find more information here.