Photo: Courtesy of The Store Berlin
The Store in Berlin | Alex Eagle on Why Everything Must Go
Boutiques in London and Berlin have made 32-year-old Alex Eagle into one of Europe's most in-demand retail gurus
Photo: Courtesy of The Store Berlin
Spread across 30,000 square foot of the ground floor of Berlin's Soho House, The Store is a landscape of carefully curated pieces presented in a manner which highlights the relationship of an object within the living landscape of its audience and their homes.
"Upstairs is a member's club, but The Store is very much about being open to all"
Dreamt up by Alex Eagle and her boyfriend, Mark Wadhwa, owner of London's multidisciplinary space The Vinyl Factory, the expansive space opened in February 2015 and was soon followed by an eponymous boutique on London's distinguished Walton Street.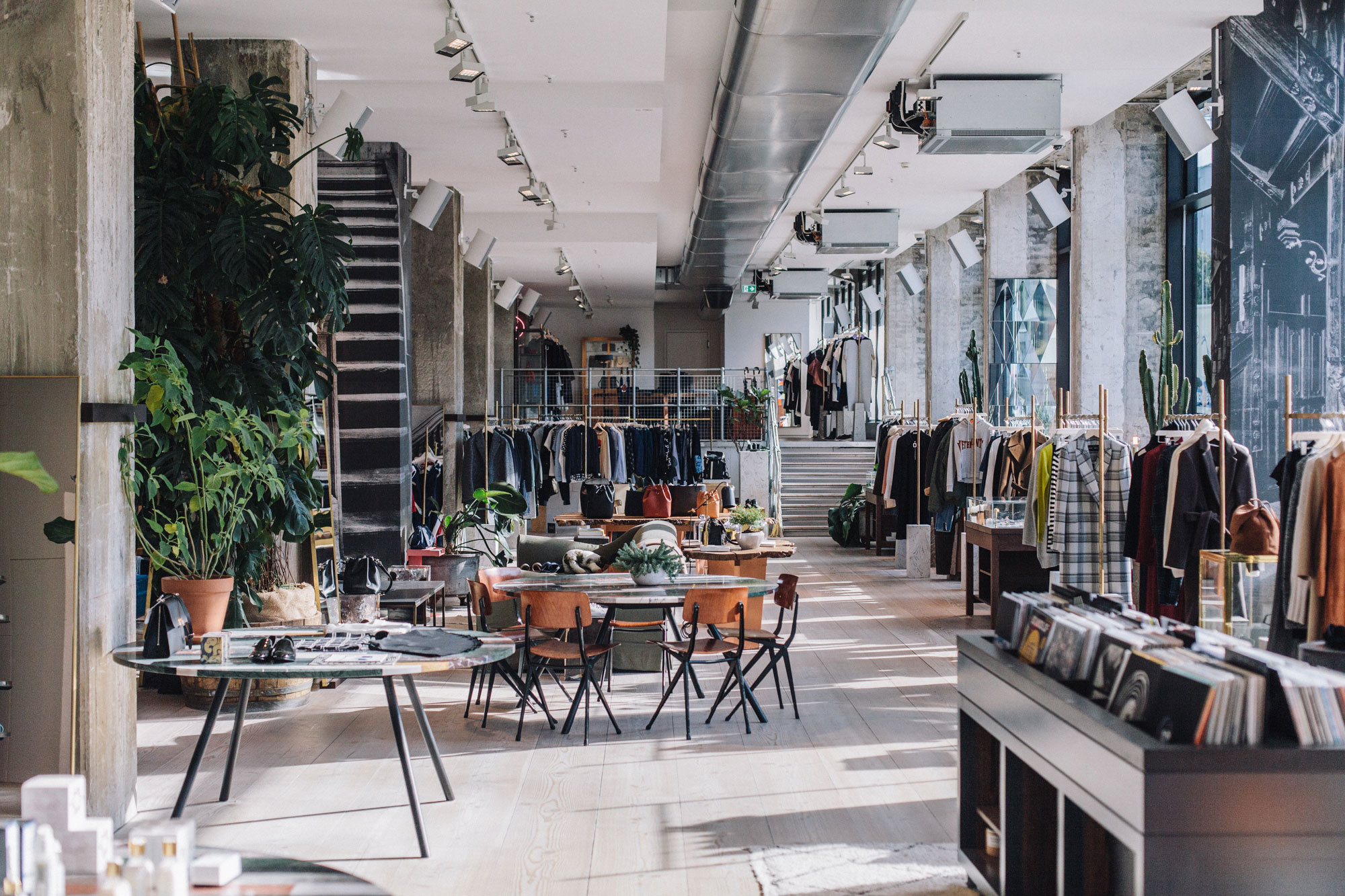 Both stores could be described as a gesamtkuntswerk of good taste in which everything is for sale. Axel Vervood sofas are stationed for quick flicks through design monographs and indie zines from Idea Books; you can take nearly everything home, from the rails hanging with Proenza Schouler, Adrien Sauvage and J.W. Anderson—and a number of investment pieces made exclusively for Alex's stores—to the rare records curated by The Vinyl Factory spinning in the background and the flowers dressing nearly every available wall or surface. There's also a gallery space, co-working area, photo and radio studios, and a Ping-Pong table.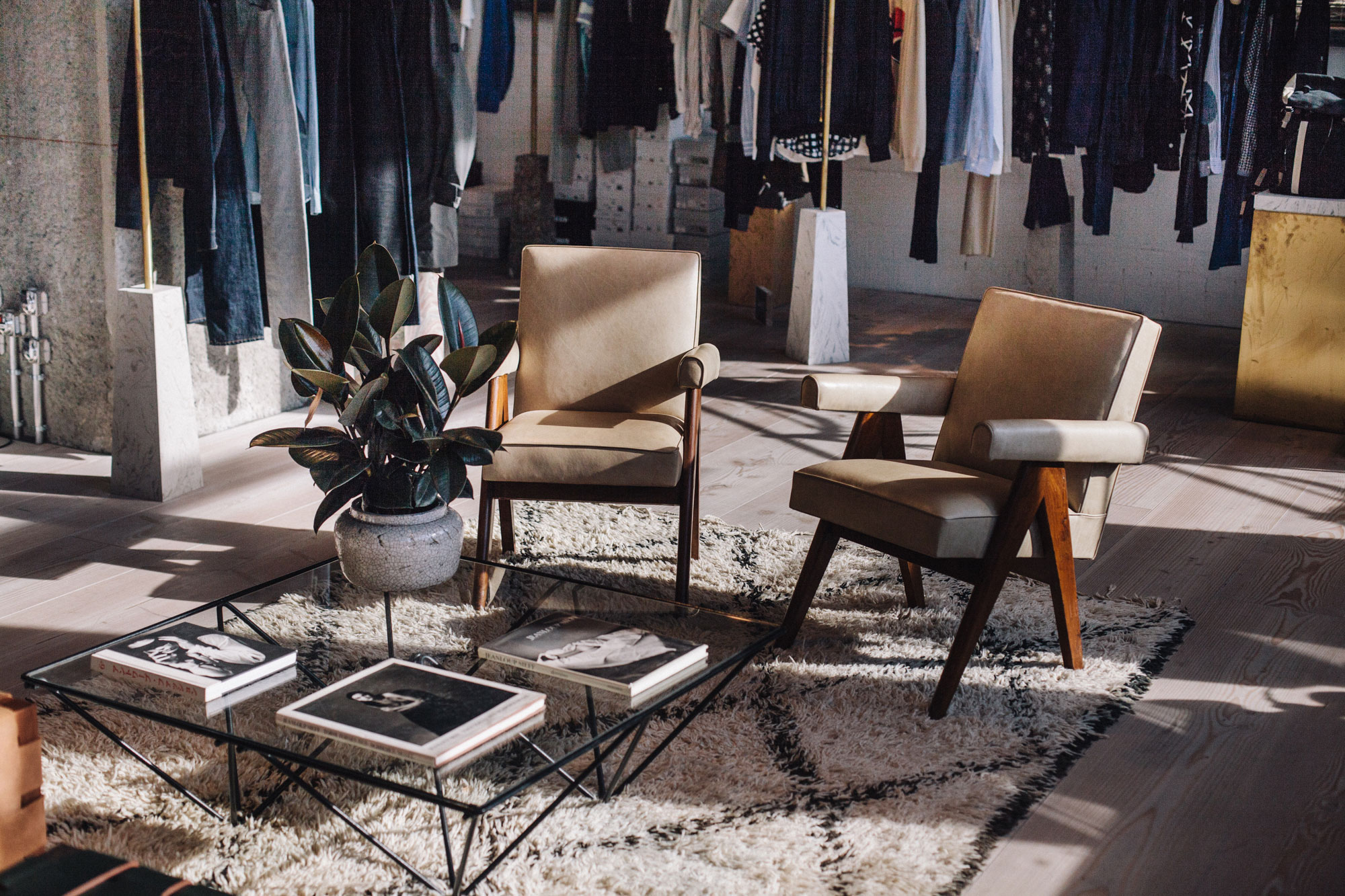 "Upstairs is a member's club, but The Store is very much about being open to all," says Eagle. With plans to set up shop at the new Soho Farmhouse in Oxford, to open a London Store by the end of 2015, and to expand on her eponymous range of clothing, here Alex tells us more…

What drew you to Berlin?
Space is a luxury that you can still find in Berlin. Gone are those days where soft cushions, velvet curtains and carpeting represented sumptuousness. We all live in tiny flats and we all cram onto the Tube; we all are living on top of each other.

Did you transfer a lot of elements from your own personal space into The Store?
Absolutely: the open kitchen, the natural wood Dinesen floor which is the perfect blank canvas, this way of working [gestures to her MacBook on the dining table].
Have you noticed a real international pull toward Berlin and The Store at the moment?
Berlin is such a global city. If you sit around a table of seven people, you've got as many languages spoken, definitely. There will be French, Portuguese, Turkish, German, English... Like New York City in the Seventies or Eighties, Berlin is for everyone. You can be any class, any sexuality – it doesn't matter. For a long time in Berlin that meant there were a lot of party people: trustafarians and artists, all squatting or living cheaply. Now, Berlin's full of young start-ups and creative hardworking global people who have moved there. You are literally in the centre of Europe; London is commutable distance and you can get to New York or the rest of Europe easily.

Do you encourage people to use The Store as a work place?
Lots of local people who don't want to work at home but don't have an office come here; young creatives, people who maybe live in Berlin but their head office is in New York, for example. The Store attracts those who benefit from having everything on hand, like fresh healthy food, for example. There's energy and buzz, it's not sterile.
How do people shop in The Store?
International visitors come and buy then and there. For our locals who come and enjoy the space, it's a much more slowly cooked process. They might buy a magazine or have lunch, and maybe they check out the Jil Sander coat for a few weeks until they buy it. People are buying a slice of that lifestyle that we've created and we work hard at determining an edit and brand selection that you can't find everywhere.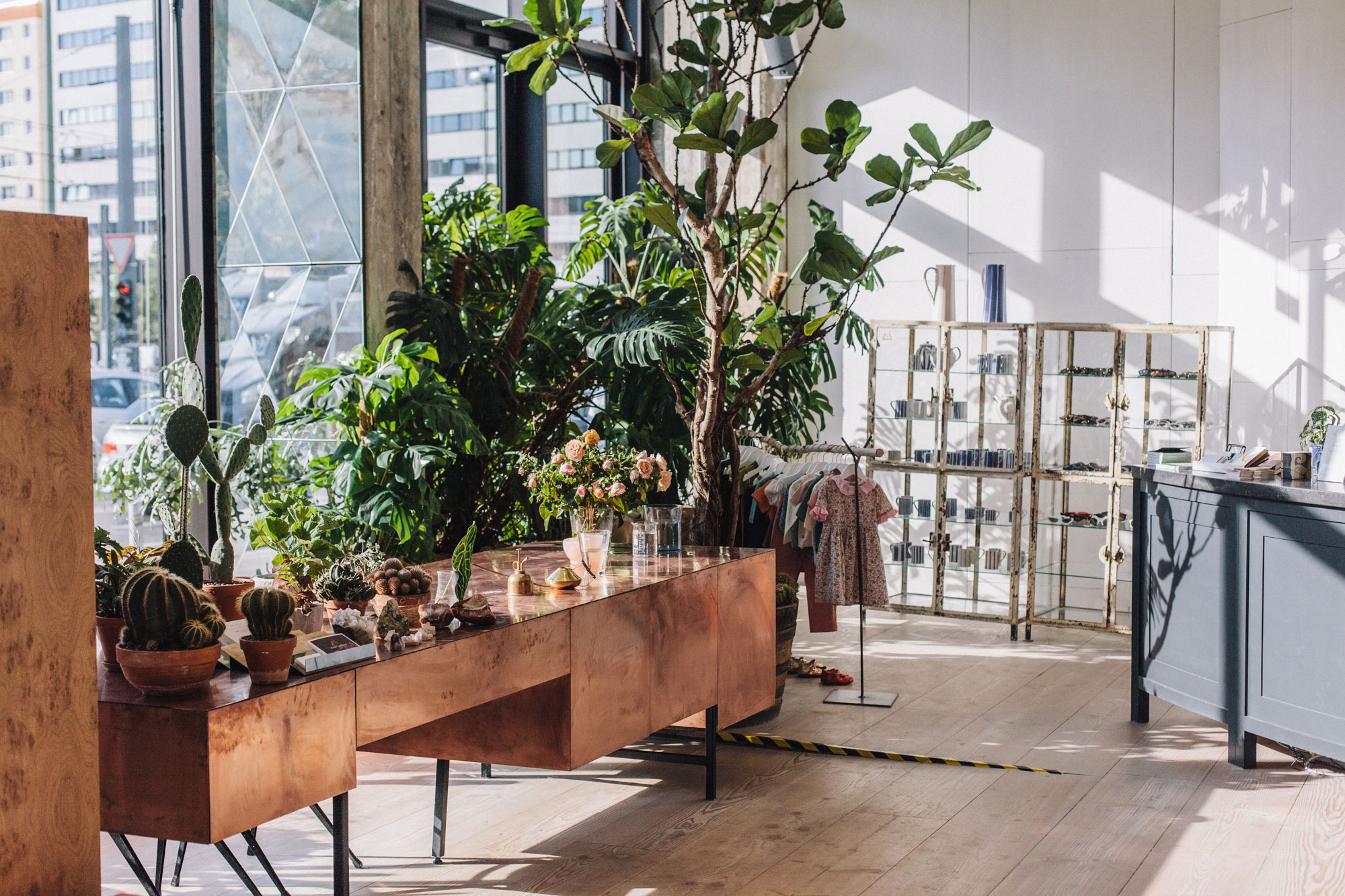 Does that tell you something about the way people are consuming luxury, that it's not necessarily about the big spend, it's as much about the little ways you infiltrate it in your life?
It does. I want my friends to be able to afford what's in the shop and I think luxury can be a record, book or magazine as much as it is an expensive piece of clothing. We want everything to be worth the money, that's what we strive for: pieces that will last and become part of your life. We don't need to keep huge amounts of products on the shop floor; we are going is back to an original feeling of un-seasonality and working on exclusives, special editions, and collaborations.
Do you think this change in consuming luxury is an age shift of our generation, or something more widely felt than that?
Less is more, totally. I think with the price of fashion, real estate, cars and holidays going up so much, we can't afford the things that we could have fifteen years ago, relatively speaking. Also, when going in to your thirties, you might have kids or a mortgage, so you don't necessarily have the same amount of disposable money.
Was the natural progression of editing down to the essentials launching your own line?
Exactly. I think a lot about which pieces of clothing you keep coming back to – the things that have taken you through your life. My aunt used to work at Piero di Monzi, a very famous shop on the Kings Road, and when my mum was in her early twenties she went and spent an entire month's wages on a blazer. We still fight over this blazer and it's older than me. My own line was based on the idea of those pieces you wear until they are threadbare.

When we were building this company we were travelling a huge amount so I was thinking about the components that help you to get dressed in a hurry. It's always about simplicity, keeping everything to a minimum. It's not about the 'it' thing, it's about hidden luxury, feeling smart, being comfortable, suiting your body and trying to find shapes that fit our figures. The sexiest thing is ease, and I think that plays back to luxury and the concept of The Store.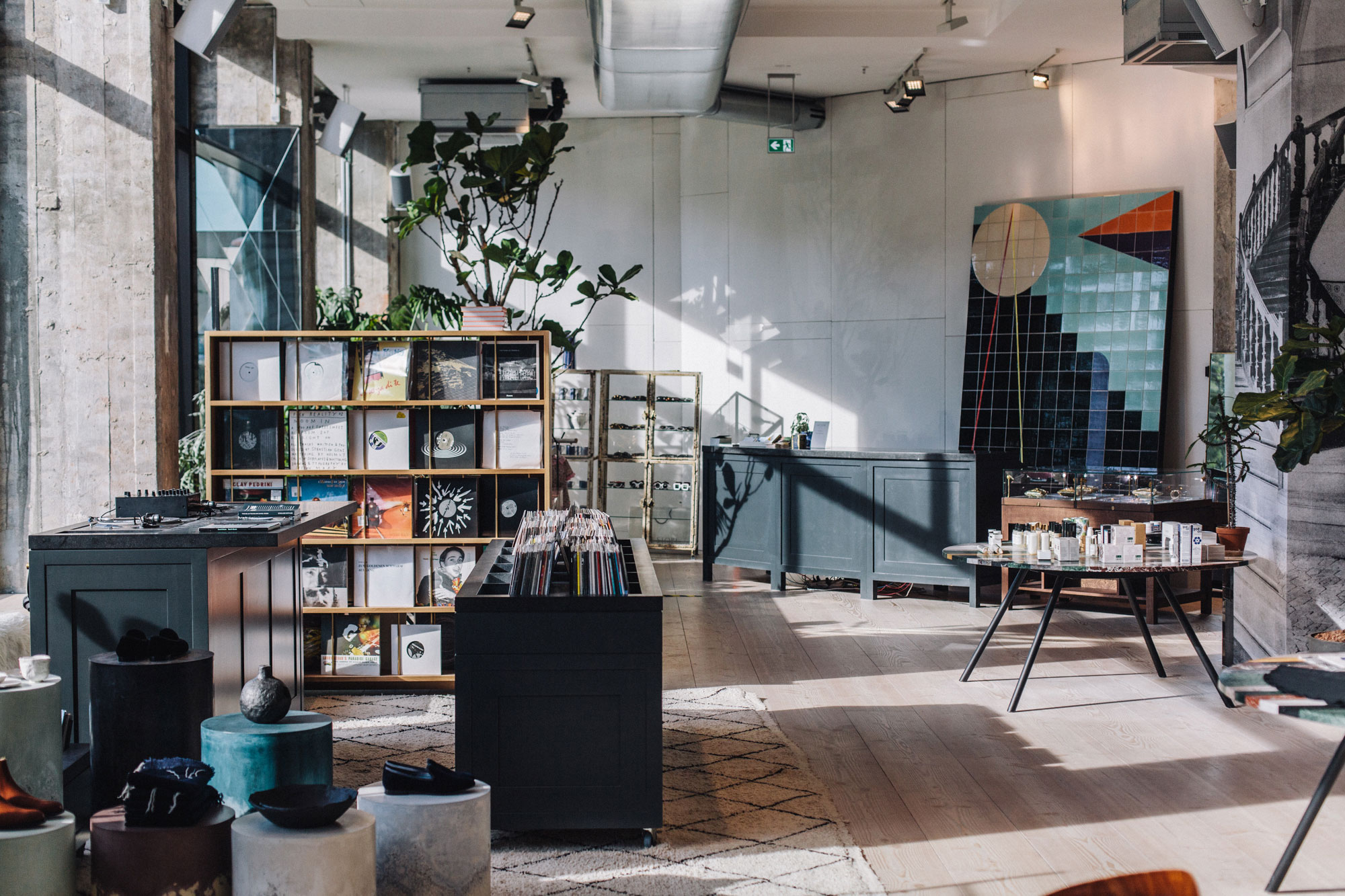 You have done a lot of collaborations with creatives like milliner Rike Feurstein, furniture designer Daniel Heer and the shirt and shoemaker New & Lingwood. Why do you think there is an appetite for that?
People love a collaboration because you're combining two minds. Each is opening a new path for the other. It's amazing how sometimes an initial idea organically changes and grows into something else; there is so much available today that it brings a different offering.
How do you come across these artisans?
I have an amazing group of friends and we share a common thread, whatever their age, which is an interest in people doing things really beautifully and really well. Mark and I travel a huge amount and we're always asking people questions. He works with amazing artists at The Vinyl Factory, and many of my friends work in magazines or are creatives themselves so everyone shares information. Some things happen serendipitously, but I also find Instagram an incredible tool for sourcing things. I follow tastemakers, magazines, artists and galleries because they are all some source of information.
How did the Venetian glass collaboration happen?
The glasses are made with Gilberto Venezia. I went to Venice with the idea to create some drinking glasses, and the owners of the hotel where we were staying made Murano glass. The family owned the palazzo and lived in the eaves; it was the most beautiful home. Bianca, the mother, had worked at Christie's so also owned Nan Goldin and Tierney Gearon photographs of her kids, mixed in with centuries-worth of palazzo treasures.
They had a mish-mash of all old Venetian glass collected through the ages and we wanted to create the same feeling, nothing too matchy matchy; a proper noble Italian family would never have coordinating glasses because they would have been collecting it over the years, using glasses left from pairs that had broken and so on.
How does this all apply to The Store x Soho Farmhouse and what's the difference between being in urban Berlin and the English countryside?
The same thought process applies: "what are beautiful things, luxurious things, things that are built to last, and things that make you look good?" We are the antithesis of loud fashion brands. Those brands are not bad, but the idea for us is that you can buy something in the Farmhouse now, and you can probably buy a similar thing in three years time. The new Store is a much smaller space than in Berlin, so we've had to think quite hard about stripping it back even more.

The Store x Soho Farmhouse will open in Oxfordshire this autumn. thestores.com alexeagle.co.uk