Forgotten Fringes | It's Time to Rethink What You Know About Morocco
Photographer Ignacio Bandera's shots show another side to the hectic hustle and bustle of Morocco's tourist capitals
From the moment he set foot in Fes, Ignacio Bandera knew this wasn't the Morocco he wanted to shoot. He walked the city's labyrinthine streets thinking, 'I don't want this, I don't want the crowds of tourists'.
Nor did he want shots of camels or the silky Sahara sands you see in BBC travel documentaries. He didn't exactly have a plan, though. He only knew he wanted to head towards Merzouga, a small village 354 miles southeast of Fes that straddles the edge of the Sahara, roughly eight miles west of the Algerian border.

Bandera, a Chile-born photographer, had no idea how to get to this remote town. He approached locals, pointing to a map, and they would usher him towards a bus stop. Then, slowly but surely, he made his way south, observing the bone-dry landscape rush past the bus window. He carried with him his Mamiya 7 medium format camera, a big bottle of water, and two bags: one with 50 rolls of film, the other with a few clothes.
Over the next 12 days, Bandera worked from 7am till sundown, enduring daily headaches from the searing sun and sleeping in bug-ridden beds in albergues ("they're like hostels but cheaper and way worse").
"Bandera worked from 7am till sundown, enduring daily headaches from the searing sun and sleeping in bug-ridden beds"
He shot 41 rolls of film – capturing nine different towns en route to Merzouga – and ate an unhealthy amount of couscous.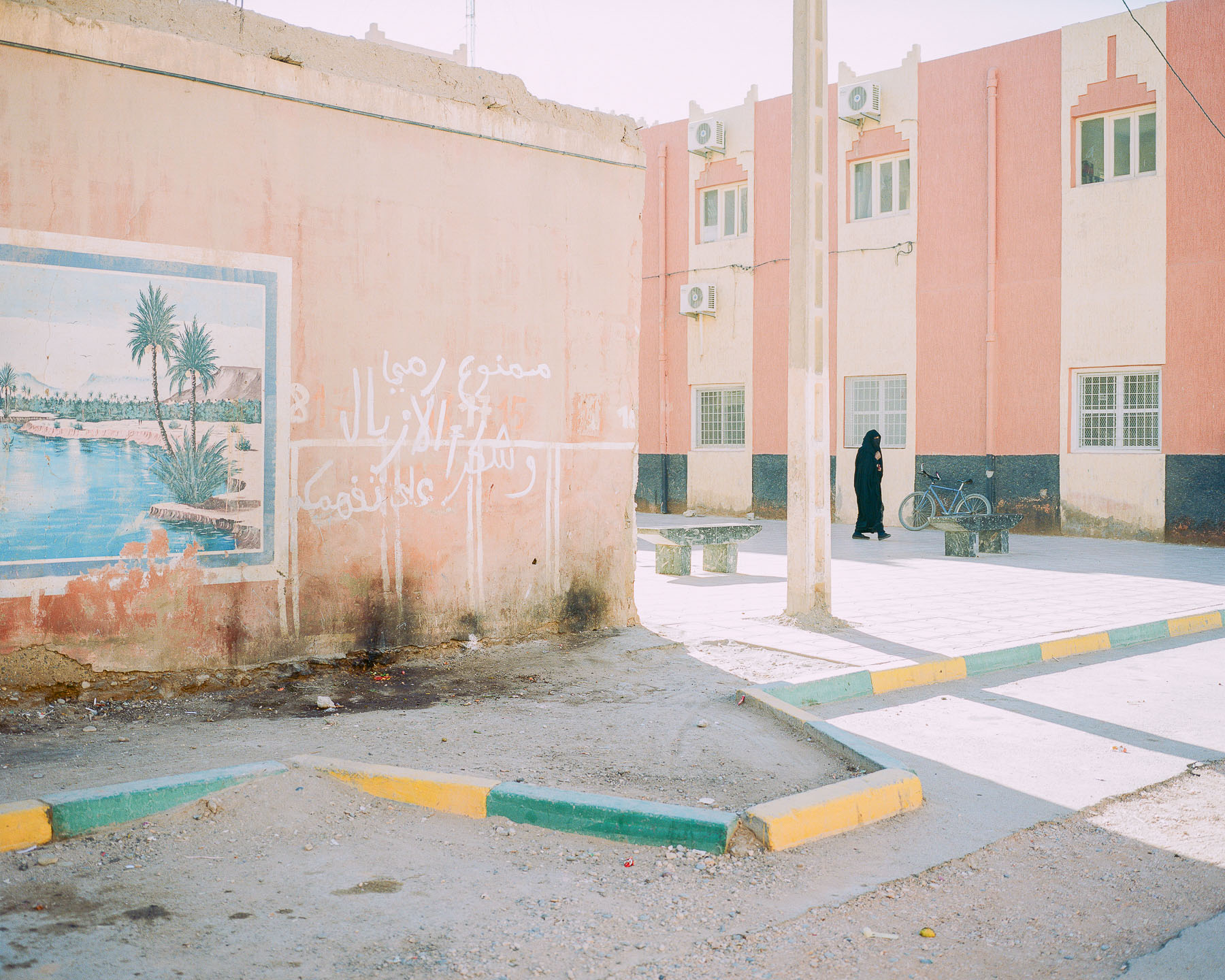 Passing through sleepy towns, Bandera was intrigued by buildings splashed with mouthwatering colours, all sun-kissed pastel pinks and sandy yellows. His photos show walls adorned with bright utopian murals, weathered by the sand and scorched by the sun. Often giant sand dunes creep into the backdrop, contrasted with the subtle beauty of the architecture.

For Bandera, the buildings were fascinating because so many remain unfinished. "They're under construction, they never finish them, and you always see these walls that don't have any windows." It's as if these crumbling structures had been given up on halfway, forgotten, stuck forever in construction limbo.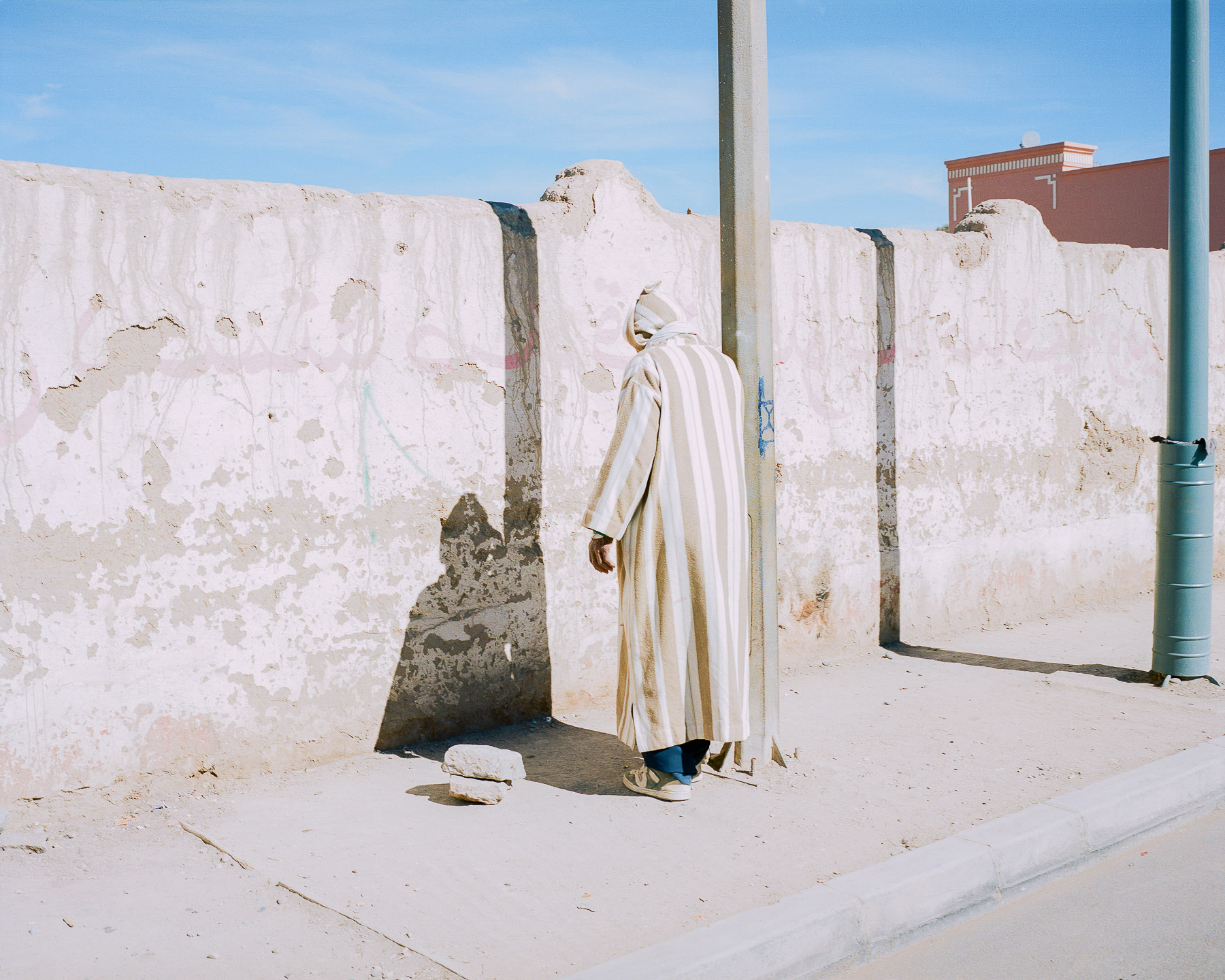 This is why Bandera calls his project The Promise. "I called it that because they never finish these buildings, and it's the same with the towns. They're expanding but they never end, it's like the promise of something that could come but it's never sure."
Finding the towns with these buildings – and researching them beforehand – wasn't easy. "I tried to find places on Google Street View before my trip, but I didn't find much," he says. When I search for the towns he mentions – Rissani, Merzouga – it's clear Google hasn't mapped the roads yet. The only photos, dotted sporadically around Street View, are ones by passing tourists. "They don't show what I like about those places," he says, "so it was difficult to know which places to go to in advance."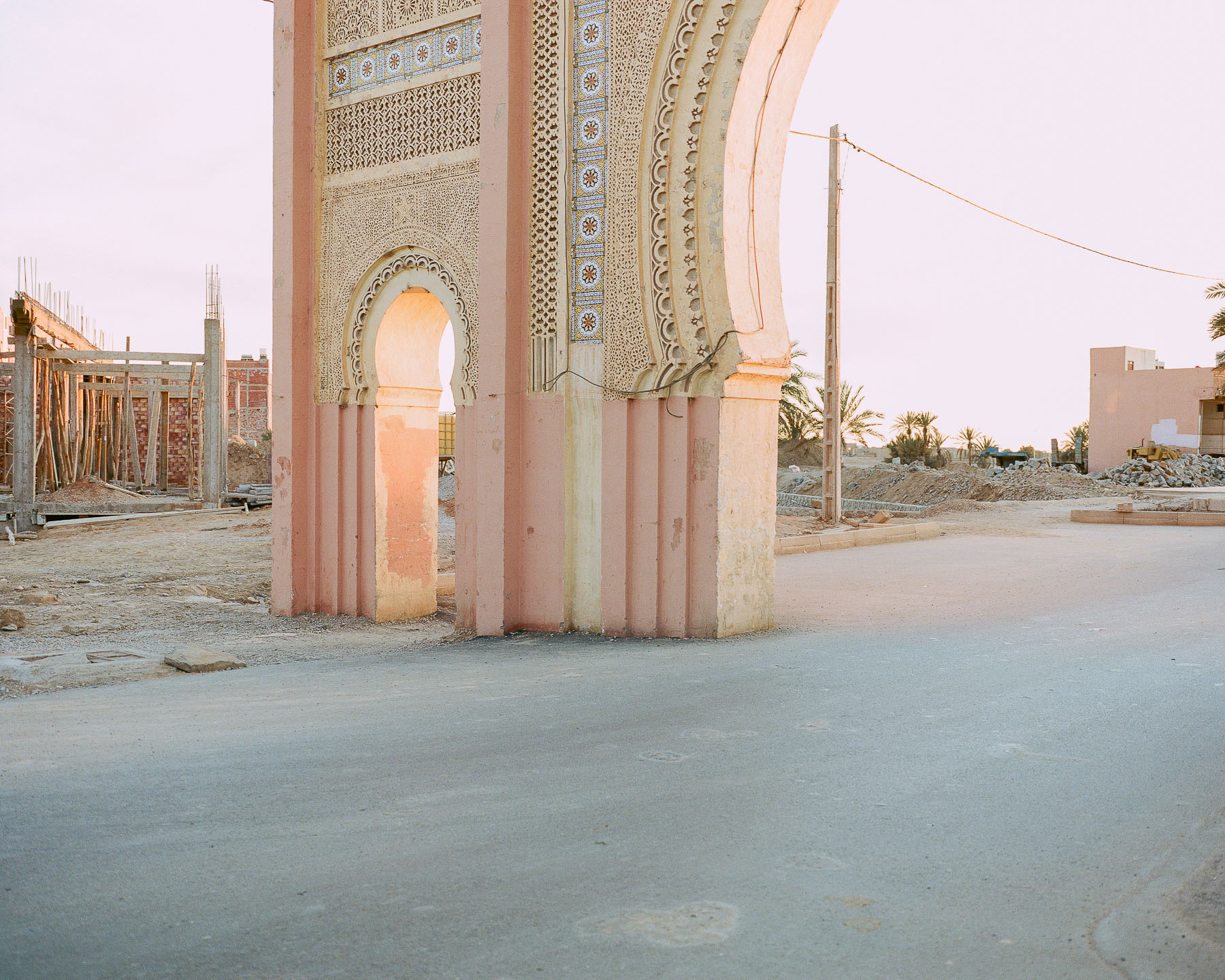 So how did he find these places? He'd ride the bus for hours and eventually spot something from the window. He'd wait till the next town, hop off, grab a taxi back the way he came, describing to the driver what he was looking for. Naturally the driver shot him a strange look. So did the townspeople. "When I was working in the street they would look at me like, 'what is this guy doing here?'"
Being the outsider – standing out like a sore thumb – came with the territory of shooting the forgotten fringes of Morocco. And with it, too, came Bandera's biggest challenge: the search for his own angle. "It's so difficult to make something different [in that area]. It happened to me in Fes because it's so touristic. You can photograph the camels and stuff, but it's not like going to the small towns where other people don't go, where you can find these different kinds of buildings."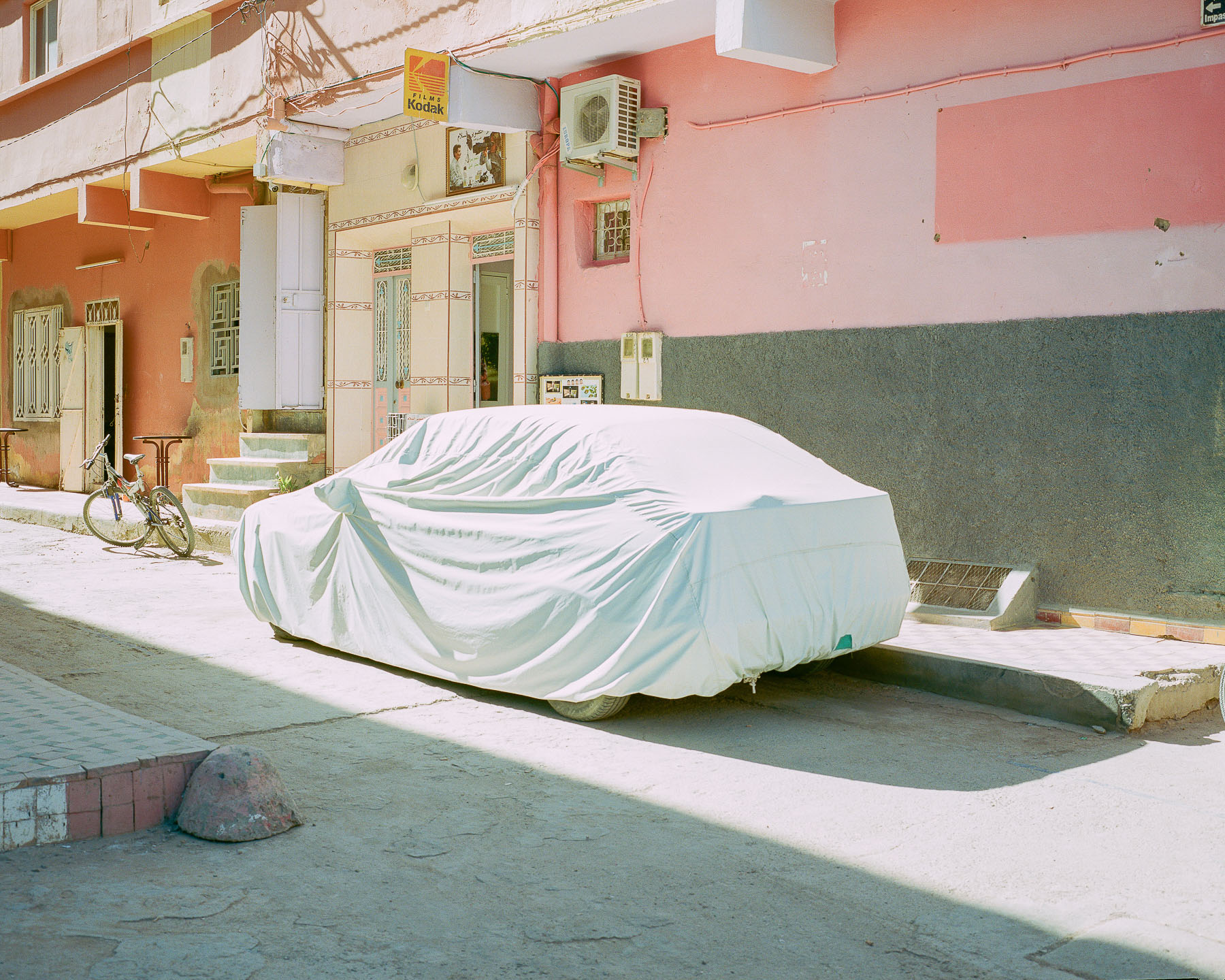 Discovering a lesser-seen Morocco, digging up its hidden beauty, was the thing that excited Bandera most. Yet there was another discovery that came much, much later: the actual photos. Remarkably, when he was on the road, Bandera had no idea what his pictures looked like. "10 days into the trip I was wondering whether the photos were good or not. I was shooting all day every day, and I didn't see the results. It was like a psychological game for me."

Due to a delay involving a new scanner at his favourite lab, it was a whole month until he finally saw the pictures. He was so excited that he developed and scanned everything the same day. "It was amazing," he says, "41 rolls!"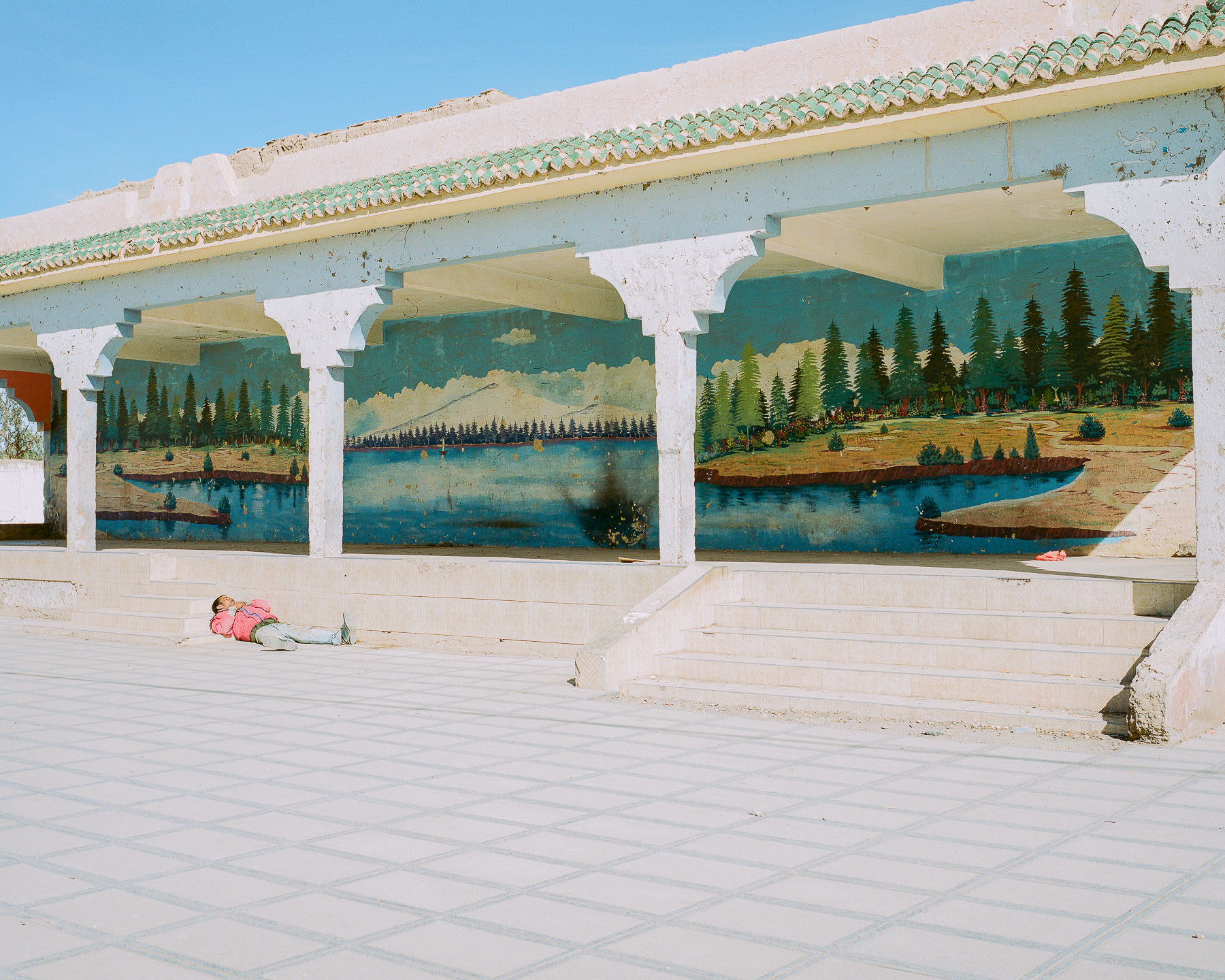 He was back in cloudy Berlin, leafing through 400 pictures from his North African adventure. That feeling of discovery came rushing back, one pastel-hued photo at a time, as he whittled the pictures down to 40 or so good ones. "For some photos it was like, 'Oh that one is gonna be amazing', but it turned out shit. Then I had others I'd forgotten that turned out amazing."

Seeing the pictures now, he's transported back to the searing heat of southeast Morocco. To the thrill of seeing another dusty town emerge on the horizon. To the adventure of hopping on a bus, Kerouac-style, fuelled only by curiosity and couscous.
Oliver Lunn is a London-based freelancer. Keep up with him on Twitter.
Ignacio Bandera is a photographer based in Berlin. Follow his travels and his shots on Instagram.
Tagged: