Courtesy of Visit Greater Palm Springs
Palm Springs | Why an Accidental Art Scene is Flourishing in the Desert
A new crop of creatives are building on the famous Midcentury architectural foundations
Courtesy of Visit Greater Palm Springs
We may lap up photos from the Coachella catwalk every year, but most Europeans wouldn't be able to point to the site of the influencers' festival-of-choice on a map. Two hours from LA, the city of Indio, in Greater Palm Springs, is flooded every April with those blinding California grins that make the headlines. But few question what happens the rest of the year in this scorched land. But they should, because as it turns out, desert culture means more than a Beyoncé set list.
"Desert culture means more than a Beyoncé set list at Coachella"
Hollywood stars have been fleeing to Palm Springs since the 1920s, when it was best known for its tanning and its tennis. Frank Sinatra, Elvis and Leonardo DiCaprio are among those who've escaped the paps to collapse by the pool here over the years. And in 2017, it's where Barack and Michelle Obama limped off to lick their wounds after Trump's inauguration.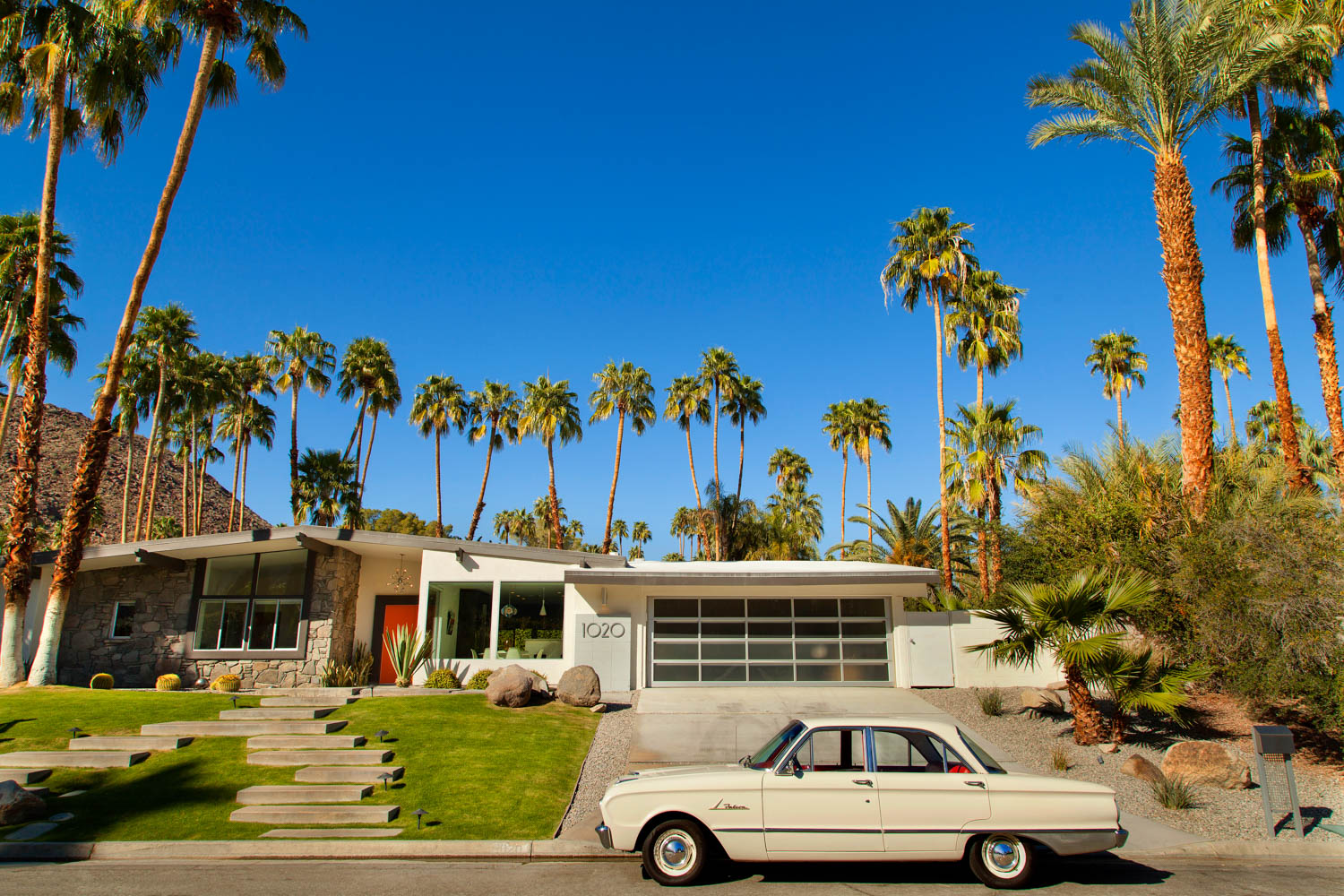 Perhaps unsurprisingly, given its luxury reputation and dates of its building boom, the region is home to the highest concentration of brilliant Midcentury Modern architecture in world. The millionaire homes here are not merely buildings; these are otherworldly masterpieces. The most flamboyant of the favourites include: Frey House II by Albert Frey, Elrod House by John Lautner and the House of Tomorrow by Dan Palmer and William Krisel.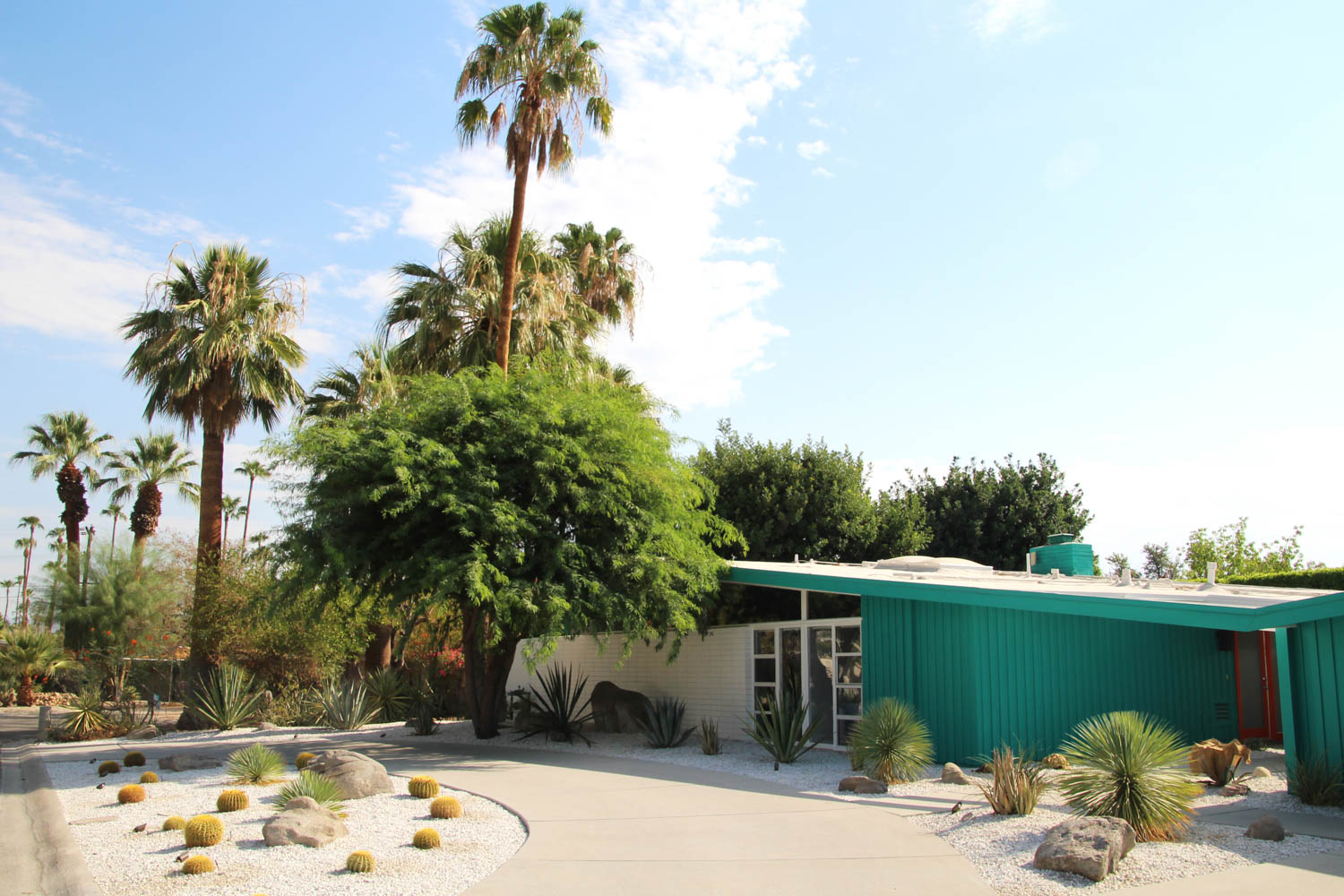 Most are hidden behind walled gardens and high security gates, but for keen architecture lovers - or anyone nosey enough to pay US$90 (£70) for a ticket - you can take the Palm Springs Mod Squad van tour. If not, just wait until February every year when Modernism Week opens up a selection of private homes during an 11-day architecture and design festival. For 2019, new events include a speech by architect Moshe Safdie and daily tours inside The Cree House - never seen before by the public.
To this day, contemporary buildings recognise that they must uphold a certain desert aesthetic. The restaurant Kaiser Grille was designed by E Stewart Williams in 1956 and, despite several renovations since, the palette is still made up of the original desert tans, deep grays and rich blues.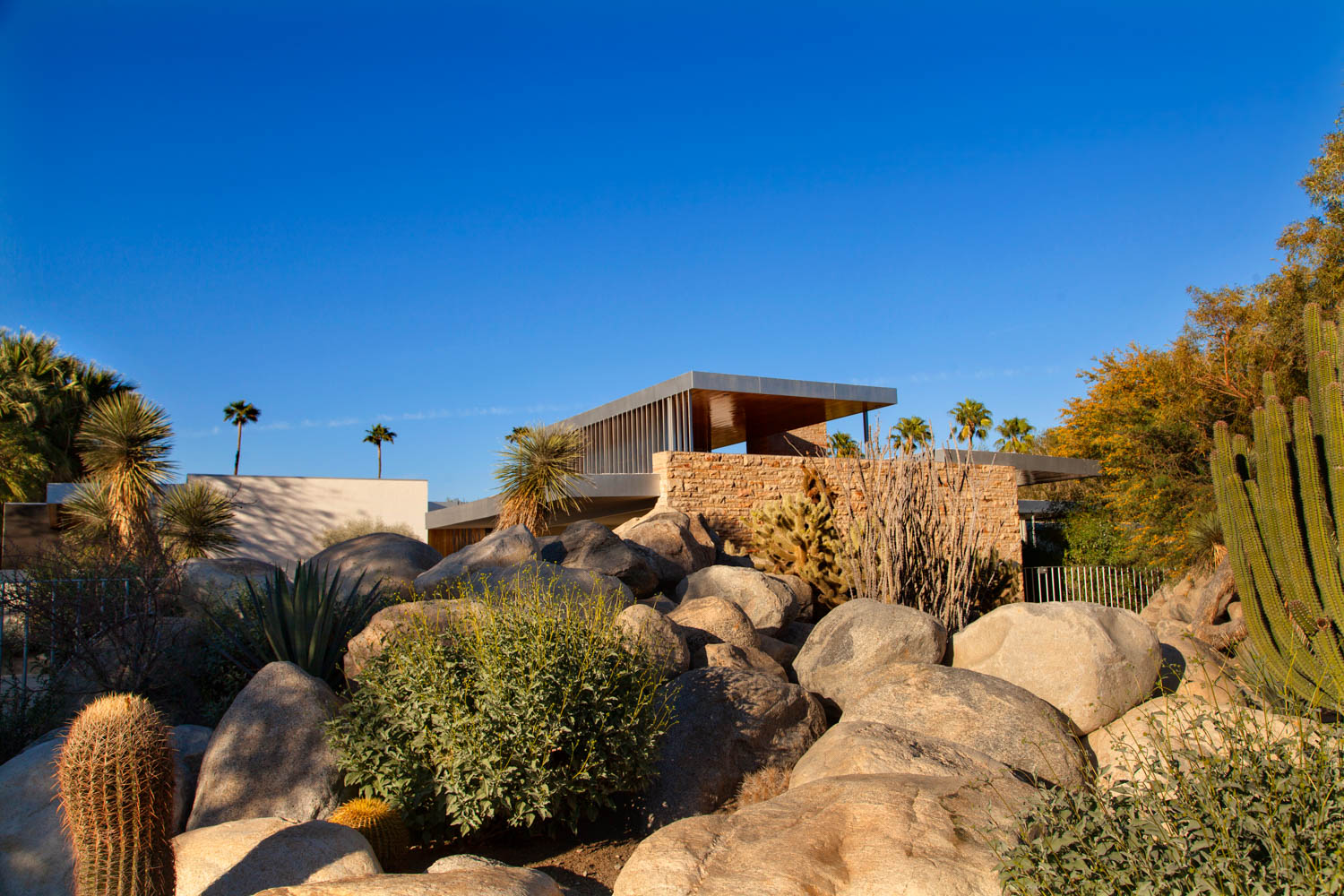 Hotels here are also a sight to behold; Insta-favourite The Saguaro attracts magpie eyes with acid yellows and fuchsia pinks. A total of 14 colours were selected to match the indigenous wildflowers of California's Colorado desert. Whilst the more lux Hotel Paseo has used its walls to promote local artists, including 21-year-old Nicholas Kontaxis.
An hour's drive outside the cities into barren land, past windowless casinos and rusty railway tracks, you'll find Slab City. Think Burning Man without the hype and offering little human contact, this dusty enclave reveals an eerie sculpture park made from junkyard scraps. Amongst laughing gas canisters, mannequins, and rubber ducks, archly amusing propaganda is rife: "The television will not be revolutionised," reads one message, while others tell of dolphin conspiracies.
Abandoned aeroplanes and old trucks abound, and there's not a soul in sight. The place is as far away from Palm Springs pomp as you can get. Slab City is home to 150 inhabitants whilst another 1,000 live nearby in Niland; this alternative community of artists cower from the sun in caravans, live a stripped back lifestyle and use the sand expanse as a place to let the imagination run wild.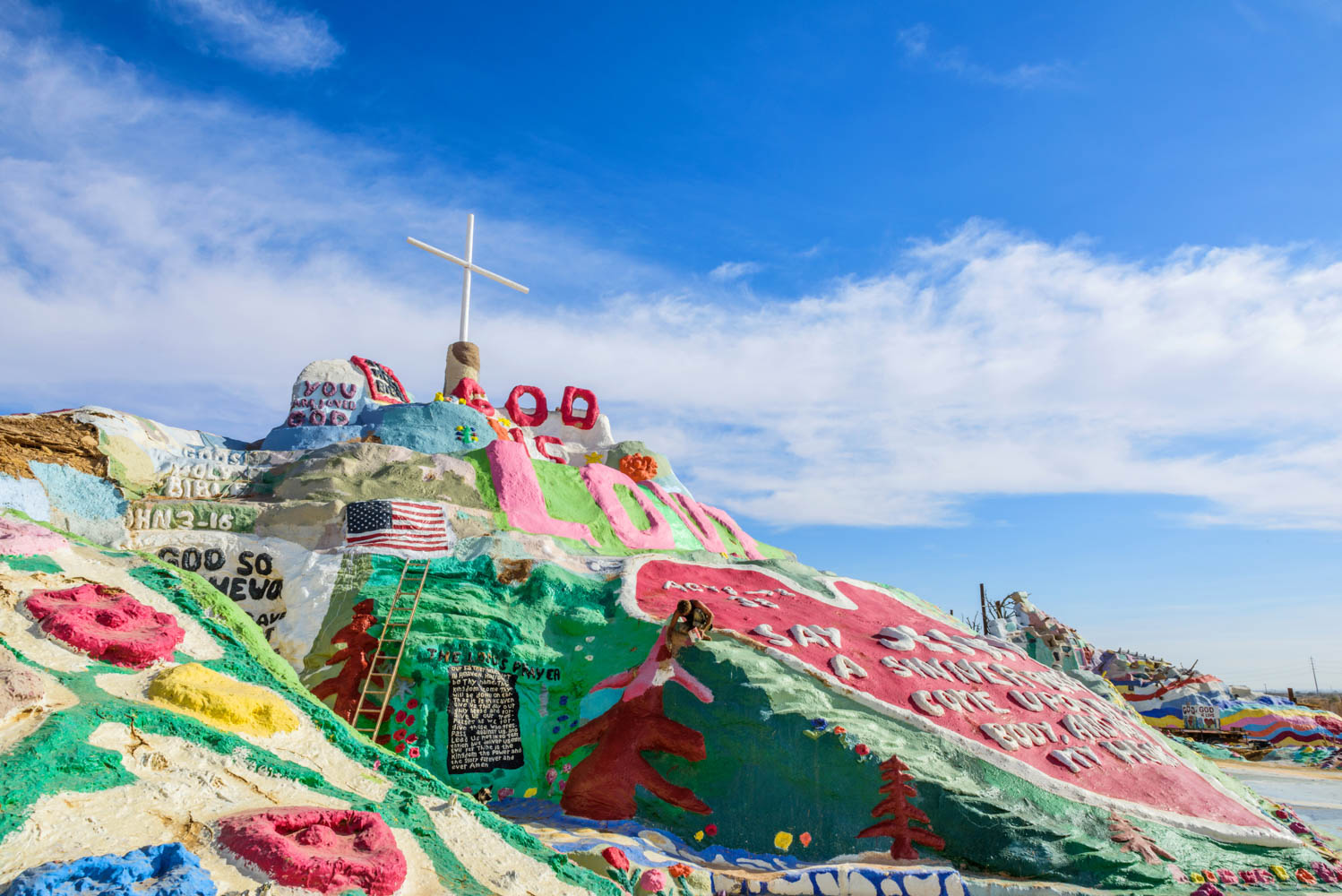 In Niland, the Mona Lisa of these mirages is Salvation Mountain. It's a hill slathered in hay bales, clay and paint created by local resident Leonard Knight over the course of 30 years, after he dropped out of conventional society. Supposedly an atheist when he left, the destitution stirred a religious awakening within him, so atop this plasticine-like mush, he slapped on crucifixes, passages from Psalms and a massive evangelical message: "GOD IS LOVE."
Unlike the regimented architecture tours in Palm Springs, which keep art elevated far from grasp, Slab City and Salvation Mountain simply request a small donation (a request scribbled on sheets of metal) and Tallgrass Hiking & Tours can show you around. As an abandoned swing creaks, every corner reveals another squat-come-sculpture, and yet no-one emerges to soak up the attention. The invisible artists ask only "Respect the art" via handmade signs.
Recently however, this languid art scene around Greater Palm Springs received a jolt of electricity. In February 2017, Desert X, a surprise art 'exhibition,' popped up overnight across the region. The 16 installations were entirely free, from a mirrored house to an underground tunnel illusion. Having skipped a year to prepare for an even bigger splash, the next instalment will emerge in February 2019, which will now include film projects and stretch out as far as the Salton Sea.
This part of the California desert, with its blistering heat and malleable void, sparks courage and a type of unfettered creativity. British-born art and cultural advisor Lyn Winter, one of the visionaries behind Desert X, left the UK 15 years ago because she felt drawn to the creative potential in LA and the adjacent desert: "Much of the inspiration for artists has been linked to the allure of the California desert thanks to the light, space, landscape, and an unusually collaborative creative community."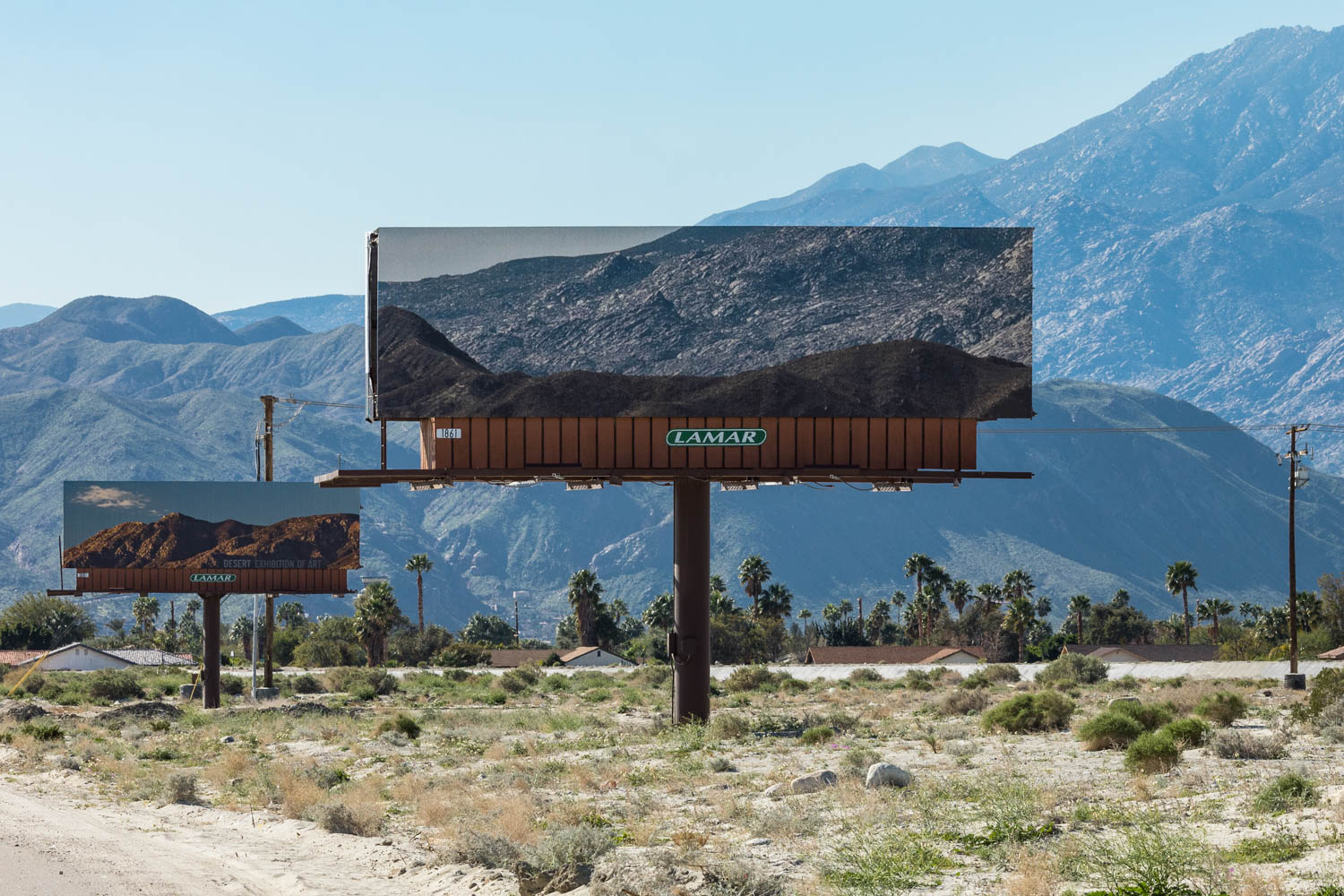 The transatlantic jump clearly paid off; by the close of Desert X, 200,000 people had travelled to make their way around the 'art treasure hunt', and ears had pricked up around the world. And this time it had nothing to do with Beyoncé.

Do it Yourself:
Accommodation:

Stay at the The Saguaro in the city of Palm Springs where rooms start from $97 (£75) a night, or if you fancy something a little further out, check out Hotel Paseo in the city of Palm Desert, where rooms start from $175 (£135) per night.

Info & when to visit:
Modernism Week 2019 will take over Palm Springs from 14-24 February, and the second edition of Desert X will open on 9th February, running until 21st April. Visit modernismweek.com, desertx.org or visitgreaterpalmsprings.com for more info.
Annabel Herrick is a freelance writer based in Bristol. Her trip was supported by Visit Greater Palm Springs.